Enjoy seasonal family trips with your children to make the most of every month! Whether you're interested in gazing upon beautiful fall foliage in Colorado or living out your wintertime apres-ski fantasy, there's surely a destination you'll love in your proximity. Parents of all ages will delight in discovering a plethora of seasonal family trips around the US and beyond! Take an autumn adventure to New England with kids and a flutter of fall colors will charm you, whether in Vermont, Massachusetts, Maine, New York, or New Hampshire. Plus, there are so many ways to see the fall foliage in style: via car, train, or boat cruise. You'll definitely find an option for your family! Or, take a more active approach to appreciate autumn and visit an apple-picking orchard near NYC. A trip to a pumpkin patch near you will be a spooktacular treat for tiny travelers as Halloween approaches!
Still, we bet you're wondering: where can I find more seasonal family trips near me? Families who prefer a wintertime getaway will love exploring ski resorts near NYC, Maine, or Vermont on the East Coast. Of course, West Coast skiers can head to Colorado or Utah for a wonderful winter vacation too! If you're unsure of where you want to take your vacation, however, feel free to also consult the best ski resorts for families in the USA. Aside from skiing, kids will love the selection of winter activities available at these destinations: tubing, snowboarding, and dog sledding! Don't forget to also take advantage of everything else that makes wintertime a great season to spend with your family, even if it's just for a short weekend or day trip. Save time for the best Christmas markets for families in the United States or Europe when kids have no school!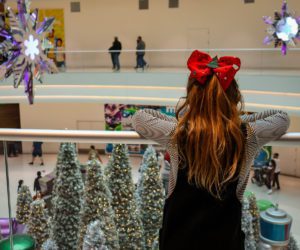 Families flock to the Mall of America in Bloomington, Minnesota, during the holidays for an enchanting experience that captures the festive spirit. Kids delight in visiting Santa Claus, who spreads cheer in a whimsical setting at the Candy Cane Institute. Plus, the mall transforms into a winter wonderland, adorned with dazzling lights and decorations, providing a magical backdrop for holiday celebrations. With an abundance of stores, it's a shopper's paradise, offering a one-stop destination for holiday gifts for the whole family. Beyond the festive atmosphere, they also offer top-notch restaurants and hotels. Keep reading to find out more!
Read More