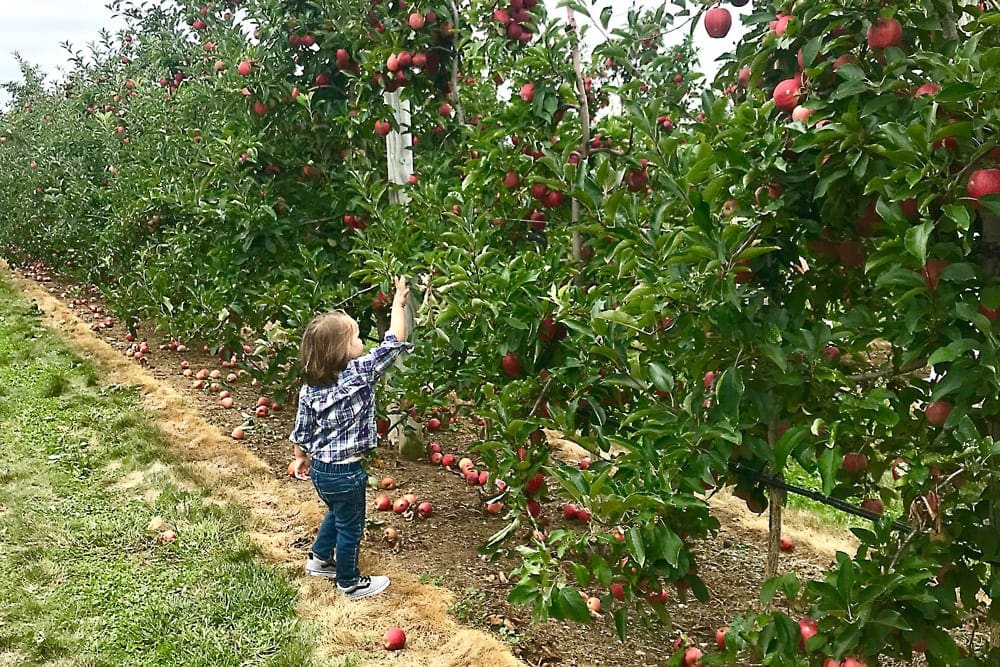 What a great time to go apple picking with kids near NYC! Autumn fills the East Coast air from late September into October, featuring family-friendly farms less than hours away. Plus, nothing's better than spending a day with kids roaming colorful fields, picking delicious fruit and veggies, or taking a hayride! With options all across the tri-state area, like Alstede Farms in New Jersey, Barton Orchards in New York, and Blue Jay Orchards in Connecticut, you'll have plenty of activities to choose from too. Adults can enjoy live music or wine tasting, for example, while kids feed animals, meander corn mazes, or explore spooky haunted houses! Hop in a car to drive to your destination or choose somewhere more accessible via public transportation on this list our Facebook members have recommended. Below you'll discover the 11 Best Apple Picking Farms To Visit With Kids Near NYC!
RELATED: 8 Best Pumpkin Patches Near NYC to Visit with Kids
Alstede Farms, NJ
Alstede Farms provides a quick apple picking getaway with kids from NYC! Located roughly an hour away via car, this sizable New Jersey property is a one-stop shop for all your family's needs. Weekends here often showcase jam-packed activities for adults and children alike too, whether it's picking fresh raspberries, peaches, apples, or other yummy produce. Photograph beautiful pumpkins beside towering sunflowers, while kids explore the giant corn house and take hay, pony, or even tractor rides! There's also a petting zoo with goats, sheep, and other cuddly creatures, alongside a bouncy house for little ones to tire themselves out. In the mood for a sweet treat? Sample the farm's special homemade cider or creamy ice cream, crafted organically on-site! If you plan on visiting during the September and October high season, though, remember to arrive early to try all these amazing things to do. And watch out for poison ivy!
Blue Jay Orchards, CT
Drive to Blue Jay Orchards to experience a calming Connecticut oasis! Located in Bethel, this part-farm, part-market showcases sprawling grassy hills and a peaceful ambiance away from the city bustle. Pick-your-own here also ranges from apples to pumpkins and whatever else they have in season, available for purchase by the bag before you head into the orchards. For an extra fee, kids can even ride around the fields on a tractor, which is surely a treat for any age! Blue Jay Orchards also has the advantage of planting low-hanging apple trees, perfect for little ones who want to reach up and pick their own. Hayrides are available for an added fee too. After you're done harvesting, head to the Farm Store to find some famous maple syrup candy to bring home. Then don't forget to stop by the bakery for apple cider donuts, pies, and more tasty pastries!
Terhune Orchards, NJ
Terhune Orchards is another popular place to go apple picking with kids around NYC! Located near Princeton, this part-farm, part-winery is the exciting escape your kids are searching for. Terhune Orchards boasts over 5 acres of farmlands filled with fresh fruits and veggies like cherries, apples, and strawberries, among other "pick-your-own" opportunities. (They charge an entrance fee and then by the pound.) Plus, when you get hungry, a tent sells BBQ comfort food! Kids will especially love the festival atmosphere here, including resident donkeys, pumpkin painting, hay bale mazes, and tractor rides. There are also designated areas where little ones can play and make friends. Adults can hit the wine tasting room too, which is a major reason why families love visiting this place. Just remember, it becomes more crowded later into the afternoon! Apple picking is also in a separate section, away from most of these activities.
RELATED: Best Places to See Fall Foliage with Kids within 3 Hrs Of NYC for Families
Fishkill Farms, NY
It's no secret families love Fishkill Farms! This Hopewell Junction destination stands out due to its eco-certified, organic cultivation methods. Enjoy lovely surroundings while picking your own apples, pears, peaches, or blueberries when you visit with kids. Or, if you're more of a veggies family, Fishkill Farms also grows organic herbs, eggplants, bell peppers, and even tomatoes! Different packages include different options, though, so be sure to read closely when you're making your reservation. Parents can also browse other products from the on-site market and store, but remember to save room for more munching! In addition to a food truck, Fishkill Farms also serves delicious kid-friendly cuisine like burgers and hot dogs. Sit on picnic benches enjoying your food while you overlook a valley filled with colorful fall foliage below. Finally, don't forget to save room for the main attraction here: Fishkill Farms' famous cider donuts!
Harbes Family Farm, LI
Harbes Family Farm is a Long Island family favorite! Two hours from NYC, this expansive Mattituck destination packs a farm, vineyard, and kid-friendly barnyard all in one beautiful location! Harbes Family Farm also highlights twenty-seven different types of apples, which you can pick while enjoying live music flow from the courtyard. An admission pass of $16 per person (kids under two are free) includes a 3lb bushel bag and access to the Apple Express too, the farm's very own tractor-pulled wagon! Stroll an 8-acre pumpkin patch, take a musical hayride tour, or meander through a Wizard Of Oz-themed corn maze! An extra fee will also grant you entrance to the Harbes Family Barnyard, where little ones can pet farm animals, play foosball, or tackle an obstacle course. Finally, a family adventure to Harbes Family Farm is incomplete without an apple cider doughnut or the farm's famous super sweet corn!
Masker Orchards, NY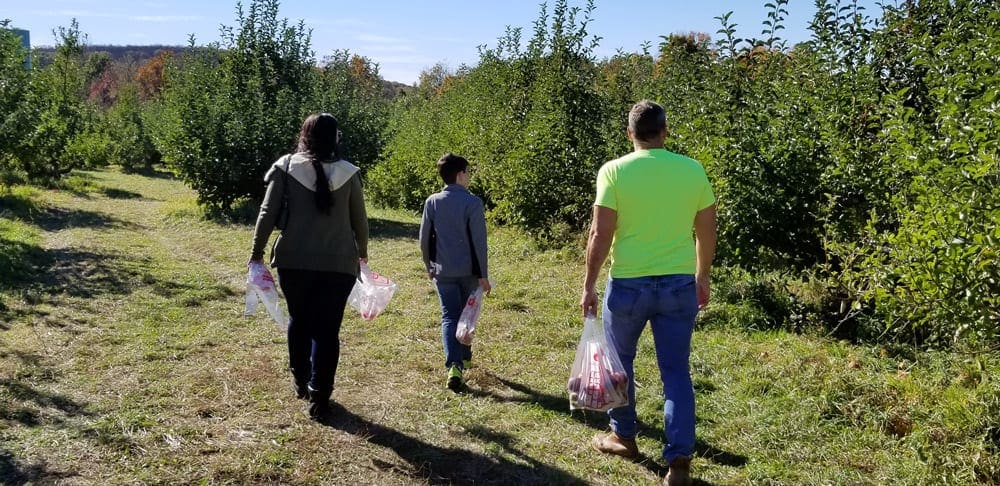 Drive directly onto the apple fields at Masker Orchards! This Warwick farm presents families with a unique pick-your-own experience with the option to avoid crowds. Overlook the sprawling Hudson Valley while driving by thousands of trees on the property, park, and then search for the best crops. Prices often range by the pound, and you'll be given a few bags to start with. Plus, though food facilities are closed for the time being, you're welcome to bring your own picnic to enjoy among this beautiful landscape. Masker Orchards usually plays live music for parents to enjoy too, alongside a kid-friendly area with a haunted house, as well as pony and carriage rides. Luckily, this year, you'll still have the opportunity to bring home some goodies, whether it's from the Country Store or fresh from the kitchen. Afterward, remember to purchase some apple pies and cider donuts for the road!
RELATED: The Best Fall Foliage Tours by Train, Boat, or Car in the Northeast for Families
Harvest Moon, NY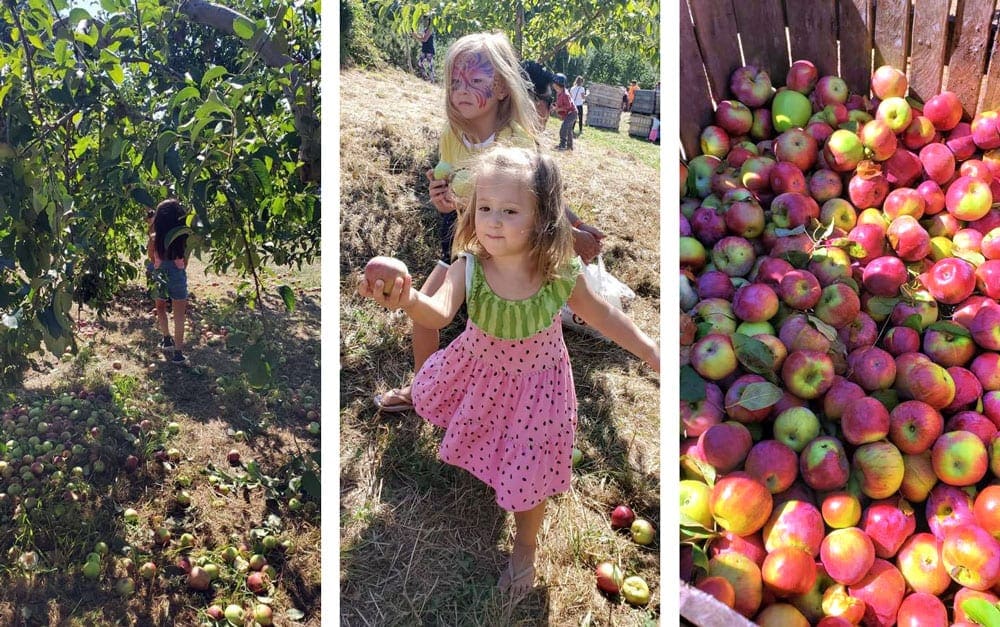 Harvest Moon Farm is a must-visit for New York families! Located in North Salem, an hour via car, it's easily accessible via the Metro-North to Croton Falls. Harvest Moon is usually known for its weekend Fall Festival, featuring face painting, pony rides, and live music. It's also a great place for your family's apple picking adventure this year! Groups can make separate reservations for four guests, and kids under ten enter free. With your reservation, you'll receive a 25 lb bushel bag, alongside access to the Harvest Moon pumpkin patch! Little ones can meander the farm searching for a Halloween friend, while adults enjoy hard apple cider. Don't forget to taste some famous cider donuts or homemade ice cream! Afterward, visit the Farm Store to bring jams, syrups, and other baked goodies home with you. What a delicious memento to remember your family's wonderful day at Harvest Moon Farm!
Barton Orchards, NY
Head to Barton Orchards for non-stop family fun! A two-hour drive from NYC, this 120-acre Poughquag farm showcases something special during every visit. Pick-your-own vegetables and fruit in the garden at a $10 minimum, choosing between apples, eggplant, zucchini, and more. Plus, certain festival weekends even boast a kid-friendly fun park (including corn mazes, hayrides, and face painting!). Regular weekly programming also presents a petting zoo for kids to make friends with resident goats, alpacas, and sheep. Nearby, there's a playground for little ones to burn energy, a Tap Room where parents can sample craft beer, and a Farm Store selling local delicacies! Browse the extended menu if you're especially hungry. Feeling adventurous? Barton Orchards delivers a daily dose of adrenaline at Tree Top Adventures, an aerial park located directly on-site. Children of all skill levels can soar past gorgeous fall foliage with an amazing Hudson Valley panorama!
Lawrence Farm Orchard, NY
Visit Lawrence Farm Orchard for a lovely family day trip! This Newburgh farm is only an hour from NYC, making it a convenient pick-your-own produce destination. Here, September and October boast a bountiful harvest to choose from: apples, plums, raspberries, sweet corn, and more! Admission is $5 per person, but some will go toward credit to pay for your bag. (Be sure to separate your items, since each has a different price!) Depending on when you visit, the farm may also provide pumpkin picking, alongside a few scheduled activities like a hayride, a miniature village, etc. (We recommend a weekday since weekends can be crowded!) Lawrence Farms also offers kids a chance to explore the on-site petting zoo. Plus, don't forget to browse the adorable on-site shop or the concession stand. Adults can enjoy frozen cider or hard ice cream while kids munch on pizza, donuts, and pie!
Ochs Orchard, NY
Ochs Orchard is a lowkey local secret! About an hour away from NYC via car, this scenic Warwick property overlooks a stunning view of the surrounding fall foliage. Unlike other nearby farms, however, Ochs places special attention on its pick-your-own options, making it a particularly authentic apple picking destination. Family picnics are welcome here since there's room to spread out, but remember to bring comfortable shoes for all the uphill walking! Even though September and October usually flaunt abundant apples, raspberries, and various vegetables, be sure to call ahead before visiting, as hours can be unpredictable. Admission is $5, but most of it will go toward credit for when you pay per pound for your harvest. Afterward, visit the on-site shop for more tasty treats or to order homemade ice cream. Take some apple butter or cider donuts to-go to commemorate your family trip to Ochs Orchard!
Apple Ridge Orchards, NY
Apple Ridge Orchards is one of the best apple picking farms for kids around NYC! A small property less than two hours away via car, this quaint Warwick destination is ideal for avoiding lines and long wait times. Pick-your-own prices vary by pound based on whether you're selecting pumpkins or apples, but you'll find almost twenty different varieties of the latter! Wander through manicured fields searching for the perfect crops before finding the Petting Zoo, where animals await your arrival. Interested in learning how honey is made? Visit the Honey Bee Hive Observation area to watch busy bees work through the glass! Then, head to the Farm Stand to taste cider donuts, jams, jellies, and other products straight from the orchard. Apple Ridge also schedules movie nights and numerous other family-friendly events throughout the fall season. Hours range from Thursday through Sunday, so make your reservations in advance!
RELATED: 11 Best Places To See Fall Foliage Within 3 Hrs Of NYC!
Thank You To Our Community!
We hope you've enjoyed our list of 11 Best Apple Picking Farms To Visit With Kids Near NYC! No matter which destination you head to next, we guarantee you'll have an amazing time together. A special thank you to the Families Who Love to Travel Facebook community for helping compile this list of 11 Best Apple Picking Farms To Visit With Kids Near NYC! Families Who Love To Travel is a group of amazing families who love adventure and exploring through travel. Join the Facebook community and the Instagram community (@families.love.travel) to connect with other families who love the unique experiences travel has to offer.
*Due to the COVID-19 pandemic, many of the accommodations, restaurants, or activities on this list may also be closed. Please ensure availability before making your decision.
*This post may contain affiliate links that may earn us a small commission, at no additional cost to you. Affiliate links in no way inform the hotels, sights, products, or other recommendations included in our articles. All opinions and recommendations expressed here are compiled from submissions submitted by the generous members of our Families Who Love To Travel community.
READ NEXT: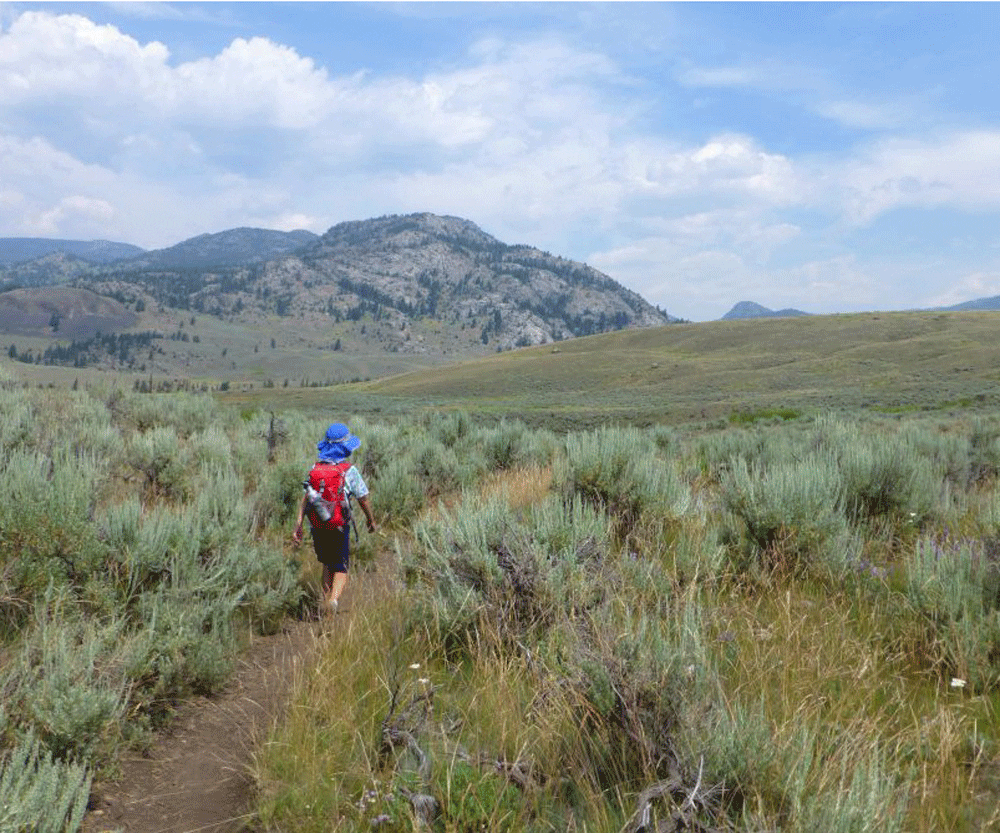 Everyone knows that Yellowstone National Park makes for a classic family vacation. Strolling the boardwalks...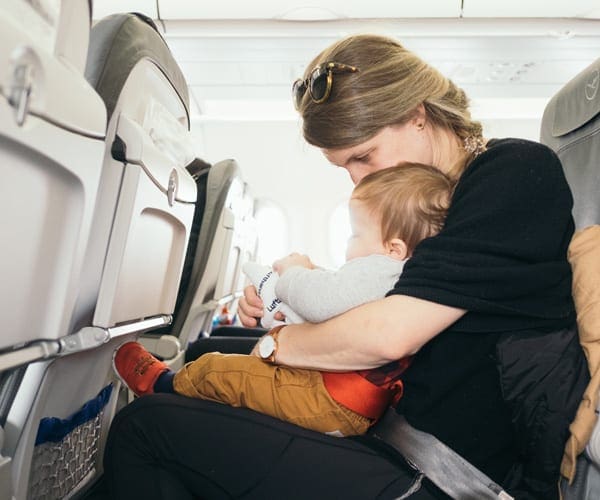 Families Who Love To Travel contributor Meghan Oaks provides her 10 best tips for your...