Experience the breathtaking beauty of New England's fall foliage with your kids! Popular destinations such as Massachusetts, New Hampshire, and Vermont offer an enchanting spectacle of vibrant colors as charming communities transform into picturesque landscapes. Immerse yourself in the essence of autumn, accompanied by the familiar scents that signify the season. Whether you embark on a scenic drive or explore on foot, there are endless opportunities to captivate and entertain little ones. With several great choices for fall foliage in New England for families, the only challenge you'll face is deciding which place to visit first! To assist you in planning an unforgettable fall itinerary, we have curated a list of 23 Captivating Autumn Destinations in New England for Family-Friendly Fall Foliage Adventures. Get ready to pack your bags and embark on a remarkable family expedition to witness nature's magnificent autumn transformation!
Best Places to See Fall Foliage in Maine with Kids
Maine is a top contender when it comes to viewing the best fall foliage in New England with kids! Take Old Route 1 to pass scenic seaside towns. Or, head to the well-known Acadia National Park to hike with a view. No matter where you experience autumn in Maine, you will find some of the best New England fall foliage tours for families. Here are some more of the best places to visit in the fall on the East Coast!
RELATED: Top Northeast Fall Foliage Treks by Train, Boat, or Car
Portland
Late September – Late October
Exploring Portland, Maine, in the fall with kids is an absolute delight! This vibrant coastal city offers many family-friendly activities and attractions that perfectly capture the essence of the season.
Start your trip with a leisurely stroll through the charming Old Port district, where you'll find cobblestone streets, historic buildings, and various shops and restaurants. Then, don't miss a visit to the Portland Head Light, one of the most iconic lighthouses in the country, where kids can marvel at the picturesque coastal views. Then, nature enthusiasts will appreciate the beauty of nearby parks, such as Fort Williams Park and its scenic trails. For a touch of culture, explore the Portland Museum of Art. This museum features a diverse collection of artworks that will captivate children's imaginations.
Afterward, embrace the autumn atmosphere with a visit to one of the many local farms or orchards in the surrounding area, including Orchard Ridge Farm (less than 30 minutes from the city). Here, you can pick apples and meet the barnyard animals. Finally, no visit to Portland is complete without savoring the delectable seafood the city is renowned for. From lobster rolls to fresh clam chowder, indulge in the flavors of the coast. You can even grab fall-flavored donuts from The Holy Donut or a seasonal brew from the Shipyard Brewing Company (they have even had Pumpkinhead Ale in the past!).
Where to Stay in Portland with Kids
For a New England fall getaway, Portland has plenty of places to stay with kids. For an upscale experience downtown, try the Portland Harbor Hotel, which has extra perks like valet parking and a shuttle. If you'd prefer to stay among nature, check out Wolf Cove Inn on the shores of Tripp Lake. From water sports to a fire pit, it has everything you need for an exciting family weekend getaway in Maine!
Finally, Inn By The Sea in Cape Elizabeth is a fantastic option for families, offering seasonal activities and programs for kids and adults alike.
Bar Harbor
Mid-September – Mid-October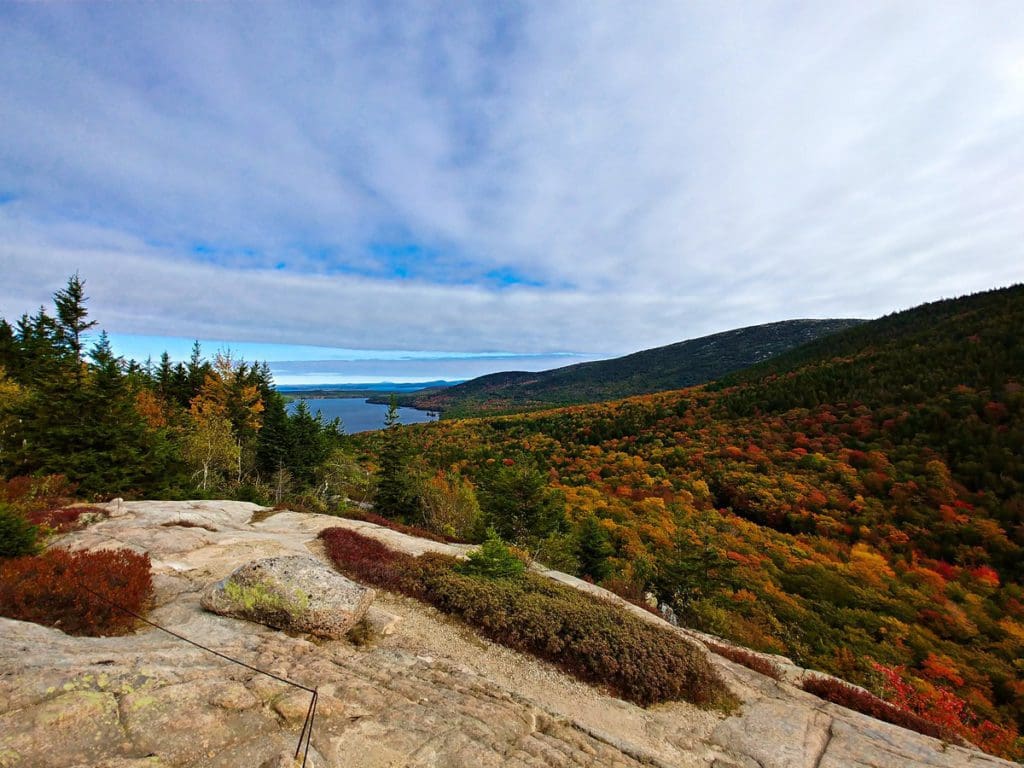 Bar Harbor is a must for your family's itinerary when exploring Maine in the fall. From mid-September to mid-October, this charming coastal town entices visitors with its delectable seafood, quaint boutiques, expansive natural preserves, and, of course, breathtaking fall foliage.
To begin your adventure, head to the Hulls Cove Visitors Center, where you can gather all the information you need to plan a family-friendly fall itinerary in Bar Harbor. Start your day by taking a leisurely stroll along the scenic Shore Path during the early morning hours. As the sun rises, you'll be treated to a spectacular display accompanied by the delightful melodies of chirping birds. Then, families can also take a fall scenic flight tour from Scenic Flights of Acadia. Families with other kids can also book an autumn paddle with Coastal Kayaking Tours. Plus, those looking for a fright may enjoy booking a tour with Bar Harbor Ghost Tours or Bar Harbor Ghost Walks. 
You can also head to nearby Ellsworth to ride the Downeast Scenic Railroad, where you can take in the foliage from the comfort of a vintage train. Also, not to be missed: their annual pumpkin train ride where the scenic route is made extra fun for kids, with a special stop to pick out an orange beauty at the pumpkin patch. Finally, find more activities to fill your autumn itinerary in Bar Harbor by reading about these Amazing Things to Do in Bar Harbor with Kids.
Plus, Don't Miss the Unique Fall Finds in Acadia National Park
Bar Harbor's true gem lies in its proximity to Acadia National Park, one of the most popular destinations in New England for families. Make the most of your visit by embarking on the Park Loop Drive, which spans the eastern half of Mount Desert Island. This scenic route allows you the freedom to stop at various points of interest, explore hidden gems, and immerse yourselves in the park's natural wonders at your own pace.
Before concluding your national park adventure, take advantage of the opportunity to visit Sand Beach and make your way toward Thunder Hole. This iconic attraction within the park always captivates visitors with its impressive displays of nature's power.
Where to Stay in Bar Harbor with Kids
Looking for the best places to stay in Bar Harbor with kids? It can be tricky to find accommodations because it's a popular destination. As such, we recommend planning ahead. Consider, Atlantic Oceanside Hotel & Event Center, an oceanfront property just one mile from Acadia National Park. Alternatively, West Street Hotel provides a boutique hotel experience. Then, centrally located in town, Bar Harbor Inn & Spa makes it easy to enjoy the historic downtown area, as well as charming ocean views. Finally, families also like Harborside Hotel, Spa & Marina, Balance Rock Inn, and Hutchins Cottages at Acadia when staying in Bar Harbor with kids.
Camden
Mid-October – Late October
Camden, a family-friendly town and one of New England's best fall foliage destinations, offers delightful experiences during the autumn season. While renowned as a popular East Coast summer destination, Camden holds its own charm in the fall, particularly from mid to late October. The best part is that you won't have to venture far to witness the enchantment of the autumn season, as there are plenty of natural escapes to explore nearby.
Camden Hills State Park serves as the perfect outdoor playground in the fall. Start with the beginner-friendly Mount Battie Trail, offering an introduction to Camden's picturesque autumn landscape. This trail is ideal for younger kids, as it is not too steep. Mount Megunticook provides more moderate hikes for older children and teenagers, allowing for a slightly more challenging experience. For a tranquil setting amidst blooming flowers and colorful fall foliage, visit the Merryspring Nature Center, which also features a park area where kids can freely run around. Finally, catch a glimpse of the iconic Camden lighthouse and conclude your day with a leisurely stroll along Curtis Island, an islet accessible only by boat.
RELATED: 8 Best Maine Hotels For Families
Best Places to See Fall Foliage in New Hampshire with Kids
From the imposing White Mountains to the Kangamangus Highway, New Hampshire in the fall has more than earned its place on our list of best places to see fall foliage in New England with kids! If you're planning an autumn family vacation, review these parent-recommended destinations for seeing fall foliage in New Hampshire with kids. Keep reading to discover more things to do in New England in the fall with kids.
Read about the Best Places to See Fall Foliage with Kids within 3 Hrs Of NYC for Families!
White Mountain National Forest
Late September – Late October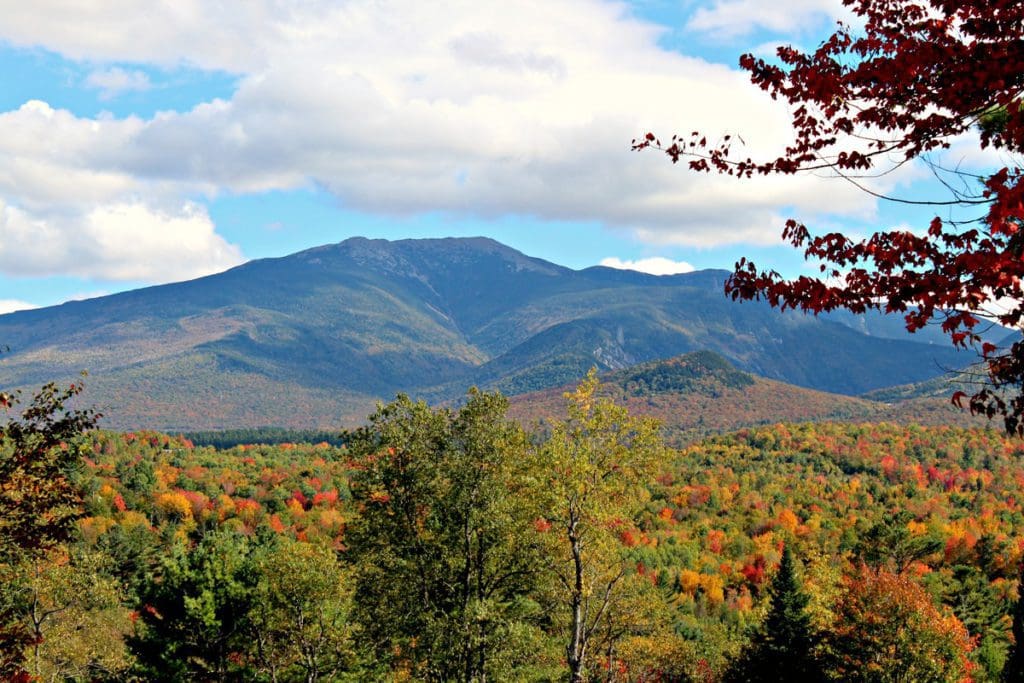 In the fall, New Hampshire attracts countless visitors to its breathtaking White Mountain National Forest. Stretching into Maine, this ecologically diverse region seamlessly blends forest woodlands and alpine peaks, creating a mesmerizing display of fall colors from late September through early October.
Embarking on an easy day hike with kids is one of the best ways to witness the vibrant fall foliage up close. Take the Sabbaday Falls Trail, a delightful 0.3-mile walk to a captivating waterfall that will enchant the whole family. Alternatively, the picturesque Lincoln Woods Trail leads you across an idyllic suspension bridge and along abandoned railroad tracks within the Pemigewasset Wilderness, New Hampshire's largest wildlife preserve. This scenic trail is also perfect for a leisurely family bike ride, allowing you to soak in the surroundings and search for local wildlife. Both Sabbaday Falls and Lincoln Woods are conveniently located along the renowned Kancamagus Highway, an iconic scenic byway renowned for its leaf-peeping opportunities and breathtaking scenic overlooks. Please note that both trails require a small recreation fee, payable on-site in cash.
Finally, enhance your family's fall foliage experience by booking a stay at the Omni Mount Washington Resort, where you can wake up to awe-inspiring views of New Hampshire's stunning autumn landscape right from the comfort of your own bed.
Sugar Hill
Late September – Mid-October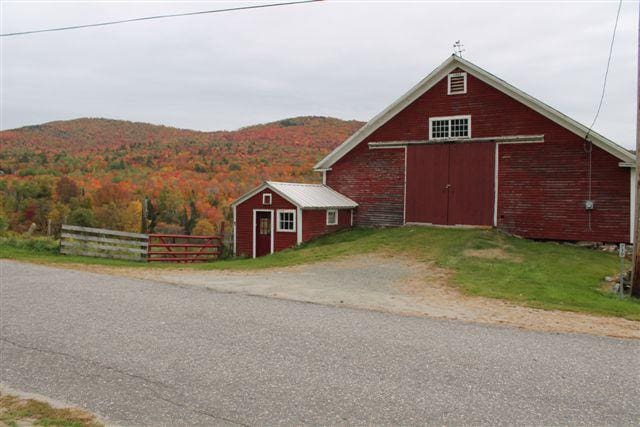 Photo Courtesy: Town of Sugar Hill New Hampshire
Sugar Hill, New Hampshire, is undeniably one of the top destinations in New England for families to witness the captivating fall foliage. Perched atop the White Mountain National Forest, this enchanting town showcases its vibrant autumn colors from late September through mid-October, providing a picturesque gateway to other attractions in the White Mountains.
While you're exploring, Harman's Cheese & Country Store is a great place to buy locally made products and general store items, along with their perfectly aged cheddar cheese. Then, Polly's Pancake Parlor is the perfect spot to enjoy a hearty breakfast complete with homemade pancakes before heading out on a foliage drive. The Frost Place is the former homestead of poet Robert Frost and is now a museum and non-profit center for poetry and the arts. Take a tour of then enjoy the trail system on the property and the unparalleled foliage view from the porch.
For those seeking to experience the fall foliage while hiking, the White Mountain National Forest is a haven. Opt for an easy hike, such as Sabbaday Falls or Crystal Cascades Trail, and immerse yourselves in the beauty of nature. Another exciting activity is embarking on a scavenger hunt with kids to discover the charming covered bridges scattered throughout the White Mountains, some of which have stood for centuries, adding a touch of history to your adventure.
Indeed, Sugar Hill promises a memorable fall foliage experience for families, with its stunning scenery and festive events. Here you can truly immerse yourselves in the beauty of the season. Not to mention, create cherished memories in this charming New Hampshire town.
Reserve your homestay in Sugar Hill through Vrbo now!
Portsmouth
Late September – Late October
As one of the places to visit in New England with kids, families absolutely adore exploring Portsmouth. During the fall season, this charming port city on the Piscataqua River offers a delightful blend of history, natural beauty, and family-friendly activities. Early October is the best time to visit for peak fall foliage.
Start your visit by taking a stroll along the quaint streets of downtown Portsmouth. Here, you can browse through boutique shops and art galleries. Afterward, enjoy delicious treats from local cafes. One of the top attractions is Strawbery Banke Museum, where kids can step back in time and explore the restored historic buildings, interact with costumed interpreters, and immerse themselves in the rich heritage of the area. Kids will also like exploring the Seacoast Science Center in nearby Rye.
Another must-visit is Prescott Park, a lovely waterfront park with stunning views, a kaleidoscope of autumn hues, and a spacious lawn perfect for picnicking and enjoying outdoor performances. Nearby, outdoor enthusiasts can also hike along scenic trails at Odiorne Point State Park. Finally, families can also embark on a scenic harbor cruise with Portsmouth Harbor Cruises to admire the fall foliage from the water. With its unique blend of history, natural beauty, and family-friendly attractions, Portsmouth, is the perfect destination for families seeking a memorable fall getaway in New England.
Book a homestay in Portsmouth with Vrbo now!
Dixville Notch State Park
Early October – Mid-October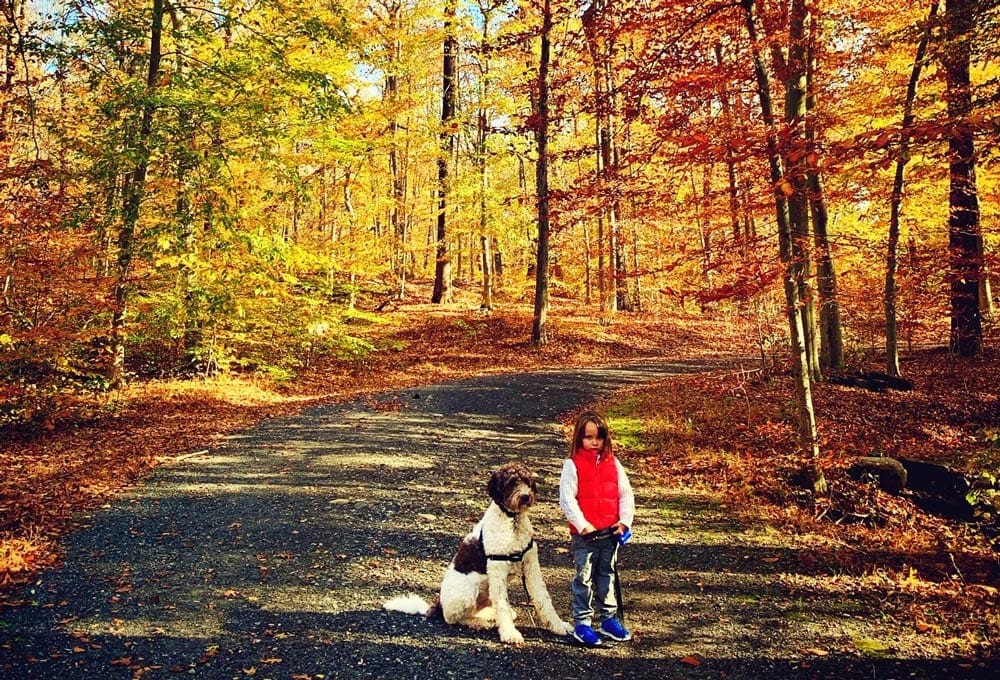 Discover the hidden gem of Dixville Notch State Park in northern New Hampshire. The popular Route 26 passes through this captivating township, making it the perfect stop for road trippers looking to do a little leaf-peeping in New England with kids. From early to mid-October, families are invited to explore this expansive natural preserve and witness its stunning fall foliage.
Then, for a rewarding journey from the White Mountains area, take the scenic Moose Path Trail, keeping an eye out for majestic moose that roam the area. Travel along Route 16 from Gorham to Errol, then connect to Route 26. As you arrive in Dixville Notch, prepare to be pleasantly surprised by the treasures awaiting you on the park's hiking trails. Hiking and biking are both fantastic ways to fully experience this vast state park, offering endless fun for families with children.
Finally, don't miss the opportunity to visit Beaver Brook Falls Wayside Park, located in Colebrook along Route 145, where a stunning roadside waterfall awaits. Plan ahead and enjoy a picturesque picnic amidst the lovely views.
North Conway
Late September – Late October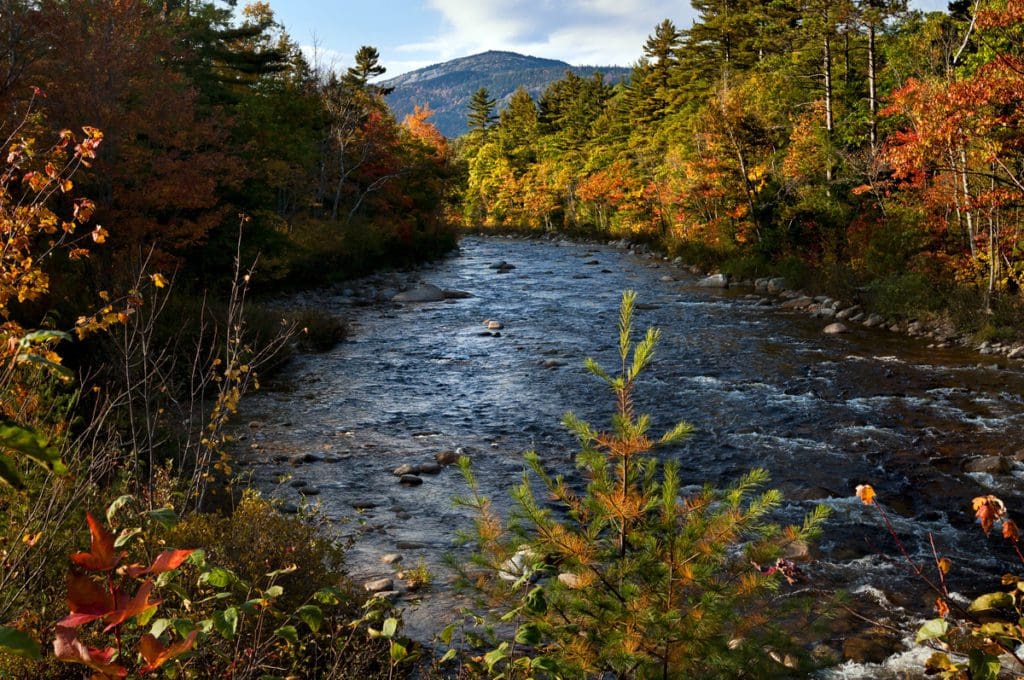 North Conway is a charming destination in New England for families seeking a charming fall getaway. Located in the scenic Mount Washington Valley of New Hampshire, it offers many exciting activities and attractions for all ages. While it's widely known for its magical Christmas celebrations, North Conway has much to offer during the autumn season too.
Experience the beauty of fall by taking a scenic hike or leisurely nature walk in the area. Families love the trail that loops the lake at Echo Lake State Park. Here, you can enjoy the vibrant foliage and crisp air as you explore the trail. For a unique adventure, hop aboard the Conway Scenic Railroad and embark on a scenic ride through the picturesque autumn landscapes.
Then, families may be interested in the free New England Ski Museum located right in the heart of North Conway. After exploring the museum and shops within North Conway Village a fun way to experience the foliage is by taking a scenic chairlift ride at Cranmore Mountain Resort. Afterward, challenge kids to a round or two at Pirate's Cove Adventure Golf. With its natural beauty and abundance of family-friendly activities, North Conway is the perfect place to create lasting memories on New England fall foliage tours with kids.
Ready to book your Vrbo in North Conway? Reserve your homestay here!
Best Places to See Fall Foliage in Vermont with Kids
Vermont is a no-brainer when it comes to the best places to see fall foliage in New England with kids! From the state's famous Route 100 to gondola rides in Stowe, and more kid-friendly activities, you'll find so many things to do in New England in the fall with kids here from late September to mid-October. Keep reading to discover a few of our favorite places to see fall foliage in Vermont with kids!
Be sure to read about all Vibrant Vermont: 14 Perfect Fall Foliage Vacations For Families!
Woodstock
Late September – Mid-October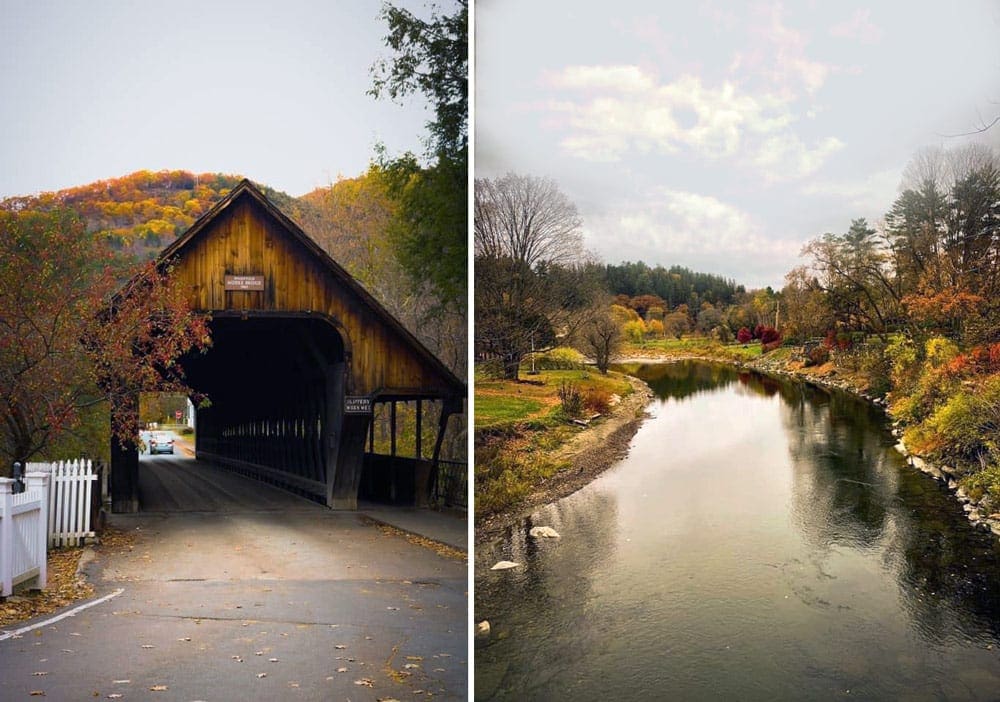 Woodstock, located in central Vermont, is an ideal destination for families seeking a New England fall foliage vacation. With its idyllic ambiance and a plethora of family-friendly activities, it has become a top choice for travelers of all ages.
Start your adventure by visiting the Marsh-Billings-Rockefeller National Historical Park, where you can explore the preserved mansion and gardens of billionaire Frederick Billings. Then, let kids enjoy the nearby Billings Farm, featuring animals and wagon rides. Afterward, stroll along Woodstock's Main Street, adorned with a chalkboard listing local town events. You can also explore Central and Elm Streets, home to charming boutiques and novelty shops.
Plus, capture a memorable family photo on the iconic rustic wooden bridge. Afterward, venture to The Pogue and Mount Tom Trail for a breathtaking panoramic view of Woodstock at Mount Tom State Park. This inviting 4.2-mile trail winds around scenic woods and offers glimpses of the lake below.
If you want an indoor experience, visit the Montshire Museum of Science in nearby Norwich. You can also enjoy a delightful lunch here at the famous King Arthur Baking Company.
Where to Stay in Woodstock with Kids
Need somewhere to stay in Woodstock? Book your stay at the family-friendly Woodstock Inn & Resort to make the most of your vacation in Vermont! It showcases indoor and outdoor pools, spacious accommodations, and tons of activities to take advantage of the season. Undoubtedly, staying here will ensure a memorable vacation as you explore one of New England's best fall foliage destinations with your kids.
Killington​
Late September – Mid-October
Embark on an unforgettable fall foliage vacation with your kids in the captivating town of Killington, nestled within Vermont's scenic Green Mountains. From late September to mid-October, Killington showcases some of the most splendid fall foliage in the state, making it an ideal destination for families.
If you're driving from the north, the Sherburne Pass offers a mesmerizing route that winds between the majestic Green Mountains and Pico Peak, treating you to breathtaking views along the way. Additionally, Killington boasts endless kid-friendly hiking trails, perfect for exploring the town's natural wonders. A must-visit is the Thundering Brook Fall Trail, a section of the famed Appalachian Trail. This easy hike is suitable for all ages and will reward you with the sight of a magnificent waterfall. For more panoramic vistas of the autumn colors, head to the summit of Killington Peak, where the renowned Killington Ski Resort awaits. Then, hop on the K-1 Gondola to reach the top and be greeted by outstanding views stretching across five states and, on a clear day, even reach Canada.
Finally, to fully immerse yourself in Vermont's autumn charm, venture to nearby Reading, where you can wander through the picturesque countryside and indulge in autumn activities at the iconic Jenne Farm—a place so photogenic it has become the most photographed spot in the entire state.
Use Vrbo to book your homestay in Killington here!
Burlington
Late September – Mid-October
Located on the shimmering shoreline of Lake Champlain, Burlington, is another perfect Vermont town for a New England family fall foliage vacation. With its charming downtown, historical museums, and abundant activities, it offers a delightful autumn experience.
One of the main attractions drawing families during the fall season is the Burlington Greenway, also known as the Island Line Trail. This 14-mile flat and relatively easy bike trail stretches from the city center to the Colchester Causeway. There is a separate run/walk path for those who prefer a slower pace to soak in the autumn hues. Along the way, take a break and dip your feet in the chilly waters of Lake Champlain, adding a refreshing touch to your adventure.
For a different perspective, embark on a scenic drive around Mount Philo, an accessible peak with a striking auto road with breathtaking views. And no visit to Burlington is complete without a stop at the famous Ben and Jerry's on Church Street, where you can indulge in delicious ice cream treats.
With its picturesque location and many family-friendly activities, Burlington has rightfully earned its spot as one of the best places to experience fall foliage in New England with kids. Embrace the beauty of the season and create lasting memories in this enchanting Vermont town!
Reserve your stay in Burlington here through Vrbo!
Stowe
Early September – Mid-October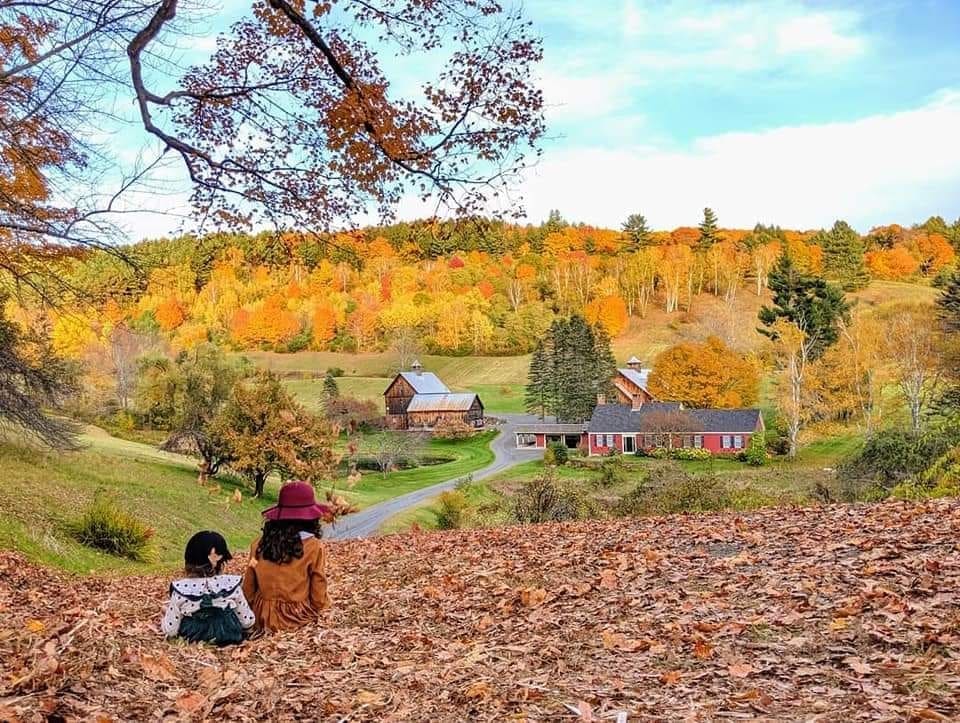 Nestled in northern Vermont with the majestic Mount Mansfield as its backdrop, Stowe is an unparalleled destination for families seeking a vibrant fall foliage vacation in New England. From early September to mid-October, this charming town offers an ideal mix of relaxation and recreation.
Families can explore the Stowe Mountain Resort and embark on the epic Gondola Skyride, treating themselves to breathtaking views of the surrounding foliage and Mount Mansfield. Alternatively, a stay at the Lodge at Spruce Peak presents an opportunity to witness the beauty from above with its remarkable Zip tour, one of the longest tree-top courses in the United States. For more adventurous spirits, a hot air balloon ride provides an unforgettable perspective of the vibrant fall colors here. You can also rent bikes and venture along the picturesque Stowe Recreation Path, a scenic five-mile trail featuring charming pedestrian bridges and scenic views.
After a day filled with adventures, indulge in delicious pizza at PieCasso, where gourmet pies are masterpieces in themselves. Stowe truly is the ultimate autumn-inspired getaway in New England for families, offering exceptional fall foliage experiences and a plethora of kids-friendly resorts to make your visit truly memorable.
Where to Stay in Stowe with Kids
If you're looking for somewhere to stay in Stowe with kids, we have some ideas for you! Firstly, families love the Trapp Family Lodge. This Alpine-style resort even has an indoor pool for kids. Then, Smugglers' Notch Resort is another fantastic option because of its sprawling property and beautiful autumn views. It also has scenic trails and an abundance of kid-friendly activities. Other kid-friendly hotels include Topnotch Resort and Stoweflake Mountain Resort & Spa.
Stratton​
Early September – Mid-October
Stratton, a cozy town in southern Vermont, is a haven for outdoor adventurers during the fall season. Renowned for its family-friendly recreational offerings year-round, it truly shines when the autumn foliage paints the landscape. The best time to visit is from early September through mid-October, when the weather is pleasant, and nature's vibrant transformation takes center stage.
Visit Stratton Mountain Resort, where the scenic gondola ride treats you and your kids to breathtaking panoramic views from Vermont's highest peak, spanning over four different states. To further immerse yourselves in the beauty of Stratton, engage in activities such as hiking, kayaking, or embarking on an ATV tour. Explore the Lower Mountain Loop along Old Log Road for an easy one-mile trail suitable for kids. History enthusiasts will enjoy the Fire Tower Trail, where the historic Long and Appalachian Trails intersect, rewarding your climb with a tower boasting picturesque vistas over Stratton. Explore the wonders of Stratton with your kids and create cherished memories amidst the breathtaking beauty of Vermont's fall season.
Manchester
Late September – Mid-October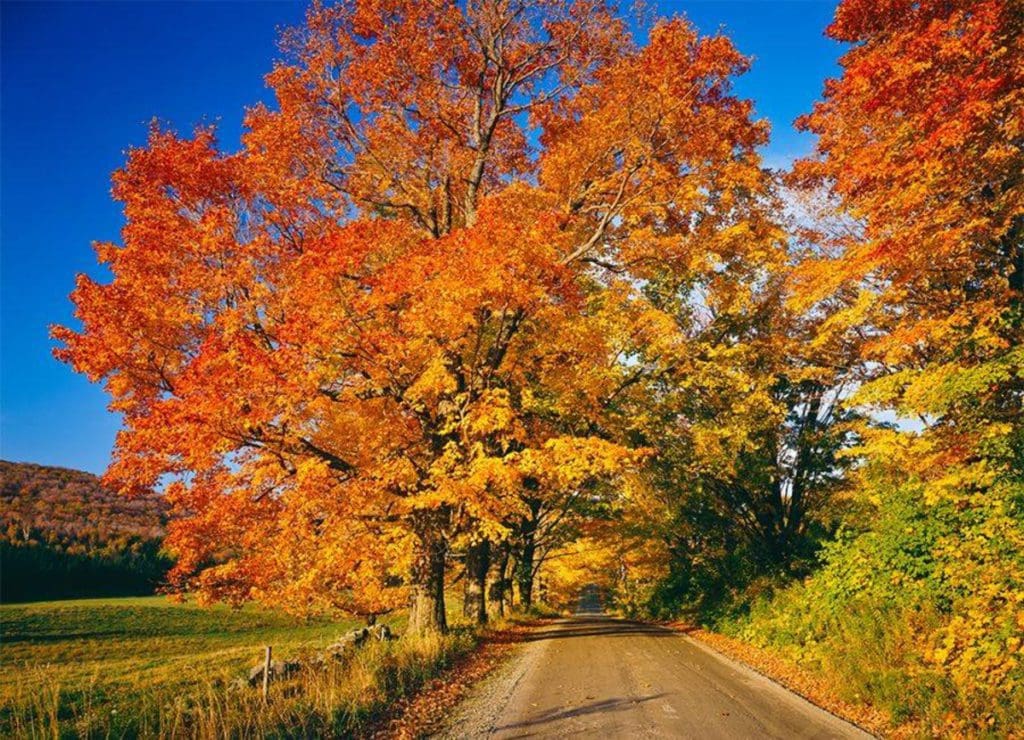 Immerse yourself in the breathtaking autumn scenery of Vermont by visiting Manchester with your family. Nestled in the Green Mountains, this charming town is surrounded by rolling hills and lush forests, offering a perfect backdrop for a fall foliage vacation in New England. Between late September and mid-October, explore the numerous hiking trails and walking paths with your kids to fully appreciate the stunning fall views.
Begin your Manchester adventure by strolling along the Manchester Riverwalk, which winds through the heart of downtown. Then, visit the Manchester Farmers Market on Thursdays to discover seasonal fall fruits. Extend your exploration of the city center by taking your kids to the Northshire Bookstore or treating yourselves to a delightful meal at The Silver Fork. Additionally, Hildene, the Lincoln Family Home, is also worth visiting. This historical museum features stunning gardens, hiking trails, and a captivating goat farm that will surely delight the little ones. Manchester also hosts various kid-friendly events and festivals throughout the fall season.
For an outdoor autumn adventure, head to Dana Thompson Memorial Park via Bonnet Street. Embark on a one-mile loop hike or bike ride within the park, or venture an additional two miles north along the historic Old Marble Rail Trail. Additionally, Bromley Adventure Park is a fantastic destination near Manchester, offering hiking trails and an exhilarating alpine slide.
Lastly, there are ample opportunities for pumpkin picking, apple picking, and exploring corn mazes in the area to celebrate the spirit of the season. Manchester truly encapsulates the vibrant beauty of autumn in New England, providing various activities and experiences that families can cherish. Come and create lifelong memories amidst the stunning fall foliage in this picturesque town.
Where to Stay in Manchester with Kids
There are plenty of places to stay in Manchester with kids. One family favorite is the Equinox Golf Resort & Spa. With a gorgeous location on an 18th-century property, it features amenities like an indoor pool, a spa, and even a golf course. Indeed, it's a great place to enjoy a fall foliage vacation in New England with kids.
Lake Champlain
Early September – Mid-October
Embark on a truly astonishing fall foliage vacation in New England with your family on the scenic shores of Lake Champlain. From early September to mid-October, this Vermont lake showcases a mesmerizing display of brilliant hues, with leaves in bright yellow and fiery red gracefully falling into the water. To fully immerse yourselves in the beauty of the season, families can partake in a range of activities such as hiking, biking, horseback riding, or even taking a boat ride on the lake.
Lake Champlain is also dotted with various islands that offer unique experiences for families to explore. Consider visiting the charming town of Alburgh, where you can take autumn adventures in Alburgh Dunes State Park. This park features hikes suitable for all ages and boasts a sandy beach where kids can appreciate the towering dunes, even if swimming may not be an option due to the weather. Regardless of which Lake Champlain destination you choose, you'll likely come across charming local farm stands offering pumpkins, squash, apples, and other seasonal delights. Take the opportunity to pick your own fruit or treat yourselves to a delicious cider donut.
Lake Champlain promises an unforgettable fall foliage experience in New England with kids, where the natural beauty of the lake and its surroundings will captivate your family. Indeed, your kids will adore immersing themselves in the vibrant colors, engaging in outdoor activities, and savoring seasonal treats for a truly memorable fall Vermont vacation.
Use Vrbo to reserve a stay near Lake Champlain here!
Best Places to See Fall Foliage in Massachusetts with Kids
Massachusetts offers a few of the best places to see fall foliage in New England with kids. This beautiful state is famous for its charming, coastal towns, and lovely autumn atmosphere. Not to mention, the array of New England fall foliage tours for families across the state. Let's dive into some of our favorite places to visit in New England with kids!
Salem
Mid-September – Mid-October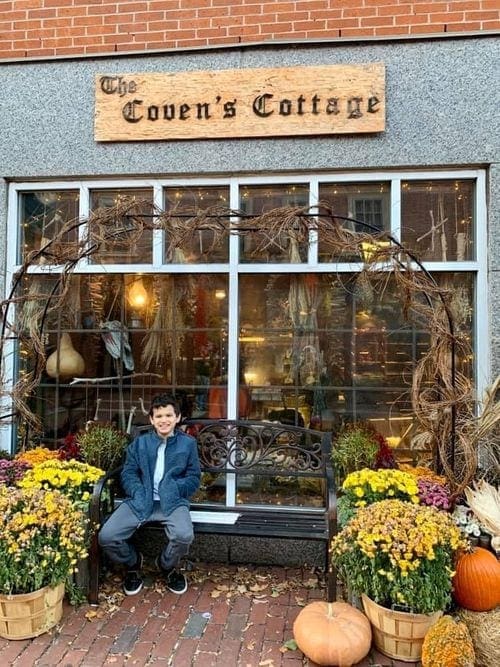 Photo Courtesy: Vanessa Garza
Salem, Massachusetts, offers the perfect blend of fall experiences and breathtaking scenery, making it an ideal destination for families. This picturesque town boasts stunning panoramas and deep occult roots, with intriguing graveyard tours and mysterious museums. From mid-September to mid-October, visitors can revel in the whimsical ambiance and explore the abundance of unique boutiques while witnessing the captivating fall foliage.
Families will be captivated by Salem's rich witchcraft history, famously known for the 1692 Salem Witch Trials. Start your family adventure at Salem Willows Park, a must-visit spot where vibrant fall colors adorn the expansive landscape, accompanied by an exciting arcade for kids to enjoy. Next, venture to Forest River Park, a riverfront oasis offering breathtaking views, a playground for little ones, and an educational museum to deepen their understanding of the area.
Then, don't miss the opportunity to explore other engaging museums in town. Start with the Salem Witch Museum, which provides a historical glimpse into the iconic Massachusetts case. Finally, the Peabody Essex Museum showcases centuries-old artifacts that will intrigue kids and adults alike.
RELATED: The Best Places To Go For Halloween With Kids
Where to Stay in Salem with Kids
If you're looking for a local hotel option in Salem for families, consider booking your stay at the Hawthorne Hotel, set in a historic building near some of Salem's best attractions. Alternatively, since Salem is a popular day trip from Boston for families, you could also book a hotel in Boston. We suggest the Fairmont Copley Plaza, Omni Parker House, and The Ritz-Carlton, Boston, among other options. Finally, check for home rentals on websites like Vrbo!
RELATED: 14 Best Hotels in Boston for Families
The Berkshires
Late September – Mid-October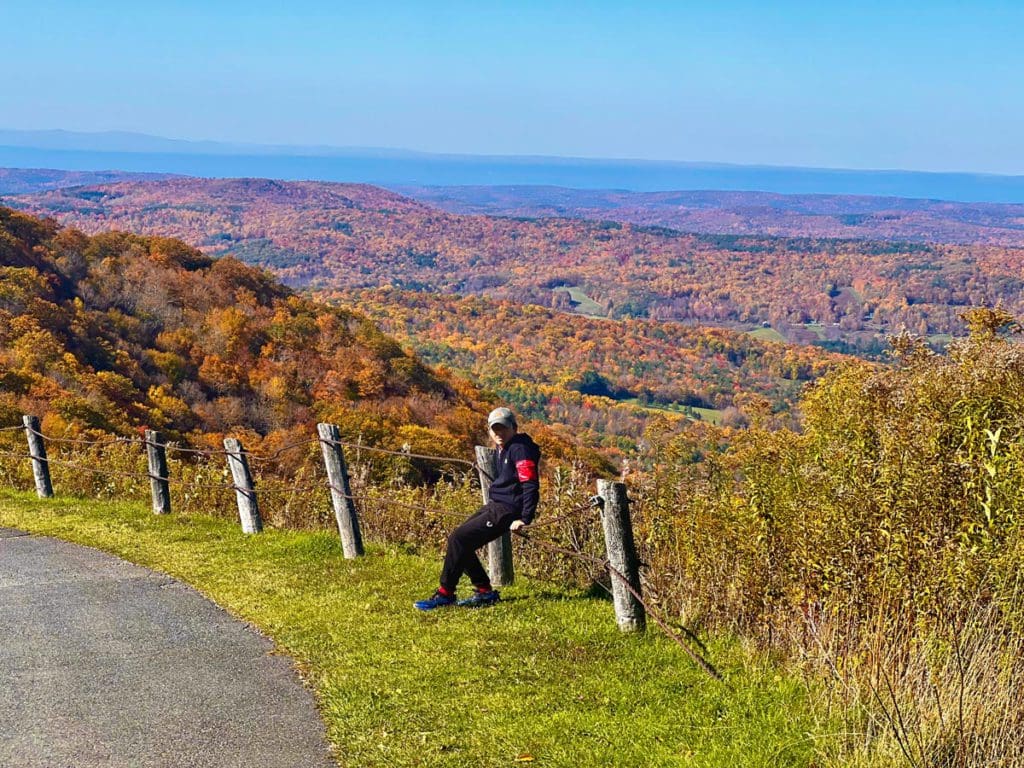 Experience the vibrant fall colors that adorn the picturesque Berkshires region of western Massachusetts! This family-friendly area is known for its hilly towns, making it a perfect destination for exploration. To make the most of your visit, hop from town to town and witness the breathtaking scenery. The Berkshires shine brightest between late September and mid-October, although the peak varies across locations.
Families particularly enjoy the area around Hancock, offering access to unparalleled autumn panoramas. For an aerial view of the fall foliage, adventure parks at Jiminy Peak and Catamount Mountain Resort are must-visit destinations. Further south, Mount Greylock boasts mesmerizing mountainside views, showcasing Vermont's Green Mountains and the Taconic Range. Children can proudly claim the accomplishment of climbing Massachusetts' highest point. The region also offers numerous family-friendly hiking options.
Pittsfield is a great stop for more fall fun, featuring Pittsfield State Forest with over 30 miles of trails for hiking, mountain biking, and horseback riding. Then, the Berkshire Museum in Pittsfield provides interactive exhibits on art, history, and culture, offering an engaging indoor activity. And, you can't miss visiting the Hancock Shaker Village. Use this article to plan A Perfect Weekend Getaway Itinerary For Families in Pittsfield!
Conclude your Berkshire's fall foliage vacation with a visit to Lakeview Orchard Farm, overlooking Hoosac Lake. Stock up on organic goodies while enjoying the serene surroundings. Alternatively, Hilltop Orchards is another fantastic option. If you're visiting in October, check if The Incredible Naumkeag Pumpkin Show aligns with your trip for an added dose of seasonal charm.
Finally, those looking for more fall-themed fun will enjoy ArtWeek Berkshires, the Botanic Garden Harvest Fest, Hancock Shaker Village Country Fair, Lenox Apple Squeeze, and for music lovers be sure to check out Fresh Grass at MASS MoCA!
Where to Stay in The Berkshires with Kids
Looking for family-friendly accommodations in The Berkshires? There are plenty of options, from luxury hotels to Vrbo home rentals, bed and breakfast options, and family-friendly inns!
In Great Barrington, families love The Wainwright Inn Bed & Breakfast. There are two families suites, as well as The Carriage House, which includes two bedrooms and a kitchenette. Then, the Fairfield Inn & Suites by Marriott Great Barrington Lenox/Berkshires is another family-friendly option with standard rooms, studios, and a 1-bedroom suite.
In Pittsfield, consider Hotel on North. This cute boutique hotel is located in the heart of downtown Pittsfield near all the best shopping and dining. Here, the rooms and suites are spacious and ideal for families. Alternatively, families also like Hilton Garden Inn Lenox Pittsfield.
Boston
Late September – Early November
Families will delight in visiting Boston, Massachusetts, during the autumn season to witness the vibrant fall foliage. The city comes alive with an enchanting burst of colors, creating a picturesque backdrop for unforgettable family adventures. Fall in Boston is best experienced in October, though colors begin in late September and can be enjoyed through early November.
As you explore Boston's charming streets and historic sites, you'll be greeted by a kaleidoscope of reds, oranges, and yellows that paint the trees. Take a leisurely stroll along the Freedom Trail, immersing yourselves in the rich history and admiring the stunning foliage. Then, hop on a scenic cruise along the Charles River, where you can enjoy panoramic views of Boston's skyline amidst the breathtaking autumnal hues. Additionally, don't miss out on family-friendly attractions like the Boston Common and Public Garden, where kids can revel in the playful atmosphere, while surrounded by nature's autumn masterpiece. Undoubtedly, Boston beckons families to create lasting memories amidst the captivating fall foliage!
Plan more fun things to do in Boston with kids by reading 25 Amazing Things to Do in Boston with Kids!
Where to Stay in Boston with Kids
Boston has plenty of family-friendly hotels! For the most convenient locations, stay at the Fairmont Copley Plaza, Kimpton Nine Zero Hotel, or the Boston Marriott Long Wharf. All boast kid-friendly amenities such as pools and are located near the city's best attractions. For more suggestions, consult our list of the best hotels in Boston for families! Regardless of where you stay, you're sure to find Boston to be one of the best places to visit in the fall on the East Coast!
RELATED: 13 Amazing Weekend Getaways Near Boston For Families
Best Places to See Fall Foliage in Connecticut with Kids
Next on our list of the best places to see fall foliage in New England with kids is Connecticut! Start your trip with a ride on the Essex Steam Train. Then, meander through Connecticut's North West Hills. Or, try other family-friendly activities when you vacation this autumn. Regardless of which Connecticut location you choose, you can enjoy some of the best fall activities in New England!
Kent
Early October – Early November
Plan your next unforgettable fall family vacation in the charming town of Kent! Nestled in Connecticut, this small town perfectly balances its historic tradition with a modern ambiance, offering families an unparalleled display of autumn beauty from early October to early November. As you explore Kent, you'll be enchanted by its quaint Main Street adorned with independent bookstores, local restaurants, and charming mom-and-pop shops eagerly awaiting your visit.
One of Kent's most renowned attractions is the majestic Kent Falls State Park, boasting a waterfall that towers over 250 feet! Take a hike along the Red and Yellow Loop, a trail that spans less than a mile and provides the best viewpoint of the falls, including a special covered bridge crossing. Alternatively, venture into Macedonia Brook State Park, covering over 2,300 acres of wilderness. While the Macedonia Brook Loop offers a more challenging hike, more suitable for teens, the park also welcomes younger children to explore and wander through its historic surroundings. Undoubtedly, this is one of the best places to go this fall in New England with kids.
Litchfield
Early October – Early November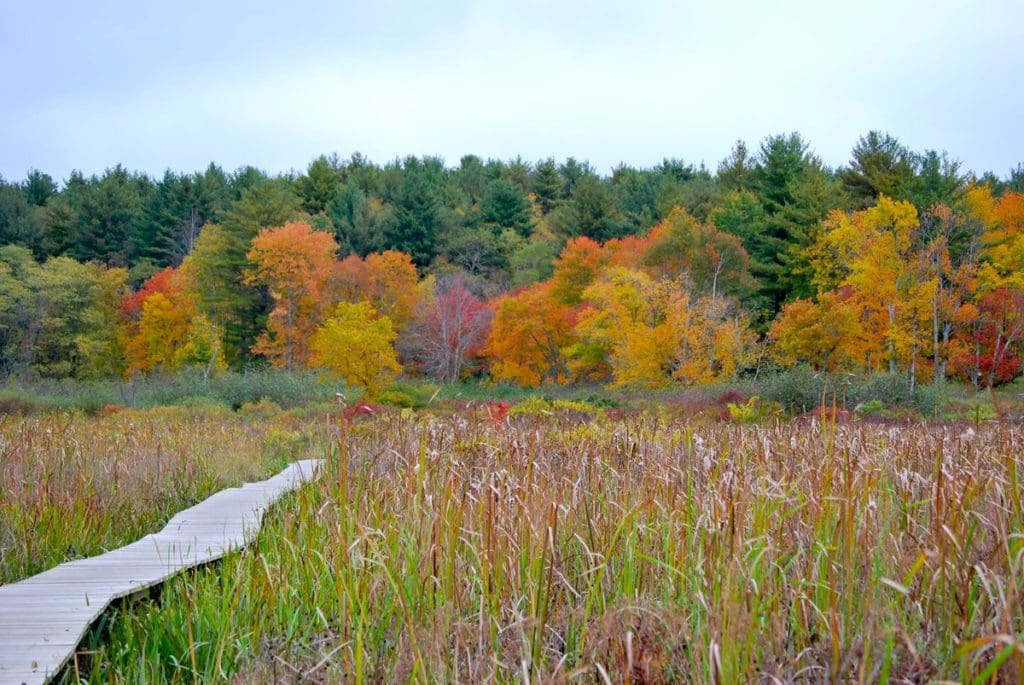 Litchfield is one of Connecticut's premier destinations for experiencing the beauty of autumn. This captivating town entices families with its picturesque green pastures, rolling hills, and vibrant food scene, guaranteeing an unforgettable experience. From early October to early November, Litchfield showcases a stunning array of nature's most vibrant pigments.
Begin your adventure by exploring the enchanting Little Pond Boardwalk Trail at White Memorial. This trail is renowned for its captivating fall foliage and is among the most popular in all of Connecticut. Immerse yourself in nature at the White Memorial Conservation Center, nestled within 4,000 acres of preserved land. Take a tour of the nature museum and stroll to the Bantam Lake viewing platform for breathtaking views. For hiking and mountain biking, venture to Topsmead State Forest, where you can also tour the historic Tudor-style cottage (on the 2nd and 4th weekends of the month through Columbus Day Weekend).
Finally, check out the delightful Scarecrows in the Meadow display, hosted by the Litchfield Historical Society in October. The event features over 50 fun and spooky scarecrows. For fall colors that you can bring home, visit the nearby White Flower Farm. And if you're seeking a unique perspective, take to the skies in a hot air balloon with Aer Blarney Balloons to witness Litchfield's fall foliage from an aerial view.
Best Places to See Fall Foliage in Rhode Island with Kids
If you're seeking amazing things to do in New England in the fall with kids, look no further than these charming Rhode Island towns. Filled with kid-friendly fall activities, as well as some of the best fall foliage in New England for families, you are sure to love your visit!
Bristol
Early October – Late October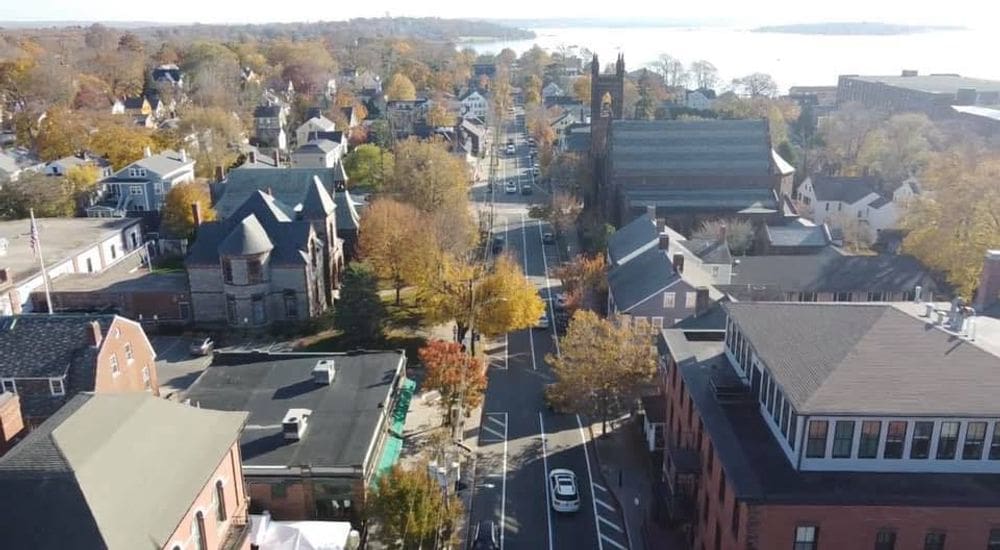 Immerse yourself in the quintessential charm of Bristol, Rhode Island, a waterfront town that transforms into a captivating fall foliage destination for families from early to late October.
Experience a blend of history and scenic beauty at Blithewold Estate, a historic building surrounded by stunning gardens where families can wander and appreciate the vibrant colors of the season. Then, step back in time at the Coggeshall Farm Museum, an 18th-century tenant farm that provides a glimpse into life in 1799. Here, amidst the picturesque fall foliage, families can interact with farm animals and enjoy activities such as maple sugar-making demonstrations.
For those seeking outdoor adventures, rent bikes in town and embark on the picturesque East Bay Bike Path, traversing bridges, marshes, and other natural wonders. Just a short distance from town, discover the natural paradise of Colt State Park, a haven for hikers, leaf-peepers, and nature enthusiasts of all ages. Undoubtedly, Bristol offers vibrant autumn hues, and a charming atmosphere to create lasting memories for your family!
Looking for a place to stay in Bristol? Try Vrbo here!
Newport
Late September – Late October
Embark on a memorable family adventure by visiting Newport, Rhode Island, to witness the captivating fall colors! This charming coastal town offers a delightful mix of history, natural beauty, and family-friendly activities that will leave you in awe. From late September to mid-October, Newport transforms into a picturesque haven adorned with vibrant autumn hues.
Start your exploration at the historic Cliff Walk, a 3.5-mile scenic trail that winds along the breathtaking coastline, offering stunning ocean views and foliage-clad cliffs. Kids will love spotting seashells and, on warmer days, exploring the tidal pools along the way. Then, learn about the rich history of Newport by visiting the iconic mansions along Bellevue Avenue. Marvel at the grand architecture, where the fall foliage provides a stunning backdrop.
For a fun and educational experience, head to Save The Bay Exploration Center & Aquarium. Discover various marine life and engage in interactive exhibits that will captivate children of all ages. If you're seeking outdoor adventures, consider taking a family-friendly hike at Norman Bird Sanctuary in nearby Middleton. Here, you can explore the scenic trails and admire the vibrant foliage in the sanctuary's 325 acres of preserved land.
Plan your trip accordingly, and you can enjoy Bowen's Wharf Seafood Festival, which is happening this October 14-15, 2023. It's an event not to miss. To truly embrace the fall spirit, take a Ghosts of Newport Tour. Finally, indulge in seasonal treats at local bakeries and enjoy a leisurely stroll along Thames Street. Along the way, you can also browse charming shops and find unique souvenirs. Undoubtedly, this is one of the places to see fall foliage in New England with kids.
Use Vrbo to book your stay in Newport now!
Providence
Late September – Mid-October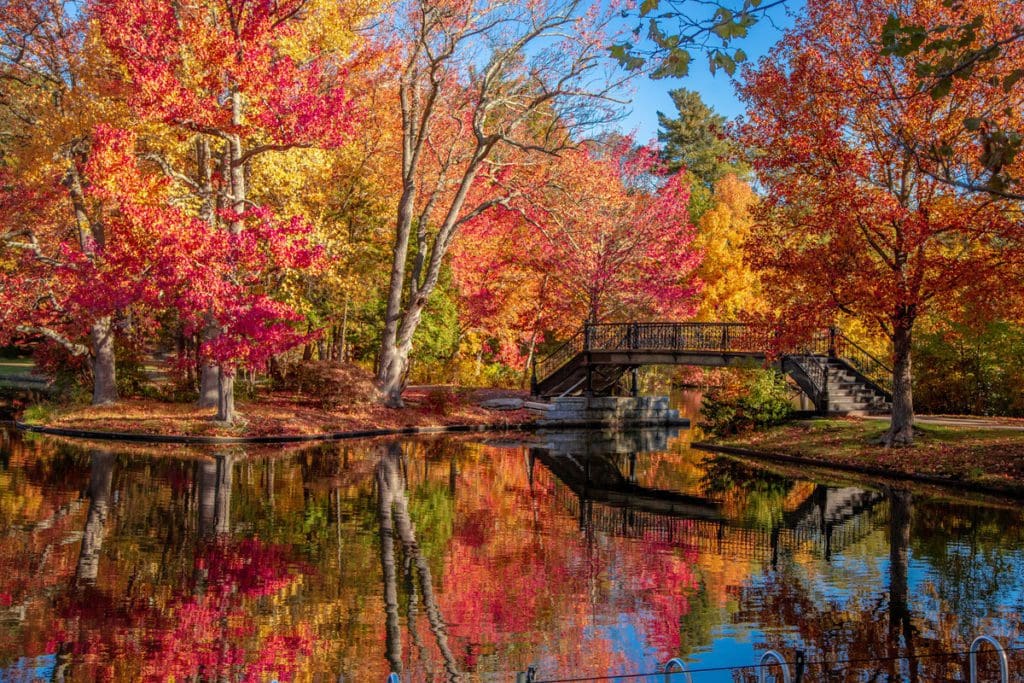 Providence, Rhode Island, is the perfect place for a family getaway with captivating fall colors! This vibrant city offers a beautiful blend of urban charm and natural beauty, making it an ideal destination for a fall foliage adventure in New England with kids. From late September to mid-October, Providence comes alive with the vibrant hues of autumn.
In the heart of downtown, you'll find Westminster Street, a vibrant shopping district where you can find unique boutiques, local shops, and cozy cafes to enjoy a warm beverage while taking in the fall atmosphere. Families with young kids can also add Providence Children's Museum to their fall itinerary. Meanwhile, given the season, older kids and teens may prefer taking a Providence Ghosts, Phantoms, and Poltergeists Tour.
Then, head to Roger Williams Park. This sprawling green oasis boasts beautiful gardens and scenic trails. Stroll around the park's lakes, and let the kids enjoy the playgrounds and carousel. For a unique experience, rent a paddleboat and admire the reflection of the colorful foliage on the water. Afterward, visit Roger Williams Park Zoo, where you can encounter a variety of animals while enjoying the fall ambiance. Plan your getaway right, and you can also experience the Jack-O-Lantern Spectacular festivities!
Continue your journey by exploring Waterplace Park, a picturesque urban park located downtown. Take a walk along the riverwalk and marvel at the colorful foliage reflected in the water. If you're feeling adventurous, consider taking a scenic boat ride along the Providence River for a different perspective of the fall colors. Providence River Boat Company offers several options, including a haunted boat ride!
Book your stay in Providence here with Vrbo!
Happy Autumn Adventures in New England with Kids!
Photo Courtesy: Gunjan Prakash
That concludes our compilation of Captivating Autumn Destinations in New England for Family-Friendly Fall Foliage Adventures! We trust that this list has provided you with abundant autumn-inspired travel options for your family, along with excellent recommendations for family-friendly fall foliage tours in New England. Regardless of which destination you choose, from Maine to Rhode Island, we know you will discover breathtaking fall colors as a family! Enjoy leaf-peeping this fall in New England with kids.
*This post may contain affiliate links that may earn us a small commission, at no additional cost to you. Affiliate links in no way inform the hotels, sights, products, or other recommendations included in our articles. All opinions and recommendations expressed here are compiled from submissions submitted by the generous members of our Families Who Love To Travel community.
READ MORE: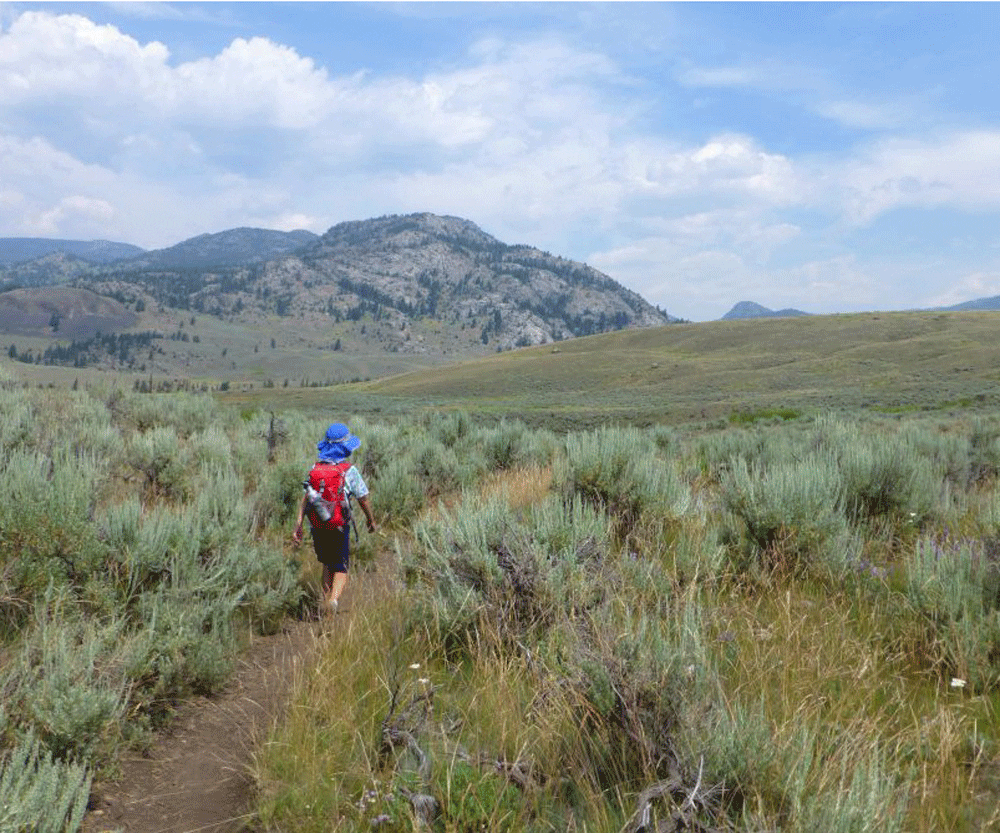 Everyone knows that Yellowstone National Park makes for a classic family vacation. Strolling the boardwalks...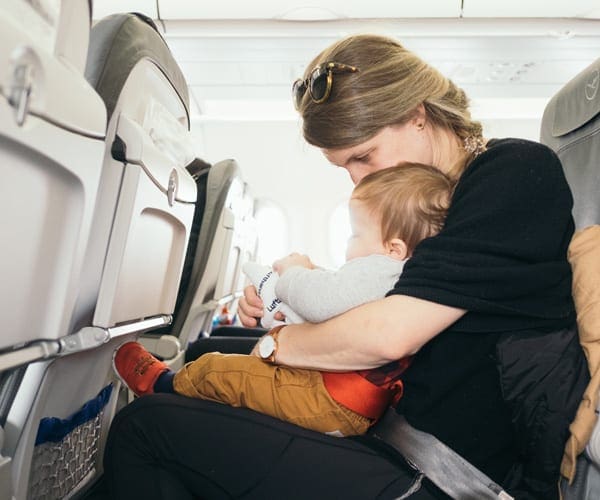 Families Who Love To Travel contributor Meghan Oaks provides her 10 best tips for your...