The best Philadelphia attractions for families were never really on my "must-see" list. Until a series of events, including a work conference, and my brother moving there, led me to the city over and over again! In fact, I think it's safe to say that my family loves Philadelphia now!
Through these distinct visits, I've discovered Philadelphia to be a wonderful travel destination for children and adults alike. Honestly – there are so many amazing things to do with kids in Philadelphia! From grand historic museums to the Liberty Bell, Independence Hall, and amazing cuisine, Philadelphia will definitely please any traveling family. Having explored Philadelphia with my little one several times, I've compiled a list to help other families take a future adventure. Here are my 5 best Philadelphia attractions for families! (I also include a few bonus recommendations at the end – I couldn't help myself!)
Reading Terminal Market
My family absolutely loves Reading Terminal Market! Centrally located within the city, it's huge, with plenty of hidden nooks to explore together. And it's also great for a rainy day since it's a mostly indoors market, filled with food vendors and tiny artisan shops offering samples. Though it is not open late enough for dinner, it's a perfect morning stop for coffee and a doughnut. (One of the best doughnuts I've ever had was at Beiler's Doughnuts!) Or, stop for a quick bite for lunch (yum, Philly cheesesteaks!). Reading Terminal Market truly is one of the best things to do with kids in Philadelphia.
While the market becomes more crowded later in the day, opportunities to people-watch and food-taste are really endless here. Plus, for those cooking at home, Reading also offers a bakery, fresh produce, meat, and other grocery-related items! To eat in, try Philly cheesesteaks, Asian fare, burgers, and so much more kid-friendly cuisine. When my family stays in town, my little one requests to visit Reading each morning for a doughnut — and to feed Philbert, a fundraising pig statue at the center of the market! In my opinion, if you are in Philly, Reading Terminal Market is an absolute must-see – at least once. And if you're anything like me, that means at least once a day!
Please Touch Museum
The Please Touch Museum is definitely kid-centered in everything they do! My daughter still asks to go to this museum frequently, even after we've left Philadelphia. In fact, every time we say we are going to any museum, she still asks "is it a touch museum or a look museum?" Featuring two floors of trains, cars, buses, woodland creatures, etc., each exhibit is extremely well done, and with great detail. It even has a carousel you can (pay extra) to ride! My daughter squealed with delight when we told her she could touch everything in the museum. She particularly enjoyed the grocery store, teaching us about the food she selected. I couldn't believe how many great questions it sparked in her! At the end of the day, we literally dragged her away kicking and screaming!
I highly recommend The Please Touch Museum to families with young kids, likely most enjoyed by kids under 8. Though it's located a little out of the city center, it's easy to access via bus. My family had such a fun afternoon here — we will definitely return whenever we are in Philadelphia!
Liberty Bell
The Liberty Bell is another must-see on my list of best Philadelphia attractions for families! Entry is free on a first-come, first-serve basis, and luckily doesn't require tickets. That being said, you can imagine the lines to enter during high tourist seasons! I highly recommend an early morning viewing before you do the Independence Hall Tour. If the lines are too long, you can also go around to the back of the building and see it through the window.
My family enjoyed the Liberty Bell's walk-through museum, and it was very informative for us. It is very text-heavy, however, best for older kids or adults. We went inside when my daughter was three, and while she enjoyed seeing "the big bell thing," the historical importance and text-heavy information was lost on her. As a history enthusiast, I really enjoyed the museum aspect and seeing the Liberty Bell. We had a short wait since it was rainy and early in the morning (again, timing is everything!). The Liberty Bell is also great for school-age children who have talked about it in school. In fact, depending on when you go, you will likely see scores of children around the area when you visit. Overall, it's worth the stop! We followed up our visit with a tour of Independence Hall.
Independence Hall Tour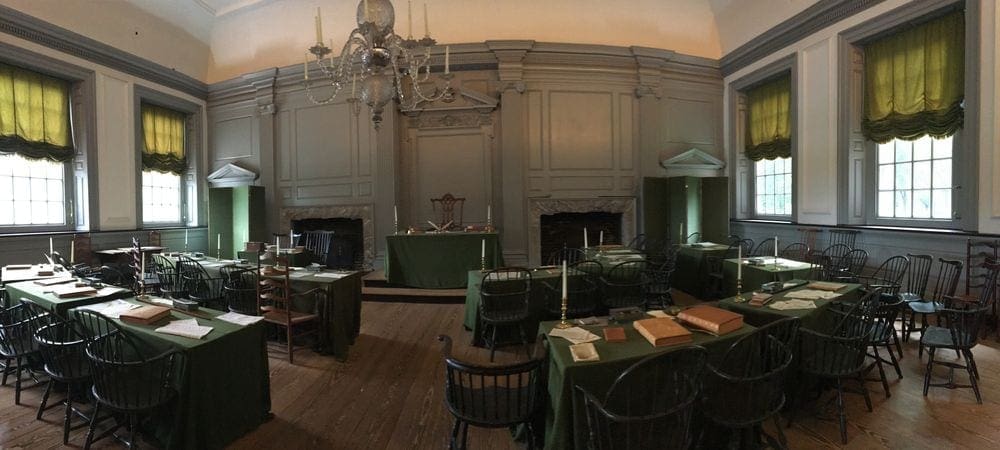 Independence Hall houses centuries of intriguing American history! My husband, brother, and I really enjoyed hearing more about its significance during the Revolutionary War. In the meantime, my little one also enjoyed seeing the old chairs/artifacts, rooms, and running around the square outside of the Hall! The Independence Hall Tour was much more interesting (and dare I say accurate) than much of what I remember learning during school. I think older kids and teens will like the tour, artifacts, and grounds. It was expertly done and well worth the time we spent there.
The tour itself was about 45 minutes long. Tickets are needed to enter, but are available for free at the Independence Visitor Center, located a few blocks away from the Hall. You can also reserve tickets in advance for a very small fee, which is what we did. I think it was about $6.00 USD total for one child and three adult tickets, and worth it for us to guarantee the time of our tour. If you are going to do a historical tour while you're in Philly, Independence Hall gets my vote! It's definitely one of the best Philadelphia attractions for families!
Philadelphia's Magic Gardens
Philadelphia's Magic Gardens is a mystical wonderland for little children! This mosaic mural collection spans a whopping three city blocks, which is a feat within itself. While families can go inside the museum, there are also colorful murals outside to enjoy. My daughter was in awe our whole visit and thought it was simply amazing that someone could use tiny pieces of glass to create a picture. Head inside, and you'll find even more to impress your children. The museum features rotating indoor exhibits, interactive activities, and a magical outdoor labyrinth. Occasionally, they also offer neighborhood walking tours for those interested in getting an in-depth explanation of the art. My family had a ton of fun exploring and talking about the different mosaics. It's definitely worth a peek or two!
Wait, Wait – There's More!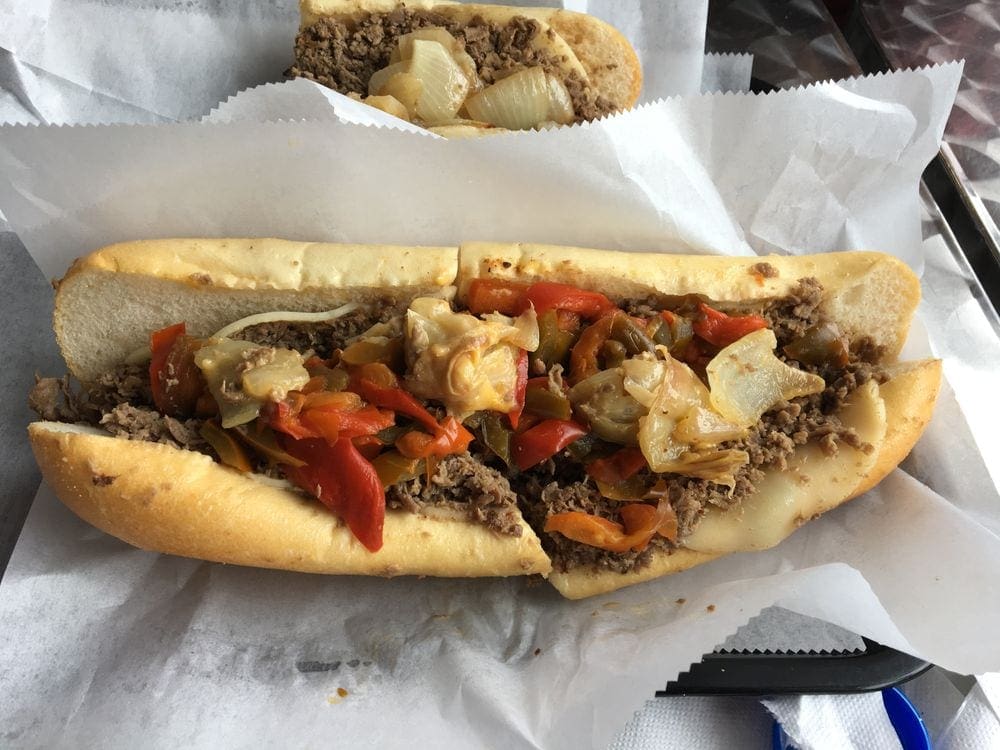 Have I mentioned that we love Philadelphia? I can't contain my list to just five things. Here are a few additional recommendations for sights and restaurants!
6 Bonus Sights & Parks in Philadelphia
Best Philadelphia Restaurants For Families
We hope you've enjoyed our list of 5 Best Philadelphia Attractions For Families! It's a place we continue to go back to and explore – there is just so much to do! Overflowing with fascinating history, delicious food, and great opportunities to connect and explore as a family, the city is perfect for travelers young and old.
Find more from Antonia here!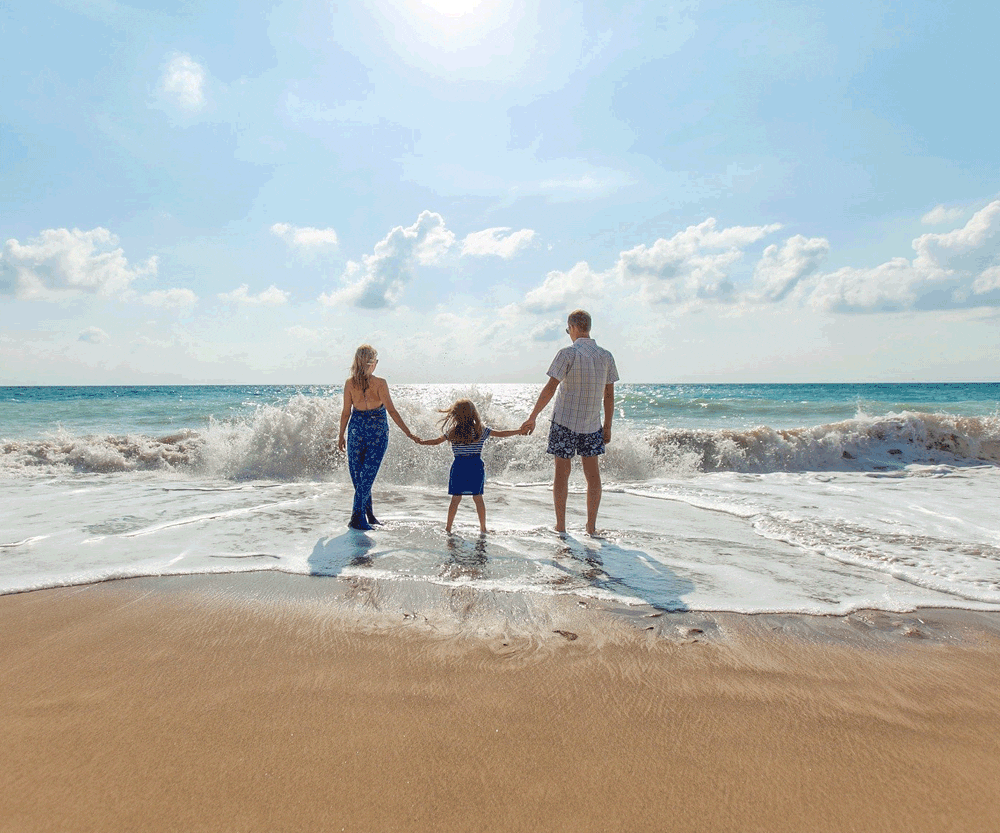 The Cayman Islands/Grand Cayman is a beautiful and vibrant vacation spot in the Caribbean. Below,...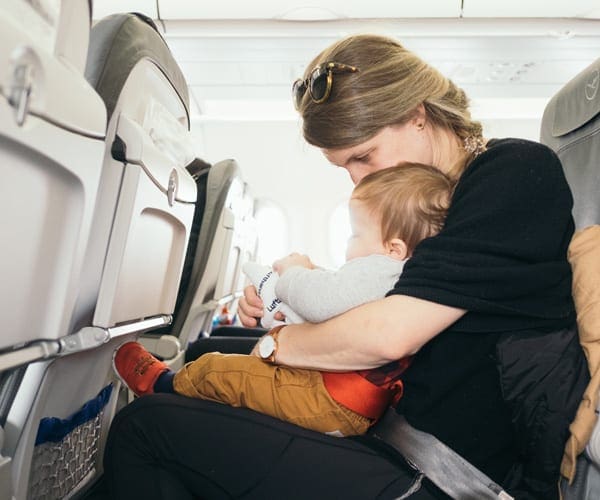 Families Who Love To Travel contributor Meghan Oaks provides her 10 best tips for your...