Planning a family itinerary for the Canadian Rockies is a wonderful idea because there are so many things to do in this amazing place! For one, the Rocky Mountains and the surrounding areas are absolutely stunning natural wonders, with pristine glacier-fed lakes, verdant meadows, and amazing wildlife. They offer a wealth of outdoor activities for all ages, from hiking and biking in the summer to skiing and snowboarding in the winter. From the beautiful Banff National Park to Jasper National Park and everything in between, there's so much to experience together. Based on my own trip through the region, this family itinerary for the Canadian Rockies can help you make the most of your time in the area and ensure that everyone in your family has a great time. Keep reading to start planning your Amazing 13-Day Family Itinerary For The Canadian Rockies!
Day 1: Edmonton to Canmore
On the first day of our family itinerary for the Canadian Rockies, we flew from JFK to Edmonton. From there, we drove around three hours to Canmore, a mountain town in Alberta that's known for its stunning scenery and outdoor sports. We decided to make Canmore our home base when planning our vacation to Banff, which is around twenty minutes away. We also used Canmore as a home base for visiting Banff National Park, further West of Banff town. Depending on how young your kids are, it may be more convenient to stay in Banff, closer to the park.
Look for your Vrbo homestay near Canmore here!
If you have a choice, we recommend flying to Calgary and flying out of Edmonton. This removes the need to drive from Edmonton to Calgary and brings you closer to Banff to start with.
Discover more amazing locations in Canada when you read about The Best Vacation Destinations For Families In Canada This Summer!
Day 2: Cascade of Time Garden, Lake Minnewanka, Two Jack Lake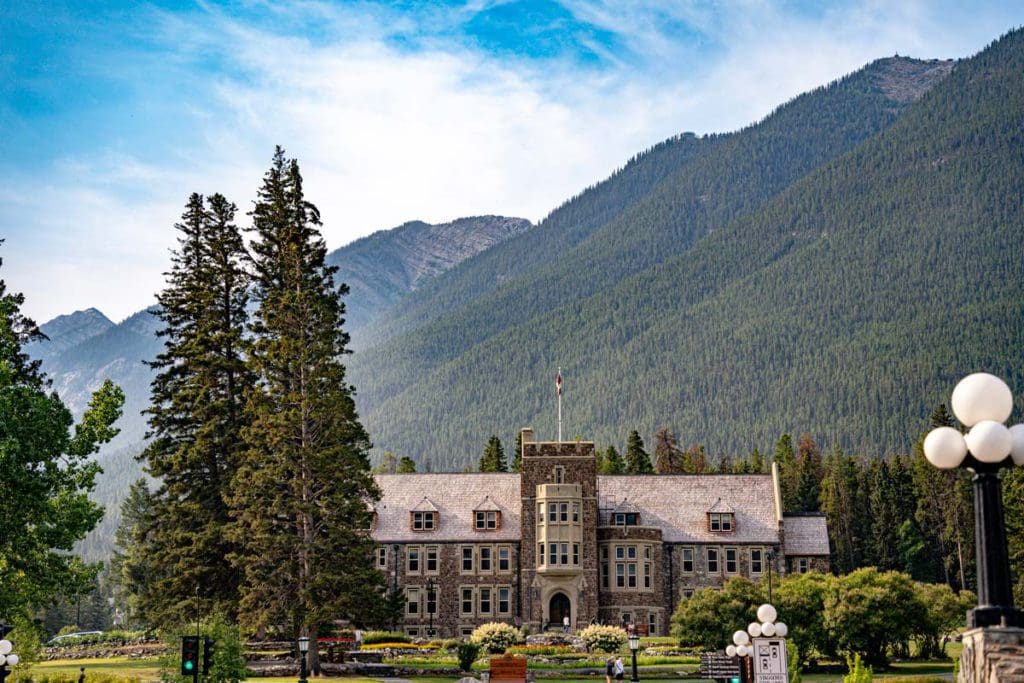 The next stop on our family itinerary for the Canadian Rockies was exploring the town of Banff. With its gateway to Banff National Park, it showcases a range of adventures for all ages. Enjoy anything from hiking to biking trails, horseback riding, and swimming. Before exploring, of course, we took a photo with the famous Banff sign near the Norquay Road entrance to town!
Then, we also stopped at the tranquil Cascade of Time Garden. It's full of interactive displays that teach children about the geological history of the Canadian Rockies. They can touch and feel different types of rocks, see fossils up close, and play in a mini-river. The garden is also beautifully landscaped with native plants and flowers, ​​featuring different sections that represent distinct time periods, from the Pre-Cambrian era to the present day.
It's no secret the Canadian Rockies offer a lot of amazing opportunities for families who love the outdoors. One must-try activity is hiking to the 1.5-mile Bow Falls View Point with kids. It provides astounding views of the Bow River and the surrounding mountains. A few interpretive signs along the way teach kids about the local flora and fauna. This is a great activity for families who want to enjoy the outdoors and learn a little bit about Banff's history at the same time.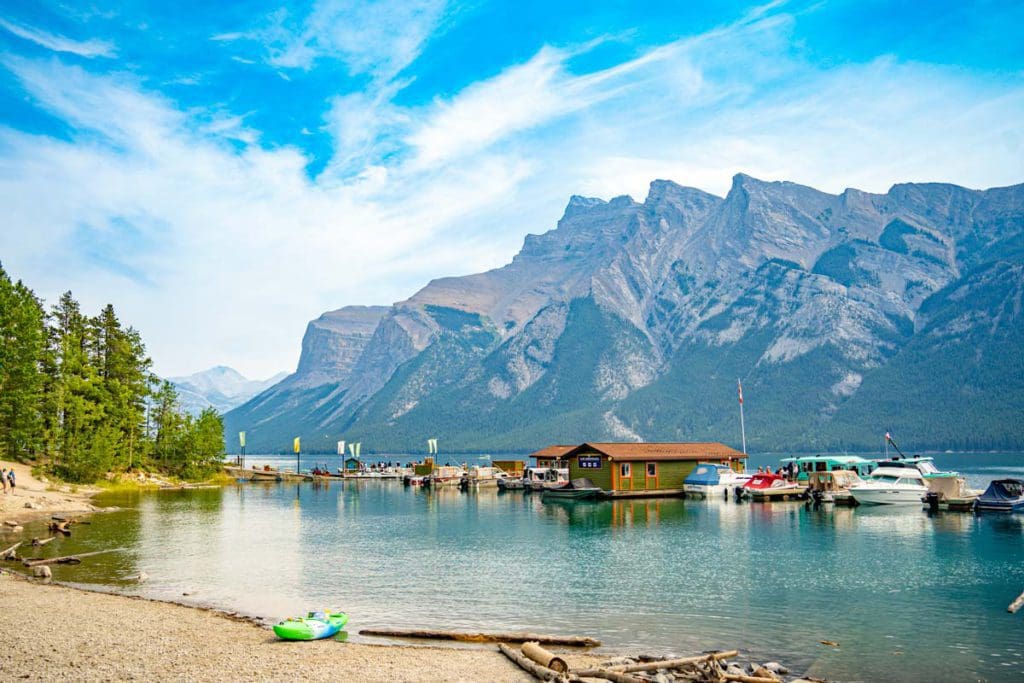 As a warm-up to our exploration of Banff National Park, we took a boat cruise around Lake Minnewanka. This breathtaking glacial lake is in the eastern portion of the park. Lasting around an hour, the cruise gives amazing views of the mountains, glaciers, and wildlife that you would otherwise miss if you were just driving through the area. They're very kid-friendly and teach little ones about geology and the local wildlife, including bald eagles and ospreys.
Heading north on the Icefields Parkway from Banff, you'll also come to one of the most beautiful lakes in Alberta – Two Jack Lake. Take a short break here to enjoy the views and maybe go for a short walk. Your kids will love seeing the ducks swimming around. Don't forget to take some pictures!
Peruse the tours in Banff with Getyourguide.com!
Where to Stay Near Banff with Kids
When looking for a place to stay near Banff with kids, we chose to stay in Canmore at the Quality Resort at Chateau Canmore. With an indoor pool, a sauna, and other amenities for families, it has everything you need for a comfortable stay. It is close to several restaurants and grocery stores.
Day 3: Banff Gondola, Sulphur Mountain, Vermillion Lake
To see the scenery from above in Banff, the Banff Gondola should definitely be on your list of things to do when visiting the Canadian Rockies with kids. Near downtown, this kid-friendly gondola takes you up to Sulphur Mountain for 360-degree views of Banff. At the top of the mountain, kids can also learn more about the local wildlife and ecosystem at the Discovery Centre. There are also several hiking trails nearby for exploring with the family.
You can hike up to Sulphur Mountain instead of taking the gondola. Or, take the gondola up, then hike back down for a different experience. Another popular hike for families to take is the 3.2-mile Johnston Canyon to Upper Falls Trail. While we didn't find the hike to be too challenging, I wouldn't recommend it for very young children. Either way, ​​the views of the canyon and the waterfalls are awe-inspiring. Kids will love exploring all the different areas along the way! Be sure to pack plenty of snacks and sunscreen, as there's little shade.
Back in Canmore, we stopped for a sweet treat at the unique Old School Bus Ice Cream. This ice cream shop is located inside a retired school bus and the flavors were delicious and creamy. Once we had our ice cream, we set off to watch the sunset at Vermillion Lake. Make sure to arrive at least two hours before sunset. The sun goes behind the mountain much sooner than the actual sunset. Located in Banff National Park, it offers unparalleled views of the Canadian Rockies. In fact, the sunset makes the lake even more amazing, with reflections of the iconic Mount Rundle in the water. Stay until it's dark so you can see the stars!
Experience the sites without the hassle of parking with this Hop-on, Hop-off Bus Day Pass in Banff National Park with Getyourguide!
Day 4: Banff National Park, Kootenay National Park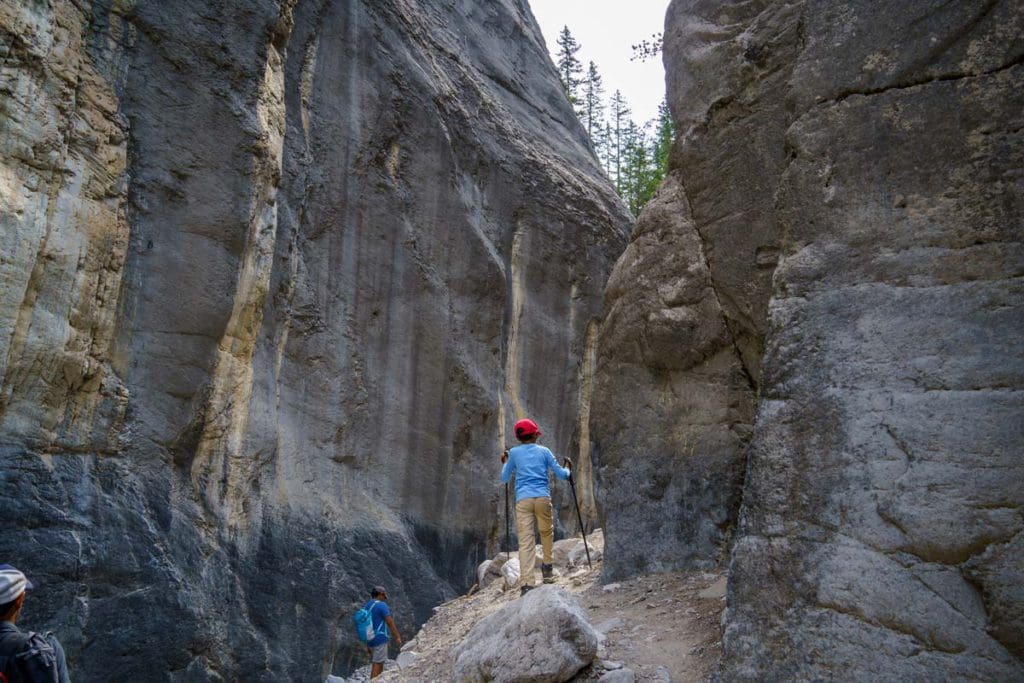 Of course, seeing more of Banff National Park is a must on any family itinerary for the Canadian Rockies! Famous for its gorgeous glacial lakes, geysers, and cascading waterfalls, it's also a popular summer destination due to its variety of outdoor activities such as hiking, cycling, canoeing, and fishing. There are also plenty of opportunities for kids to see wildlife like grizzly bears, lynx, elk, and bighorn sheep!
Since we'd already completed a few hikes, we tried the 4.4-mile Grotto Canyon Trail. Packed with plenty of adventures, including a hike through a canyon, the trail is well-marked and there are several places along the way where you can stop and take in the views. At the end of the trail, you'll find a small waterfall and a cave that you can explore. Keep an eye out for drawings by the aboriginal peoples that once inhabited Canada and tell kids a little more about the history of the grotto.
From Banff, we took The Banff-Windermere Highway to Kootenay National Park, a quintessential Canadian destination for families. It spans the Canadian Rockies and is home to scenic mountains, gorgeous glaciers, and pristine lakes. Not to mention around 250 bird species, as well as grizzly and black bears! From swimming, boating, or canoeing at Kootenay Lake to hiking, there's plenty to do as a family too. We took the 1-mile Marble Canyon Trail, which takes you across seven different bridges and to the edge of the canyon. This trail offers wonderful views of the canyon below as well as plenty of opportunities to see wildlife.
Try this Snowshoeing Tour in Kootenay National Park with Getyourguide.com!
Day 5: Lake Louise, Mirror Lake, Lake Agnes
On day five of our family itinerary for the Canadian Rockies, we set off to see the sunrise at Lake Louise. Though we woke up around 2 am, we were still too late to park at Moraine Lake. Still, while Lake Louise is absolutely stunning at any time of day, watching the sun come up over the mountains and reflecting off the turquoise lake is an experience you'll never forget. ​​To make the most of it, we recommend heading to the lake as soon as the sun starts to rise. You can enjoy a peaceful walk and then find a spot to sit down and take in the incredible views.
From Lake Louise, we took the 4.6-mile Lake Agnes via Mirror Lake Trail, which follows the Lake Agnes Trail above Lake Louise through Mirror Lake to Lake Agnes. While it's a bit long and sometimes steep, the route takes you past waterfalls, mountain streams, and wildflowers. Once we arrived at Lake Agnes, we headed to the tea house. It's a short hike up, and once you're there, you can enjoy the views of the lake and mountains while having a cup of tea or a snack.
Then, we took a shuttle to Moraine Lake, a glacier-fed lake that's famous for its bright blue color. To get the best views, we took a short (around 0.5-miles) trail to the Moraine Lake Viewpoint. It's just up a few steps, and the view from above is even more spectacular. Finally, we drove back to downtown Canmore to take a break from nature. From the Canmore Museum to the many playgrounds, there's so much to fill an afternoon. To grab a bite to eat, we highly recommend Cabeza Grande!
Viator offers a Lake Louise and the Icefields Parkway – Full-Day Tour.
Day 6: Yoho National Park, Golden Skybridge
If you're looking for an unforgettable Canadian Rockies experience for the whole family, look no further than Yoho National Park. Just a short drive from Calgary, Banff, and Lake Louise, Yoho is packed with kid-friendly activities, from hiking and biking trails to wildflower meadows and waterfalls. First, we hiked to Takakkaw Falls, one of the tallest waterfalls in Canada. The 0.8-mile trail is short and easy, featuring some amazing views of Takakkaw Falls. Kids will love the chance to explore the woods and get close to the waterfall.
Families planning a family itinerary for the Canadian Rockies can't miss Emerald Lake. You can go for a hike around the lake, have a picnic lunch, go canoeing or kayaking, or even go for a swim. The views from the top of the surrounding mountains are incredible and definitely worth the hike up. There are several short hikes accessible from the lake shore, or you can take a boat tour to get a closer look at the scenery. Once we were done exploring, we grabbed a quick lunch at the Cilantro Cafe.
The Canadian Rockies are a breathtaking sight, and what better way to see them than by crossing the Golden Skybridge with your kids? Perfect for thrill seekers, the bridge comprises two suspension bridges that link together. Suffice it to stay, the views of the gorge are incredible, and you're bound to get some great photos. For the older teens in your family, there are even adventure sports like zip lining, plus an exciting canyon swing. If your kids are in the mood for another eclectic adventure, we also enjoyed the Kicking Horse Pedestrian Bridge in downtown Golden. The bridge is suspended 350 feet above the Kicking Horse River and provides breathtaking views of the mountains and river.
Ready to book your homestay in Banff? Reserve here with Vrbo!
Day 7: Lake Louise Gondola, Banff Hot Springs
On day seven of our family itinerary for the Canadian Rockies, we conquered more scenic hikes near Banff. One of the best things to do with kids in the Canadian Rockies is to hike the Hoodoos from Bow Falls Trail. While it's around 6.2-miles, the loop is easy to follow. You can start and end it anywhere you find parking. Witness some of the most breathtaking scenery, including the famous hoodoos, and unique rock formations that look like they've been carved by wind and water. From Bow Falls, take another trail to the Surprise Corner Viewpoint, which overlooks the iconic Fairmont Banff Springs Hotel and Sulphur Mountain.
Riding the Lake Louise Gondola is another family-friendly activity. Open all year, the gondola travels to the top of a mountain for stunning views of the Canadian Rockies. There are also plenty of hiking trails at the top. We took the 2.5-mile Ptarmigan Viewpoint and Pika Loop, an easy hike starting at the Whitehorn Lodge where the Gondola ends. The Ptarmigan Viewpoint Trail follows a short, flat section of trail to the Ptarmigan Viewpoint, offering sweeping views of the surrounding mountains. From there, the trail loops around and down through a meadow full of wildflowers and pikas (small rodents). If you're searching for on-mountain dining, we recommend Whitehorn Bistro.
Nothing says relaxing after a long day of adventuring like taking a dip in the Banff Upper Hot Springs. Located south of Banff at the end of Mountain Avenue, the springs are situated in a pristine natural setting, surrounded by towering mountains and lush forests. The water is warm and relaxing, and your kids will love swimming in it. Finally, my family ended our day with a tasty ice cream cone from COWS Banff!
Book your Banff National Park: Hop-On-Hop-Off Bus Day-Pass with GetYourGuide today!
Day 8: Jasper, Bow Lake, Mistaya Canyon
Day eight of our family itinerary for the Canadian Rockies meant getting an early start. Driving from Banff to Jasper, we decided to stay in Hinton, a small town around an hour northeast of Jasper. Ultimately, we regretted this. Since most of Jasper's main attractions are 30 – 60 minutes south of Jasper, it felt like we were constantly in the car. If I were to recommend this trip to other families, I'd suggest staying closer to Jasper or even in the town of Jasper.
One fantastic stop to make between Banff and Jasper with kids is Herbert Lake. Featuring a one-mile loop around the lake, it's a perfect place to stretch your legs while driving along the Icefields Parkway. Further north, families can also stop for a break at Hector Lake. With a quick hike (2.6-miles round trip), you'll come across a tranquil glacial-fed lake. If you have time, we also recommend stopping to see Bow Lake from the Bow Lake Viewpoint. The lake is easily accessed from the road, and there are plenty of spots to pull over and take in the view. Be sure to keep an eye out for wildlife, especially Rocky Mountain Bighorn Sheep, which are often seen grazing along the roadside. You might even catch a glimpse of a beaver or two!
Keep driving to reach Peyto Lake, a beautiful turquoise lake fed by the Peyto Glacier. When at the lake, take the 1.5-mile Peyto Lake Panorama Overlook trail. It's a fantastic hike for all ages, featuring a brief trip uphill to a scenic overlook. Then, further north, we came across the Mistaya Canyon, accessible via another short, 1.1-mile hike.
More Scenic Viewpoints for Families
For lunch, we stopped at the Howse Pass Viewpoint, aka the Saskatchewan River Crossing. Here, three rivers of the Saskatchewan, Mistaya, and Howse meet to form the North Saskatchewan River. Further north, we also briefly stopped at the Weeping Wall Viewpoint. Though it's much more impressive in the winter, kids will still appreciate how the waterfalls stream down the cliffs, making it look like it's crying. Nearby Panther Falls Viewpoint is also worth the stop if you have time. Finally, we ended our day with a 4-mile hike along the Parker Ridge Trail, which provides amazing views of the Saskatchewan Glacier. It's a long hike (around four hours), so I'd only recommend it for avid adventurers!
Where to Stay in Hinton with Kids
In Hinton, my family stayed at the Holiday Inn Express Hinton. It was a basic, no-frills hotel around an hour and forty minutes from Jasper National Park. It does have a great water slide into the swimming pool that the kids and the kids-at-heart loved.
Day 9: Jasper Skytram, Athabasca Falls
Of course, a visit to Jasper would be incomplete without seeing Jasper National Park. It's one of Canada's most beautiful summer destinations. Filled with lush forests, cascading waterfalls, and the majestic Rocky Mountains, it also showcases hiking, mountain biking, paddling, fishing, and so much more. We started our day on the Jasper Skytram. The views of the Canadian Rockies are breathtaking and continue for miles! The trip up is smooth and kids love getting a birds-eye view. Once you reach the Upper Station, there are plenty of hiking trails. You can also pack a lunch and enjoy a picnic at one of the many scenic spots.
For our hike, we chose the 2.3-mile Whistler Mountain Summit Trail. Though it isn't too long, it's moderate with a lot of elevation gain, passing through forests and subalpine meadows with great views of the Canadian Rockies. There are some steep sections near the summit, but kids will love reaching the top. There are also some fun activities along the way, such as climbing on rocks.
For lunch, we stopped at the Summit Restaurant near the top of the tram. Offering panoramic views of the mountain as you dine, the menu is kid-friendly and delicious. Once we were fueled up, we set off for another hike, this time on the 0.6-mile Athabasca Falls Trail. The trail starts at the Athabasca Falls parking lot and takes you to an overlook of the falls. From there, you can continue to another trail that leads to the base of the falls. It's relatively easy, however, it does have some elevation changes and can be slippery in places. The views of the Athabasca Falls are breathtaking, though!
Reserve Athabasca Falls: Class 2 White Water Rafting Adventure with Getyourguide.com!
Day 10: Sunwapta Falls and Canyon, Honeymoon Lake, Miette Hot Springs
The Canadian Rockies offer many amazing hiking trails for families. We chose the 2.0-mile Sunwapta Falls Trail, which showcases the Upper and Lower Sunwapta Falls, as well as plenty of other amazing scenery. There are also many opportunities to take breaks and rest along the way.
We also stopped at the Honeymoon Lake Viewpoint. Overlooking the mountains, kids will love the chance to get out of the car and explore the wilderness, and parents will appreciate the stunning views. For lunch, we paused at the Goats and Glaciers Viewpoint, known for its views of mountain goats walking on glaciers. If you're lucky enough to see some, think fast and grab a picture! At the viewpoints, there are also interpretive signs about the glaciers in the area with pictures from different angles, so kids can see how they've changed over time.
What kid wouldn't want to stand right in front of a glacier? A must-do on any trip to Jasper with kids is the easy 1.1-mile hike along the Path of the Glacier Trail to see the magnificent Angel Glacier and towering Mount Edith Cavell above Edith Cavell Lake. The well-maintained trail begins near the Icefields Parkway, about a 10-minute drive from Jasper town center, and continues to a gorgeous glacier lookout point. It's an out-and-back hike, so you can turn around whenever you like, but most people continue for at least 20 minutes to reach a small waterfall cascading down from Angel Glacier.
Then, we took the easy, 1-mile Source of the Springs Trail, which runs along Sulphur Creek to the Miette Hot Springs. Since the path is quite flat, it's very stroller-friendly and has plenty for little ones to explore, including rocks and small caves. Plus, you can relax in the warm hot springs after your hike!
Day 11: Columbia Icefield Skywalk, Athabasca Glacier, Valley of The Lakes
Without a doubt, two of the most popular things to do on a family itinerary for the Canadian Rockies are the Columbia Icefield Skywalk and the Athabasca Glacier. So why not combine a visit to both? My family chose a package that includes a tour to see the glacier, admission to the Skywalk, plus transportation to and from the Glacier Discovery Center. Your adventure will begin at the discovery center, where you can learn all about the glaciers and how they formed. Then, you'll get to experience the thrill of riding an Ice Explorer onto the Athabasca Glacier, and learn more about the frozen landscape. Kids will love getting up close and personal with the glacier by walking on it, and they might even spot some wildlife!
Of course, The Columbia Icefield Skywalk is definitely a must-do on any Canadian Rockies itinerary with kids. Overlooking the Sunwapta Valley, the walkway is situated over a glacier, so you'll get to feel like you're walking on top of the world. Plus, there are glass floors and walls that give you an unobstructed view of the stunning landscape below. It's an incredible way to see the glaciers up close and get a true sense of their size. Plus, it's a great family photo opportunity!
Afterward, we decided to hike the 2.9-mile Valley of the 5 Lakes Trail. With picturesque mountains, meadows, and forests surrounding you the whole time, the trail takes you past five different lakes, all with their own unique beauty. Though some portions are on an incline, it's mostly flat, making it perfect for families with small children. What a great spot to take a break, have a picnic lunch, and enjoy the views!
Viator also offers an Ice Explorer Glacier Tour and Glacier Skywalk!
Day 12: Maligne Lake, Medicine Lake
A boat cruise is a perfect activity for kids while on vacation in the Canadian Rockies. Maligne Lake, famed for its turquoise waters and views of the surrounding peaks in Jasper National Park, is one of the most beautiful lakes in the world. And it's also very kid-friendly! From towering mountaintops to breathtaking glaciers, a boat tour will take you through some of the most amazing scenery that the Rockies have to offer. Kids can also keep an eye out for wildlife like bald eagles, ospreys, and deer as they cruise. The boat tour is also a great way to learn about the history and culture of the area. While we booked our tour through Spirit Island Cruises, there are lots of local providers in the area.
On the way to or from Maligne Lake, families can also stop at the scenic viewpoint by Medicine Lake. Kids will love getting out to stretch their legs and explore. Be sure to take some time to walk around, take in the views, and snap some photos of the bright blue water against the rocky backdrop. If you're feeling adventurous, there are even some short trails that you can hike.
Book your Maligne Lake tours here with Getyourguide!
Day 13: Elk Island National Park
On the last day of our family itinerary for the Canadian Rockies, we drove from Hinton to Edmonton, which took around three hours. Next, to see Elk Island National Park in all its glory, we drove the Elk Island National Park Loop. Taking around two hours total (though you don't have to drive the whole thing), ​​the roads are well maintained and there are plenty of places to stop along the way to take in the sights of majestic mountains and glaciers. Kids will love seeing all of the animals that live in the park, including elk, bison, and deer! For example, there's the bison paddock, where you can see these massive animals up close. Next, stop at the beaver dams and take a short hike to see how these creatures have built their homes. After that, visit the Visitor Centre to learn more about the local wildlife.
Where to Stay Near Edmonton with Kids
Before departing Canada, we stayed one last night at the Days Inn & Suites by Wyndham, Edmonton Airport. While it wasn't the most luxurious place to stay, it was convenient and just fine for the night.
Book your stay in Edmonton with Expedia or Hotels.com!
Best Tips for Planning a Family Itinerary in the Candian Rockies
After embarking on this incredible adventure with my family, I have a few tips to share about planning a family itinerary for the Canadian Rockies. Keep reading to learn more!
Read this itinerary at a big C loop, starting from Calgary and going clockwise toward Edmonton. Obviously, this is just a suggestion for the route you should take, but it's the most convenient and allows you to get the most out of your vacation.
Ideally, break your stay along the route as you travel. Not only is it less driving, but you may come across some hidden gems you didn't even know about.
When driving between Banff and its surrounding lakes to Jasper, keep in mind there are no gas stations for miles and miles. Make sure to fill up your tank before leaving the Banff area.
Carry a ton of bug spray with you! When we visited in August, it was extremely buggy, and we experienced a heat wave of around 90 degrees. I personally didn't find the bug spray in Canada to be as effective as the ones from the United States, so I wish I had brought more.
Avoid buying bear bells from Amazon. Even the rangers we met said they were useless. Bears don't particularly find the sound annoying. Casual conversation and groups of 4 or more work better. This is theoretical since we did not come across bears during our trip, aside from the gondola.
Plan your summer escape to one of The Best Vacation Destinations For Families In Canada This Summer!
Happy Travels!
We hope you liked this list of Amazing 13-Day Family Itinerary For The Canadian Rockies by our contributor Kundan Sen! From glacier-fed lakes to breathtaking mountains, there's no better place to enjoy the natural scenery as a family. Enjoy the Canadian Rockies with your kids!
* Unless otherwise noted, all images within this article belong to and are courtesy of Kundan Sen.
*Due to the COVID-19 pandemic, some of the attractions, accommodations, or things to do on this list may be closed. Please ensure availability before making your decision.
*This post may contain affiliate links that may earn us a small commission, at no additional cost to you. Affiliate links in no way inform the hotels, sights, products, or other recommendations included in our articles. All opinions and recommendations expressed here are compiled from submissions submitted by the generous members of our Families Who Love To Travel community.
Don't forget to join the Families Love Travel Facebook group, follow our Facebook and Instagram pages, and subscribe to our newsletter for more family-friendly travel ideas.
READ MORE: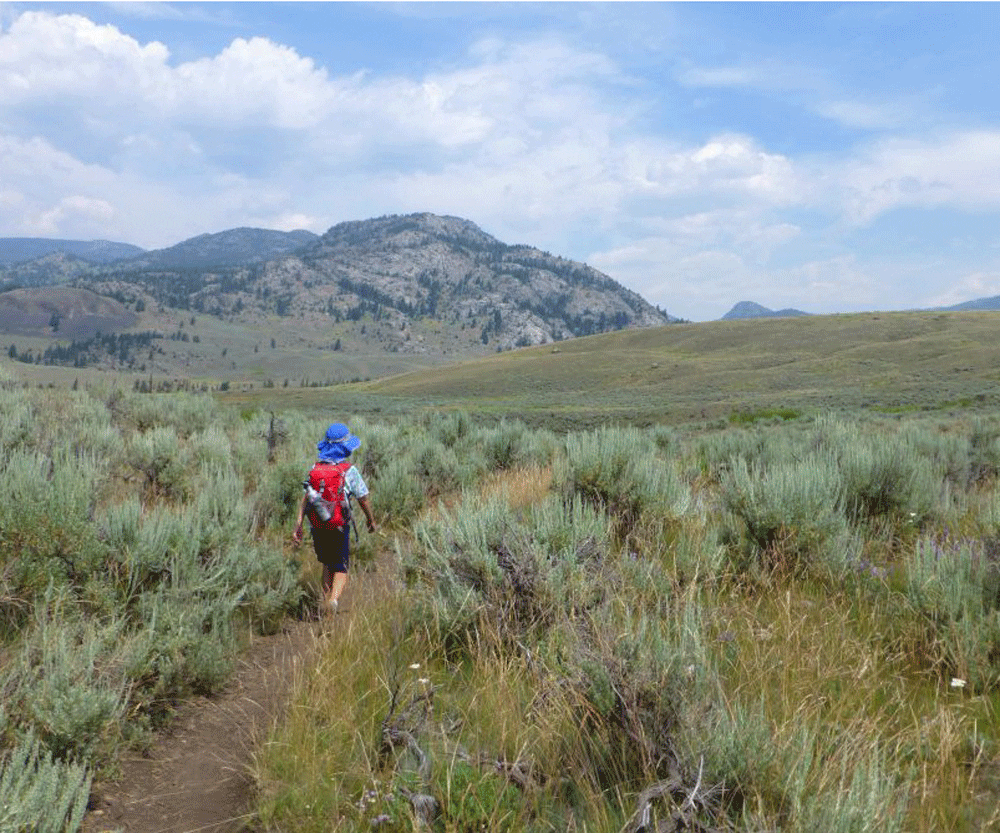 Everyone knows that Yellowstone National Park makes for a classic family vacation. Strolling the boardwalks...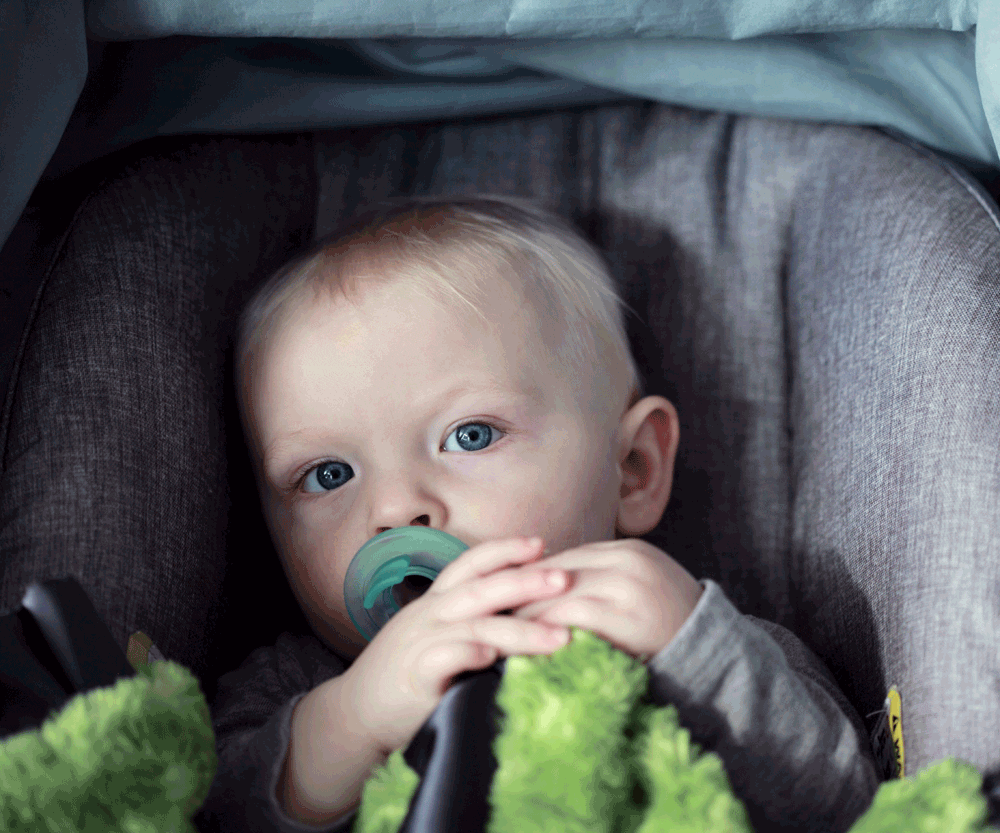 Deciding whether or not to travel with your child's car seat is one of the...