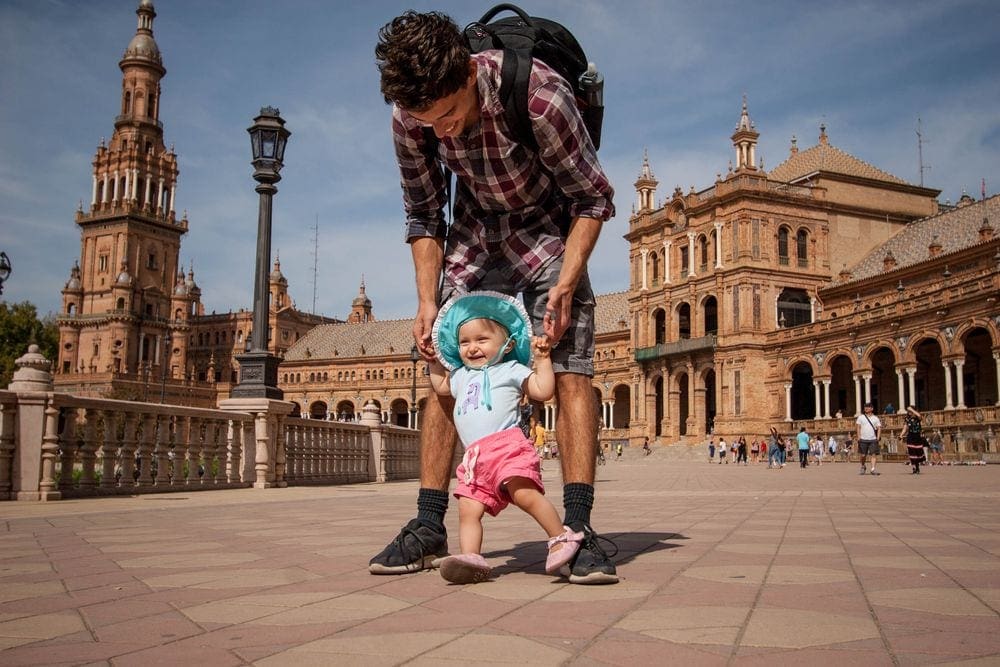 If you want to know all about Seville with kids, there's some important information you should read first. From the local currency to health information, the official language, and even babysitting services, it's important to do proper research on your vacation destination before booking your trip. Finding all the information in one place can be tricky, though, which is why we've compiled a list of things to know before visiting Seville, including important information for you to reference. Plus, stay tuned until the end, since we also include things to do in Seville with kids and the best hotels in Seville for families. Keep reading for all about Seville for families!
At a Glance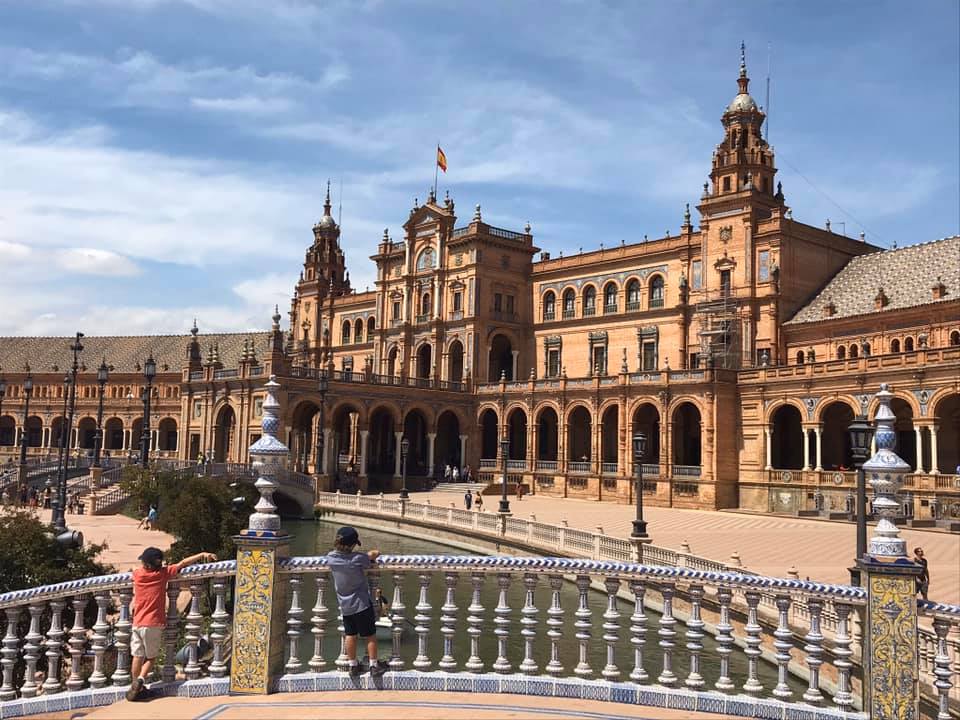 Before you visit Seville with kids, you should learn the basics. Keep reading for local currency, visa information, and more information all about Seville with kids.
Local Currency & Time
Wondering all about the Seville local currency and how families can get the best currency exchange rates? The currency in Seville is the Euro. Most credit cards and traveler's checks are accepted as well. In case you need help figuring out how much money to bring with you, use this handy Currency Converter. Seville operates 6 hours ahead of Eastern Time, in GMT +2. Click here to see Seville's current time.
Official Language & Visa Information
The official language in Seville is Spanish, which is spoken by all citizens. Check this website for some helpful words and phrases!
If you're planning an extended trip to Seville or have a non-U.S. passport, you may also need to research obtaining a VISA before your visit. To learn all about the VISA policy in Seville for families, click here.
Power/Standard Voltage
In Spain, there are two associated plug types, types C and F. Plug type C has two round pins and plug type F is the plug has two round pins with two earth clips on the side. Spain operates on a 230V supply voltage and 50Hz.
Local Weather
Knowing about the Seville climate will be helpful before you depart. Seville is located on the sea and has a Mediterranean climate. This means that autumn, spring, and winter can be wet, although temperatures stay fairly mild. The summers are hot and dry. Most of the year, the weather is simply perfect. Check the current forecast on Accuweather. If you need more help planning your Seville vacation with kids, feel free to check out Seville's official tourism website for more information.
Health Information
Having the right information about health and safety is an important part of visiting Seville with kids. If your children have allergies, might need medical attention, etc., be sure to keep this important information in mind.
Vaccinations, Health Tips, & Hospitals
Visiting Seville with young ones? Remember to check if your child has all the correct shots and vaccines. For a complete list of the recommended vaccines and more health information on all about Seville with kids, including COVID-19 warnings and regulations, visit the official CDC website. It's always better to be safe than sorry, so you should also check out hospitals near your vacation destination just in case. Some accessible hospitals in Seville include Hospital Universitario Virgen Macarena, Virgen del Rocío University Hospital, Hospital San Juan de Dios.
COVID-19 Guidelines & Vaccination Information
If you're planning a trip to Seville soon, you're probably wondering about Seville's COVID-19 guidelines. As of April 15, Seville has no travel restrictions or requirements at this time. Please check the Consulate website to keep up-to-date on Seville's stay-at-home orders. We suggest making sure you're fully vaccinated before traveling to Seville with kids. For vaccination information, click here. You can also visit this website for additional useful information about local COVID-19 regulations.
Emergency Services
In case of an emergency, keep these numbers handy during your trip to Seville with kids, as this is very important information when learning all about Seville with kids.
Police, Fire Department, Ambulance
For emergency services in Seville, dial 112.
Safety Issues
If you're visiting with your kids and want to know all about your destination, you're probably wondering: Is Seville safe for families? The answer is yes! The crime threat in Seville is generally considered to be on the lower side, and it is widely regarded as one of the safest cities in Spain. Seville is overall very safe to travel to. Even though it's sometimes dangerous, the criminal activities that occur only apply to dangerous parts of the city, which are rarely frequented by tourists.
You can review the current U.S. Department's Spain Travel Advisory here.
Seville for Kids
Visiting Seville with kids brings its own set of challenges. Keep reading for comprehensive information on babysitting services, baby gear rentals, etc.
Babysitting Services & Baby Gear Rentals
Looking for a romantic evening alone in Seville? Luckily, you'll find plenty of babysitting services throughout the city in your search to learn all about Seville with kids. We suggest Seville Services or Mary Pop. If you've left your baby gear at home, don't worry! There are plenty of places to find baby gear in Seville. Take a look at Stroll Around, Babies Getaway, and plenty of other options in Seville.
Transportation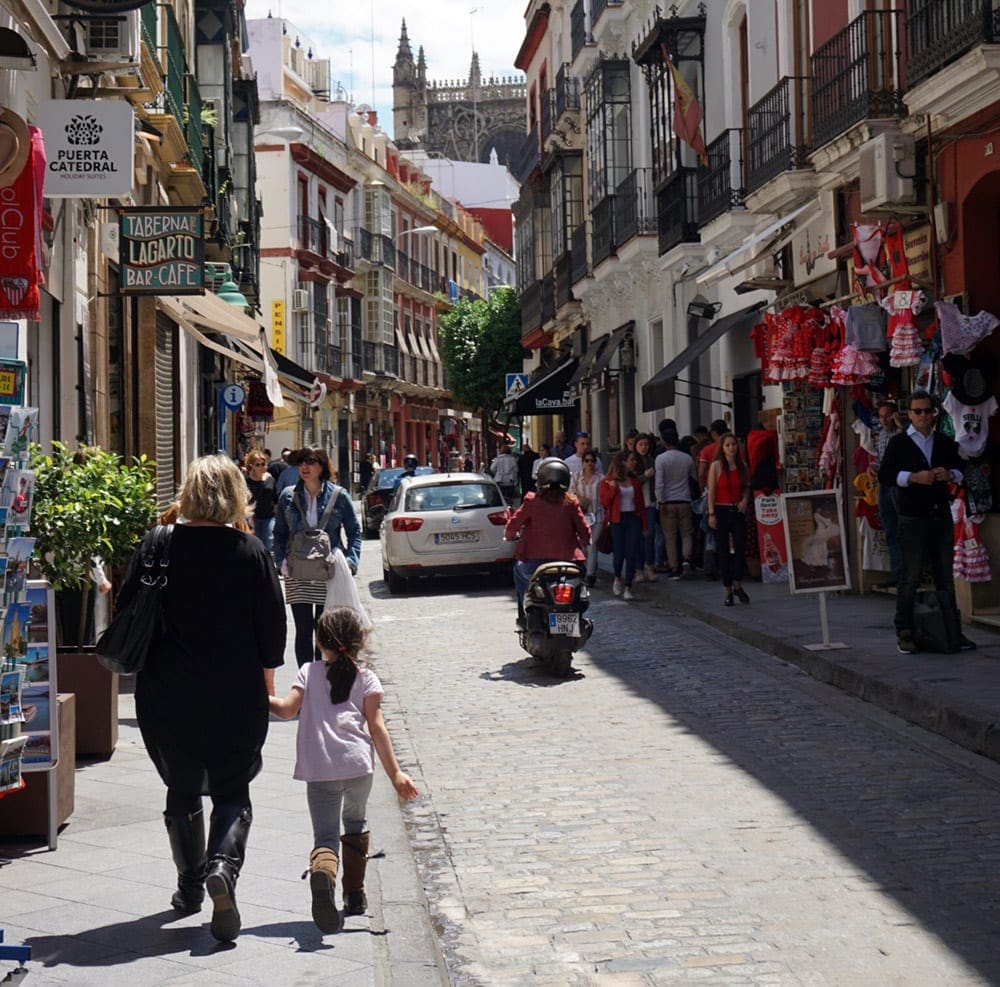 Transportation is another thing to consider when vacationing in Seville with kids. Whether you need information about car seats or all about local airlines in Seville for families, you've come to the right place.
Car Seat Laws
If you plan to ride in a car during your Seville vacation with kids, keep reading for important car seat information and all about Seville with kids. According to the Spanish law about passenger safety, everyone in the vehicle must wear a seat belt at all times. Children must be in the correct safety seat for their age and height. In Spain, children need to be over 135cms tall and over 12 years before they can travel without a car seat. You can find great graphics from the Spanish Department of Traffic here.
Transportation Services
Seville has a great network of buses. Most buses depart from Puerta de Jeres (south of the city center) or Plaza Ponce de Leon (east of the city center). The Plaza de las Armas is mainly a bus station to travel to other Spanish cities. Local buses usually depart from the bus station Prado de San Sebastián. Bus tickets are available from the driver (from € 1.30) or in a kiosk. City buses C1, C2, C3, and C4 run in, through, and around the center.
There's also a 1.4 km line tram through the center of Seville. The Metro-Centro tram connects Plaza Nueva to Avenida de la Constitucíon (near the cathedral). The tram stops at Archivo de Indias, Puerta de Jerez, San Sebastián and San Bernardo. Seville also has one metro line with 22 stations. At the moment, they are busy working on three metro lines. Metro stops can be found here, but the line is primarily intended to connect you to the suburbs of Seville. Trains depart from Santa Justa station and are intended for transport between Spanish cities.
Local Airlines
To get into the city, many travelers fly to Seville Airport (SVQ).
For more information on transportation in Seville, click here.
Other Things to Know Before Visiting Seville with Kids
Searching for more tips all about Seville with kids? Between tipping customs, important holidays, and other safety issues, there are still a few things left you should know. Keep reading to learn all about Seville with kids!
Tipping Customs
Knowing all about tipping in Seville can save families a lot of confusion. In Spain, like many popular travel destinations, tips and gratuities are discretionary and dependent on the service quality you've received. Tipping throughout Spain is somewhat uncommon, depending on the industry. Similar to the USA, expect to tip when visiting salons, spas, and other service industries. Normally, 10%-15% of the total bill is applicable. Additionally, hotel staff (like porters and house cleaners) and tour guides greatly appreciate tips. Consider 1 to 5 euros for hotel staff (more if you require a lot of support), and about 5 euros for great tour guides.
However, at restaurants, tipping is very rare (even for table service). If you are ordering from a bar or counter, tips are not expected or warranted. For table service, tipping is also not expected. If you had exceptional service and want to provide a "bonus" to your server, you may do so, of course. In this case, one or two Euros is just fine. Restaurant staff and servers in Spain make a living wage, making tipping somewhat unnecessary compared to the United States. Additionally, in many places, service is already included, so a bill should say "SERVICIO INCLUÍDO".
Important Holidays
If you're still searching for specific dates to visit Seville, you may want to determine whether your vacation will fall on a public holiday. This can greatly diminish the number of attractions or points of interest you see, so it's important information to know about visiting Seville. Check out the Seville National Holidays for more information here.
Things to Do in Seville with Kids
Once you've read our Seville important information and have learned all about Seville with kids, it's time to decide what to do. Known for its warm hospitality, Moorish architecture, and traditional Andalusian culture, this dynamic city offers families a fun and educational vacation.
Visit Plaza de España to appreciate the Renaissance Revival architecture. Kids will love the Andalusian tile work, fun water boats along the moat, and the Military Museum inside. Two more monuments you can't miss are the Cathedral and the Alcázar. Families can check out Christopher Columbus' tomb and climb up to the top of the Giralda tower! "Las Setas," a building with a funky facade, also provides a fun pit stop in Seville. Within the complex, there's the Antiquarium (a museum dedicated to the ruins discovered while digging for the project) and an open-air market. Of course, families visiting Seville can't leave without seeing a traditional Flamenco show!
Reserve your tours in Sevilla here through Viator or Getyourguide.com!
Looking for more things to do in Seville with kids? Check out these Amazing Things to Do in Seville With Kids!
Where to Stay in Seville with Kids
Looking for the best places to stay in Seville with kids? While reading all about Seville with kids, you'll want to know where to stay. Just a short walk from the Cathedral and other major attractions, families love The Petit Palace Marqués Santa Ana Hotel, which has a lovely courtyard and patio. Located in a historic building in the center of Seville, Petit Palace Santa Cruz Hotel is another great option with a stunning property.
Then, kids will love the rooftop pool at Hotel Fernando III. It's near the Cathedral, the Giralda, and more of the city's most famous landmarks and shopping areas. Gran Meliá Colón also has a heated pool for kids to enjoy, plus a helpful concierge. Other fantastic places to stay in Seville with kids include the Hotel Doña María, Hotel Alfonso XIII, and Hospes Las Casas del Rey de Baeza.
Book your next stay in Seville using Hotels.com now!
Get a discount on your next Seville family vacation by using Expedia today!
Happy Travels!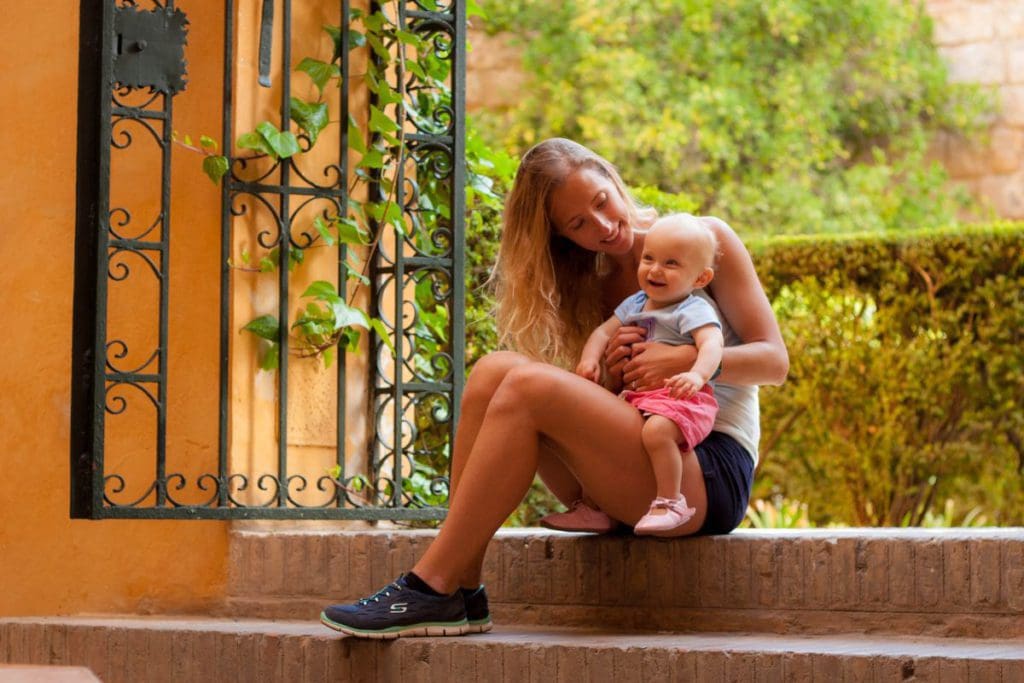 We hope you liked this article All About Seville With Kids: Important Information To Know! Between how to get around the city, things to do, and more important information, we've compiled everything your family needs to know about visiting this beautiful destination. Enjoy Seville with your kids!
*Due to the COVID-19 pandemic, some of the attractions, accommodations, or things to do on this list may be closed or may have reduced services. Please ensure availability before making your decision.
*This post may contain affiliate links that may earn us a small commission, at no additional cost to you. Affiliate links in no way inform the hotels, sights, products, or other recommendations included in our articles.
Families Love Travel is not liable for any injuries and/or damages to persons or property occurring as a result of your vacations influenced by the suggestions on this website. We are not responsible for any information on this website, such as recommendations for babysitting services, car rentals, or accommodations. All content provided is for informational and review purposes only. The information we provide is to make it easier for families to travel together and nothing more. Try the suggestions at your own risk.
READ MORE: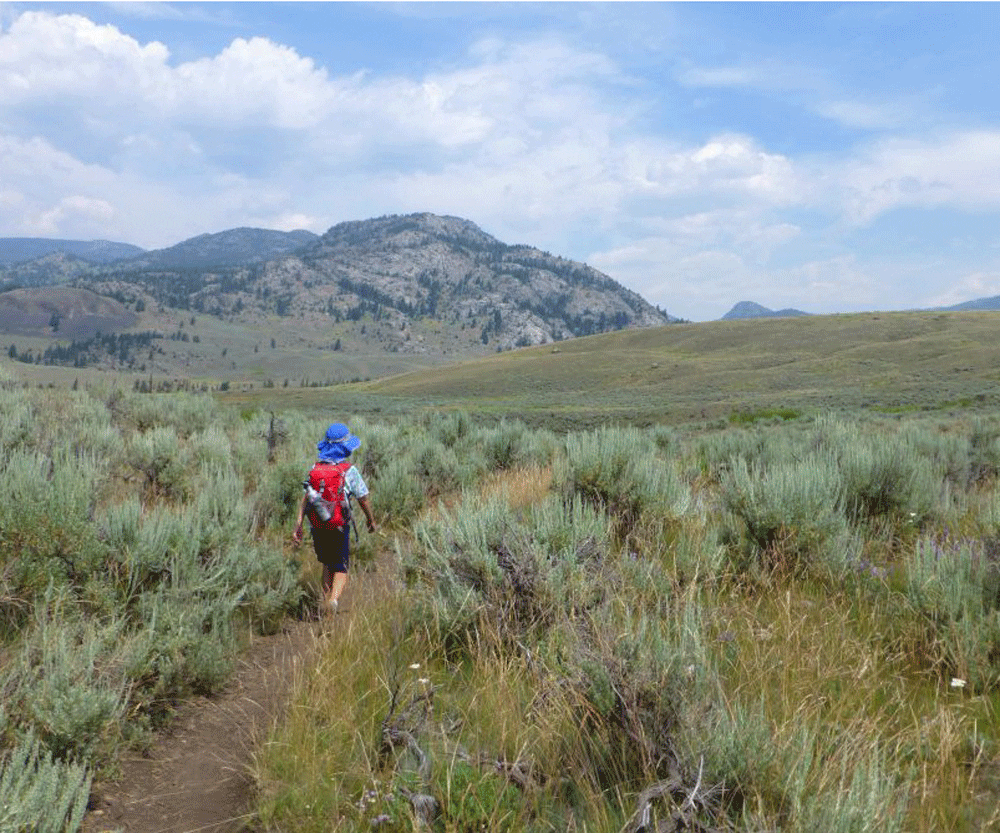 Everyone knows that Yellowstone National Park makes for a classic family vacation. Strolling the boardwalks...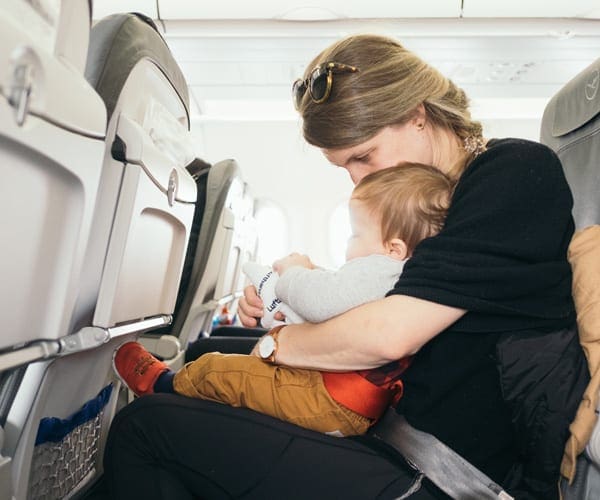 Families Who Love To Travel contributor Meghan Oaks provides her 10 best tips for your...