Winter in Colorado is a spectacular time of year with so much to offer. Of course, sledding and snow tubing are top activities on the list for kids! With school in full swing, it is the perfect time to plan winter activities for snow days and winter breaks. In Colorado, we are lucky to have a wide variety of winter activities to choose from. Sledding, skiing, snow tubing, and snowboarding are sure to fill your winter with thrills. We have already explored the Best Ski Resorts in Colorado for Families, so it's time to discover other winter activities in Colorado, including The Best Colorado Snow Tubing and Sledding Spots for Families! From free sledding spots to a list of the best snow tubing in Colorado, you will surely find thrilling winter activities for kids of varying ages. Keep reading to learn more!
Best Snow Tubing Trails within 3 Hours of Denver
If you're looking for the best snow-tubing resorts in Colorado, you don't have to go far! Here are the best snow tubing spots within 3 hours of Denver. The short treks from Denver mean you can spend more time on the slopes and trails, maximizing your day in the snow!
Frisco Adventure Park, Frisco
The town of Frisco features one of the most popular places for snow tubing in Colorado. Frisco Adventure Park usually opens in December for tubing. Frisco, a small town near Dillon Reservoir, has a walkable downtown area with various restaurants and an ice cream shop. This is an ideal spot to spend the day tubing with your family or make a quick stop on your way into the Denver area after a day of skiing or snowboarding.
The Frisco Adventure Park, a 1,200-foot-long tubing hill with lift service, is open by reservation only. You must book ahead of time for the remainder of the season (from now through April 9, 2023). They are closed on Tuesdays and Wednesdays. Riders must be 36 inches tall to ride. Times and prices range (from $23-$36) depending on the day and your residency status. Please be sure to check their website for the most current information.  
Additionally, Frisco Adventure Park has a beginner ski and snowboard hill. Though rentals are not available, you can find lessons and lift tickets online. Kids 4 and under can ski and ride for free in the perfect setting for beginners. 
Then, read our Tips for Skiing with Kids for the First Time!
Copper Mountain Tubing Hill, Summit County
Just past Frisco, you'll find the Copper Mountain Ski Resort Tubing Hill for more winter activities for kids in Colorado. Here, the whole family will enjoy zipping down groomed slopes! Hours are from 10 am to 7 pm daily.
Additionally, littles will adore Critterland. With 5 lanes to choose from on the Tubing Hill and a magic carpet for transport up the hill, it is perfect for all kids over the 36-inch required height. At Critterland, those under 36 inches tall can crawl through tunnels, explore the snow den, and play on the tubing carousel. Make your reservation in advance and plan on arriving at least 1 hour early. There is a 15-minute safety briefing prior to your 1-hour long tubing experience. 
Be sure to make your reservations online to ensure your time slot. The Tubing Hill is located in the East Village of Copper Mountain, at the base of the Super Bee Lift. ​Free parking is available in the Alpine Lot, with a shuttle to the base.
Keystone Mountaintop Snow Tubing, Keystone
Adventure awaits at Mountaintop Snow Tubing at Keystone Resort! A moderately-priced experience, $45/person gets you a one-hour session of giggles and fun. Kids must be at least 42 inches tall and be able to ride on their own tube. Likely, Mountaintop Snow Tubing at Keystone Resort is a better option for families with older kids.
This snow tubing hill has a conveyor lift for easy transportation. In addition, families will love that these trails are well-lit for night tubing too! Reach the tubing runs from the base of the resort by taking the River Run Gondola. Then, head to the tubing hill at Adventure Point. Be sure to check in 45- minutes prior to your reservation to allow time for your breathtaking gondola ride to the top! Be sure to also check out free parking at River Run Parking Lot.
RELATED ARTICLE: Exciting Colorado Getaway for Families: Snow Mountain Ranch -YMCA of the Rockies
Winter Park Coca-Cola Tube Park, Grand County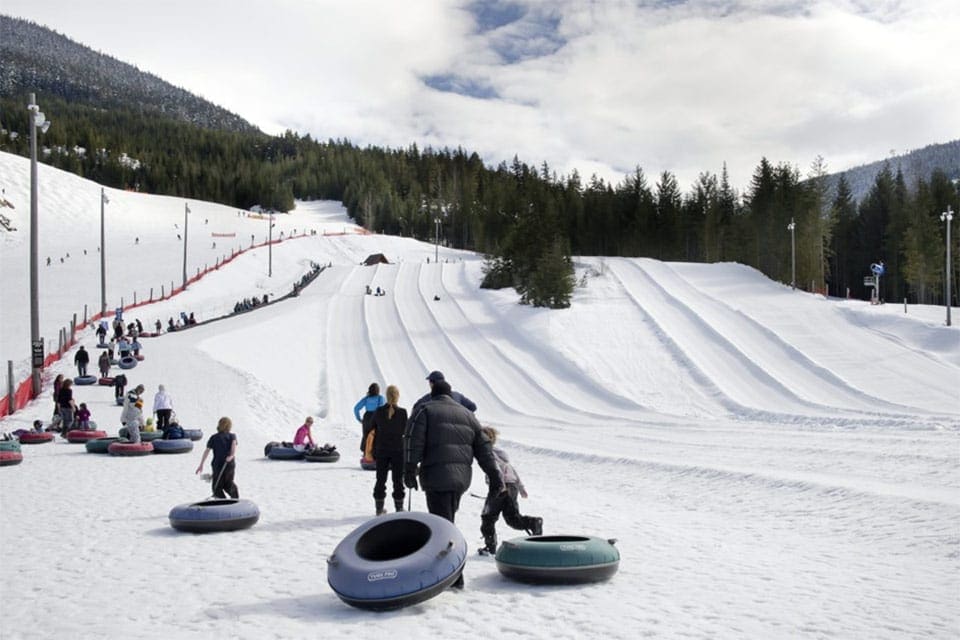 Coca-Cola Tube Park, located in Winter Park Resort, features four lanes of tubing, as well as a conveyor belt to transport tubes uphill. Banked curves add an extra level of thrill as you race down the hills! They have a 36 inches height requirement, but no age requirement. Be sure to check in 45 minutes prior to your tubing time; advanced reservations are highly suggested to ensure your family has availability. An added feature this year is Cosmic Tubing. This is for night thrill seekers! The fun starts December 15, 2022 through April 1, 2023, Thursdays-Saturdays from 5:00 pm – 7:00 pm.
Take the Cabriolet from the Village, the tubing hill is to the right of The Vintage Hotel. You can also enjoy hot chocolate and cookies in the warming structure, Hill House. It's great for a break from heart-pounding races! In Winter Park, you can also enjoy other winter activities for kids, including scenic snowcat tours, ice skating, and exploring the town of Winter Park, which offers shops and restaurants.
Colorado Adventure Park, Fraser
Now open, Colorado Adventure Park is located near Winter Park. It is a locally owned snow tubing hill, perfect for families! With single-rider tubing, double-rider tubing, and snowshoes available, you are sure to find something for your family to enjoy. Rates include a Single Tube for $30/hr and a Double Tube for $50/hr. Make your reservation for a 1-hour or 1-hour session and show up at whatever time is best for your family. Helmets are required, and reservations are recommended. Their warming hut has concessions to warm up your hands and heart. Families will love spending their winter days at one of the best Colorado snow tubing locations!
Snow Mountain YMCA Rockies, Winter Park
Winter in Colorado with kids is spectacular, especially if you can spend it at the YMCA of the Rockies' Snow Mountain Ranch. Located near Winter Park, a day pass provides access to a great, old-fashioned tubing hill and other winter activities for kids. The tubes are included in your day pass fee – and the steep workout is free! Hike up the hill with your tubes, as there are no lifts or ropes for help. For each run, you will surely have earned your ride down! Tubes are available at the Winter Pavilion.
If snow tubing wasn't enough for your crew, your pass also includes ice skating and cross-country skiing, as well as access to the climbing wall and swimming pool at the YMCA. Turn it into a weekend of fun while staying in a cabin. This way, you can enjoy everything the ranch has to offer!  
Then, read this Exciting Colorado Getaway for Families: Snow Mountain Ranch -YMCA of the Rockies!
Beaver Meadows Resort Ranch, Red Feather Lakes
At Beaver Meadows Resort Ranch, near Red Feather Lakes in northern Colorado, the Tubing Hill is open Fridays 12 pm – 4:00 pm, Saturdays and Sundays 10:00 am – 4:00 pm, and Presidents Day 10:00 am – 4:00 pm. Their snow tubing hill is the oldest and longest-running snow tube park in Colorado and is definitely worth a visit. In fact, they offer 12 runs to satisfy all skill levels, including extreme runs and a hill that's just for the kids!
Your whole family can enjoy a full day spent at the ranch. Kids under 36 inches can enjoy the kiddie hill, if they bring their own sled. Various passes are available, from 1 hour to a full day pass. Other winter activities for kids include ice skating, ice hockey, snowshoeing, and cross-country skiing (all covered by your pass). Lodging, camping, and winter camping are available should you decide to make this an overnight adventure.
Aspen Snowmass, Aspen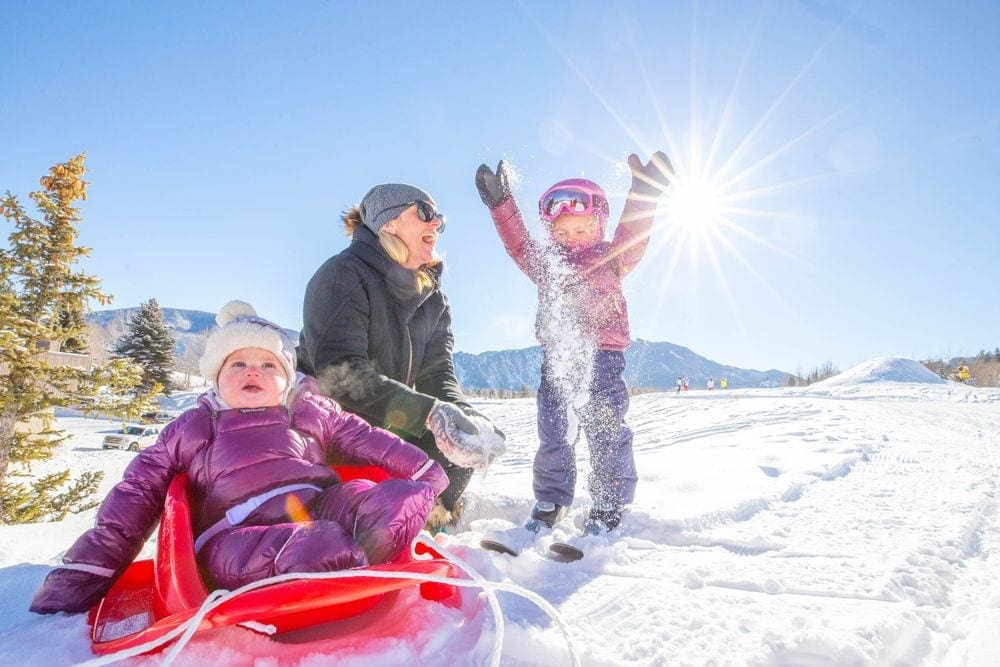 Open for the season, tubing at Aspen Snowmass is fun for all ages. Situated on the mountain at Meadows at Elk Camp, you will find multiple tubing lanes for a full day of fun. In fact, during the Ullr Nights festivities, tubing trails are also lit at night, which offers a spectacular opportunity for families! Aspen Snowmass is fifteen minutes from Aspen and where you can find Snowmass Resort.
Tubers must be 38 inches tall, and only solo rides are allowed. You can also purchase a Coaster and Tubing Combo ticket for $69 for 1 day of tubing and up to 3 rides on the Breathtaker Alpine Coaster. Arrive before 1 pm to ensure your ability to tube as it may reach capacity after this time of day. Aspen is a stunning location, especially during the winter, so families should consider making it a weekend adventure!
Yee-Haw Hill at Saddleback Ranch, Steamboat Springs
Located just 15 miles west of Steamboat Springs, Saddleback Ranch's snow tubing hill, Yee-Haw Hill, is already open. Yee-Haw Hill has three groomed runs and a state-of-the-art tube-tow lift system, making it one of the best Colorado snow tubing locations. Speed down one of the three runs of your choice!
Afterward, warm up your hands with a hot drink or warm bite to eat while contemplating when to start at the top of the hill again. Saddleback Ranch provides free transportation if your family tubes for two hours, which costs $45/per person. If you are riding the shuttle, be sure to make your reservation online. Pick-up and drop-off are at the Gondola Base at Mt Werner Transit Center. Should you decide to drive yourself, no reservations are needed for your family. Additionally, make sure you bring your helmets! Finally, be sure to check out their website for all the details on dates and times they are open for your tubing fun.
Best Sledding Hills within 2 Hours of Denver
If you're looking for the best sledding hill in Colorado, you can find them near Denver. A short drive for local families and visitors means more time to have fun in the snow! Here are the best sledding hills within 2 hours of Denver.
Did you ever imagine you could go sledding within Rocky Mountain National Park?! A former ski hill, located just off of Trail Ridge Road near Estes Park, Hidden Valley is inside Rocky Mountain National Park. It allows free sledding and tubing, as long as you are willing to do the work. Walking uphill with your tube or sled will definitely be worth the effort for the thrilling ride down! Be sure to dress warmly as it can be cold quickly in the park.
There's also a winter warming hut open on weekends. Bring your own food and a hot drink to enjoy. You can rent or buy a sled or tube at any outdoor gear or sporting goods shop in town. When the kids get cold and tired, head into Estes Park for a coffee, hot chocolate, and a bite to eat at one of the many restaurants in town. Or, just enjoy wandering around the cute shops in Estes Park.
Additional Local Sledding Hills in Colorado Perfect for Families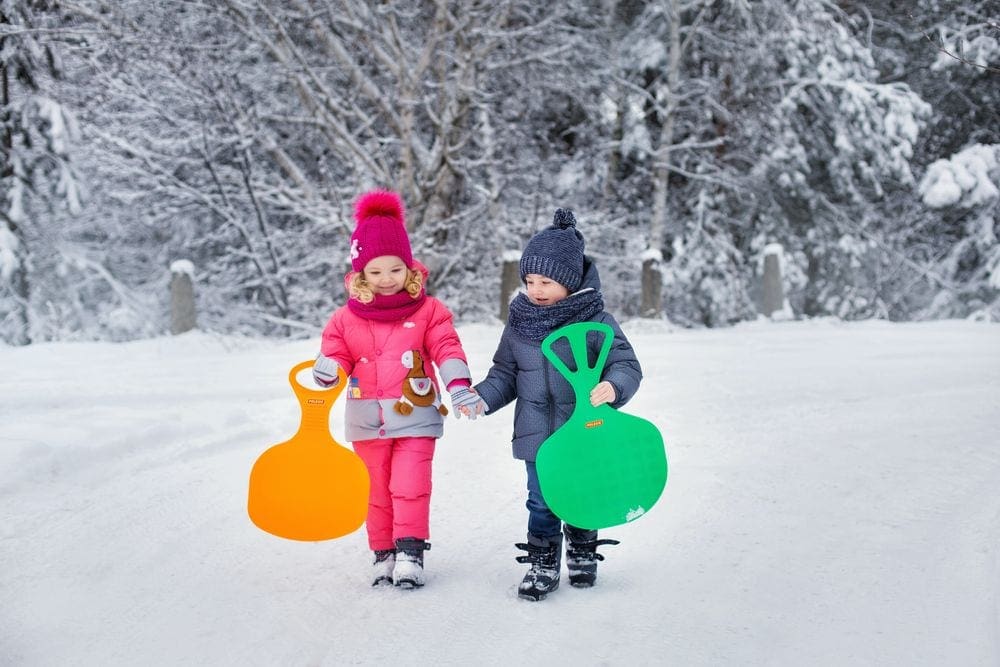 Sledding Hills in Breckenridge for Families
Those who are local or traveling to Breckenridge can visit the snow tubing hills in nearby Copper Mountain, Frisco Adventure Park, or Keystone for some fun winter activities with your kids. However, if you are looking for a FREE activity and happen to have your own sled, be sure to check out the sledding hill at Carter Park. This local sledding hill is located at 300 S. High Street, Breckenridge. What a fun way to spend some quality family time together outside in the fresh, mountain air racing your family members down the hill!
Sledding Hills in Winter Park for Families
Winter Park sponsors a free sledding hill in Colorado for families. Open to the public, it is located at Rendezvous Event Center at Hideaway Park, near downtown Winter Park. Sleds are available at the hill and are checked out using the honor system. And not far, at Devil's Thumb Ranch, you can enjoy their sledding hill as well.
Sledding Hills in Grand Lake for Families
The Grand Lake Nordic Center is located in Grand Lake, which is about 45 minutes from downtown Winter Park. It offers free snow tubing and sledding, as well as other winter activities for kids and families to enjoy.
Free Sledding in Colorado with Kids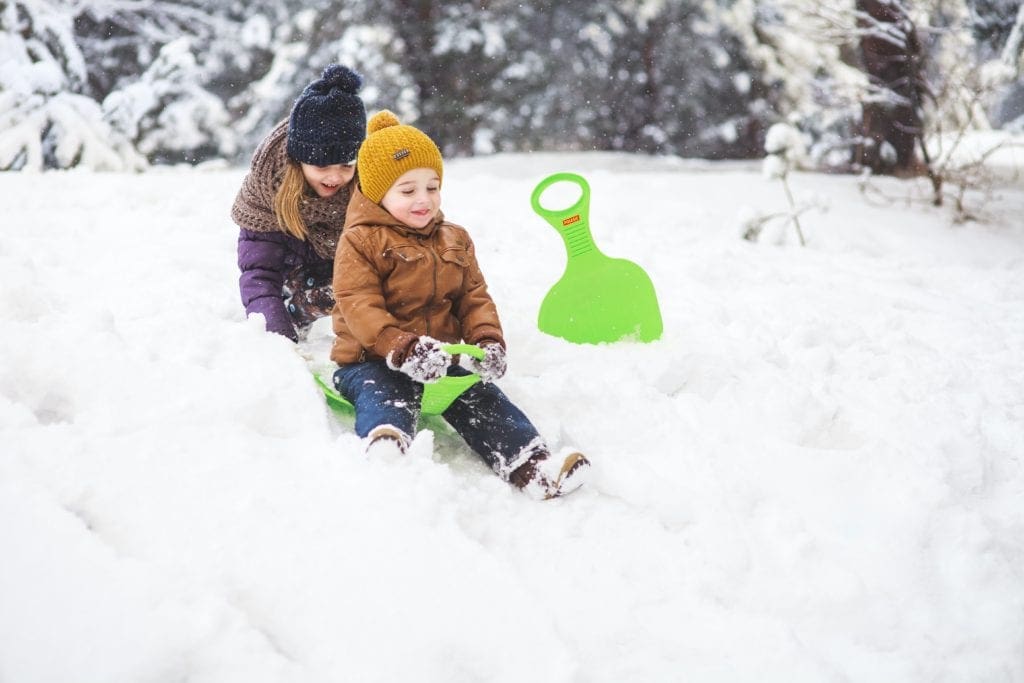 Runaway Sledding Hill, Breckenridge
Families staying in Breckenridge will love the Runaway Sledding Hill! Conveniently located near the Breckenridge Airport, this man-made sledding hill is accessible via bus, shuttle, or car (with free parking nearby!) It's also BYOS: Bring Your Own Sled. Though there's no lift (you'll have to walk up to the top), it's still regularly groomed, and a fun way to spend an afternoon in Breckenridge. Kids will love the exhilarating ride down the hill! Plus, this kid-friendly sledding location is free to visit.
Just be aware there's no one supervising the hill, so you'll have to sled at your own risk. Since it's pretty no-frills, there are also no indoor warming huts or places to cozy up nearby. So come dressed and prepared for any weather condition! The Runaway Sledding Hill is open during daylight hours.
Other Free Sledding Hills to Consider
If you are looking for some more free sledding hills in Colorado with kids, check out these sledding hills near Denver. If Colorado Springs is closer to home, check out these sledding hills! Sledding can bring so much joy and laughter to your family outing. Fresh air, a cold chill as you zip down the hill, and of course, ending your time with some hot chocolate to warm your hands, is a sure way to create some amazing family memories! No matter what kind of hill you're looking to sled with kids, we are confident you'll find one near Denver or Colorado Springs that will suit your needs.
What to Pack + Wear While Tubing or Sledding in Colorado with Kids
Colorado is known for its varying temperatures. Typically the sun is out, which can be deceiving, especially for visiting families. When planning for winter fun in Colorado, whether it is snow tubing, sledding, snowshoeing, or other winter activities, be sure to dress appropriately. Kids will enjoy the activity longer if their hands and feet stay warm, so invest in some warm socks and mittens or gloves that stay on their hands.  
Here are a few tips for enjoying winter outdoors with kids:
Invest in a custom-made winter inflatable. This way, you can ensure that your tube is exactly the right size and thickness. And with a custom design, you can be sure that your tube will stand out from the rest!
Wear multiple layers of clothing. This way, you can easily remove a layer or add a layer as needed.
The first layer of clothing should be moisture-wicking, lightweight clothing.
The second layer of clothing is the warming layer. Think warm sweaters, down vests, or synthetic fleece to keep your core warm. 
The top layer of clothing should be waterproof. For example, a warm jacket that is water-resistant or waterproof to the melting snow.  
Wear waterproof gloves to keep your hands warm. Mittens keep your hands warmer than gloves but are less flexible depending on your activity.
Wear waterproof boots and wool socks to keep your toes warm. If you're going to invest in something, invest in warm winter boots. Cutting costs on boots can lead to wet, cold feet (which will lead to everyone being grumpy!).
Don't forget hats, snow goggles, helmets, scarves, or other winter accessories that may be needed depending on your winter wonderland plans.
Finally, bring extra clothing to change into, as accidents can happen. 
Happy Snowy Fun!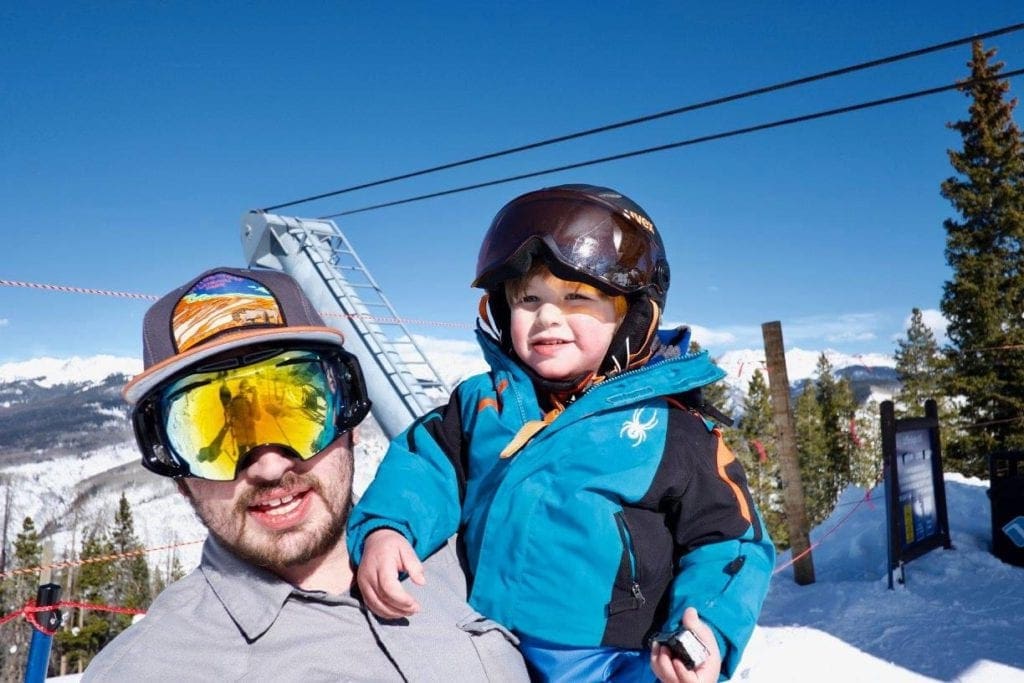 As you plan your winter visit to Colorado, be sure to include some of these winter activities for kids. This list offers families a plethora of options for snow tubing and sledding spots, all within 3 hours of Denver. Finally, Colorado has winter activities to bring joy to everyone in the family. Whether you enjoy being active by skiing, snowboarding, sledding, or tubing you will definitely find something for the whole family to enjoy in Colorado. We hope your family finds a winter season filled with fun snowy adventures!
*Lastly, due to the COVID-19 pandemic, some of the activities on this list of The Best Colorado Snow Tubing & Sledding Spots for Families may also be closed or have been adapted. Please ensure availability before making your decision.
*This post may contain affiliate links that may earn us a small commission, at no additional cost to you. Affiliate links in no way inform the hotels, sights, products, or other recommendations included in our articles. All opinions and recommendations expressed here are compiled from submissions submitted by the generous members of our Families Who Love To Travel community, and that of the attributed writer, Michelle Hamilton. 
READ MORE: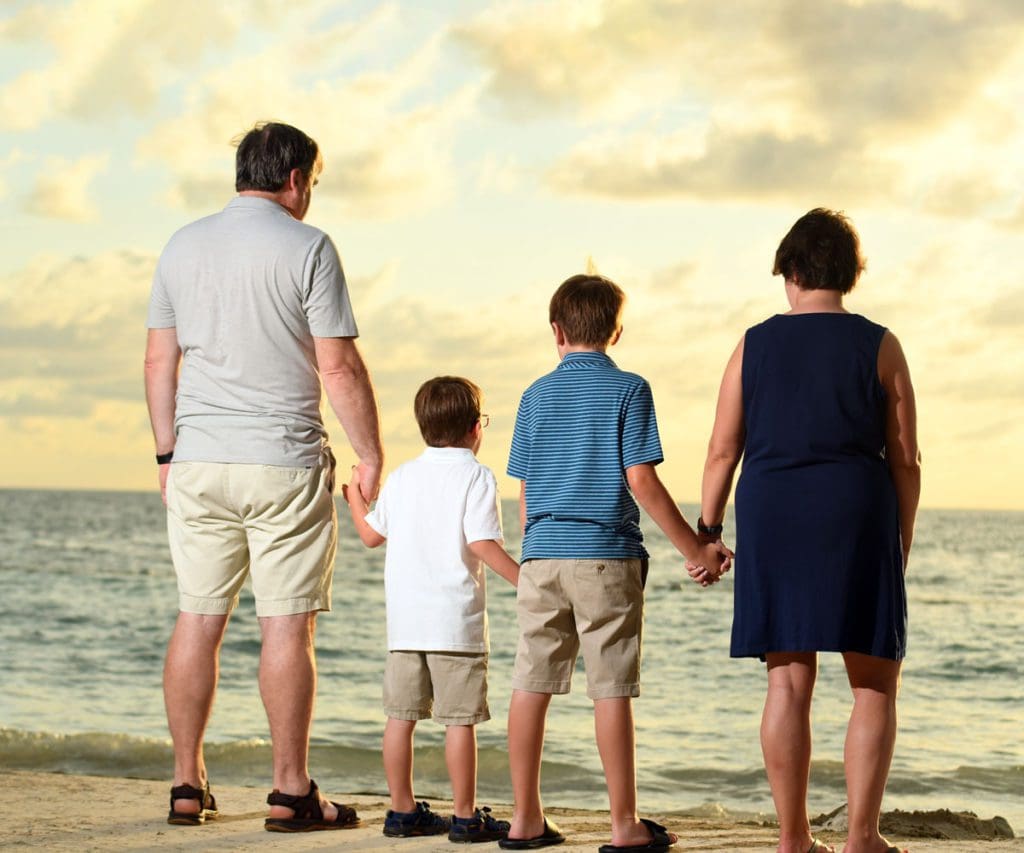 If you're looking for fun in the sun and so much more, plan your next...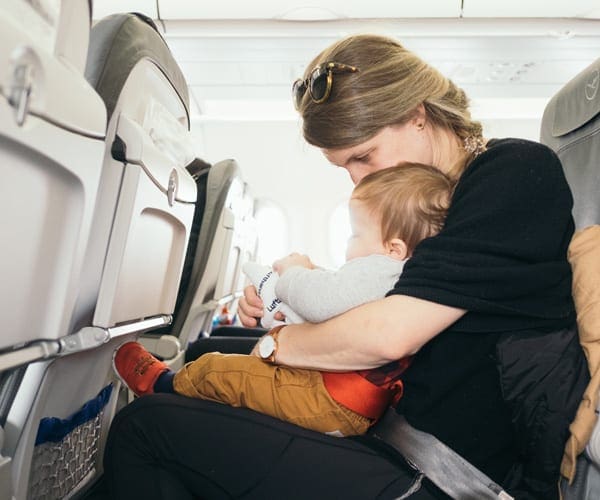 Families Who Love To Travel contributor Meghan Oaks provides her 10 best tips for your...