Who else is excited about ski season? Whether you're a non-skier, a newbie, or a veteran, Colorado has a wide variety of family-friendly resorts that cater to all ability levels! In fact, many family ski resorts are open to both snowboarders and skiers alike. Children who need adaptive skiing programs due to disabilities will also find plenty of Colorado ski resorts to suit their needs. Vacation near Denver at kid-favorites like Keystone, or venture further out toward Aspen depending on your family's needs. Finding the right resort that has everything you want for your Colorado vacation with kids can be tricky to navigate, however. With so many options available, you're also probably wondering how to choose. Ultimately, it comes down to personal taste, skill level, location, and budget. I hope this article can help you navigate the 9 Best Ski Resorts In Colorado For Families!
Plum Guide – Book Colorado's Finest Homes – PlumGuide.com
Ski Resorts Near Denver
Keystone
Keystone is my personal favorite family ski resort within 2 hours of Denver International Airport. With free parking, kid-friendly entertainment, and ski-in, ski-out options, the resort makes it easy for families to enjoy a wonderful winter getaway. Parents should definitely take advantage of the kids ski free lodging deals, which allows kids under the age of 12 to ski free for all 2+ night stays. In terms of skiing, Keystone has various runs and an A51 Terrain Park for all abilities. Keystone also offers multiple off-mountain activities, including snowcat vehicle tours, snowshoeing, snow tubing, and ice skating.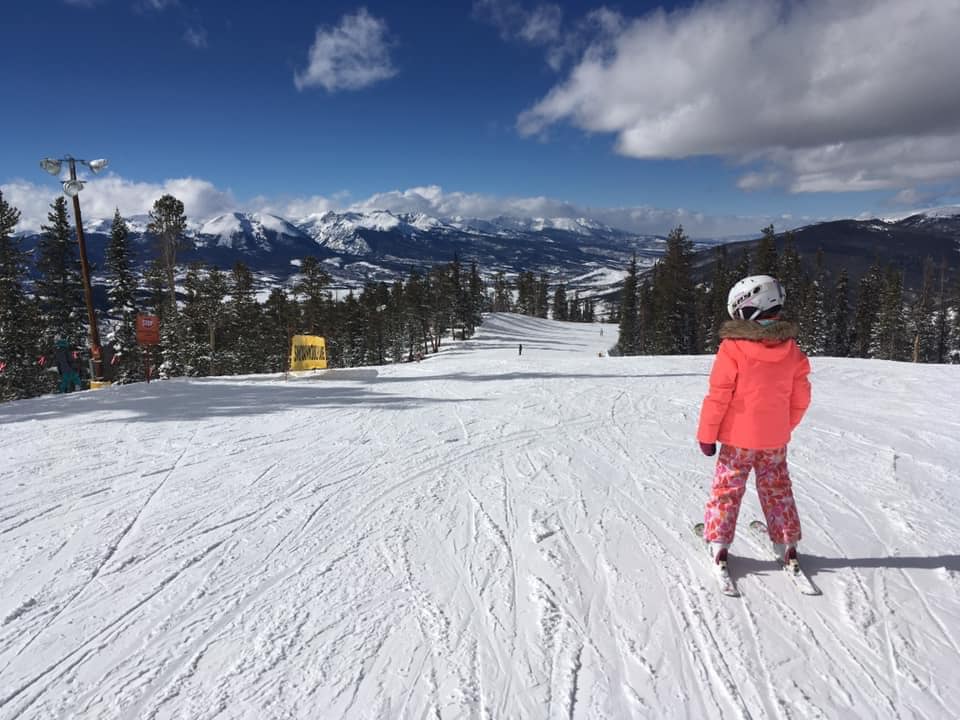 Night skiing is another unique feature at Keystone, for those who wish to extend their slope time long after sunset. Kids will love learning how to snowboard or ski in the ski school program! Lessons are available in two locations at the resort, with the much quieter side at Mountain House, which is the perfect spot to find lodging so you can simply walk to check-in for your lesson. Keystone Adaptive Center offers adaptive skiing lessons for people with disabilities or other special needs too. Wagons are also available throughout the resort for your use to haul all of your winter gear, or kids who have lost their energy after a long day on the slopes! Playgrounds and forts abound around the base to keep kids entertained the entire vacation.
Find Exclusive Keystone Ski Resort Vacation Deals on Travelocity. Book now!
Be sure to check their website as many of these events have changed due to COVID restrictions this year
Copper Mountain
Families can find the famous Copper Mountain just off of I-70. A mountain for all ages and an easy, two-hour drive from Denver, it's definitely one of the best Colorado ski resorts for families! Copper Mountain has naturally divided terrain, with multiple green and blue runs for beginners in addition to advanced trails up the mountain. Families love visiting this kid-friendly resort for its convenience, which includes three villages all connected by an easy-to-navigate shuttle system. Plus, children under four ski free! Lodging also varies from budget-friendly to luxurious. Though Copper Mountain is currently only offering private ski lessons due to COVID-19, this may change as the season progresses. Adaptive skiing is also available through the BOEC. Parking reservations are required, as they're implementing a cashless system with pass/ticket pickup boxes. Be sure to take your trip on off-peak times, like during the weekday, to avoid traffic!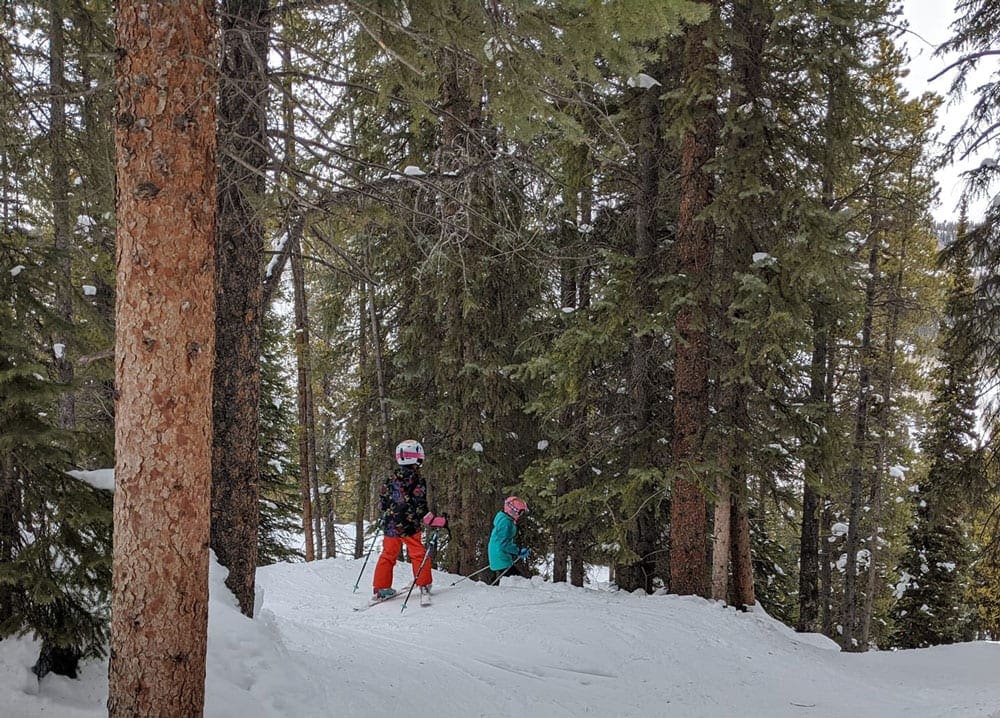 See their COVID precautions to further determine what your ski experience will look like on the slopes. Though many of the kid services are not available this 2020/2021 season, Copper Mountain is still a great family-friendly ski resort. Try out Woodward Mountain Park, a network of terrain zones that are progression-based. Check out the Woodward Family Cross for a fun family experience on the slopes! For those non-skiers, or on days where you are looking for alternative activities, Copper Mountain offers ice skating, snow tubing, snowshoeing, and an alpine coaster, called the Rocky Mountain Coaster. Running during the winter and summer, this is a fun way to get downhill without the ski experience! The Barn, a 19,400-square-foot indoor action sports playground filled with foam pit jumps, spring floors, trampolines, and more, is sure to be a haven for kids and adults alike too.
Find Amazing Ski Vacations Deals & Packages on Expedia
Breckenridge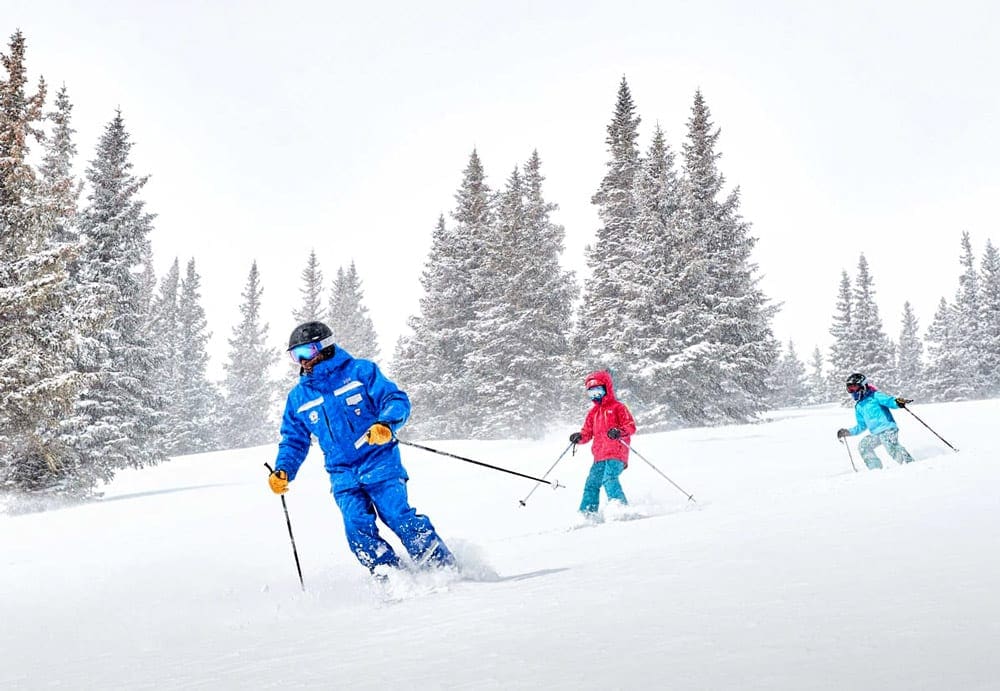 Breckenridge certainly tops our list of the best Colorado ski resorts for families! With close proximity to Denver, this popular destination is often crowded on weekends and holidays. Remember to allow time to acclimate to altitude sickness when you visit here since it has a base elevation of 9,600 feet. Nevertheless, Breckenridge's well-groomed trails are ideal for both beginner and advanced skiers! Specific family trails are marked with yellow diagonals in the family zones. Peak 8 and 9 have a majority of the beginner learning areas, hidden adjacent to many blue and green trails. Kids can also find Kid Adventure Zones scattered across five peaks. Reservations are required to ski this season, with pass holders receiving priority access. Plan ahead accordingly based on these guidelines. Of special note is (BOEC), which provides adaptive skiing and sports programs for individuals around the world. Check out their winter programs!
REALATED: A Guide To Breckenridge In The Winter With Kids
Breckenridge's charming downtown also offers shops, history, restaurants, and coffee shops to relax while taking in its beauty. Massages and spa treatments are available to skiers and non-skiers alike. Or, find a sledding hill and go tubing with your kids! Sleigh rides, ice skating, snowmobiling, or cross country skiing are all fun winter activities to incorporate into your vacation. A ride on the Gold Runner Alpine Coaster will be even more thrilling in the snow! For a special treat, visit Breckenridge's Nordic Center for snowshoe and snowcat adventures, as well as cross country skiing. Here, children under 12 are free, while youth and adults pay $20-25 per day to enjoy activities. In town, make a reservation at the Breckenridge Recreation Center for fitness, rock climbing, swimming, and ice skating. Visit Isak the Troll near Stephen C West Ice Arena and the High Line railroad playground after your indoor ice escapades!
Find Exclusive Breckenridge Ski Resort Vacation Deals on Travelocity. Book now!
Winter Park
Winter Park is consistently named the #1 Ski Resort in North America! Located a two-hour drive from Denver International Airport, it has two distinct mountains offering activities: Mary Jane and Winter Park. No wonder it's one of the best kid-friendly ski resorts in Colorado! Mary Jane is geared more toward difficult runs and expert skiers. Beginner and intermediate skiers should stay on the Winter Park side of this family ski resort. There, you'll discover a lot of terrain that's kid-friendly, alongside BOEC adaptive skiing for people with disabilities. The Ski and Ride School is open this season for private lessons or group lessons with a maximum of 5 participants. Remember to book lessons at least 48 hours in advance! Check out Winter Park's health code of conduct prior to making your winter plans. It's important to note, however, that no childcare will be provided for the 2020/21 season.
That still won't stop the wintertime family fun! In fact, there are so many local restaurants and cafes to enjoy while staying with kids at Winter Park. Start your morning at Wake 'N' Bacon or have crepes and coffee at Goody's. Don't miss the best pizza at Pizza Pedal'r! For more adventures, check out all the things to do in Winter Park. From enjoying the Coca Cola Tubing hill to touring the mountain on a snowcat, there's no telling what you'll find here. Enjoy a soak in the hot springs at the Hot Sulphur Springs Resort or get pampered at Devil's Thumb Ranch. Head downtown to the event center at Hideaway park for some free sledding! Or, splurge on a dog sled ride at Snow Mountain Ranch. What an unforgettable family vacation you can enjoy at Winter Park, one of the best Colorado ski resorts for families!
Vail
Vail, a popular ski destination for families across the United States! Over two hours away from Denver Airport and 50 minutes from Eagle County Regional Airport, this well-known Colorado area is frequented during both winter and summer. It appeals largely to high-end travelers with three different villages, offering luxury accommodations in town, fine dining, as well as upscale shopping. Overlooking the town's beautiful scenery, Vail also has excellent long-groomed runs that are easy for beginners and intermediates alike. Seven back bowls appeal to more advanced skiers, where you can find moguls, steep terrain, and tree runs. Check the resort website if you're interested in adult or child lessons. Remember that Vail is very popular, so to avoid crowds, ski early in the day and stay away from the main base area. COVID-19 precautions include online reservations for tickets with pass holder priority access.
Find Exclusive Vail Ski Resort Vacation Deals on Travelocity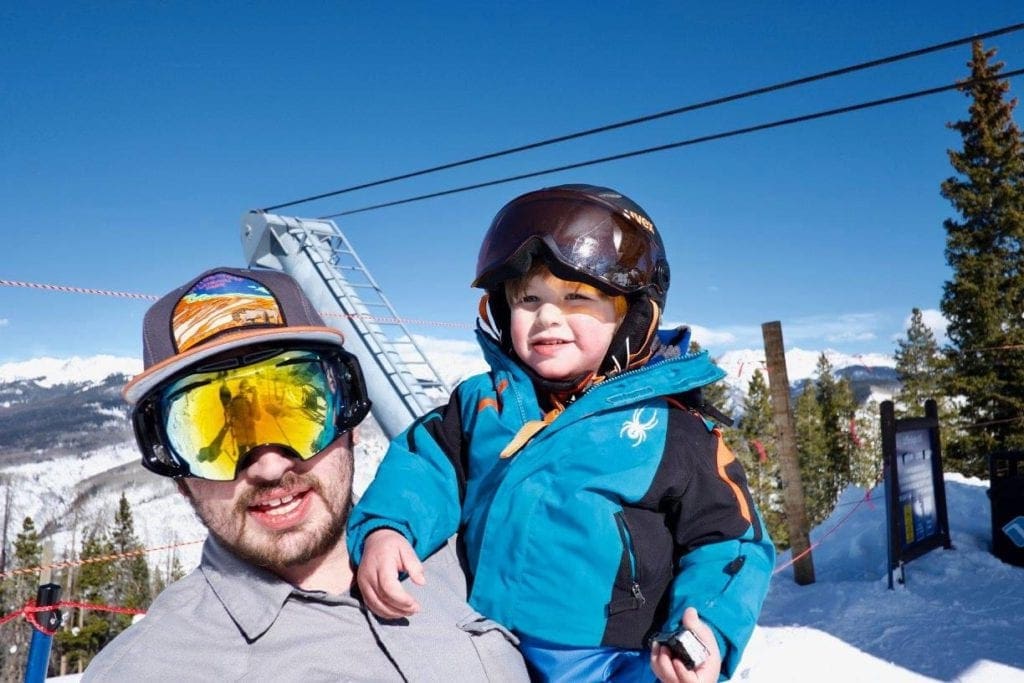 Details will soon be released on how lessons or childcare will be run at the resort in the 20/21 season. Adaptive skiing is also available through the Vail Adaptive Program, making it accessible to people with varied abilities. Vail also has three different villages (one with a daycare center!) Off the slopes, you can also enjoy many winter activities with your family. Take the kids for a scenic gondola ride to overlook Vail Valley. Go tubing, do free snowshoeing, or try kids snowmobiling. A mountain coaster, the Forest Flyer, will surely thrill your kids! Or try ski biking for a fun new adventure in the snow. Don't miss the wonderful restaurants open for dining, including Vintage and La Tour. Find all the activities Vail has to offer your family for your winter vacation. Should you want more affordable lodging, however, consider staying in Silverthorne, Frisco, Eagle, or Avon instead.
Beaver Creek
Beaver Creek is a fantastic family ski resort in Colorado! Two+ hours from Denver but 30 minutes from Eagle County Regional Airport, a stay here guarantees a one-of-a-kind experience. Beaver Creek is so unique, you'll have to head to the mountaintop to reach its expansive green runs! Where the steepest terrain would be usually located, beginners and intermediates can enjoy green runs along with breathtaking views. With one of the lowest elevations of resorts in this area, it's also ideal for families prone to altitude sickness. Red Buffalo Park offers a sprawling area to get more confident on the mountain. Be sure to stop in the Cookie Cabin for chocolate chip cookies and hot chocolate, a sure way to warm up on a cold winter day! Following Vail Resorts health precautions, reserve online and early, as pass holders receive priority access. Adaptive equipment is available through Beaver Creek's adaptive program.
Beaver Creek Village is a quaint, charming village to enjoy your family vacation! After a day of skiing or snowboarding, find an outdoor table to watch the remaining skiers and riders wrap up. In the pedestrian area, find restaurants and establishments as well as fire pits and outdoor ice skating. Enjoy free chocolate chip cookies every day at 3 p.m! On Thursday nights, watch as the sky lights up with fireworks and lanterns for Thursday Night Lights at sundown. Looking for a unique date night? Enjoy a Winter Wine Excursion or be the first to make tracks on the slopes with First Tracks Beaver Creek, where you will enjoy breakfast at Allie's Cabin after your run. Beaver Creek has much to offer families who are looking for a memorable ski vacation! Check back to see how ski and snowboard lessons, as well as childcare, will be handled this season.
Remote Ski Resorts in Colorado
Telluride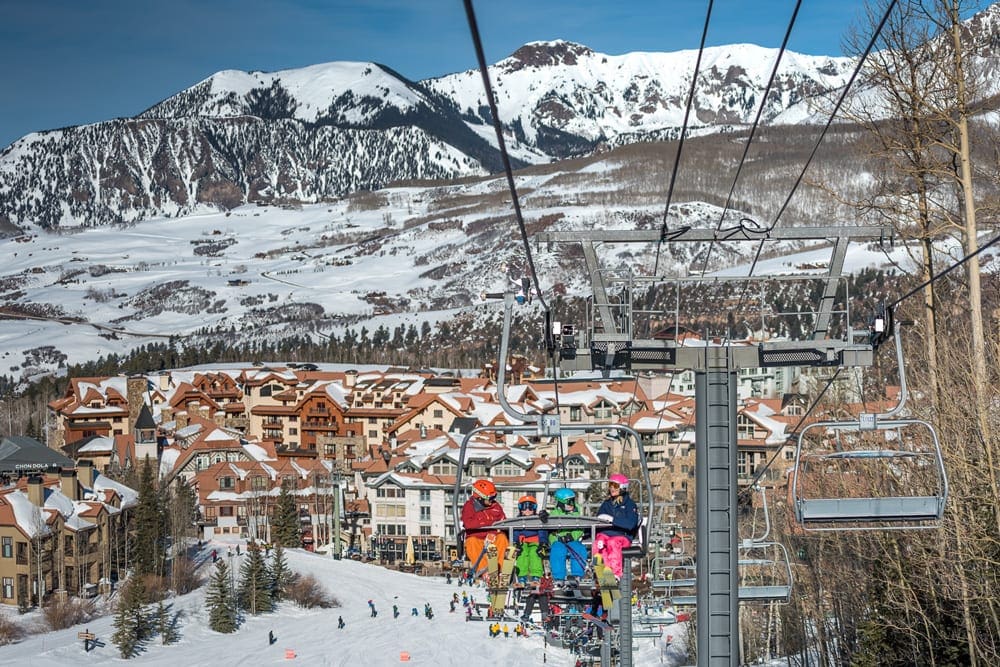 Telluride is one of the most scenic ski towns in the United States! Located in the San Juan Mountains, taking a family vacation here is like entering a new world entirely. Whether you're traveling from Telluride Regional Airport, about 20 minutes away, or Montrose Airport, about 60 minutes away, your need for transportation nearly disappears once you arrive. Telluride is an incredibly walker-friendly ski town! A gondola connects Mountain Village to the old mining town, where wonderful restaurants and bars are located. Many ski-in and ski-out options are available for rent in Mountain Village as well, making it incredibly family-friendly. Nearly 60% of its 2,000 acres is for beginner and intermediate skiers, while the remainder is for advanced and expert skiers. Of course, the Ski School is available for lessons, following these COVID precautions at the resort. Telluride also offers an Adaptive Sports Program to "challenge, inspire, and empower."
Mountain Village isn't a big chain, so much of the old charm of ski villages is preserved here. The gondola is free for all to ride, running from 7 a.m. to midnight. Don't forget to explore the scenic Main Street, lined with unique stores, tasty restaurants, and quaint coffee shops. Plus, endless winter activities available in Telluride only enhance your family ski vacation! Enjoy a day of Nordic skiing or rent fat-tire bikes to traverse the terrain! Ever tried ice climbing? This area of Colorado is famous for it, but be sure to use a local guide. Horseback riding, sleigh rides, or dog sledding may also appeal to animal-loving families. With so much charm, you'll surely find something to make it a memorable vacation for all of your family members. Just remember to purchase lift tickets in advance since same-day purchases aren't available for the 2020-2021 season.
Aspen Snowmass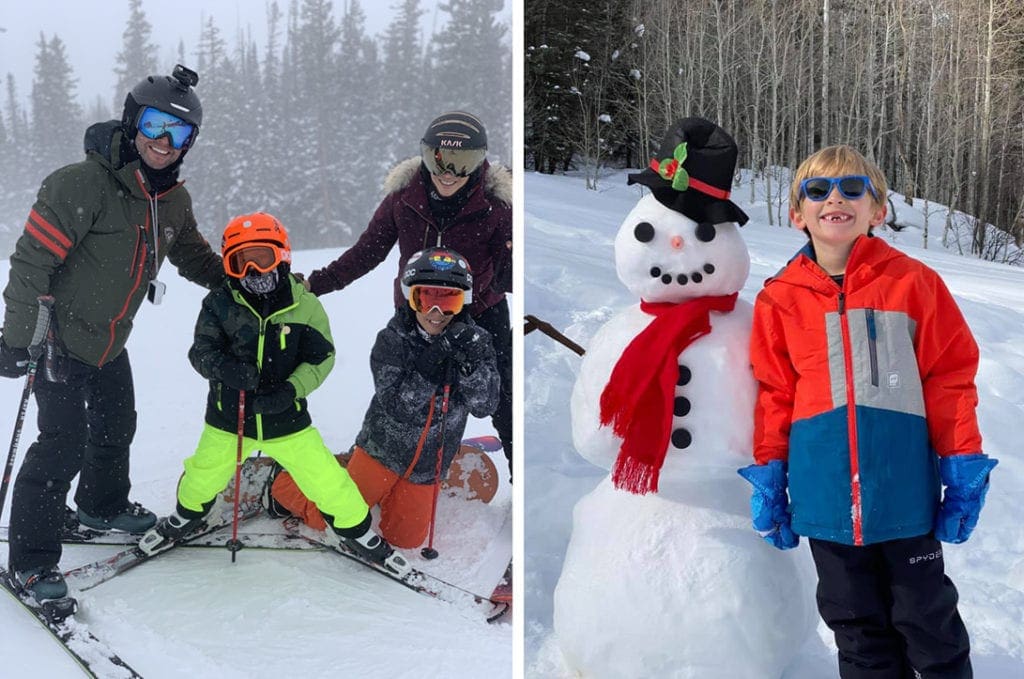 Aspen Snowmass is a top-pick for families due to its airport-to-resort commute. Known for luxury and catering to the famous, Aspen now has a new Snowmass Base Village. Featuring the beautiful Limelight Hotel Snowmass, a 5-story indoor rock climbing wall, and a village plaza ice skating rink, it's sure to exceed all your expectations! Aspen also features four ski areas and Snowmass Village, which consist of Snowmass, Aspen Mountain, Aspen Highlands, and Buttermilk. Snowmass has the most family-friendly runs. Buttermilk has a number of beginner and intermediate runs, famous for hosting the Winter X-games. Aspen Mountain has no beginner runs, while Aspen Highlands is known for its advanced and expert runs. Buttermilk's Hideout Children's Center is a perfect place for kids to learn to ski! Book your ski or ride lessons to improve your confidence on the slopes. Aspen's Winter Adaptive Program helps anyone who needs special assistance.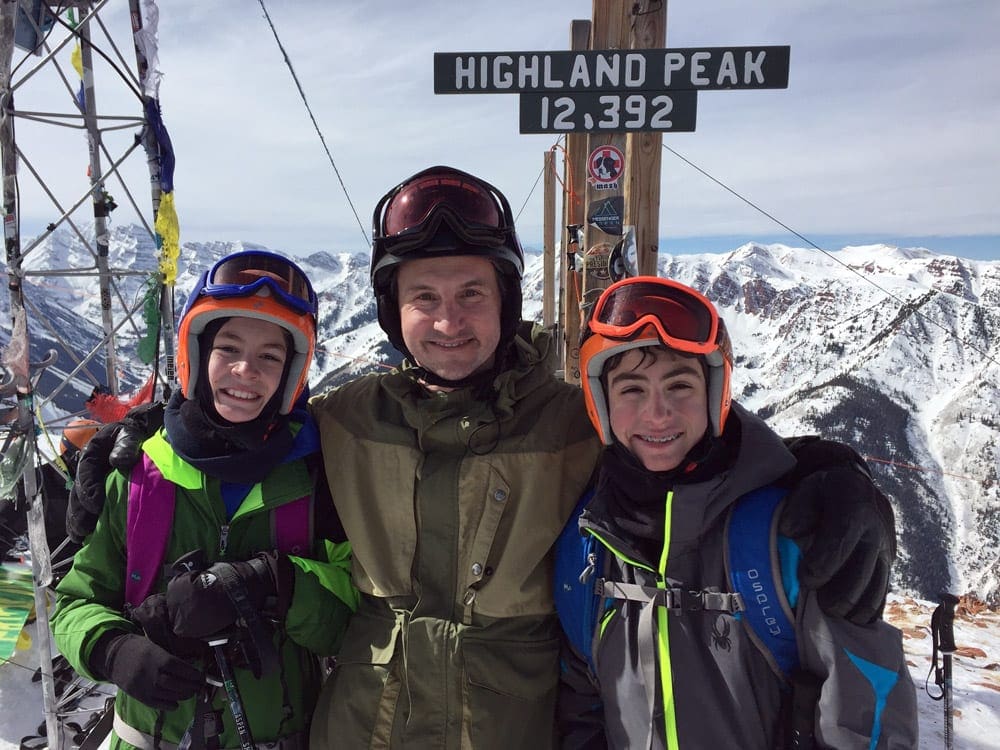 Each day at the Base Village fire pits and the Snowmass Mall, families can enjoy the Aspen tradition of offering free s' mores between 3:30 and 4:30. Looking for other activities to fill your day? The Aspen/Snowmass area has an alpine coaster, tubing, snowcat dinners, snowshoeing, and cross-country skiing. Ice bumper cars will surely delight your kids! Very Important Kids (VIK) Snowmass has a detailed listing of activities catering to kids and families. A few unique experiences include snowcat dinner rides and Ullr Nights where, on select Friday nights, Aspen Snowmass honors the Norse God of Snow – Ullr. This winter wonderland party will be an unforgettable experience for your family! COVID operating procedures here include social distancing while waiting in lift lines, wearing face coverings while on the chairlift or gondola, and contactless booking. Ticket counters will be open with safety precautions in place.
Steamboat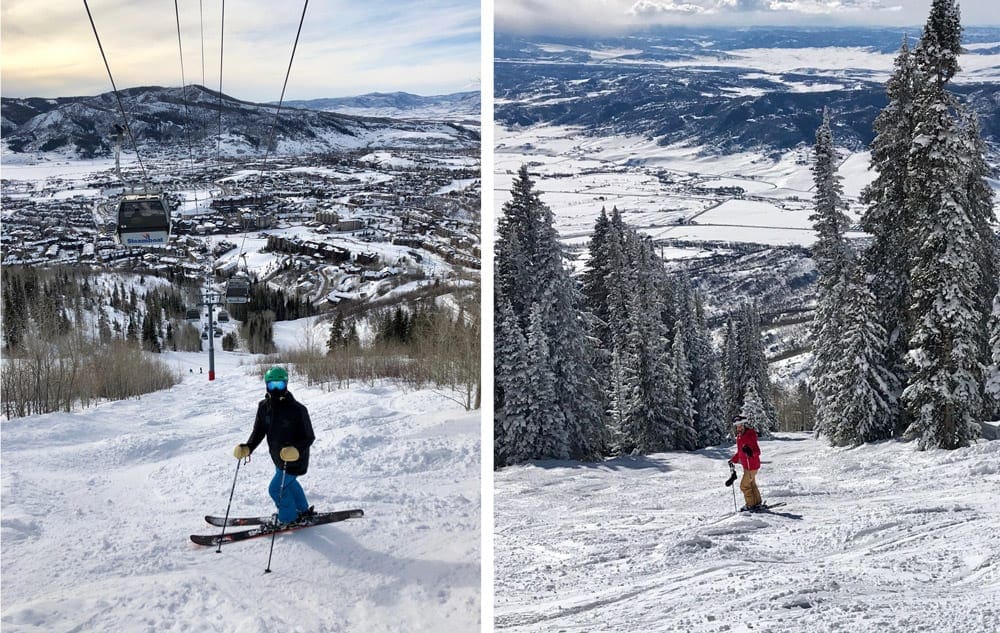 Steamboat is a laid-back ski town with natural hot springs and a Western vibe. A 3.5-hour drive from Denver International Airport or 40 minutes from Yampa Valley Regional Airport, it's definitely more difficult to get to than other ski resorts on this list. With an elevation starting at 6,900 feet at the base, it's also a great option to help avoid altitude sickness! Families are bound to find a run they love throughout 169 trails of varying levels. Wagons are even available for use to carry your ski gear, making it extra welcoming to little ones with lots of gear. Snowsports will offer lessons with these changes in place to address COVID-19 safety. Steamboat Adaptive Recreational Sports provides access to people of all abilities through adaptive equipment and techniques so everyone can join in on the outdoor fun. Remember to make your reservations online in advance.
Steamboat is another family ski resort that offers night skiing! Besides this, there's plenty of fun off the mountain as well. Visit Old Town Hot Springs or Strawberry Park Hot Springs to soak your tired muscles after a long day. Enjoy ice skating, tubing, a sleigh-ride dinner, or the longest mountain coaster in North America, the Outlaw Mountain Coaster! Family events include festivals, Friday night fireworks, and Torchlight Parades. Snowmobiling, snowshoeing, and snow tubing are also available. Your family has plenty to choose from when looking for activities to do in Steamboat Springs during winter! For discounted stays, use the Steamboat VIP program and book a package to save on your lodging, tickets, ski school lessons, and more. Single or multi-day lift tickets, not associated with a package, will not be available in the 2020-2021 season, however. Consult the resort's COVID precautions before your planned trip, as things may change.
Ski Passes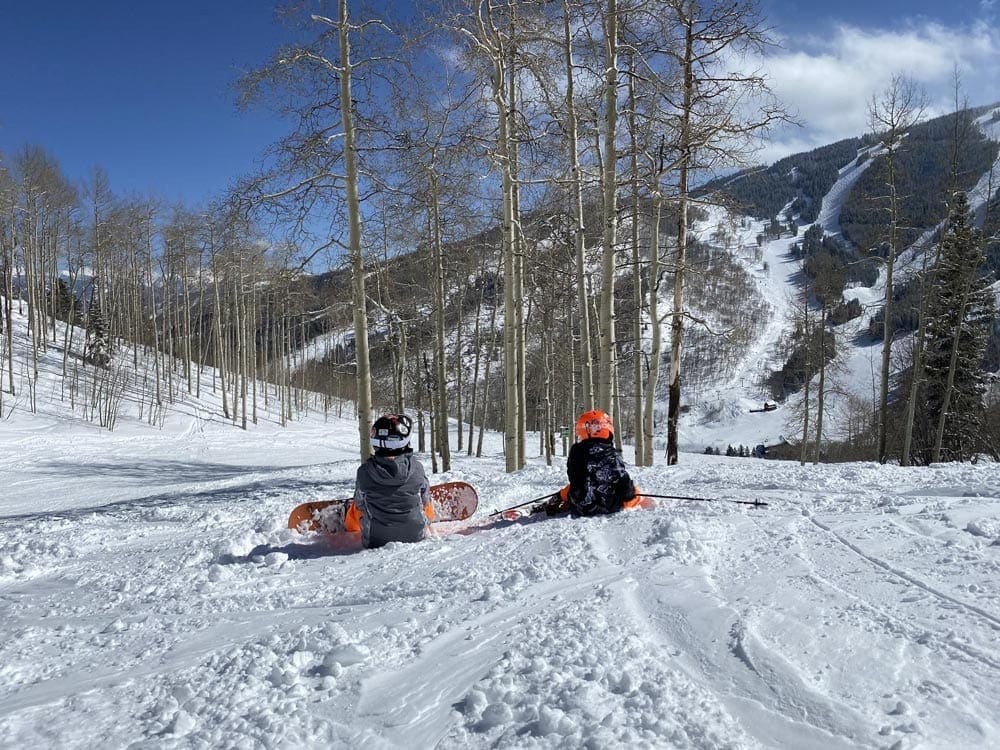 Colorado Ski Country Report has the best compilation of information on Colorado Ski passes for the 2020/2021 ski season. With so many of the best Colorado ski resorts for families giving reservation preference or only allowing you to ski the resort if you have a pass, it's important to do your research prior to booking your ski vacation this year. Kids in Colorado can ski free or very inexpensively depending on their age. Be sure to check out all of these resources so you are fully informed on how to make the most of your time on the slopes!
Adaptive Skiing
Colorado is proud of its level of inclusivity in its winter sports. As an occupational therapist, I am aware of the varying level of abilities people have and individuals' innate desire to participate in activities. Colorado fosters living a life without limits, by providing adaptations and trained staff and volunteers to serve people with disabilities. While it's challenging finding family activities that all can enjoy when you have a child with special needs, all of these Colorado ski resorts listed provide adaptive programs for people with disabilities. That automatically places these resorts as the best Colorado ski resorts for families!
Happy Skiing!
We hope this list of the 9 Best Ski Resorts in Colorado For Families, helps to make planning for your Colorado ski vacation simple. Be mindful of the opening and closing dates of the ski resorts listed, as they are dependent on each season's weather and snow conditions. Please be sure to check each resort's website for information about opening day, snow conditions, and any COVID related information you need for your trip. The ski season in Colorado typically begins around November. As winter continues and snow accumulates, January, February, and March see the most snow. February is usually the best month for skiing, and spring skiing can run all the way into April! With many months to enjoy the snow, Colorado has superb ski resorts that are family-friendly that cater to all, new skiers, veteran skiers, and non-skiers alike. Enjoy your Colorado ski vacation!
Thank You to Our Community!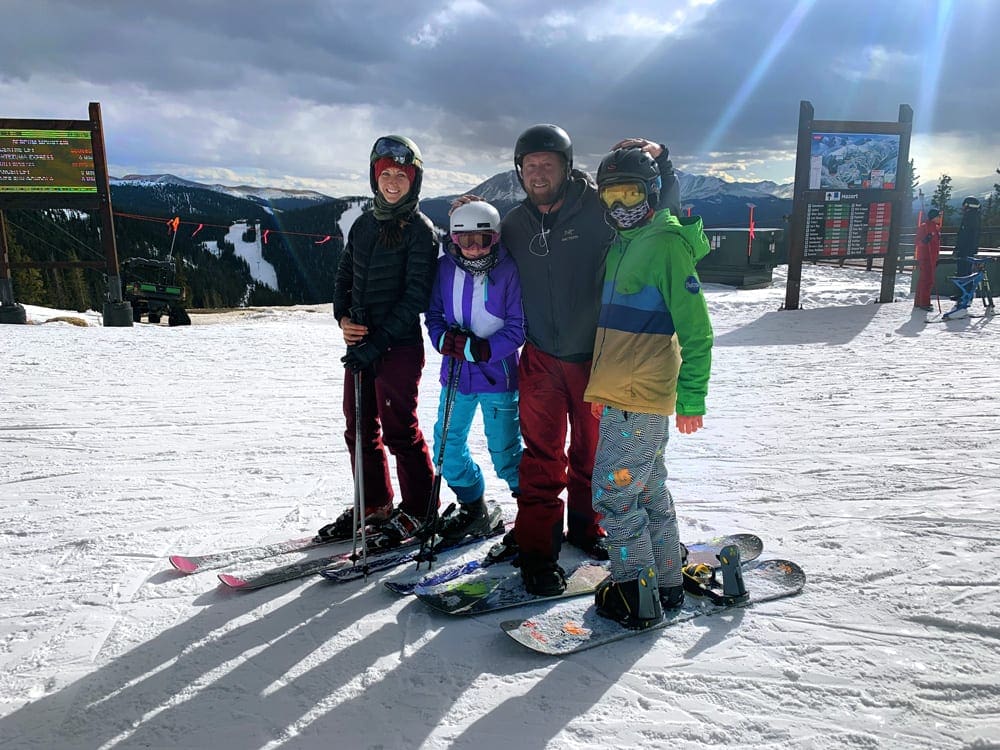 A special thank you to the Families Love Travel Facebook community for helping compile this list of best Colorado ski resorts for families! They are a group of like-minded families who love adventure and exploring through travel. Join the Facebook community and the Instagram community to connect with other families who love the unique experiences travel has to offer, whether by air, train, or RV. It's also a safe place to ask questions and gather travel-related information specific to families. We welcome you!
Want to see more from Michelle Hamilton? Find her on Instagram @adventuretolearn.
If you're looking to learn more about Colorado ski resorts for families, plus other locations, check out our Winter Sports section!
READ NEXT:
11 Best Small Ski Resorts In Colorado For Families (Affordable Too!)
Best Colorado Snow Tubing And Sledding Spots For Families
Ultimate Guide To Ski Gear For Kids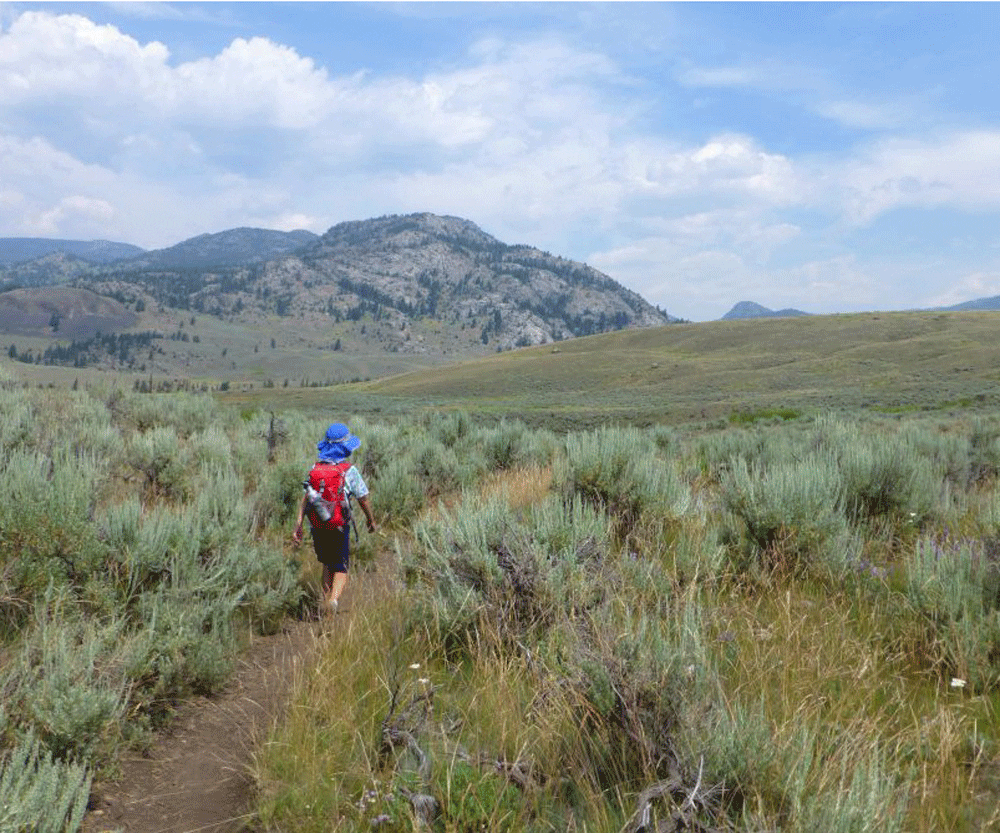 Everyone knows that Yellowstone National Park makes for a classic family vacation. Strolling the boardwalks...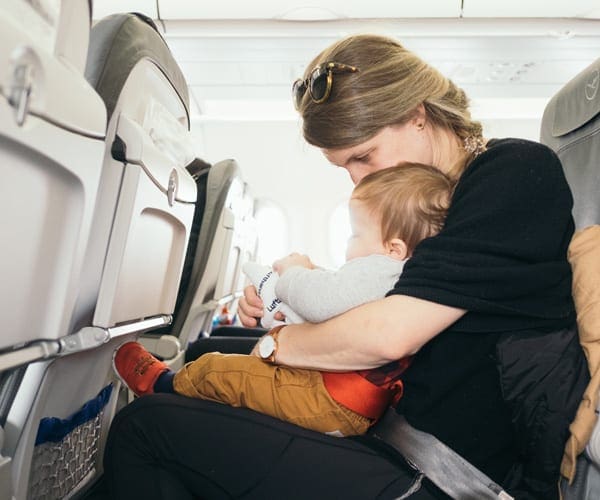 Families Who Love To Travel contributor Meghan Oaks provides her 10 best tips for your...