*This family getaway was hosted by UCLA Lake Arrowhead Lodge. All ideas and opinions expressed are that of the writer, Lisa McGuigan. Find additional disclosure information at the bottom of this article.*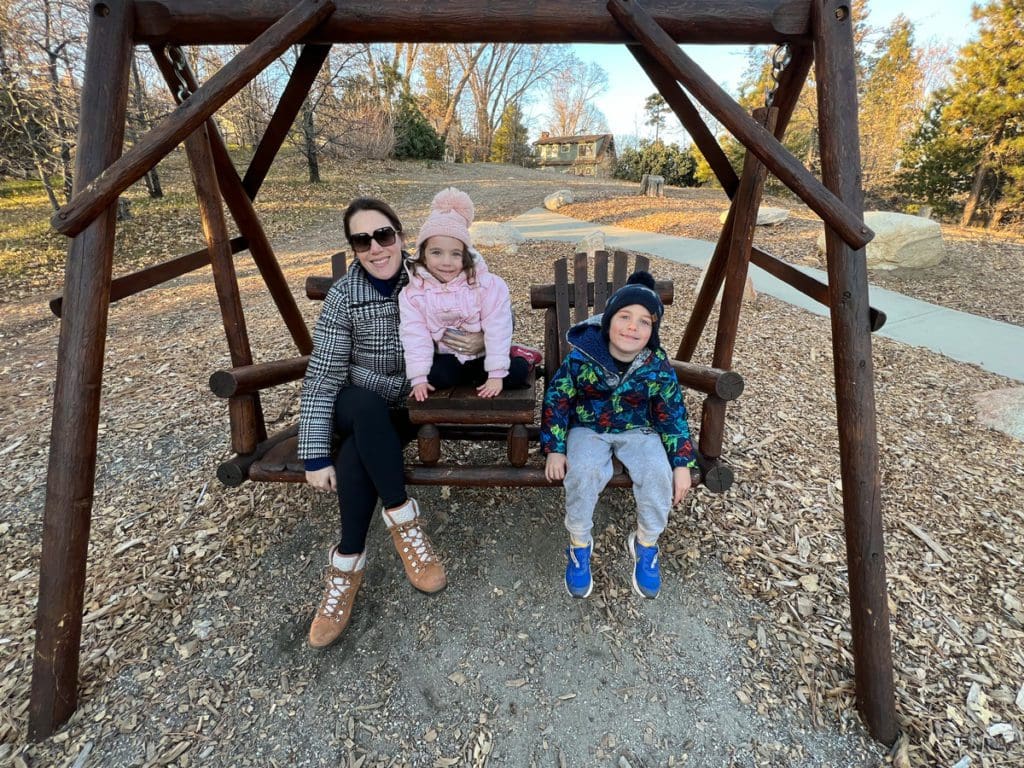 Now is the perfect time to plan a family getaway to UCLA Lake Arrowhead Lodge! Nestled in the stunning mountains of the San Bernardino National Forest, widely known as "The Alps of Southern California," Lake Arrowhead is a hidden gem on the West Coast. A beautiful, cozy and quaint mountain resort, Lake Arrowhead is a hub for outdoor recreational activities, including hiking, backpacking, bicycling, water skiing, snow play, and much more. Are you looking for a quaint small-town getaway? From charming shops to beautiful mountain views, Lake Arrowhead is a relaxing escape for families and couples alike. So if you're ready for an adventure, this guide to planning a family getaway to UCLA Lake Arrowhead Lodge has you covered. Grab a scarf (it gets chilly!) and join me at one of our favorite family-friendly destinations!
Book your stay at the UCLA Lake Arrowhead Lodge now using Hotels.com!
Getting to Lake Arrowhead with Kids
Lake Arrowhead is located approximately two hours from San Diego and a quick 90 minutes from Temecula and Los Angeles. However, don't let the short distance fool you. During your twists and turns up the winding San Bernardino Mountains, you'll feel like you've embarked upon an entirely new world! As you approach the UCLA Lake Arrowhead Lodge, the air feels crisper, the trees seem taller, and you finally let out a deep sigh of relief — your vacation has begun, and it's going to be spectacular!
Best Time to Visit UCLA Lake Arrowhead Lodge with Kids
Planning a perfect family getaway to UCLA Lake Arrowhead Lodge requires researching the best time to visit Lake Arrowhead with kids. The lodge is open year-round and welcomes visitors no matter the season. Of course, the summer months are the most coveted here. The weather is warm and sunny, making it perfect for swimming, hiking, and exploring the nearby towns. While a family-friendly summer at the UCLA Lake Arrowhead Lodge sounds truly magical, you will need to book well in advance. For its Bruin Woods program, the lodge gives special priority to UCLA Alumni from the end of June through mid-September, so plan your adventure now to grab your spot! 
However, the lodge is also less crowded during the fall or spring months, so you'll be able to enjoy all of the amenities at your leisure.
Wondering about Visiting Sesame Place San Diego With Kids? Click here!
Why UCLA Lake Arrowhead is FANTASTIC for Families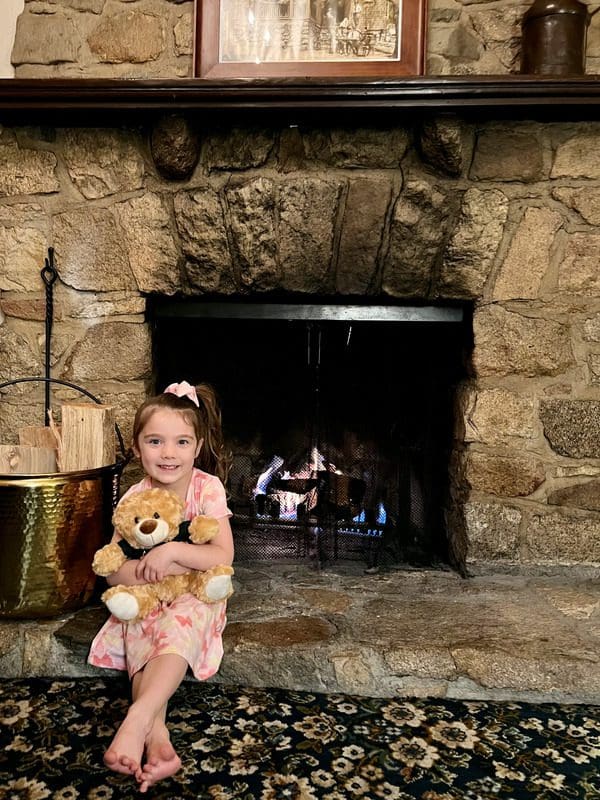 UCLA Lake Arrowhead Lodge is fantastic for families because it features modern amenities yet a quaint, rustic charm. From chalets to cabins, accommodations showcase comfy beds and a variety of floorplans for every type of family. Most of the rooms include a fireplace and deck offering stunning mountain or lake views. We were initially surprised that there was no television, but the mountain atmosphere encourages even the workiest of workers to leave the work, and the world, completely behind. We were so happy we did.
With so many unique room configurations, we encourage you to explore the website, which includes detailed descriptions and pictures. There are three-bedroom options with kitchenettes, as well as single-story cottage options. For large families, the Briar Creek Chalet sleeps up to 10 people in four bedrooms. The master bedroom has a king bed; two bedrooms each have one queen bed, and a fourth bedroom has two queen beds. It also includes 3 baths, a fully-equipped kitchen living room, a dining room, and multiple decks with mountain views. While the property is expansive, fewer rooms make it feel more individualized and cozy.
The front desk staff is also very friendly and loves to answer any questions you may have about the property or the area. In fact, when you stay at UCLA Lake Arrowhead Lodge, you can ask the staff for hot cocoa at any time (a lovely treat for kids, and the kids at heart!). The main lodge also has coffee, tea, cocoa, and fresh whole fruit at all times.
On-Site Amenities for Families at UCLA Lake Arrowhead Lodge
In addition to a friendly staff and beautiful location, UCLA Lake Arrowhead Lodge also boasts fantastic family amenities. Whether you want to relax in the pool or hike one of the many trails surrounding the property, here's an idea of what to expect on your perfect family getaway to UCLA Lake Arrowhead Lodge!
Here's How to Plan a Family Visit to Julian, California with Kids: Things To Do, Restaurants, & More!
Swimming Pool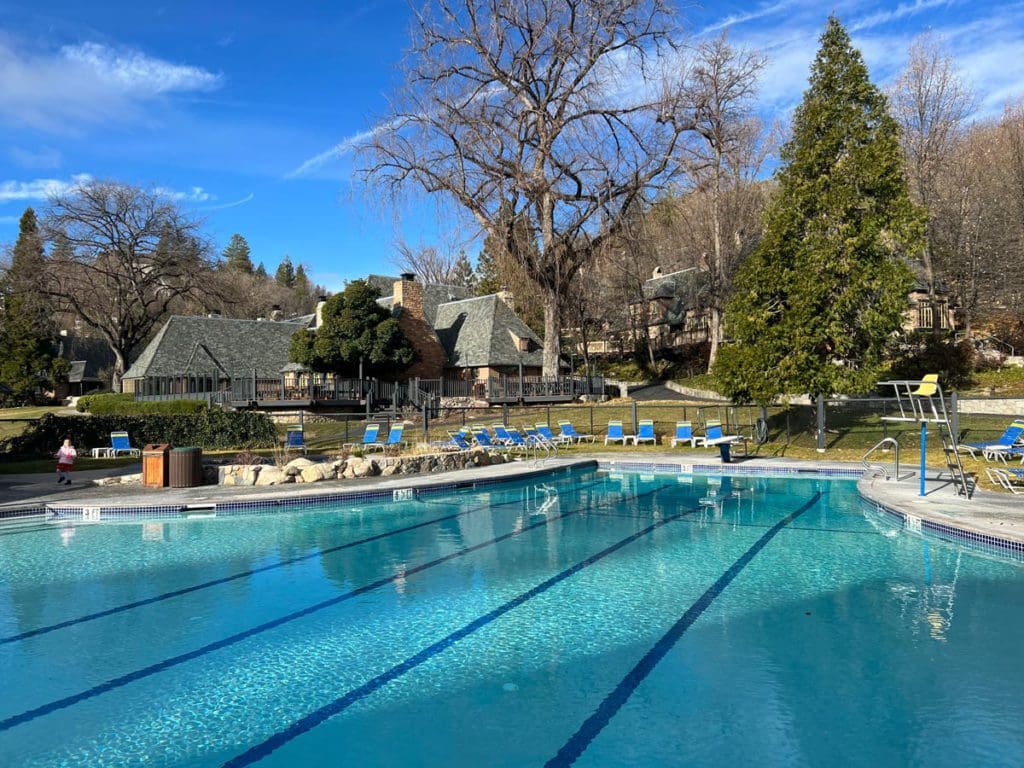 What could be better than relaxing in a swimming pool after a long day of exploring Lake Arrowhead with kids? It's no wonder that access to a swimming pool is at the top of the list for a family-friendly Lake Arrowhead hotel! At UCLA Lake Arrowhead Lodge, the outdoor swimming pool is open and heated from mid-May through mid-October, weather permitting. Sadly, we could only dream of taking a future dip on warmer days, but with beautiful views and plenty of lounge chairs to boot, it certainly looked inviting!
Indoor Hot Tub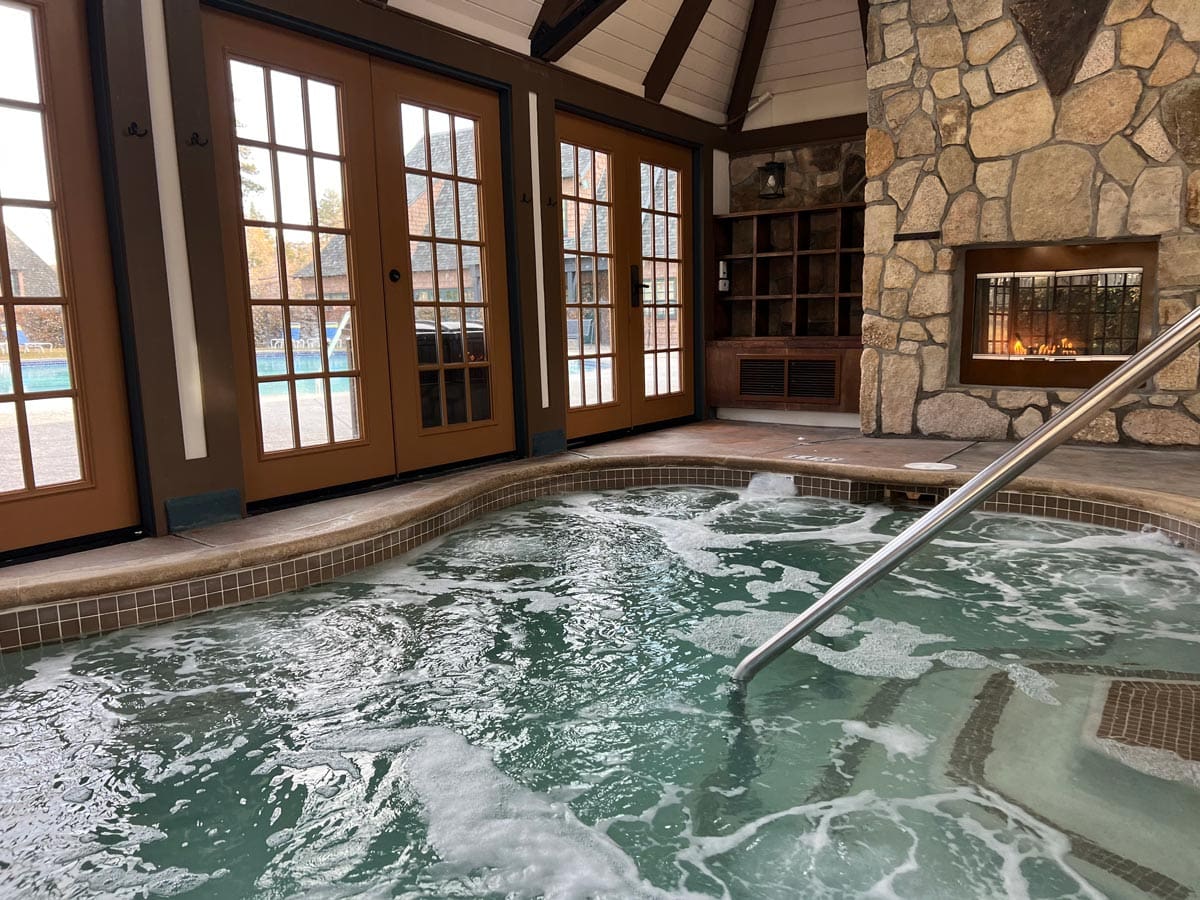 When it comes to indoor hot tubs, the UCLA Lake Arrowhead Lodge does not disappoint. In fact, I jokingly told my husband: "they had me at the indoor hot tub!". The hot tub is large enough to fit up to six people, and it has a jetted whirlpool feature for a truly relaxing experience. The water is kept at a comfortable temperature, and plenty of towels are available. Once I saw the fireplace, I was no longer in my right mind. What a decadent amenity that is all too rare in California! Since the pool was understandably closed, we were more than happy to take a memorable fireside dip. It was fantastic!
Fitness Center
It's easy to stay active while visiting Lake Arrowhead through the use of the UCLA Lake Arrowhead Fitness Center, which is open 24 hours a day. This facility offers both cardiovascular and strength training equipment. Although the use of the Fitness Center is for guests 18 and older (not uncommon), we enjoyed having the option. For families with older kids, the Fitness Center is located by the pool, so you could easily split up while remaining relatively close to one another. You can also start a fitness walk outdoors at the base of "Cardio Hill."
Trails & Playground
We were pleasantly surprised by the expansive footprint of the UCLA Lake Arrowhead Lodge. You could (and should) easily spend hours discovering the property. Don't miss the massive treehouse and split-level playground — while entirely different, both were incredibly memorable and served as beautiful backdrops for an impromptu family photo session. We also played a pretty epic game of hide-and-seek at the playground, which will not soon be forgotten!
Sports
UCLA Lake Arrowhead Lodge is the perfect place for a family getaway, especially if you're looking for some fun sports activities! The lodge offers a wide variety of options, including volleyball, tennis, ping pong, basketball, and classic lawn games like horseshoes, shuffleboard, and bocce. For those that are less sporty, like me, classic board games are available at the front desk. We enjoyed a riveting game of Candy Land, and I am sorry to say that I lost to a 4-year-old!
S'more Fun for the Family
When the sun goes down, and the fire pit is lit, there's nothing better than making s'mores with your family! Whether you're looking for a quiet spot to relax with a good book or want to gather a group for some laughs and storytelling, you'll find the perfect fire pit for your needs. In fact, this is a great way to meet other travelers and experience the magic of s'mores under the stars. (Be sure to bring enough to share, and you will be the most popular guest on the property!)
Families can even partake in a fireside game of Monopoly with old friends and new ones. So what are you waiting for? Gather your friends or family, grab some marshmallows and graham crackers, and plan your perfect family getaway to UCLA Lake Arrowhead Lodge!
On-Site Dining at UCLA Lake Arrowhead Lodge
Whether you're looking for a casual meal or a more formal dining experience, UCLA Lake Arrowhead Lodge has you covered. Families can check out the on-site dining room, which boasts a warm, rustic vibe and features breakfast, lunch, and dinner options. We suggest you request a table by the fire and make a reservation, as they are strongly encouraged.
To be candid, I wasn't sure what to expect from a buffet, but I was pleasantly surprised by both the food quality and the staff's professionalism. Not only did the staff seem to know each guest, but they were seemingly always nearby, just waiting to fulfill your wildest whim. As for the food, it was great! We enjoyed both the buffet and the 4-course dinner, but our favorite was the homemade breakfast biscuits – which are a MUST if you get the opportunity. Our carb-loving kids were wild about the mini corn dogs and spaghetti!
Please note: the restaurant has specific hours and isn't open throughout the day outside of meal times. Breakfast is served from 8:00 am – 9:00 am, lunch from 12:30 pm – 1:30 pm, and dinner from 6:00 pm – 7:00 pm. I initially thought this could be a problem for my ravenous son, but it was absolutely not a big deal.
Can Families Access Lake Arrowhead?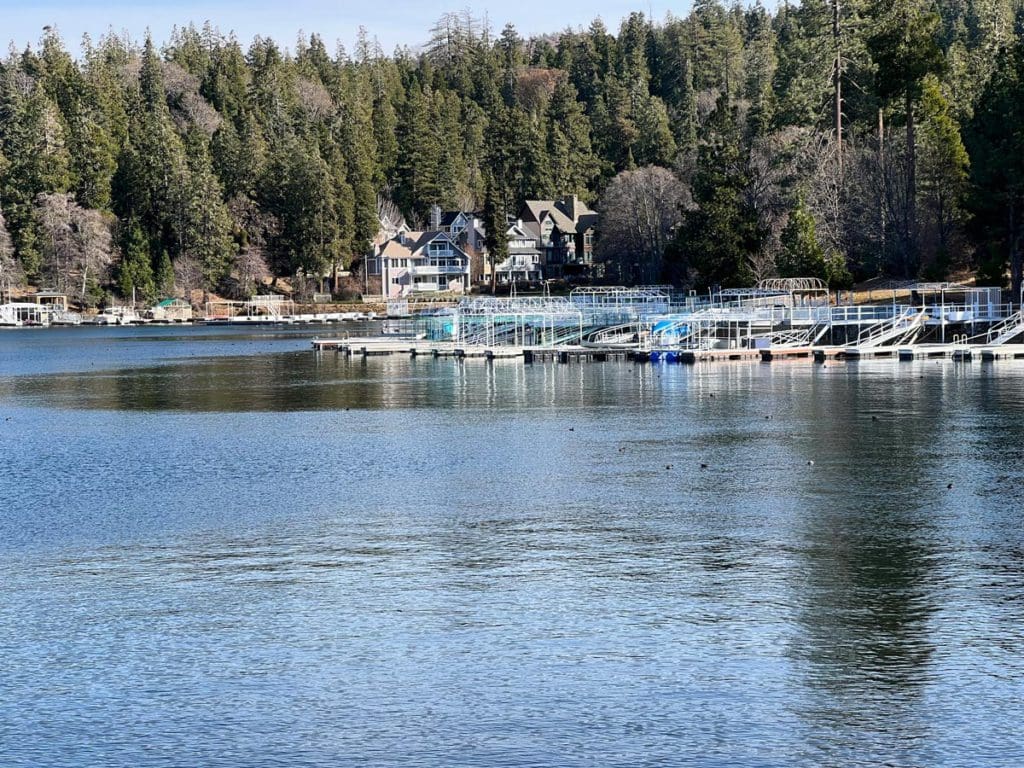 Lake Arrowhead is the largest private lake in California. Though it's not open to the public, enjoying the water by chartering a boat, hopping aboard the Arrowhead Queen for a tour, or water skiing at McKenzie Water Ski School is still possible. For adventure seekers who can't stay away from the water, check out nearby Lake Gregory. It offers recreational activities for the whole family, including boating, kayaking, paddle boarding, and fishing!
Read our article to Experience the Best of Fall in California with Kids!
Nearby Things to Do in Arrowhead for Families
While staying at one of the best hotels in Lake Arrowhead for families may make leaving difficult, you'll also want to explore some of the best things to do in Lake Arrowhead with kids. While nothing is within walking distance, family fun is just a quick drive away. Here are some of our most noteworthy activities near the UCLA Lake Arrowhead Lodge!
Get Your Snow on at Snow Valley Mountain Resort
Snow Valley Mountain Resort is located just 30 minutes from UCLA Lake Arrowhead Lodge. From long cruising intermediate trails to the region's best beginner terrain to Southern California's only chairlift-serviced sledding area, there's something for all ages to enjoy in the winter and throughout the year.
Alongside terrific terrain, there are also Learning Centers with lessons for all abilities and ages. Our newbie skier, age 6, participated in a group lesson and was immediately lovestruck! Snow Valley's incredible team made his first-time experience extremely positive and way less stressful for his nervous mom and dad!
Snow Valley offers lift-serviced mountain biking, the Scenic View Chair, hiking, special events, and more during the warmer months.
Have an Adventure at Skypark Santa's Village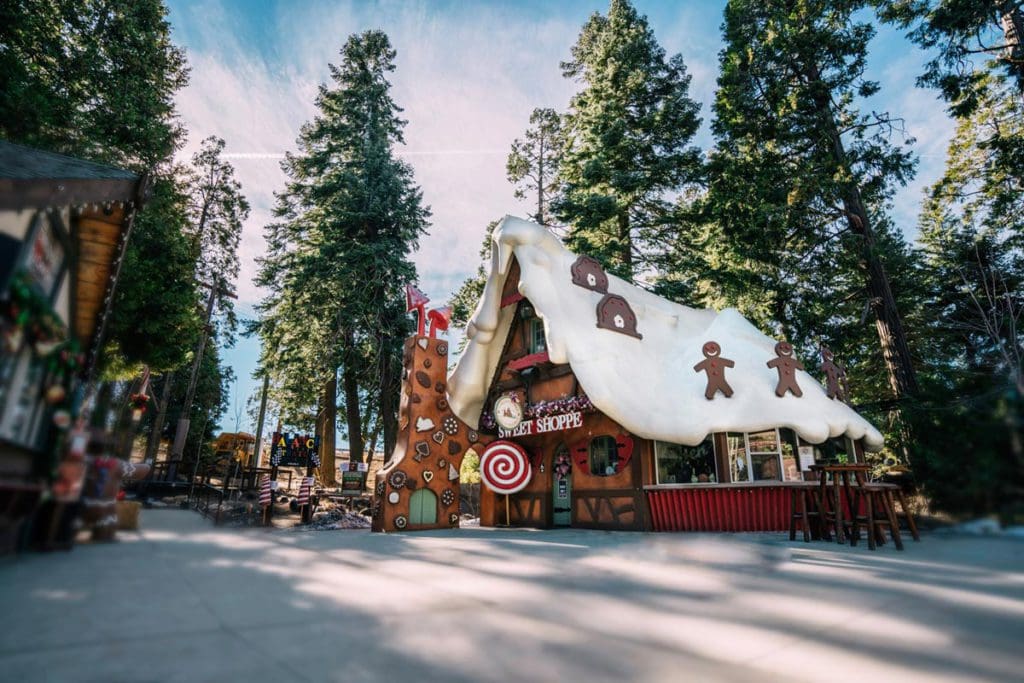 Thrill-seekers of all ages will love spending the day at SkyPark at Santa's Village! Located 30 minutes from UCLA Lake Arrowhead, this Alpine-themed fantasy outdoor adventure park features a world-class mountain bike park as well as a fantasy forest, complete with a magical cast of characters, self-powered rides, rustic restaurants, and cabin-clad shops, all set in the historic Santa's village. Appreciate nature as you hike and bike through the fields and forests. Or, try fishing, rock climbing, axe throwing, and archery. After losing yourself in the storybook cabins, grab a craft pint at the Pedal Pub.
SkyPark at Santa's Village is open year-round to guests, mountain bikers, and even campers in the next-door SkyPark Camp & RV Resort.
Take a Ride on the Lake Arrowhead Queen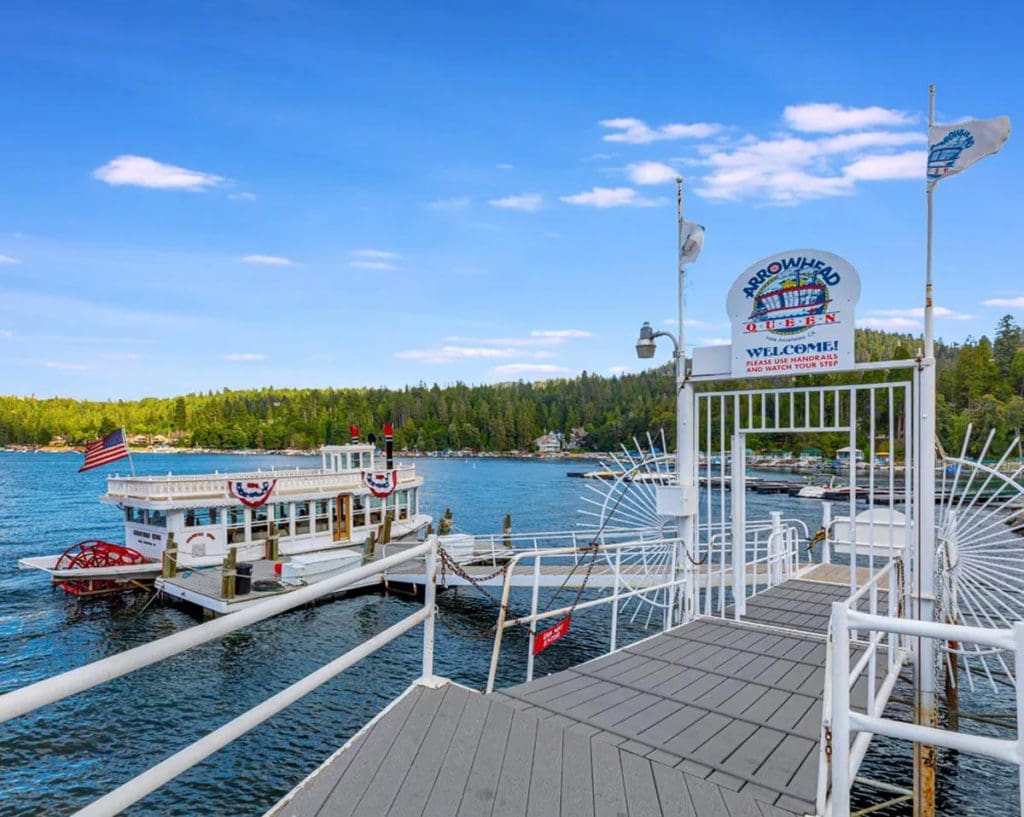 Looking for a fun and exciting way to see Lake Arrowhead with your kids? Families will love The Arrowhead Queen, which departs from Lake Arrowhead Village. On this 50-minute narrated boat tour, families can enjoy the beautiful views of the lake. You'll also get to know some of the area's most luxurious residences while learning about the lake's history. So come aboard and enjoy a leisurely cruise on scenic Lake Arrowhead! You can purchase tickets at LeRoy's Boardshop, located dock-side in the Lake Arrowhead Village near the boarding area for the boat tours.
Walk Around Lake Arrowhead Village
Just a short walk from the UCLA Lake Arrowhead Lodge is Lake Arrowhead Village, perfect for a day of exploring with the family. Dating back to the 1920s, it's welcomed local residents and tourists alike for over 100 years and remains a must-add to your perfect family getaway to UCLA Lake Arrowhead Lodge. Families can stroll around the village and explore the many specialty shops and restaurants. More on dining later, but our favorite shops include Jurassic Fossils (this store is all too tempting, and you will find yourself telling your little dino-lovers to look with your eyes at least 75 times), Mr. G.'s For Toys for unique toys and gifts, and Rocket Fizz for fun sodas and candies.
Run Around at Mackay Park
If your family enjoys being active and outdoors, Mackay Park is the perfect place to go while planning a getaway to UCLA Lake Arrowhead Lodge. It's located right off Highway 173 and Torrey Road. With its spacious grounds, the park has plenty of room for kids to run around and burn off some energy. While the UCLA Lake Arrowhead Lodge has a fantastic split-level playground, MacKay Park is worth checking out if you want to switch it up. With stunning views, a playground, and small rock-climbing walls for the kids, this is a fun spot to add to your Lake Arrowhead with kids bucket list!
Get Wild at Wildhaven Ranch
Wildhaven Ranch is the perfect place to take your family for a day of fun and adventure! Located just a short drive from the UCLA Lake Arrowhead Lodge, this wildlife sanctuary, education, and visitation center has a focus on rescuing endangered and indigenous wild animals. Kids will love petting and feeding the ranch's friendly goats, llamas, and alpacas. You can even see bears and eagles from a distance! Weather permitting, The Ranch is open to the public year-round for special programs and events, but they are NOT open to the public daily. We highly recommend contacting them directly to schedule a tour.
Discover the Hiking Trails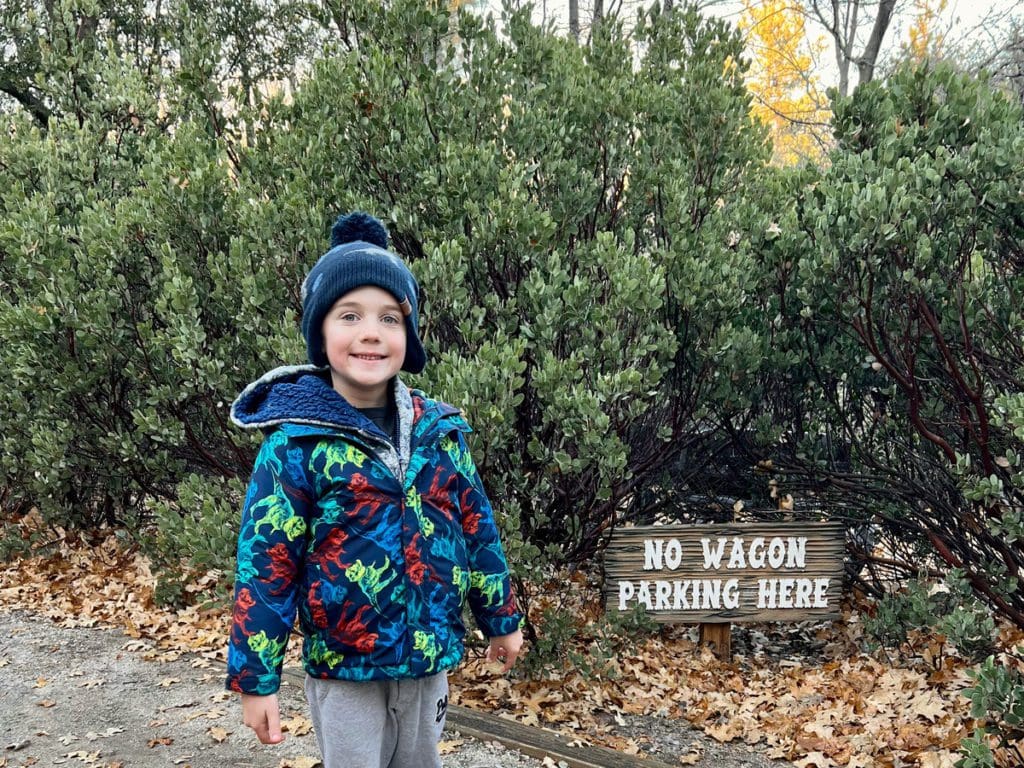 Lake Arrowhead offers plenty of family-friendly hikes, perfect for little explorers. In fact, there are plenty of trails nearby for all skill levels, and you're sure to find some breathtaking views. An Adventure Pass (available in the Chamber Visitor Center) is required to park at most trailheads; be sure to check websites before visiting. If you only have time for one hike, we recommend Heart Rock/ Seeley Creek Trail. This easy, 1.3-mile hike follows Seeley Creek to an overlook called "Heart Rock," which marks the trail's end. The gentle grade of this trail makes it an excellent walk for all ages.
Learn to Ski at McKenzie Water Ski School
If you happen to be visiting during the warmer months, specifically Memorial day weekend through mid-September, McKenzie Water Ski School is the perfect place to learn to water ski. McKenzie Water Ski School is also located right on the shores of Lake Arrowhead, so you can enjoy the beautiful scenery while you learn. Their private lessons are perfect for those who want one-on-one attention, while their group lessons are great for families or friends who want to learn together. Whether you want to tackle one ski, two skis, or even wakeboarding, we guarantee you'll find the perfect package for you!
Family-Friendly Dining in Lake Arrowhead
What family getaway to UCLA Lake Arrowhead Lodge would be complete without a bucket list of must-visit restaurants? Lucky for us, Lake Arrowhead delivers when it comes to family-friendly dining options, and we have never regretted a meal! Read on for some of our favorite restaurants!
LouEddie's Pizza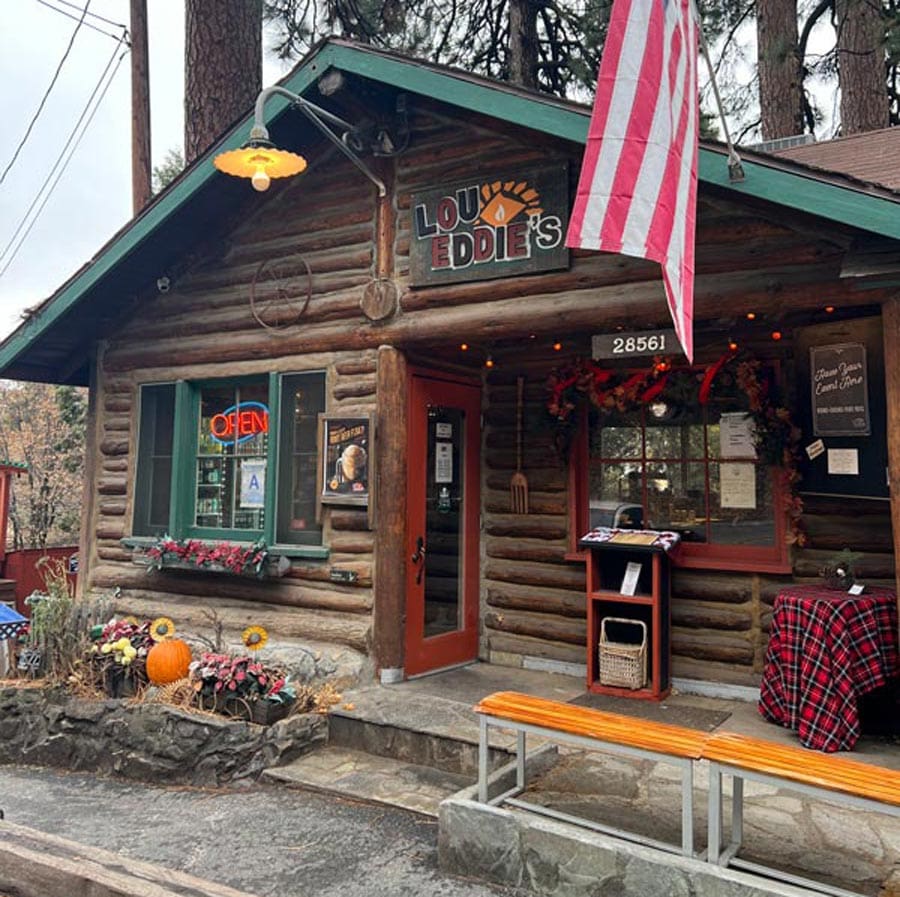 You're probably thinking: how can a pizza place be the very first restaurant on this list? Well, LouEddie's Pizza is always our first stop on the way into Lake Arrowhead, and it should be yours too! With its casual atmosphere and delicious food, the menu features all of your favorite pizzas using only the freshest ingredients, as well as some unique specialty pies. And if anyone in your group is looking for something else, there are also salads, sandwiches, and pasta dishes to choose from. Besides its location in a 90-year-old log cabin, what really makes LouEddie's an excellent choice for families is its commitment to accommodating kids. From smaller portion sizes to crayons and coloring sheets, no one will be bored here!
Jettie's Waterfront Kitchen + Drink
Jettie's Waterfront Kitchen + Drink is the perfect spot for a family-friendly meal while staying at UCLA Lake Arrowhead Lodge. I mean, who doesn't love eating with a view of the lake?! Overlooking Lake Arrowhead, the restaurant has a casual atmosphere and plentiful seating, making it perfect for families with young children. Plus, the menu features a variety of American fare, including burgers, sandwiches, salads, and pizzas. There are also several vegan and vegetarian options available. We were particularly taken with the poke nachos, fish tacos, and peach and burrata salad. Yum!
Lakefront Tap Room Bar & Kitchen
Finding a place to eat with young kids can be tricky, but the Lakefront Tap Room Bar & Kitchen has got you covered. Located in the Lake Arrowhead Village, this family-owned business is inspired by some of their favorite taverns and gastropubs around the country. With a menu full of kid-friendly favorites like burgers, hot dogs, macaroni and cheese, and chicken strips, your little ones will be sure to find something they enjoy. We love the food, but we keep coming back for the family-friendly vibe, yummy kid's menu, and gorgeous lake views.
Belgian Waffle Works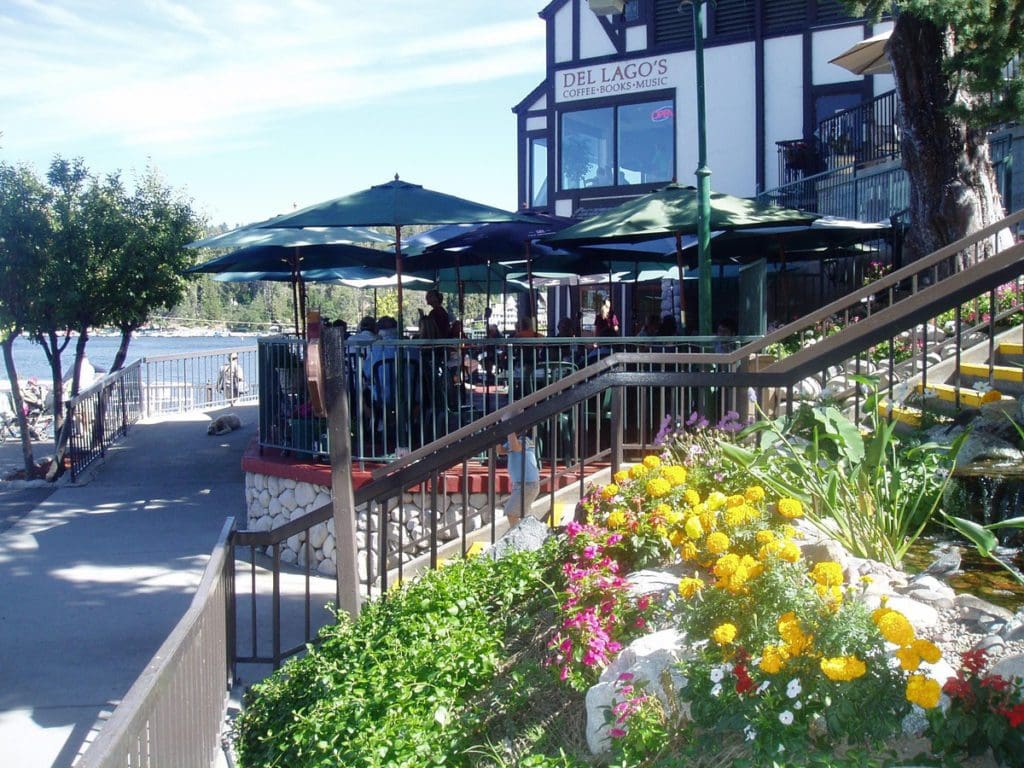 When it comes to family-friendly dining in Lake Arrowhead, Belgian Waffle Works is a must-try! Located in Lake Arrowhead Village, this place is famous for its breakfast, particularly its 17 different kinds of specialty waffles. Whether you're in the mood for a sweet treat or a savory meal, the menu features all of your favorite breakfast items like pancakes, waffles, and eggs, but with a Belgian twist. The waffles are made fresh to order and are absolutely delicious!
We attempted to visit more than 6 times (we never waited more than 20 minutes with the kids) and finally decided to visit outside of peak breakfast hours. All that is to say that breakfast is king; expect long waits, and good thing they serve their delicious waffles all day long!
So, Would I Recommend UCLA Lake Arrowhead Lodge for Families?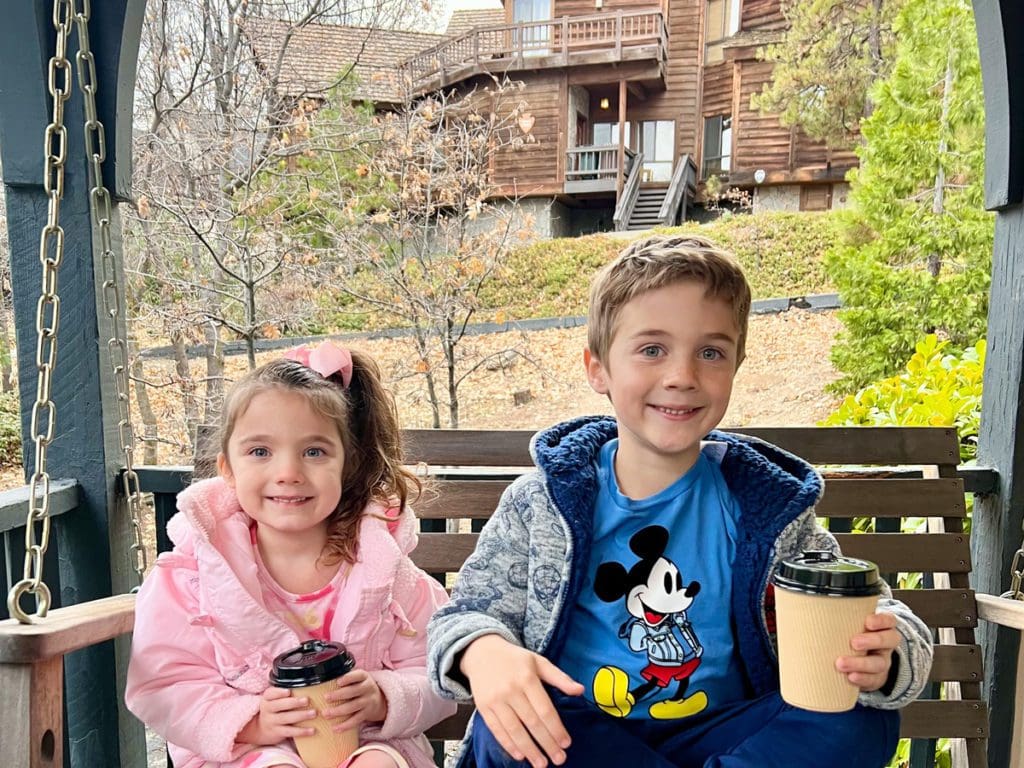 Yes, I would definitely recommend planning a family getaway to UCLA Lake Arrowhead Lodge! It's the perfect place to get away from the hustle and bustle of city life and enjoy some quality time together in nature. The staff was incredibly friendly and accommodating, the accommodations were comfortable and spacious, and the setting was absolutely beautiful. We already can't wait to go back!
Ready to book your stay at UCLA Lake Arrowhead Lodge? Reserve here with Expedia!
Happy Travels!
We hope you liked this Review: A Perfect Family Getaway to UCLA Lake Arrowhead Lodge by our contributor Lisa McGuigan, aka Temecula Tots! Whether you want to escape for the weekend or take an extended vacation, you'll love the variety of amenities and activities available at this California destination. Enjoy Lake Arrowhead with your kids!
*Unless otherwise noted, all images within this article belong to and are courtesy of Lisa McGuigan.
*Due to the COVID-19 pandemic, some of the attractions, accommodations, or things to do on this list may be closed. Please ensure availability before making your decision.
*This post may contain affiliate links that may earn us a small commission, at no additional cost to you. Affiliate links in no way inform the hotels, sights, products, or other recommendations included in our articles. All opinions and recommendations expressed here are that of the attributed author, Lisa McGuigan.
READ MORE: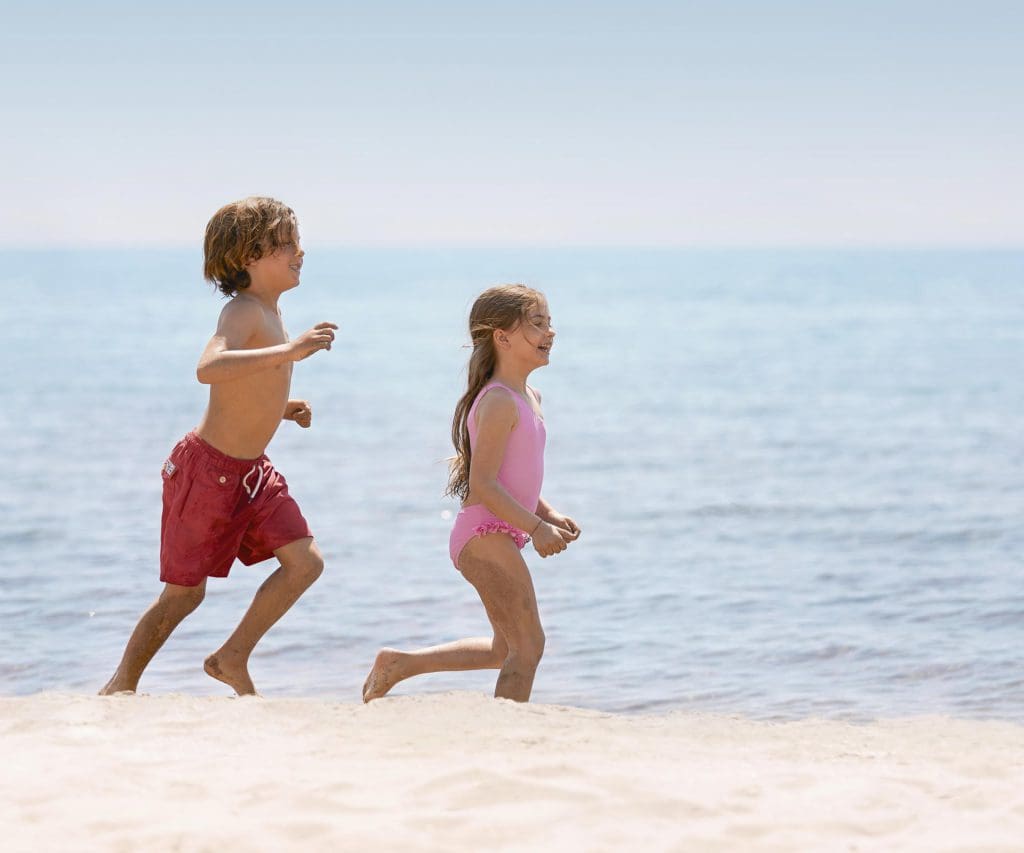 ​​From the sun-kissed beaches of Crete to the rugged terrain of Rhodes, these all-inclusive hotels...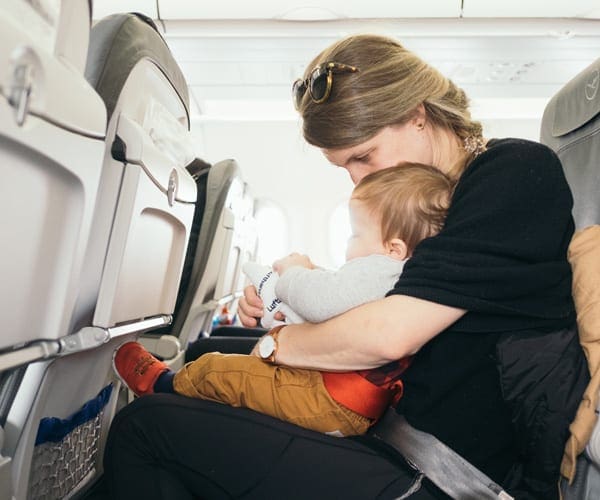 Families Who Love To Travel contributor Meghan Oaks provides her 10 best tips for your...