Travelers searching for the perfect summer getaway for families should consider renting a lake house or a cabin in Wisconsin! Wisconsin is home to some of the best lakes in the country, making it a great place to enjoy all sorts of water-based activities with your kids. From fishing and swimming to boating and hiking, there are endless opportunities for fun in the sun when you rent a lake house in Wisconsin. Plus, there are plenty of other family-friendly attractions to keep everyone entertained. Whether you want to relax on the pontoon or take a hike through the woods, Wisconsin truly has it all! In this article, we've included a few of our favorite lake destinations, what to do with kids once you get there, and even where to stay. Here are just a few of the best lake destinations in Wisconsin to visit with kids this summer!
Best Great Lake Vacations in Wisconsin for a Family Getaway
Looking for the best lake destinations in Wisconsin to take your kids to this summer? You can't go wrong with any of these great spots! From the beautiful waters of Lake Superior to the fun and sunny beaches of Lake Michigan, there's something for everyone in Wisconsin. Keep reading to learn more about the best Great Lake vacations for families in Wisconsin!
Lake Michigan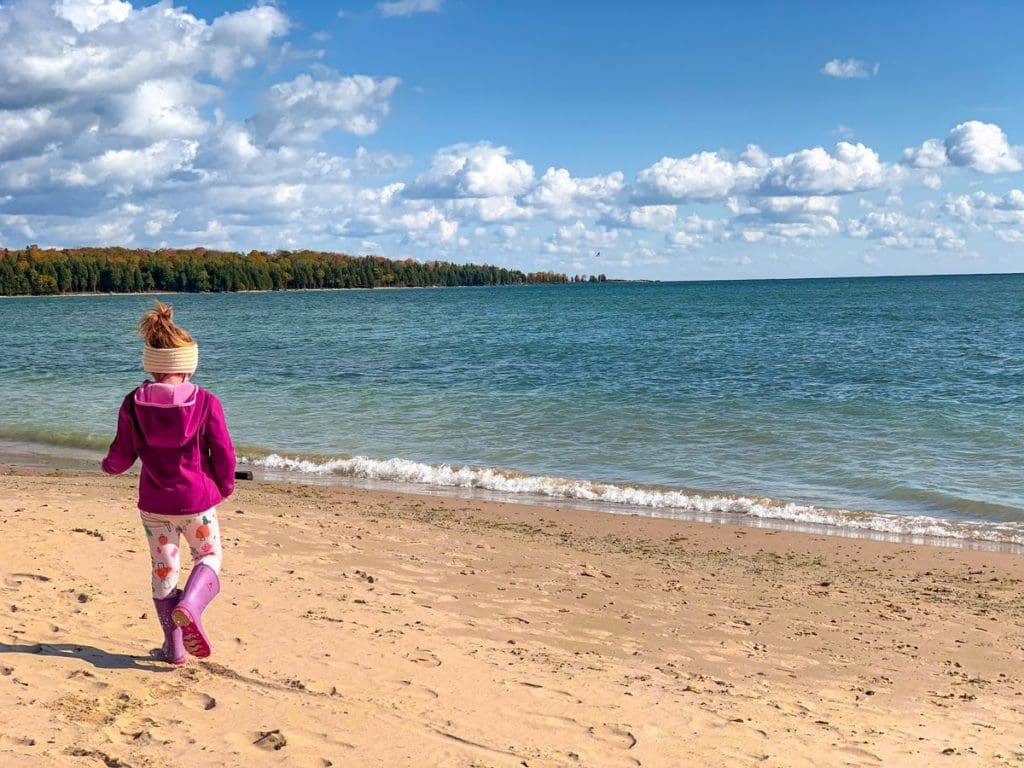 There's no denying that Wisconsin is a great place for a family getaway. And when it comes to choosing the perfect lake for your trip, you really can't go wrong with Lake Michigan. Not only is it one of the largest and most popular lakes in the state (it spans 23,000 square miles, and 400 miles of shoreline are in Wisconsin!), but it also offers everything from an action-packed adventure to lazy days in the sun.
There are lots of quaint towns spanning the Lake Michigan coastline in Wisconsin, but we recommend checking out Door County, otherwise known as the "Cape Cod of the Midwest." From five state parks to 11 lighthouses and 300 miles of beautiful shoreline, there's lots of fun to discover in Door County with kids! Towns such as Egg Harbor, Sister Bay, and Gibraltar are great places to make your home base, since they boast marinas or easy access to the lake and many other activities for families. Families can also take the ferry to Washington Island, home to lavender fields, and spend an afternoon at Schoolhouse Beach Park. Or, check out the lighthouses. Pottawatomie Lighthouse, the oldest on the peninsula, is in Rock Island State Park.
In Sturgeon Bay, kids will love the interactive exhibits at the Door County Maritime Museum. Door County is also known as the Cherry Capital. Pick some at local farms from mid-July through mid-August! With so much to do and see, it's no wonder that Lake Michigan is one of the best Great Lake vacations for families in Wisconsin.
Where To Stay In Door County With Kids
Door County offers many unique places to stay along the peninsula and on Washington Island. Find options for resorts, hotels, cabins and cottages, and camping. Firstly, find various accommodation options at Baileys Harbor Yacht Club Resort, nestled along the eastern coast of Door County. Plus, this waterfront resort includes over 1,000 acres ideal for hiking and snowshoeing. Alternatively, find four ways to camp in Door County, including rustic, off-the-beaten-path campsites and options for RVs. Finally, check Vrbo for lakeside cabins and houses across Dour County!
RELATED: 17 Unique Towns to Visit on a Midwest Road Trip with Kids
Lake Superior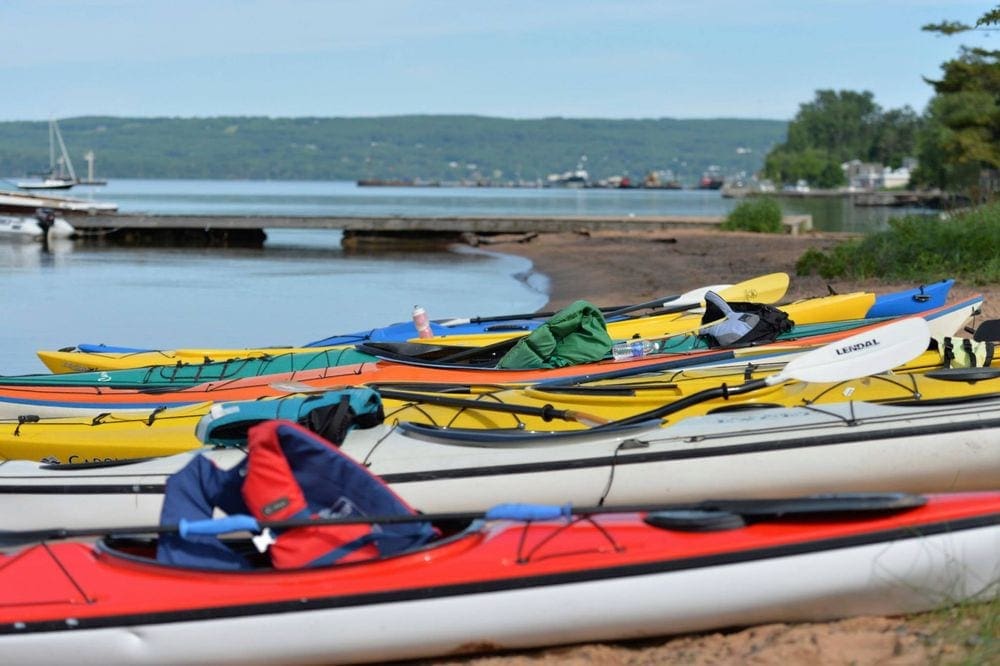 If you're looking for a great lake to take your kids for a family getaway, look no further than Lake Superior! At about 31,700 square miles, this massive lake is one of the best in Wisconsin for sea kayaking, fishing, boating, and more. And with lots of fun destinations to explore, your kids will never be bored!
We suggest visiting Bayfield, a small city located on Lake Superior. As an entry point to the Apostle Islands, this coastal destination is sure to charm all members of your family, whether you want to enjoy a city or an island vibe. Stay on the mainland or head to Madeline Island by ferry to hike, bike, kayak, swim, and canoe. For an indoor activity, visit the Madeline Island Museum to enjoy interactive exhibits highlighting the island's history. Kids can also watch the weavers work in the loom at Woods Hall and maybe even try it for themselves!
In downtown Bayfield, stroll the quaint streets to see some of the largest collections of Victorian homes in the Midwest. Kids can explore the Bayfield Maritime Museum to learn more about the shipping industry and Lake Superior. Depending on which time of year you visit, head to Blue Vista Farm to go fruit picking and see what farm life is like. Of course, for dinner, don't miss the freshest fish Bayfield has to offer at The Copper Trout!
Need more fun on the water? Look no further than these Best Lakes in the Midwest for Families!
Best Lakes in Northern Wisconsin for a Family Getaway
There are endless activities to keep the kids busy at these family-friendly lakes in northern Wisconsin, from swimming and fishing to exploring nature and playing in the sand. Whether you are searching for Northern Wisconsin resorts on lakes, or just a fun spot for a summer weekend away, here are some of the best lakes in Wisconsin for families who want to rent lake houses!
Families traveling in Wisconsin have tons of activities to look forward to – find the Best Places To Visit In Wisconsin For Families!
Minocqua Lake
Looking for a fun family getaway in Wisconsin? Then check out Minocqua Lake! This beautiful lake is located in north-central Wisconsin and is known for its clear water, gorgeous scenery, and great fishing. It's also situated on a large chain of lakes connecting Lake Kawaguesaga to Little Tomahawk Lake, featuring over 15 miles of shorelines and 6 different lakes for families to explore!
Whether you want to go pontoon boating, kayaking, canoeing, or paddle boarding, there's plenty of room for everyone on Minocqua Lake! There are also plenty of beaches along the shoreline where families can relax, including Torpy Park. Kids will love playing on the sandy beach here, and there's also a playground!
When you're done on the water, Minocqua also has a cute downtown area featuring shops, restaurants, and more places that you can visit. Families can also check out nearby attractions like Wildwood Wildlife Park Zoo & Safari, which opens during the summer and brings families up close to over 1,500 different types of animals!
Where To Stay Near Minocqua Lake With Kids
If you're looking for somewhere to stay near Minocqua Lake with kids, we recommend Schlecht's Cottages. You can also find other cottages, cabins, and lake houses in Wisconsin on Lake Minocqua with Vrbo. Undoubtedly, your family will find plenty of fun lake cabin rentals here in Wisconsin!
Lake Wissota
Wisconsin is home to some of the most beautiful lakes in the country, and Lake Wissota is one of them. Made famous by its mention in the Titanic, this man-made lake in Chippewa County offers plenty of activities for everyone in the family to enjoy, from fishing to swimming, boating, and hiking. Plus, the surrounding area is super family-friendly too, and offers lots to do when you're not in the water!
On the south side of the "big" lake, families will find public beach access to Ray's Beach, which features calm waters, a picnic area, and more facilities to make your day go smoother. At Lake Wissota State Park, families can also go hiking or biking on one of the many trails. Boating, canoeing, and water skiing are also popular on Lake Wissota. Indeed, plenty of lake houses and cabins line the shore of this Wisconsin lake, making it a great spot for a summer getaway together.
And if you're looking for some other fun things to do in the area, then be sure to check out Irvine Park & Zoo. This park is home to over 150 animals, including lions, tigers, and bears! Families can also visit the kid-friendly Jacob Leinenkugel Brewing Company, where they can take a tour and see how the magic happens! Finally, don't miss popping in for a sweet treat at the local favorite Olson's Ice Cream.
Add nearby Eau Claire, Wisconsin, to your itinerary and explore these 15+ Best Things To Do in Eau Claire, Wisconsin With Kids!
Lake Namekagon
Lake Namekagon is one of the best places to rent a lake house in Wisconsin for a family getaway! This chain of lakes in the Chequamegon National Forest in northern Wisconsin, located close to the town of Cable, provides everything you could want for an epic vacation, from water fun to things to do on dry land!
For families who love fishing, Lake Namakagon showcases great walleye and northern fishing. You can access the lake from various public boat launches along the shoreline. There are also lots of opportunities to go boating, canoeing, and kayaking on the Namekagon River.
Families who want to go hiking will find plenty of trails in the nearby Chequamegon National Forest, including the one to Morgan Falls, which is around 1.6 miles. There are also miles of paved trails where families can go ATVing through the forest! And, when you're looking to grab dinner or browse a few shops, check out the nearby town of Cable.
Wazee Lake
Wazee Lake is an excellent choice for families looking for a fun getaway in Wisconsin! Located in Jackson County, near Black River Falls, this is the deepest lake in the state, at around 355 feet deep. It's also a popular spot for scuba diving and fishing due to how clear the water is.
At the Wazee Lake Recreation Area, families will find Wazee Beach. Here, the calm turquoise waters at the beach are perfect for toddlers or younger children, since they're shallow and great for swimming. To have fun on the lake, there's a boat launch and also camping available. Seasonal concessions are available as well, and there's a playground when kids want a break, which is free to enter by car.
Plus, there are various hiking trails around the lake for families who want to get out and explore. No wonder this is one of the best lakes in Wisconsin with kids!
Best Lakes in Southern Wisconsin for a Family Getaway
Looking for the best lake destinations in Wisconsin to visit with kids this summer? Look no further than southern Wisconsin! This region is home to some of the state's most popular lakes, including Geneva Lake, Delavan Lake, and more fantastic Wisconsin lake resorts with cabins. Plus, this region is a great option for families seeking lake cabin rentals in Wisconsin. Stay tuned for our suggestions!
RELATED: 17 Minnesota Lakes for a Fun and Relaxing Family Vacation this Summer
Silver Lake
Whether you're looking to escape the hustle and bustle of city life or simply seeking a new adventure, a family getaway to Silver Lake is the perfect solution! This serene and beautiful lake is located in the heart of Wisconsin's Kenosha County, making it a convenient destination for families all across the Midwest.
Families usually settle in at Silver Lake Park, known for its kid-friendly swimming beach. This is also where you'll find boat launches for non-motorized water sports, such as kayaking or canoeing. Plus, for families who want to try windsurfing, there's a launch for that too!
When you're not in the water, check out the nearby soccer field or visit the concession stand. There's also plenty to do in the nearby area, like visiting ​​The Silver Fox Disc Golf Course. Or, wildlife lovers can venture further into Kenosha County and check out the New Munster Wildlife Area, which features hiking trails and the opportunity to spot native Wisconsin species!
Geneva Lake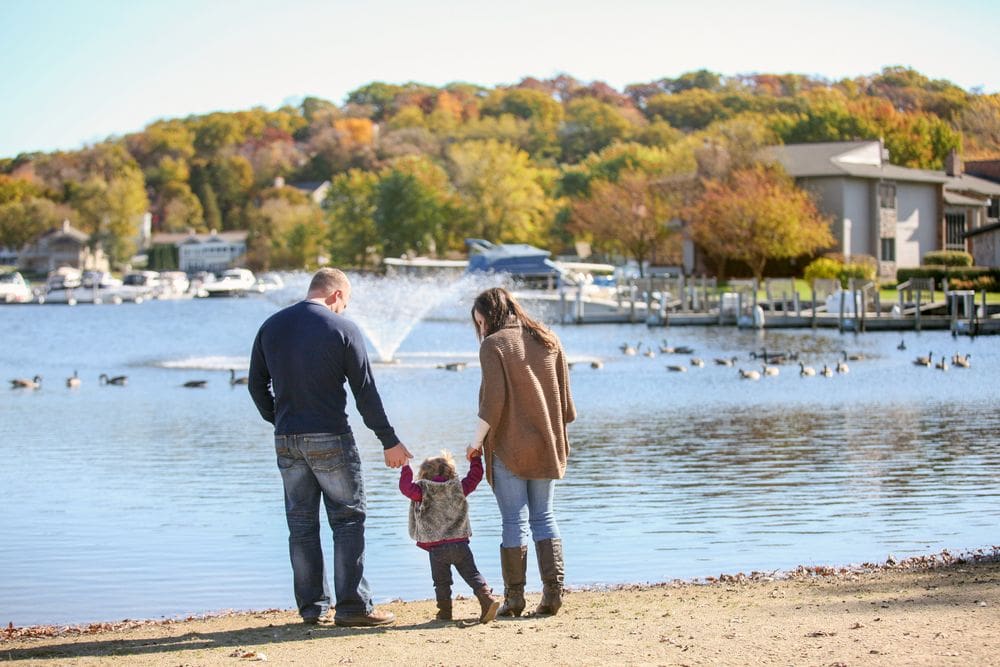 There's no better way to enjoy the summer than by spending time at a lake house in Wisconsin. And when it comes to finding the perfect lake house rental, Geneva Lake is a great option! Located in southeastern Wisconsin, Geneva Lake is a popular spot for both locals and visitors alike, featuring over 20 miles of shoreline and plenty of activities to keep everyone entertained.
On Geneva Lake, families can choose from four beaches and options for boating of all sorts, including the Lake Geneva Cruise Line. Big Foot Beach State Park is one of the most popular, with a popular swimming beach where kids can play and nature trails surrounding it. You can also appreciate the natural beauty on the Geneva Lake Shore Path, which is 26 miles long, with shorter a segment starting at Library Park.
See animals on the lake, visit Safari Lake Geneva, or enjoy a show at Dancing Horses Theatre. Nearby, families can also explore downtown Lake Geneva, famous for its Victorian architecture, award-winning restaurants, and luxury accommodations.
Where To Stay Near Geneva Lake With Kids
Looking for somewhere to stay near Geneva Lake with kids? For a luxurious hotel stay, check out the Grand Geneva Resort and Spa, which boasts a location just 10 minutes from downtown. Families can also browse Vrbo for home rentals on Geneva Lake.
Lake Pepin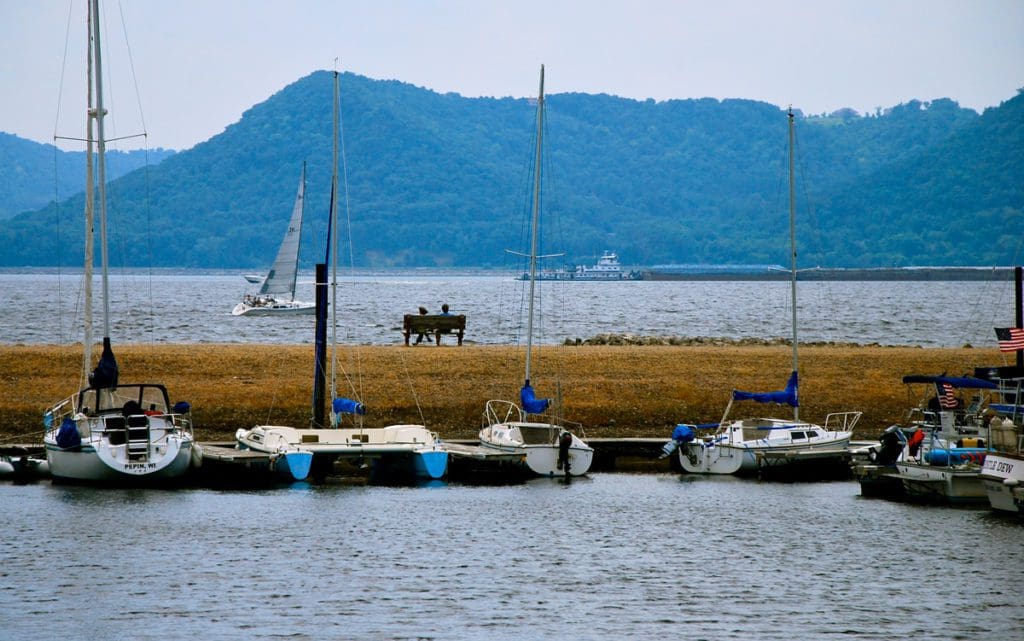 If you're looking for a fun-filled family getaway, there's no better place than Wisconsin's Lake Pepin! Located on the border between Wisconsin and Minnesota, it's the perfect spot for a family vacation since it offers picturesque views and ample opportunities to enjoy the outdoors. In fact, it's known as the birthplace of water skiing, so it's a top destination for adventurous families who want to get out on the water!
On the water, there are plenty of activities to keep everyone happy. ​​You can rent a pontoon boat and explore the lake at your leisure, or sign up for a guided fishing tour and try your hand at catching some of the local fish. If you're feeling adventurous, there are even parasailing, hang gliding, and jet skiing options available. There are also several sandy beaches where you can relax and soak up the sun. Kids will love splashing around in the water, playing games, and more!
When you want to have fun off the water, check out one of the many hiking trails over the border in Minnesota at Frontenac State Park or visit the hiking trails at Barn Bluff. Families can also visit one of the many wineries in the area, like Falconer Vineyards.
Lake Winnebago
One of the best lakes in Wisconsin to rent lake houses for a family vacation is, without a doubt, Lake Winnebago! Only an hour away from major cities such as Milwaukee, Green Bay, and Madison, it's the largest natural freshwater lake in the United States and offers plenty for families to enjoy during a vacation!
Lakeside communities such as Font du Lac are perfect for families who want to settle in and enjoy everything the lake has to offer. This is where you'll find Lakeside Park, a waterfront area with boat rentals so that you can explore the lake. There's also a mini-train for kids to ride, a carousel, plus a scenic lighthouse. And if you're looking for even more adventure, there are plenty of watersports options available along Lake Winnebago, too – from parasailing to wakeboarding.
In Oshkosh, families can also check out Menominee Park, which is home to playgrounds, tennis courts, hiking trails, and the Menominee Park Zoo. Kids who are into airplanes can't miss the EAA Aviation Museum, where they can explore all kinds of antique models!
Elkhart Lake
Spending summer in Wisconsin with kids will be a blast when you visit Elkhart Lake! Located in the state's Kettle Moraine State Forest, only 1 hour from Milwaukee and about 2 hours from Chicago, this crystal clear lake is known for its excellent swimming conditions, as well as for having fantastic fishing opportunities all year round!
Elkhart Lake is known for its blue-green waters, which families can appreciate up close by renting a pontoon boat and cruising around the lake. There are also various parks and sandy beaches around the lake where families can relax. We recommend Fireman's Park, which features a sandy beach, concessions stand, picnic tables, and a volleyball court. Lions Park is also popular with families because it has a playground, a picnic area, and lots of open space, perfect for burning some energy after a day on the lake.
Elkhart Lake also has an interesting history of open road racing, which families can read about at over 14 historical markers placed around what used to be the racing tracks. Kids will love following the route and imagining the drivers going at high speeds!
Green Lake
Families searching for the best lakes in Wisconsin for a family vacation can look no further than Green Lake! It's famous for being one of the deepest lakes in the state, as well as one of the oldest resort communities. Offering crystal-clear waters and a plethora of things to do both on and off the water, your family is sure to have a blast at this idyllic spot.
On the lake itself, there are plenty of activities to keep everyone entertained. Take a swim in the refreshing waters, go fishing off one of the many docks, or rent a pontoon boat and explore the lake at your own leisure. For those looking for more of an adrenaline rush, there are also jet Skis and wave runners available for rental. Plus, three public beaches mean there are plenty of places for kids to splash while parents relax in the sun! Check out Hattie Sherwood Beach, Dodge County Park Beach, and Sunset County Beach.
And when you're ready to take a break from all the fun in the sun, head over to one of Green Lake's many beachside restaurants for some delicious food and drinks.
Delavan Lake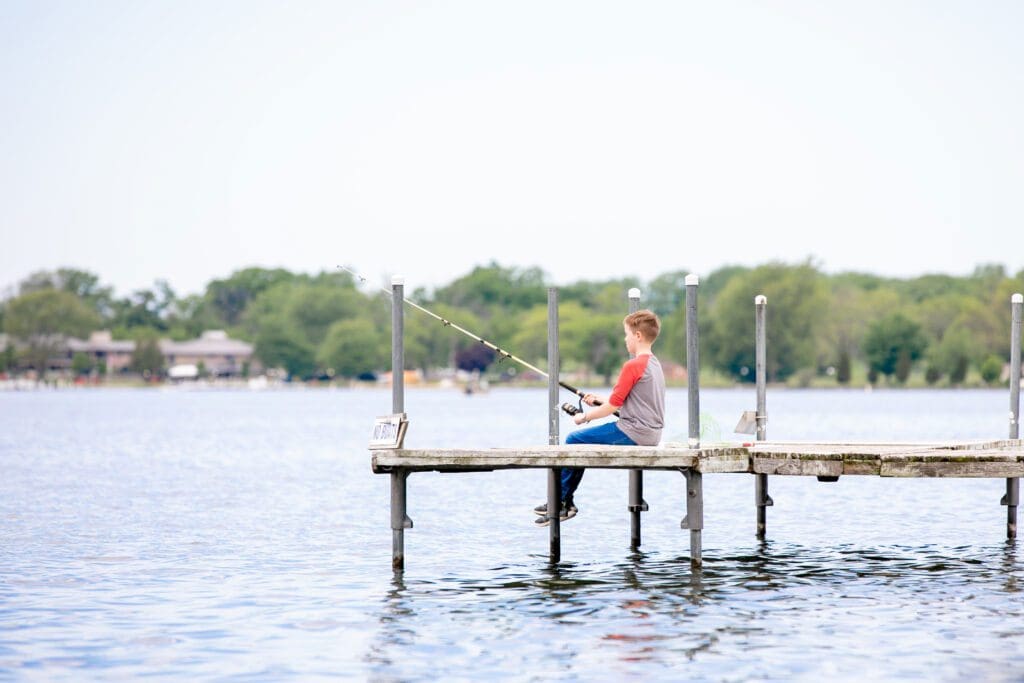 Looking for a family-friendly lake destination in Wisconsin to rent lake houses this summer? Consider Delavan Lake, located in southeastern Wisconsin! Operating as a summer resort area since the 1800s, this scenic lake showcases several houses designed by Frank Lloyd Wright, as well as two boathouses. The lake also offers plenty of activities both on and off the water, making it the perfect place to enjoy some quality family time.
On the water, there are plenty of activities to keep everyone entertained and enjoying the summer in Wisconsin with kids. Rent a pontoon boat and cruise around the lake, go tubing or wakeboarding behind a speedboat, or just relax and swim in the refreshing water. At ​​Delavan Community Park, families can also pay a small access fee to take advantage of a sandy beachfront, fishing pier, picnic areas, and a playground where kids can meet other friends.
And, if you want to connect with nature, you can also go hiking around the lake. Other activities for families to enjoy in the area include golfing, horseback riding, and an abundance of dining options.
Where To Stay Near Delavan Lake With Kids
Families who want somewhere to stay near Delavan Lake have plenty of options! For a hotel stay, we suggest Delavan Lake Resort, which offers families one or two-bedroom suites with pull-out sofas, kitchens, and other comforts of home. You can also check out Vrbo for lake houses in Wisconsin on Delavan Lake.
Happy Travels!
We hope you liked this list of 13 Fun Places to Rent Lake Houses & Cabins in Wisconsin for a Family Getaway! Whether you want to relax on the beach or go boating, Wisconsin's lakes are varied and offer a ton of family fun, especially in the summer. Enjoy your summer in Wisconsin with your kids!
*Due to the COVID-19 pandemic, some of the attractions, accommodations, or things to do on this list may be closed. Please ensure availability before making your decision.
*This post may contain affiliate links that may earn us a small commission, at no additional cost to you. Affiliate links in no way inform the hotels, sights, products, or other recommendations included in our articles. All opinions and recommendations expressed here are compiled from submissions submitted by the generous members of our Families Who Love To Travel community.
READ MORE: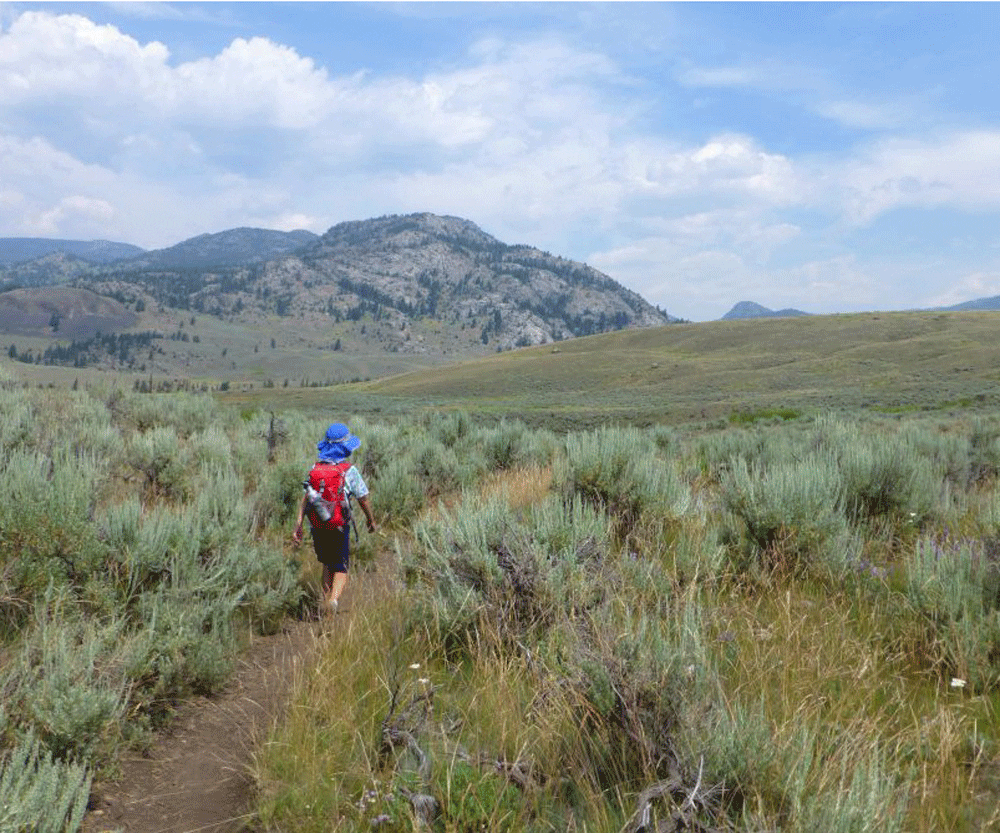 Everyone knows that Yellowstone National Park makes for a classic family vacation. Strolling the boardwalks...
You can do all the research and pack all the right things, but it's hard...