*This article featuring an itinerary for St. Moritz and Engadine with kids was done in partnership with Engadin St. Moritz Tourismus as part of a hosted visit. All ideas + opinions expressed are those of the writer, Gunjan Prakash. Find additional disclosure below.*
Crafting a St. Moritz itinerary tailored to kids ensures your little ones will have unforgettable memories while embracing the splendor of this enchanting destination! Nestled in the heart of the Swiss Alps, this glamorous town offers breathtaking views, pristine landscapes, and plenty of outdoor activities to keep everyone in your family entertained. For families visiting in the summer, this 4-day St. Moritz itinerary with kids promises a delightful blend of experiences for kids of all ages – toddlers to teenagers. Climb to Heidi's hut, cruise across picturesque lakes, hike magnificent glaciers, and wander charming villages. Not only will these experiences broaden horizons but also encourage creativity and foster greater cultural understanding among young minds – making it an educational journey, too! To start planning your next getaway to St. Moritz, keep reading for our family-friendly itinerary, where to stay with kids, and more!
Day 1: Heidi's Hut, Scenic Walks, and Designer Shops in St. Moritz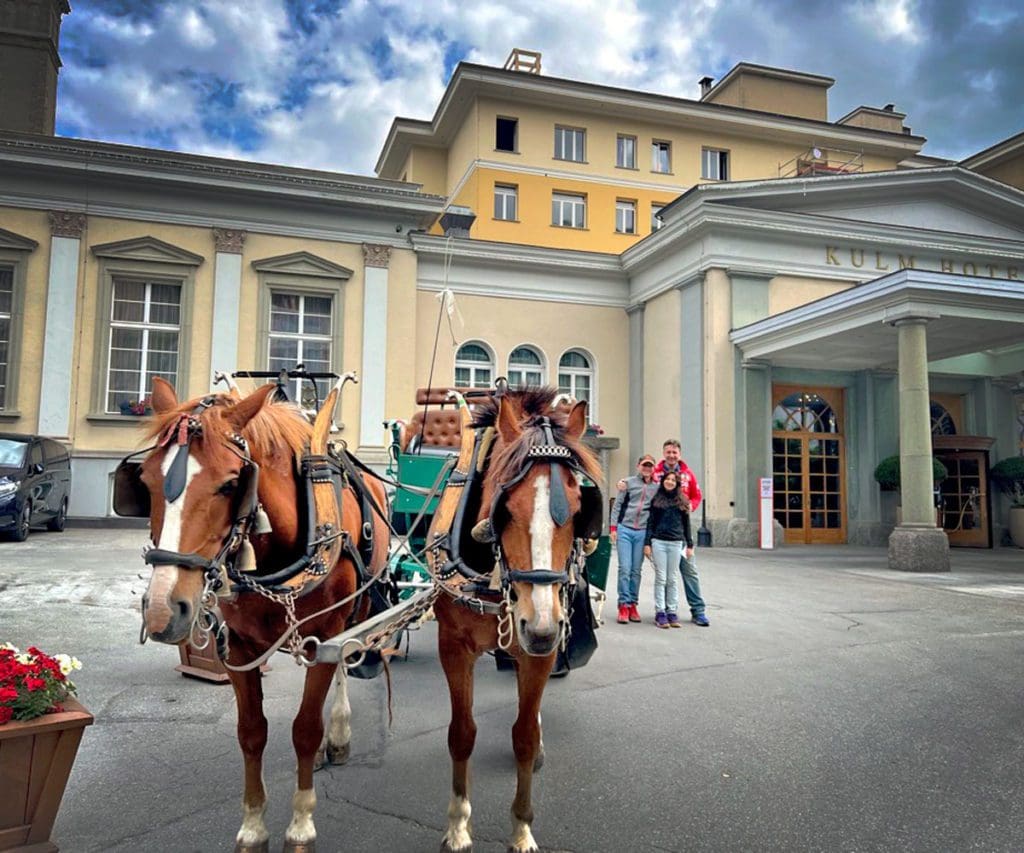 In the morning, discover St. Moritz's charming streets, where you'll find fancy shops and cozy cafes that kids will love. Don't miss the incredible views of Lake St. Moritz!
While in St. Moritz with your kids, consider visiting Heidi-Hütte after exploring the town. Heidi's widespread fame can be attributed to the beloved 1952 film. The hut in the Heidi film looks just like in the cartoons, making it a dream come true for children who often believe Heidi is real.
To reach the cabin, you have a few options. You can embark on a 45-minute uphill hike from St. Moritz to the Salastrains area. Alternatively, you can opt for a fun horse carriage ride or a quick taxi journey to reach the famous Heidi-Hütte. This cozy hut has been carefully designed to resemble the one from the Heidi books, creating a magical experience for all. Younger ones can pretend they're in Heidi's home, while older kids can enjoy a scenic walk to reach it. Upon arrival, take in the stunning views and let the kids have some fun in the playground across from the hutte.
Embark on one of the Best Hikes near St. Moritz for Kids
After your Heidi adventure, families can take a break and grab a snack or lunch at Salastrains. This restaurant has a fantastic valley view and offers tasty local and international dishes. Located inside Hotel Salastrain, it's the perfect spot to relax and enjoy the beautiful Alpine scenery, which is why we've included it in our St. Moritz itinerary with kids!
There are plenty more adventures awaiting families in St.Moritz! Walk to St. Moritz village and choose between two scenic trails: the Schellenursli Trail or Heidi's Flower Trail. On the 1.2-mile-long Heidi's Flower Trail, you'll see more than 200 different types of protected plants, including lovely wildflowers.
After your stroll, explore the charming streets of St. Moritz, where you'll discover upscale designer shops, cafes, and more. Kids and teens will be thrilled by the luxury brands on display in shop windows, making for a unique shopping experience.
Additional Activity: Tea Time at a Hotel
Treat yourselves to afternoon tea at one of the exquisite hotels in St. Moritz. It's a special tradition in St. Moritz, and many grand hotels like Badrutt's Palace Hotel, Kulm Hotel St. Moritz, or Suvretta House have embraced it. These hotels excel at providing a fantastic afternoon tea experience. Enjoy delightful pastries, sandwiches, and impeccable service. Be sure to make a reservation well in advance to savor this experience fully. After the lovely afternoon tea, return to your hotel and unwind. It's an ideal way to end your St. Moritz itinerary with kids!
RELATED: Plan Your Perfect Summer 7- to 10-Day Switzerland Itinerary With Kids
Day 2: Sailing, Biking, and Lakeside Delights
On the second day of your St. Moritz itinerary with kids, discover the tranquility and beauty of St. Moritz Lake at your own pace. Embark on an aquatic adventure by reserving a sailing session with the St. Moritz Lake Segelclub. This activity is perfect for both young kids and teens.
As you gracefully glide across the pristine lake, cradled by majestic mountains, you'll find yourself immersed in the serenity of nature. The Segelclub ensures there's something for everyone in the family. While younger kids can marvel at the enchanting surroundings, teenagers can actively participate and learn the ropes of sailing. Feel the wind in your hair as you navigate through the waves, learning the basics of sailing from expert instructors.
Research and reserve things to do in St. Moritz here with Tripadvisor!
Afternoon Activity: Midday Break at Pier 34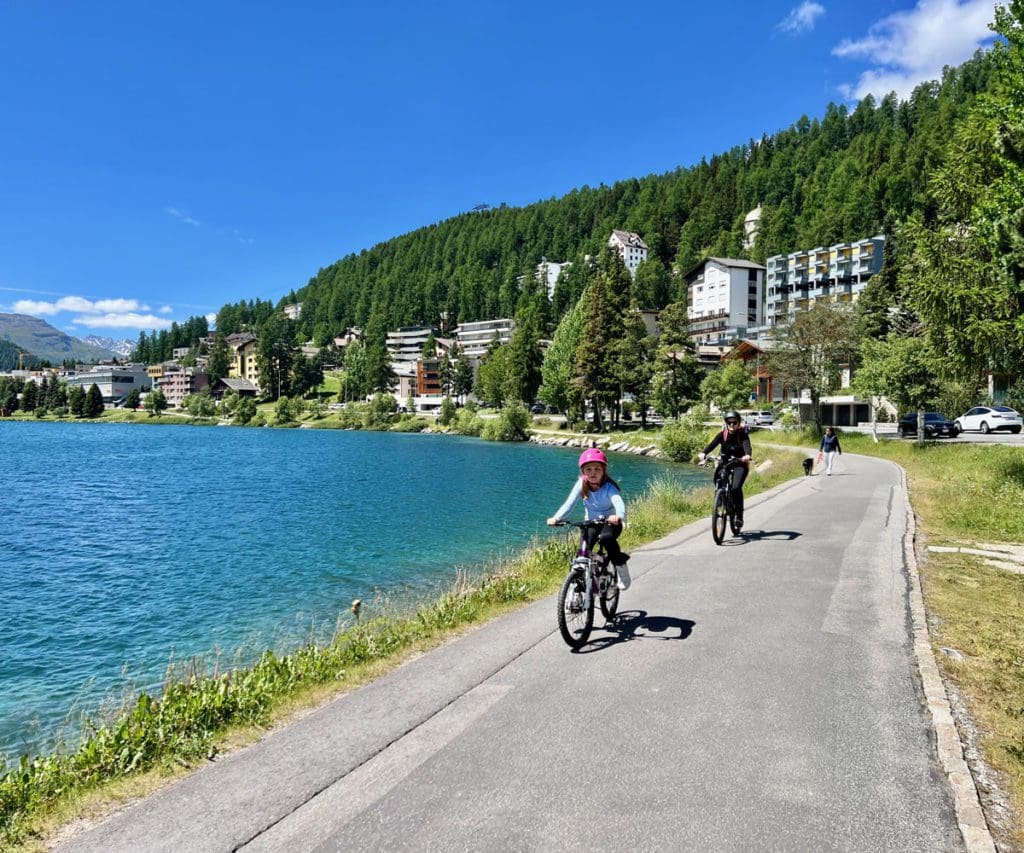 For a delightful midday break, go to Pier 34, a charming lakeside spot that beckons you to unwind and recharge. Nestled near the lake's edge, Pier 34 offers a tantalizing menu featuring local specialties and international flavors, promising a truly satisfying culinary experience. Plus, the restaurant's interior boasts panoramic windows that showcase breathtaking views of the surrounding mountains and glistening lake waters.
Additional Activity: Bike Ride Near The Lake
Once your meal is finished, take advantage of the excellent biking choices Lake Bike Rental in St. Moritz has to offer. Just outside the restaurant you'll find a selection of cycling options, including kids' bikes, mountain bikes, and e-bikes to cater to all levels and ages. Pedal the wonderful paths while surrounding yourself with striking alpine views, and breathe in the fresh mountain air. This undertaking will surely electrify your entire family!
With the lake and mountains as your backdrop, seize the opportunity to capture family photos during your biking or walking adventure. Cherish quality moments together, surrounded by the embrace of natural beauty. Rest easy knowing that well-marked paths ensure a safe and enjoyable experience for everyone.
After the enjoyable biking adventure, take a break and indulge in a comforting cup of hot chocolate at Café Hanselmann or another renowned cafe known for Swiss treats. It's a cozy interlude that will rejuvenate you before you resume your exploration of this delightful town. Finally, spend some quality time at your hotel's pool, and conclude your day with a delightful dinner.
Discover Engadina with a Private Guided Bike Tour through Getyourguide!
Day 3: Muottas Muragl and Morteratsch Glacier Exploration
On the third day of your St. Moritz itinerary with kids, families can start their day with a scenic train ride from St. Moritz to Muottas Muragl.
This kid-friendly journey is a delightful way to start your adventure, winding through picturesque landscapes that captivate children of all ages. First, families can take the train from St. Moritz to the Punt Muragl Station. Overall, the trip takes approximately 30 minutes and covers about 5 miles, during which you'll be immersed in the natural beauty of the Engadine region.
Upon arriving at Muottas Muragl, get ready to be enchanted by the panoramic vistas of snow-covered mountains. The historical funicular railway dating back to 1907 makes this place even more special. Take a ride on this charming funicular, and kids and adults will be fascinated by the experience and the railway's history. The view from the top is simply breathtaking. The lush green valleys and crystal-clear lakes stretch out in every direction. We spent hours taking in the awe-inspiring scenery and snapping countless photos.
Muottas Muragl also offers a hotel and restaurant where you can savor a delicious meal while relishing the breathtaking views. The combination of delectable food, spectacular scenery, and fresh mountain air creates an unforgettable experience for the entire family.
Afterward, it's an excellent opportunity for families with teens to connect with nature by exploring the Muottas Muragl Panorama Trail, an easy 4.2-mile hike from Muottas Muragl to Alp Languard, lasting approximately 2 hours.
Alternative Activity: Morteratsch Glacier
Alternatively, you can head to Morteratsch Glacier by taking a local train or bus to Pontresina, approximately 6 miles from Muottas Muragl. The Morteratsch Glacier Trail offers an easy walk from the train stop near Morteratsch Hotel into the valley towards the glacier. It's suitable for all ages and covers 1.8 miles, starting from the Morteratsch Railway Station. Plan for a little over an hour to reach the glacier and slightly less to return. It's a fantastic way to experience the mountains at minimal cost.
As you visit the glacier, the alpine landscapes, ice formations, and glistening snow will captivate you. Kids can learn about glaciers and their vital role in the ecosystem. As one of the largest glaciers in the Eastern Alps, Morteratsch is an unforgettable experience to see up close.
Next, you can choose to retrace your steps to St. Moritz or explore Pontresina and its nearby attractions. Pontresina is a charming Swiss village nestled in the Engadin Valley, known for its stunning Alpine scenery, picturesque hiking trails, and quaint atmosphere. Whether you decide to dine in Pontresina or return to St. Moritz for your evening meal, you'll have the opportunity to savor the local cuisine and enjoy a memorable dining experience.
Book tours or things to do in St. Moritz here with Getyourguide!
Day 4: Day Trip to Sils and Val Fex
On the last day of your St. Moritz and Engadin itinerary for kids, start by visiting Silvaplana Lake, which you'll pass on your way to Val Fex. Silvaplana is well-known for kite and windsurfing because it gets a consistent daily thermal wind. This lake sits at 1,800 meters above sea level and is popular for wind and kitesurfing lovers. If you have extra time, consider booking a lesson for more water fun.
You and your kids will love the magical scenery here, even if you're not into kitesurfing. Afterward, take a scenic drive to the charming village of Sils. The drive is a treat for the eyes, with scenic routes and breathtaking mountain views. You'll enjoy panoramic views of mountains and valleys, making the drive a visual delight.
READ NEXT: 13 Amazing Towns and Villages To Visit With Your Family In Switzerland
Additional Activity: Explore Sils and Val Fex
Then, explore Sils and Val Fex, hidden gems in the heart of the Engadine Valley. Sils welcomes families with its postcard-perfect setting, surrounded by towering mountains and pristine lakes. Begin your day with a relaxing walk through the village streets, where you can admire the traditional Swiss architecture.
Your next stop should be Val Fex, a magical valley known for its untouched wilderness and tranquil atmosphere. Put on your hiking boots or opt for a romantic horse carriage ride, both offering memorable experiences for your family. You can take the carriage ride one way and hike back. The rhythmic clip-clop of hooves and the gentle sway of the carriage will create unforgettable memories for everyone in your family.
Continue your journey by experiencing Val Fex's remarkable natural beauty on foot or simply enjoy its majestic scenery. This valley ensures a safe and enjoyable experience no matter what you do. Make the children appreciate its peace and tranquility, providing a true escape from everyday life, while observing the unique plants, birds, and animals that call it home.
Enjoy a picnic in Val Fex, surrounded by the wonders of nature. Marvel at the lush green meadows, babbling streams, and towering mountains – such scenery makes for a memorable experience. Savour a delicious meal from one of the restaurants along the route. Before heading back to St Moritz, finish your day off with dinner in Sils for a truly blissful adventure.
Where to Stay in St. Moritz with Kids
To enjoy a family vacation in St. Moritz, you'll find a variety of luxurious options to choose from. Kulm Hotel St. Moritz is an excellent choice for families traveling with children. They offer a comprehensive range of amenities, including a kids' club, a teen club, a tennis court, a playground, and both indoor and outdoor pools. These facilities ensure that the entire family stays engaged and entertained during the summer, and in winter, they even provide an ice skating rink. For more information, read our Kulm Hotel St. Moritz Review: The Perfect Family Destination for Year-Round Fun!
Another fantastic option for families is the Badrutt's Palace Hotel. This hotel boasts a fantastic kids' club and a pool, making it an ideal choice for families looking to make the most of their stay in St Moritz. Then, for those seeking a more intimate family experience, the Kempinski Grand Hotel des Bains is another top-notch choice. It offers spacious suites, an indoor pool, and more amenities.
If you visit St. Moritz during winter, we highly recommend staying at the Suvretta House with your family. This ski-in, ski-out hotel is incredibly convenient for families who love to ski. In addition, they also have a ski school at the hotel, making it very convenient for families eager to hit the slopes together. Read our Review: Suvretta House For The Perfect Family Ski Vacation, to learn more!
Click here to discover the Best Hotels In St. Moritz and Engadine, Switzerland For Families!
Happy Travels!
We hope that this 4-day St. Moritz and Engadine Itinerary With Kids has offered some useful guidance for your forthcoming travels! Let your little ones explore Heidi's hut and sail across picturesque lakes, while they climb glaciers and roam through bewitching villages – there won't be a dull moment! The beautiful natural environment, captivating activities, and extensive cultural excursions make for an ideal family holiday in Switzerland. Have a great time!
*Unless otherwise indicated, all images within this article belong to and are courtesy of Gunjan Prakash.
*This post may contain affiliate links that may earn us a small commission, at no additional cost to you. Affiliate links in no way inform the hotels, sights, products, or other recommendations included in our articles. All opinions and recommendations expressed here are those of the attributed author, Gunjan Prakash.
READ MORE: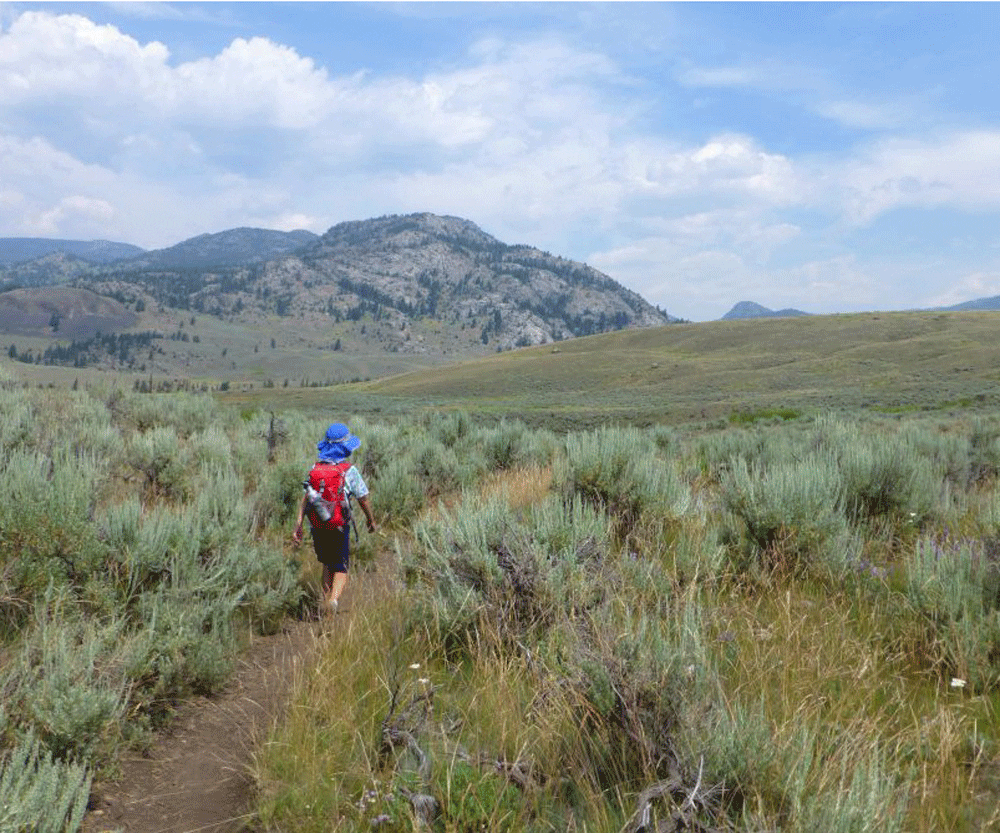 Everyone knows that Yellowstone National Park makes for a classic family vacation. Strolling the boardwalks...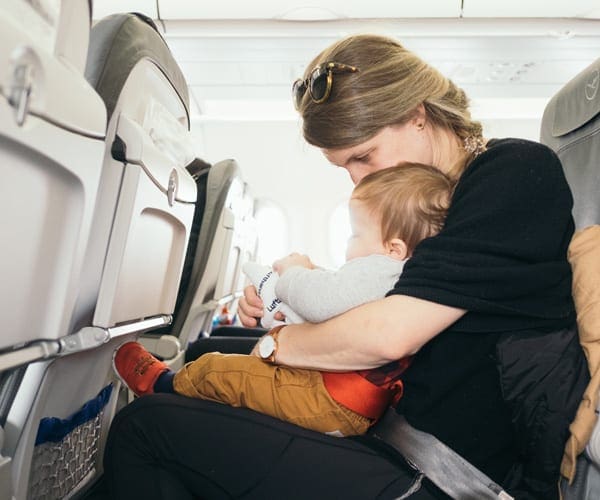 Families Who Love To Travel contributor Meghan Oaks provides her 10 best tips for your...