*This article featuring a review of Kulm Hotel St. Mortiz was done in partnership with Engadin St. Moritz Tourismus as part of a hosted visit. All ideas + opinions expressed are that of the writer, Gunjan Prakash. Find additional disclosure information at the bottom.*
St. Moritz, Switzerland, is renowned for its world-class luxury hotels, offering various options for all types of travelers – including families! If you're looking for the ultimate family-friendly experience, look no further than the legendary Kulm Hotel St. Moritz. Situated with breathtaking views of St. Moritz Lake, this historic hotel is ideal for a family ski vacation in winter. And, it also offers a perfect summer getaway filled with outdoor adventures. Our recent stay was incredible – and we can't wait to share more about why this hotel is ideal for families traveling with kids to St. Moritz, no matter the season. Let's dive into our review of Kulm Hotel St. Moritz, and explore its outstanding amenities and activities for kids of all ages.
What to Expect from Kulm Hotel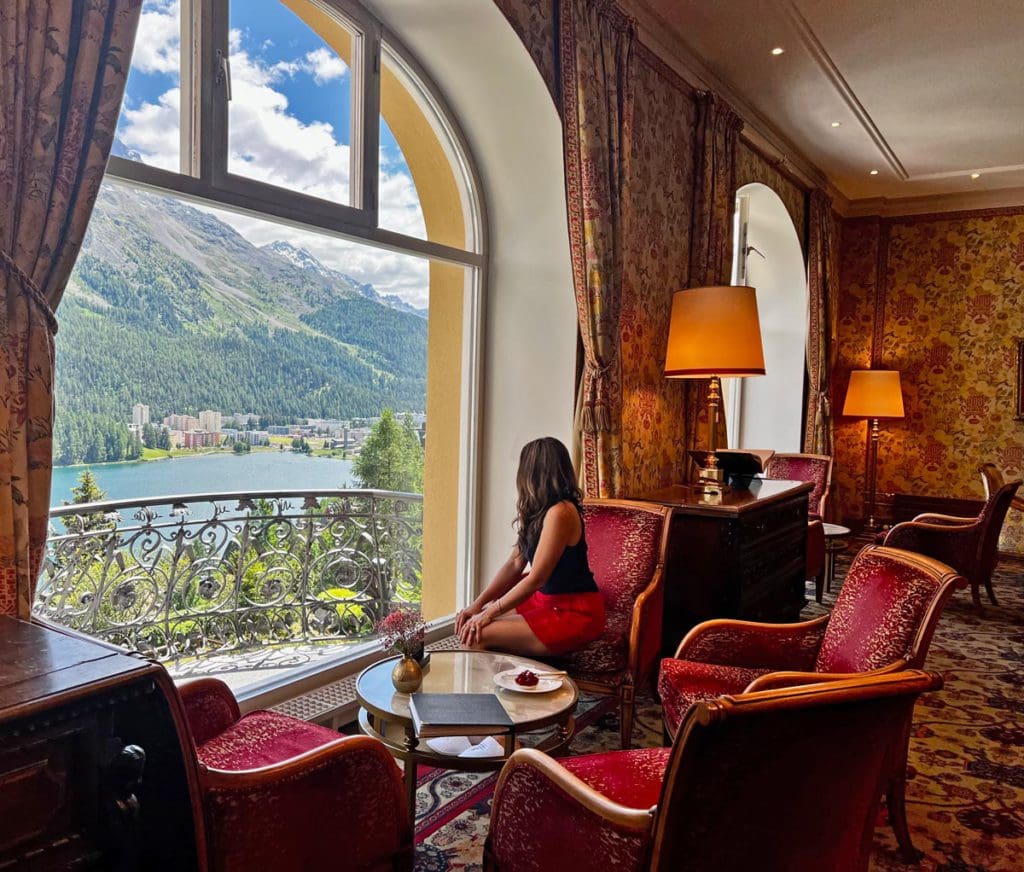 As soon as you arrive, you will be treated to luxurious service and picturesque vistas that will leave you stunned. Here's what to expect when you arrive at Kulm Hotel with kids.
A Grand Entrance and Breathtaking Views
From the moment you step into Kulm Hotel, you'll be captivated by its grandeur. As you make your way through the hotel, the stunning lobby leaves a lasting impression, setting the tone for the extraordinary stay that awaits you. Elaborate decorations and exquisite furnishings showcase the hotel's dedication to creating an opulent and inviting ambiance. The traditional, old-school charm of the hotel adds a touch of timeless grace to the surroundings, instantly enveloping you in a sense of familiarity and warmth. Throughout the hotel, stunning flower arrangements add a touch of natural elegance to every corner.
Exceptional Service and Convenient Amenities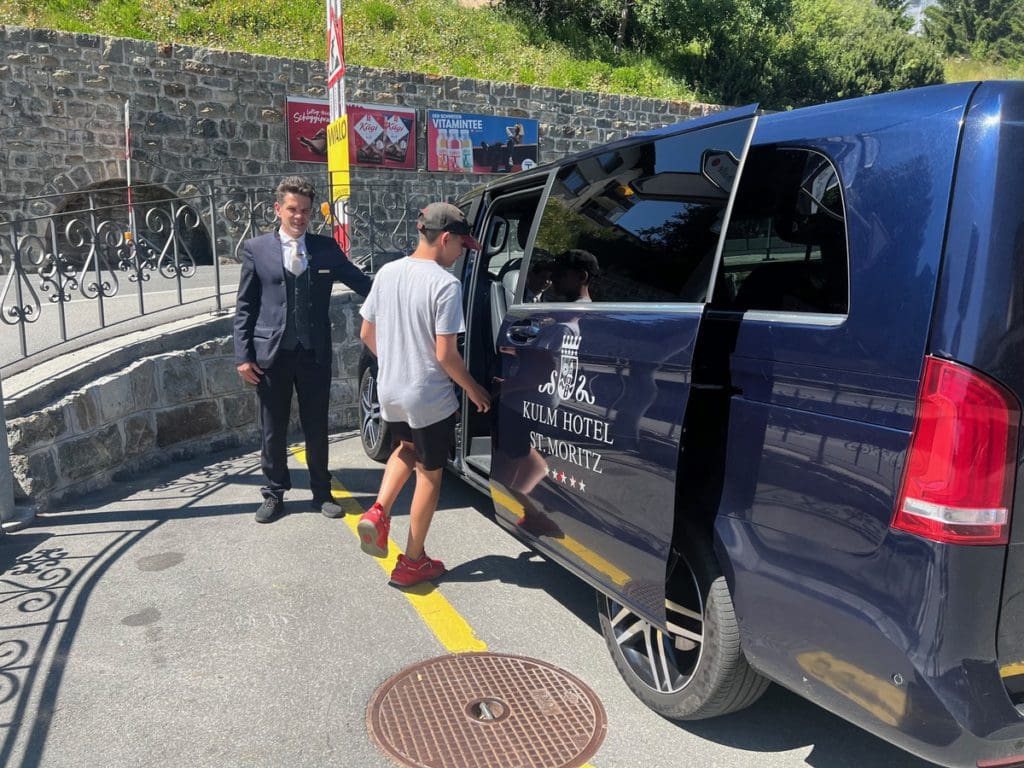 Whether you're visiting for a ski vacation, a summer retreat filled with hiking and biking, or a relaxing spa getaway, the staff at Kulm Hotel will go above and beyond to ensure your stay is nothing short of perfect. The attention to detail and warm welcome you receive at the reception sets the stage for a memorable experience.
One notable amenity is the complimentary shuttle service, which takes care of your transportation needs, whether arriving from the train station or needing a ride to nearby restaurants or shopping destinations.
Impeccable Concierge Service
Our review of Kulm Hotel St. Moritz wouldn't be complete without mentioning that the concierge service at Kulm Hotel is second to none! The staff members are friendly, professional, and dedicated to ensuring that every aspect of your vacation is taken care of. From making restaurant reservations to arranging ski lessons and other activities, the concierge team is there to assist you with every detail. Take full advantage of their expertise to plan and organize your entire vacation to truly enjoy your time in St. Moritz. Their world-class service sets them apart from other St. Moritz hotels with kids, and guarantees an unforgettable experience.
READ NEXT: 13 Amazing Towns and Villages To Visit With Your Family In Switzerland
Comfortable Accommodations at Kulm Hotel for Families
At Kulm Hotel, you'll find a range of accommodations to suit your family's needs. The beautifully renovated rooms are designed by French architect and interior designer Pierre-Yves Rochon. They offer a perfect blend of elegance and comfort. Then, most rooms and suites offer stunning lake views, allowing you to wake up to mesmerizing scenery every day.
For families, there are interconnecting rooms and family rooms available. Be sure to choose a room with a lake view for a truly enchanting experience. If you're traveling with little ones, baby cots can be arranged upon request. Additionally, the housekeeping team can provide bottle warmers, water boilers, baby bathtubs, potties, and other necessary items. They even offer children-sized robes and slippers to make your little ones feel right at home. Finally, small dogs are welcome, ensuring every family member can join the fun!
Unforgettable Experiences at Kulm Hotel Just for Kids
Kulm Hotel truly knows how to make children feel special and cater to their needs. Upon arrival, each child is given a Kulm Kids Bracelet. It grants them free access to delicious ice cream. Children can indulge in this delightful perk from the restaurants to the lobby. They can also enjoy it at the Kulm Club and Offside Restaurant. The hotel offers free syrup, ice cream, and hot chocolate in all its dining establishments, ensuring that kids are treated to culinary delights throughout their stay. Keep reading to discover more kid-centered amenities and activities at Kulm Hotel St. Moritz.
Enchanting Kids Clubs and Programs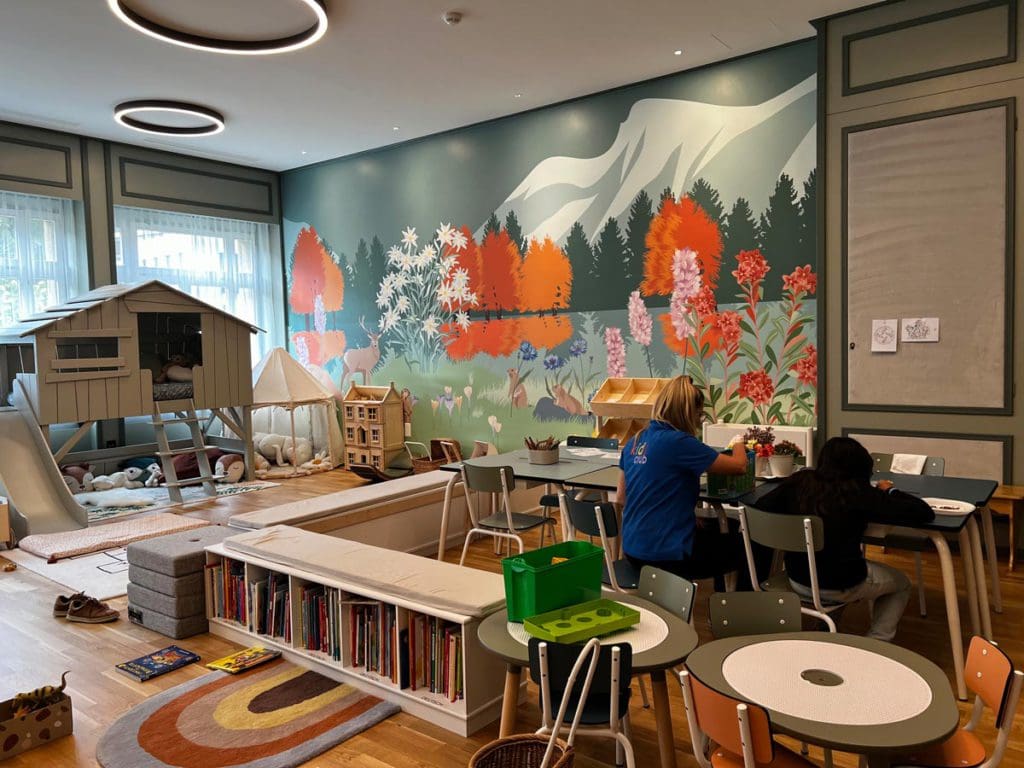 Kulm Hotel's Wunderwald Kids Club is a haven for children aged three and over. The club features incredible play areas and stunning wall paintings, creating a magical atmosphere for young ones to explore. Scheduled activities such as flower arrangements and crafts keep kids engaged throughout the week. The Kids Club attendants are dedicated and attentive, ensuring your children are well-cared for and entertained.
Kulm Hotel is the best option for families with teens in St. Moritz as well, with its Teen Club offering a variety of games and activities, including PlayStation, pinball, arcade video games, and table football, ensuring that teenagers have plenty of options to keep themselves entertained when they're not being active.
To make dining a hassle-free experience for parents, the Kids Club offers supervised dinners from a special children's menu at the Salon d'Or at 6:30 pm. This allows parents to enjoy a relaxed dinner while the kids have fun in a safe and engaging environment. Babysitting services are also available at an additional cost, providing further flexibility for parents. With so many options, no wonder this is one of the best St. Moritz hotels with kids.
Exciting Summer Programs and Sports Camps
Kulm Hotel takes pride in offering an array of activities during the summer months to keep kids entertained and engaged. Children between the ages of five and sixteen can choose from options like climbing, football training at FC Celerina, Holzwald days, robots, windsurfing, river rafting, and trail running. These programs offer an excellent opportunity for kids to make new friends and create lasting memories during their summer vacation. It's important to check the dates and offerings in advance to plan your stay accordingly.
Kulm Hotel also offers free participation for children aged six to sixteen at the Engadine Kids Sports Camps in Silvaplana. From stand-up paddling and canoeing to trampoline jumping and more, these exciting outdoor activities will keep your kids entertained under the careful supervision of the Sports Camps team.
Ready to book your stay at Kulm Hotel? Use Expedia here!
Family-Friendly Experiences at Kulm Hotel
In addition to amazing activities just for kids, Kulm Hotel also offers thrilling amenities and activities the whole family can enjoy together. As one of the best hotels in St. Moritz for families, there are endless ways for your family to make memories here during your Swiss family vacation. Keep reading to find out what other amenities we loved during our review of Kulm Hotel St. Moritz.
Activities at Kulm Hotel for Families in Summer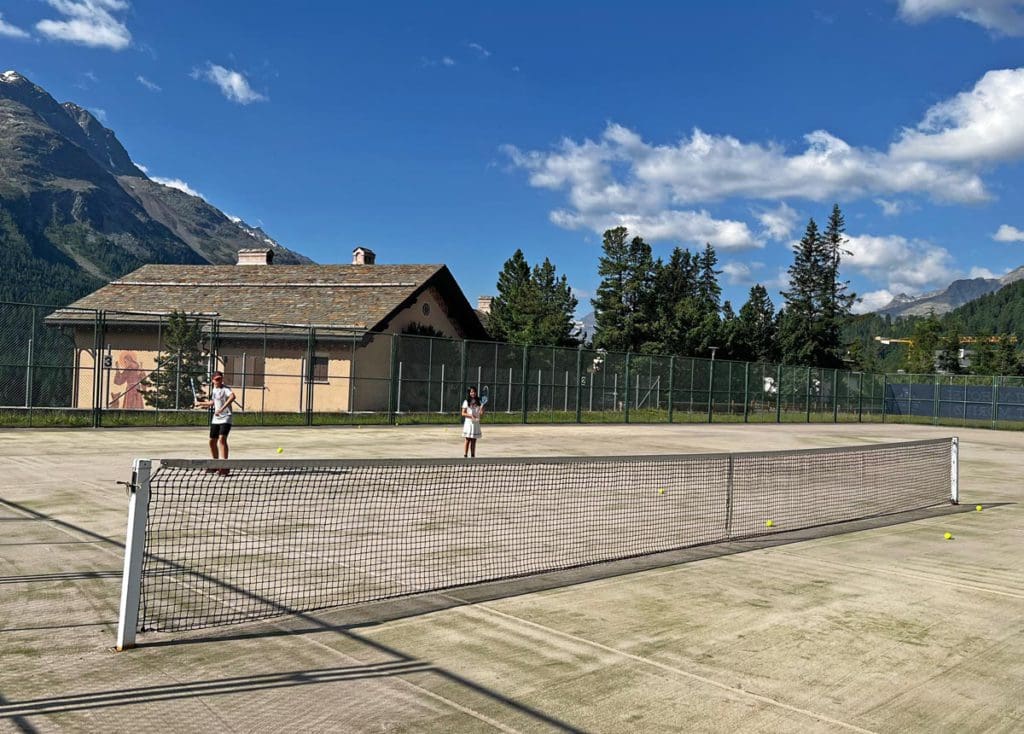 During the summer months, Kulm Hotel provides a range of exciting activities for children of all ages. Kids aged 12 and under can enjoy free tennis classes at the Kulm Country Club. This is also an excellent place for both kids and adults to play and practice tennis. A children's playground is within walking distance of the Kulm Country Club, offering additional entertainment options.
For families who enjoy golf, Kulm Hotel offers free green fees and access to the driving range on its golf course during the summer season. This presents a perfect opportunity for parents and children to bond over a round of golf surrounded by the stunning Swiss scenery.
Winter Adventures at Kulm Hotel for Families
When winter arrives, Kulm Hotel transforms into a winter wonderland, with activities that delight children and adults alike. Kids can enjoy the ice skating rink at the Kids Country Club, a perfect option for those who may prefer not to ski or want to have some additional fun after a day on the slopes. Additionally, free ski lessons are available for children every day, ensuring they have the skills to enjoy the snowy slopes fully.
As one of the best St. Moritz hotels with kids in the winter, transportation to the ski slopes is also provided. This makes Kulm Hotel especially convenient for families who want to access the skiing areas. Free ski and snowboard group lessons are available, subject to availability and registration.
Look here for great rates for the Kulm Hotel through Booking.com!
Unwind and Relax at the Pools
Kulm Hotel boasts a magnificent pool area that is perfect for all ages, ensuring a delightful experience for the whole family. The large indoor pool offers a refreshing retreat for kids and adults alike, providing a soothing space to unwind and enjoy a leisurely swim. The accompanying hot tub invites you to soak away any fatigue, allowing you to relax and rejuvenate your senses fully.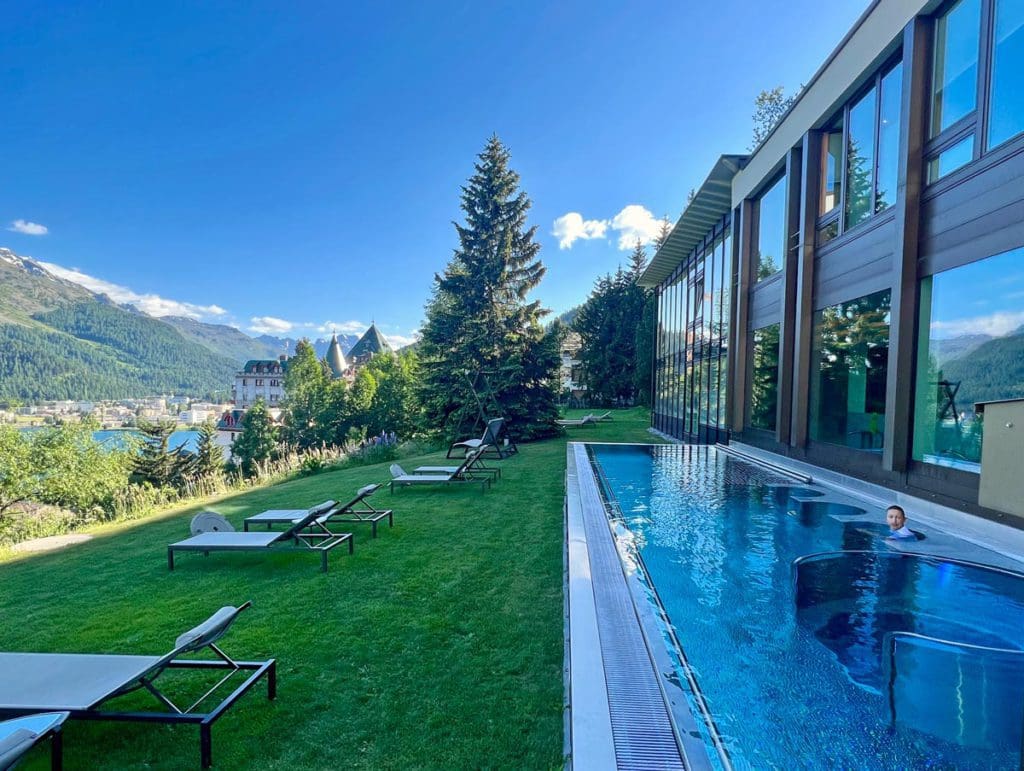 For families seeking outdoor enjoyment, the hotel offers a heated outdoor pool. The pool has a zero-depth entry, making it easily accessible for everyone. Whether you want to bask in the sun or take a refreshing dip, the outdoor pool is a delightful spot to enjoy the beautiful surroundings and picturesque views that St. Moritz has to offer. The stunning vistas from the pool area create the perfect backdrop for relaxation. It's an ideal way to unwind after a day of skiing or hiking in the breathtaking Alpine landscape.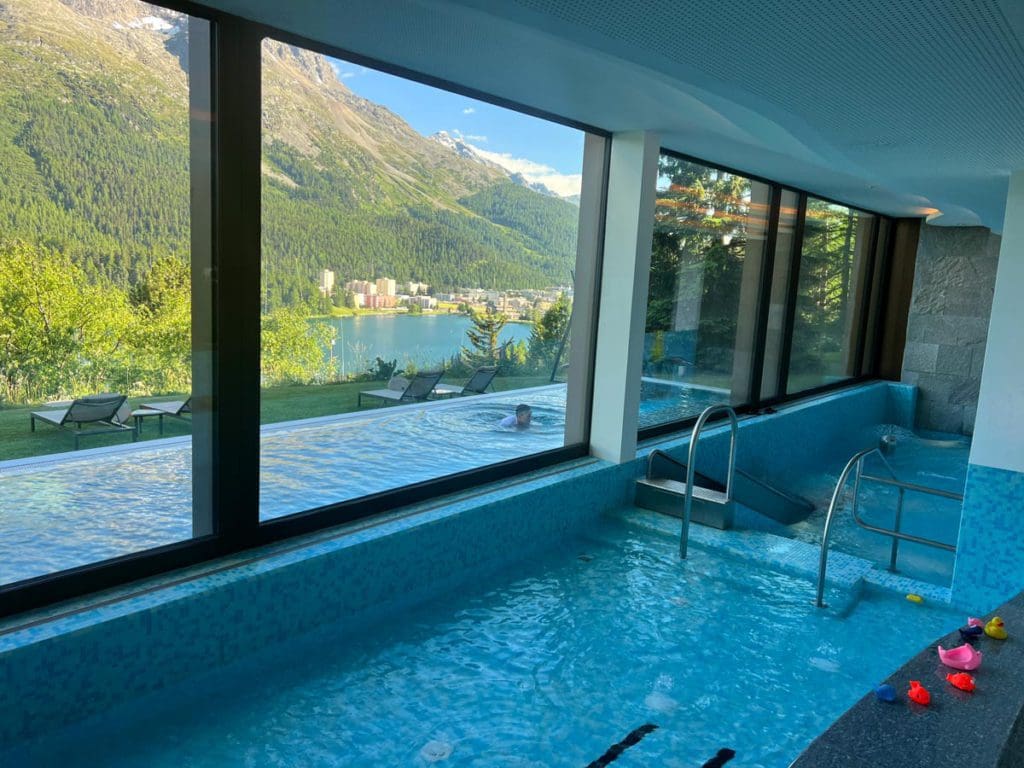 Little ones are in for a treat at Kulm Hotel's pool area. It even features a dedicated kids' pool designed to ensure maximum enjoyment for children. Complete with a small water slide and delightful toys like frogs and ducks, this kiddie pool guarantees that young ones have a blast. They can splash around and play in the water under the watchful eye of their parents. Undoubtedly, these features make Kulm Hotel St. Moritz one of the best hotels in St. Moritz for families!
Reserve your stay at the Kulm Hotel here through Hotels.com!
Why Parents Love Kulm Hotel
Not only are the kids pampered here, but adults are also treated to a life of luxury. Keep reading to discover why we enjoyed Kulm Hotel St. Moritz as parents!
Spa and Fitness Facilities
For those seeking a rejuvenating experience, Kulm Hotel offers an amazing spa facility where parents can indulge in some well-deserved pampering. Kulm Spa is one of the best spas in St. Moritz, providing a range of luxurious treatments and therapies to help you unwind and revitalize. Enjoy the sauna and steam room, providing the ultimate relaxation for your mind and body. Skilled spa therapists use premium products and techniques to ensure you leave feeling refreshed and renewed.
In addition to the spa, the hotel's gym boasts modern equipment and a great view over the lake, offering the perfect space for a workout session to keep you energized during your stay. Whether you're seeking a day of relaxation at the spa or looking to maintain your fitness routine, Kulm Hotel has you covered, making it the ideal choice for families seeking both indulgence and adventure in St. Moritz.
Dining at Kulm Hotel for Families
If you're wondering where to stay in St. Moritz with great on-site dining, look no further! Kulm Hotel not only offers exceptional accommodations and activities but also boasts an array of excellent dining options. We were so impressed by the on-site offerings here. Keep reading to discover more about dining with kids in our review of Kulm Hotel St. Moritz.
READ NEXT: Plan Your Perfect Summer 7- to 10-Day Switzerland Itinerary With Kids
Start Your Day Right with a Delicious Breakfast
Every morning at Kulm Hotel begins with a mouthwatering breakfast that will fuel you for a day of adventure. Whether you're embarking on a ski trip in winter or a leisurely excursion in summer, a hearty breakfast awaits you. In the summer, the outdoor patio area offers a picturesque setting where you can relish the delectable spread while taking in the awe-inspiring views.
More On-Site Dining at Kulm Hotel
Breakfast isn't the only meal served here! Treat yourself to a delicious meal at Pizzeria, known for its scrumptious offerings and accommodating staff. Then, for an authentic Swiss experience, head to Chesa al Parc, where you can savor the delightful flavors of fondue. This restaurant also offers fondue during certain days in summer, ensuring you can satisfy your cravings all year round. Kulm Country Club is another great choice for dinner with kids. It features a diverse menu and inviting ambiance.
The lobby of Kulm Hotel is also an inviting space where you can enjoy a relaxing afternoon tea. Indulge in the luxury and style of St. Moritz while savoring these delicious treats! Advanced reservations are required during the summer. Live music further enhances the experience, creating a delightful atmosphere to unwind and enjoy the beautiful decor and stunning lake views. The lobby is also an excellent spot to enjoy a glass of wine, champagne, hot chocolate, or a delectable snack.
Use Travelocity to book your stay at the Kulm Hotel!
So, Would I Recommend Kulm Hotel for Families?
Absolutely, yes! Kulm Hotel St. Moritz offers a warm, friendly atmosphere with a blend of classic charm and modern luxury. With an outstanding staff, delicious on-site restaurants, and lots of on-site amenities for both kids and adults, my family had a fantastic stay at this lovely Swiss hotel. I hope our review of Kulm Hotel St. Moritz has helped you better understand what to expect and why you should book your stay! We can't wait to go back and experience another family vacation in Switzerland.
Happy Travels!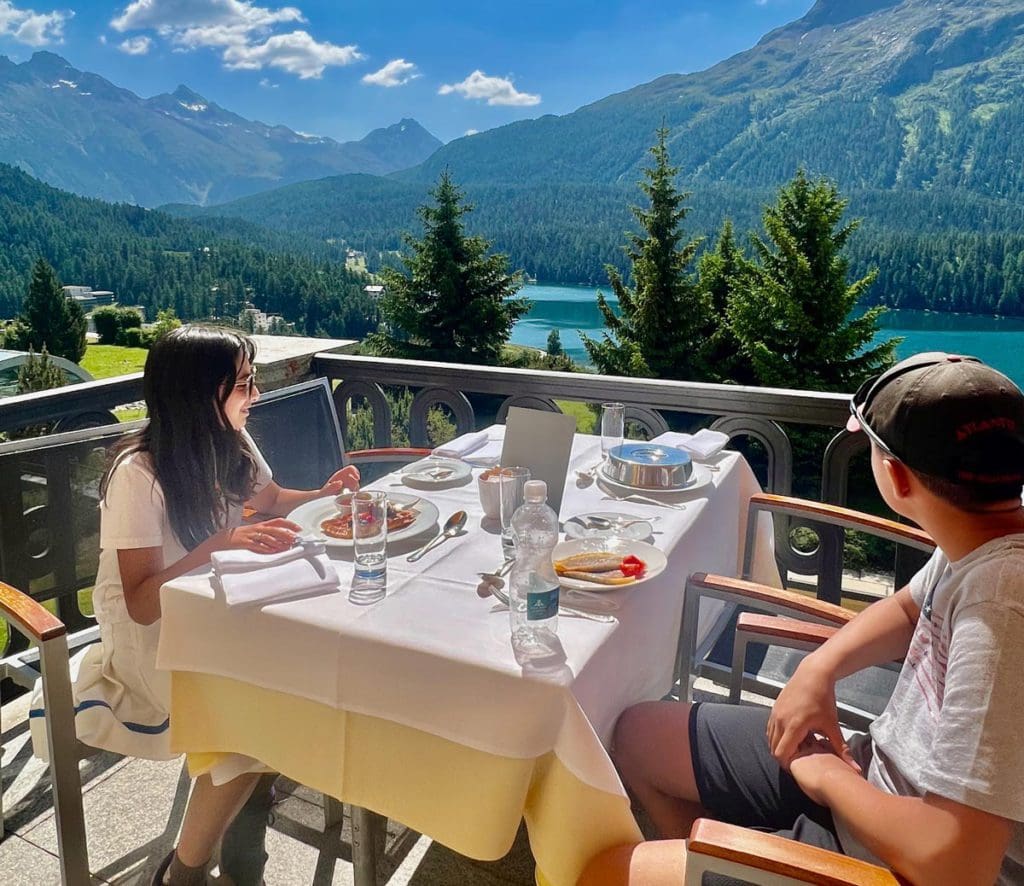 We hope you found our Kulm Hotel St. Moritz Review: The Perfect Family Destination for Year-Round Fun helpful in planning your own Swiss getaway with kids. Undoubtedly, the Kulm Kids Programme ensures children of all ages are entertained and cared for throughout their stay. Furthermore, the exceptional amenities, attentive staff, and enchanting experiences around the property make Kulm Hotel the best choice for an unforgettable St. Moritz getaway with kids, no matter the season. With iconic mountain vistas as your backdrop, a family vacation here is sure to be filled with great food, kid-friendly fun, and so much more. Enjoy your family vacation to Switzerland!
*Unless otherwise attributed, all images within this article are courtesy of and belong to Gunjan Prakash.
*This post may contain affiliate links that may earn us a small commission, at no additional cost to you. Affiliate links in no way inform the hotels, sights, products, or other recommendations included in our articles. All opinions and recommendations expressed here are that of the attributed writer, Gunjan Prakash.
READ MORE: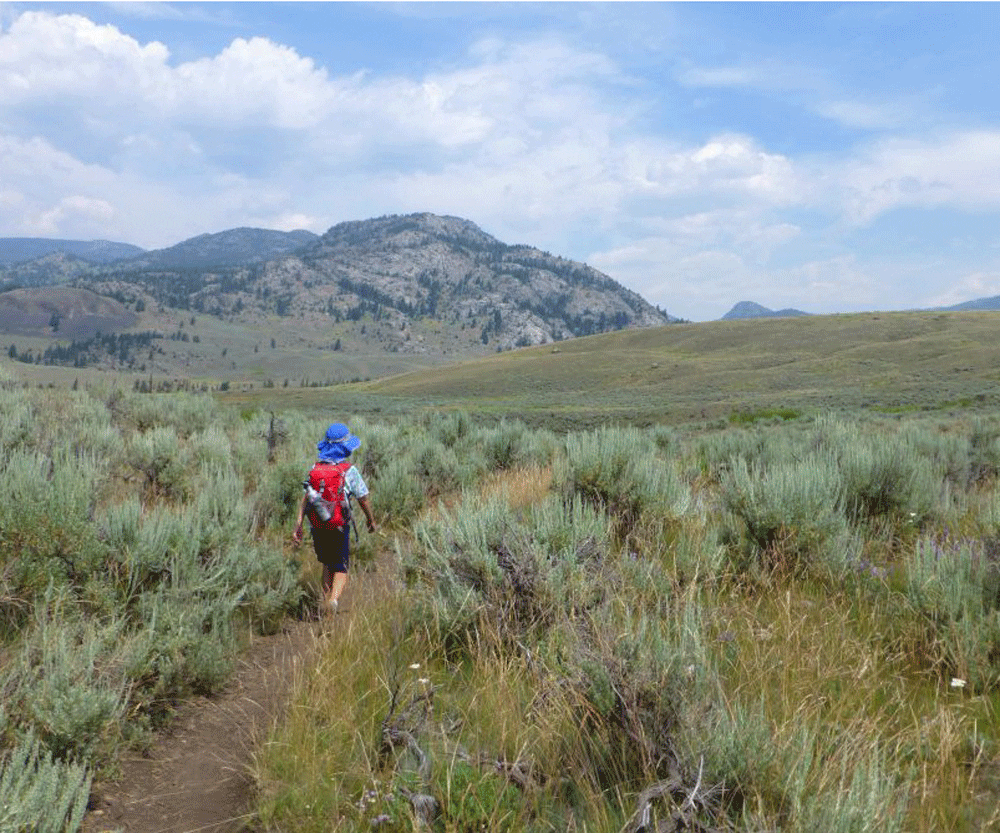 Everyone knows that Yellowstone National Park makes for a classic family vacation. Strolling the boardwalks...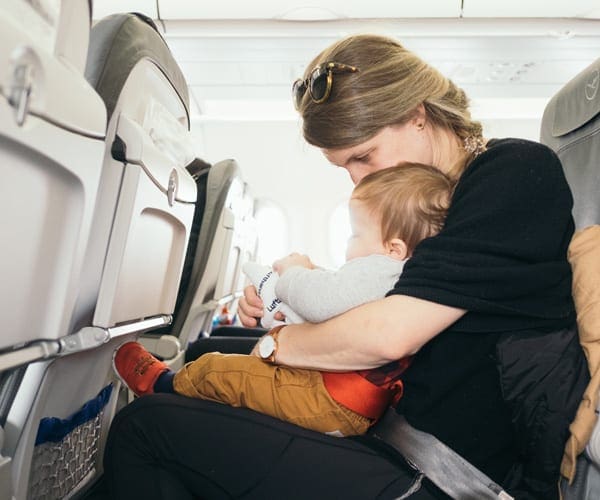 Families Who Love To Travel contributor Meghan Oaks provides her 10 best tips for your...