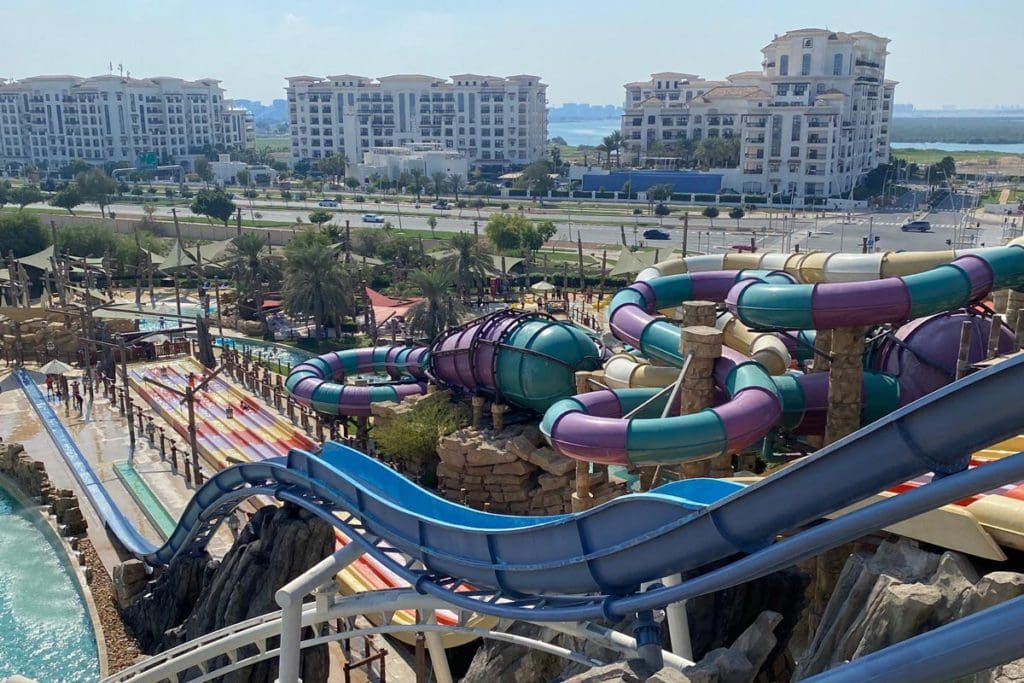 If you want an epic family vacation that's filled with adventure, entertainment, and fun, you may love Yas Island in Abu Dhabi! From the thrilling rides at Ferrari World Abu Dhabi and Warner Bros. World Abu Dhabi. World to the stunning views at Yas Marina Circuit and Yas Beach, every member of your family will find something they love on this island paradise. My family recently visited Yas Island and had a fantastic time, which is why I have a few tips to offer other parents. Whether you're planning your first visit or returning for another adventure, this guide will provide you with everything you need to know about the island's attractions, activities, food, and accommodations. Plus, how to reach Yas Island from Abu Dhabi, Dubai, and more advice. Keep reading to go on a thrilling adventure through the wonders of Yas Island in Abu Dhabi!
What is Yas Island & Why Will Kids Love it?
If you're looking for a thrilling vacation spot that caters to all ages, then Yas Island is the perfect destination for your family. This man-made island, located in the heart of Abu Dhabi, features countless attractions and activities guaranteed to provide endless fun and excitement. From world-class theme parks such as Ferrari World Abu Dhabi and Warner Bros. World Abu Dhabi that offer adrenaline-pumping rides and interactive experiences based on popular movies and comics to an array of water-based entertainment at Yas Waterworld, where kids can enjoy lazy rivers, wave pools, and high-speed slides – there is something for every member of the family! Not to mention, the island has several other attractions, including Yas Marina Circuit (a real-life F1 track!), the Yas Mall (with over 400 stores/restaurants), and Yas Beach. The best part is that you can take a complimentary shuttle bus to any of these locations! 
How to Reach Yas Island with Kids
Wondering how to reach Yas Island with kids? There are a few ways your family can reach this fun destination! Firstly, Yas Island is 15 minutes away from Abu Dhabi International Airport or 70 minutes away from Dubai International Airport.
Then, Yas Express offers a bus from Abu Dhabi Airport to W Hotel Yas Island every 2 hours. There is also a free shuttle bus from Dubai Mall of the Emirates that runs daily to Yas Island.
READ NEXT: All About UAE With Kids: Important Information To Know
What's the Best Time of Year to Visit Yas Island with Kids?
Before we go further into your family's guide to visiting Yas Island, you're probably wondering: when is the best time of year to visit with kids? Summer may seem like an obvious choice, but be prepared for scorching temperatures and crowded beaches. It reaches over 100 degrees Fahrenheit/40 degrees Celsius!
Instead, consider visiting during the cooler months of November through February when the temperature ranges from 68°F-86°F (20°C-30°C). We went over Christmas and New Year's, and the temperature was a pleasant 77 degrees Fahrenheit (25 degrees Celsius). It did get a bit chilly at the waterpark at times, but this also helped to keep the crowds low, and the line-ups short.
Abu Dhabi is also one of the Best Weekend Getaways From Dubai For Families!
Best Theme Parks for Families at Yas Island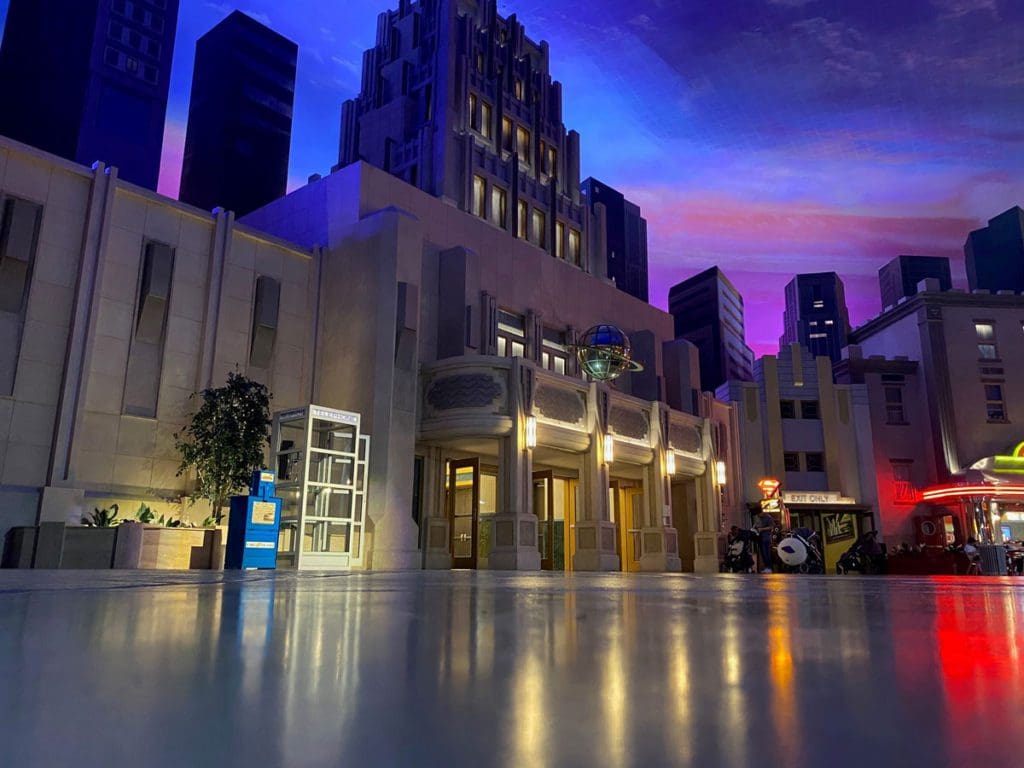 Your family's guide to visiting Yas Island in Abu Dhabi would not be complete without exploring the best theme parks for families! Packed full of exciting attractions, it's the ultimate destination for families looking for a day of fun. Let's dive a little further into each of the three award-winning theme parks!
RELATED: Things to Do in Dubai With Kids: 20 Fun Ideas to Fill Your Itinerary!
Ferrari World Abu Dhabi
One of the most famous attractions on Yas Island is Ferrari World Abu Dhabi, a thrilling theme park dedicated entirely to cars and racing – perfect for little ones fascinated by speed! This epic amusement park is home to the world's fastest rollercoaster, the Formula Rossa, which reaches speeds of up to 240 km/h and will have your kids squealing with delight. We had the privilege of being there during rope drop, and we can attest that everyone was running straight towards this ride! While it was amazing to experience the fastest roller coaster in the world, it's not something that I would want to do too many times. It was so fast that it almost hurt!
But that's not all – there are over 20 other rides and attractions, including driving simulators like Junior GP, where little ones can get behind the wheel of a mini Ferrari F1 racer. There's also a themed group experience called Tyre Change, where 4 people race each other to change a tire on a Ferrari. We also enjoyed Bell'Italia, which was similar to Disney's "It's a Small World" ride, but this time in your own mini Ferrari driving around Italy – it was stunning! There are also plenty of dining options available inside Ferrari World Abu Dhabi, from Italian cuisine to American burgers.
Yas Waterworld
Your family's guide to visiting Yas Island in Abu Dhabi wouldn't be complete without a visit to Yas Waterworld! From thrilling waterslides to lazy river rides, this magnificent water park is an oasis of fun and excitement, perfect for kids of all ages (and their parents, too!).
One of our highlights was the Flow Club. This surf simulator lets you and your family catch waves like pros, all within a controlled environment that is completely safe for kids of all ages. I originally started researching Yas Waterworld because I was looking for a place with a good Flow Club. Then, I realized they don't only have a Flow Club; they also have a water roller coaster, water cannons, jets, and a waterfall! Plus, there's even a 3D movie theater ride that involves water. 
The entire time we were at these theme parks, I kept on thinking how similar they were to Disney – the theming was so on point! I have to admit that this waterpark has a one-up on Disney in terms of its ingenuity.
Warner Bros. World Abu Dhabi
Another must-visit attraction on Yas Island is Warner Bros. World Abu Dhabi, where both adults and kids can unleash their inner superheroes. From the moment you enter this delightful wonderland, your children will be transported to their favorite characters' universes, from Batman and Superman to Bugs Bunny and Scooby Doo.
Although the big thrill rides at this park are limited, all the rides are pretty good! And what makes them even better is the theming. Each section of the park has its own theme – for example, Gotham City. Your little ones will also love meeting Bugs Bunny and Daffy Duck at Cartoon Junction, while older kids can try out some high-tech rides at the futuristic-inspired zone, Warner Bros Plaza. And don't forget to swing by Dynamite Gulch for a western-themed experience!
There are so many amazing themed rides here; your kids will never want to leave. This actually happened to our friends – their 5-year-old daughter refused to leave! I thought I wouldn't like this theme park as much, because it was 100% indoors, but I was wrong! The inside is so bright – and they make excellent use of the ceiling space to continue theming.
Where to Stay on Yas Island with Kids
Before concluding your family's guide to visiting Yas Island, let's discuss where to stay with the kids. Thankfully, the island offers a range of fantastic accommodation options that cater perfectly to families – there are 27 in total! We decided to book the WB Abu Dhabi, Curio Collection by Hilton on a recommendation from a friend, and we're so glad we did. This was a no-brainer as it was the closest hotel to all the theme parks (walking distance), includes free passes to the theme parks (one theme park per day), and the rates were affordable.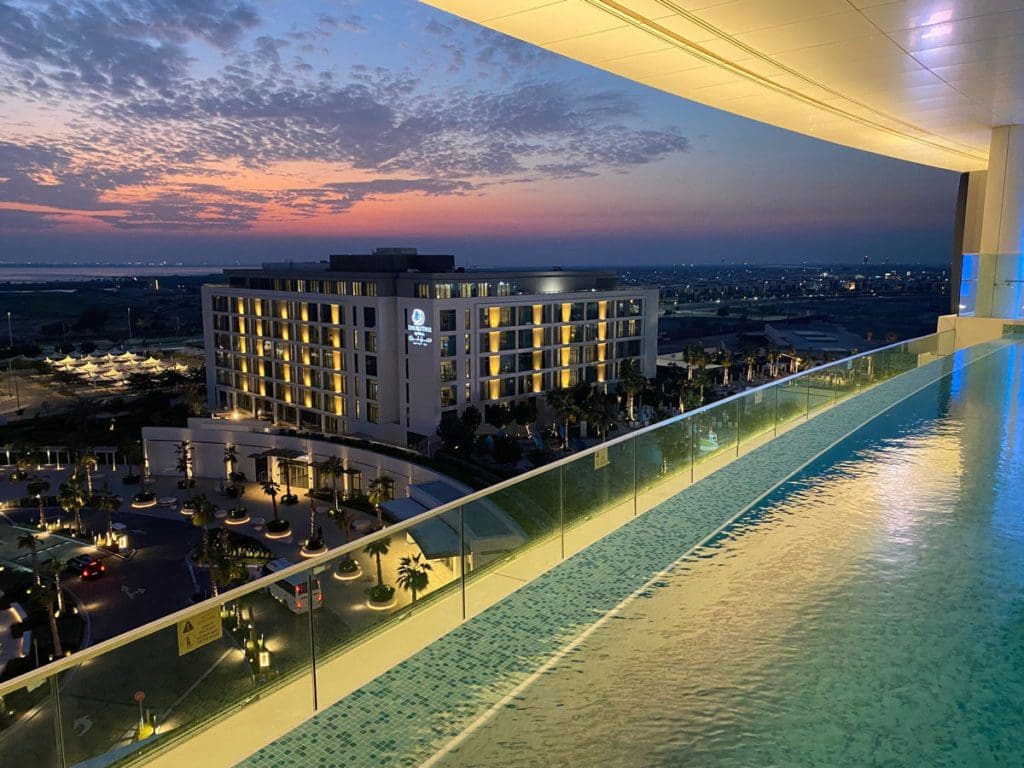 It felt luxurious from the moment you stepped into the lobby. The movie theming continued into the rooms, too. There was also an outdoor family pool, kids club (free), spa, gym, adults-only pool, and characters making appearances all the time. If you hold Hilton Gold status or higher, everyone in your booking will receive free breakfast. Or, if you have the option of paying a little extra for breakfast, it was worth it. We enjoyed the variety of breakfast items being served at the buffet, and the made-to-order omelet station. All the staff we encountered at this hotel were nothing short of amazing, including the wonderful chefs who made special meals for our kiddo with several food allergies.
READ NEXT: 21 Best Beachfront Hotels In Dubai For Families
Happy Travels!
We hope you enjoyed this Family's Guide to Visiting Yas Island in Abu Dhabi by our contributor Fatima Lila-Jaffer, aka Jaffer Kids Travel! From thrilling theme parks to family-friendly dining, hotels, and more activities, there's everything you need for an epic stay all in one place. Enjoy your trip to Yas Island with kids!
*Unless otherwise noted, all images within this article belong to and are courtesy of Fatima Lila-Jaffer.
*This post may contain affiliate links that may earn us a small commission, at no additional cost to you. Affiliate links in no way inform the hotels, sights, products, or other recommendations included in our articles. All opinions and recommendations expressed here are compiled from submissions submitted by the attributed author, Fatima Lila-Jaffer.
READ MORE: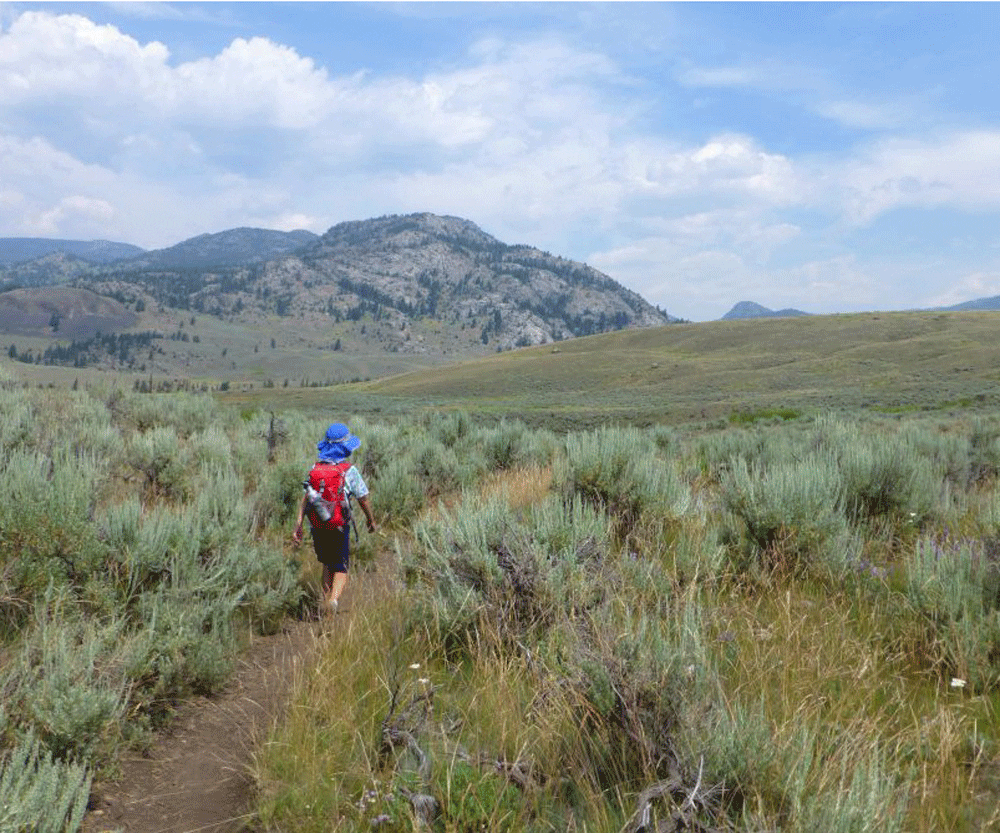 Everyone knows that Yellowstone National Park makes for a classic family vacation. Strolling the boardwalks...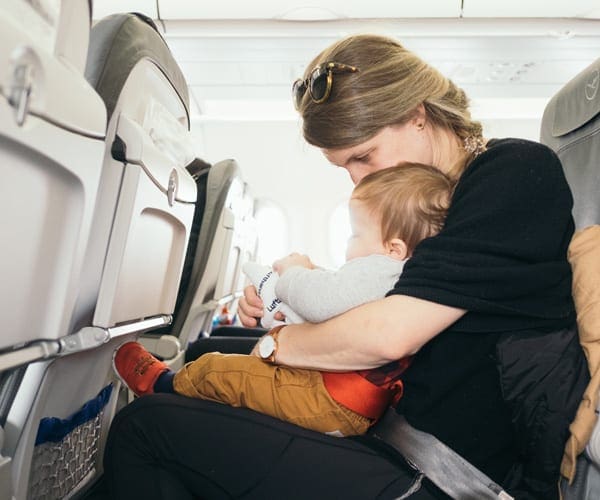 Families Who Love To Travel contributor Meghan Oaks provides her 10 best tips for your...