Parents traveling to Utah usually search for the best things to do in Moab with kids. With impressive views, tours, and access to the nation's best National Parks, there's no doubt your family will love vacationing in this gorgeous backdrop. From going off-roading to visiting the Moab Aquatic Center, you'll also be pleased to know there are plenty of age-appropriate activities your kids will enjoy too. Spend a day exploring nearby Arches or Canyonland National Park, or cool off on a hot summer afternoon while you ride down the Colorado River. The possibilities are truly endless when you stay in Moab with kids! However, it can be intimidating to know how to best experience these natural wonders. So, we've put together an activity guide that highlights the best of Moab. Keep reading for our parent-approved advice on the Best Things To Do In Moab With Kids!
Spend a Day or Two at Arches National Park
Arches National Park has so many other kid-friendly trails. After your flat and easy walk with kids on The Windows Trail, you can also visit Double Arch from the same parking lot. Or, hike the Broken, Sand Dune, and Tapestry Arches Loop, an easy trail past three arches in a scenic desert landscape. Afterward, take the Delicate Arch Trail to Delicate Arch Lookout. Keep in mind it's a 3-mile round trip trail, a bit more strenuous, and extremely hot in the summer. Of course, a trip to Arches is incomplete without a photo opportunity. Drive to the Fiery Furnace Viewpoint for the most amazing view over the landscape. Lastly, kids will love the Sand Dune Arch. Your whole family can experience fun in a slot canyon along this shaded trailhead. Kick off your shoes, climb on rocks or play in the sand. What a wonderful adventure on a warm day!
Pro Tip: There are no concessions in Arches National Park, so pack plenty of food and water.
Explore Canyonlands National Park
Visiting Canyonlands National Park ranks as one of the best things to do in Moab with kids. Located over thirty-five minutes from Moab, it's famous for its dramatic red-walled, deep canyons, arches, and towering spires. Divided into four sections, the Colorado River and Green River flow through the park, creating a beautifully rippled landscape. You could visit Canyonlands in your car or with a tour company, driving the scenic road to various viewpoints, popular outlooks, or hiking. One popular and accessible section is the Island Of The Sky. It's close to the Visitors' Center and features various paved trails perfect for exploring with kids. Just across, you'll find the Visitor's Center Viewpoint with stunning panoramic views. The Shafer Canyon Overlook and Shafer Trail Viewpoint are also worth stopping by on the way to Mesa Arch, one of the park's most famous landmarks. Visit in the morning for fewer crowds!
Families can also explore The Shafter Trail with a 4×4 from various vendors like Twisted Jeep. Guided tours are available, or you could get a map and ride on your own. Located in the southeastern corner of the park, Canyonlands also features The Needles District. Kid-friendly trails here include two easy 0.6-mile loops: Pothole Point and The Cave Spring Trailhead, which leads to a historic cowboy camp and prehistoric rock paintings. The Canyonlands Rivers District also provides a great place to kayak or canoe in the summer with a guided river trip. Lastly, Canyonlands most remote district is The Maze, which we recommend only if you're an experienced hiker or have older children. Popular areas here include The Doll House, Maze Overlook, Land of Standing Rocks, Golden Stairs, and Orange Cliffs. Four-wheel drives are often used to explore the area. Remember to bring a map.
Pro Tip: Regardless of which section of Canyonlands you'll be staying in, make sure to pack water, food, and snacks. Also, ensure your car has enough gas to last the trip. There are no nearby restaurants or gas stations, and you might even lose your cell connection. Download the GyPSy Guide app in advance so you don't miss anything.
See Newspaper Rock State Historic Monument
If you have extra time while visiting Canyonlands National Park, you should visit the Newspaper Rock State Historic Monument. Located an hour south of Moab outside the Needle District of Canyonlands National Park, this large collection of petroglyphs date back over 2,000 years. It's also part of Bears Ears National Monument, which is nearby and also worth visiting if you have extra time. Though this spot is often overlooked by travelers due to its remote location, we think it's worth the visit. Plus, entry is free! You can tour over 650 carvings created by Utah's indigenous Anasazi, Ute, Fremont, and Navajo people, some of them on a 200-square-foot rock wall. See if you can make out animals, humans, and other forms in the rock. Kids will enjoy deciphering these mysterious drawings and learning more about how ancient people lived!
Try Off-Roading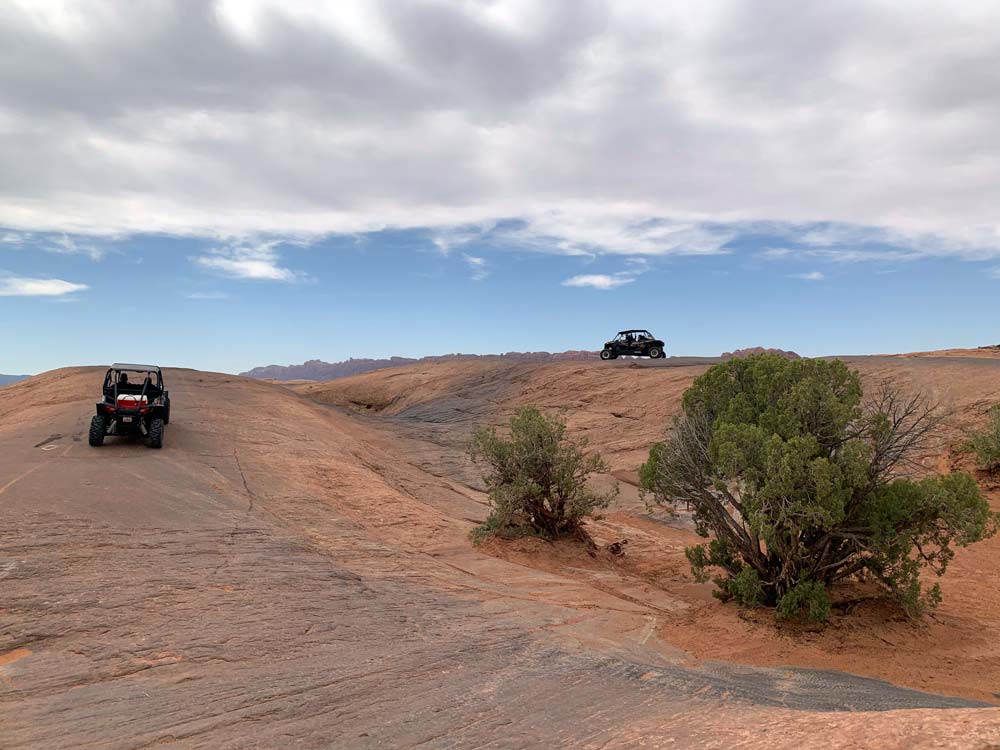 Moab is perfect for taking an off-roading adventure. In addition to off-roading in Canyonlands or Arches, families can also explore elsewhere. Just note it's only permitted in designated off-road areas. If you're an experienced driver, you even could use your own car with help from a detailed 4-wheel drive map and trail guide from the Moab Information Center. Or, take your map and rent a UTV, ATV – you could either follow a guide or venture off on your own. You could also take a guided hummer or jeep tour. One popular excursion for families is taking a hummer tour, where you can see Hell's Revenge Trail at sunset. Since the sand dunes here can be steep at some point, it's helpful to have a guide carefully drive you up and down them.
Go Biking
Biking is another popular activity in Moab. It's something all families can enjoy regardless of your kids' ages since there are family-friendly trails throughout town. You could also rent bike trailers for babies or trail-a-bike for toddlers. One of the most popular unpaved biking paths in Moab is the Intrepid Trail, which passes through beautiful scenery and provides amazing views of the Colorado River. This short, 0.5-mile trail is perfect for beginners since the terrain isn't too rocky and you don't need to continue on to the more challenging west rim trails. For a longer but equally as easy biking experience, families can also bike the Bar-M Loop. It runs for 7.9-miles, but you don't have to ride the whole thing. Two paved trails popular with families include the Mill Creek Parkway or the Goose Island Pedestrian Bridge over the Colorado River.
Visit Dead Horse Point State Park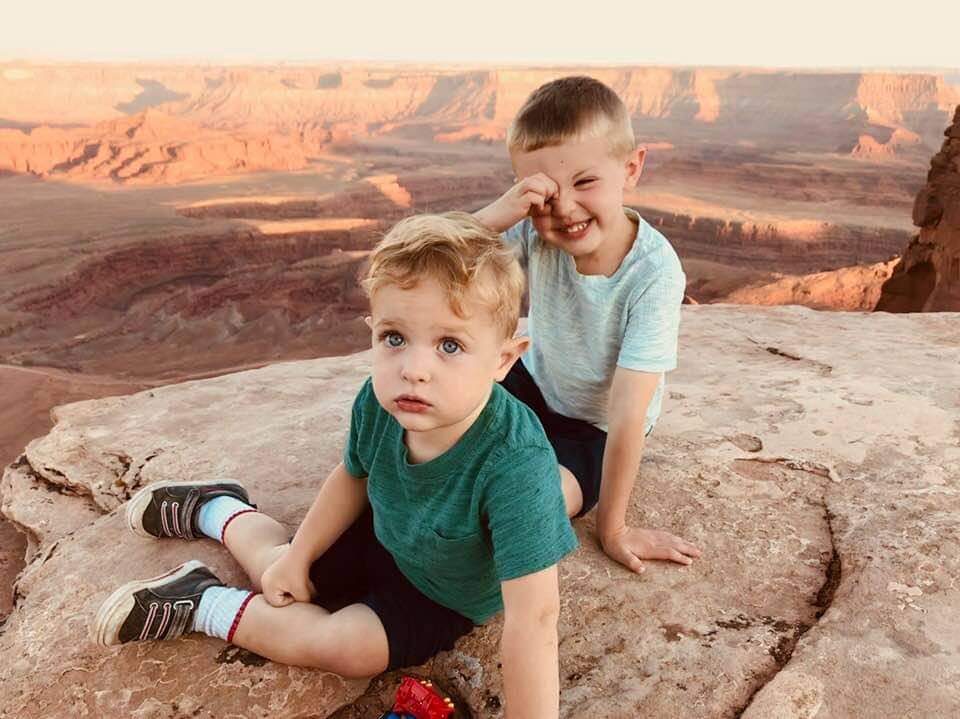 Dead Horse Point State Park should be on your Moab itinerary. Ten miles outside of town, this kid-friendly destination sits 2,000 feet above the Colorado River, making the weather much cooler. 4th-grade National Park passes aren't accepted, so buy tickets from the Visitor Center. To experience the park, there are two main and easy hiking trails toward Dead Horse Outlook. Perfect for families with small kids, the East Rim Trail and West Rim Trail are both 1.5-miles and 2.5-miles one way, respectively. These scenic trails lead to an outlook with breathtaking views of the Colorado River and its side canyon. Families also visit Dead Horse Point State Park to experience its unique Moenkopi Yurts, which can accommodate a family of six. Even if you're not glamping, they're still worth the 22-mile scenic drive through narrow canyons and plateaus. Kids can spot cows grazing in the grass!
Pro Tip: If you visit Dead Horse Point State Park at sunset, the view will be even more spectacular! The yurts are positioned high on a plateau, so sunrise and sunset are amazing here. The park is also certified as an IDA Dark Sky Park, which means it's perfect for stargazing.
To reserve your yurt, call 800-322-3770 or visit their website.
Take a Dinosaur Field Trip
Dinosaurs once roamed in Moab and there are several areas where visitors can see evidence of their rule. Start your family's dinosaur field trip downtown at the Museum of Moab, where a variety of dinosaur displays showcase full-cast skeletons. Families can also take a self-guided trek through outdoor dinosaur trails in Moab. For example, Mill Canyon Dinosaur Trails is another place to see tracks. Kids will love spotting the bone fragments scattered along the trail! Visitors can also see what remains of an old copper mill and the Halfway Stage Station. If you have a 4×4, you can venture down the sandy road to the Mill Canyon Dinosaur Bone Trail in the same area. The Potash Road Dinosaur Tracks & Petroglyphs are 15 minutes from Moab and are an easy addition to your itinerary. While in Moab with kids, definitely stop to see where these giants once walked, it's amazing!
Gaze in Awe at the Paleosafari Moab Giants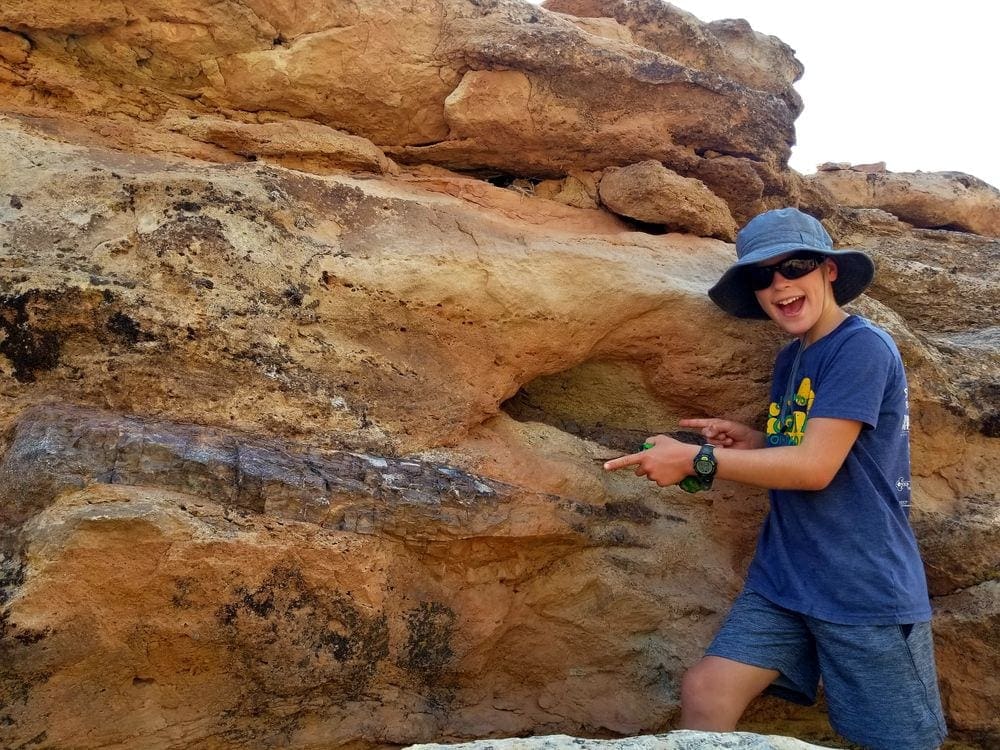 Seeing The Paleosafari Moab Giants should be on the list for any lover of paleontology! Featuring life-size models of famous dinosaurs, this open-air museum offers a few hours of exploration in one spot. Not only is it an educational experience for children, but it's also a unique destination set among stunning scenery. Open 6 days a week from 10 am – 6 pm, it's easy to stop during your Moab vacation. Kids will love roaming the outdoor trail and making their own tracks alongside the dinosaurs. They can also dig for fossils and climb on the playground to burn more energy. Inside, you'll find an informational museum with interactive exhibits, including hands-on exhibits where kids can see how fossils are made. Then, experience the magic of dinosaurs up close by watching a 3D movie in the theater! Afterward, you can grab a snack at the cafe or browse the gift shop.
Ride Down the Colorado River
The Colorado River provides a perfect summer backdrop for families. As it passes through Moab, calm waters slowly increase into more rapid speeds. This makes it perfect for river rafting, family-friendly floats, or speed boats. There's something for everyone here, even if you're not too advanced, including canoeing, paddleboarding, and other kinds of boating. Kids might also want to try stand-up paddleboarding or inflatable kayaking, available through companies like Navtec Expeditions or through the Moab Adventure Center. Other outfitters such as Canyonlands By Night & Day can also provide families with tube rentals so they can enjoy the water on a warm summer day. The Fisher Towers section is also a popular place to take river rafting expeditions, available in half, full, or multi-day options. It's a great source of exercise, and you'll get an amazing view. We guarantee you won't see these gorgeous sandstone spires and red rocks anywhere else!
Splash All Afternoon at the Moab Aquatic Center
The Moab Aquatic Center is a great place to cool down during a hot Moab summer. Located in Swanny City Park, this family-friendly recreational center has plenty to keep your kids entertained for the day. Little ones will love swimming in the six-lane outdoor pool, which is open all summer long and has shallow water. There's also an obstacle course where the whole family can challenge themselves. Plus, don't forget about the waterslides! We're not surprised this is one of the best things to do in Moab with kids. If parents want to sneak a workout in, the aquatic center even has a fitness room and hosts occasional classes. Various other amenities are also available at The Moab Aquatic Center, such as private swimming lessons. We're not surprised this is one of the best things to do in Moab with kids!
Book a Guided Canyoneering or Rock Climbing Trip
Canyoneering is a popular way to explore Moab. Due to the city's unique rock formations, vast canyons, and scenic landscape, it's one of the most sought-after attractions in town, and a great way to see inaccessible areas. Luckily, there are plenty of beginner options for families with a guide, which includes gear. Depending on whether you want to go swimming, scrambling, rappelling, etc, you'll find a variety of tours to fit your fitness levels. Choose from a half-day, full-day, or custom trip, which we recommend if you're unsure about your skills. For example, some canyoneering tours including swimming in a canyon in muddy water, so if that doesn't sound appealing, we highly suggest other options like booking a custom tour. As one of the best things to do in Moab with kids, this excursion is offered by various companies such as Red River Adventures, Desert Highlights, and Cliffs and Canyons.
Explore Moab by Air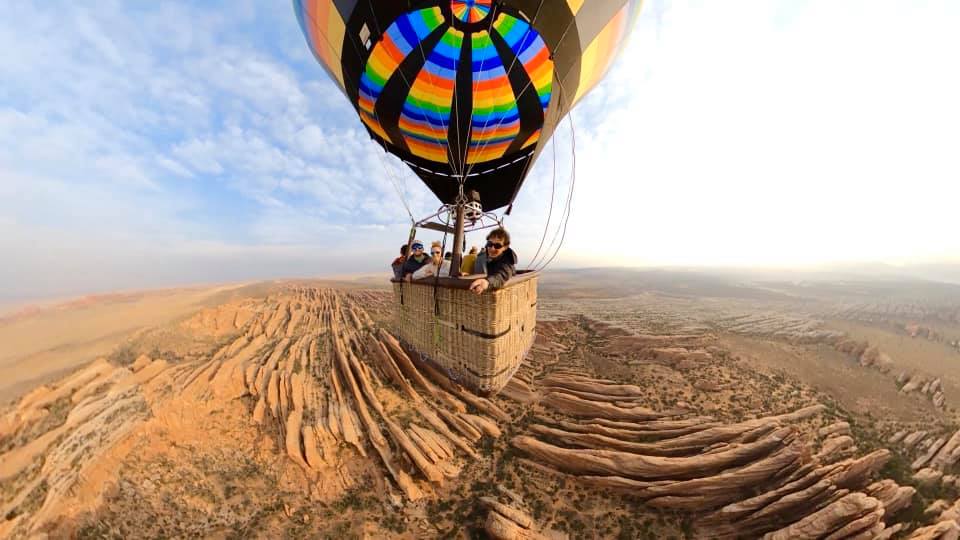 One of the best ways for families to see Moab is by air. There's a wide range of scenic tours you can take depending on your budget, including a helicopter tour from the Canyonlands Field Airport. Pinnacle Helicopters offers various choices at affordable rates. Depending on the length of the tour you choose, it'll be a great opportunity to see Moab's various arches from an aerial view. Longer trips may pass over Dead Horse Point, Canyonlands National Park, and more. You could also take a bylane or a hot air balloon ride, but please note that similar to a helicopter, only three passengers are allowed per trip. Some companies offering this service are Redrock Ballooning, Moab Balloon Flights, or tours through the Moab Adventure Center. Adventurous families can even challenge themselves to go skydiving. There's no place like Moab to try this daredevil activity!
Grab a Bite to Eat at Moab Food Truck Park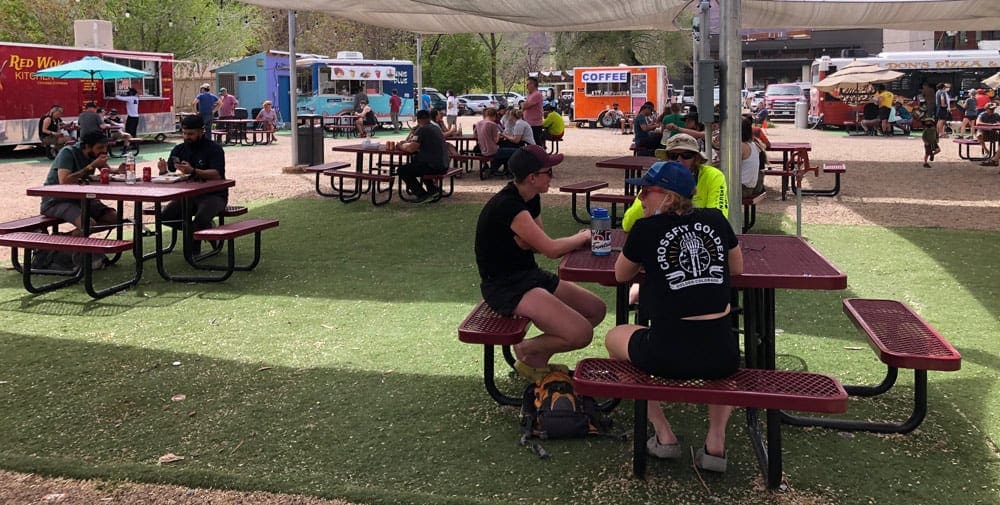 If you're looking for a quick meal in Moab, look no further than Moab Food Truck Park. Located in the heart of downtown, this unique destination houses various different food vendors to satisfy whatever mood you're in. If little ones are craving Mexican food, you'll love the fresh and authentic cuisine served by Tacos El Gordo. You could also grab Chinese at Red Wok Chinese Kitchen Express, Italian from Paninis Plus, or healthier fare at Fresh 2 Go. Don't forget dessert at Hokulia Shaved Ice! There's plenty of places to sit and enjoy your lunch or dinner too, so you won't have to worry about that either. Just remember most of the food trucks keep different hours!
Cool Off With a Sweet Treat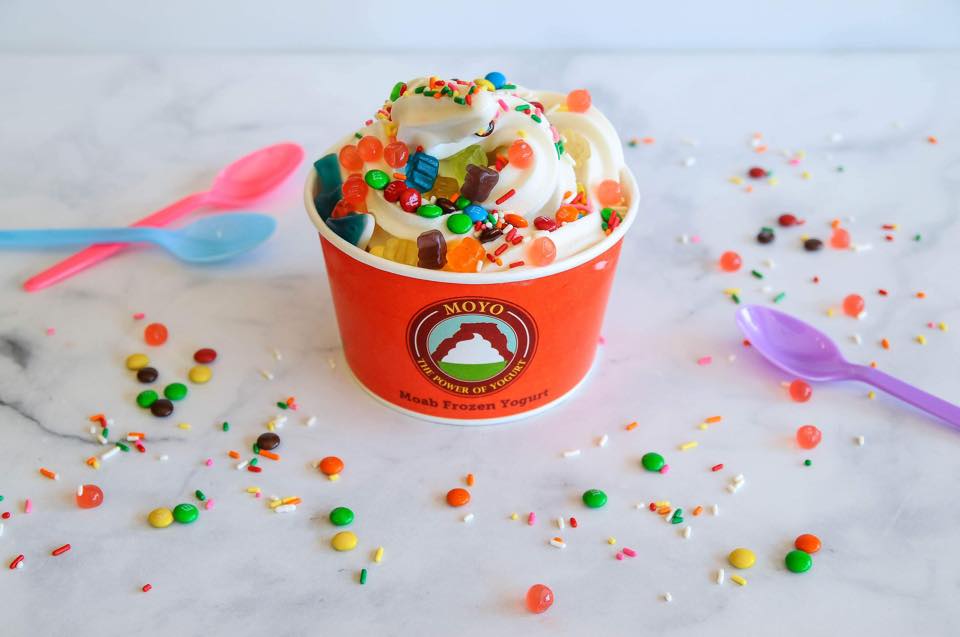 End your perfect day in Moab with a sweet treat! If your little ones want dessert, you won't have a hard time finding some good spots in town. One favorite is MoYo on Main Street, where the whole family can enjoy a variety of frozen yogurt flavors. If you'd prefer ice cream, you could also visit Crystal's Cakes and Cones, which serves delicious ice cream flavors and even special cupcakes like red velvet. Families visiting Moab can also experience a traditional ice cream parlor at Moab Diner & Ice Cream Parlor. This old-school diner is perfect for grabbing a quick bite to eat and then finishing it off with a classic milkshake or ice cream sundae. No matter which place you choose, grabbing dessert is definitely one of the best things to do in Moab with kids!
Where to Stay in Moab with Kids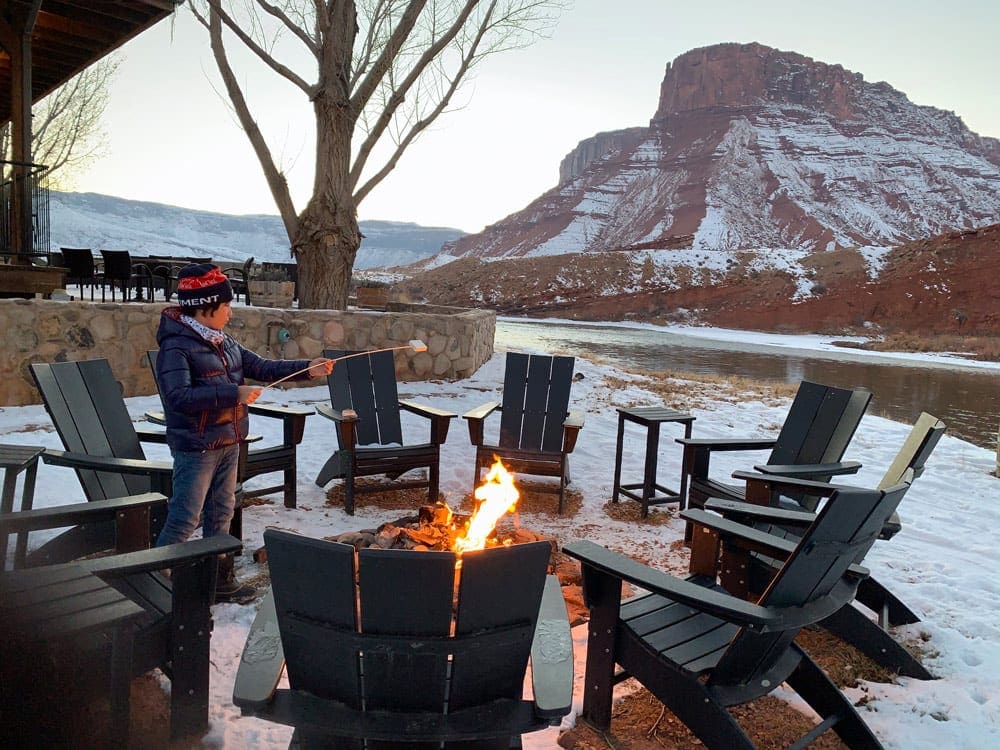 Looking for a place to stay with kids In Moab? Two great places to stay are the Hoodoo Moab, Curio Collection by Hilton, and Hyatt Place Moab, among other kid-friendly hotels. If you'd prefer a ranch experience in Moab with kids, we also suggest the Sorrel River Ranch Resort.
RELATED ARTICLE: Where to Stay in Moab with Kids (Hotels, Ranches, and Unique Options)
Happy Travels!
We hope you liked this list of The Best Things To Do In Moab With Kids! Whether you're visiting for a short time or taking an extended vacation, we know you'll love visiting this famous Utah destination. Enjoy Moab with your kids!
*Due to the COVID-19 pandemic, some of the attractions, accommodations, or things to do on this list may be closed or may have reduced services. Please ensure availability before making your decision.
*This post may contain affiliate links that may earn us a small commission, at no additional cost to you. Affiliate links in no way inform the hotels, sights, products, or other recommendations included in our articles. All opinions and recommendations expressed here are compiled from submissions submitted by the generous members of our Families Who Love To Travel community.
READ NEXT:
Where to Stay in Moab with Kids (Hotels, Ranches, and Unique Options)
Utah National Parks Road Trip Itinerary For Families
Summer Activities in North Lake Tahoe Kids Will Love
Ultimate Guide to Grand Tetons National Park with Kids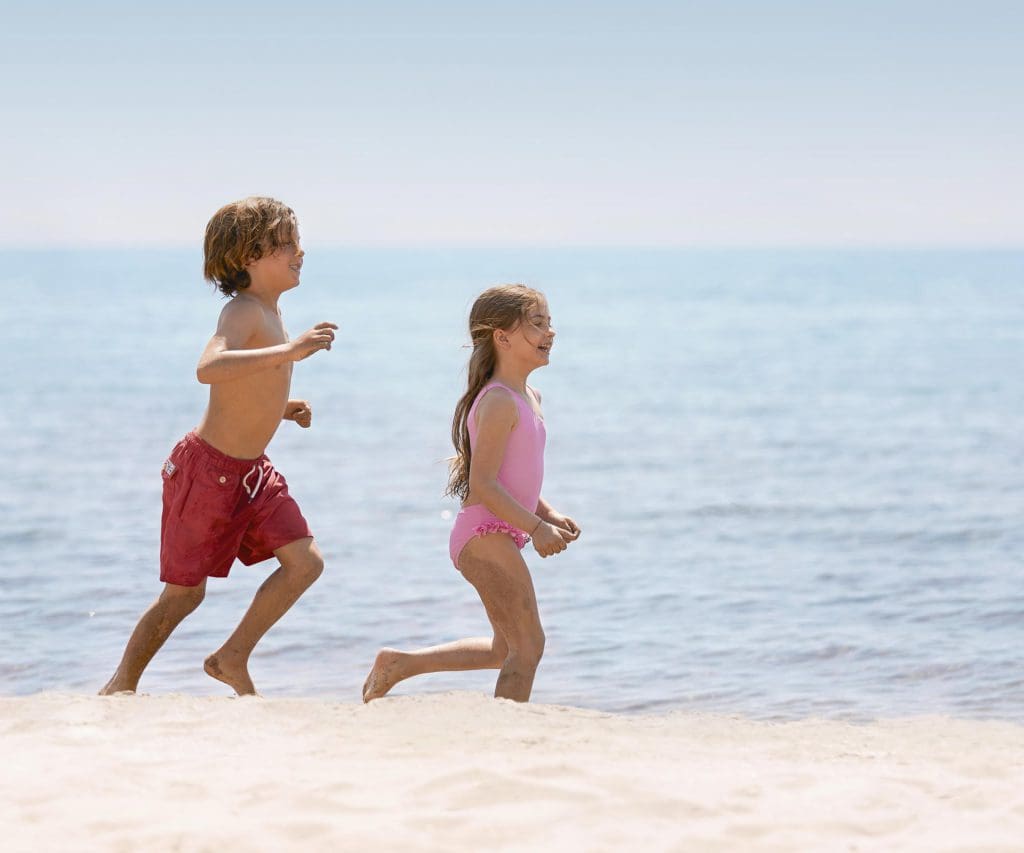 ​​From the sun-kissed beaches of Crete to the rugged terrain of Rhodes, these all-inclusive hotels...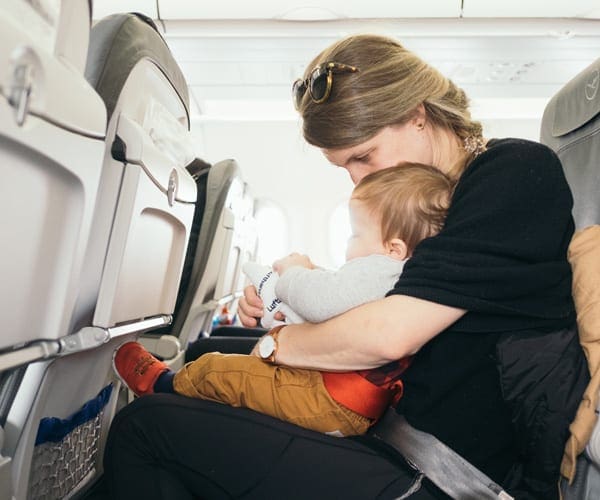 Families Who Love To Travel contributor Meghan Oaks provides her 10 best tips for your...