Finding the best things to do in Barcelona with kids won't be hard with all these great tips! From Mount Tibidabo to Barceloneta Beach, this Catalonian city is full of charm, vibrant culture, and delicious cuisine. A vacation here will probably be spent primarily outdoors, soaking up the sun and the ambiance. As such, you'll discover plenty of adventures the whole family can enjoy together, whether it's visiting the Barcelona Zoo or heading outside the city to Ferrari Land. Kids will love riding the Montjuic Cable Car, for example, where you can soar above the city in style. Of course, don't forget to indulge your sweet tooth at The Chocolate Museum, appreciate the art at Parc Guell, or visit La Sagrada Familia. With all the things to do in Barcelona with kids, however, you may be wondering how to start planning your itinerary. We suggest reading this list first!
Reserve Private Guided Barcelona Highlights Tour with Hotel Pick-up using Viator.
Best Things To Do In Montjuic With Kids
Montjuic is a popular Barcelona neighborhood, so we definitely suggest saving some time to explore. Between the Montjuic Cable Car, the Montjuic Fountain, and more, you'll find plenty to do too. Keep reading for our tips on family-friendly activities in Barcelona with kids!
Buy Barcelona Card using GetYourGuide: Access over 25 of Barcelona's best museums and attractions. Save money, be flexible and enjoy free public transportation with a 3, 4, or 5-day card.
Ride the Montjuic Cable Car
Buy Barcelona's Montjuïc Cable Car Round Trip Ticket using GetYourGuide.
Riding the Montjuic Cable Car is without a doubt one of the best things to do in Barcelona with kids! Departing from Montjuic Park, this funicular takes riders on a 750-meter journey, ascending from the heart of the city to the majestic Montjuic Castle. During your ride, enjoy incredible views of some of the most famous landmarks in the city, including La Sagrada Familia and Camp Nou, the home stadium of FC Barcelona! Keep in mind the ride only lasts around ten minutes, and sometimes there's a line to get on. Each car only fits around six people, so you may have to ride separately if you have a big group. Once you reach the top, feel free to stop for a bit and explore. There's a restaurant where you can eat alfresco, a garden for the kids to run around in, and of course, the enchanting Montjuic Castle!
Explore the Majestic Montjuic Castle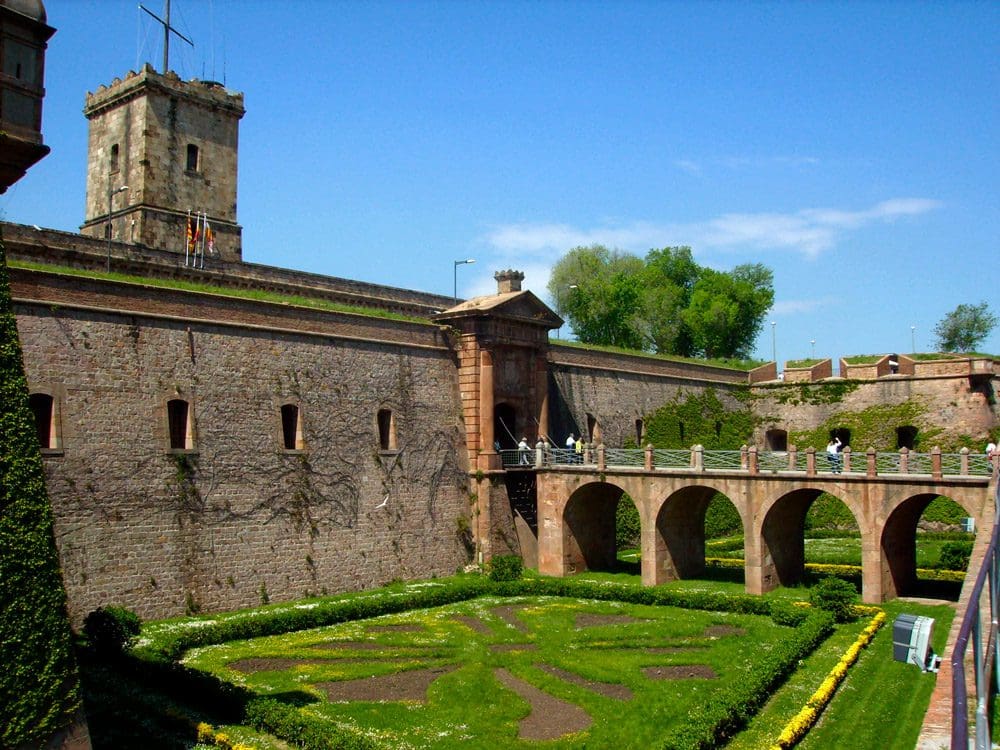 Reserve Montjuic Castle visit & Cable Car in Small Group using Viator.
Have a history lover in your family? Suitable for all ages, you can't miss a visit to Montjuic Castle! Originally constructed as a military camp in 1640, families can visit this structure by taking the Montjuic Cable Car. Once you arrive at the top, you'll come upon the majestic Montjuic Castle, which boasts fantastic scenery. Take a second to take it all in, as it's one of the best views in the city! Inside, you'll find a couple of small exhibitions explaining the history of the castle, plus a cafe if you're hungry. At scheduled times throughout the day, the castle also hosts tours in English if you want more contextual information. Afterward, you can explore the grounds, take photos with the beautiful flowers, and show kids the replica canons. Visit on the first Sunday of every month and you can even get free admission!
Enjoy a Light Show at the Magic Fountain of Montjuic
Nothing beats the bright lights at the Magic Fountain of Montjuic! Originally built in 1929, this famous attraction sits at the head of Avinguda Maria Cristina in Barcelona's Montjuic neighborhood. While the fountain is sometimes an afterthought during the day, it becomes a wonderland of vibrant lights in the evening. Kids will love watching this special light show, which draws crowds from all over the city to witness its beauty! Obviously, the best time to visit is during the summer, when the air is warm, you can appreciate the scenery, and music is playing. However, the fountain is open all year round. From June to September, you can enjoy it every Wednesday through Sunday between 9:30 and 10:30 pm. From November to March, it runs every Thursday, Friday, and Saturday from 8 pm to 9 pm, except in January and February due to maintenance. See the schedule here.
Best Things To Do In The Ciutat Vella With Kids
For your daily dose of history and culture, head to Barcelona's Old City, otherwise known as the Ciutat Vella. Here are our favorite things to do in the Ciutat Vella, Barcelona, with kids!
Indulge Your Sweet Tooth at the Chocolate Museum
Visit one of the most delicious spots in Barcelona when you stop at the Chocolate Museum! Otherwise known as Museu de la Xocolata, it's located in Barcelona's Old City (Ciutat Vella) near Parc de la Ciutadella. It'll be great for all ages since you get to learn about the history of chocolate and its symbolic, cultural, and economic significance in Barcelona through interactive exhibits. Marvel at how some of the most unexpected things are made from chocolate, down to your admission ticket! Kids will especially love looking at the chocolate statues. Keep in mind the museum is kind of small, which is why many families also check to see if they're hosting any activities or classes. Either way, admission is free for children seven and under, so it's too good to pass up. Plus, you get to leave with some chocolates as souvenirs, which isn't like your typical museum experience!
Get to Know the Animals at the Barcelona Zoo
Buy Barcelona Zoo Tickets now using GetYourGuide.
The Barcelona Zoo is home to some of the rarest species on earth. Up until 2003, it even housed Snowflake, the world's only albino gorilla! Today, you can still get a glimpse at some other cool animals such as giraffes, tigers, or hippos. Thanks to a unique open fence design, you'll be so close to the animals it'll seem like you can almost touch them! There's also a train that runs around the zoo so you and your family can comfortably travel to all of the various habitats and exhibits in style. There are also a variety of activities for families and shows offered daily. From penguin feeding to elephant training, there is something for the whole family to enjoy! Plus, it's located within Parc de la Ciutadella, so you can make it a two-for-one trip. That's why it's one of the best things to do in Barcelona with kids!
Wander Around Parc de la Ciutadella
Families should add Parc de la Ciutadella to their Barcelona itinerary with kids. Located in the Old City near the Arco De Triunfo, this stunning 44-acre park features lots to keep families entertained. For one, there's a huge kids' play area with a playground and table tennis, ideal for letting them burn some energy. There are also various structures and sculptures scattered around the Parc de la Ciutadella as well as a beautiful greenhouse. Well-maintained, the park also showcases work by the famous Barcelona artist Antoni Gaudi. Kids will absolutely love strolling through the park, watching the various street performers, or visiting the zoo. Even if you don't want to be that active, there's enough green space for you to pack a picnic and just watch the world go by. Stay for the sunset and you'll witness a spectacular view, complete with ducks swimming over the picturesque pond!
Learn More about Puppets at La Casa de los Entremeses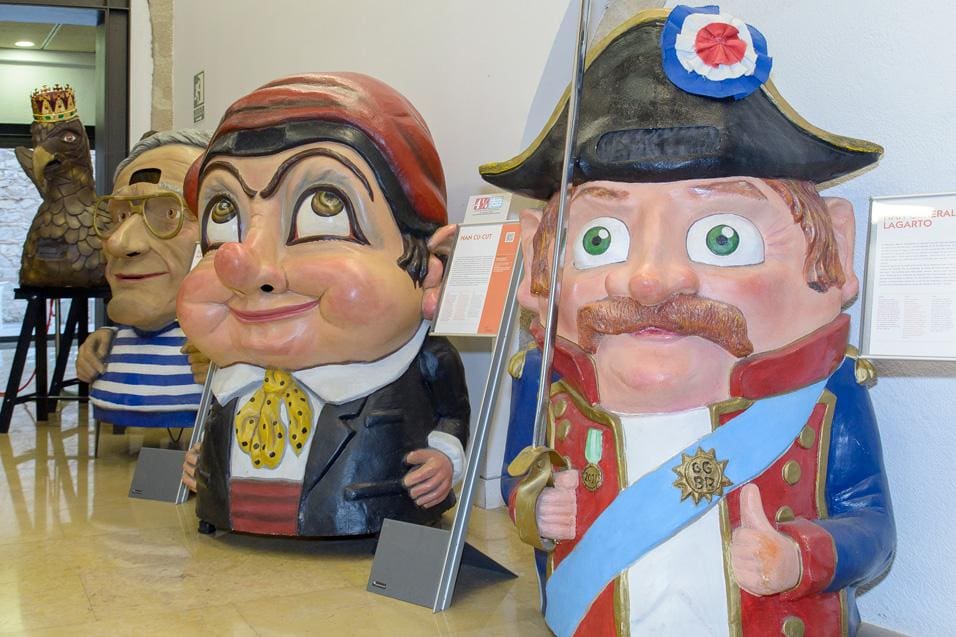 If you're in the mood for one of the most unique things to do in Barcelona with kids, visit La Casa de los Entremeses. This cultural center specializes in giant, colorful puppets just a few minutes away from Placa de Catalunya. Though the center welcomes any age, young kids will particularly enjoy this excursion. Browse through the permanent exhibitions, which showcase giants, dwarves, and beasts like a giant eagle. There are also temporary exhibitions on the first floor, which always showcase something new and exciting. Plus, special activities for kids include games, theatrical visits, and even historical walks. Those twelve and under can also enjoy the Children's Toy Library. On the second Saturday of each month, kids can even see the puppets in action during a spectacular mid-day performance! Check the schedule for more information on showtimes.
Best Things To Do Along La Rambla With Kids
La Rambla, otherwise known as one of the most popular attractions in Barcelona, has a ton of family-friendly activities to do in Barcelona with kids! Whether you want to eat, shop, or simply stroll, here are our suggestions!
Stroll Down La Rambla
Strolling down La Rambla is a must when in Barcelona. Stretching from Placa de Catalunya down to the Old Port, this tree-lined pedestrian street is arguably the most famous in the entire city. This isn't without good reason, since it houses some of the best shops, restaurants, and tourist attractions in Barcelona! Though you don't have to walk the whole thing, we suggest starting from the beginning at Placa de Catalunya, since this is where most of the good stuff is. Along the walk, you'll pass attractions like the Boqueria Market, the Liceu Opera House, and Cafè de l'Òpera, one of the oldest spots on the street. Besides shopping or eating, La Rambla is also great for people watching and getting a feel for Barcelona. While you stroll the boulevard, keep an eye out for historic statues, street performers, and even a mosaic by famous artist Joan Miro!
Pro Tip: Though La Rambla is one of the most popular streets in Barcelona, and one of the most family-friendly activities in Barcelona with kids, it can get a little seedy at night time in certain areas. We suggest visiting during the day.
Watch a Flamenco Performance
Book Flamenco Experience at Tablao de Carmen with Dinner or Drink using Viator.
Flamenco is one of Spain's most famous art forms, so you should try to catch a show while in Barcelona! There are popular places all over the city specializing in this energetic dance, like Palacio del Flamenco Barcelona, which dates back to the 1920s. Some are more kid-friendly than others, however, which is why many families love Tablao Flamenco Cordobés. As the only flamenco spot on La Rambla, it's convenient to stop by after a day of sightseeing. Buy a dinner ticket so you can get the full experience, as the Tablao offers a nice dinner buffet before the show. Then, you'll be ready to see some of the most famous flamenco legends perform! Lasting 45 minutes, the show will take you through the history of flamenco in an interactive and engaging way. Plus, there's even an early option so children don't tire out, ending at around 9:30 pm!
Sample Fresh Food at the Boqueria Market
Want to taste some of the freshest fruit, vegetables, and seafood in Barcelona? Head to the Boqueria Market! Located along La Rambla near the Ciutat Vella, this famous indoor market has a stunning stained glass roof and is always bustling with travelers of all ages. Make sure to visit on an empty stomach, since there are lots of market stalls and even more cuisine to choose from! Whether you want to grab some fresh fruit, fish, or head here for lunch, you really can't go wrong. Sample all types of tasty tapas like patatas bravas or try Catalonian street food from one of the stands. There are also places to try some refreshing drinks and sweets like pastries or ice cream. If you're staying in an apartment-style accommodation and have a kitchen to make food, this is the ideal place to pick up a few groceries. Remember to haggle!
Things To Do In The Old Harbor With Kids
Barcelona's Old Harbor should be on every family's bucket list, from the views of the sea to the fresh salt air. It also has some of the best things to do in Barcelona with kids, which we've written about here!
Make Friends With Marine Life at the Barcelona Aquarium
GetYour Guide: Barcelona Aquarium: Skip-the-Line Admission Ticket.
The Barcelona Aquarium is surely one of the best things to do in Barcelona with kids. Located in the Old Harbor, don't miss a chance to visit here if you have marine life lovers in your family. With one of the most diverse collections in Europe, the aquarium boasts 66 Mediterranean and tropical tanks which are home to 11,000 animals from some 450 different species. Kids will delight in seeing one of the most spectacular displays of all: the Oceanarium. This transparent, 80-meter-long tunnel allows you to walk among sharks, gilt heads, morays, ocean sunfish, and many more species as they swim around you. As a plus, the aquarium also has an interactive kids section and play area where children are taught the importance of water in the development of our planet. And, kids will be able to discover the underwater world by using their five senses!
Things To Do In La Salut With Kids
La Salut is home to Parc Guell, one of the best things to do in Barcelona with kids. Keep reading for tips on how to make the most of your visit!
Appreciate the Art at Parc Guell
Book Park Güell Official Guided Tour using Viator.
Parc Guell is one of Barcelona's most famous tourist attractions and definitely one of the best things to do in Barcelona with kids. Designed by the legendary architect Antoni Gaudi, it also offers some of the best views of the entire city from its hilltop position. Luckily, there are lots of spots to enjoy the scenery, between beautiful green spaces, winding paths, and other picturesque overlooks. Of course, you can't miss the most popular part of Parc Guell (and the only one you need a ticket for): the many sculptures and mosaics designed by Gaudi. Shaped like colorful lizards and other fun creatures, these fantastical pieces will transport your whole family to a fantasy land. Kids will adore the surreal ambiance and open areas to play in. Though you can buy tickets on-site, we recommend purchasing them online so you can also get a free bus ticket.
Things To Do In La Sagrada Familia With Kids
La Sagrada Familia is a quiet neighborhood in Barcelona that boasts a famous attraction of the same name, Antoni Gaudi's famous La Sagrada Familia church. If you want to visit, this is what we suggest to enjoy one of the most family-friendly activities in Barcelona with kids!
Visit La Sagrada Familia
Book Fast Track Sagrada Familia Guided Tour using Viator
Visit the Sagrada Familia with an expert guide, skip-the-ticket-line access and the choice of a small-group or private experience. Reserve now using GetYourGuide.
La Sagrada Familia is the most recognizable building in Barcelona. Antoni Gaudi built it in 1883, and it remains unfinished to this day. However, it's still worth visiting, even if you just sneak a peak from the outside! If you plan to go inside, expect long lines during peak seasons since this is a popular attraction. Also, be aware of the semi-strict dress code for women and cover your shoulders and knees. Numerous tour companies also offer guides of the church, or you can explore the stunning structure on your own. If you want to make it an educational experience without going on a tour, some parents choose to download kid-friendly fun facts about La Sagrada Familia to make the experience interactive. Children will surely be impressed by the colorful stained glass windows and massive spires that extend hundreds of feet into the sky!
Pro Tip: If you're with a group of ten or more, you'll have to make a reservation to La Sagrada Familia in advance. After all, it is one of the most family-friendly activities in Barcelona with kids! We particularly recommend this excursion for teens or older kids.
Things To Do In Tibidabo With Kids
Famed for its eponymous Mount Tibidabo, Tibidabo is a Barcelona neighborhood that's sometimes overlooked. It definitely shouldn't be, though, which is why we've rounded up these fun things to do!
Think Like a Scientist at CosmoCaixa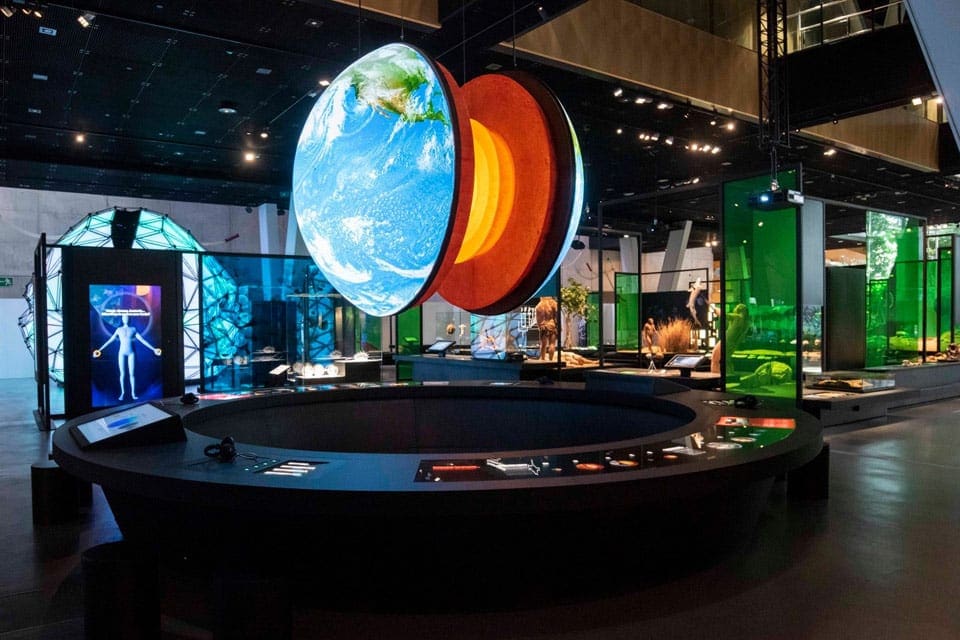 CosmoCaixa is a hub for scientific exploration and endless family fun! Located in the northern part of Barcelona near the Funicular del Tibidabo, this excursion is perfect for a rainy day or to escape the heat in Barcelona with young kids. Plus, there's free general admission for children! Kids will love the many interactive and educational exhibits, and they'll learn a lot during their visit too. For example, they can hear more about space in the planetarium, walk through a "flooded forest" (a recreation of an Amazonian habitat), and see the mesmerizing "room of matter." Sometimes, the museum also hosts rotating exhibitions kids may enjoy, like the one they have now about 3D printing. If you're visiting on a nice day, you can even enjoy the outdoor courtyard. It's sure to be a highlight of your adventure and one of the best things to do in Barcelona with kids!
Take in the Views from Mount Tibidabo
Mount Tibidabo provides families with some of the best views in Barcelona. Accessible via the Tibidabo Funicular, most people come here to visit the Tibidabo Amusement Park. With rides for kids of all ages, enjoy anything from interactive water fountains in the summer to a vintage carousel, Ferris wheel, and indoor games. Little kids will love the teacup rides, the choo choo train, or the Pony Rodeo, where they can travel through the American Wild West. Meanwhile, older kids can get a thrill from the Talaia, a super tall observation deck. Other activities for families include scheduled events such as character meet-and-greets or kid-friendly restaurants. Tibidabo Amusement Park isn't the only attraction on Tibidabo, a hill with the same name, but it is the most popular one. Some visitors may also like to see the nearby Temple of the Sacred Heart of Jesus, a historic church and famous landmark.
Best Things To Do In Les Corts With Kids
Les Corts isn't the most popular neighborhood in Barcelona, but it does house Camp Nou, one of the most family-friendly activities in Barcelona with kids. Keep reading for our advice on visiting this famous soccer stadium!
Tour Camp Nou
Viator: Booking your ticket in advance gets you guaranteed entry and fast-track admission—a big plus if you're visiting during the warmer months or traveling with kids.
GetYourGuide: Retrace the footsteps of FC Barcelona's legendary players and experience the Barça passion on this 1.5 hour tour that's perfect for football fans!
Soccer fans can't miss a visit to Camp Nou, one of the best things to do in Barcelona with kids! Located in the Les Corts neighborhood, this gigantic sports stadium is home to FC Barcelona. It's also the biggest stadium in Europe, which is why we suggest taking a tour during your vacation in Barcelona. With a standard ticket, you'll be able to take a tour of the stadium, learn more about its history, and hear some soccer fun facts along the way. Walk all the way from the press box at the top of the stadium to the field below. Kids will particularly love how you get to pass through the underground tunnel! A ticket also includes entry to the FC Barcelona Museum, featuring important memorabilia. Kids will love looking at the various trophies, old uniforms, and other displays there. Save time for the gift shop too!
Best Things To Do Near Barcelona With Kids
Slightly outside of Barcelona, you'll also find things to do with kids. Keep reading for our suggestions!
Get a Thrill at Ferrari Land
Ferrari Land is one of the most unique things to do in Barcelona with kids. Located on the coast of the Mediterranean Sea and an hour outside of Barcelona, this family-friendly theme park is designed with all ages in mind! It's particularly great for Formula 1 fans, especially if they're older and into thrilling rides. Of course, the call to fame here is Red Force, a rollercoaster known as the fastest and highest in Europe! Keep in mind this isn't for the faint of heart, but the park does have some less exhilarating rides for younger children in the special Kids' Area. Though they're currently on hold due to COVID, the park also hosts some fun shows for kids. Once you're done riding, feel free to walk around, play some carnival games, and maybe win some prizes. There are plenty of food options on-site if you get hungry as well!
Pro Tip: For the best experience at Ferrari Land (and the least amount of waiting) we suggest buying an Express Daily Pass so you can skip the line.
Explore Barcelona with 48, 72, 96, or 120-Hour Public Transport Ticket. Buy now using GetYourGuide.
Best Ways To Tour Barcelona With Kids
Looking for an easy tour you can take with kids? If you'd rather hit all the famous spots in one go, you can't go wrong with one of these options!
Sightsee from the Hop-On Hop-Off Bus
Book Barcelona City Tour Hop-On Hop-Off now using Viator.
A Hop-on Hop-off Bus is one of the best things to do in Barcelona with kids! Perfect for families who want to customize their vacation, these double-decker busses run three routes through some of the most famous attractions in the city. Choose between The Blue Route, which stops at spots like Placa Catalunya, Park Guell, and the Camp Nou Stadium. There's also the Red Route, which passes Port Vell, Montjuic, and more. Or, the Green Route through Parc Diagonal del Mar, Port Olympic, etc. Regardless of which route, you'll receive headphones so you can listen to an audio tour in English or whatever language you want. Get off at whichever stop interests your family most, and skip the ones that don't. Plus, the bus runs around every fifteen minutes, so you'll never have to wait long to hop back on! Buy your tickets online to get a discount.
Go on a Bike Tour
Book Barcelona Half-Day Bike Tour using Viator, now.
A bike tour is a fantastic way to see Barcelona as a family. Thanks to the city's collection of bike lanes and quiet side streets, it's easier than ever to cycle through your favorite neighborhoods. Of course, you could always rent a bike from a local shop and take a self-guided tour. But, there are specific companies that make it more fun for your kids. We suggest BikeTours Barcelona, which offers a daily tour passed attractions like the Parc de la Ciutadella, La Sagrada Familia, and more. There's even an option with tapas to refill your stomach after a long ride! Another great company is Cruising Barcelona Bike Tours, offering an original three-hour tour or a private option. You can also consider checking out Steel Donkey Bike Tours for a look at Barcelona's lesser-known areas. Other outfitters include Born Bike Tours Barcelona, Terra Bike Tours, or Bamboo Bike Tours.
Where To Eat In Barcelona With Kids
Barcelona has some of the best family-friendly restaurants around, so don't hesitate to research where to eat in Barcelona with kids! Families who are sightseeing in the Gothic Quarter should save time to stop at Bar Del Convent, famous for all things empanadas, pies, and other delectable cuisine. Afternoon tea, sweets, and savory sandwiches are also a must when visiting Ideal Cafe in Poblenou. Any traveler with a sweet tooth can't miss the tasty pastries at Escribà. With multiple locations in Barcelona, including one right off La Rambla, you won't have to venture far! Of course, if you're just looking for a quick bite to eat while shopping, you can grab something from El Corte Ingles Restaurant. Or, Pudding Barcelona, a new-age, creative coffee shop with funky decorations, has two locations in Barcelona, perfect for grabbing lunch or stopping to relax.
Where To Stay In Barcelona With Kids
Looking for somewhere to stay in Barcelona with kids? After you've decided on which family-friendly activities in Barcelona with kids interest you most, we have some suggestions for hotels. Families love the Renaissance Barcelona Hotel, located in the heart of Eixample. If you want to stay near the beach, try Hotel Arts Barcelona, which has a pool for kids.
RELATED: Best Family Hotels in Barcelona by Neighborhood
Interactive Map of Barcelona
Discover the best places to stay, restaurants, and local attractions with our interactive map. You can filter by what you're looking for, so it's quick and easy to select which area you want to explore.
Happy Travels!
We hope you liked this list of Best Things To Do In Barcelona With Kids! From Eixample to Barceloneta Beach and everywhere in between, your family will love this culture-filled city and all the family-friendly activities in Barcelona you can do with kids. Enjoy Barcelona with your kids!
CHECK OUT THESE POPULAR TOURS IN BARCELONA
*This post may contain affiliate links that may earn us a small commission, at no additional cost to you. Affiliate links in no way inform the hotels, sights, products, or other recommendations included in our articles. All opinions and recommendations expressed here are compiled from submissions submitted by the generous members of our Families Who Love To Travel community.
READ NEXT: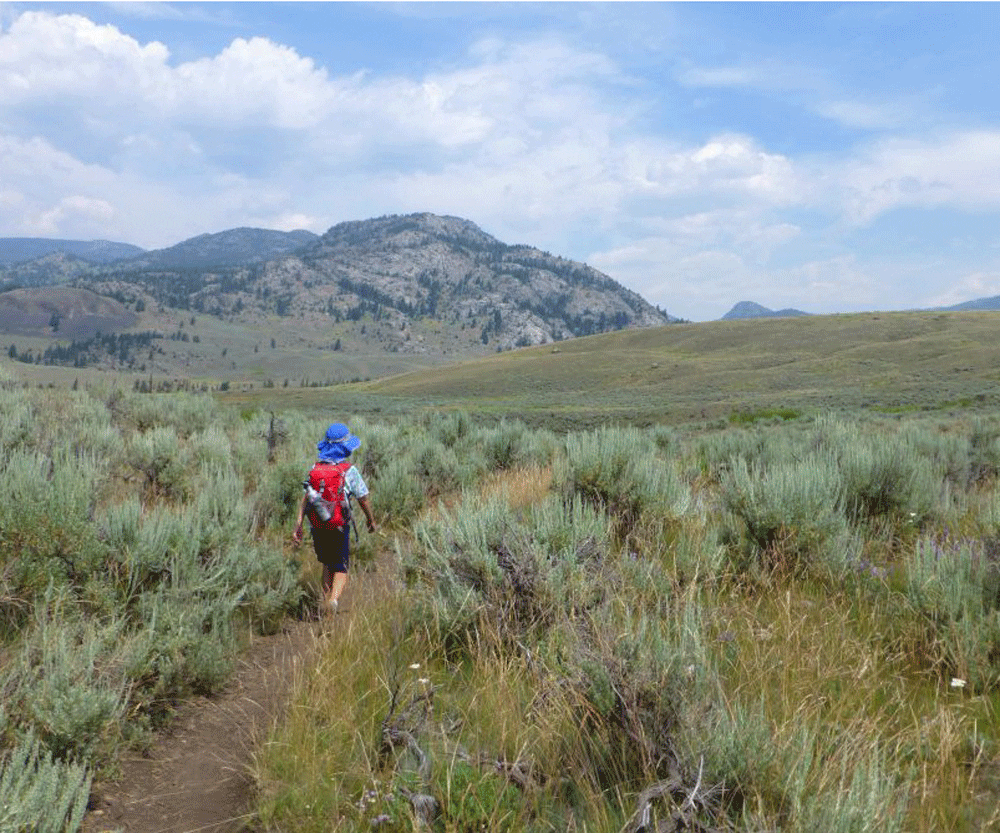 Everyone knows that Yellowstone National Park makes for a classic family vacation. Strolling the boardwalks...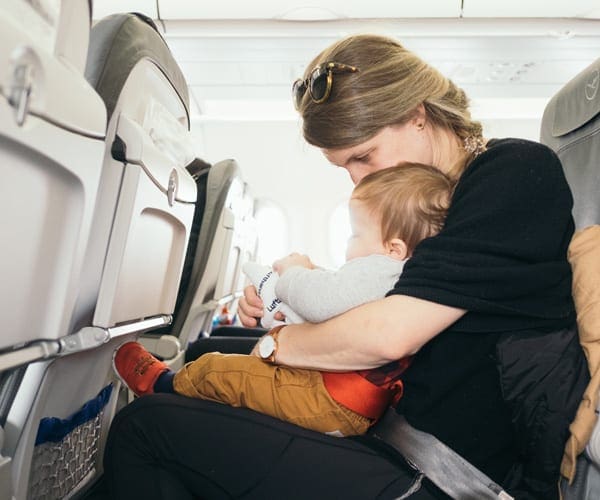 Families Who Love To Travel contributor Meghan Oaks provides her 10 best tips for your...