Add these things to do in Colorado with kids to your family's vacation itinerary! From Denver to Durango, this Rocky Mountain state boasts a ton of awesome sights for families. Between beautiful outdoor hikes, endless animal encounters, and other entertainment, we guarantee your kids will never be bored in Colorado. Visit the Cheyenne Mountain Zoo, hop on the Durango-Silverton Railroad, or slide down the dunes at Great Sand Dunes National Park. Depending on which part of Colorado you'll be visiting, you should definitely plan extra time to visit these age-appropriate attractions. Need help deciding which is best for your family? That's where we come in! With advice from our FLT Facebook contributors, we've compiled an amazing list of Things to Do in Colorado with Kids, divided by region for your convenience. With options for little kids and teens alike, keep reading for favorite suggestions!
Denver
If you're visiting Denver with kids, you'll be happy to know there are plenty of things to do as a family. Between visiting a local museum, aquarium, or zoo, you'll find plenty of ways to keep little ones content during your Colorado family vacation. Keep reading for our suggestions on visiting Denver with kids!
Find Car Rentals at Denver, CO, International Airport
Best Things to Do in Denver with Kids
Here are some super fun things to do in Denver with kids to add to your itinerary. Then read about the 20+ Kid-Friendly Activities in Denver that the Whole Family Will Love to find more activities for your time in the area!
Denver Children's Museum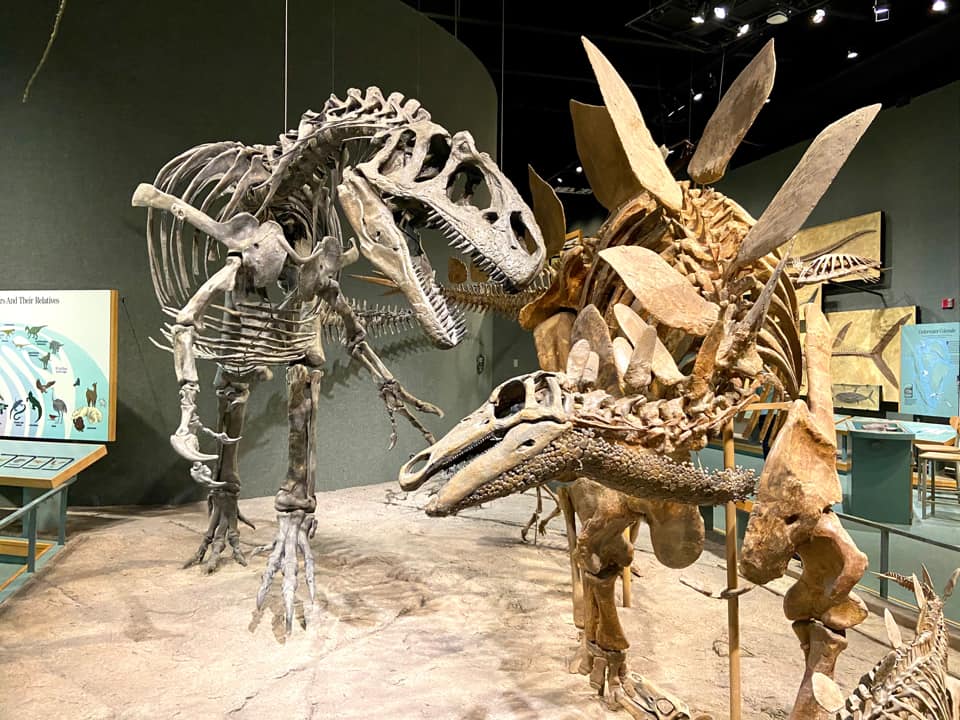 Kids will love The Children's Museum of Denver at Marsico Campus! Located in downtown Denver, this educational center lets families challenge their senses and learn something new. Uncover the secret science of bubble-making, make rainfall, and even build boats to send down the river!
Different exhibits, like the "Create" section with an Art Studio or the "Imagine" section with a Book Nook, are perfect for curious young minds. String together your own creations from recycled materials, then visit the Teaching Kitchen to prepare tasty food. Don't forget about the Fire Station to climb on the giant replica truck. Or, the Altitude structure, where your 4+-year-old can climb up two stories! Joy Park, the outdoor area, is sure to be a favorite. It has everything from zip lines to bouldering, slides, and sand piles! There are also picnic tables to enjoy a snack or lunch in the warm, Colorado sunshine.
Plum Guide – Book Colorado's Finest Homes – PlumGuide.com
Downtown Aquarium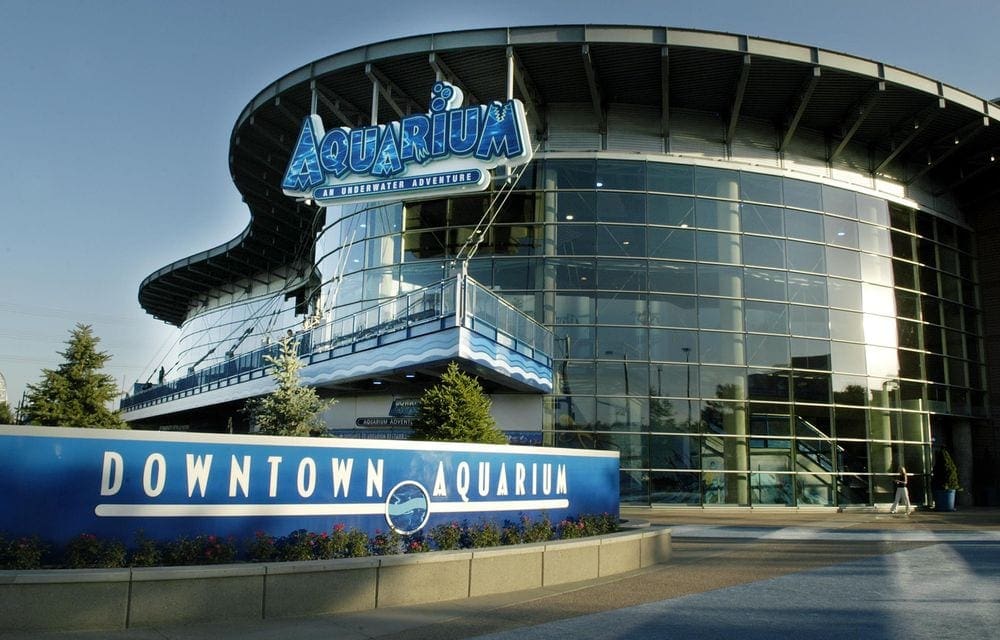 Take an underwater adventure to the Downtown Aquarium in Denver! With its convenient location along Confluence Park, this sprawling, state-of-the-art aquarium showcases over 500 species of colorful fish. No wonder it's one of the best things to do in Denver with kids! Exhibits divide the creatures into different regions, such as North America, The Rainforest, and At The Beach. Expect to see starfish, friendly otters, and even a tiger! One exhibit recreates a shipwreck with paintings on the wall and a simulation of a coral reef.
At the Stingray Reef, kids can feed and touch live stingrays. Adventurous children can even try Diving With Sharks! There's also the Aquarium Express circling the property and an Aquatic Carousel. To grab dinner, visit the restaurant and lounge, combining upscale dining with fascinating marine life. Kids will love watching fish and mermaids swim while you dine! Some may even stop to take photos. 
Denver Zoo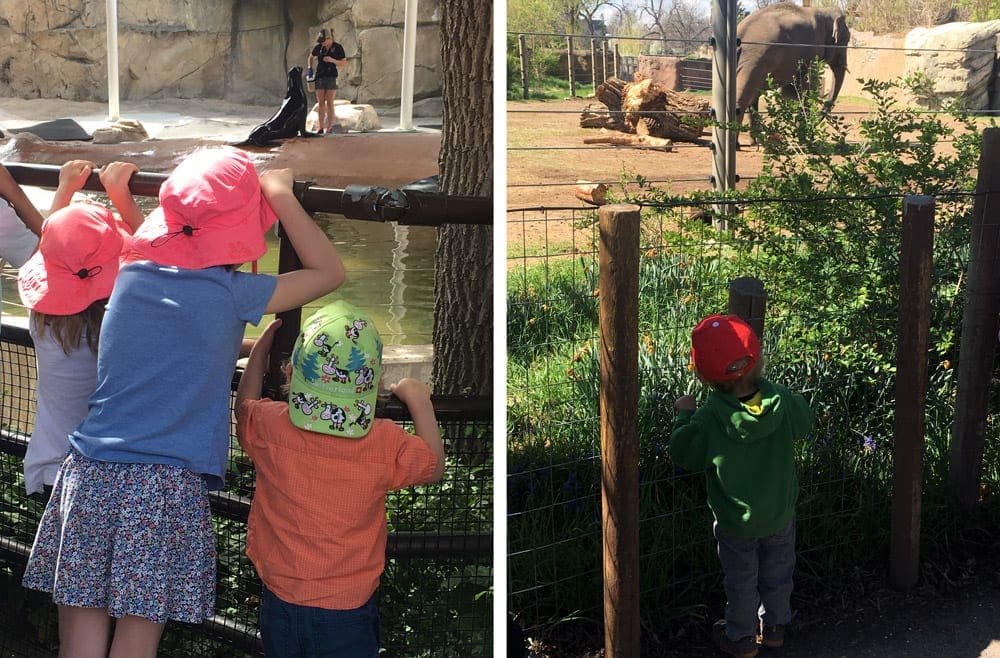 The Denver Zoo is one of the city's most popular attractions. Nestled within City Park, this zoological garden is a fun excursion for families. It houses everything from African lions to Siberian tigers, flamingos, and Asian elephants. The Denver Zoo even features 80+ bird species and its own stingray cove! One unique exhibit is the Harmony Hill Bear Habitat. Though the bear might not appear during your visit, it's still fun to watch! Families will also enjoy the black rhino, ring-tailed lemurs, and hippopotamus habitats. Remember to pass by the gorillas!
Also, check the schedule for the many animal shows throughout the zoo. Some favorites are the sea lion and elephant demonstration. When you pay to feed the giraffes, families can also learn why they have purple tongues. Up to 6 guests can pay $160 for a special experience getting to know the giraffe herd and learning about their biology.
Pro Tip: Families considering visiting The Denver Zoo multiple times should definitely invest in a yearly membership. Plus, since it's a big zoo that can feel neverending, bring comfortable shoes, grab a map, and expect a walk. You can pack your own lunch to make it easier. There are a few places to grab a bite nearby, plus restrooms on-site. Spend a few dollars on tokens for the train and the carousel as a nice midway break while walking around the zoo.
Denver Museum of Nature & Science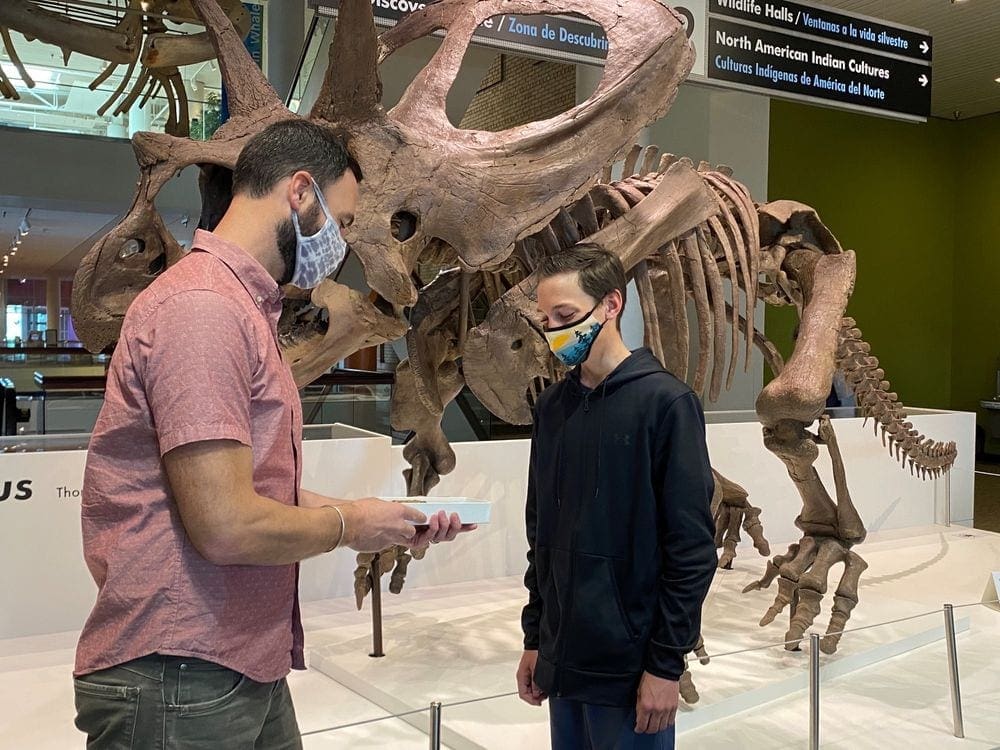 Pique your children's curiosity at the Denver Museum of Nature & Science. As one of the best things to do in Colorado with kids, this Denver destination is a great source for science education. Interactive exhibits are divided into different sections based on themes. One family favorite is the Space Odyssey exhibit, which teaches kids about gravity, the solar system, and the planets. Budding archaeologists will love the Prehistoric Journey section with dinosaur fossils or the Egyptian Mummies exhibit, with two mummies on display! The Discovery Zone lets kids challenge their creativity, meanwhile, the North American Indian Cultures exhibit tells more about Denver's native population. Don't forget about catching an entertaining IMAX show! An outdoor area provides a scenic place to relax during warm weather. Some exhibits are free, while others require a small fee.
Currently, timed tickets are required to visit the Denver Museum of Nature & Science. Booking your trip during the week minimizes the chances one of the exhibits will be sold out.
Where to Stay in Denver with Kids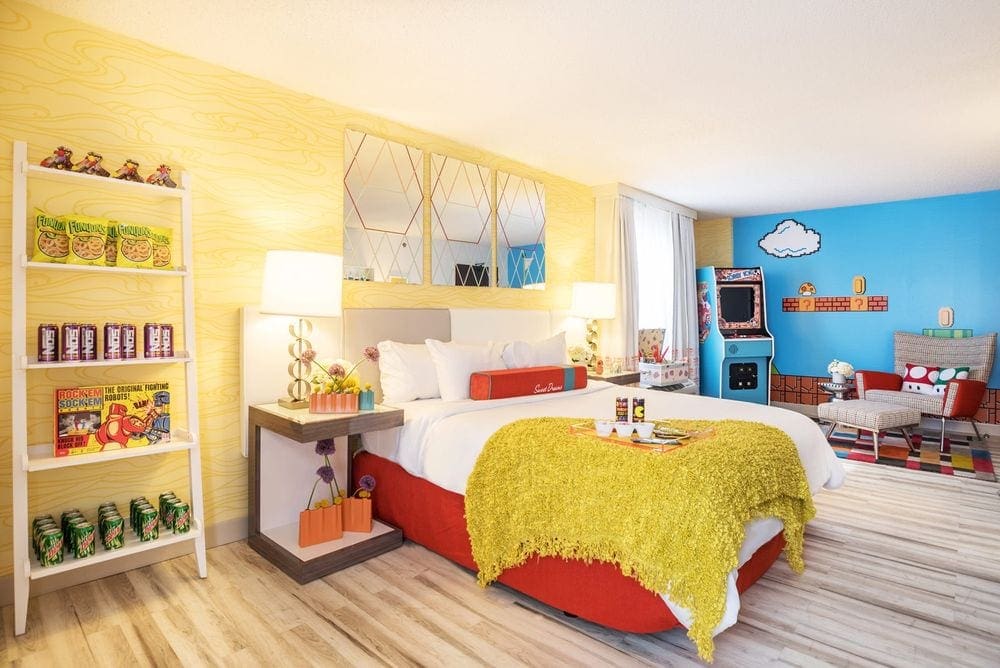 Denver definitely has its fair share of family-friendly accommodations. Kids will love the uniquely themed floors at The Curtis Denver – A DoubleTree By Hilton Hotel, located across from the Denver Center for the Performing Arts. The Westin Denver Downtown has a rooftop pool, and provides in-room teepees for guests with children! Families can bring the outdoors home at The Ritz Carlton, Denver, which provides guests with a Kids City Camper Experience. Then, at the Four Seasons Hotel Denver, kids will love the rooftop pool, the welcome package with child-sized robes, children's toiletries, tents, a Nintendo Wii, and a library of CDs, DVDs, and games. Finally, Complete with multiple pools and its own lazy river, the Gaylord Rockies Resort & Convention Center is also a perfect summer destination.
Find more places to stay by reading about the 13 Best Denver Hotels For Families With Kids!
Colorado Springs
Visiting Colorado Springs with kids? From animal encounters downtown to stunning hikes through nature, your itinerary will be packed with awesome sights. In case you need some parent-approved recommendations, here are our favorite things to do in Colorado Springs with kids.
RELATED ARTICLE: 7 Hotels in Colorado Springs that Families Will Love
Best Things to Do in Colorado Springs with Kids
Ready to explore? Here are a few fun things in Colorado Springs for families to get you started. Then read about the 12 Adventurous Things To Do in Colorado Springs Kids Will Love to learn more.
Cheyenne Mountain Zoo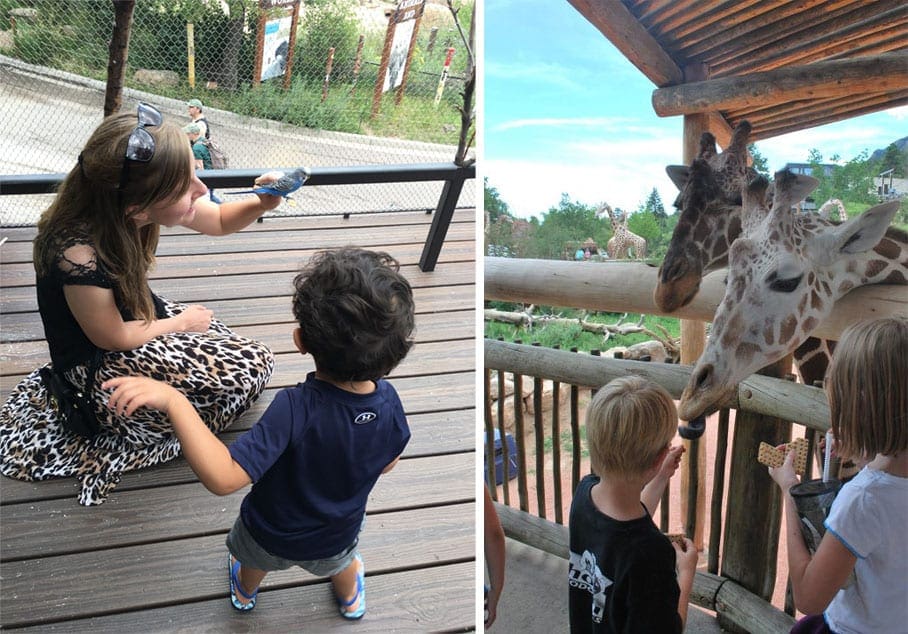 The Cheyenne Mountain Zoo is one of the best things to do in Colorado Springs with kids. Beautifully set in the mountainside, this family-friendly destination attracts animal enthusiasts of all ages. Exhibits house a variety of exotic animals, the most popular one being "Encounter Africa," with lions, elephants, and more. There's also "Water's Edge: Africa," featuring hippos and penguins! Feedings are also available for certain animals. Prepare for one-on-one encounters with giraffes, turtles, goats, and other cuddly creatures!
Kids will also love taking a spin on the zoo's Historic Carousel, which has a picturesque panoramic view. Though it costs extra, we also recommend a Mountaineer Sky Ride, where you'll ascend above Colorado Spring's incredible scenery. It'll be a workout navigating the inclines of this sprawling property, but well worth it. For elderly family members or tired little ones, the Cheyenne Mountain Zoo also provides a shuttle around its property.
Garden of the Gods Visitor and Nature Center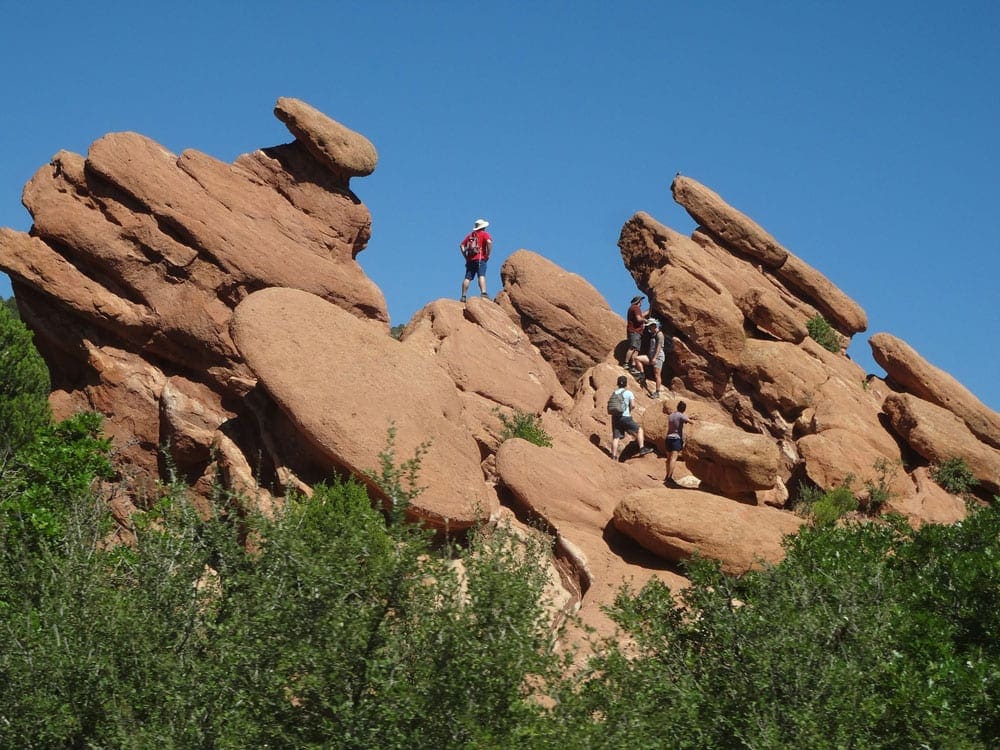 Garden of the Gods is a must-visit for families. As one of the best free things to do in Colorado Springs with kids, it's perfect for a quiet afternoon with children. To see the park's beautiful collection of red rock, you can either drive through it in a loop or enjoy a peaceful hike. There are a variety of trails for all skill levels here, including the Perkins Central Garden Trail. This one-and-a-half-mile hike is both wheelchair and stroller accessible.
If you want to see more of the area, the Visitor's Center is extremely helpful in giving guests an overview. Other activities for families here include guided electric bike tours, which are provided by Amp'd Adventures. Or, horseback riding through the park with Academy Riding Stables. With a permit, you can even go rock climbing! Either way, your day at Garden of the Gods will be a memorable one.
Book Colorado Springs: Garden of the Gods Immersive Hike through Getyourguide.com here!
Broadmoor Manitou and Pikes Peak Cog Railway, Manitou Springs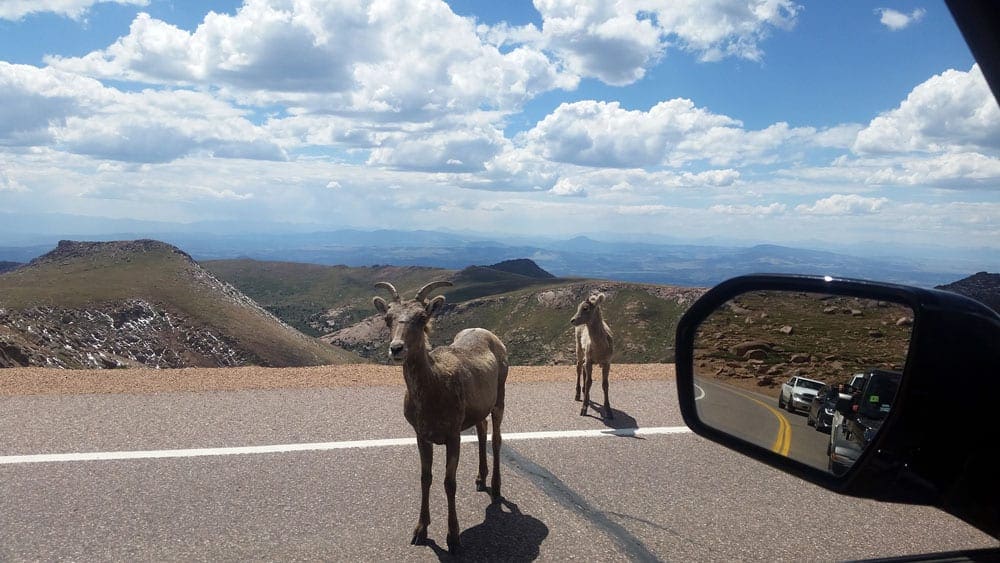 All aboard the Broadmoor Manitou and Pikes Peak Cog Railway! Just fifteen minutes from Colorado Springs, kids will love this nine-mile train journey running from the Cog Railway Depot in Manitou Springs up Pikes Peak Mountain. Lasting about an hour, the route takes you through Pikes National Forest, along Ruxton Creek, by Diamond Rock, within Engelmann Canyon, and past Deer Park.
During your ascent, watch out for the beautiful, expansive scenery. This includes glimpses of wildlife such as elk, deer, and bighorn sheep, plus thousand-year-old trees and beautiful reservoirs among the Front Range's peaks. Remember to bring warm clothes for when you hit the top of Pikes Peak since the elevation makes it chillier. From there, families can appreciate the view, then head to the Summit House, a visitor's center, to learn more about the mountain. Take the train back down, or challenge yourself to hike the whole way!
Where to Stay in Colorado Springs with Kids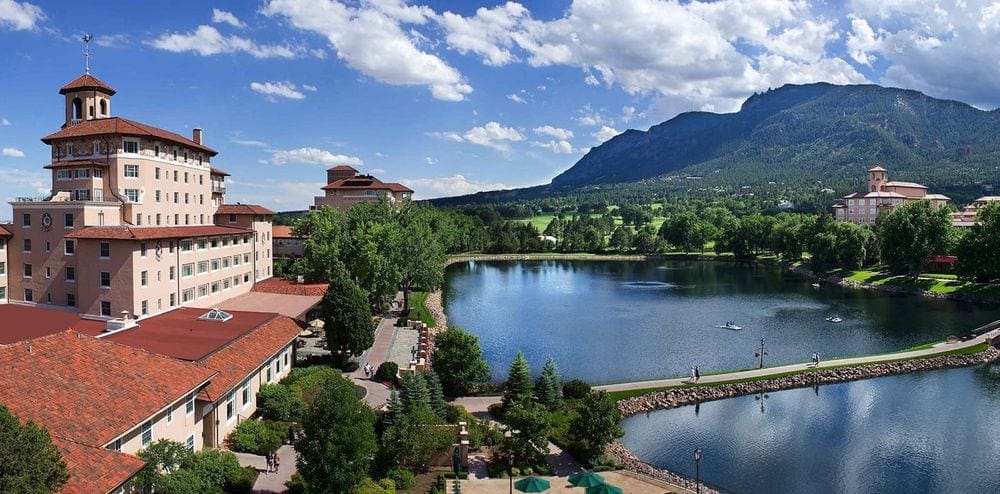 There are several accommodations in Colorado Springs for families. Book your stay at the iconic Broadmoor, located on the shores of Cheyanne Lake. This luxury resort has summer activities for all ages! If you'd prefer a cozier, rustic-chic getaway, then the Cheyenne Mountain Colorado Springs, A Dolce Resort, is another option on a private lake. Gardens of the Gods Resort and Club is located inside a private country club, within a mile of the monument it's named after. Kids will love a stay at the Great Wolf Lodge Colorado Springs, which has its very own waterpark!
RELATED: 11 Adventurous Things To Do in Colorado Springs Kids Will Love!
Best Things to Do in Southern Colorado with Kids
Elsewhere in Colorado, you'll still find a lot of great attractions for families. If you're visiting Southern Colorado with kids and need to plan your itinerary, look no further. Read down below for our favorite things to do in Southern Colorado with kids!
Great Sand Dunes National Park and Preserve, Mosca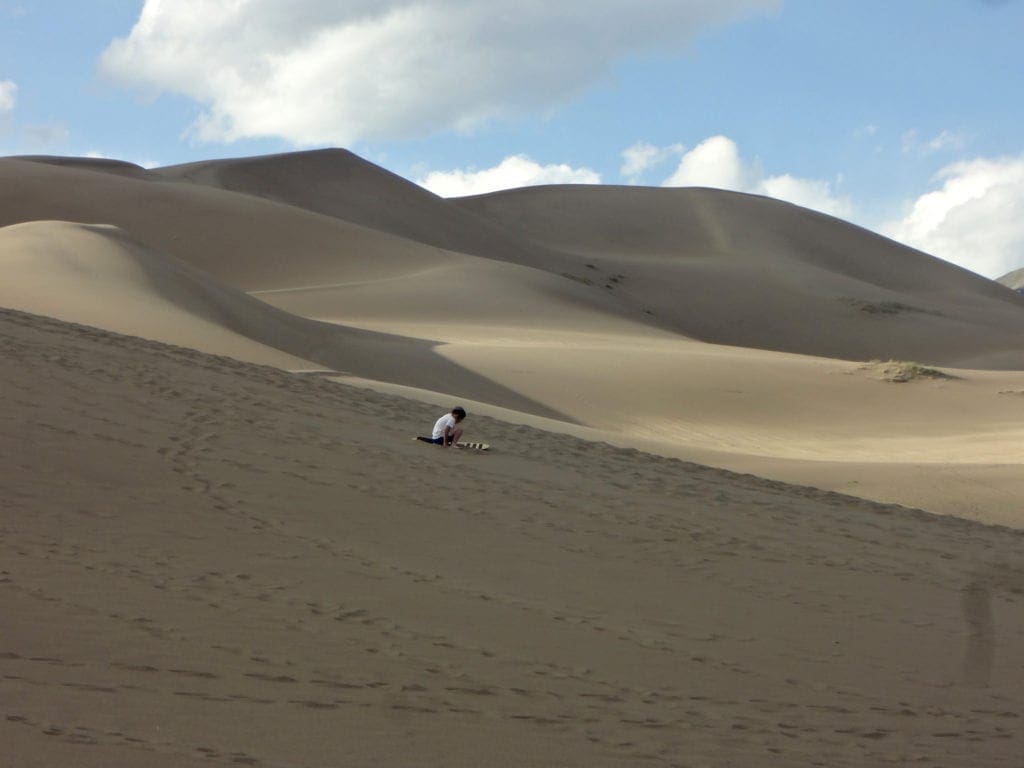 Great Sand Dunes National Park and Preserve is a must-see Colorado destination. Located near Mosca in Southern Colorado, it's known for its massive sand dunes – the tallest in North America! Kids will definitely enjoy navigating the park, which seems like the Sahara Desert teleported to Colorado. Be warned that walking to the top of the dunes can be exhausting, however, especially in the heat. (It gets muddy, so remember to take off your shoes and look out for hot sand!)
Once on top, one fun option for families is to rent a sandboard or sled to soar down the dunes. It'll definitely be a thrilling experience for kids! During the warmer months, kids can also cool down in Medano Creek, located at the dune's base. Hiking trails also run along the park's edge, leading to forests and wetlands. Stick around for sunset for an amazing view over the park!
Pro Tip: When visiting Great Sand Dunes National Park and Preserve, be sure to wear some sort of eye protection, such as goggles or shades. Since the location is isolated, also bring snacks, sunscreen, and water.
Cliff Palace at Mesa Verde National Park, Montezuma County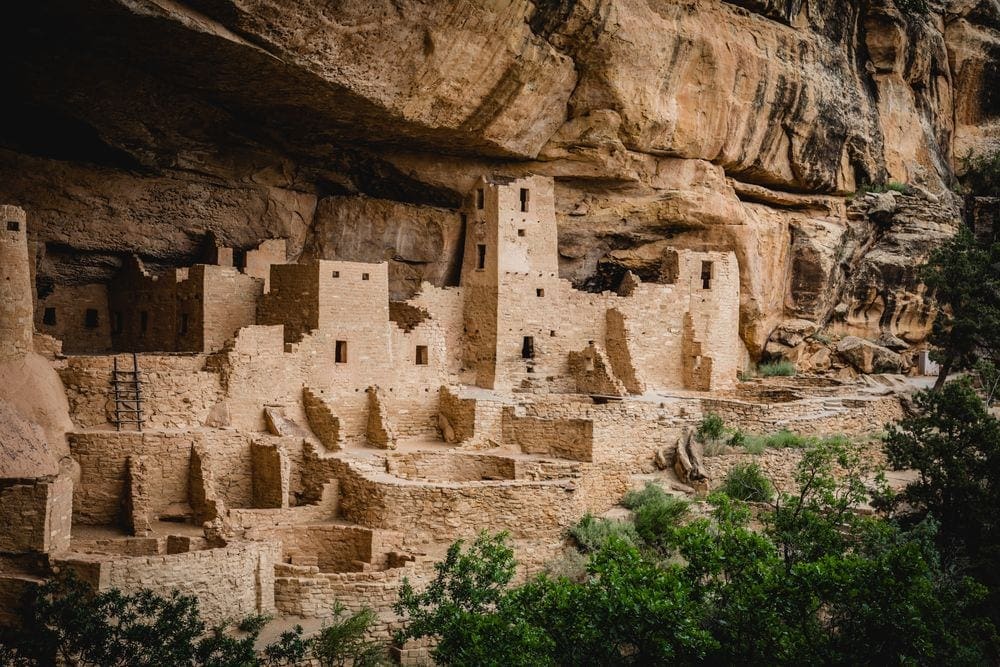 Located in Mesa Verde National Park, the Cliff Palace is the largest cliff dwelling in North America. Families will find this stunning archaeological recreation surrounded by wilderness in Montezuma County, in the southwestern corner of Colorado. Since it's pretty big, we recommend a mixture of driving and hiking to get the most out of your visit.
A Visitor's Center is available to give you a general overview, and park rangers will answer your questions. Families can also book a guided tour, which will make it easier to traverse the park and learn more about its importance. Of course, Cliff Palace will be your main destination, as it's the biggest and best dwelling in the park. Three overlooks you can reach for the best view are Sunpoint, Sun Temple, and Cliff Palace. Though the road to Cliff Palace is closed in the winter, you can still see it from Mesa Top Sites.
Durango and Silverton Narrow Gauge Railroad, Durango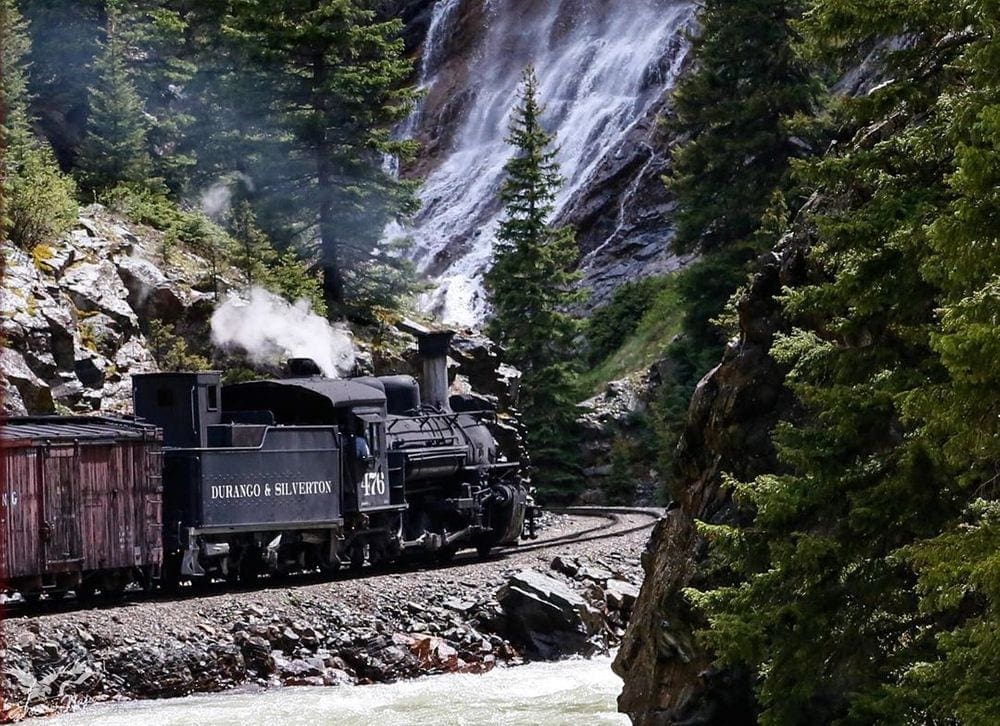 Riding the vintage Durango and Silverton Narrow Gauge Railroad is one of the best things to do in Colorado during the summer. From its base in the Durango Depot in Southern Colorado, two types of tours are available to families.
On an extended nine-and-a-half-hour round trip from Durango to Silverton, enjoy a scenic ride deep into the wilderness. Pass through the awe-inspiring San Juan National Forest and other locations inaccessible by car. You'll feel like you've stepped back in time while hearing tales about the Wild West and its mining towns. In Silverton, enjoy a two-hour layover to see the sights, shop, or grab a bite.
Prefer a shorter journey? Opt for the Cascade Canyon Express, a two-hour trip. Departing from the Rockwood Station 18 miles north of Durango, it runs along the Highline to provide iconic canyon views. Regardless of your choice, it'll be historic, educational, and entertaining!
Accommodation in Durango, CO – Book It All in One Place
Best Things to Do in Front Range Colorado with Kids
In Front Range Colorado, which serves as the gateway to the Rocky Mountains, there's no shortage of sights to explore as a family. Head to one of the state's national parks, enjoy summer fun at a water park or hike through phenomenal red rock scenery. If you need more parent-approved suggestions, keep reading for our favorite things to do in Front Range Colorado with kids!
Estes Park / Grand Lake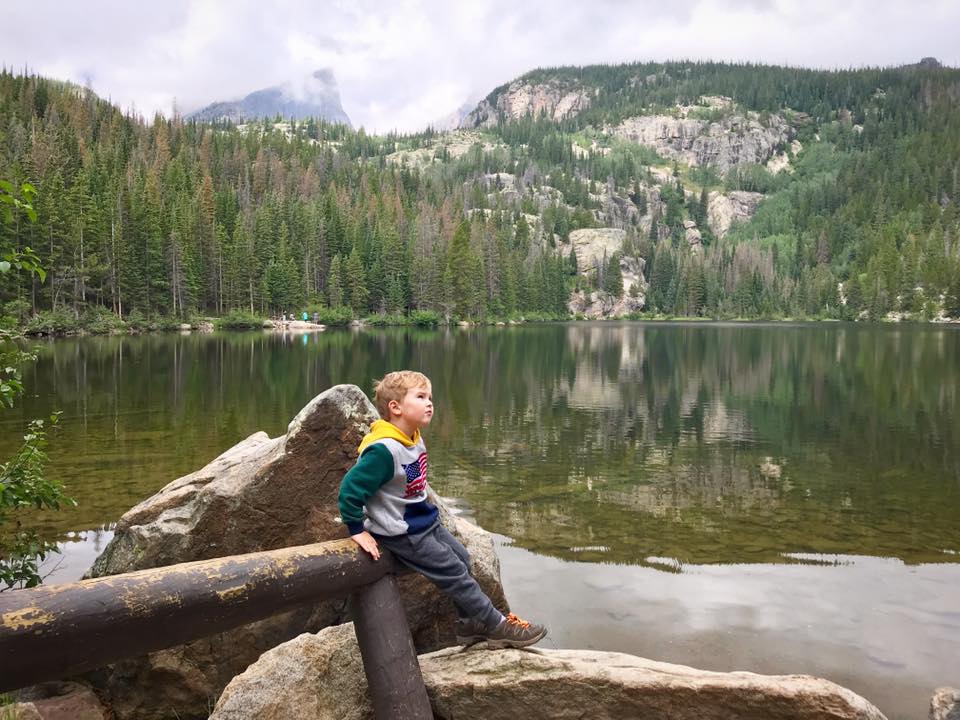 Rocky Mountain National Park is one of the most visited national parks in the U.S. Located in the Front Range between the towns of Estes Park and Grand Lake; it spans the Continental Divide, encompassing protected mountains, forests, and alpine tundra. Families can see the park through two scenic drives, Trail Ridge Road and Old Fall River Road. With incredible views of the Rocky Mountains, you'll pass through trees, rivers, and alpine wildflowers. Keep driving around and visit various viewpoints along the way, spotting elk, moose, and other wildlife.
There are also different trails for various skill levels. Featuring a lake, intermediate hikers love the 2-mile Dream Lake Trail or the 3.8-mile Emerald Lake Loop. Easier trails for younger children include the Bear Lake Trail, the Alberta Falls Trail, and the Lily Lake Loop. Ask about the Junior Ranger Program so kids can earn a badge!
Pro Tip: If you plan on hiking popular trails, get there early to find parking.
Download Rocky Mountain National Park: Driving Audio Tour App through Getyourguide.com! This driving tour starts at Estes Park!
Where to Stay Near Estes Park with Kids
Need somewhere to stay? Try the iconic Stanley Hotel, which dates back to 1909, famous for its appearance in the cult classic The Shining. If you're looking for a ranch experience, C Lazy U Ranch and YMCA Of The Rockies – Estes Park Center are two great options with activities for kids. Boulder Brook on Fall River has a convenient location on the banks of Fall River, located within a mile of Rocky Mountain National Park. Or, book a cozier stay at The Landing at Estes Park, where you can immerse yourself in nature just outside the entrance of the park. Families traveling to Colorado with kids also like to stay in RV parks or rent a cabin in the area.
Top 50 Estes Park waterfront vacation rentals | Vrbo.com
Water World Colorado, Federal Heights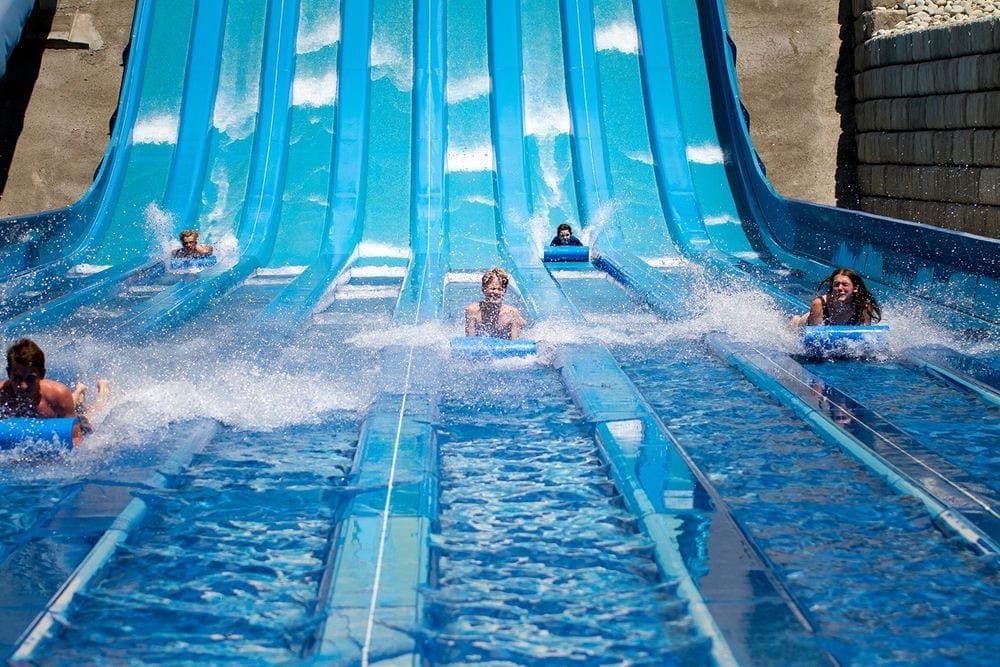 Cool down on a warm day at Water World Colorado! Part of the Hyland Hills Park and Recreation District in Federal Heights, this family-friendly destination is about 10 miles north of downtown Denver. It has a great variety of attractions for all ages, from thrilling rides for daredevil children to kiddie slides. Children will love the wave pool and the tubing rides like the Eagle River, Fox Tail, and Lazy River. Experienced surfers can ride "The Wave," and history enthusiasts can raft down the white water of the Lost River into a pyramid.
To make the experience easier, many parents also pay extra for the "tube valet," which helps carry your gear and diminishes the usual waiting time. Though less crowded on weekdays, Water World Colorado can fill up quickly on weekends. Food and drink are available on-site, but you're also allowed to bring certain items from home.
Red Rocks Park and Amphitheatre, Morrison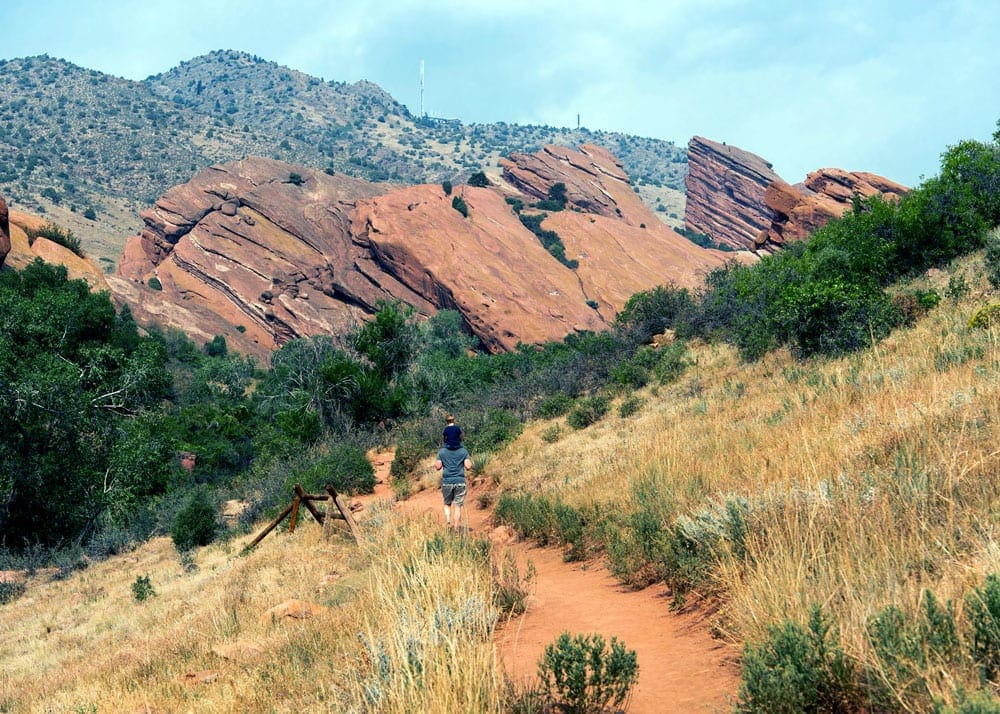 Add the Red Rocks Park and Amphitheatre to your family's Colorado vacation itinerary! Ten miles west of Denver near Morrison, this open-air amphitheater sits along the natural Red Rock landscape. It doubles as a concert venue and provides incredible panoramas during the evening hours when the crowd is aglow. However, families can also explore during the day. (Make sure they aren't closing early for an event.)
In addition to seeing the amphitheater, music lovers can't miss a visit to the Red Rocks Hall Of Fame and Colorado Music Hall of Fame at the top. There are also some easy trails around the park to explore the area more. Plus, a restaurant if you're hungry. This is certainly one of the best free things to do in Colorado with kids. Pictures definitely don't do the experience justice, but remember to take a few anyway. You truly can't beat the gorgeous view!
Reserve Colorado: Red Rocks, Dinosaur Tracks, & Gold Mine Tour with Getyourguide.com here!
Where To Stay Near Morrison With Kids
Wondering where to stay near Morrison with kids? We suggest Origin Hotel Red Rocks, an upscale contemporary hotel only three miles from the amphitheater. It offers great amenities for all ages, and there's a complimentary shuttle to and from the amphitheater.
Best Things to Do in Western Colorado with Kids
Western Colorado spans west of the Continental Divide and even into the southwestern part of the state. With such a vast area, there are many beautiful things to do in western Colorado with kids. From visiting the national parks to sitting in hot springs after a hike in the warm Colorado sunshine, your kids will surely find an outdoor adventure they love in western Colorado.
Black Canyon of the Gunnison National Park, Montrose County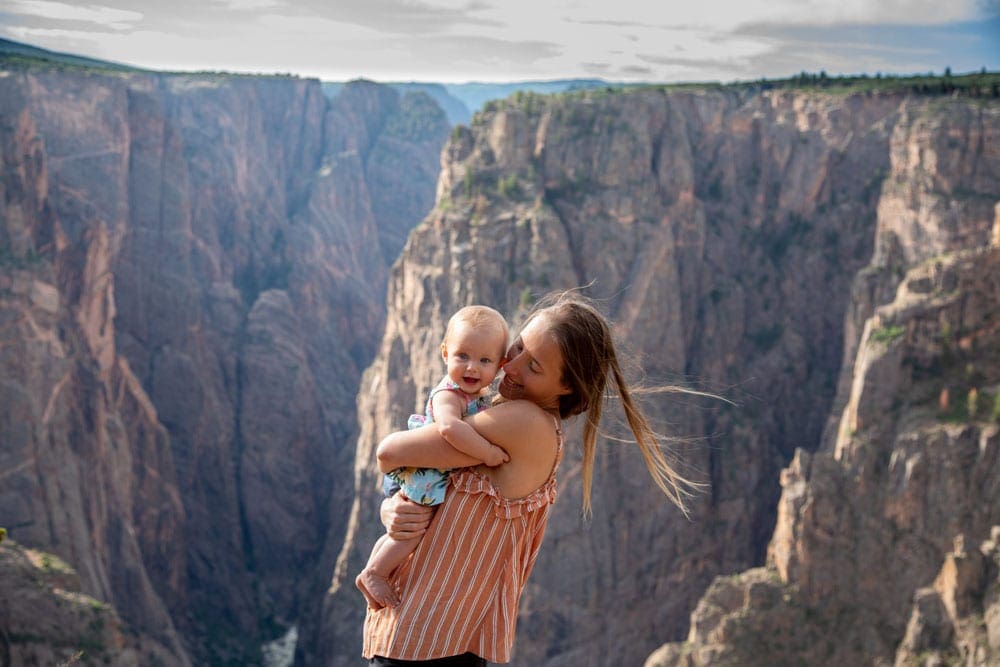 Black Canyon of the Gunnison National Park is a breathtaking destination with rich geological history. Located in Montrose County in Western Colorado, it consists of two rim overlooks, with the Gunnison River flowing below through the "black canyon." You'll get one of the best views in the park from Exclamation Point, accessible via an easy, flat three-mile round trip hike along the North Vista Trail. If you have time, stop at the North and South Rim to explore the beautiful overlooks. A lot of families also love the South Rim Drive. During your journey, you can stop at the roadside Pulpit Rock Overlook, Chasm View, Painted Wall View, Cedar Point, Sunset Point, and Gunnison Point Overlook. At the end of your drive, you can hike the 1.5-mile Warner Point Nature Trail. Visit the Visitor's Center for a map before your visit, or schedule a ranger-led tour.
Where To Stay Near Black Canyon of the Gunnison National Park With Kids
Need somewhere to stay near Black Canyon of the Gunnison National Park? There are three campgrounds located throughout the North and South Rim, open to rents and RVs. Since there aren't many hotel options nearby, many families also choose to rent homes on Vrbo. You can also search for accommodations in nearby Crested Butte, such as the Crested Butte Mountain Resort.
Maroon Bells, Aspen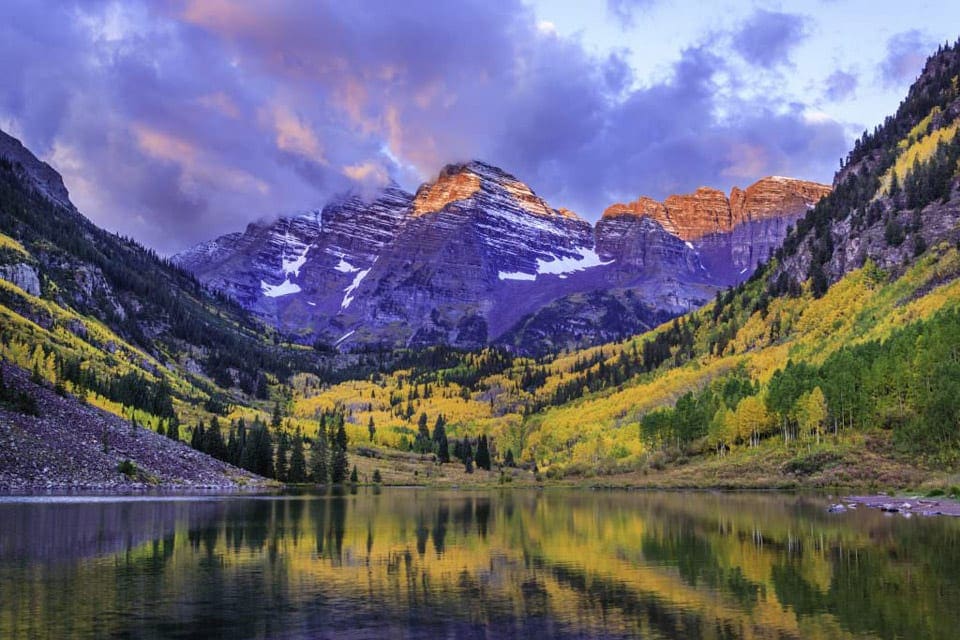 Maroon Bells is like a tiny slice of heaven. Located near Aspen in the Elk Mountains, these two peaks offer spectacular scenery among nature. Luckily, there are a ton of hiking and biking opportunities once you reach the Maroon Bells Scenic Area via shuttle. Little ones can try easy hikes like the Crater Lake Trail or the Maroon Creek Trail. Parents who are carrying strollers can take a quick lap around the Maroon Lake Scenic Trail.
If it's between mid-June and October, you could also drive Maroon Creek Road up to the Maroon Bells. Regardless of your choice, you'll be rewarded with breathtaking views of the peaks, pretty wildflowers, and other diverse wildlife and vegetation. During the warmer months, some families like to bring fishing gear with them, since you can fish in lakes, ponds, or rivers. Since this spot is so popular, reserve in advance to take the shuttle!
Pro Tip: Keep in mind the Maroon Bells shuttle service doesn't run in the evening, so plan your visit during the day. Private vehicles aren't allowed during tourist season, but may be an option off-peak.
Where To Stay In Aspen With Kids
If you need somewhere to stay in Aspen with kids, there are plenty of options. The bustling Viceroy Snowmass is located within Snowmass Village, with amenities such as multiple pools and a spa for parents. With kids' activities galore, a huge property, and a convenient location on Aspen Mountain at the base of the Silver Queen Gondola, you also can't go wrong with a stay at The Little Nell. For a classic Aspen experience, try the grand St. Regis Aspen.
Glenwood Caverns Adventure Park, Glenwood Springs
Take the whole family to Glenwood Caverns Adventure Park! Located near Glenwood Springs, this fun destination is accessible via a scenic gondola ride to a hilltop. (Don't look down if you're scared of heights, it's a 7,000-foot drop!) From there, your family can explore an adventure park, plus two caves. Kids will love the exciting adventures for all ages, ranging from kiddie rides like the mini Ferris wheel to thrilling options like the Alpine Coaster or Haunted Drop. You won't believe how exhilarating it feels to soar above the mountain on a Giant Canyon Swing! Laser Tag is available for more mountaintop fun.
Families should also save time to tour the caves. The Fairy Caves Tour, which lasts about 40 minutes, involves light walking, perfect for children. If you want to see more of the area, take a hike. Stop at the on-site restaurant for dinner afterward!
Pro Tip: Though Glenwood Caverns Adventure Park is a popular summer destination, it's cheaper to visit during the off-season in winter.
Hanging Lake, Glenwood Canyon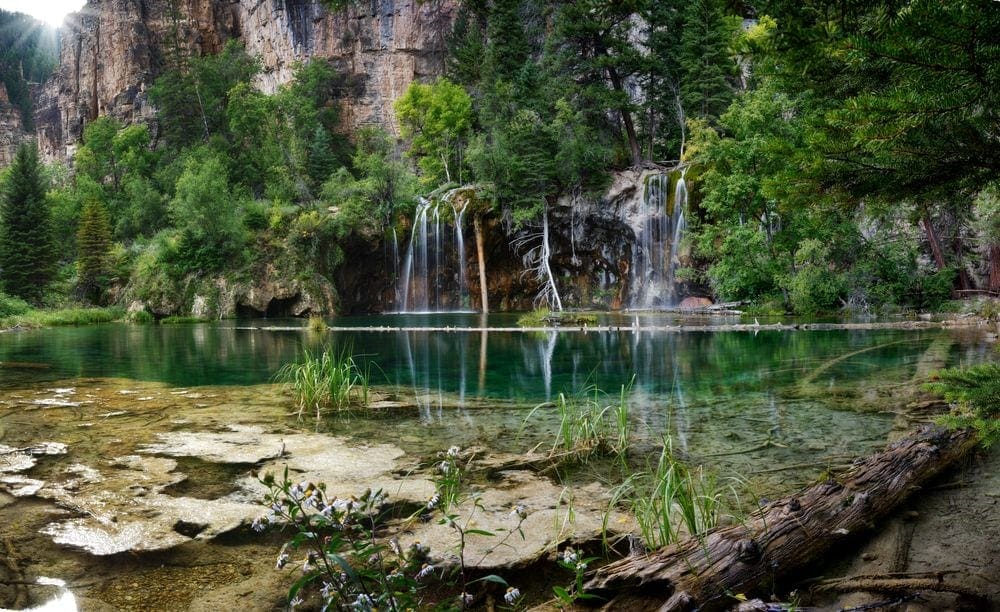 Spend your Colorado vacation at Hanging Lake! Nestled in the heart of Glenwood Canyon along the White River, this lake with an adjacent waterfall sits on a cliffside location surrounded by lush nature. Families can reach Hanging Lake through the scenic, 1.2-mile Hanging Lake Trail, running from the bottom of Glenwood Canyon through Deadhorse Creek Canyon.
Though the trail isn't too long, it's pretty steep, so it may not be great for very young children. There'll be plenty of pretty places to stop along the way and snap pictures, however! Once you reach the end, you'll come upon a boardwalk surrounding the lake, which was formed by a geologic fault that caused it to separate from the valley floor. It's truly an incredible and unique sight, as water from Bridal Veil Falls flows from up above. Wear good shoes, bring lots of water, and remember there's no cell service.
Pro Tip: Visits to Hanging Lake are now only allowed on a reservation basis. Book your trip in advance to guarantee you'll have a chance to see this stunning Colorado gem.
Top 50 Glenwood Springs Vacation Rentals | Vrbo.com
Thank You To Our Community!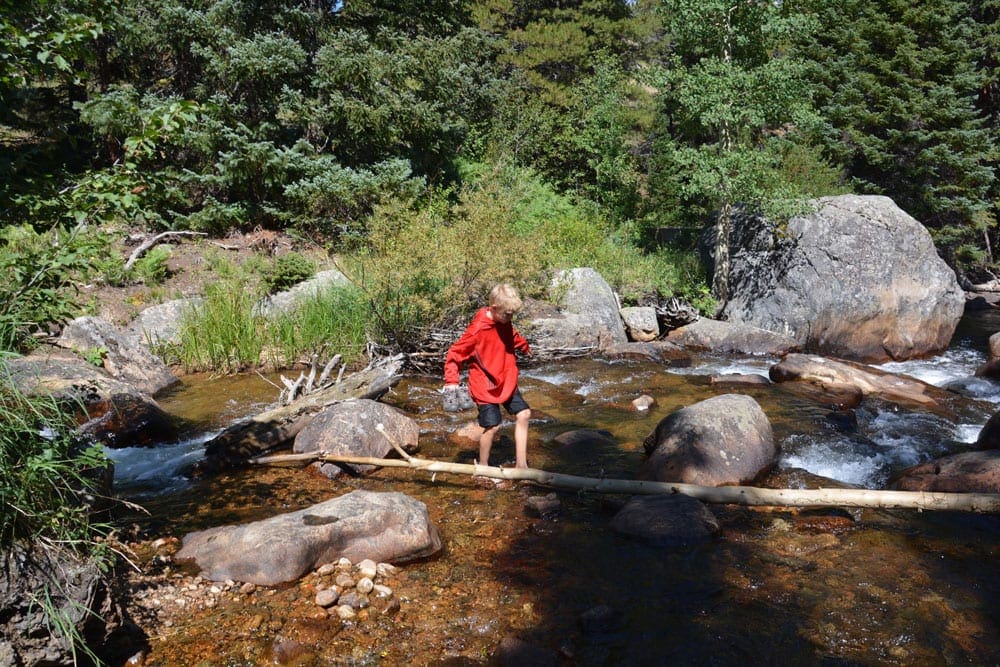 As always, this article on the Top Things To Do In Colorado With Kids would not have been as helpful, informed, or family-friendly without the contributions and input from the amazing members of our Facebook group, Families Who Love To Travel! For more travel recommendations on things to do in Colorado with kids or other vacations with children, be sure to join us on Facebook at Families Who Love To Travel. It's a community of dynamic families who love to adventure and explore through travel.
*This post may contain affiliate links that may earn us a small commission, at no additional cost to you. Affiliate links in no way inform the hotels, sights, products, or other recommendations included in our articles. All opinions and recommendations expressed here are compiled from submissions submitted by the generous members of our Families Who Love To Travel community.
READ NEXT: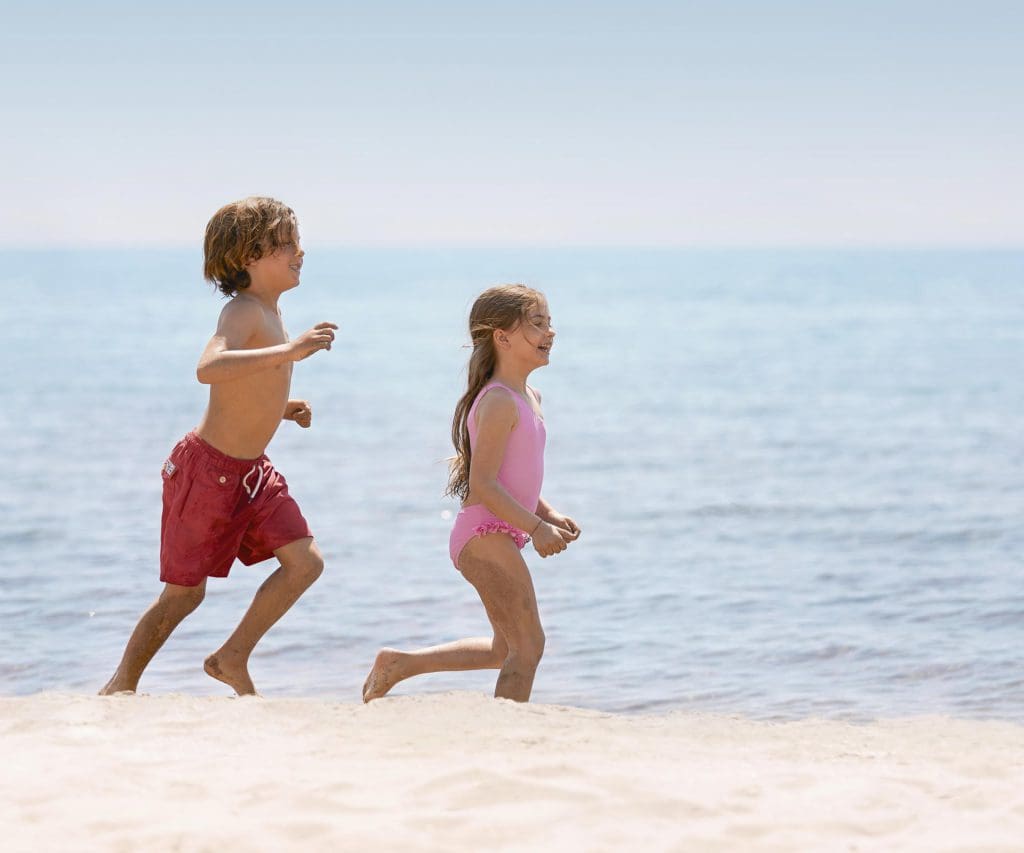 ​​From the sun-kissed beaches of Crete to the rugged terrain of Rhodes, these all-inclusive hotels...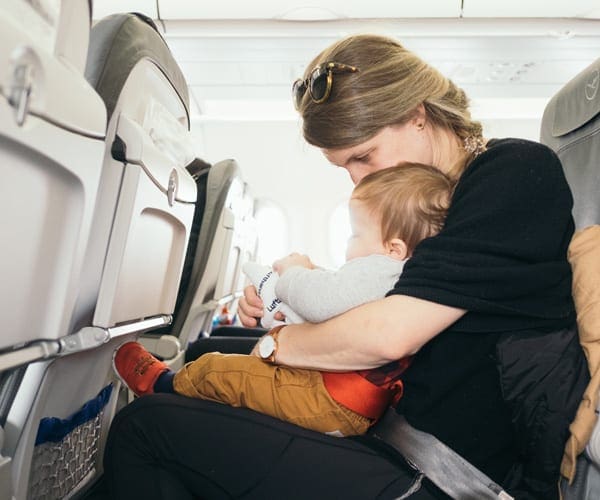 Families Who Love To Travel contributor Meghan Oaks provides her 10 best tips for your...