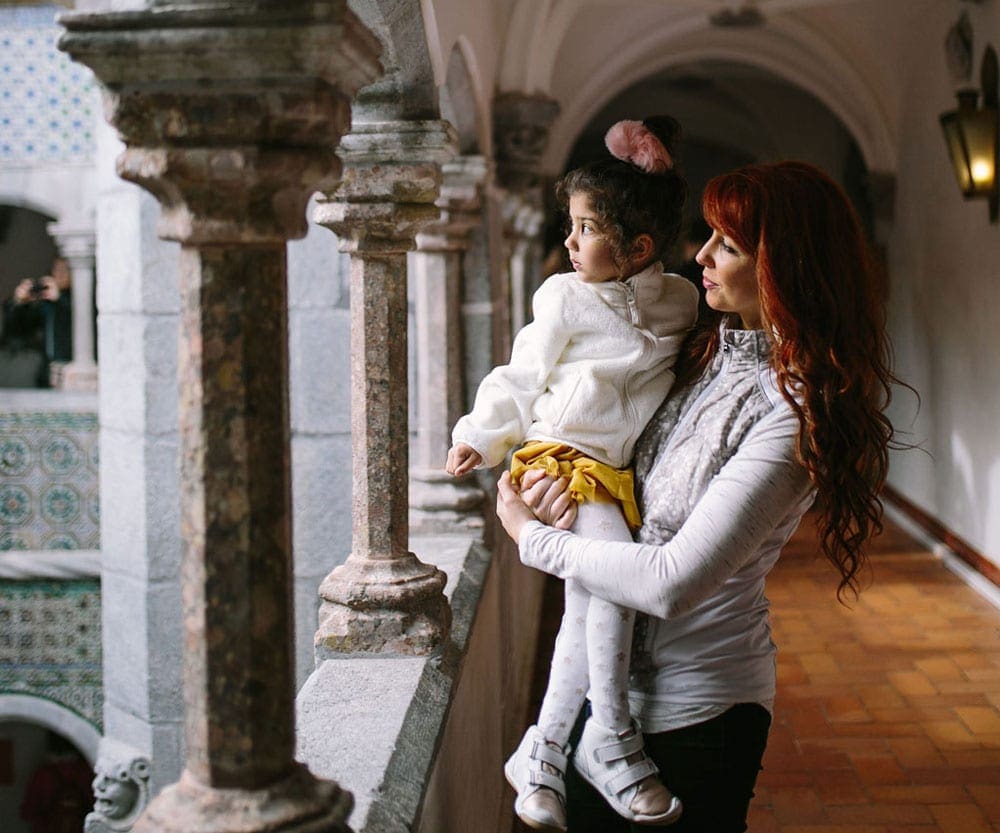 Check out these amazing things to do in Lisbon with kids! If you've finally booked a family trip to Lisbon, Portugal's coastal capital city, we're positive everyone in your family is elated. Located on the Iberian Peninsula, this sun-kissed city is known for its rich history, culture, and cuisine. From discovering fairy-tale castles and natural wonders to visiting museums and interactive science centers, Lisbon offers many family-friendly activities to keep the kids entertained during your stay. To make planning your family vacation easy and enjoyable, we rounded up Amazing Things To Do in Lisbon With Kids!
Have an Animal Encounter
Visiting Lisbon is a great way to get up close and personal with a variety of exotic animals. From the sea to dry land, here are some picks for an animal adventure in Lisbon with kids!
The Lisbon Zoo (Jardim Zoológico)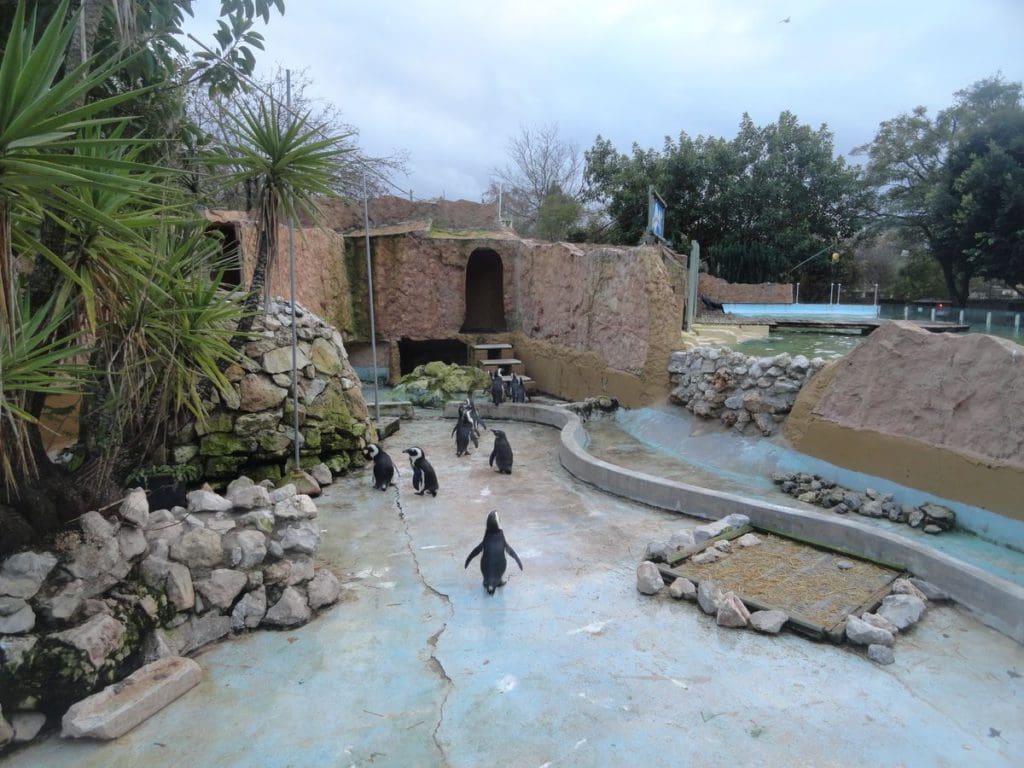 The Lisbon Zoo is a one-of-a-kind destination for families. Located near Sete-Rios, this zoological garden houses thousands of exotic animals from all over the world. What's even better is that habitats are largely divided by region, so you can feel like you're traveling on a fun adventure!
Attractions include the Valley of the Tigers, Temple of the Primates, and Lagoon House, where you can encounter the zoo's resident dolphins. Recently, they even opened a new Savanna enclosure to spot elephants, giraffes, hippos, and more. Little kids will love a visit to the petting farm and feeding goats, alpacas, and other furry friends. Plus, after you explore, you can even ride the cable car around the zoo, a fun activity already included in your ticket price! Just be sure to get here early to avoid lines and book online to get a discount on your admission fee. Certainly, this is one of the best things to do in Lisbon with kids!
Book Tours and activities in Lisbon using Viator, now.
The Lisbon Aquarium (Oceanario de Lisboa)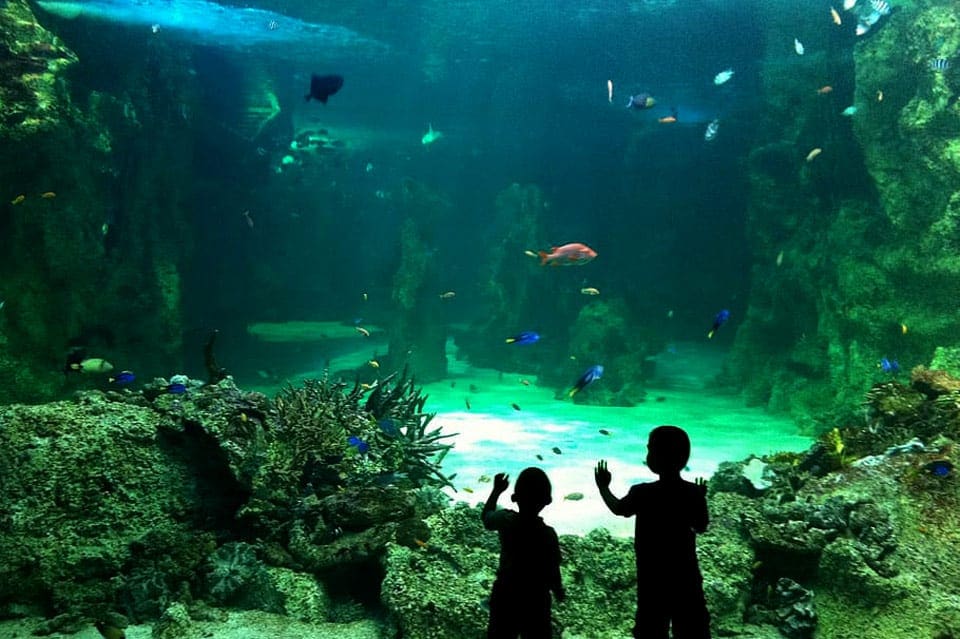 As one of the best things to do in Lisbon with kids, the Lisbon Aquarium is an educational excursion the whole family will love. Located in the Parque das Nacoes, spending an afternoon here with kids will be a sure treat. The Lisbon Aquarium highlights Portugal's deep connection to the ocean, offering kids up-close views of 450 different species of marine life including jellyfish, sharks, stingrays, penguins, and otters through tours, activities, and engaging exhibitions.
Recognized as the world's largest saltwater Oceanarium, it served as the centerpiece of the 20th Century's last World Fair-themed "The Oceans, a Heritage for the Future". Kids will learn about the wonders of ocean life and habitats as well as how we can all work together to preserve our oceans for the future! Expect to leave holding hands with young, budding marine biologists.
Reserve your Lisbon Aquarium tickets now and pay later here with Viator!
See a Historical Sight
If you have a history buff in the family, you'll love these kid-friendly historical sights in Lisbon. From old churches to underground tunnels, here are our favorite historical things to do in Lisbon with kids!
Praca do Comercio
With its canary yellow façade and grand 18th-century arcades, the Praca do Comercio is one of the largest and most celebrated squares in Europe. Located in downtown Lisbon, the Praca do Comercio is full of plenty of things to do for the whole family. After letting your kids have fun running around the square's vast open spaces, you can take a moment to peruse the upscale shops, museums, bars, and restaurants.
Plus, there are fantastic street performances as well as beautiful works of art and sculpture on display! This riverside square is a great place for a leisurely stroll, a late lunch, or an evening out on the town. After dinner, head to the edge of the square. Kids can marvel at the boats passing by or also at locals fishing for eels!
Book your Lisbon Hop-on Hop-off bus tour here with Getyourguide.com!
DIY Walking Tour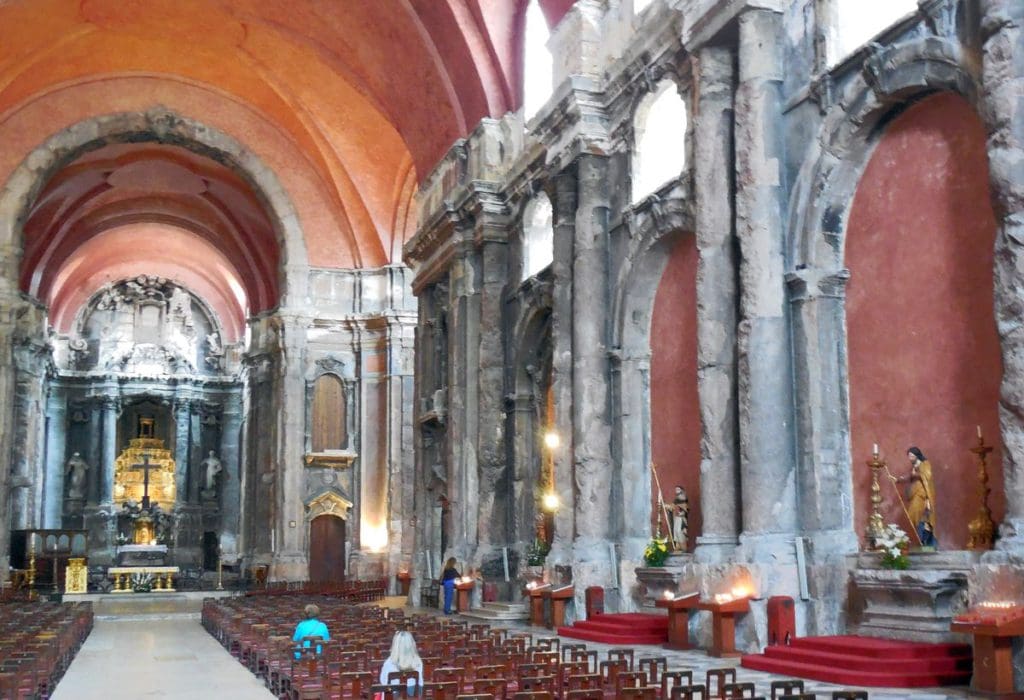 Lisbon is a city filled with history and culture. If you want to take a DIY historic walking tour while on vacation, there are lots of landmarks to put on your itinerary. Visit The Lisbon Cathedral, one of the most important in the city. Another national monument, the Church of St. Dominic, is also worth a visit if you have extra time.
Open only a few days a year, Galeries Romanas da Rua Da Prata is an underground tunnel once used by Romans to transport goods, truly an incredible hidden gem! Lisbon also has some historical districts worth strolling through, such as the Alfama District. It's the oldest in the city, with its winding, narrow streets. Bairro Alto is another popular historic neighborhood in Lisbon. Showcasing a trendier, more Bohemian vibe, you'll find historic houses decorated with street art, traditional Fado music, and even the Bica Funicular.
Save money and time with a flexible Lisbon Card. Get it here today with Getyourguide.com!
St. George's Castle (Castelo de St. Jorge)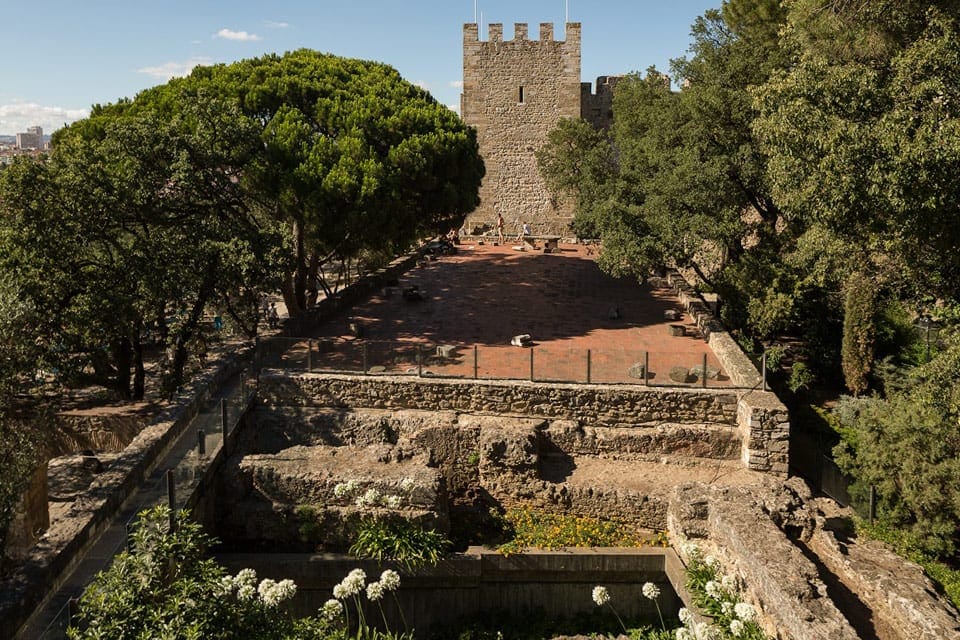 Kids will surely find St. Georges Castle impressive, as it's a must-stop tourist destination for learning about Lisbon's history and heritage. Located high on top of a hill, this breathtaking archeological site dating to the 11th century offers spectacular panoramic views of Lisbon. Stir your imaginations with the centuries-old relics, canons, underground chambers, and eighteen towers you'll find on-site.
Enclosed within the fortress walls, you will also find a beautifully preserved garden, a courtyard, and vast, open spaces for the kids to run around. Kids will especially love seeing the magnificent peacocks which roam freely around the property. As one of the best things to do in Lisbon with kids, guided tours are available along with touch screens that describe life around the castle over the years. Lastly, finish your visit with a stop at the restaurant or a stroll through the Castle's small archeological museum.
Find cheap flights to Portugal
for your family!
Visit the Many Museums
Whether you're interested in science, history, or technology, Lisbon has a museum for you. There are so many great finds located throughout the city, which is why visiting a museum is one of the best things to do in Lisbon with kids! Here are our suggestions.
Lisbon Science Museum (Pavilhão do Conhecimento)
There are many reasons Lisbon's Science Museum tops everyone's list of best family-friendly things to do in Lisbon. Located in the heart of the Parque das Nacoes, the Lisbon Science Museum provides interactive exhibits and activities to spark curiosity and wonder in kids of all ages.
Highlights include an entertaining video game area perfect for pre-teens, an optical illusions exhibit that is sure to captivate the eyes of little ones, and interactive workshops where older kids can make jewelry and other creations with state-of-the-art 3D printers. And you'll finally get to live out that childhood fantasy of cycling across a tightrope! With so much to do and see at Lisbon's educational and interactive museum, your whole family will leave with new interests and knowledge of the amazing world of science. No wonder this is one of the best things to do in Lisbon with kids!
Get discounted entry to the Lisbon Science Museum with the Lisbon Card through Tiqets!
Lisbon Story Centre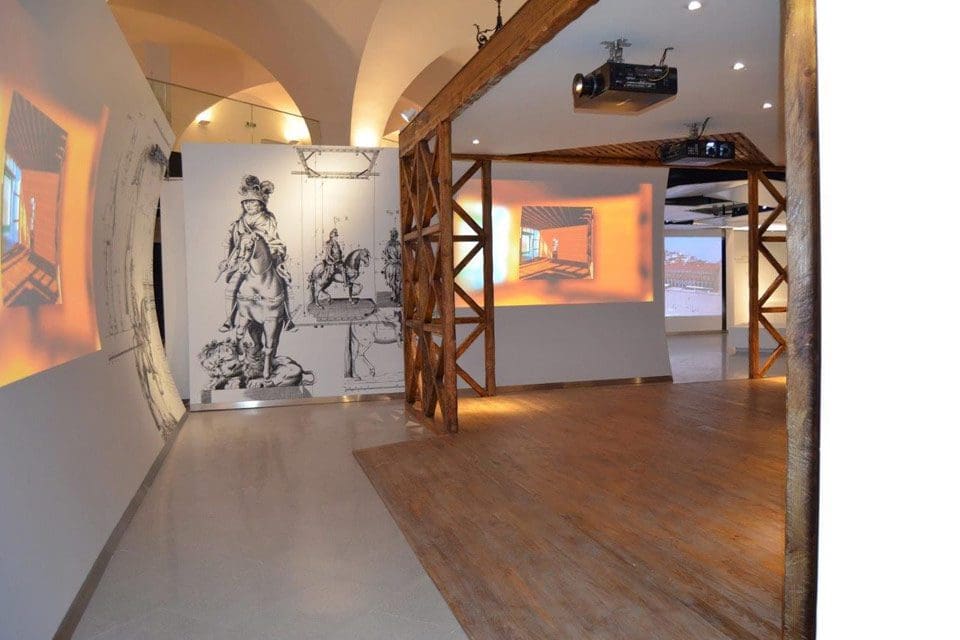 The Lisbon Story Centre tops our list of kid-friendly ways to learn about the city's rich history and culture. The interactive technology-based facility educates visitors about Lisbon's development. Starting from its foundation to modern times, through engaging multi-media displays along with models, photographs, paintings, and films. With an audio guide system, you are taken on a 60-minute journey through space and time describing historically accurate events and dramatic scenes of the city's different eras.
Your kids will be entranced by the recreation of the 1755 earthquake, which is shown as a sensory theatre experience. In fact, as one of the best things to do in Lisbon with kids, it'll captivate visitors of all ages! Extend your tour with a stop on the 1st floor. Kids can play with an interactive scale model that recreates the center of Lisbon. The hands-on activity will allow your family to work together, visualizing predetermined events and the places where they occurred.
Lesser-Known Lisbon Museums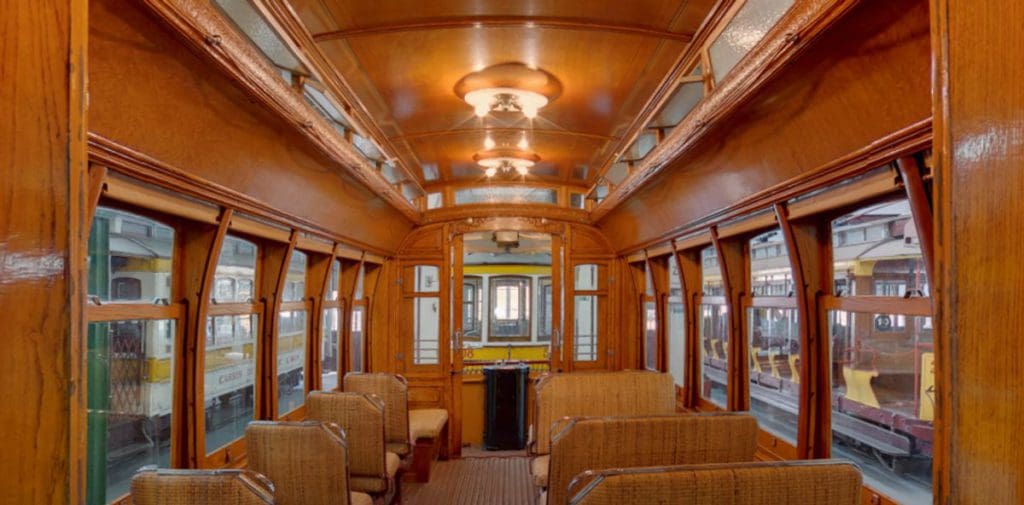 Lisbon may be filled with art and science museums, but how about a lesser-known option? Here are four of our favorite options for families looking for more of the best things to do in Lisbon with kids!
Visit the Museo Do Fado, an institution dedicated to preserving the history of Fado, a traditional Portuguese song.
Any kid with an interest in automobiles or transportation can't miss the National Coach Museum, which features a collection of historical carriages from the 17th, 18th, and 19th-century.
Museu da Carris, also known as the Tram Museum, showcases another part of Lisbon's transportation history. Visit here for an in-depth look at how Lisbon's subway system has evolved over the years, and you can even walk through a real vintage tram!
To learn more about the art of storytelling, families can also stop by the Museu da Marioneta, otherwise known as the puppet museum! Here, exhibits are arranged into a narrative format, showcasing a variety of puppets and other folk representations.
See Lisbon in Style from a New Perspective
Why walk around Lisbon when you can sightsee in style? Hop on a tram, take the funicular, or book a boat cruise! If you're looking for an alternative way to see the city, consider one of these family-friendly activities in Lisbon for families.
Tram 28
You must take a ride on the Tram 28 during your family vacation in Lisbon. Beginning at sea level in the heart of Lisbon, this charming journey takes you through a meandering maze of streets lined with stunning colonial architecture and finishes just before the gates of St. George Castle. Your kids will especially love how the vintage yellow streetcar rattles and twists through Lisbon's old city and its historic and lively neighborhoods. This is a fun and exciting way for your family to sightsee, offering amazing views of Miradouro das Portas do Sol, Miradouro de Santa Luiza, and Lisbon's ancient cathedral, the Sé. The entire ride takes approximately one hour. Plan to go either early in the morning or in the evening to beat mid-day crowds. There is a playground near the final stop where kids can blow off some steam!
Lisbon Cable Cars (Telecabine Lisboa)
For family-friendly ways to explore Lisbon, the city is not short of exciting opportunities to sightsee from the sky. Inaugurated for the International Exposition of Lisbon EXPO'98, Telecabine Lisboa offers a ride in a gondola over the Tagus River.
The South terminal is located on the Passeio de Neptuno, next to the Oceanarium and the North terminal is located on Passeio das Tágides, next to the old Vasco da Gama Tower. So plan to take advantage of all the kid-friendly things to do near the Telecabine Lisboa terminal stations. Smooth and quiet, the entire trip lasts 8 to 10 minutes. Enjoy breathtaking, panoramic views of the Tagus River, Nations Park, and the Vasco da Gama Bridge, which is the longest bridge in all of Europe! Riding these cable cars is a must-do activity in Lisbon that your whole family will enjoy!
Boat or River Cruise
A boat or river cruise is a wonderful way to see Lisbon as a family. Whether you're interested in a dolphin cruise, a sunset tour, or something else entirely, it won't be hard to find one. Lisbon by Boat is a trusted choice, offering families a range of excursions. Cruise down the Tagus River as you see some of the most famous landmarks in the city and learn more about their history.
Lasting around two hours, one of the most popular options they offer is sunset cruises, which include finger food to snack on. Nosso Tejo – Lisbon Traditional Boats also showcase great options for families, like their Guided Sightseeing Cruise for an hour and a half. For families with young kids who can't sit still, there's also an express 45-minute option. Other companies, such as Lisbon Dolphins, offer a chance to spot whales, dolphins, and other Lisbon wildlife. Certainly, this is one of the best things to do in Lisbon with kids!
Book your Lisbon Hop-on Hop-off Boat Tour here with Tiqets!
Santa Justa Elevator
Located inside a striking neo-gothic tower in the Rua de Ouro, Portugal-born French architect Raoul de Mesnier du Ponsard, an apprentice of Gustave Eiffel, built the Elevador de Santa Justa in 1902. You'll quickly notice the similarities to Paris' Eiffel Tower. The structure provides quick, easy, and scenic transportation between Lisbon's Baixa and Bairro Alto districts.
If days of sightseeing have left the kids (and you!) a little tired, they'll jump at the chance to ride an elevator instead of trekking up a hill. After rising seven stories to a skywalk, the whole family will enjoy taking in beautiful views of Lisbon's skyline including major sites such as Rossio Square, St. George's Castle, and the Tagus River. Kids and adults alike will be mesmerized by the densely sited colonial structures that create an unrivaled urban mosaic!
Go on an Adventure
Adventure awaits your family in Lisbon! If you're looking for a fun way to mix up your vacation, look no further than these thrilling things to do in Lisbon with kids.
Adventure Park Lisbon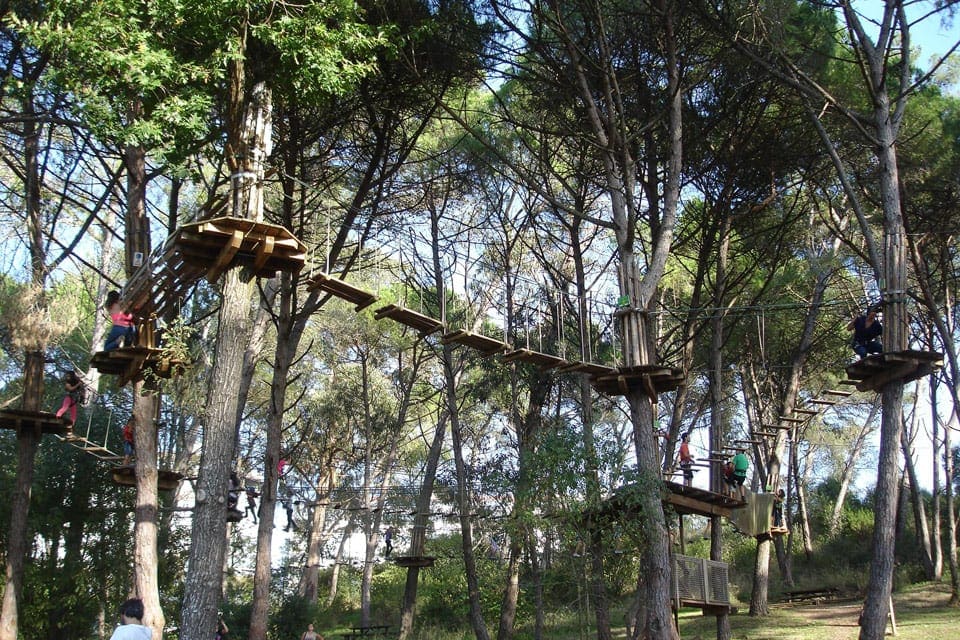 One of the best things to do in Lisbon with kids doesn't relate to history and culture. In fact, the city also offers exciting, family-friendly ways to get outside and appreciate nature. The Adventure Park is a ropes course suspended under a canopy of trees, which offers your kids (or you!) the chance to be Tarzan for a day!
A great alternative to standard sightseeing activities, the adventure course consists of various features positioned between platforms in the treetops. Bridges, ropes, nets, and tunnels hang from tree to tree. Each obstacle ends with a slide, and there's even a special ropes course called the Little Forest for younger children. Adventure Park is a thrilling way to experience the lush, natural beauty of Lisbon. There is truly something for kids (and kids at heart) at Adventure Park Lisbon!
Book Center of Lisbon to Belém Bike Tour using Viator.
Caves of Grutas de Mira de Aire (Caves Mira de Aire)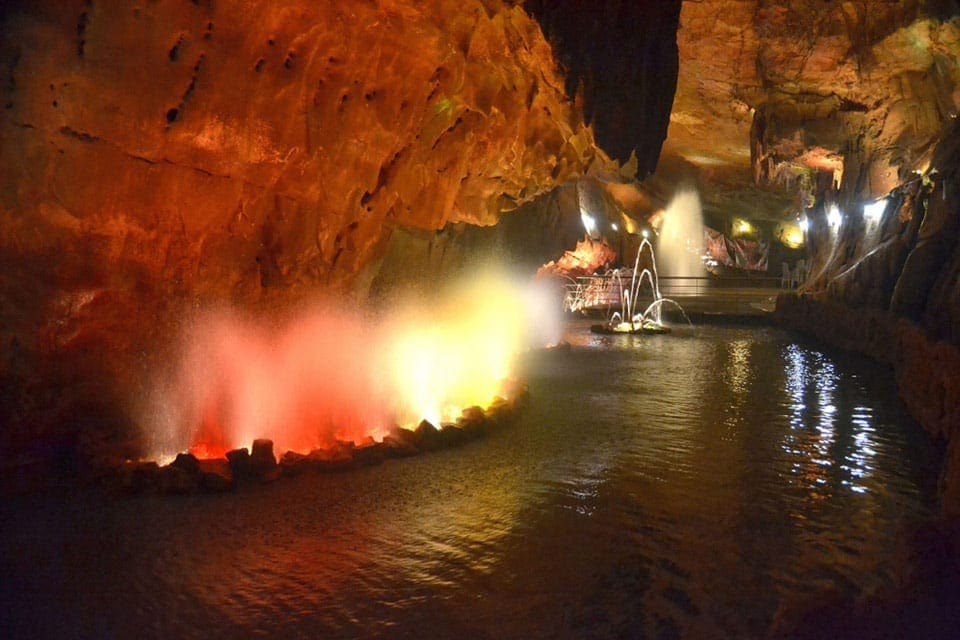 As one of the best things to do in Lisbon with kids, visit the Mira de Aire Caves to experience the city's natural wonders. Only discovered in 1947, these vast, underground networks started their formation 150 million years ago during the Jurassic Age. Your kids will love looking at the dinosaur footprints located here today!
The caves are illuminated with colored lights that reveal the beautiful shapes of stalagmites and stalactites. Beginning with a video detailing the history of the place, the group tour embarks en route, making several stops in various viewing galleries. Your guide will explain the natural development of these wondrous caves over millions of years. As one of the best things to do in Lisbon with kids, kids will be mesmerized by the colorful water features that sit at the bottom of the caves. Plus, the various natural rock formations have evolved slowly over time!
Stroll through the Gardens of Quinta da Regaleira in Sintra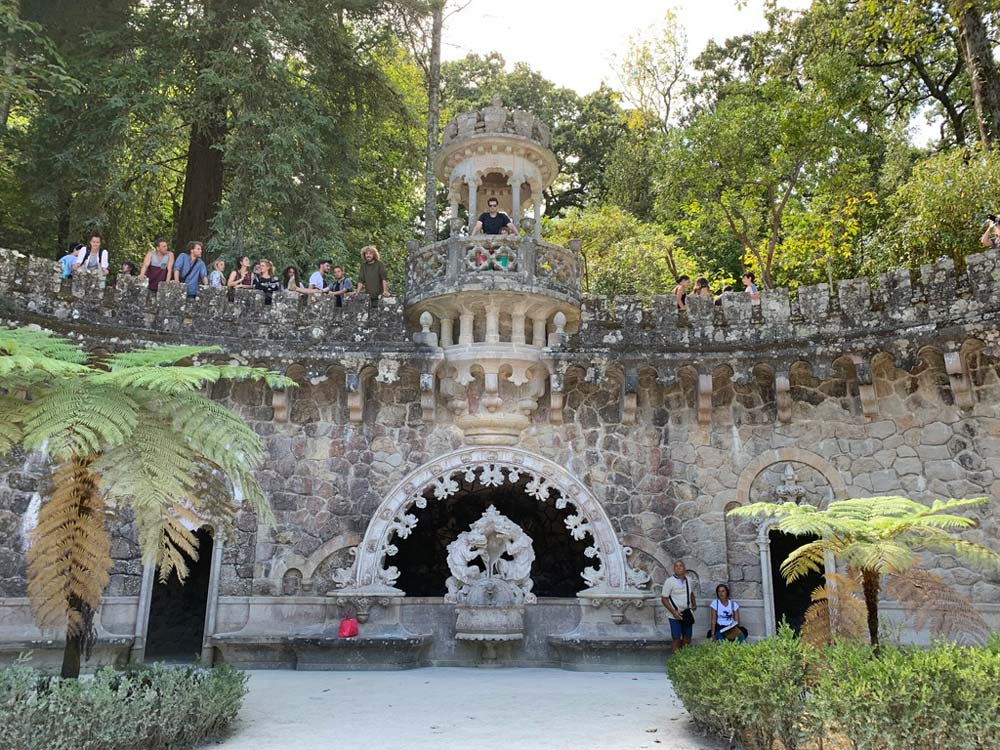 Classified as a World Heritage site by UNESCO, the Quinta da Regaleira is a decorative 20th-century residence. Offering exciting things to do, the grand, five-story house is celebrated for its eccentric neo-gothic architecture and decoratively carved pinnacles. The star attraction here is the enchanted gardens, considered one of the most beautiful and mysterious in the world!
Styled to represent ancient secret orders, the Gardens of Quinta de Regaleira feature a network of hidden caves. Plus, the Initiation Well, which you can descend by a spiral staircase, and various elements of concealed symbolism. Your kids will love exploring the various tunnels, towers, and water features. Pack a picnic lunch for the family to enjoy while taking in the marvelous views from the meticulously maintained garden! There is also a cafe located on the grounds.
Spend a Day at the Beach
Soak up the sun during your family vacation by visiting a nearby beach! While Lisbon itself doesn't have many beaches, you'll find plenty of nearby places worth visiting for your trip. To visit some of Portugal's best beaches outside of the city, make it an extended day trip. Nearby Tamariz Beach, centrally located in Estoril, is ideal for children because it has soft golden sand, calm waves, and even a nearby swimming pool.
You could also visit Carcavelos Beach, a nearby destination popular with Lisbon locals. Here, you'll find calm waters, pristine sand, and tourist facilities such as cafes, and restaurants. etc. Oeiras Beach is a great option if you don't want to travel too far outside of Lisbon, since it's accessible via a half-hour train ride. Other Lisbon beaches for kids include Costa da Caparica, a bustling resort town, or San Pedro Do Estoril Beach, great for surfing.
Book your Lisbon Surf Experience here with Getyourguide.com!
Walk Around Belem
Walking around Belem is a must when visiting Lisbon. Known for its seafood restaurants, colorful tiled houses, and laidback ambiance, this charming neighborhood is situated along the Tagus River. It also offers some of the best things to do in Lisbon with kids! Visit the Belem Tower, a 16th-century fortification and one of the most recognizable landmarks in Portugal. Climb up five floors and watch history come alive!
The Mosteiro dos Jeronimos also showcases some of the most stunning architecture in the city, as this highly ornate monastery dates back to the order of Saint Jerome. Kids will love strolling through the lush gardens while parents appreciate the historical touches. Across from the monastery, you'll also be able to access the Discoveries Monument through the underpass. Inside, there's a small exhibition space with rotating shows, plus an elevator. Ride it to the top for a birds-eye view of Lisbon!
Look here for Belem Tours and Tickets here with Viator!
Plan a Day Trip
Take a day trip with kids on your Lisbon vacation. Sintra, a nearby resort town, boasts historical Moorish architecture, hiking, beaches, and more. Visit the Sintra National Palace, the Castle of the Moors, or Pena Palace. Kids will also love strolling through the gardens at Quinta da Regaleira, a historic residence with Neo-gothic architecture.
Or, take an adventure to Praia da Ursa or Praia da Adraga. Beach lovers should also consider heading to Cascais, renowned for its pristine shoreline. Two beaches, Praia da Rainha and Praia da Ribeira, provide plenty of chances for family fun. Prefer to stroll through cobblestone streets in a charming Medieval town?
Try Obidos, where you can explore antique shops, handicraft stalls, and more on the main street, Rua Direita. Don't forget to see the antique arches at Porta da Vila, the historic Church of Santa Maria, or the Obidos Castle!
Look to book day trips from Lisbon here through Viator!
Where to Stay in Lisbon with Kids
If you need somewhere to stay in Lisbon with kids, you'll also be happy to know you have options. We suggest locations like The Lumiares Hotel & Spa, Penha Longa Resort, or also the Olissippo Lapa Palace Hotel. Then, for an upscale luxury experience for a larger family, we recommend the Marinhal Lisbon Chiado Family Suites. Finally, book a stay at the Altis Prime Hotel for apartment-style accommodations.
RELATED ARTICLE: Best Hotels in Lisbon for Families (All Parent-Recommended)
Find Perfect Accommodations in Lisbon on Vrbo.
Happy Travels!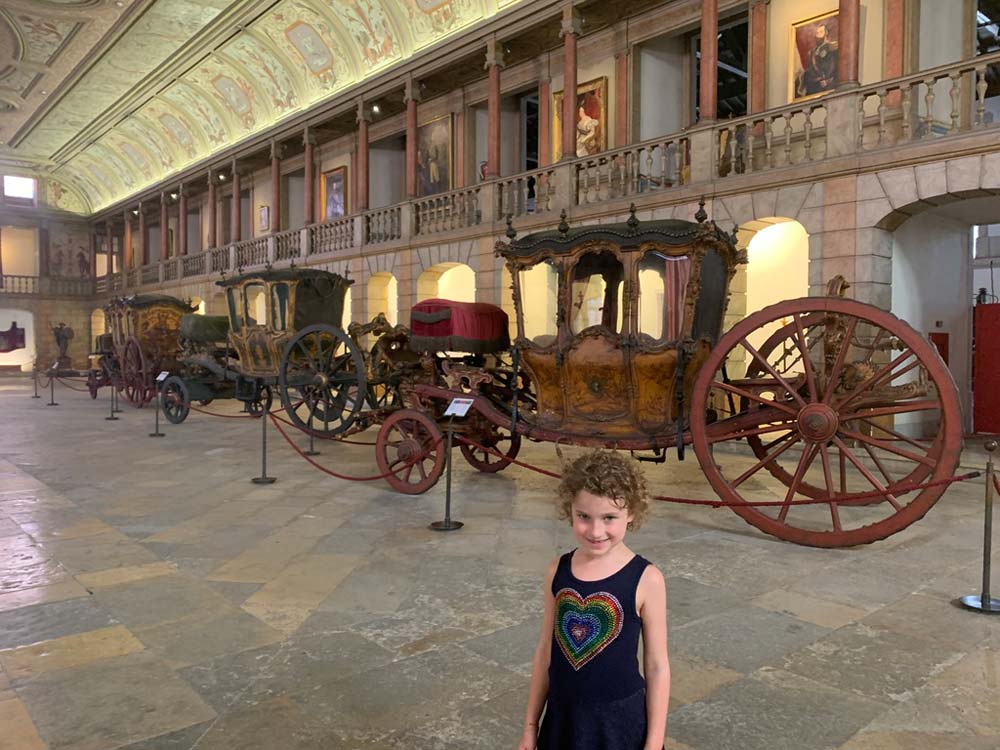 What's so amazing about Portugal's capital city is all the things to do in Lisbon with kids. There are always exciting activities and sightseeing opportunities kids and parents can enjoy together. From the centuries-old castles to the ultramodern museums, Lisbon is the ultimate European vacation the whole family will love! Enjoy Lisbon with your kids!
Searching for more Portugal travel tips? Check out our Portugal Family Itinerary!
*This post may contain affiliate links that may earn us a small commission, at no additional cost to you. Affiliate links in no way inform the hotels, sights, products, or other recommendations included in our articles. All opinions and recommendations we expressed here we have compiled from submissions submitted by the generous members of our Families Who Love To Travel community.
READ NEXT: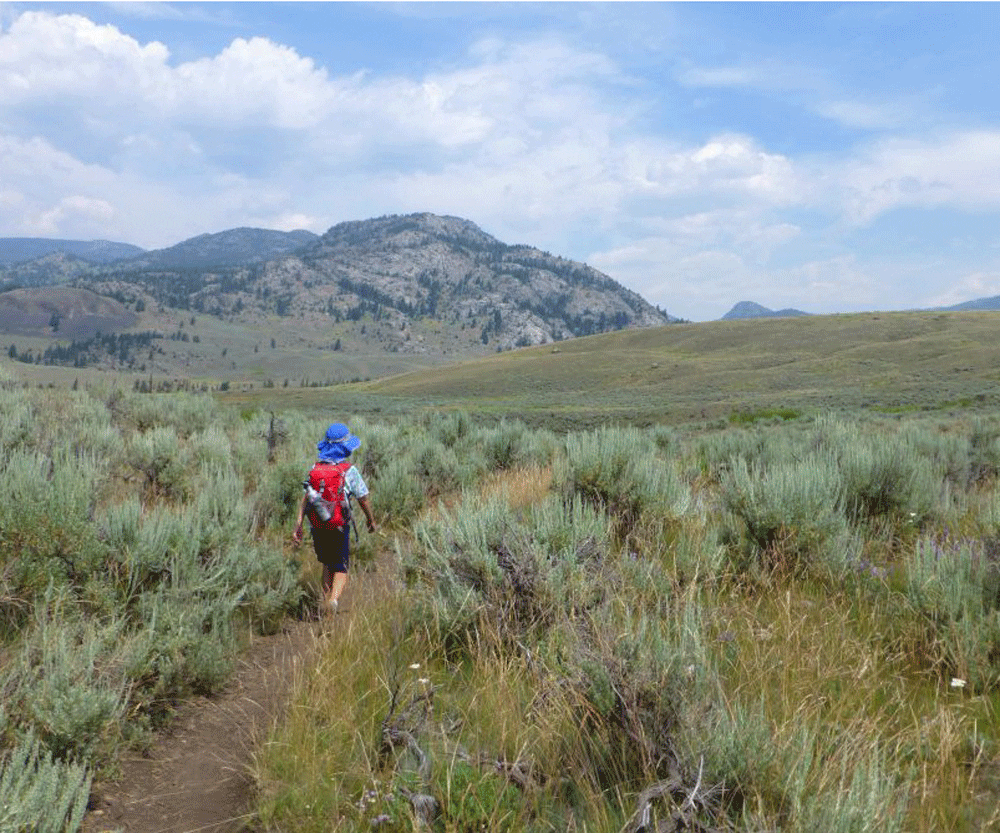 Everyone knows that Yellowstone National Park makes for a classic family vacation. Strolling the boardwalks...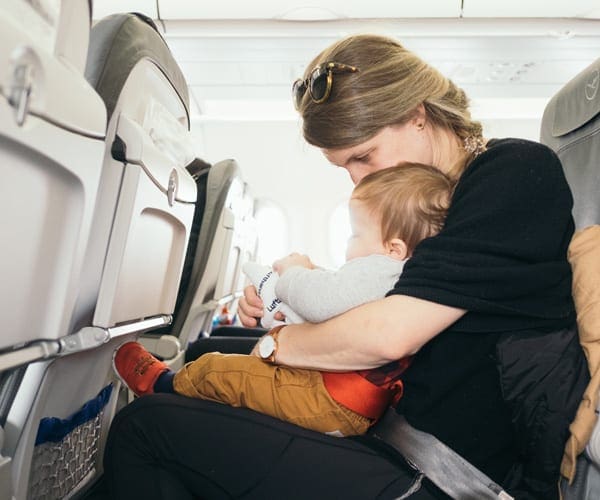 Families Who Love To Travel contributor Meghan Oaks provides her 10 best tips for your...