Nothing screams a quintessentially English afternoon quite like enjoying a kid-friendly tea time in London. Luckily, this English tradition can also be enjoyed as a family. In fact, it is perfect for kids of all ages! If you're planning a trip to London with little ones, don't miss out on this wonderful cultural experience simply because tea time has a history of being "adults-only". In fact, when visiting London with kids, you'll find plenty of places to enjoy some classic afternoon tea. To help you plan an itinerary, we've rounded up the best kid-friendly London tea time places!
Mad Hatter's Tea Party at the Sanderson Hotel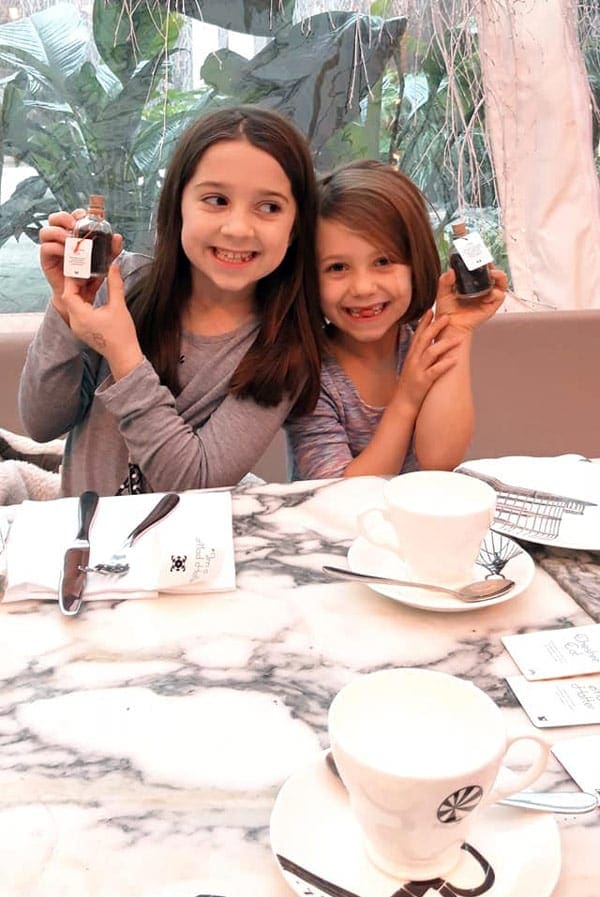 The Sanderson Hotel hosts an amazing kid-friendly tea time in London for Disney lovers! This Alice in Wonderland-themed tea is perfect for a kid-friendly London tea time, particularly for avid Disney fans. Within the Sanderson Hotel's pristinely decorated dining room, discover menus inside vintage books, festive drinkware (Kings and Queens of Hearts galore!), and tons of options for both sweet and savory treats – like finger sandwiches, scones, and other pastries. Pair it with a cup of chamomile tea and this experience is sure to delight both kids and adults alike!
RELATED ARTICLE: 9 Amazing Places for Pastries and Desserts in Paris For Families
The Potion Room at Cutter & Squidge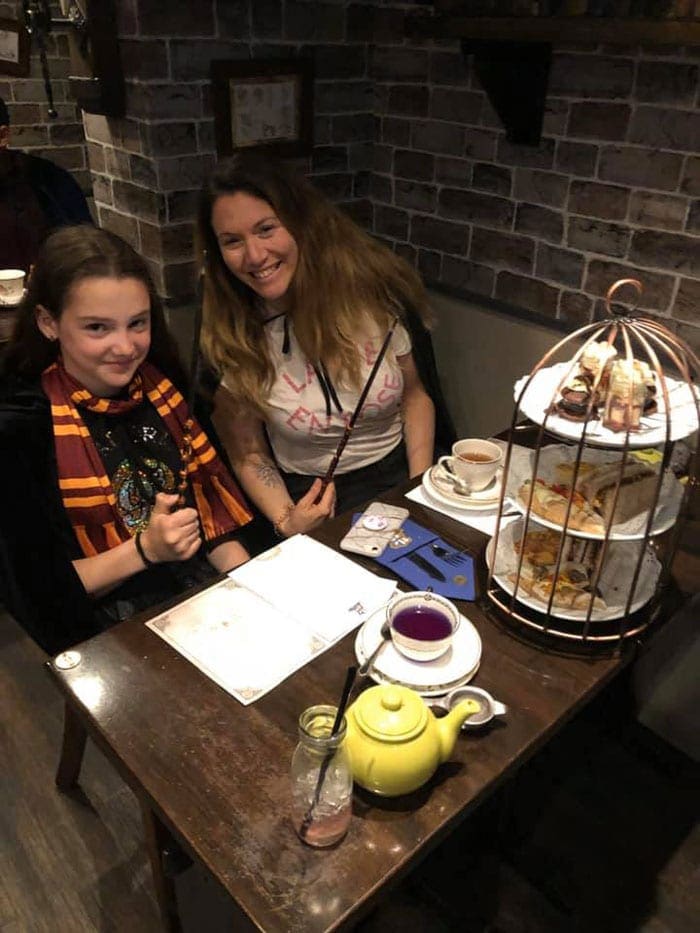 Harry Potter Fanatics can't miss a visit to the interactive Potion Room! Stop by London bakery Cutter & Squidge to experience a magic-themed afternoon tea, perfect for the entire family! Served at school-style desks, kids can participate in a special "potion making class" during this two-hour teatime experience. There, guests are guided by potion masters on how to make drinkable delights, using a spooky Crackling Cauldron. The Potion Room also serves a selection of sandwiches, butterscotch cookies, and rock cakes to accompany your creation! Certainly, this is one of the best kid-friendly London tea time places!
B Bakery Afternoon's Tea Bus Tour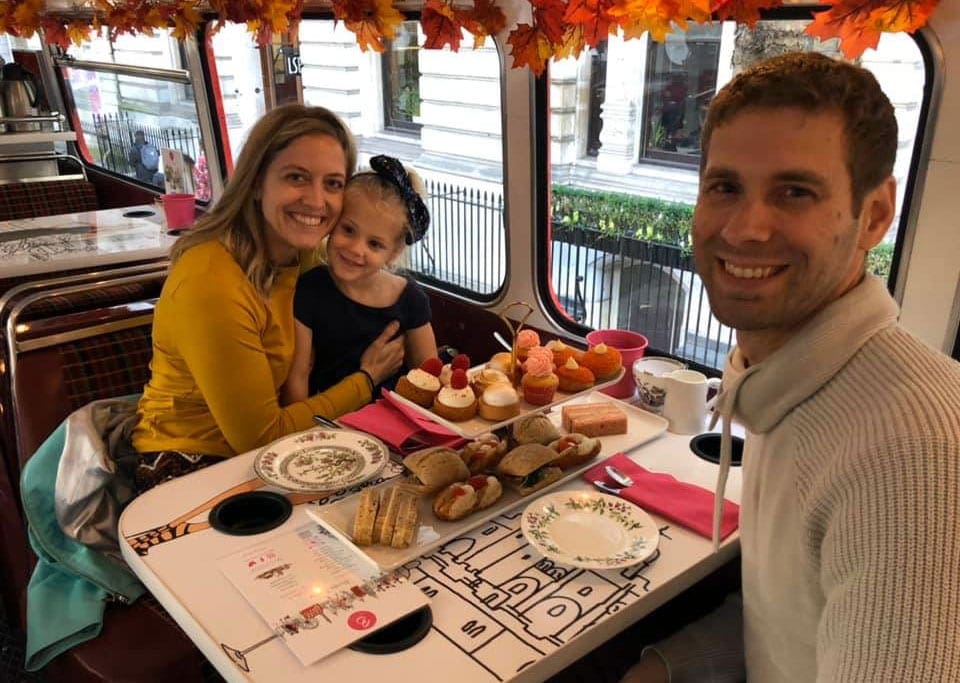 If you want to experience some family-friendly sightseeing around London, kill two-birds-with-one-stone with B Bakery's afternoon tea/bus tour! This is a fun, experimental approach to London's classic afternoon tea. In fact, this entertaining experience allows families to take in the city's culture and cuisine simultaneously. Climb aboard a classic London double-decker bus to enjoy famous sights such as Big Ben, Trafalgar Square, and Westminster Abbey.
Throughout the journey, you'll be noshing on a selection of sandwiches with jam, quiches, pastries, and also some refreshments, including champagne for parents. B Bakery's afternoon tea tour begins at Victoria Coach Station and lasts approximately two hours. No wonder this is one of the best places for a kid-friendly tea time in London.
RELATED ARTICLE: Top 13 Things to Do in London with Kids
Purrfect Afternoon Tea at Lady Dinah's Cat Emporium
Cat lovers, rejoice! London has an afternoon tea experience dedicated to your favorite fluffy creatures! Pet-friendly families can now enjoy a delightful afternoon tea at Lady Dinah's, London's first cat cafe. Boasting colorful Wonderland-themed tea rooms, its chic interior is glitzy enough to impress any child. Book a high tea session, and little ones can savor delicious treats like red velvet cake, finger sandwiches, and cannelloni. Peruse these options as rescue cats roam around you, purring for attention! Since this experience is only recommended for ages twelve and over, however, be aware Lady Dinah's does not admit young children. Here, travelers will surely have a fantastic kid-friendly afternoon tea experience in London.
The Original Sweetshop Afternoon Tea at The Chesterfield Mayfair
London's Chesterfield Mayfair Hotel boasts a must-visit kid-friendly tea time in London: The Original Sweetshop Afternoon tea! Inspired by Hardys Original Sweetshop, this themed tea will be a source of nostalgia for adults; and a new introduction for children with a sweet tooth! In fact, this afternoon tea will charm kids with images of retro dining establishments to prepare for an immersive experience at The Chesterfield Mayfair. Alongside authentic decor, menu items like honey roast ham sandwiches and apple drop pastries are all inspired by the original flavors of an old-school candy shop. Finally, we highly recommend trying the special chocolate chip scones when visiting this kid-friendly London tea time location!
Afternoon Tea at The Ampersand Hotel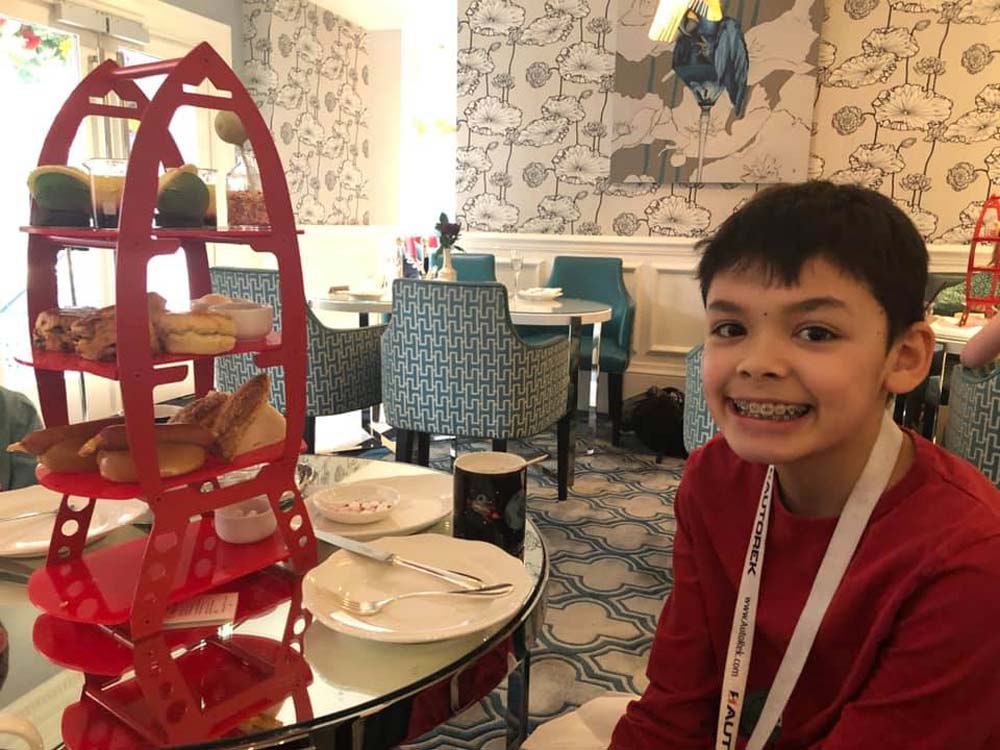 The Ampersand Hotel offers some of London's most unique afternoon tea experiences! Not to mention one of the best places for a kid-friendly tea time in London. Within its sprawling Drawing Room, families can choose from a variety of science-themed tea options, including one specifically for children. Here, yummy jellies are served in Petri dishes, also accompanied by delicious treats like chocolate spacemen and dinosaur cookies. Basically, it's perfect for young, inquisitive minds! Science Afternoon Tea also offers vegan, vegetarian, and gluten-free alternatives to The Ampersand's signature cream scones. More information is available here.
Charlie and the Chocolate Factory Afternoon Tea at One Aldwych
Indulge in a creamy cacao paradise at One Aldwych, home to the famous Charlie and The Chocolate Factory Afternoon Tea! From innovative "Chocolatier" cocktails to special chocolate tea, the attention to detail during this two-hour experience is surely impressive! While enjoying one of the best kid-friendly tea spots in London, munch on scrumptious scones, cacao cake, and up-scale appetizers accompany fizzling drinks within One Aldwych's elegant Lobby Bar, decorated with funky period pieces. Multiple courses of sweet and savory will finally culminate in a delicious cotton candy dessert everyone can share! Be sure to make a reservation to secure your chocolate experience.
Looking for things nearby? Don't miss securing your tickets to these other London attractions for families! From Kew Gardens to the London Zoo and more, these tickets will save you time and hassle while planning London with kids!
Mini Gardener Tea at the St. Ermin's Hotel
Stroll through London's lush greenery with a Mini Gardener tea session at the St. Ermin's Hotel! Though the hotel offers afternoon tea all year round, its summer season also boasts the opportunity to expand your meal onto an outdoor terrace. This seasonal afternoon tea is perfect for little ones who love to roam free outdoors and burn some energy. In addition to kid-friendly food and drink options like peanut butter and jelly sandwiches, key lime pie, or scones with strawberry jam, this teatime experience also encourages children to explore the world around them. In the meantime, parents can sit back and relax, while still enjoying one of the best places for a kid-friendly tea time in London!
Afternoon Tea at The Park Lounge at The Milestone Hotel
Indulge in a themed Afternoon Tea at The Park Lounge at The Milestone Hotel! Boasting options like the ever-popular Art Deco Afternoon Tea, kids can travel to the roaring twenties to enjoy a delightful British pastime. Feast on hand-crafted pastries, delectable finger sandwiches, and tea blends from all over the world in a pristinely decorated dining room! Plus, The Milestone Hotel offers sittings at 1 pm, 3 pm, and 5 pm daily, so you'll always have time to treat yourself. Kids will love the outlandish-themed items throughout the room and parents can sit back with a cocktail. Be sure to also try the salted pistachio cubes, The Milestone Hotel's specialty item! Families will adore this kid-friendly London tea spot.
Avoid the crowds and book a tour for Afternoon Tea at The Park Lounge at The Milestone Hotel with Viator today. Free cancellation (within 24 hours) means you can book this tour with flexibility and peace of mind!
Teatime at Peggy Porschen
Experience a picture-perfect afternoon in London with kids at Peggy Porschen! Famous for its pretty pink storefront, this elegant, multi-colored establishment is great for classic afternoon tea in London! Families sightseeing through London will also be delighted to discover Peggy Porschen has two locations: Chelsea and Belgravia. At either, kids will surely enjoy a beautifully crafted interior as they munch on freshly-baked Victoria sponge cakes, cookies and cream cupcakes, and lemon pastries. As one of the top places for a kid-friendly tea time in London, be prepared for a wait no matter which location you visit, however, which is why we also recommend making a reservation!
Top 50 London Vacation Rentals | Vrbo.com
Happy Travels!
London is filled with history and culture. Families can't leave London without indulging in the timeless tradition of afternoon tea. We hope this list, featuring the Best Places For A Kid-Friendly Tea Time in London helps you find the best place for your family. Enjoy London with kids!
Want more local tips and personalized advice for your trip to England? Connect with Chris from Go Ask A Local! He's a local guide based in Southern England who's been guiding all over the UK for 20 years and offers trip planning consultations on Zoom.
RELATED ARTICLE: Best Paris Hotels for Families with Pools or Kids' Programs
*Due to the COVID-19 pandemic, some of the attractions, accommodations, or things to do on this list may be closed. Please ensure availability before making your decision.
*This post may contain affiliate links that may earn us a small commission, at no additional cost to you. Affiliate links in no way inform the hotels, sights, products, or other recommendations included in our articles. All opinions and recommendations expressed here are compiled from submissions submitted by the generous members of our Families Who Love To Travel community.
READ NEXT: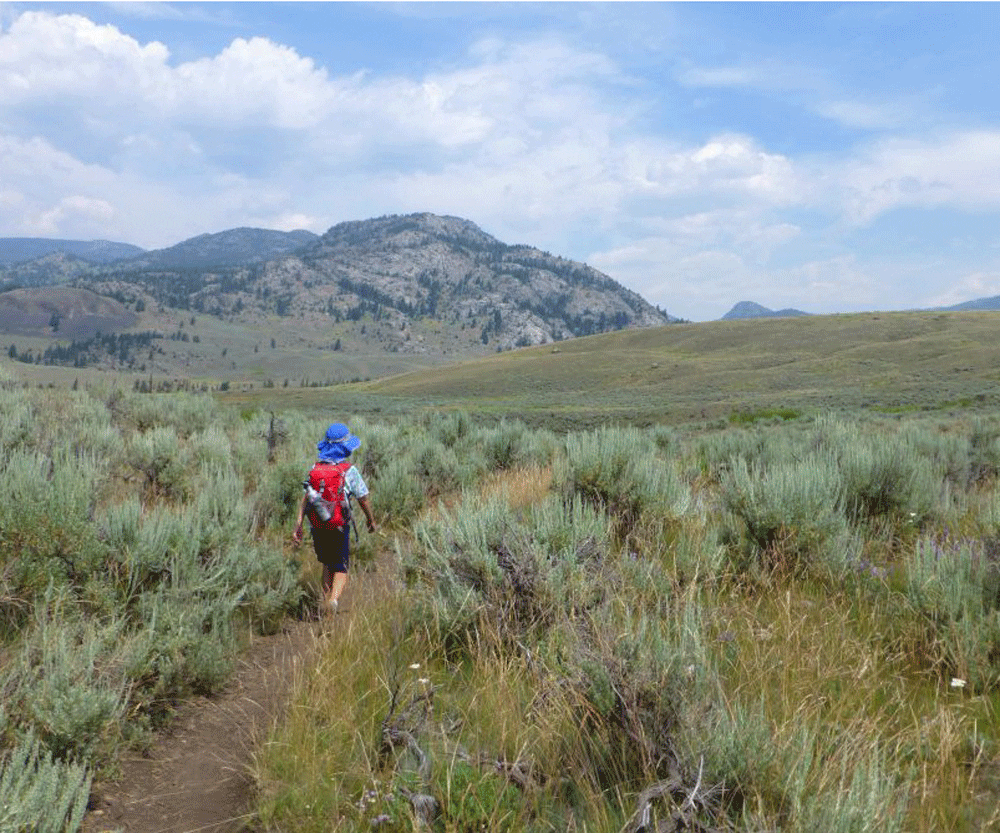 Everyone knows that Yellowstone National Park makes for a classic family vacation. Strolling the boardwalks...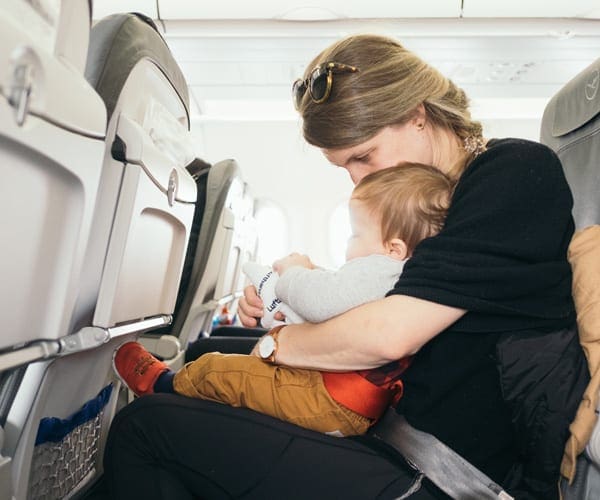 Families Who Love To Travel contributor Meghan Oaks provides her 10 best tips for your...