Any family considering taking kids on a trip to France knows that museums are inevitably part of the experience. France is rich in culture and history and has the best museums in Europe – not to mention the world! There are so many different types of museums to visit and learn something new, from art and history museums to science and technology museums. Additionally, museums are a great way to spend time together as a family and create lasting memories. However, many families are unsure of how their kids will react to a certain museum or how to keep them entertained for a long period of time. In this article, I'll cover some of the best museums in France to visit with kids, including some of my favorites. I've also included tips from my own vacation to help you plan, so keep reading to learn more!
Why Visit a Museum in France with Kids?
Museums are a great way to learn about a new culture and spend time together as a family. France is home to some of the best museums in the world. Visiting them with kids is a great way to introduce them to the country's rich history and art. Kids can see paintings, sculptures, and other artwork from some of the most famous artists in the world! Some museums focus on specific topics like French history or the history of the French Revolution.
Of course, you should consider that even adults get tired of too much classic art. It's difficult for non-specialists to connect with some artwork, so how can we expect kids from 6-13 to appreciate these works? You have to select carefully. If you choose the right venue and follow some tips, it can lead to a truly remarkable experience! Keep reading to learn more about some of the best museums for kids in France.
Practical Tips for Visiting the Best Museums in France with Kids
When it comes to visiting some of the best museums for kids in France, there are a few things you'll want to keep in mind. Whether it's with the price of admission, getting around, or keeping entertained, here are some tips for visiting France as a family!
Cost is one of the biggest and most important factors to consider when visiting museums in France with kids. For a family of four, the cost of entry to one museum can run between $50-$60. While some sites offer free admission for children under 11, most at least provide a reduced price. To offset the cost or save money, take advantage of headset-guided tours. We found these to be a great value, depending on location.
For example, we didn't get them at either chateau since the free pamphlets gave enough guidance. The Ceret Musee d'Art Moderne also had a free QR-coded tour for your smartphone (bring some headphones). The Catacombs also offered a portable tour pack but no headphones. We purchased four headsets, which told good stories and history. At the Musee d'Orsay, we bought four headsets (booked in advance, thankfully.) These headsets had a number code associated with many works, and you would enter the number to get the information. They had codes for children, but we found the children's codes a bit sparse, unfortunately.
With any museum, you should book in advance. Unless it's truly a last-minute decision, the internet has allowed for a degree of advanced planning our parents could have only dreamed of. Get tickets on your smartphone, and of course, book as far out as you can. We booked the Orsay and the Eiffel Tower two weeks in advance in late September. This was barely enough time. I would imagine for the summer months; you need to triple that lead time.
Planning efficiently for these museum days is key. Take a backpack with snacks, water, raincoats if needed, and any fun games the kids can play. These games are good for the post-museum briefing meal while the parents sip wine and finally get to talk about the magnificence of these bucket-list art pieces.
Getting to museums in Paris is very easy as long as you learn the metro system. A quick primer is helpful here: kids are not free on the metro; they are half-priced. You cannot buy a single-child ticket in the kiosk. You need to buy a book of 10 (as of October 2022). We bought books of 10 for both adults and kids. This is a good value. You then insert your ticket in the turnstile and take it to the other side.
Always remember to go at the pace of your child. Rarely does pushing them beyond their limits get you anywhere, especially with stubborn kids. I allude to this when I write about teaching your kids to ski. You want positive associations. That's perhaps the only thing you'll ultimately get out of the trip. No more than one big league museum in a day, with bookend fun stops. It helps to create a plan for the post-museum restaurant, so you don't waste valuable time wandering.
Best Indoor Museums in/near France with Kids
When planning a trip to France with kids in tow, be sure to add some indoor museums to your itinerary. France is home to some of the best museums in the world. And there are plenty of kid-friendly options to choose from when the weather is rainy, too hot, or too cold. Here are some family-friendly suggestions, including some of the best museums in France outside of Paris!
Musee d'Art Moderne
Modern art lovers rejoice! The Museum of Modern Art (Musee d'Art Moderne) in Ceret, France, is undoubtedly one of the best museums for kids in France. With over 3,000 works of art (one of the largest collections in Europe!), this incredible museum is the perfect place to introduce your little ones to the art world. Mainly because it lacks the crowds of other big museums in France, making it a breeze to explore. Kids can see works by world-famous artists such as Pablo Picasso, Henri Matisse, and Joan Miro. When we visited, there was also a special exhibition with Marc Marc Chagall, Chaim Soutine, and other artists from the School of Paris. In addition to the artwork, the museum also houses a cafe, library, and shop in addition to the artwork.
We stayed in the center of Ceret, located in Southern France, for two weeks and had a fantastic time exploring the surrounding area. You can channel your inner artistic impulses in this leafy, cobblestoned town as you walk the same streets these famous painters once did!
Plan your next trip to one of these 20 Charming Towns and Villages To Visit In The South of France With Kids This Summer!
Dalí Theatre-Museum in Figueres (across the border in Spain)
While not technically in France, families staying near Ceret should also take time to drive across the Spanish border to Figueres. It's home to the Dalí Theatre-Museum, dedicated to the work of Spanish artist Salvador Dali and features a large collection of his paintings, drawings, sculptures, and other works. It's also designed to be an interactive experience for visitors of all ages, which is why our two kids, ages 10 and 8, liked this museum the most. Several interactive exhibits and displays, like optical illusions and a VR experience, are sure to get your little ones interested too. Adults can learn all about the artist's unconventional marriage, including how he built a castle nearby for his wife. I wasn't a Dali fan before visiting. But after seeing the thorough presentation of his various styles, I definitely am now!
Book your tickets to the Dali Theatre-Museum here through Tiqets!
The Louvre Museum
The Louvre Museum may seem like an obvious (or cliché) choice on a list of the best museums in France for families, but it's still worth a mention. As the best museum in Paris for kids, this famous glass pyramid entrance is a must-see. You'll find plenty of kid-friendly artwork, including paintings by Leonardo da Vinci, Michelangelo, and Rembrandt. While it may not be best for super young kids since it's huge, there are plenty of ways to make your visit fun. For example, you can turn your visit into a fun treasure hunt to sharpen your children's observational skills while they learn about art.
Local companies such as Paris Muse offer this, but you can also DIY the experience with free PDFs. Remember that this is one of the city's most famous attractions, so expect crowds, especially if it's a weekend. Finally, those looking to splurge on a private tour of one of the best museums in Paris with kids can find one specifically designed for families through GetYourGuide.
Book your tickets to the Louvre here with Tiquets!
The Musee d'Orsay
The Musee d'Orsay is one of the most popular museums in Paris, France, for kids, and for good reason! Nestled along the River Seine, the museum is home to a large collection of impressionist and post-impressionist paintings, sculptures, and other works of art. Even better, it's designed in a way that makes it kid-friendly. Activity sheets are available at the entrance, and the museum staff is always happy to help kids find the perfect activity for their age group. Children will be amazed by the bright colors and unique style of paintings by Pierre-Auguste Renoir or Claude Monet. My kids ran out of energy here because of the sheer size. But we planned well and were able to spend a couple of hours. I hope one day they'll look back, remember seeing famous paintings like Monet's Coquelicots, and realize how truly special it was!
Looking for a kid-friendly tour to see the museums of Paris? The Musee d'Orsay is along the route of this Paris: Tootbus Hop-on Hop-off Discovery Bus Tour with GetYourGuide, which also includes skip-the-line entrance, audio guides, and more for many of the best museums in Paris for families.
Reserve your Musee d'Orsay tickets here through Tiqets!
Wondering where to stay in Paris? Try one of the Best Paris Hotels for Families with Pools or Kids' Programs!
The Natural History Museum
The Natural History Museum is another of the best museums in Paris for young kids. Overlooking the River Seine's left bank, kids will instantly be impressed by the four-story building. It's also a great place to learn about the prehistoric era with your children, especially if they love dinosaurs, precious stones, and giant crystals! This giant museum is broken up into individual sections with separate entrance fees. Enjoy decadent fossils and ancient displays of rhinos, monkeys, and other exotic animals. All lead toward the outside garden, a nice place to let little ones blow off steam. There's also a separate children's area with a few hands-on activities, but you'll have to pay extra. A few things to remember when visiting The Natural History Museum: there's no air conditioner, and all signage is in French.
Keep reading to find out Fantastic Things To Do In Paris With Young Kids!
Best Outdoor Museums in France with Kids
If you're looking for a museum that the whole family can enjoy, you'll want to check out some of the best outdoor museums in France! From gardens and parks to castles and fortresses, there's something for everyone to enjoy. Keep reading to learn more!
Paris Catacombs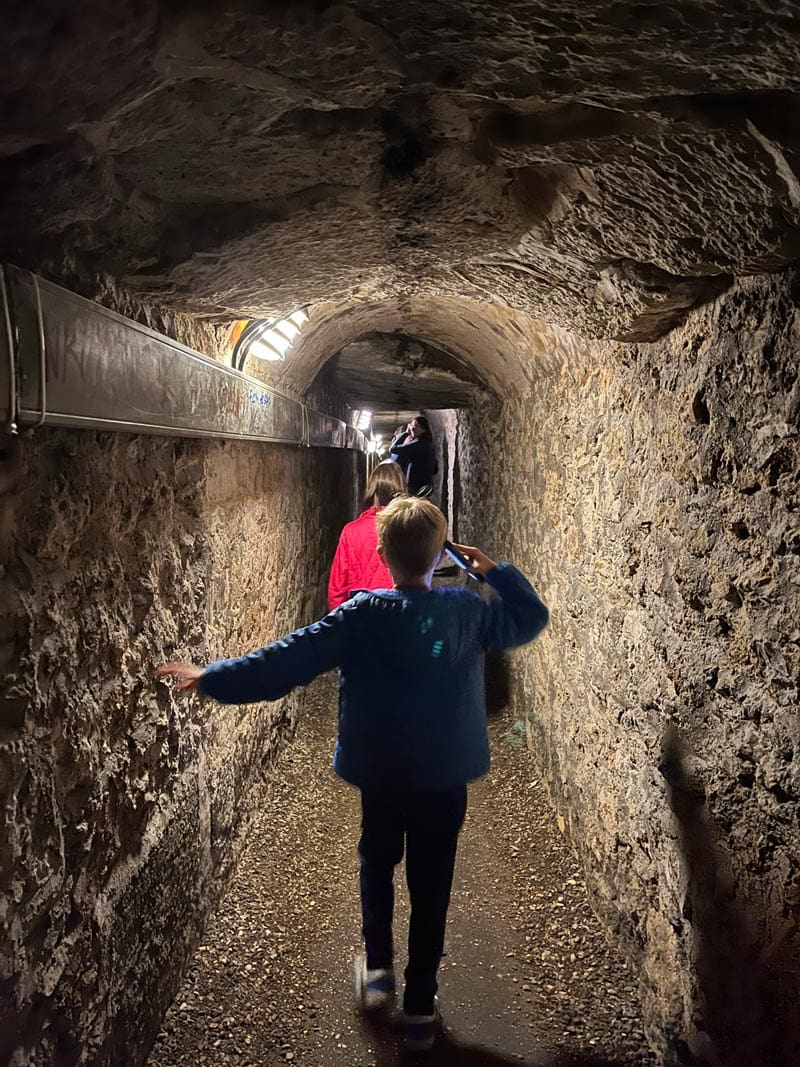 One of the most unique museums to visit in Paris with kids is The Paris Catacombs. This historical site is located in the 14th Arrondissement and is accessible via 100-step descent underground. Young kids may be a bit scared, but older or adventurous little ones will love navigating through labyrinthine passageways filled with skulls, bones, and other relics of Paris's past. The Catacombs directly offers various tours to get to know the site better, including plenty of kid-friendly options with a narrator. Or, check companies such as Viator or other local providers in Paris. You could also get an audio tour to navigate the Catacombs. (Otherwise, you'll just be wandering around without much context since most plaques are in French.) It's a place in Paris I never considered before having children, but we did have a wonderful time!
Once you're out of the Catacombs, you'll also be close to the Notre Dame Cathedral and various neighborhoods of interest.
Pro Tip: Families must purchase tickets to the Catacombs before visiting. Options are timed and limited. I scored some half-priced "day of" tickets for the adults, and the kids were free. These tickets go fast, so you'll probably get an afternoon slot.
Purchase tickets for Les Catacombes de Paris here with Tiqets!
Omaha Beach Memorial Museum & Other D-Day Sites
If you're American, Omaha Beach and other D-Day sites are a must when visiting France with kids. We owe it to the troops who fought and died to see this spot once in our lives. There are enough sites in the area for a history buff to spend a week. Plus, the towns are quiet and picturesque, ideal for exploring with kids. Colleville-Sur-Mer is one such town you pass through on the way to Omaha Beach.
Many stay in nearby Bayeux, which is a terrific city. I've never been to Bruges, but it seems like it's a mini-Bruges. You can easily reach all D-Day sites with a car from here. We were staying in Southern Normandy, and it was an hour-long drive to the sites. If you choose to stay in this area too, GetYourGuide offers a tour out of Bayeux: American D-Day Sites in Normandy Full-Day Tour (ages 4+).
Omaha Beach Memorial Museum
When planning a trip to France with kids, be sure to add the Omaha Beach Memorial Museum to your itinerary. The museum is located on the site of the D-Day landing on Omaha Beach and tells the story of the Allied invasion of Normandy during World War II. The museum is interactive and engaging for kids of all ages, with exhibits on various aspects of the D-Day landings. Kids can learn about the different types of equipment used by the soldiers, see maps of the battle plans, and read first-hand accounts from participants. There's also a section of the museum dedicated to remembering those who lost their lives during the battle. This is a moving and important part of the museum and helps kids understand the sacrifices made by so many during the war. Indeed, this is one of the best museums for kids in France.
Omaha Beach Cemetary
Since we only had one day, my recommendation for families traveling on a tight time frame would be to visit Omaha Beach Cemetery. Located in Normandy, this cemetery is the final resting place for over 9,000 American service members who lost their lives during World War II. It's also beautifully maintained and features various monuments and statues. The Visitor Center has a short film about the Battle of Normandy, as well as exhibits on the soldiers buried here. There's also a Memorial Garden dedicated to Gold Star families, which is a touching tribute. The grounds are stunning, and it's worth taking the time to explore. It was a fantastic learning experience for our kids, who were able to reflect on the gravity of the situation, surrounded by monochromatic gravestone crosses, while also having room to move around and speak in normal voices.
Back-Up Activity: Swimming & Ice Cream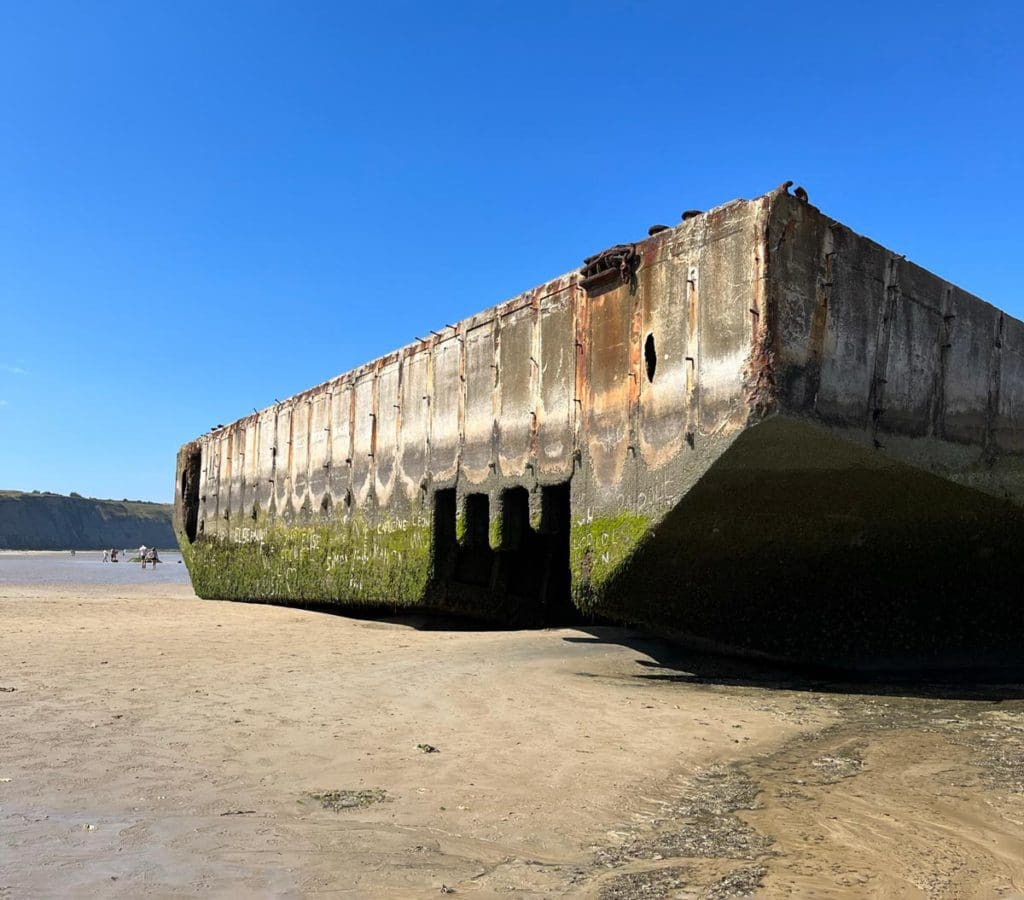 I recommend having a fun activity to back up the Omaha Beach site. For us, this was swimming in Arromanches-Les-Bains, followed by ice cream. This beautiful seaside town in Normandy is the perfect place to take a dip on a hot summer day. There are plenty of beaches to choose from, and the water is clean and clear. Families will also find plenty of ice cream shops and cute cafes in Arromanches-Les-Bains, so you'll have no trouble finding the perfect flavor for everyone.
This also touches on a larger point for families visiting the best museums in France with kids: the need to factor in the kids' stamina for historical sites. It may be difficult to consider during the planning stages, but a day with kids should not be filled with only site seeing and museums. Swimming, a fun meal, or a trip to a playground can offer a respite for the kids. It's something to look forward to for them, and we found that their attention was held longer when they knew the day wouldn't be too much of a marathon.
For more sweet treats, here are 9 Amazing Places for Pastries and Desserts in Paris For Families!
The Many Museums in Mont St. Michel
Another must-visit spot in Normandy is the magnificent Mont St. Michel. This small island town is home to multiple museums, each with its own distinct focus. It'll likely be a 1.5-hour drive from the D-Day sites, but it's worth the trip! The Historical Museum of Mont St. Michel is the primary museum in the town, chronicling the history of Mont St. Michel from its beginnings on a rocky outcrop in the 8th century to its current status as a UNESCO World Heritage Site. The museum also houses a collection of artifacts from the local area, including items from the prehistoric period up to the present day. There's also a maritime museum and a Knight's residence.
One highlight for my family was the Abbaye du Mont-Saint-Michel. As one of France's most popular tourist destinations, the church is especially beautiful at night when hundreds of candles light it up. A nighttime abbey tour is a magical experience that your kids will never forget. You can explore the ancient buildings and courtyards and learn about the history of this fascinating place. The tour guide will also tell you stories about the ghosts said to haunt the abbey! While the tickets were slightly expensive, it was worth it.
We also splurged on an overnight stay at the Hotel Gabriel. Admittedly, my tourist ripoff radar went off a bit before we went to the area. I always assume the worst about a tourist site as a paranoid American. But this experience was the opposite. It was a memorable place. Our hotel was nice, and the breakfast was great. Staying here allowed us to make an early trip the next morning and a nighttime trip after dinner, which was magical.
Reserve your tickets to Abbaye du Mont Saint-Michel Tickets with Tiqets here!
Best Chateaux to Visit in France for Kids
It seems odd to include French Chateaux, aka big castles or country homes, in an article about making museums fun for kids. Aren't these stuffy places for baby boomers in tour groups? Quite the contrary: these Chateaux were some of the best places we found to go with kids on our trip to France! It seems the nobility who built these grand abodes were children at heart, making them wonderful for exploring and spending a day together. Here are some suggestions for the best Chateaux in France to visit with kids!
Château de Villandry
There's no doubt that Château de Villandry is a stunning piece of architecture set in the heart of the Loire Valley. But did you know that it's also one of the best museums in France for kids? That's right; the Château de Villandry is not only a beautiful castle. It's also home to several interactive activities that will keep your little ones entertained for hours! Families can explore the grounds, which showcase beautiful gardens that stretch for many acres. Then, you can also tour the inside of the castle. See all its nooks and crannies through different rooms and visit the on-site museum. If the weather is nice, you can easily spend 1.5 hours in the gardens alone. Save some time to explore!
Get your tickets to Château de Villandry here with Tiqets!
Château de Chenonceau
Château de Chenonceau is another fantastic option for families visiting France. This beautiful castle is located on the River Cher in the heart of the Loire Valley. Château de Chenonceau was built in the 16th century and was once owned by some of France's most famous royals, including Duc de Vendôme and his descendants. Today, the castle is open to the public and makes for a great day out for all ages. Kids can explore the vast gardens, do a scavenger hunt around the castle grounds, or take a boat ride along the river. And, of course, they'll love seeing all the lavish rooms inside the castle itself! If you're visiting Château de Chenonceau with children, we recommend spending at least a few hours. But of course, as with anything – don't push it.
Reserve your tickets to Château de Chenonceau here with Tiqets!
Where to Stay in France with Kids
Now that you know the best museums in France with kids, you may be wondering where to stay. If you're searching for the best hotels in Paris for families, consider Hôtel d'Aubusson, which offers a pool and a lovely location in the 6th Arrondissement. Then, in the 8th Arrondissement, Four Seasons Hotel George V, Paris offers a large indoor spa pool and hot tub, babysitting services, and more for families. Hôtel Lutetia is another great option. Located in the 6th Arrondissement, it includes a lovely pool and a children's program. Need more recommendations for kid-friendly Paris hotels? Read Paris Hotels For Families With Pools Or Kids' Programs.
If your travels take you to southern France, consider staying at one of these top hotels in France with kids. Firstly, in Aix-En-Provence, Chateau de la Pioline and Le Pignonnet are both great options. Alternatively, in Gordes, families love La Bastide de Gordes. In Nice, Le Suites Massena is a popular option for families due to its laid-back feel near the beach. Looking for more ideas in the South of France? Consult our article on the 20 Charming Towns And Villages To Visit In The South Of France With Kids This Summer.
Happy Museum Hopping!
We hope you liked this article on the 10 Best Museums In France With Kids by our contributor James Olsen! While taking your kids to museums in France can seem daunting, you may be planting seeds of true art lovers, giving them an invaluable gift. Enjoy museum hopping with your little ones!
About the Author: James is an attorney and amateur blogger based in Westminster, Colorado. Along with his wife Jessica and two children aged 8 and 10, he is taking a year off to travel in Europe and Southeast Asia. To document the trip, James and his wife run the blog SomeWonderTravel, and James does a weekly podcast called The World Travel Dad Show. The family loves to experience foreign cultures on local terms, away from the glitzy resorts, and is passionate about local foods, activities, and customs.
*Unless otherwise noted, all the images within this article belong to and are courtesy of James Olsen.
*Due to the COVID-19 pandemic, some of the attractions, accommodations, or things to do on this list may be closed. Please ensure availability before making your decision.
*This post may contain affiliate links that may earn us a small commission, at no additional cost to you. Affiliate links in no way inform the hotels, sights, products, or other recommendations included in our articles. All opinions and recommendations expressed here are compiled from submissions submitted by the generous members of our Families Who Love To Travel community.
READ MORE: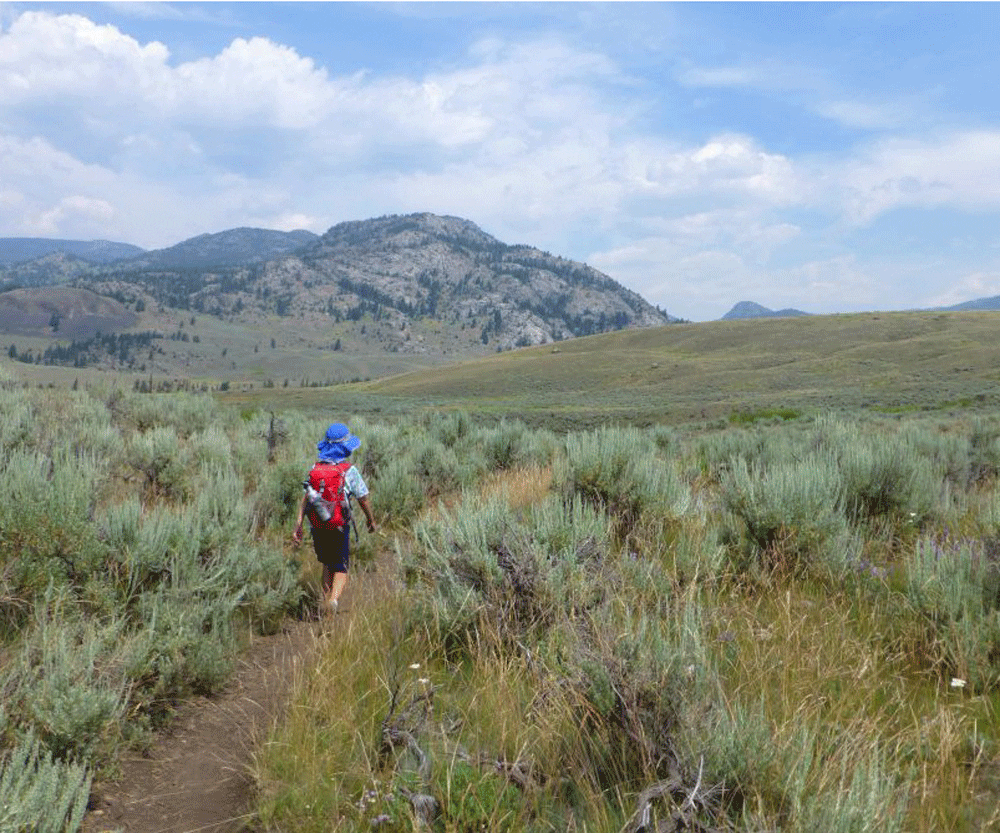 Everyone knows that Yellowstone National Park makes for a classic family vacation. Strolling the boardwalks...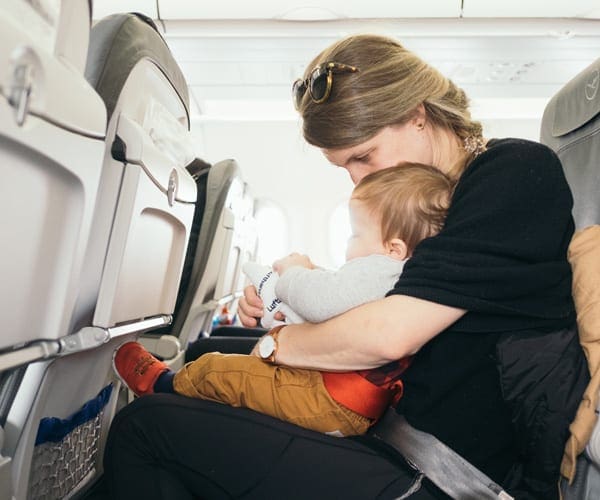 Families Who Love To Travel contributor Meghan Oaks provides her 10 best tips for your...