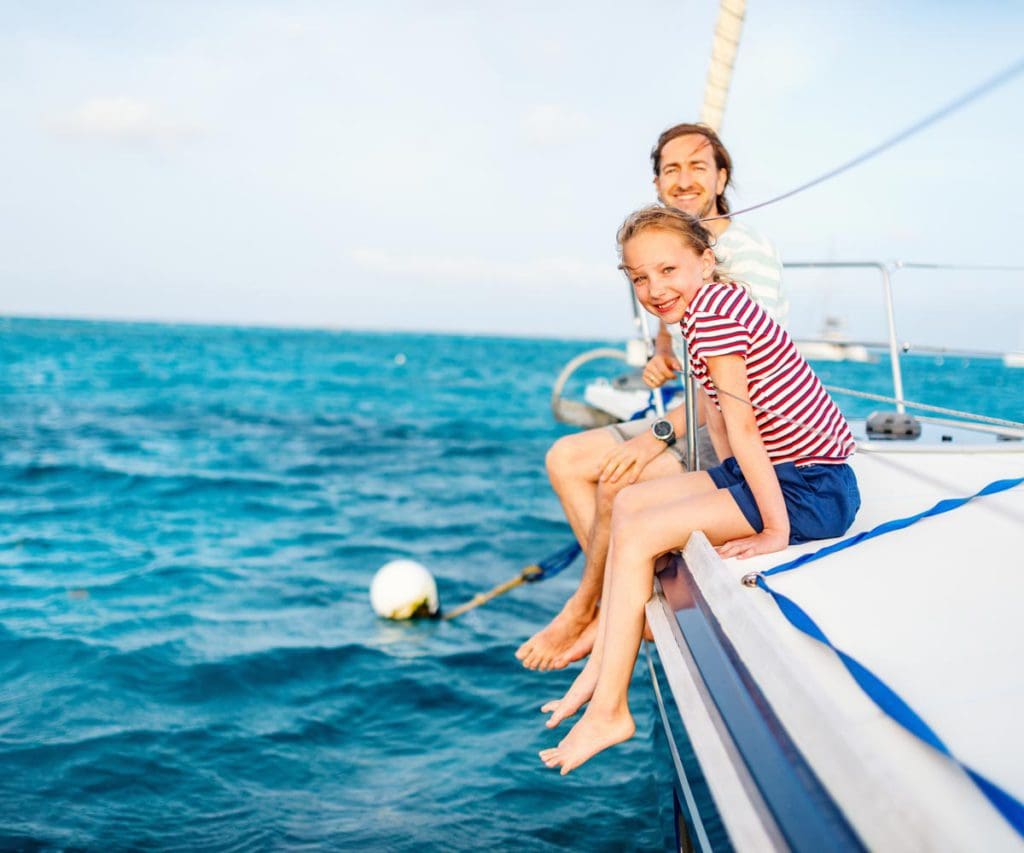 Your next Caribbean vacation is guaranteed to be a blast thanks to these best things to do in Barbados with kids! As one of the most family-friendly islands, Barbados offers a wealth of activities, experiences, and sights for the whole family. Whether you want to relax, snorkel through shipwrecks, or see some local wildlife, you can have it all in Barbados. Still, there are so many great things to do with kids on this wonderful island that it can be a little overwhelming. Are you packing your bags for a southern Caribbean cruise and want to enjoy the best Barbados has to offer? Take a look at our list of the Best Things To Do In Barbados With Kids!
Enjoy a Day at the Beach
No visit to Barbados with kids would be complete without many, many trips to the beach. After all, it's one of the best things to do in Barbados with kids! Obviously, a beach day is always going to be popular with the younger members of your family. But it is also worth choosing your beach carefully, as some are more family-friendly than others. Keep reading to find out about the best beaches in Barbados for a family vacation!
Carlisle Bay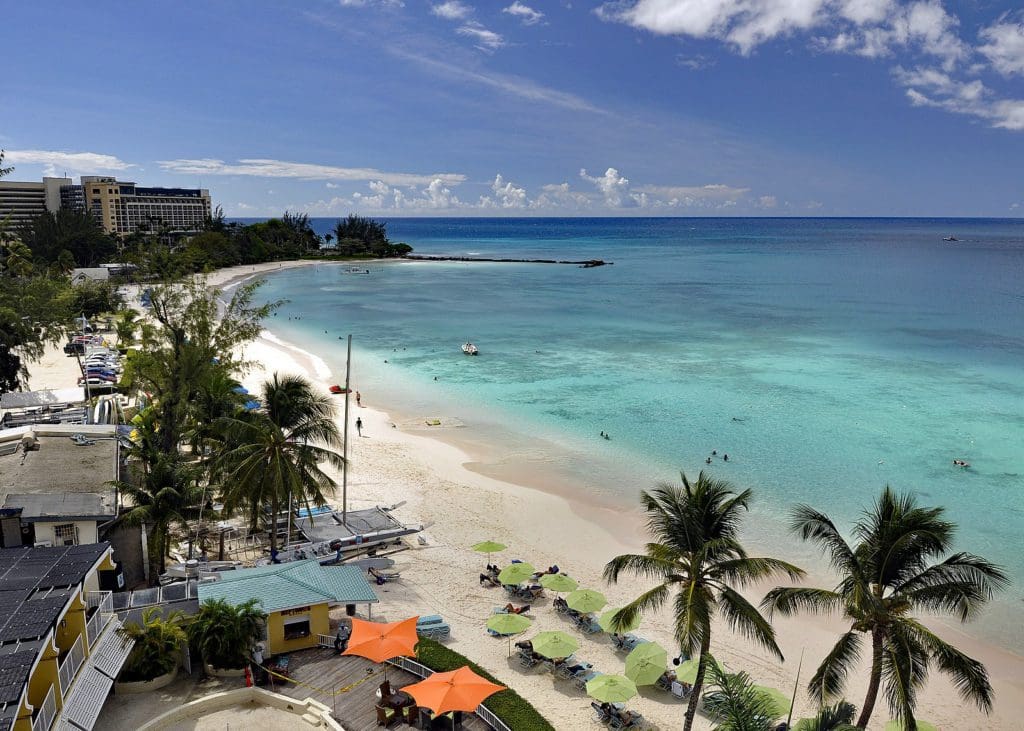 One of our absolute favorite beach spots for kids is Carlisle Bay. This stretch of powder-soft white sand just a quick walk from the attractions of Needham's Point. It boasts calm, shallow waters, plus plenty of restaurants, bars, and cafes to keep everyone fully fed and watered. And, as we'll get to later on this list of best things to do in Barbados with kids, it also offers a wealth of excellent watersports activities for kids of all ages! Scuba diving in particular is popular here, as the surrounding waters feature a lot of different shipwrecks. Viator offers a Kayak Tour at Carlisle Bay to explore the shipwreck, which you can book in advance with a 24 hr cancellation policy.
Get Your Guide also offers a Carlisle Bay Glass Bottom Boat With Snorkeling Tour. Families can swim with turtles and snorkel at one of the greatest shipwrecks on the island. Or, book a Carlisle Bay Clear Kayak Shipwreck Tour, featuring a book now, pay later option with a flexible cancellation policy.
Look here for Tours and Tickets in Carlisle Bay through Viator!
Accra/Rockley Beach
Visiting Accra/Rockley Beach is surely one of the best things to do in Barbados with kids. Located on the island's south coast, this family-friendly beach offers a mixture of relaxation and recreation for all ages. It's well-protected, with calm, shallow water for your little ones to paddle. Or, swim in at the southern end, where you'll find a pool-like area surrounded by rocks to break the waves. For older kids who love a thrill, other sections of the beach feature more energetic waves, ideal for boogie boarding. There are also a variety of shacks, stalls, and casual cafes, as well as a few excellent restaurants. Lifeguards are on duty all day.
Enterprise Beach
Known locally as 'Miami Beach', Enterprise is another great spot with perfect conditions for a family day out. On the northern end, there's a cove with shallow water for youngsters to enjoy. It features soft sand and lots of shade for parents to relax with a drink or read a book. On the southern end, you'll find bigger waves that are ideal for surfing, and perfect for entertaining lively teens. Enterprise Beach is also just a few minutes away from the fishing village of Oistins, known for its delicious local restaurants. Be sure to try the salted fishcakes!
Surfers Point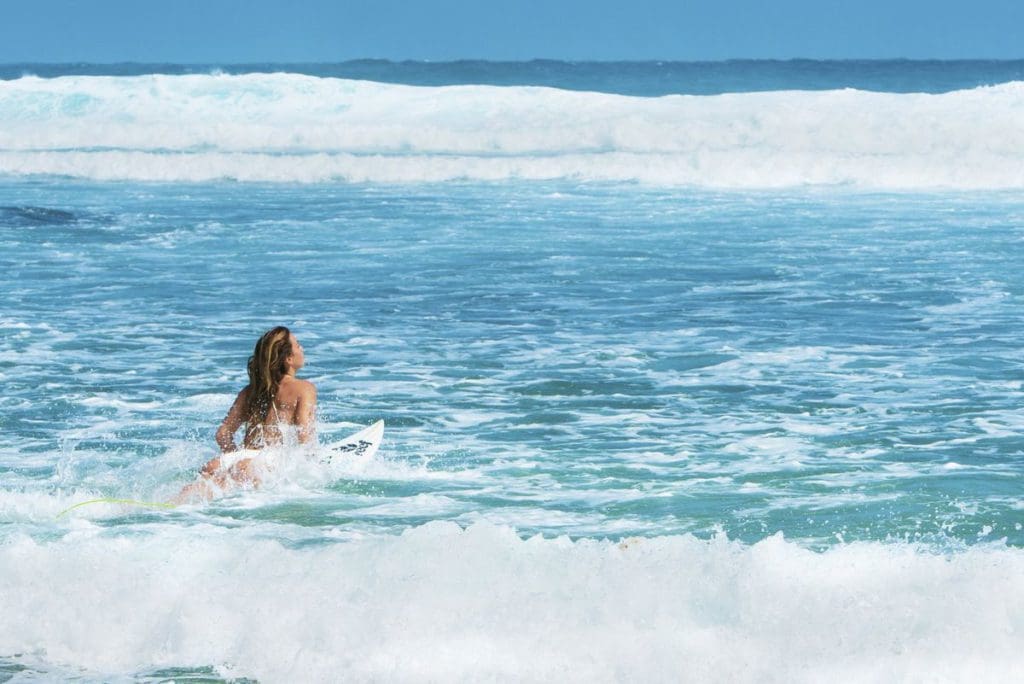 If your family is a little older, then Surfers Point might be the beach for you. Located on the southeast coast of Barbados, it's a great place to learn how to surf, as the name suggests. There are even a few local surf schools located nearby. However, besides surfing, the beach is also ideal for windsurfing, kite surfing, boogie boarding, and kayaking. Even if kids don't want to surf, there are several rock pools where younger children can explore and play.
Worthing Beach
Worthing Beach is one of Barbados' most popular beaches, and as soon as you arrive you will understand why. Located in Christchurch on the island's southern coast, the sugar-soft white sand is perfect for enjoying a sunny afternoon. Meanwhile, the shallow turquoise waters are wonderful for splashing around in. Just off-shore, a colorful coral reef is easily accessible from the beach and offers amazing snorkeling opportunities to see vibrant tropical fish. This is definitely one of the best things to do in Barbados with kids, especially little ones!
Book The Real Barbados 5-hour Island Tour through Viator here!
Try a Thrilling Watersport
Families looking for the best things to do in Barbados with kids shouldn't hesitate to try water sports. Whether you want to take a Catamaran cruise, go surfing, or try kayaking, there are so many exciting options that your kids will love. Here are some favorites!
Planning a trip to the Caribbean? Check out these Best All-Inclusive Resorts In The Caribbean For Families By Country!
Surfing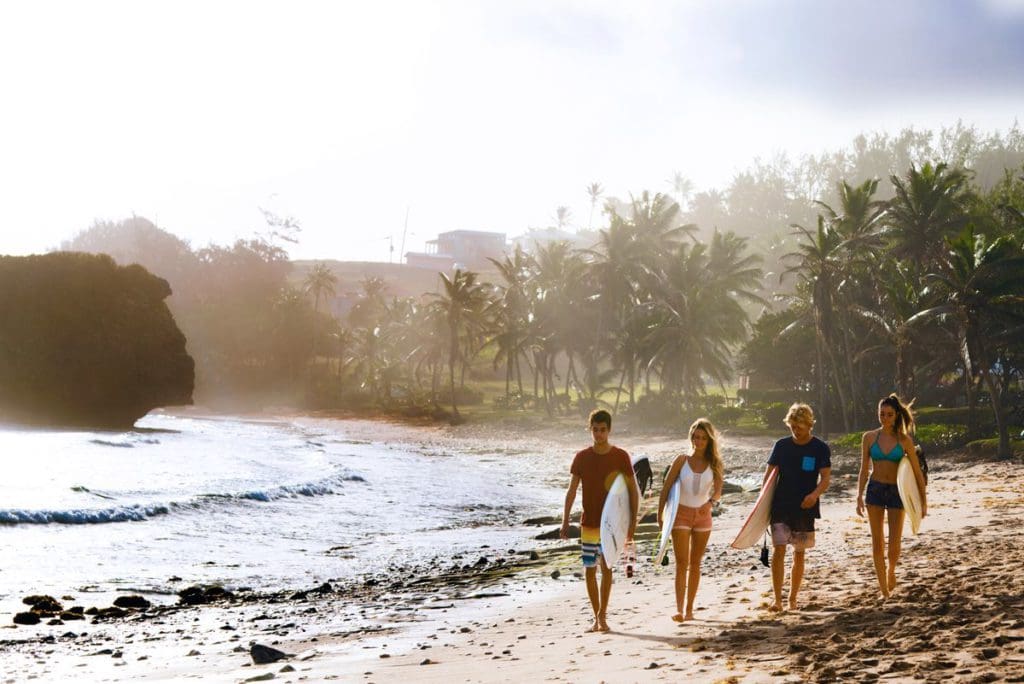 Barbados offers excellent surfing for all levels and is a great place to learn how to surf with kids. When searching for the best beaches for surfing in Barbados, you'll probably have more luck on the southern coast. It has plenty of options for beginners and advanced surfers alike. One popular spot is Surfers Point, as previously mentioned in this article on the best things to do in Barbados with kids. For more surfing opportunities on the island, families can also visit Freights Bay, a scenic spot near the southern tip of Barbados. A great choice for adults and kids, it offers panoramic views of the turquoise waters and excellent surf conditions!
Catamaran Cruise
Getting out on the water is one of the best ways to appreciate the natural beauty of Barbados. With a catamaran cruise, families can spend quality time together while enjoying an exciting excursion out at sea! This thrilling adventure is offered by various companies such as Tiami Catamaran Cruises, Jammin Catamaran Cruises, and El Tigre Catamaran Cruises, which depart from Bridgetown. Lasting two to three hours, a catamaran tour takes families along the coast with a guide. In the process, kids will get the chance to wade in calm waters, snorkel shipwrecks, and even swim with turtles! Cruises usually include a traditional Bajan lunch as well as other refreshments, though there are sunset options as well.
You can also book a 3-hour or 5-hour Barbados Catamaran Snorkeling Cruise or Barbados Catamaran Turtle Snorkel with Lunch and Open Bar from Viator in advance with a 24-hour cancellation policy.
Reserve a Catamaran cruise here with Viator!
Wind and Kite Surfing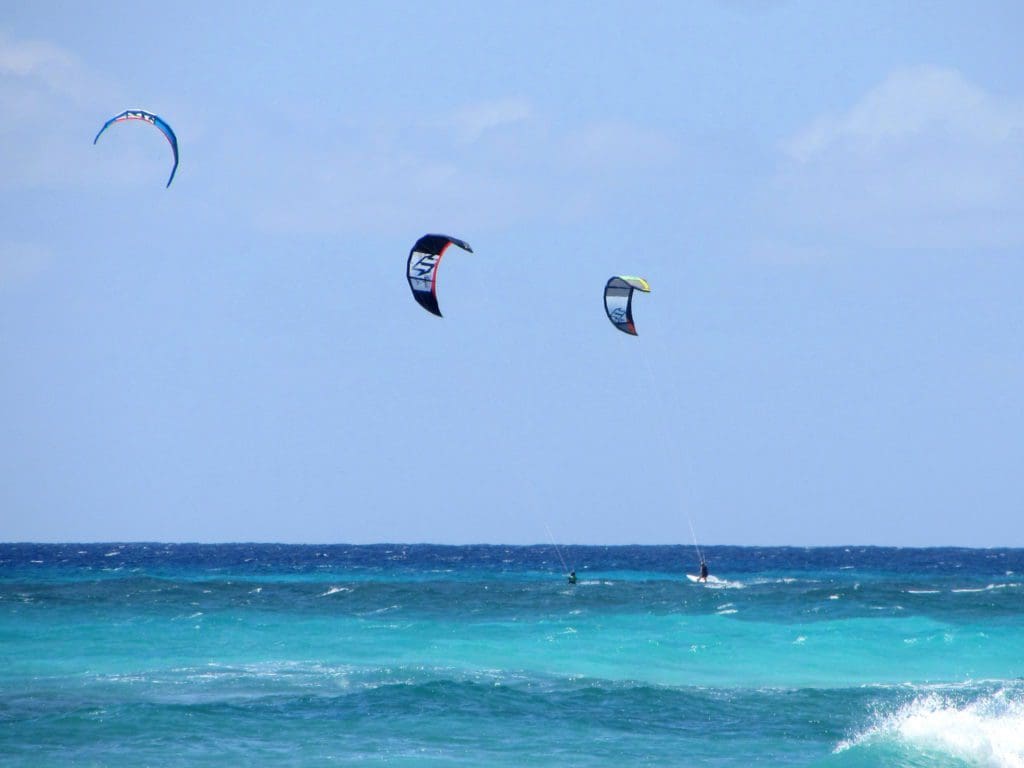 Your older kids will love windsurfing and kite surfing, two of the best things to do in Barbados with kids! As one of the windiest islands in the Caribbean, there are plenty of places to take advantage of the weather. Places such as Dover Beach are one of the best spots for them to try these exciting watersports. There are several surf schools for beginners, and the winds and waves offer fun and excitement for all skill levels. The beach itself is pretty special too, so parents can just relax while their kids take on the more adrenaline-fuelled activities! Other great beaches for windsurfing or kite surfing in Barbados include Surfers Point, Silver Rock Beach, and Long Beach.
Kayaking & SUP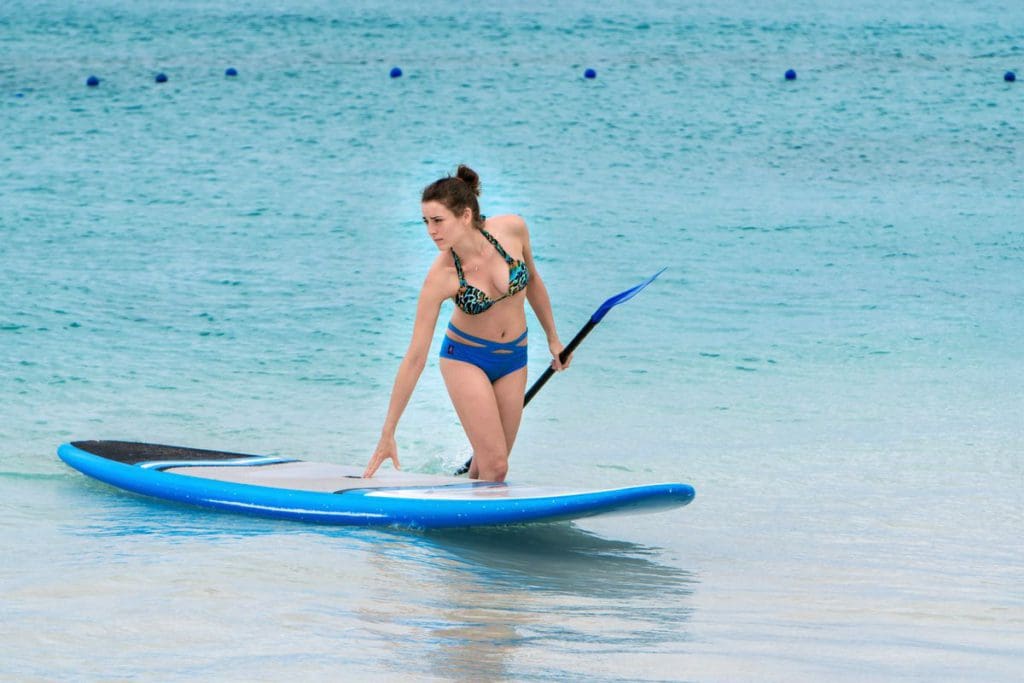 Calm waters surrounding Barbados make it a perfect place to go kayaking or stand-up paddleboarding, and viewing the coast from the water is one of the best ways to appreciate the island. As one of the most kid-friendly water sports on the island and the best things to do in Barbados with kids, this activity is a must during a family vacation!
A few great spots with rentals nearby include Heywoods Beach, located in St. Peter. Folkestone Marine Park & Visitors' Centre is also worth a visit since it features an artificial reef for snorkeling, an aquarium, and kayaking. Finally, families staying in Bridgetown who want a local, smaller beach to try kayaking or stand-up paddleboarding can visit Pebbles Beach.
Book a Kayak tour in Barbados here with Viator!
Swim with the Sea Turtles
Swimming with turtles in their natural habitat is one of the most exhilarating, exciting, and magical experiences you can have, whatever age you are! Plus, if your kids are fans of Finding Nemo, they'll be over the moon to hang out with Crush in real life. Hawksbill turtles are plentiful in the warm, shallow waters off the coast of Barbados. You'll find turtles swimming lazily through the shallows all year round, but if you want to experience something truly special, arrive between July and October. This is when thousands of baby turtles break open their eggs and make the short dash across the beach to reach the open water!
Hawksbill turtles prefer to hang out in shallow, calm waters, so beaches like Paynes Bay, Dover Beach, and Turtle Beach are perfect. In general, Carlisle Bay is a very popular spot to see turtles, whether on an eco-tour or simply while snorkeling through shipwrecks. You can book your Barbados Turtle & Shipwreck Snorkel Adventure or Barbados "Shared" Turtle Swim and Shipwreck Tour using Viator in advance. They offer a reserve now & pay later and a 24 hr cancellation policy, which is perfect for families with kids.
Check out the options on Viator for more information on swimming with turtles in Barbados!
Also, Read, Visit One of the 12 Best Caribbean Islands for Families!
Visit the Barbados Wildlife Reserve
The Barbados Wildlife Reserve is one of the best places in Barbados to get up close and personal with fascinating creatures. For kids, the best part of visiting is that almost none of the animals are in cages or enclosed. Green monkeys will literally hang around with your family, eating from your hands, jumping on your shoulders, and even picking your pockets if you aren't careful! Alongside monkeys, it's also home to deer, peacocks, several parrots, and other bird species, plus iguanas, tortoises, otters, rabbits, and snakes. An afternoon spent wandering through the mahogany forest of Farley Hill National Park, where the Wildlife Reserve is situated, provides an amazing picture of the wildlife of Barbados.
Reserve this Barbados Island Tour with Lunch and Wildlife Sanctuary through Viator today!
Ride an Atlantis Submarine
What could be more exciting for your family than a journey to the bottom of the sea in a submarine? Atlantis Submarines Barbados is one of the best and most exhilarating experiences the island has to offer! Exploring Barbados underwater is a unique thing to do, especially for younger kids who aren't comfortable snorkeling or scuba diving. In a submarine, families can sit back in comfort and watch the amazing marine world glide past their window as they descend to a depth of around 150 feet. An expert guides you through the submarine world as you look out for electric-colored tropical fish, gloriously vibrant reefs, turtles, and even an ancient and mysterious shipwreck! Plus, did you know that Atlantis Barbados is the only location worldwide that offers submarine tours at night?
This experience is not suitable for extremely young kids, as children must be at least three feet tall to ride in the submarine. You can also combine a Barbados Harrison's Cave and Atlantis Submarine Dive Tour so you don't have to worry about transport hassles.
Reserve your tickets to Atlantis Submarine Day Tour through Viator here with a 24 hr cancellation policy that's cheaper than booking directly!
Explore the Barbados Museum & Historical Society
Exploring the Barbados Museum and Historical Society is one of the best things to do in Barbados with kids. With an array of interesting exhibits and collections about the island's history, it's a great attraction for older kids. Last year, the museum also launched a new gallery, Jairus Brewster Children's Gallery featuring the exhibit 'Explore', an amazing, interactive, and technology-driven exhibition for younger kids.
The Jairus Brewster Children's Gallery featuring the exhibit 'Explore' offers contemporary displays and exciting designs to help kids understand the world around them. Engaging all of their senses, kids are able to learn about the environment, the wildlife of the island, and the sustainability efforts that are protecting them, with a series of whimsical and interactive games. Certainly, this is a great opportunity for parents to engage in learning and play opportunities with their children. Not to mention, it has great air-conditioning to escape the midday heat!
Descend Underground to Harrison's Cave
Harrison's Cave Eco-Adventure Park offers a wonderful combination of natural wonder and exciting adventure. Carved out of volcanic rock, this limestone cavern provides an adrenaline-filled outing that'll leave your kids breathless and wide-eyed. It has been long used as a refuge for pirates, rebels, and smugglers, featuring crystal clear pools to swim in, flowing waterfalls, and remarkable rock formations. After an underground tram tour, you can enjoy a total adrenaline rush at the park. It has zip lines, obstacle courses, a free-swinging bridge, a freefall tower, and dry slides. There's even an education zone. Kids can learn about how caves are formed, what animals live in them, and how they are a crucial part of the ecosystem above ground.
Viator offers plenty of Harrison's Cave Tour in Barbados, including Harrison's Cave Tram Tour and Boat Cruise Snorkel Adventure. Make sure to book it in advance. Combining these tours could save you time and the hassle of transportation.
Book your tickets to Harrison's Cave Tour here through Viator!
Slip & Slide at Rascals Water Park
The final stop on our list of the best things to do in Barbados with kids is Rascals Water Park. After all, what sort of tropical paradise vacation would it be without a bit of aquatic fun? Located in Bridgetown, Rascals is a twist on the traditional water park concept, largely made up of giant inflatable obstacles and slides. Kids can bounce on and jump off to their hearts' content while parents enjoy the breezy bar area and grab a drink or even join in the fun. Completing the entire course is quite a challenge; so a visit to Rascals will leave your little ones totally tuckered out at the end of the day!
Where to Stay in Barbados with Kids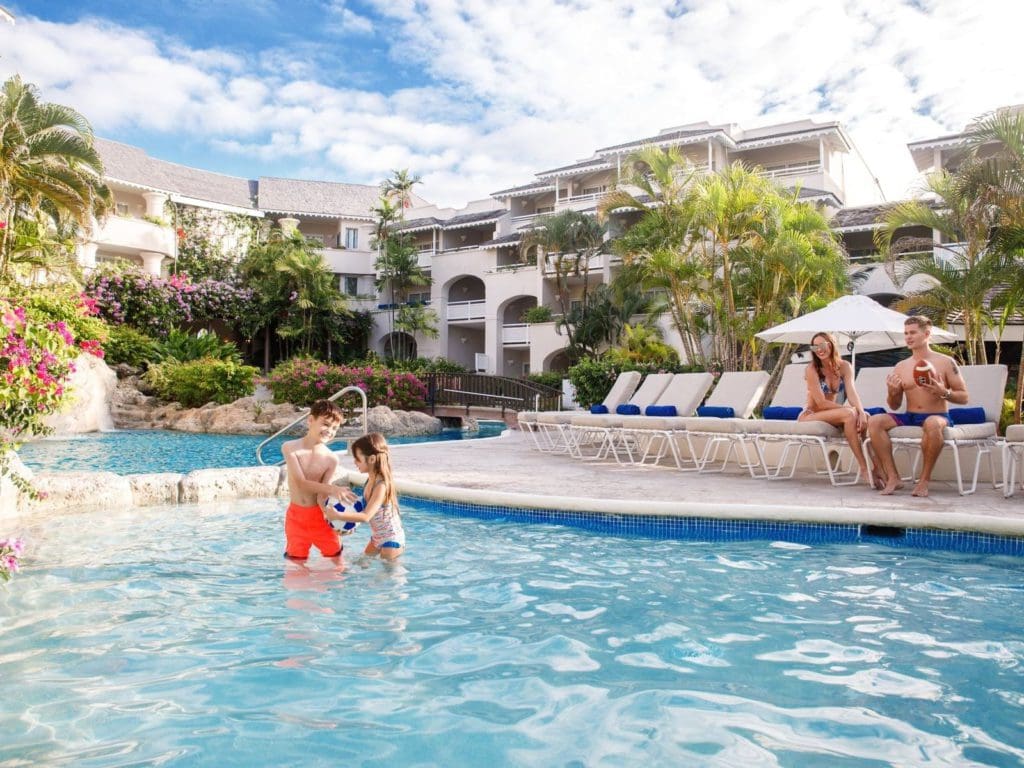 Need somewhere to stay in Barbados with kids? Once you've discovered the best things to do in Barbados with kids, it's time to start searching for the best resorts in Barbados for families. For an all-inclusive option, try staying at Turtle Beach by Elegant Hotels, Sugar Bay Barbados, or O2 Beach Club & Spa. All offer beautiful nearby beaches, pools for kids, and other family-friendly amenities. Families looking for a more secluded stay will love Sugar Hill Estate, offering a variety of luxury villas. No matter where you choose, you can't go wrong with a family vacation to Barbados!
Find more family-friendly hotel options on our list of the Best Resorts In Barbados For A Family Vacation (All-Inclusive Included)!
Happy Travels!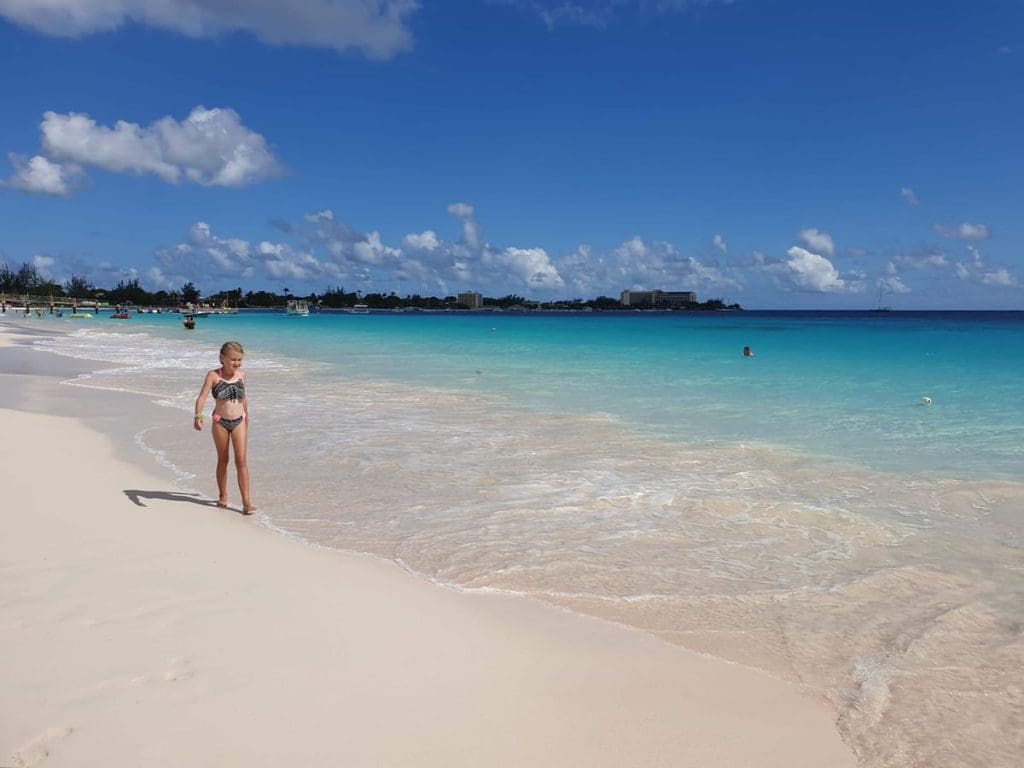 We hope you liked this list of the Best Things To Do In Barbados With Kids by our contributor Cory Beach! Between fun in the sun, water sports, and fascinating history, there's so much to discover on this Caribbean island as a family. Enjoy your family vacation to Barbados!
*Due to the COVID-19 pandemic, some of the attractions, accommodations, or things to do on this list may be closed. Please ensure availability before making your decision.
*This post may contain affiliate links that may earn us a small commission, at no additional cost to you. Affiliate links in no way inform the hotels, sights, products, or other recommendations included in our articles. All opinions and recommendations expressed here are compiled from submissions submitted by the generous members of our Families Who Love To Travel community.
READ MORE: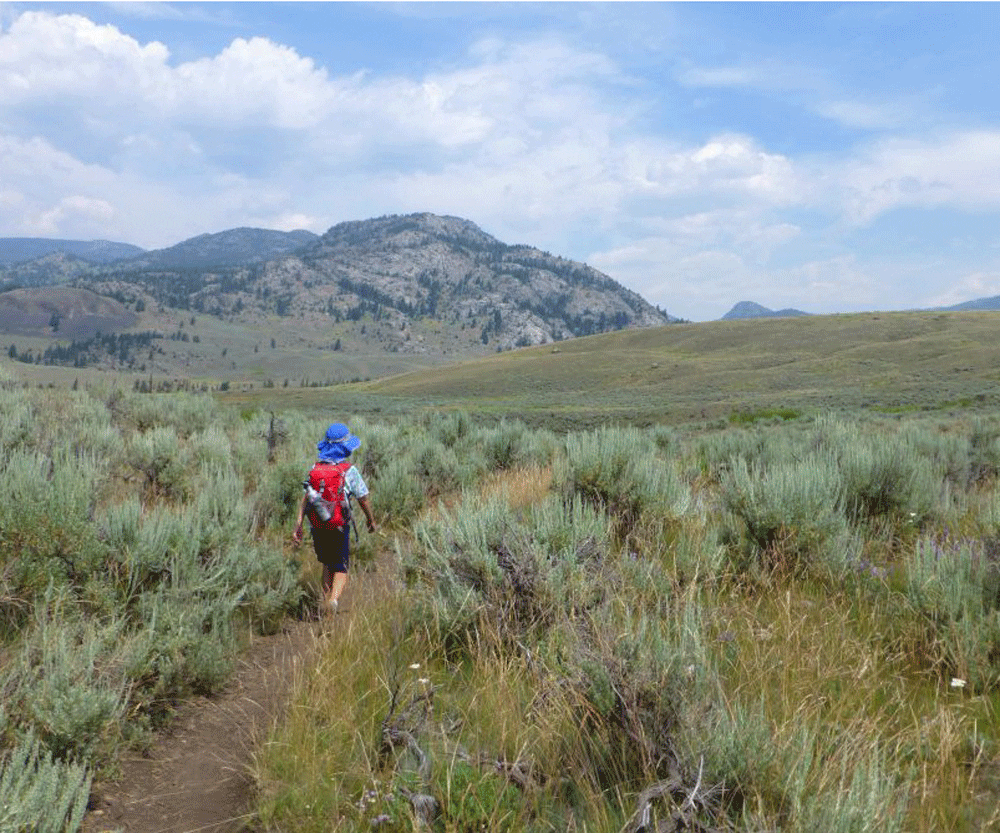 Everyone knows that Yellowstone National Park makes for a classic family vacation. Strolling the boardwalks...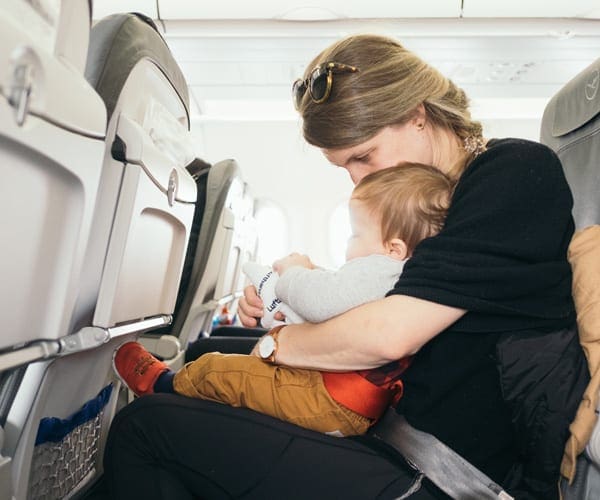 Families Who Love To Travel contributor Meghan Oaks provides her 10 best tips for your...