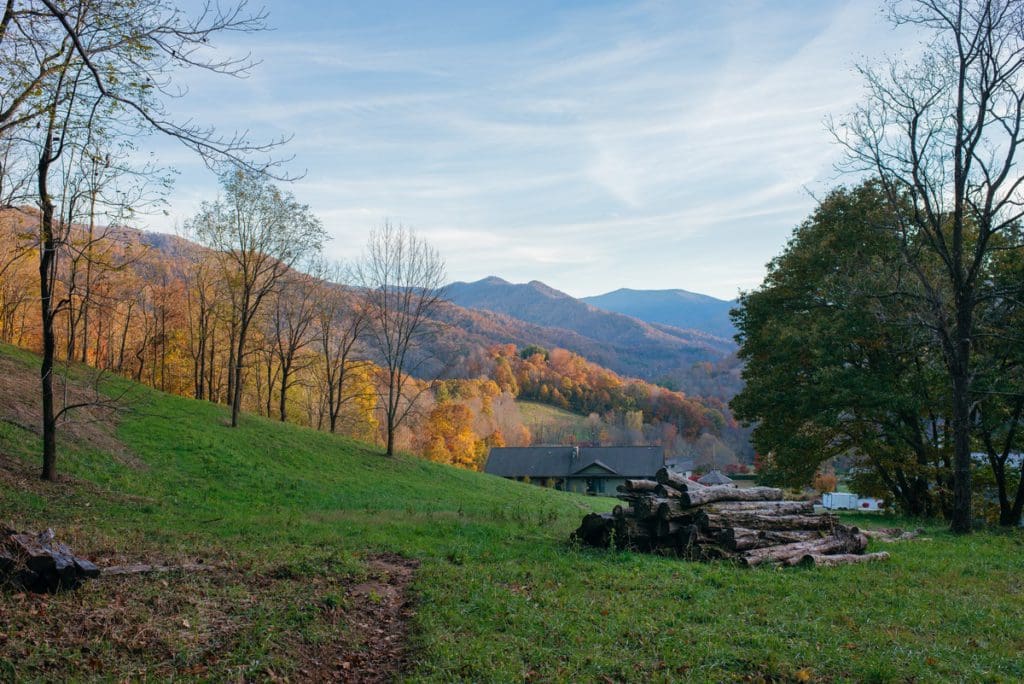 If you're looking for fun family activities all ages can enjoy, look no further than the North Georgia mountains! Tucked away at the bottom of the Appalachian mountain range are the beautiful rolling hills of north Georgia. The charming forests and quaint towns make a perfect escape for a family wanting to relax. Less than an hour and a half from Atlanta and two hours from Greenville, a family can take a day trip or fill a weekend with North Georgia attractions like nature hikes, waterfalls, folk culture, fishing, and more. Coming from Greenville, my family and I visit Blue Ridge multiple times a year, and each season has plenty of activities to enjoy. Here are 7 of our favorite family things to do in the North Georgia mountains when we visit!
Take a Hike
You can't get the full experience of the mountains without taking a hike in the woods, and north Georgia has plenty to choose from. Visit a state park such as Vogel, Unicoi, or Amicalola to enjoy the natural beauty of the forest and its waterfalls. These are certainly some of the best North Georgia attractions for families. Keep reading to learn more!
Vogel State Park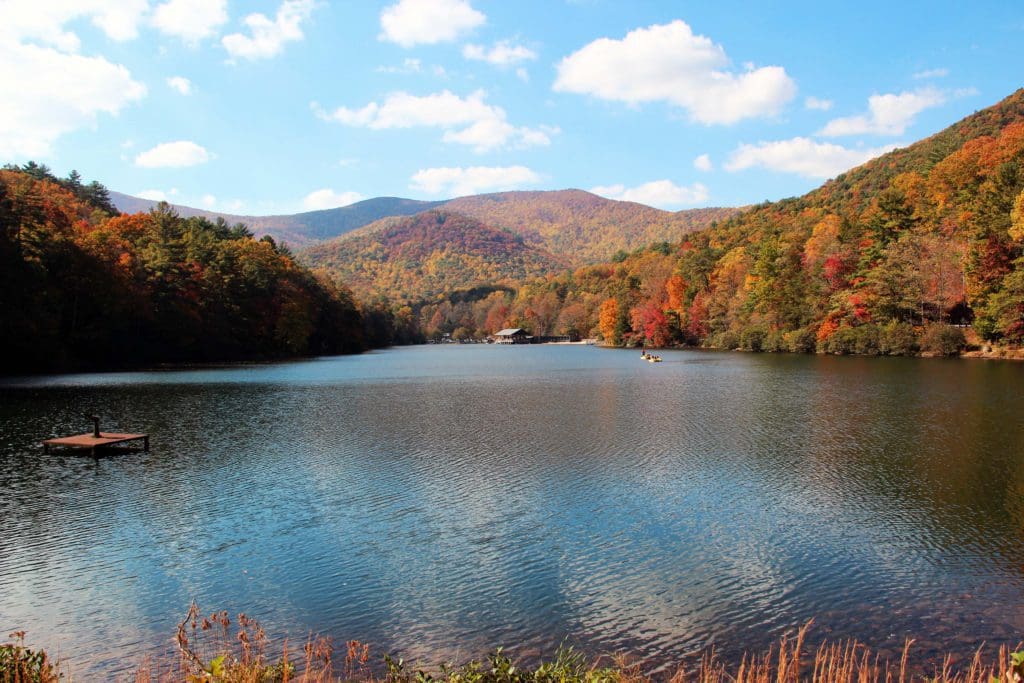 Visit Vogel State Park to take a fun adventure with your kids! Located in Blairsville, it's one of the best cool things to do in North Georgia, offering 17 miles of hiking trails. This makes it great for a day trip or excursion. If you're looking for an easy path to hike with your kids, try the family-friendly, 1-mile trail around Trahlyta Lake. This lake has a sand beach and paddle boat rentals, making camping a fun summer adventure for families. Vogel State also Park offers 34 cottages with wifi availability and 90 tent and RV campsites with electric and water hookups, so you can stay and enjoy all the fun activities.
Reserve your cabin stay near Vogel State Park with Vrbo here!
Unicoi State Park
Unicoi State Park has all the outdoor activities your family could ever want. With archery, kayaks, zip-lines, and fly fishing, the park has hiking too! Encompassing 1,029 acres of forest near Helen, the trails are well-marked, and there are many different scenic routes to choose from. You can get high-tech and go on a GPS scavenger hunt hike, but don't miss visiting Anna Ruby Falls. The events schedule offers many family-friendly educational activities such as Snake Day, Native American Arts and Traditions, and Bats of Georgia.
With so many adventures to enjoy, make a weekend of it and stay on the park grounds. Unicoi has 29 cabins, some of which are ADA-accessible and pet friendly. Camping can be as luxurious or rustic as you like. From primitive tent campsites to luxury RV hookups, there is a spot for everyone, with over 100 sites to choose from, including the Squirrel's Nest, a unique hammock experience.
There's Unicoi Restaurant at the park Lodge to fill up before or after your hike, but don't miss the chance to explore Helen, the Bavarian-inspired town near the park. Helen boasts a wide variety of German-style restaurants, ice cream spots, and fudge shops. Don't miss Hofer's of Helen for bakery delights and German/American food. And for a sweet treat, make sure to enjoy Hansel and Gretel Candy Kitchen.
Book a cabin here with Vrbo near Unicoi State Park!
Amicalola State Park
Amicalola State Park in Dawsonville is best known for its namesake, Amicalola Falls, which soars 729 feet down the mountain. Hikers and families can trek the 400 steps up or down the West Ridge staircase that runs alongside the falls. For a beautiful panoramic view that is a showstopper in autumn, stop at the Lodge at the top of the falls. Kids will also enjoy the animal encounters the park provides free of charge each weekend, including the reptile program and birds of prey meet and greets.
For a fun and unique overnight experience at one of the best North Georgia attractions for families, reserve a glamping experience at Amicalola State Park. These furnished Safari Tents come with king and queen-sized beds and bunkbeds too. Camping in style includes a coffee maker, mini fridge, a/c and heating, camp chairs, and two hammocks. Basically, my kind of camping!
Not into camping? Book a luxe cabin near Amicalola State Park with Vrbo!
Ride the Blue Ridge Scenic Railway
Down the center of Blue Ridge runs the Blue Ridge Scenic Railway. Families young and old will enjoy this 4-hour excursion that takes passengers from Blue Ridge to McCaysville, GA, and Copperhill, TN. Here, you can stroll along the shops of McCaysville and enjoy lunch or ice cream while you watch the Toccoa River amble through the town. They also offer a holiday express train ride from November through December to get you into the Christmas spirit, a great wintertime activity. While in Blue Ridge, don't miss the shops on Main Street. Outdoor gear, antiques, boutique shops, and the adorable Love Dogs and Cats Too pet shop line the quaint street. For delicious down-home burgers, try Sue's Burgers. And for a restaurant right on the river, enjoy trout at the Toccoa Riverside Restaurant.
Rent a Boat
Looking for something fun to do in the summer? One of the best cool things to do in North Georgia with kids is to rent a boat! Families can enjoy a refreshing day on a pontoon boat with clear, cool freshwater lakes like Lake Blue Ridge, Lake Nottely, and Chatuge Lake. Each lake has several marinas with boat rentals available. My favorite is Nottely Marina. Jet skies and water sports equipment are also available. Since over half of Lake Nottely is protected by the US Forestry service, you can enjoy the quiet natural beauty while you fish for trout and bass. Or, drop anchor in an alcove and jump into the water for a swim.
Lake Blue Ridge is another popular reservoir for boating, fishing, and swimming. Blue Ridge Boat Rentals offers wake boats, ski boats, pontoon boats, and boating accessories. Meanwhile, Lake Blue Ridge Marina has a Boat Dock Bar and Grill right on the water to enjoy after a fun day on the lake.
A day on the water at Lake Chatuge is another perfect way to spend time as a family. Lake Chatuge Lodge offers spectacular lake-view rooms and instant access to the lake. Lake Chatuge Marine can fit your family with the right boat for your lake adventure. For music and lake views as part of your dining experience, head to Sandbar & Grille. Located across the street from Lake Chatuge, diners always have a good time at the Sandbar.
Visit an Apple Orchard
North Georgia is known for its delicious apples, and Mercier Orchard is the best. Open for 79 years, Mercier offers wide varieties of apples and all the goodies you can make with apples, such as apple butter, apple turnovers, apple cider, and hard apple cider for the grown-ups. Don't miss the chance to try the many varieties of hand pies; apple, cherry, chocolate, and pecan. They have U-pick apples with a hayride for a fun family activity. A cafe, bakery, and cidery make Mercier a feast in itself.
Although apples are what Mercier is known for, they also offer a fishing pond, strawberry picking, and peaches in the summer. Fall is the season for apples, though, and each October, the town of Ellijay has an apple festival definitely worth enjoying. During the second and third weekends in October, you can enjoy the cooler weather at the apple festival. There are over 300 vendors with handmade crafts and demonstrations, an antique car show, and a parade. Make sure to visit north Georgia from September through November to be a part of all the apple fun.
If your family is visiting the North Georgia mountains in the fall, check out The Best Things to Do in North Georgia with Kids in the Fall!
Go Fishing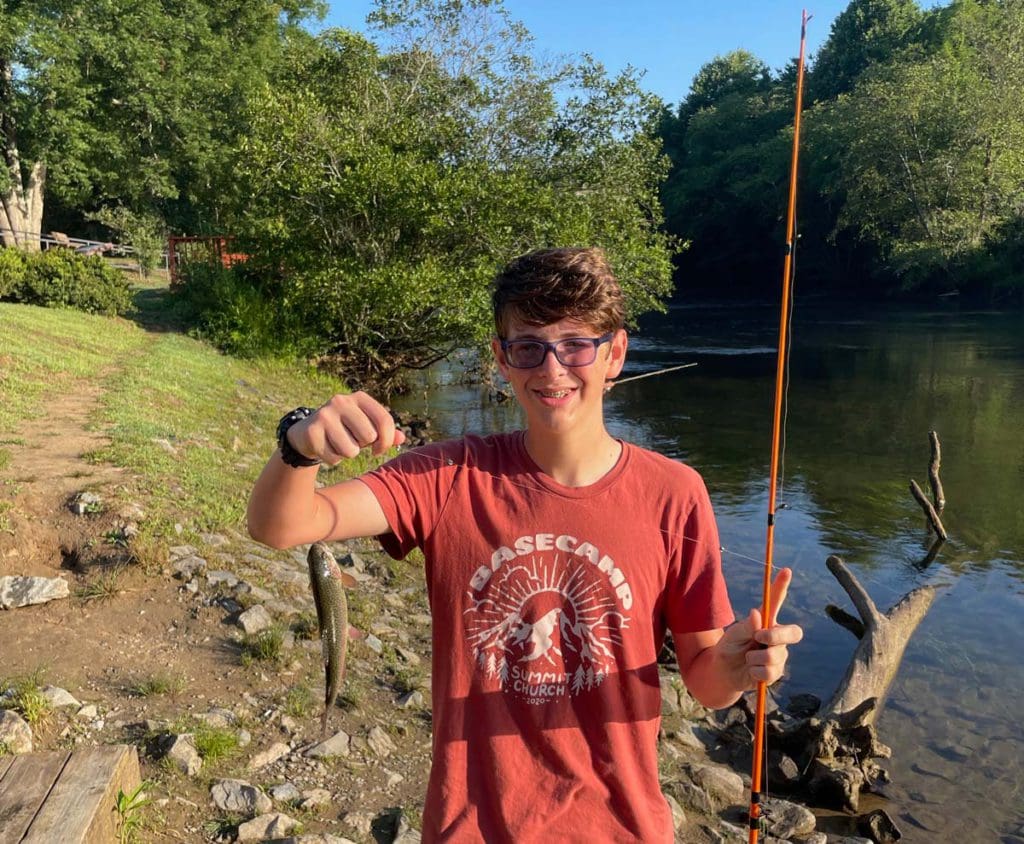 The streams and rivers of north Georgia are perfect for trout fishing. If you're looking for fun family activities in the North Georgia Mountains, spend a day immersed in the fishing experience with your family! Visit the Chattahoochee National Fish Hatchery in Morganton to see where more than a million rainbow trout begin their journey annually. After your visit, grab your poles and some bait and cast your line for some trout. Don't forget to register for a Georgia fishing license before you start. You will only need a license for children 16 and older.
Need another good fishing spot? Try Tammen Park to fish just down from the Blue Ridge Dam. This is a small park, so it can get busy quickly. For a spot where you can spread out, head to Horseshoe Bend Park. Both parks have restrooms, playgrounds, and picnic areas, but Horseshoe Bend is bigger. Both of these excellent trout fishing spots are sourced from the tailwater of the Toccoa River, which means the water passes from Lake Blue Ridge through the dam. This means the cold lake bottom water is just right for trout fishing. It's important to remember that the dam releases water at certain times throughout the week. This can make fishing and other water activities on the river dangerous because of the rapid water level rise. Just be sure to check the generation release schedule each day before you head out!
If you are interested in fly fishing, there are guides and gear in Blue Ridge for you. Visit Appalachian Anglers or Cohutta Fishing Company for a unique fishing experience. These guides will provide the equipment you need and know some of the best less trafficked areas to practice your casting.
Explore an Alpaca Farm
Visit an alpaca farm for a unique family activity in the North Georgia mountains! Lasso the Moon Alpaca Farm is a farm for art lovers and gardeners as well. Educational tours of the alpaca farm are free but available by appointment only. You will learn all about these gentle creatures, including the difference between alpacas and llamas, and how to take care of them.
As one of the best North Georgia attractions, the tour also includes the Lardworks Glass & Fiber Studio. Here, families can learn how to make felted masterpieces and clothing. Or, walk through the process of taking wool fiber from alpacas to make it into a workable art medium. Using natural or commercial dyes makes the fiber become vibrant and inspiring for art projects such as adorable opossums or baby raccoons. The shop's scarves, necklaces, and adorable woodland figurines are created using alpacas fiber. In addition to the working farm, art classes are offered for fiber felting and lampwork glass beading. This fairytale farm is perfect for learning something new with your kids!
Feel Like an Olympian while Whitewater Rafting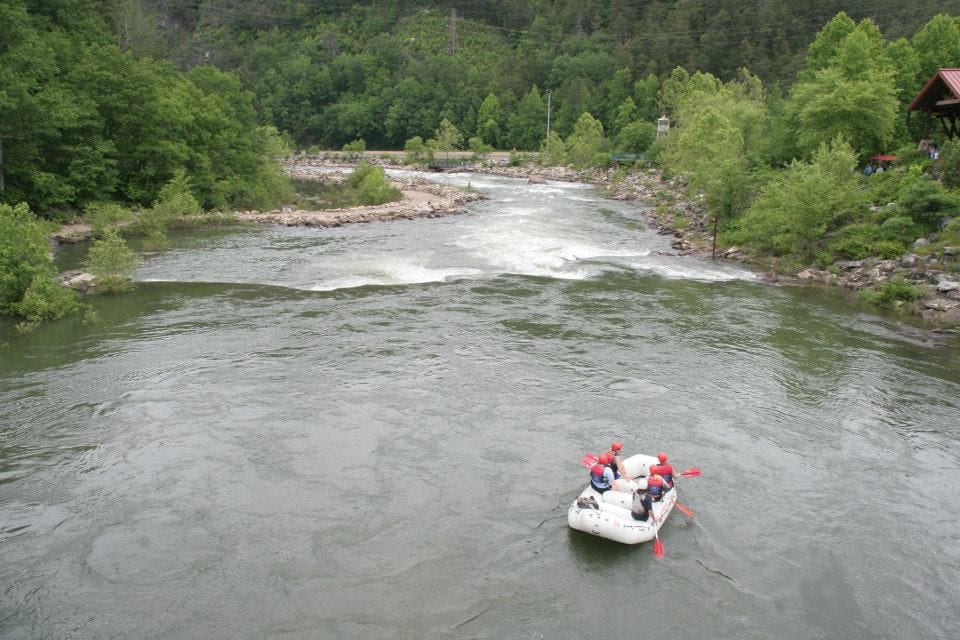 Make it an exciting day by visiting the Ocoee Whitewater Center, home of the 1996 Olympic whitewater competition. Open April through October, the complex is now a visitor center where guests can learn all about the Olympics and how the river was engineered for the events. The Ocoee Whitewater Center is not just a museum. It offers snorkeling and swimming as well as hiking and biking trails. There are picnic tables and pavilions for families to enjoy lunch. For families with children 12 and older (a Tennessee state law requirement), don't miss out on rafting the Ocoee River. The Ocoee Whitewater Center offers rafting trips, as do many other rafting companies in the area, including Rolling Thunder River Company.
Reserve a rafting tour in Ocoee through Viator here!
Where to Stay in the North Georgia Mountains with Kids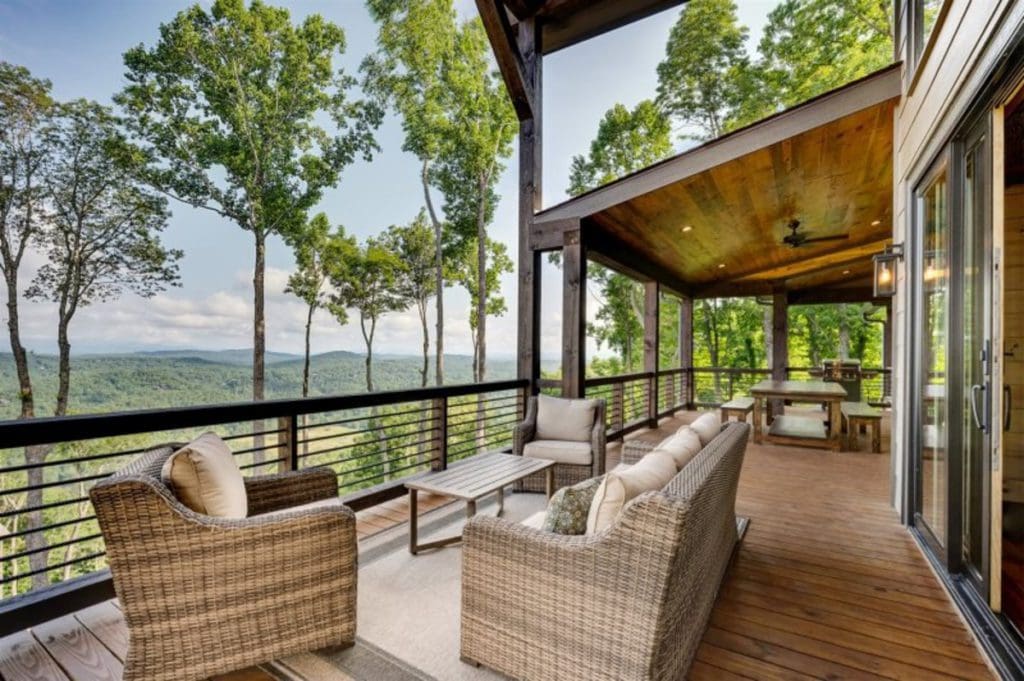 Need somewhere to stay in the North Georgia mountains with kids? To get the full mountain experience, choose a cabin in the woods, and enjoy the stunning sunsets and campfire s'mores as a family. Check out Southern Comfort Cabin Rentals, and Morning Breeze Cabin Rentals for cozy cabins, or try a treehouse at TreeHouse Mountain.
Look here to book your stay in North Georgia with Vrbo!
Happy Travels!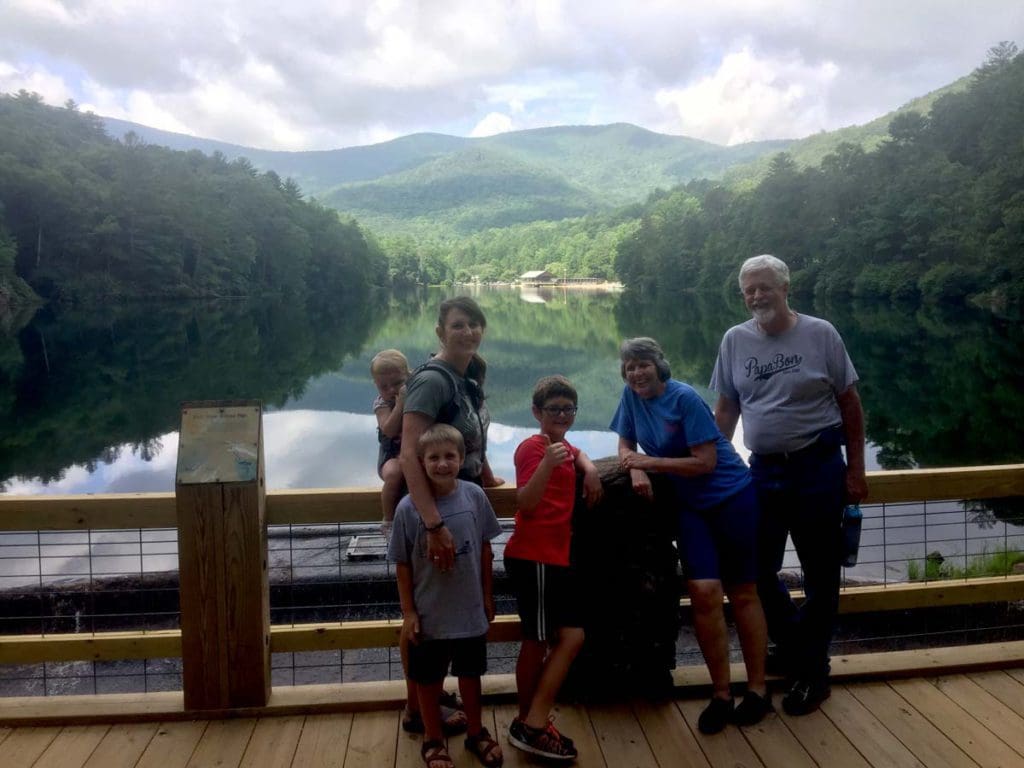 We hope you liked this article on 7 Fun Family Activities in the North Georgia Mountains by our contributor Kyleen Bontrager! These are just a few of the many fun, family-friendly activities north Georgia has to offer. The beauty of the mountains makes relaxing easy to do here. Plus, the people of Appalachia like to enjoy the outdoors and have fun with local festivals and music, so there really is something for everyone during every season of the year. Enjoy North Georgia with your kids!
You can find more from Kyleen and her family adventures by reading her blog, The Bonnie Traveler.
*Due to the COVID-19 pandemic, some of the attractions, accommodations, or things to do on this list may be closed. Please ensure availability before making your decision.
*This post may contain affiliate links that may earn us a small commission, at no additional cost to you. Affiliate links in no way inform the hotels, sights, products, or other recommendations included in our articles. All opinions and recommendations expressed here are compiled from submissions submitted by the generous members of our Families Who Love To Travel community.
READ MORE: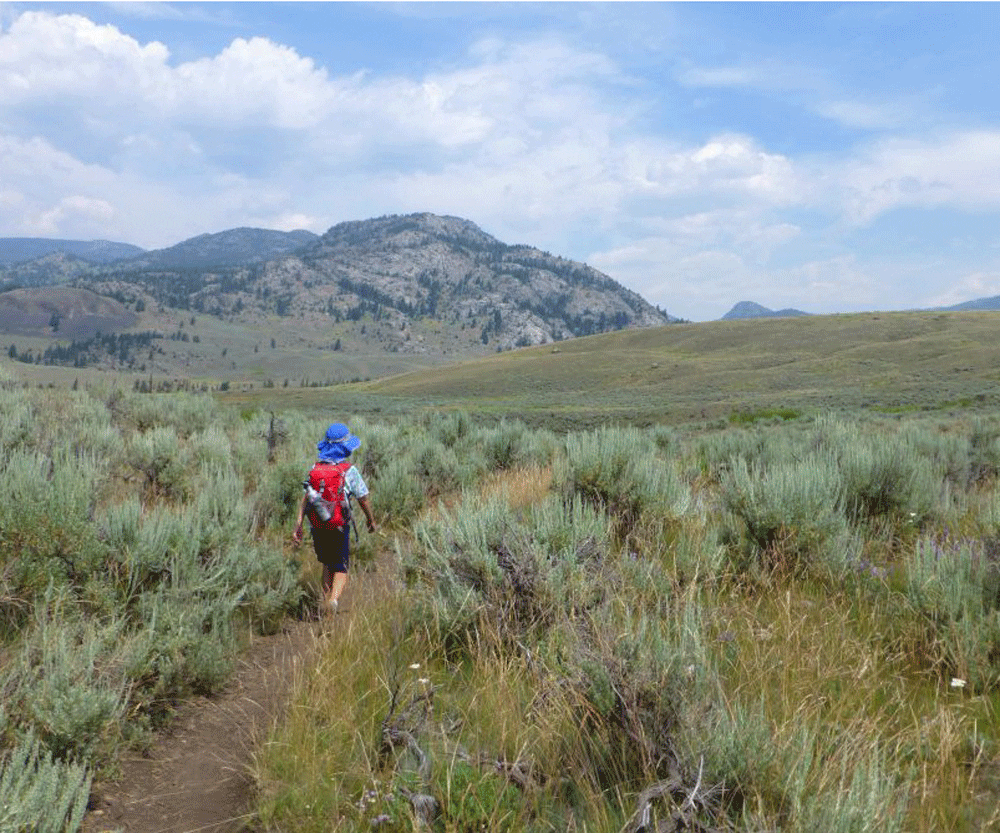 Everyone knows that Yellowstone National Park makes for a classic family vacation. Strolling the boardwalks...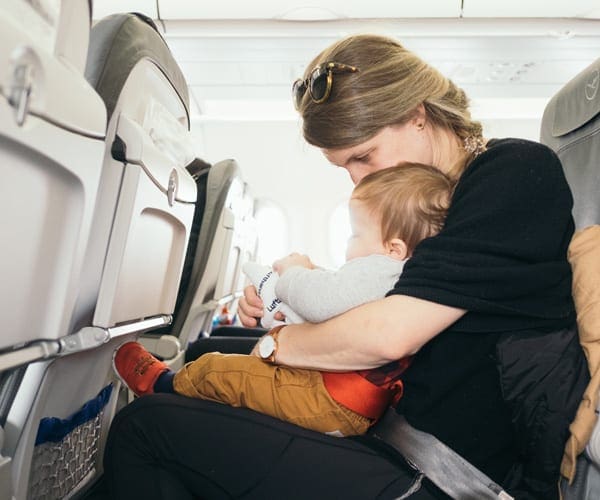 Families Who Love To Travel contributor Meghan Oaks provides her 10 best tips for your...