Gather your family together for a memorable meander through the jetting, dusty rock formations sprawled across Badlands National Park! Located in South Dakota, this kid-friendly park boasts sweeping, dramatic landscapes and provides entertainment for the entire family. Just think of all of the fascinating rock formations, canyons, and spires you'll discover hiking or biking. Not to mention spotting animals like bighorn sheep, bison, and prairie dogs! Whether you're traveling with experienced hikers or younger kids who are beginners, there are a variety of easily accessible trails and viewpoints. But what's the best way to explore Badlands National Park? We recommend visiting for at least a few days. Five days is just enough to see everything this incredible park has to offer. Even if you're traveling for less, our itinerary will help you get the lay of the land. Take a look at our five-day family-friendly itinerary for Badlands National Park!
What To Know Before You Go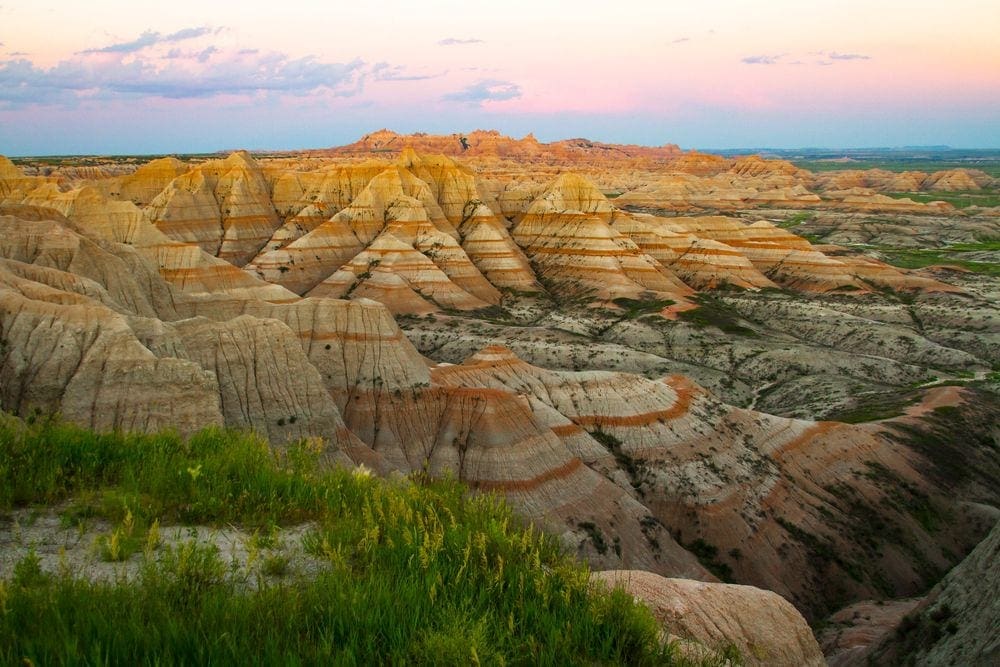 Before you visit Badlands National Park as a family, it's essential to take some precautions! For example, the summer heat can be intense, so plan your days around sunset or sunrise walks or head to the park during the shoulder season. Bring lots of water and sunscreen. Another thing to look out for is rattlesnakes. If you see one, let it slither along, and if you get bit, call 911. Lastly, you won't find super reliable cell service if you meander off-trail, so keep this in mind when traveling deeper into the park. Now that we've got that covered, it's time to begin our five-day family-friendly itinerary for Badlands National Park!
Find Well-Equipped Rentals for Families in Badlands Park using VRBO.
Day 1 on Your Family-Friendly Itinerary for Badlands National Park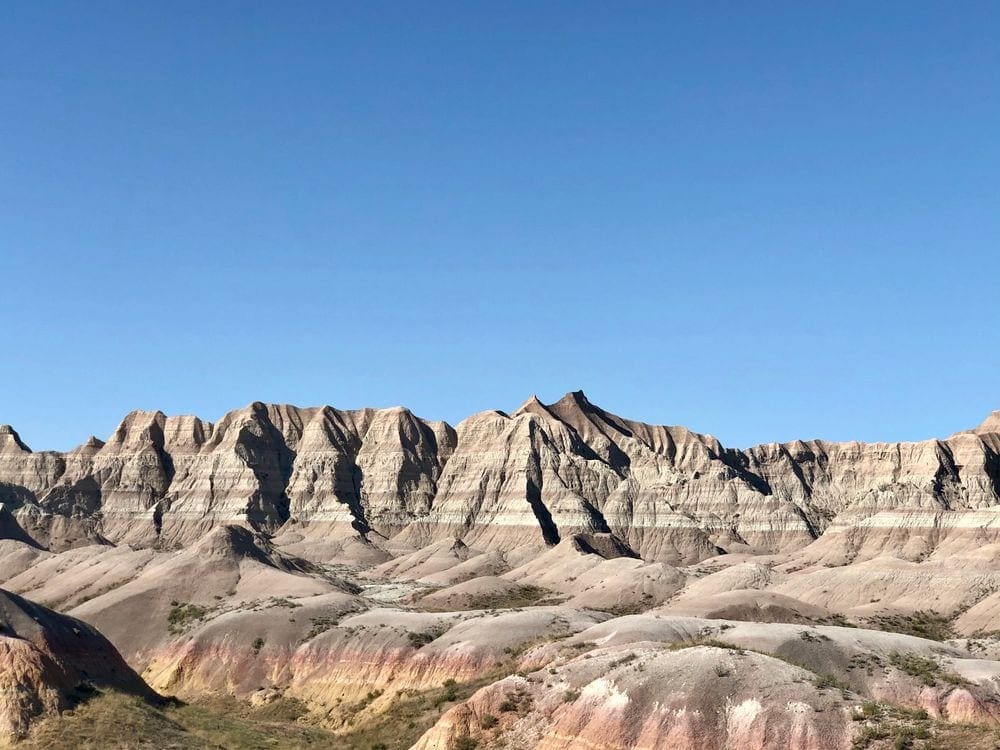 The majority of your first day will be spent getting to your destination. To avoid hearing your kids ask, "are we there yet?" repeatedly on your drive to Badlands National Park, we suggest flying into Rapid City Regional Airport—the nearest airport to the park. Flying helps to eliminate excessive travel time, which hopefully hinders complaints from the back seat. You can also fly in the night before and start your drive the next day! It's just a 62-mile drive to the Pinnacles entrance from the airport. We advise aiming for a morning flight, so you can head out to Badlands National Park and check into a nearby hotel in the afternoon.
Day 2 on Your Family-Friendly Itinerary for Badlands National Park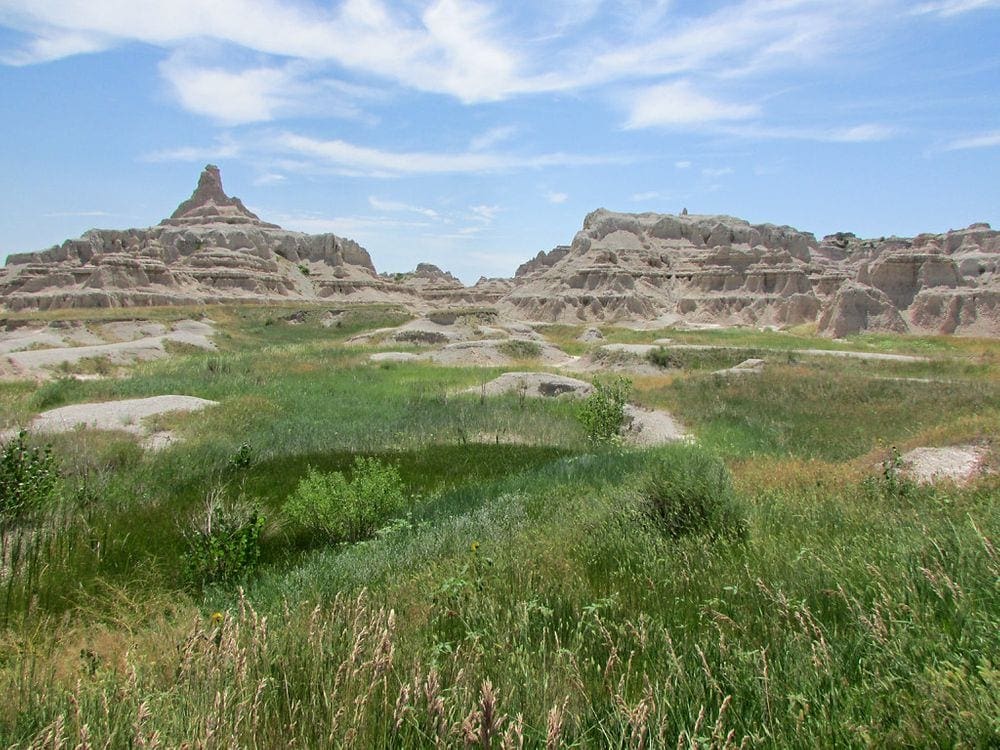 Immerse yourself in Badlands National Park's incredible scenery by exploring the trails carved among the soaring rock formations. There are only eight official park trails, but you're allowed to wander and create your own adventure (with caution), thanks to the Open Hike Policy. If you have young kids, however, the 0.25-mile Fossil Exhibit Trail or the 0.25-mile Window Trail may work best for you. If you have older children, extend your journey on the 10-mile Castle Trail, which begins at the entrance for the Door and Window parking area and winds for 5 miles until you reach the Fossil Exhibit Trail. Remember to keep an eye out for drop-offs on these official trails! In the evening, take a moment to bask in the intoxicating vibrant hues cloaking the sky as the sun dips. Families with early risers will get a chance to admire the equally magical sunrise, too!
Day 3 on Your Family-Friendly Itinerary for Badlands National Park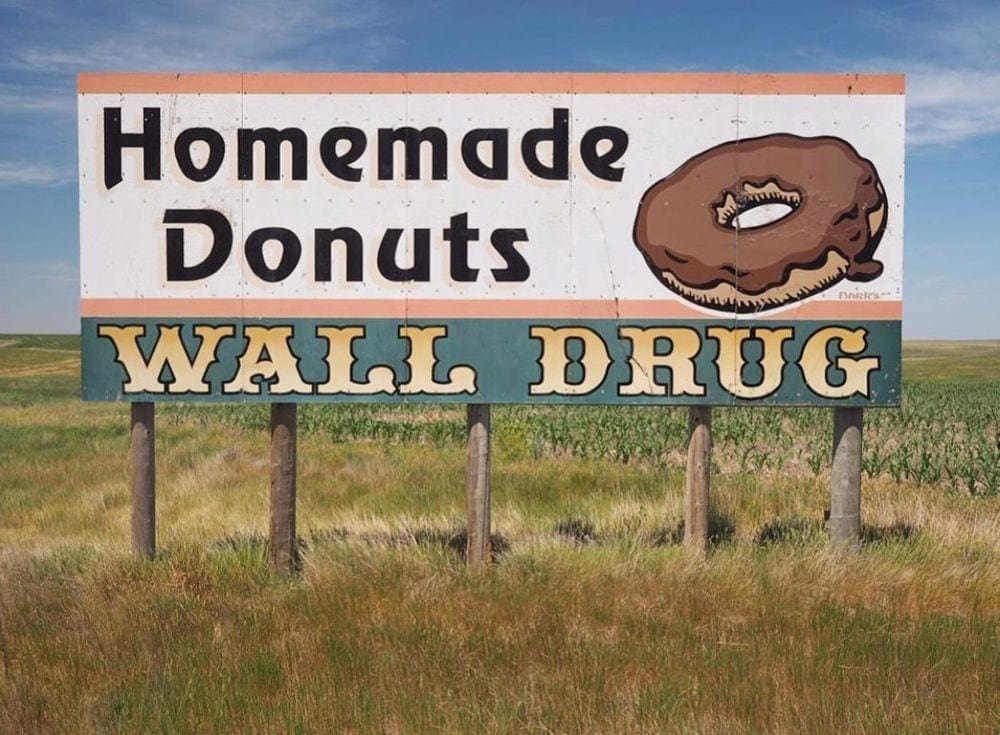 Yesterday was all about hiking, so why not give cycling a try? It's a great way to fill your five-day family-friendly itinerary for Badlands National Park! Black Hills Badlands is a popular local company for rentals. You'll find a few trails etched amid the intimidating, dusty spires and rocks. Do note that you have to stick to the designated biking trails! Whether you're traveling with younger children, tweens, or teens, the 23-mile Sage Creek Loop is one of the better family-friendly biking options. It also offers some wildlife viewing opportunities to have fun along the way. After working up a sweat, switch up the scenery by heading to nearby Wall, South Dakota. This small town is dusted with a wild west vibe that your whole family will love. Stop by Wall Drug Store for another juicy beef or buffalo burger or 9 Juan Juan for a fun snack van experience.
Find Hotels near Badlands National Park, South Dakota using Expedia.
Day 4 on Your Family-Friendly Itinerary for Badlands National Park
Families will find plenty of other ways to explore Badlands National Park besides hiking or cycling. One of the best ways to admire the sweeping vistas sprawled across the park is to drive the Badlands Loop Road. This 62.8-km circuit passes by incredible scenic lookouts, where you can catch glimpses of wildlife and snap some epic pictures of the park's natural wonders. To top it off, you won't even have to leave the vehicle, so everyone gets a chance to relax after a few days of exploring. Some people opt to cycle this route instead of driving! Afterward, decide to go back to Wall in the evening or enjoy dinner at Cedar Pass Lodge or your campsite. And if you haven't caught a sunrise or sunset yet, aim to see one tonight or tomorrow morning—if the weather permits. 
Shop National Park Calendars at Calendars.com Now! Free Shipping Available Today!
Day 5 on Your Family-Friendly Itinerary for Badlands National Park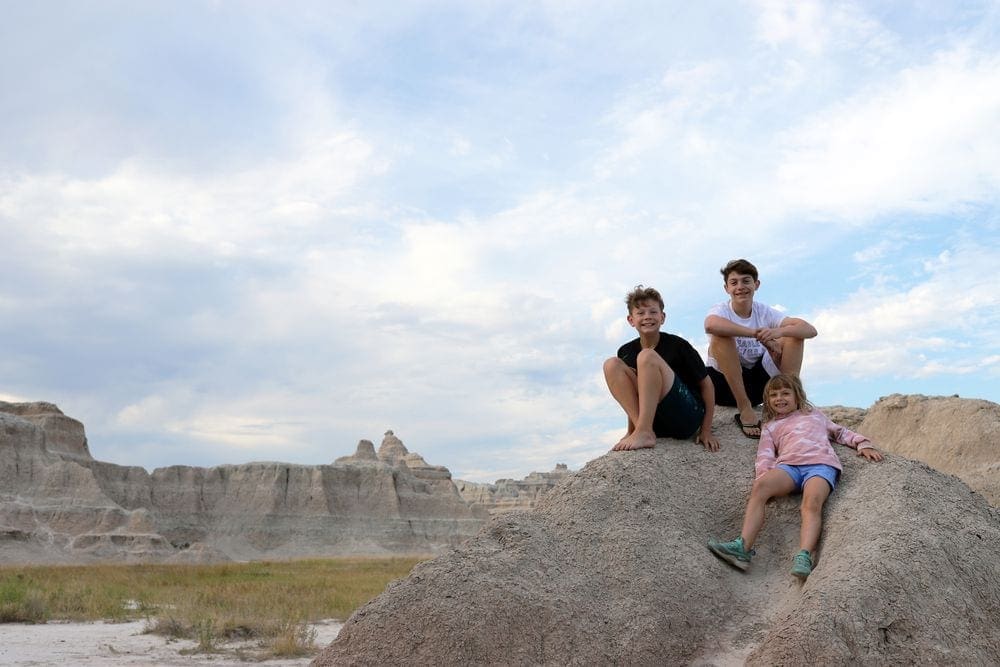 You've hiked, cycled, and explored the Badlands Loop Road, now what? It's probably best to pack your bags and head towards your next destination. But if you have time, you can always squeeze in one last walk through the park. If you weren't able to walk the 0.25-mile Fossil Exhibit Trail on Day 2, we suggest taking your kids on this short but fascinating meander on the last day of your five-day family-friendly itinerary for Badlands National Park! Regardless of how you spend your last day, a trip to Badlands is a great option for a family vacation. It's a perfect starting point for exploring some of the best United States National Parks for kids since the activities aren't super intense. Whether it's one day or five, everyone will have a chance to go outside and bask in the exceptional scenery!
Where to Stay in the Badlands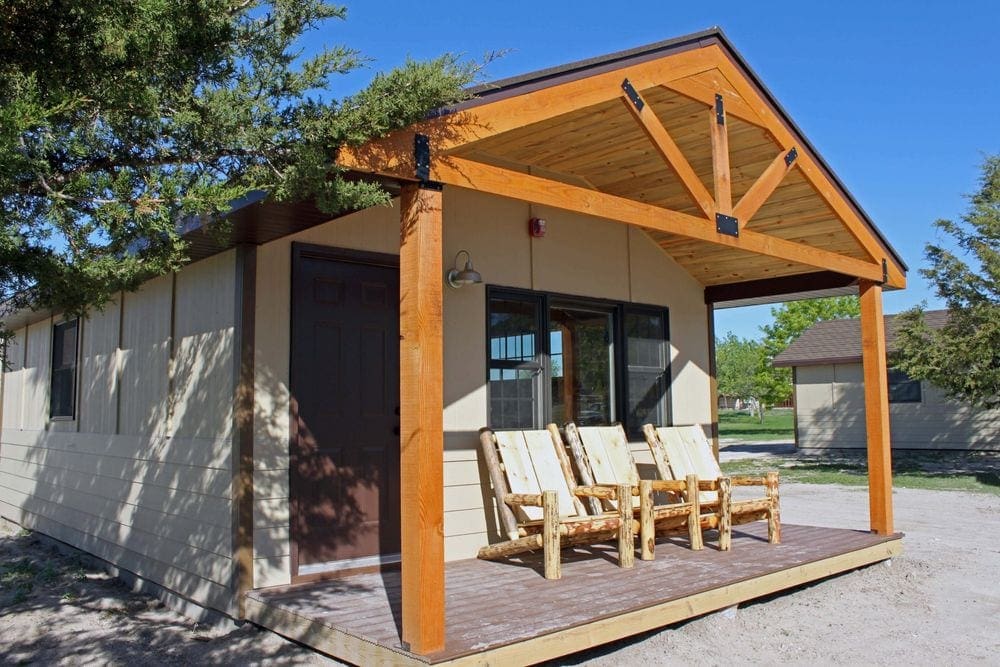 For family-friendly accommodations, consider Cedar Pass Lodge. As the only lodge in Badlands, it provides rustic log cabins, WiFi, and air conditioning. It's also very convenient because you won't have to travel far. If roughing it in the wilderness is more your style, head to Cedar Pass Campground instead. Reserve one of the 96 available campsites beforehand, since they tend to book up fast during peak seasons. Once you arrive, settle in and take a chance to explore the park before your next big day of adventuring. In the meantime, you might as well head to Cedar Pass Restaurant for some mouth-watering, locally sourced buffalo and beef burgers. Families who want to stay on a working cattle ranch will love a stay at Circle View Guest Ranch. Set on over 2,000 stunning acres, it puts guests right on the outskirts of Badlands National Park.
Then, Badlands Budget Host Motel is a family-run option offering an ideal location close to the park's main visitor center. Then, Frontier Cabins has genuine log cabins with modern amenities. Families planning to camp can also find accommodations at the nearby KOA, which offers a private campground. Campgrounds offer a special vibe when visiting the Badlands with kids, as well as the opportunity to meet other families!
National Parks – Scenic routes with breathtaking views all over the country, who knows what you might discover!
Happy Travels!
We hope you liked this Five-day Family-Friendly Itinerary for Badlands National Park written by our contributor Richard Campbell! From hiking to biking, driving, and simply spending time together, we're sure your vacation to South Dakota will be a memorable one. Enjoy Badlands National Park with your kids!
Find more from Richard at 10 Adventures or on Instagram @10Adventures.
Planning your 2021 Summer trip? Do it safely by booking an RV from RVshare today
*Due to the COVID-19 pandemic, some of the locations on this list may be temporarily closed or may have reduced services. Please ensure availability before making your decision.
*This post may contain affiliate links that may earn us a small commission, at no additional cost to you. Affiliate links in no way inform the hotels, sights, products, or other recommendations included in our articles. All opinions and recommendations expressed here are compiled from submissions submitted by the generous members of our Families Who Love To Travel community.
READ NEXT:
Best Black Hills Vacation Attractions For Kids
Utah National Parks Road Trip Itinerary For Families
4th-Grade National Park Pass: What You Need to Know
The most expensive photo ever sold in the world was taken at Antelope Canyon. It...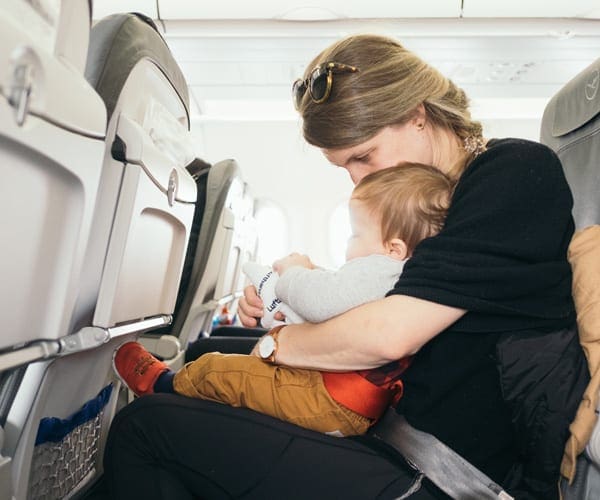 Families Who Love To Travel contributor Meghan Oaks provides her 10 best tips for your...