Portugal is such a fantastic European destination to visit with kids! Throughout its stunning landscapes, you'll find colorful houses, fascinating culture, and ancient ruins for your whole family to enjoy. Here, your child's best highlights will be all majestic Portuguese castles, not just large historic museums. Portugal welcomes families worldwide due to its relaxed ambiance perfect for easy travel, akin to the country's accessible cuisine and infrastructure. I loved Portugal so much when I visited with my kids aged nine, six, and four, I decided to compile a guide to help other families plan a similar trip! Next time you're itching to visit this wonderful country along the Iberian Peninsula, check out my Portugal family vacation itinerary to learn more about what Portugal offers your family!
Day 1: Arriving in Lisbon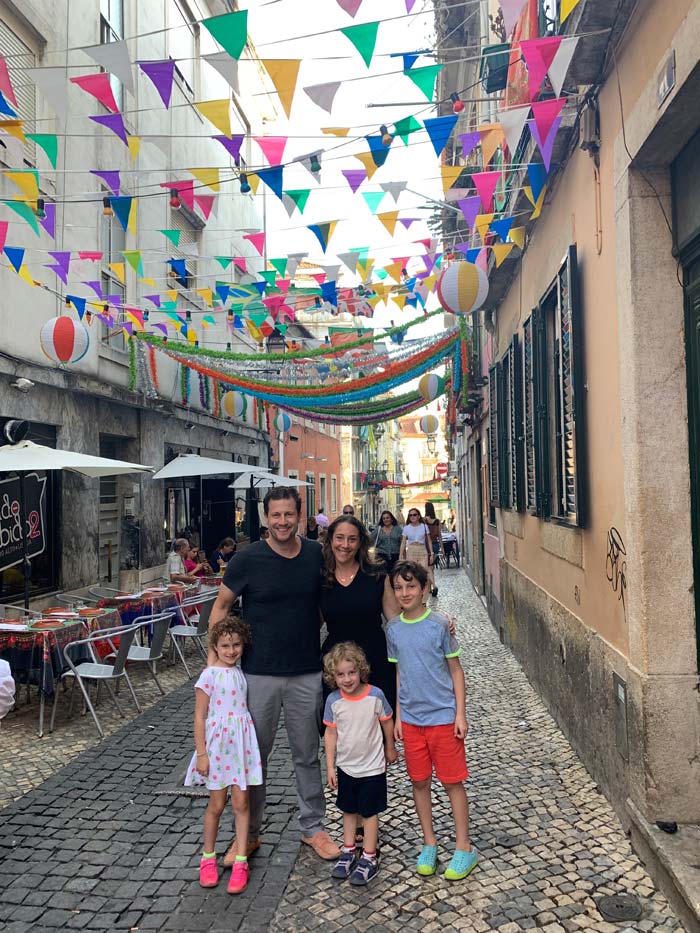 My family started our Portugal adventure in Lisbon. When we arrived at our Airbnb in Chiado, we were definitely exhausted from the voyage. But my kids braved the storm to explore our cute Lisbon district for the day. Feeling spontaneous, we walked around Chiado and discovered so many adorable cul-de-sacs behind our apartment! I wished I could have spent all day exploring. Once my kids were tired out, my family had a great dinner outdoors at an unassuming local spot with fun streamers hanging from its ceiling. We really loved walking around these little Chiado streets!
Day 2: Lisbon and Belem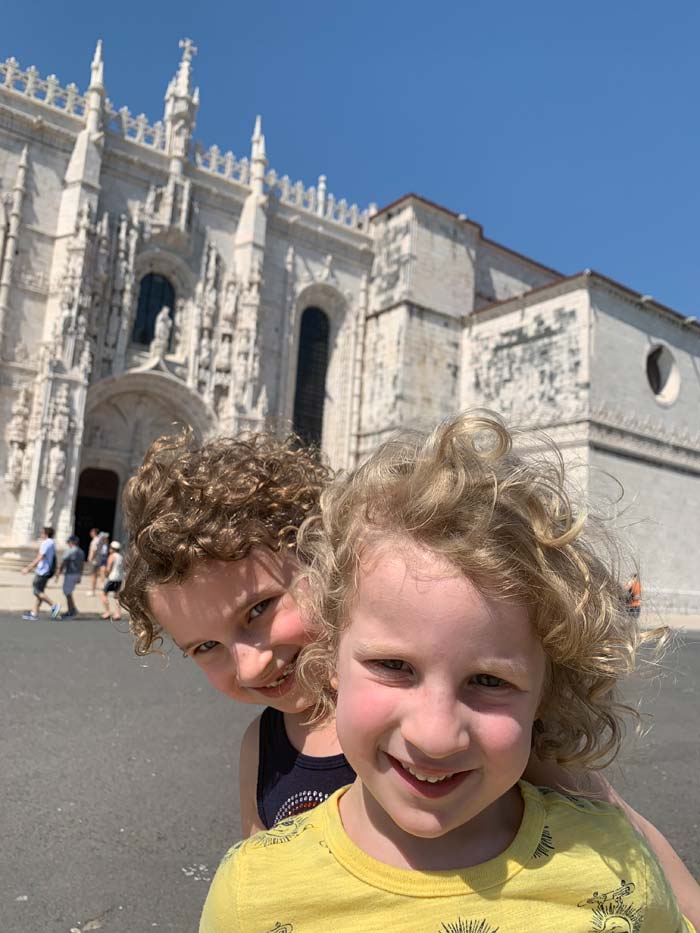 Our second day in Lisbon started bright and early! To experience some local culture, my family had incredible coffee and pastries at Manteigaria, truly the best delicacies we had in all of Lisbon. When visiting popular tourist cities like this, it's important to stick with hidden gems for the best quality. Don't waste time at touristy places! All around Lisbon, you'll see bakery employees making fresh treats in the window, beckoning your sweet tooth. Grab them and go and you can continue with your day as usual! My family then took an Uber to nearby Belem, only to discover the line at the monastery we wanted to visit was extremely long. Visit after 4 pm to avoid crowds!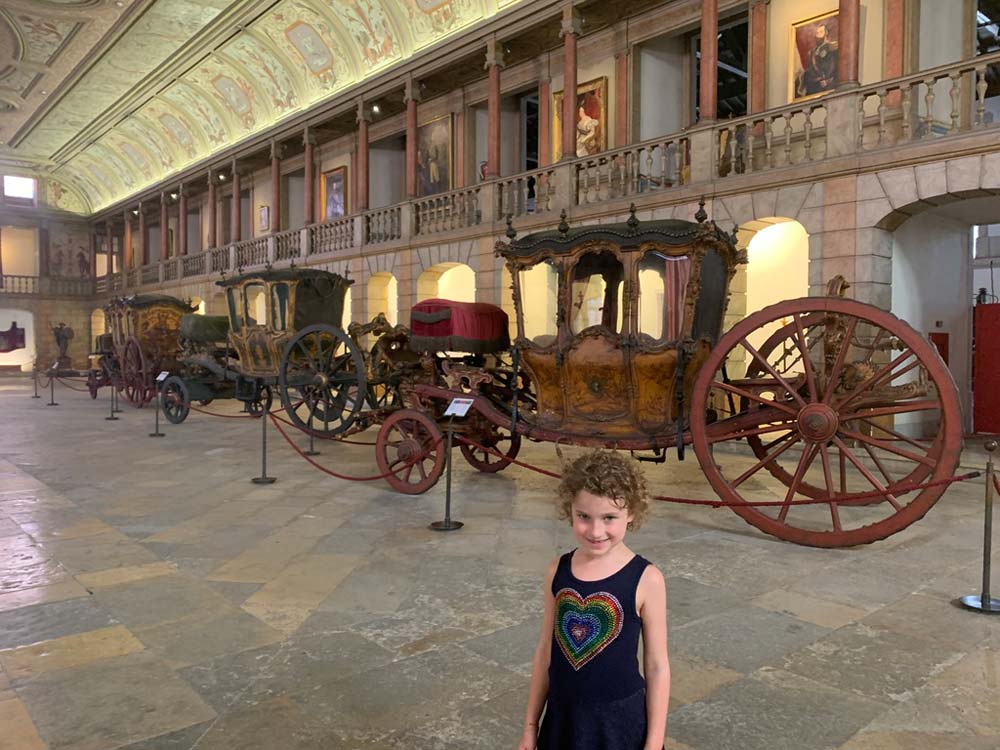 Next stop on our Portugal family vacation itinerary: The National Coach Museum in Lisbon! I was surprised to see the carriage exhibitions here were very well done, and luckily the museum wasn't crowded when we visited. Afterward, we walked over the pedestrian bridge and had lunch at an authentic restaurant Clube Naval Lisboa, which served excellent food and had a great view from the waterfront. Then, we headed to the Tower of Belem and viewed it from the outside. My kids used this as an opportunity to rest and have some tasty ice cream!
To end our day, we walked back over the pedestrian bridge toward the Monasterio dos Jeronimos. Though it was nice to see, I wouldn't wait in line for it. I recommend going to Pasties de Belem factory for Pastis de Nata instead to experience a Portuguese tradition. Don't be scared off by the massive line which is for take-away — you can simply walk in and ask for a table! However, it does get very hot and crowded, so if you can't fit it in, there is plenty of good Nata at other coffee shops in Lisbon, like Mantegaria. My family ended our day with an Asian dinner at Bao Bao!
Day 3: Lisbon
Our third day in Lisbon was off to a great start! My family took the iconic Tram 28 early and luckily got seats with no crowds. My kids loved every minute of the ride! Since we went early, we were picked up hassle-free by Chiado's town square. Then, we had brunch at The Mill, which truthfully had too long a line for its average food quality. Afterward, we were off to explore more of Lisbon! St George's Castle was fun for all my kids, but when you visit, be sure to hold on to children. Some steps and walkways were not safe for little ones. Overall, the views there were awe-inspiring and worthwhile, but still remember to bring water, as it can become very hot in Lisbon.
While we initially decided to walk down into Alfama, my kids got tired and bored pretty quickly. Plus, it felt overrated and touristy, so we just headed home to relax for a spell. On the way, however, we did stop for a snack at a very nice Spanish Jamon/ prosciutto place near the elevator. It was so delicious! Near the Santa Justa Elevator, lines were so insane I knew my tired little ones would never make it through the touristy area. So, we ventured up what seemed like a trillion steps to finally reach Chiado. Now we definitely understood why they built that elevator!
To conclude our jam-packed day in Lisbon, my family ended with dinner at MoMenTo, which was amazing for both kids and adults. I definitely recommend making a reservation, though, since they were turning people away when I arrived. To experience Portugal's magic by night, we then strolled around Chiado under the stars eating gelato, a tradition we continued every night during our Portugal family vacation itinerary.
Day 4: Lisbon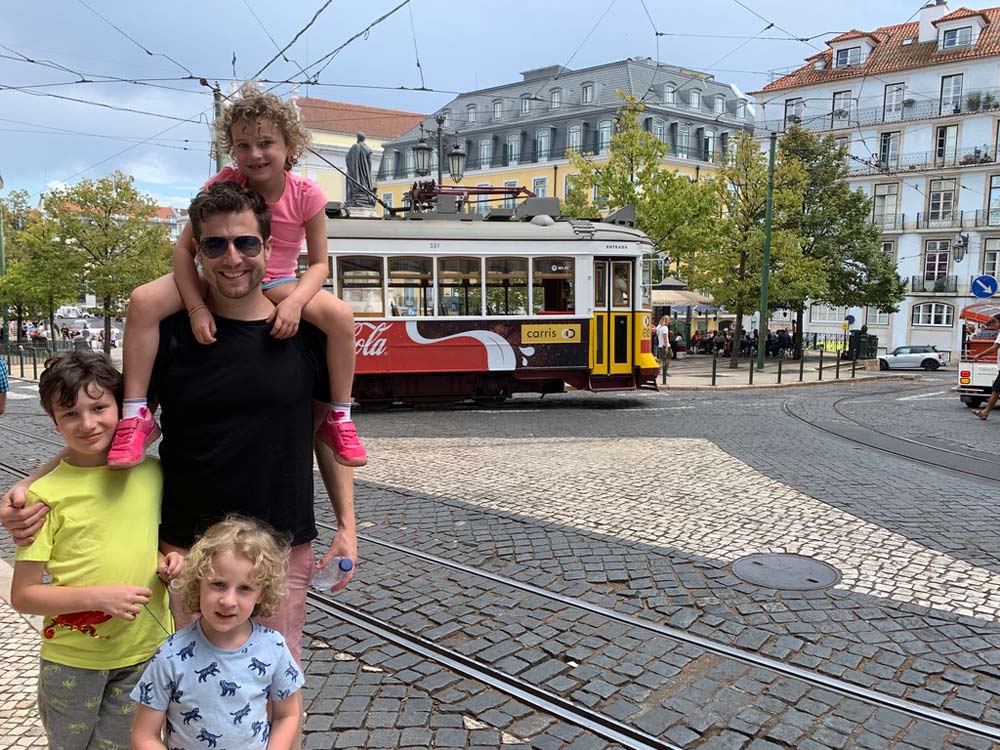 My family's fourth day in Lisbon was shorter than usual. For breakfast, we started our day with crepes at a quaint cafe across the Mill. It was also a fun experience soo, as a trolley passes by regularly to entertain the kids. In another moment of spontaneity, we wandered into a random church in town and saw the most intricate tile art. My kids stood there equally interested in these incredible creations. For lunch, we dined in a lush garden at a pizzeria called Zero Zero on Principe Real. I definitely recommend families to visit here. The surrounding area was a delight to walk through, featuring countless high-end shops, bookstores, and a kid-friendly park with an enclosed playground. What a day! My kids were exhausted after all that, so we took a trolley back home to Chiado.
Day 5: Sintra
Farewell, Lisbon! The next morning, my family rented a car to drive to Lisbon's neighboring city Sintra ready for a new stop in our Portugal family vacation itinerary. In Sinta, we were lucky enough to stay at the amazing Penha Longa Resort (Ritz Carlton) on Marriott points, which definitely saved us a pretty penny! Penha Longa Resort was also a perfect choice for my active family. Not only did it have a spacious indoor/outdoor pool, playground, mini-golf, and a kids club, but it also featured daredevil adventures like ziplining and trampolines. Plus, it was close to some of our must-visit Sintra sights, and the beautiful Cascais, a serene seaside town.
Day 6: Pena Palace
We had a great breakfast at Casa do Preto. The focus on our first day exploring was the Pena Palace and a hike through the forest into town. I recommend taking an Uber to Pena Palace and buying tickets in advance. The winding road up to the castle is very pretty. I didn't feel it was worth it waiting for the crowded minibus after the Uber dropped us off. The walk to the castle entrance was not bad.
The Palace was very interesting and the interior rooms were beautiful, though no pictures of the inside were allowed. When you're one, take a pretty hike into town (all downhill). Exit Pena Palace, turn left, and follow the signs to Moorish Castle. Walk by the Moorish Castle and follow the trail down the Santa Ana trail. By the time we got into town, the kids were getting tired but still having fun. We passed some tourist shops and stopped for some famous pastries.
We had a late lunch at InComum which was a little snobby and high end for kids, but had good options for food and wasn't a tourist trap. There was a restaurant to the left of this one that started with the letter A which lacked atmosphere but supposedly had excellent authentic food. However, the walk to this restaurant from Pena Palace was far too long.
We headed back to the hotel to swim and chill so it turned out to be fun and relaxing for all! We then drove to dinner in Caiscai at Furnas do Guincho and had salted fish and butter garlic clams. Try to reserve a table by the water and definitely go for date night!! We left the kids at the hotel kids' club.
Day 7: Gardens of Quinta de Regaleira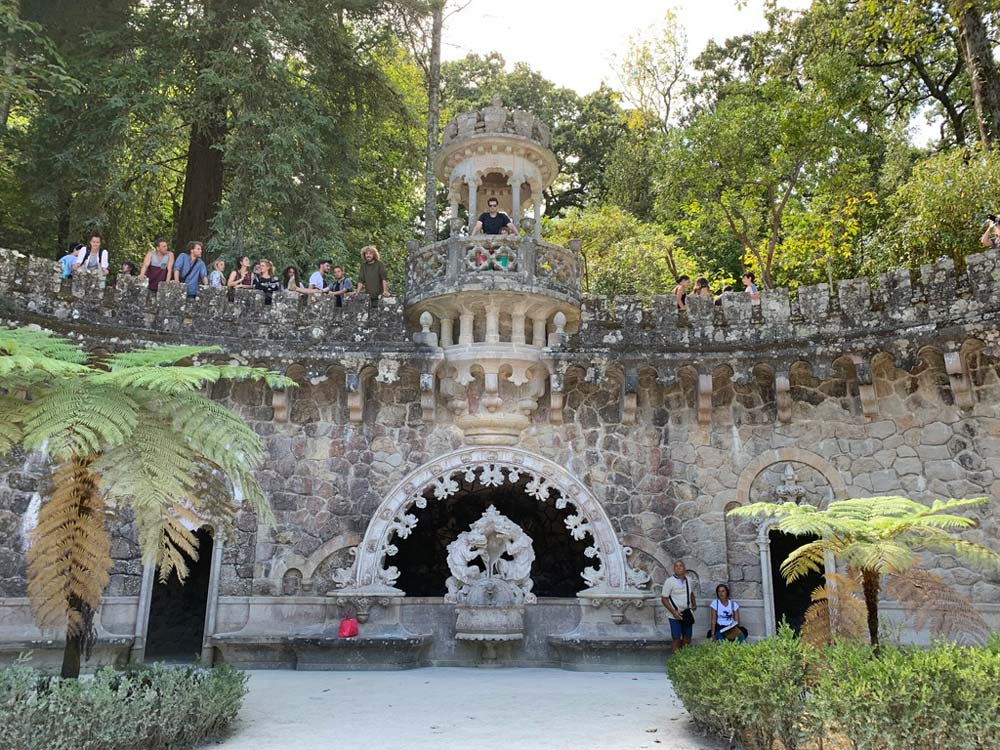 Day seven of our Portugal family vacation itinerary was dedicated to the Gardens of Quinta de Regaleira! I strongly recommend taking an Uber to this beautifully preserved mansion. When you're dropped at yellow tile signage, walk along the road to find the entrance. My family drove here, and since there was no place to park, we had to travel a town away and still call an Uber! Also, to ensure a spot, buy your tickets online. That way, you'll have a clearer idea as to how your day will unfold. We only explored the gardens and a few other highlights. It's like a big playground that feels like an authentic castle, which was a lot of fun for the kids too. After we finished, my family left Sintra to drive to Bussaco for the next part of our Portugal family vacation itinerary!
Day 8: Bussaco and Coimbra
In Bussaco, we booked a room at the Bussaco Palace Hotel and arrived the night before. Inside a former palace frozen in the 20th century, the hotel's grounds and the interior are simply breathtaking. My kids loved staying somewhere that looked like the historical sights we've been visiting! Some of the carpets are threadbare and the bedroom paint in the bedroom behind drapery is peeling, but we all had fun feeling like old Portuguese royalty! A very worthwhile stay if you want to break up a trip North. The hotel also has one of the most outstanding tile collections in the whole country, which you can take a tour of if you are interested.
Each day, my family enjoyed an incredible breakfast buffet at the Bussaco Palace Hotel, which was included in our stay. We also spent a lot of walking around the stunning hotel grounds. Though visitors have to buy tickets to see most sights, the on-site gardens are free and lush.
After our stroll, we also visited Coimbra, which was 35 minutes away by car. To get some exercise, we also parked at the top of the hill and walked to the University. Buy tickets outside the University gates to gain entry to the first-ever palace in Portugal, a marvelous library with timed entry, a chapel, and The Lisbon Science Museum. Though my family skipped the museum, we still enjoyed the convenient excursions here. Since they're all next to one another, you could probably see them in approximately one hour, and still have plenty of time left to explore elsewhere. A little cafe at the bottom of the massive staircase has snacks for a treat!
To end our fun-filled day, we had dinner in the hotel's main dining room, which luckily featured a kid's menu for "little princes and princesses." The restaurant's ambiance felt very Downton Abbey. My kids dressed up fancily and my husband and I had a few drinks in the lounge. Overall, Bussaco was a great opportunity to feel like Portuguese aristocrats!
Day 9: Aveiro and Porto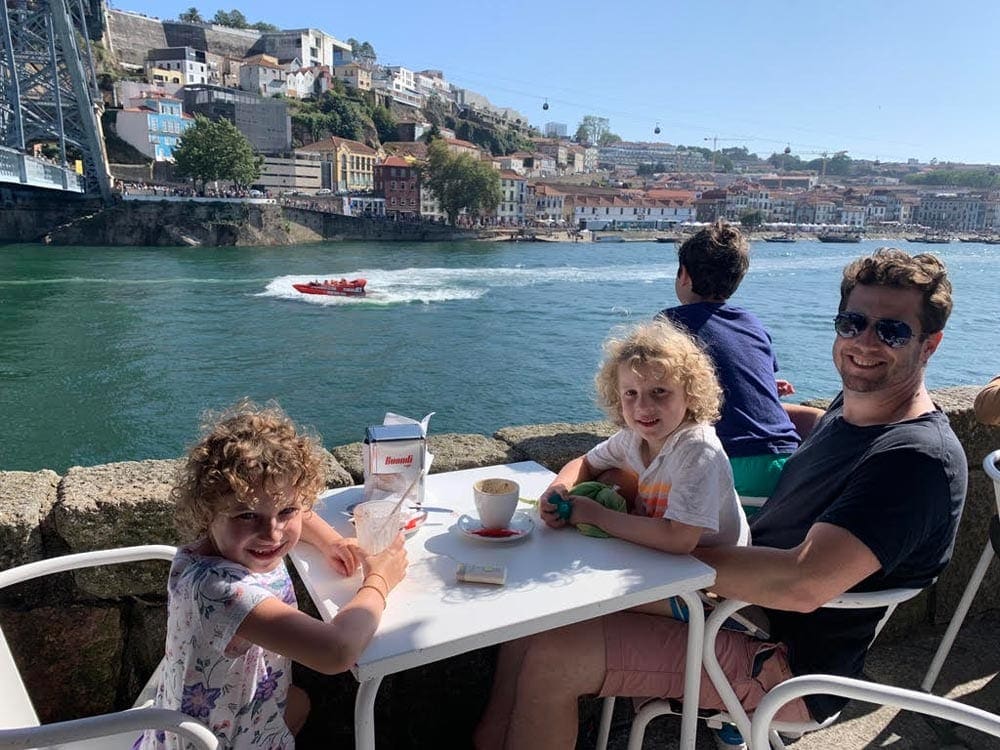 On our ninth day in Portugal, my family had breakfast at the Bussaco Hotel again, and then drove to nearby Porto with an afternoon stop in Aveiro. It was 45 minutes to Aveiro and then another hour to Porto. No one in my family really liked the famous Ovid Moles pastry in Aveiro, but it's a pretty town to walk around, and it broke up the drive. We had lunch at a local establishment called Restaurante Zico.
Afterward, my family enjoyed a 45-minute ride on Molieros boat we were able to book on the spot and simply hop on. Continuing our drive to Porto, we were able to enjoy 1/4 of the day and evening after returning the car. In Porto, we finally checked into an Airbnb and enjoyed relaxing on the balcony. For dinner, we enjoyed walking along the strip with all the port houses under the bridge.
Day 10: Porto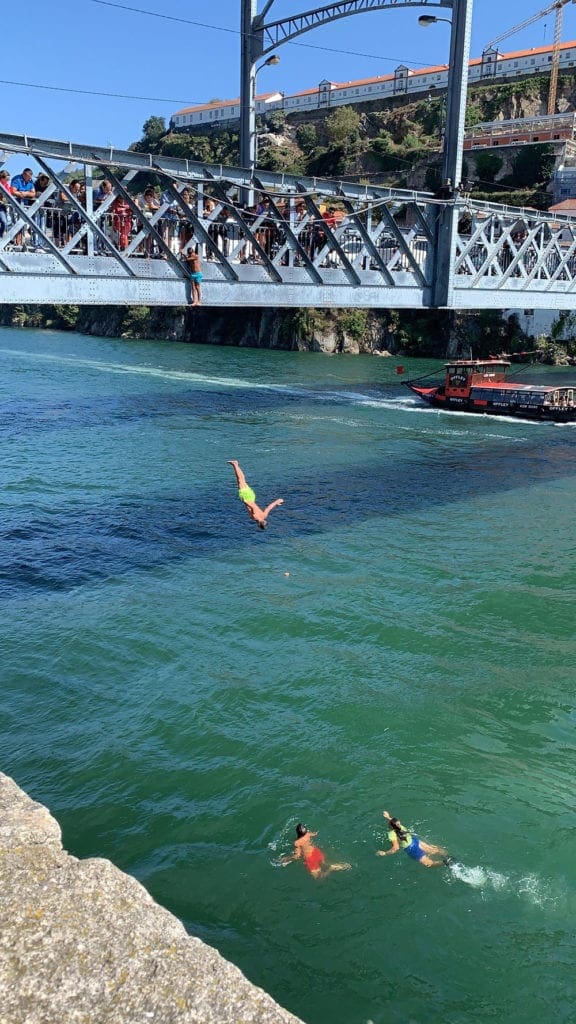 During our last day in Porto, we mostly walked over the bridge and wandered around town freely. For lunch, we stopped in a church with a gold-covered tile on its side. My kids also loved our stop at the famous Sao Bento tiled train station, where they enjoyed the trains, and I loved the tiles.
Then, we walked up to a church upon a hill across the street. (We didn't even go in due to exhaustion!) It was still worth it, though, because the walk down from the church through tiny, picturesque alleyways was fantastic! Afterward, we treated ourselves to drinks (hot chocolate for the kids) at a little bar/cafe. I watched my kids jump off the bridge for an hour. To conclude, we headed back to our Airbnb to rest, then had dinner again along the water with all the Port shops. It wasn't a memorable meal, but it was nice and easy. I really relished my walk along the water and the opportunity to see Porto illuminated by night.
Unfortunately, this was the end of our trip to Portugal! My family flew via Paris home to New York City the next day.
RELATED: Amazing 1-Week Porto Itinerary With Toddlers
Tips and Advice
I have a few tips to give other parents looking to plan similar trips. Due to our limited travel days, we couldn't fit everything into our Portugal family vacation itinerary. Given this, we decided to go North instead of South, because it was seemingly cooler weather-wise and less crowded in the summer. My family also visited a lot of beaches over the summer, and notably found sunscreen to be a hassle. Finally, we felt like we could see and do more by exploring the North. That said, the South looks breathtaking, and it's super easy to get there and back to Lisbon!
I also feel like the amount of time we spent in each place was exactly right. I didn't need an extra day or a day less anywhere. My family saw everything we needed to without running ragged. With one activity a day, we filled in the extra time exploring or relaxing. I don't recommend driving in Lisbon, though! We took Uber everywhere, though drivers did cancel a percentage of the time.
Overall, I know my family lucked out with our clean, perfectly situated, and decorated nicely Airbnb choices. The hotels we visited, Penha Longa Resort and Bussaco Palace, were both experiences within themselves and trip highlights.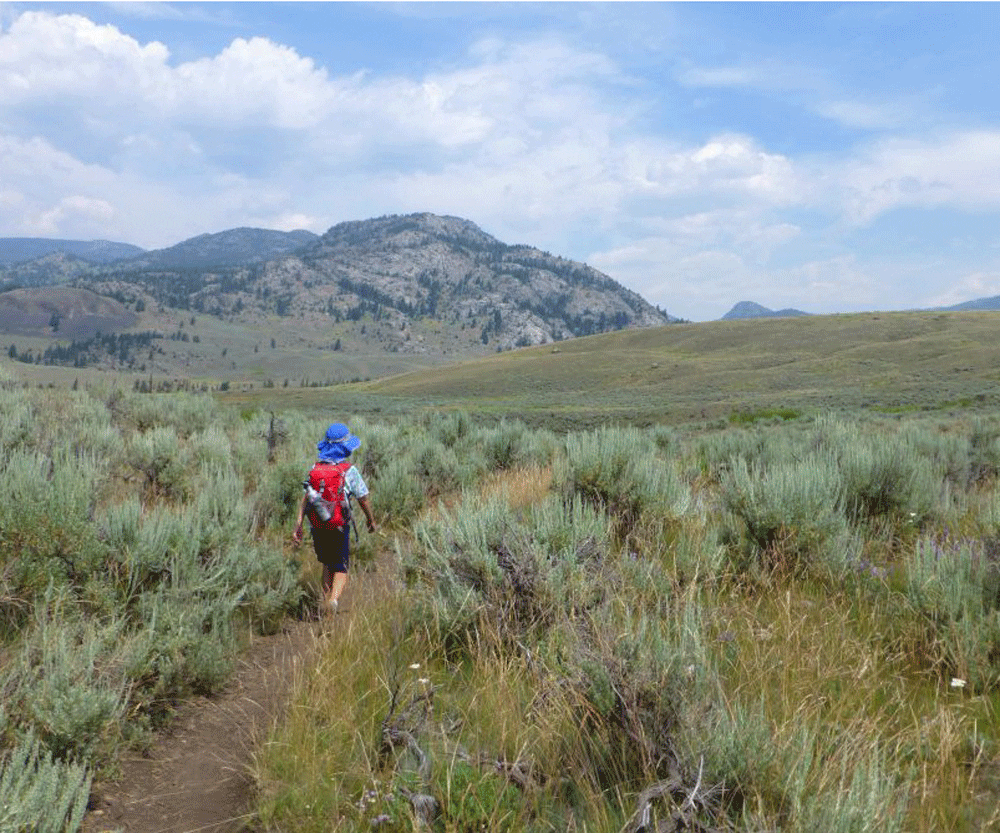 Everyone knows that Yellowstone National Park makes for a classic family vacation. Strolling the boardwalks...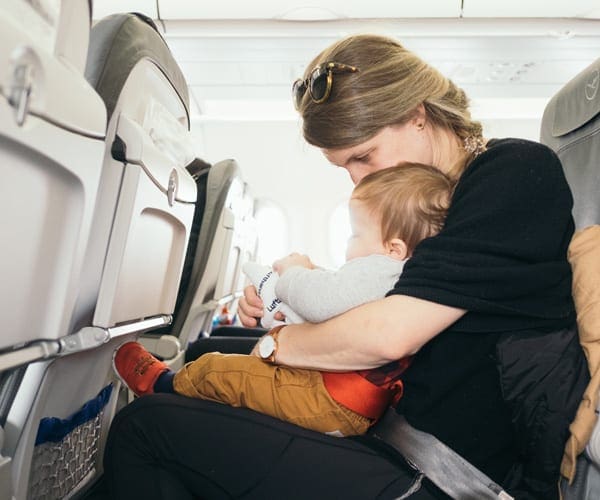 Families Who Love To Travel contributor Meghan Oaks provides her 10 best tips for your...