If you're looking for an amazing summer vacation destination, look no further than these Greek islands for families! Home to some of the most beautiful beaches in the world, delicious food, and friendly locals, they offer something for everyone. Whether you're looking for a quiet getaway or an action-packed adventure, you can spend time at the beach, learn more about Greek history, and discover the hidden corners of these gorgeous destinations. So, if you're searching for the best Greek islands to visit with your family this summer, look no further! We've compiled a list of 8 Stunning Greek Islands For Families To Visit On Vacation that will please everyone in your group. Pack your bags and get ready for an amazing vacation to these Greek islands for families!
Crete
Crete is the largest and most populous of the Greek islands. From gorgeous beaches to ancient ruins, vibrant nightlife, and tasty food, this bustling destination south of Athens has something for everyone in your family.
It's also convenient to reach since there are three different airports and six ports. Most families take a ferry from Piraeus, the main port of Athens, to Chania or Heraklion. You can use an inter-island ferry if you're interested in visiting Crete after another island. Chania and Heraklion are the ideal towns to make your home base, featuring tons of restaurants and attractions within walking distance. However, if you want to explore Crete outside of these major cities, a car is essential.
Families will love seeing the many archaeological sites, hiking through the mountains, and swimming in the crystal-clear waters. There are also plenty of restaurants and cafes across the island to keep everyone happy. In Chania, stroll by The Venetian Port or head to nearby Chrissi Akti Beach. Another popular beach on Crete for families is Balos Beach, which is accessible by boat. Elafonissi, a tiny islet off the west coast, is also home to Elafonissi Beach. Here, you'll find shallow waters perfect for kids, plus rare wildlife and unique pink sand! In Heraklion, kids who are interested in history can visit the Rocca a Mare Fortress and Museum. You can also visit CretAquarium with younger kids. After that, go to Knossos for a look at Minoan life!
Look here for home stays in Crete with Vrbo!
Want to beat the heat? Check out these 17 Best Mild Weather European Destinations For A Family Summer Vacation!
Milos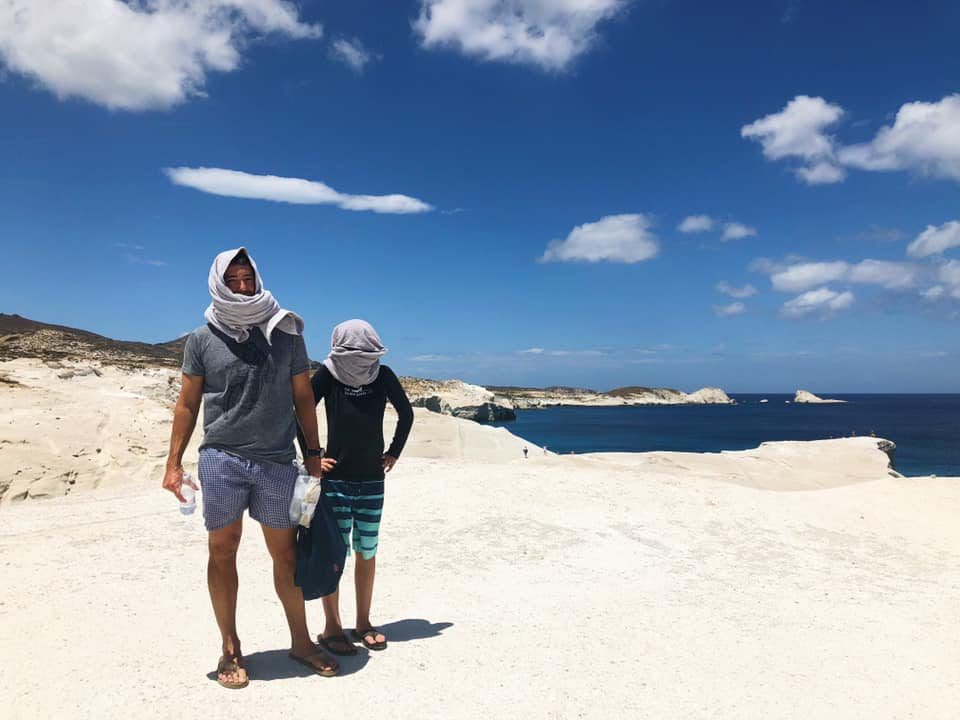 If you're looking for an amazing Greek island to visit with your family this summer, Milos should definitely be at the top of your list! This beautiful island is located in the southwestern Aegean Sea and is known for its stunning beaches, crystal clear waters, and charming villages. Plus, there are plenty of things for kids to do, from exploring ancient ruins to playing in the sand.
To reach Milos from Athens, families can either take a short flight or hop on a ferry. Ferries leave from Piraeus and the port of Lavrion near Athens to Milos, usually more than two times a day in the summer. There are also many direct ferry routes to Milos from other islands such as Crete or Paros.
Plaka is the island's capital city and is ideal for exploring since it's car-free and very walkable. Kids will also love learning about the pirate history of the Plaka Castle. Or, visit one of the many museums in Plaka to learn more about Minoan culture, including the Milos Archaeological Museum. For a more low-key experience, visit the ​​picturesque fishing village of Mandrakia. Some of the most popular beaches in Milos are located within a few miles, including Firopotamos Beach and Sarakiniko Beach. Kids will feel like they're walking on the moon at this iconic beach covered in white, sandy ash! Another popular activity in Milos is taking a boat trip around the island to see the dramatic coastline and impressive rock formations.
GetYourGuide offers a Milos Island: Archaeology & Culture Tour, as well as a Milos: Geology & Volcano Half-Day Morning Tour. To see Milos from a new perspective, you can also take a boat cruise!
Naxos
Naxos is one of the best Greek islands for families to visit on vacation. Famous for its pristine shorelines, archaeological ruins, and remote villages, it's surrounded by lush green mountains and has plenty to offer families for a fun vacation in the South Aegean. And with its laid-back atmosphere, it's the perfect place to relax and enjoy some quality time with your loved ones!
To reach Naxos from Athens, many families take a short flight or a ferry from the port of Piraeus, where boats depart multiple times a day. To reach Naxos from islands such as Crete or Paros, families can also take an inter-island ferry.
For families who want to learn more about Greek history, there's so much to discover in Naxos! From hiking up to the Temple of Apollo to visiting the Olive Museum, a preserved Olive Mill, kids will learn what life was like in Greece throughout the centuries. In Chora, the island's capital, you can also explore the quaint cobblestone streets of Old Naxos Town. Visit ice cream shops, historic churches, and even a Venetian castle! Of course, Chora is also home to some of the best beaches in Naxos. Visit Agios Prokopios for clear waters and incredible views, Agios St. George for shallow waters for younger kids, and Plaka Beach for windsurfing. Other things to do in Naxos with kids include taking a marble sculpting workshop or a boat cruise!
GetYourGuide offers a Naxos: Highlights Full-Day Tour by Bus and Naxos: Day Cruise on a Catamaran with Lunch.
Book a stay at a one-of-a-kind home in Naxos with Plum Guide!
Hydra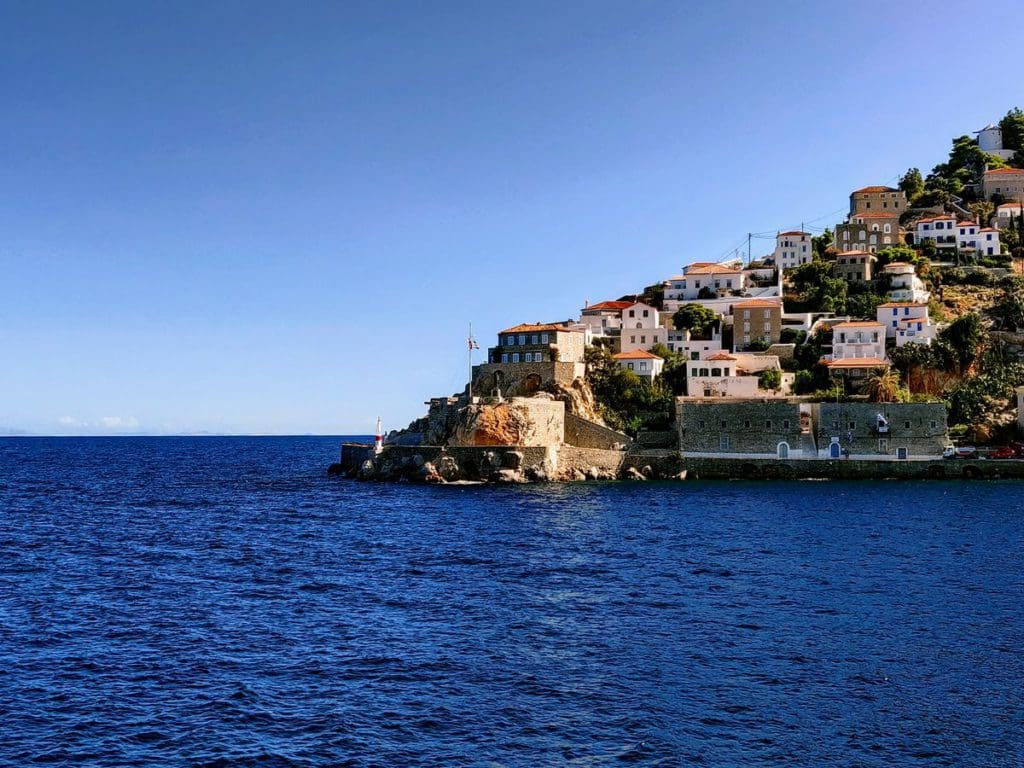 For an idyllic vacation in Greece, take little ones to Hydra! There are lots of activities to keep kids entertained on this beautiful Greek island in the heart of the Argo Saronic Gulf, between swimming, sunbathing, and visiting local attractions. The island is also home to some excellent restaurants, so you can enjoy delicious Greek food while you're here. Another one of the best things about Hydra is that it's car-free, so families won't have to worry about traffic or parking! Donkeys and mules usually carry cargo around town, which will be an interesting sight for kids.
Additionally, it's easy to reach Hydra from Athens by flight or ferry ride, which takes around two hours. During the high season in the summer, there are usually 7 daily ferry crossings from the port of Piraeus in Athens to Hydra.
To introduce your family to Hydra, walk along the waterfront to appreciate the beauty of the island and see colorful houses. Then, learn more about its history in Hydra Town. Kids will love spotting all the rusted old cannons, and there are also a few museums, like the Hydra Historical Museum. It's the perfect place to spontaneously wander through the back alleys and maybe stop at a cafe! For outdoorsy families, there are plenty of hiking trails across the island too. Within walking distance of the harbor, visit Avlaki Beach, which features turquoise waters ideal for swimming and snorkeling. Other beaches within walking distance of town include Mandraki Bay, Kaminia Castello, and Vlychos. If families want to explore Hydra in style, take a boat cruise! For some traditional Greek food for dinner, don't forget to stop at Kryfo Limani.
Looking for a full-day tour? GetYourGuide offers a From Athens: Full-Day Cruise to Aegina, Poros, and Hydra.
Book a home with a view in Hydra here with Vrbo!
Spetses
Spetses is one of the best Greek islands for families near Athens and it's easy to see why! Known for its sandy beaches, lush vegetation, and abundance of outdoor activities, it combines traditional Greek hospitality with a more upscale, modern feel.
Since it's less than three hours south of Athens, Spetses is a popular weekend getaway for tourists and locals alike. Still, even with all the tourism, it's a wonderful place for a relaxing vacation as a family. Since Spetses is car-free as well, your kids will surely enjoy spending time on this picturesque island! Though there are no direct flights from the airport, families can take a bus to the port of Piraeus. There are usually a few daily ferry crossings to Spetses.
One of the most popular places on the island is the small town of Spetses. From cute cafes to classic Greek restaurants, there are plenty of places to stroll along the Old Harbor. Appreciate the view, see the lighthouse, and maybe enjoy a meal. Spetses Town is filled with horse-drawn carriages, so kids can feel free to take a ride or even pet one of the friendly horses! It's also brimming with all kinds of interesting history. Visit a three-hundred-year-old mansion, home to the Bouboulina Museum, to learn more about national heroine Laskarina Bouboulina. The Museum of Spestes also has some cool architecture and fascinating artifacts. Within walking distance of the harbor, there's the convenient Spetses Town Beach. A few miles south, kids can enjoy water sports at Agia Marina Beach, one of the most popular on the island.
Book your family friendly home rental in Spetses here with Vrbo!
Paros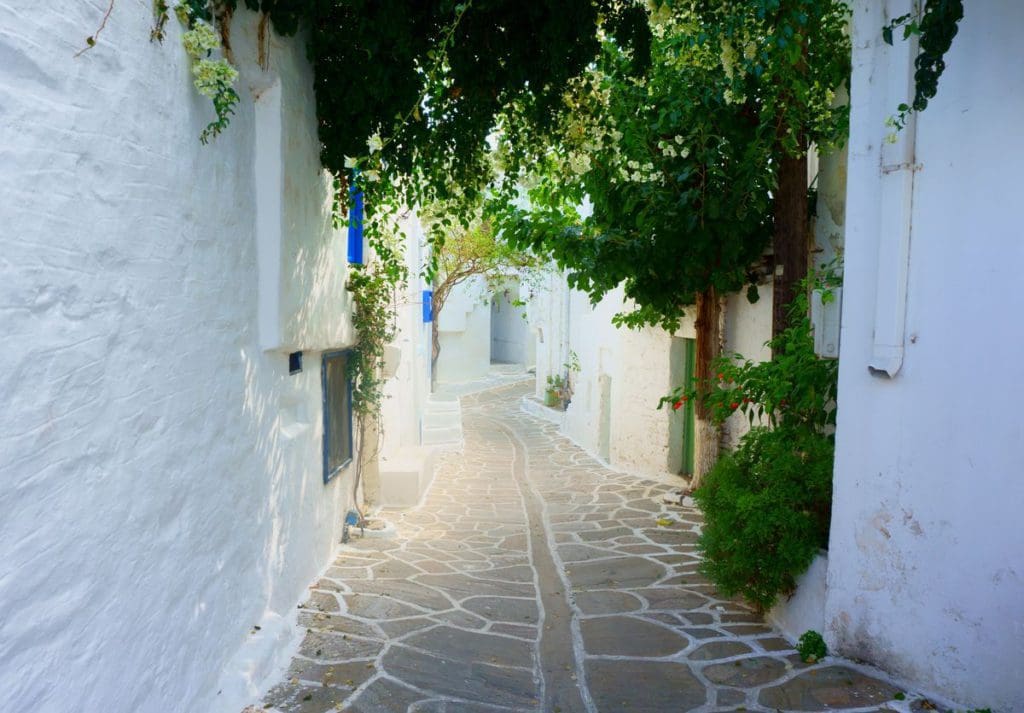 If you're looking for a fun and family-friendly destination to visit this summer, why not consider the beautiful Greek island of Paros in the central Aegean Sea? There's plenty to keep everyone entertained, from stunning beaches and striking blue waters perfect for swimming and snorkeling to historic sites and quaint villages to explore. Plus, between seafood and traditional Greek dishes, the food is sure to please even the pickiest of eaters!
Reaching Paros from Athens is simple, whether you hop on a quick flight or ferry. Around five or six ferries depart from Piraeus, the largest ferry port in Athens, to Paros in the summer. Most leave very early in the morning and take around 3 to 5 hours to reach Paros.
Families can explore countless charming villages dotted around the island. Each has its own unique character and you're sure to find plenty of cute shops and cafes to browse. In Parikia, the capital, kids will love exploring the Venetian Castle and learning more about Greek history. Then, in Naoussa, families can stroll the narrow streets lined with cafes, shops, and restaurants. Paros is also home to some of the best beaches in Greece. Many are located on the southern side of the island, like the sandy Golden Beach. Kids can go kayaking, windsurfing, wakeboarding, and play beach volleyball! For a stunning view, take a boat trip to a nearby island like Antiparos. Visit the main village, see the famous cave, and even go to the beach!
Peruse a meticulous selection of only great homes in Paros with Plum Guide!
To learn more about the best Greek islands for families, read our list of 16 Exciting European Beach Destinations For Families!
Corfu
It's no secret Corfu is one of the best Greek islands for families to visit on vacation! Thanks to its unique terrain, which covers lush greenery and sandy shorelines, it's a popular place for outdoor activities, including biking, hiking, swimming, and snorkeling. Even with everything to do, it's still the perfect place to relax as a family and enjoy some quality time with your little ones!
One of the quickest ways to get from Athens or other parts of mainland Greece to Corfu is by flight. Since it's located off Greece's northwest coast, there are no ferries between Athens and Corfu. However, there is a ferry between Corfu and Igoumenitsa, another port city on mainland Greece. During peak season in the summer, there are around 30 ferry crossings a day from the northern pier, located near the city center.
Corfu offers families so much to explore, especially in Corfu Town. This includes the famous Old Town of Corfu, a UNESCO World Heritage Site. Kids can stroll through the narrow streets, admire the Venetian architecture, and stop for a bite to eat in one of the many cafes and restaurants. In northwestern Corfu, there's the picturesque seaside village Palaiokastritsa, featuring a bay with shallow waters for swimming and renting pedal boats. There are lots of different caves for adventurous kids to discover, plus a water park, Aqualand. Even further north are two stunning towns, Acharavi and Roda, known for their calm, sandy beaches. Other things to do in Corfu with kids include taking a glass-bottom boat trip to see some beautiful scenery.
Discover a taste of Corfu and book a homestay through Plum Guide here!
Rhodes
No list of the best Greek islands for families to visit on vacation would be complete without a mention of Rhodes! Located off the southern coast of Turkey, it boasts an interesting Medieval history, dating back to its occupation during the Crusades. From shimmering shorelines to ancient ruins, families will see remnants of this fascinating history throughout the island, coupled with some amazing scenery! In fact, Rhodes almost seems like a magical fairytale land, with unique architecture you won't find anywhere else in Greece.
Since this is one of the farthest islands from mainland Greece, many families opt to take a two-hour flight from Athens to Rhodes. Though there are ferries, we don't recommend this option for traveling with kids, since the trip can be more than 15 hours.
In the largest city, Rhodes, explore The Old Town, a UNESCO World Heritage Site. Children can travel back in time while wandering around the Knights' Quarter, featuring preserved homes where Knights lived! Then, see armor, swords, and more Medieval artifacts at the ​​Palace of the Grand Master of the Knights of Rhodes, a museum located in a converted castle. Or, browse the Nea Agora, a historic Arabic marketplace, visit the Archaeological Museum of Rhodes, and explore the Aquarium of Rhodes. A boat trip from Rhodes to the picturesque village of Lindos is another great excursion. Kids will love seeing the Ancient Acropolis of Lindos and swimming in the crystal-clear waters of the nearby beach. For a unique experience, don't miss Butterflies Valley. This 600-acre park is home to thousands of fluttering butterflies and is truly breathtaking!
Discover the top rated homes in Rhodes here with Vrbo!
Happy Travels!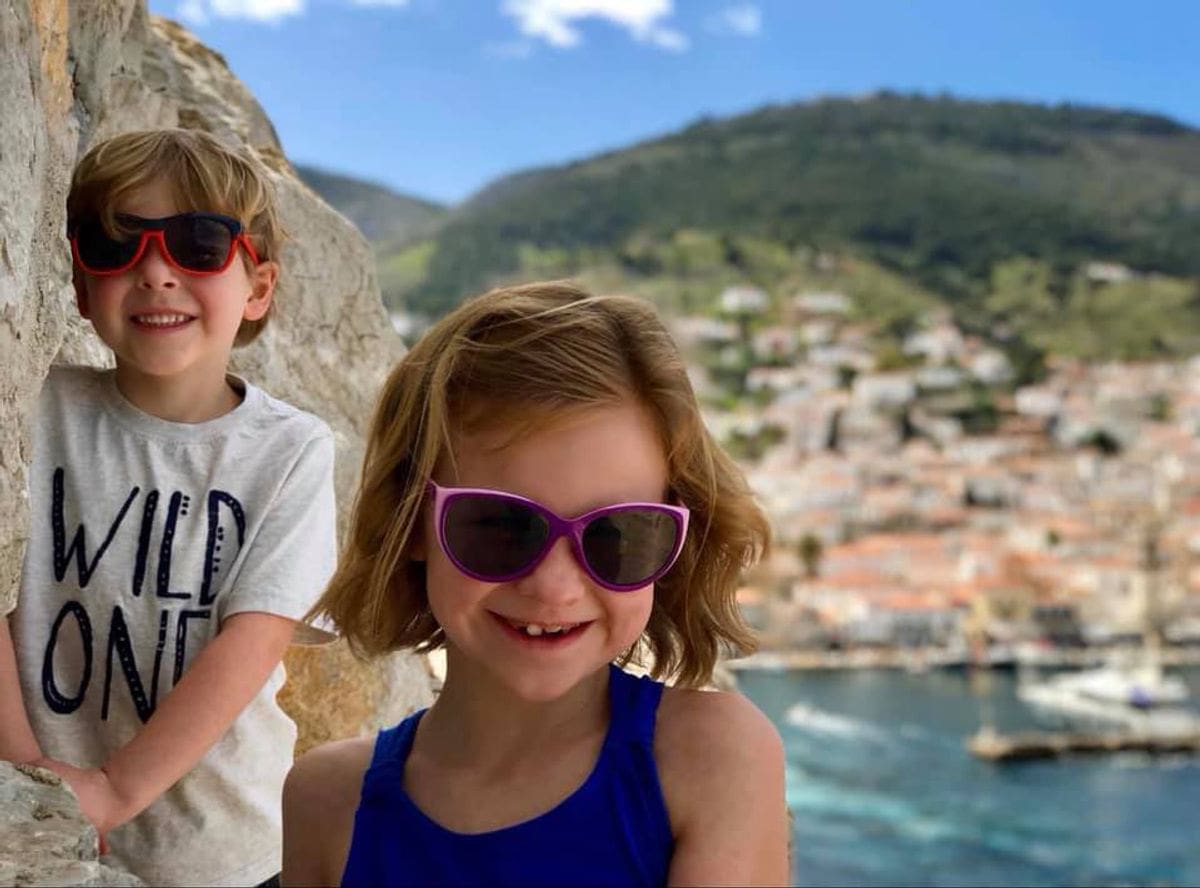 If you're planning a family vacation to Greece, then be sure to add one of these 8 Stunning Greek Islands For Families To Visit On Vacation to your itinerary! With their beautiful beaches, amazing history, and delicious food, there's something for everyone in the family. And, with so many activities and attractions to keep everyone entertained, you are sure to have an unforgettable vacation!
*Due to the COVID-19 pandemic, some of the attractions, accommodations, or things to do on this list may be closed. Please ensure availability before making your decision.
*This post may contain affiliate links that may earn us a small commission, at no additional cost to you. Affiliate links in no way inform the hotels, sights, products, or other recommendations included in our articles. All opinions and recommendations expressed here are compiled from submissions submitted by the generous members of our Families Who Love To Travel community.
READ MORE:
Planning a family vacation to the Hawaiian Islands promises an unforgettable experience filled with stunning...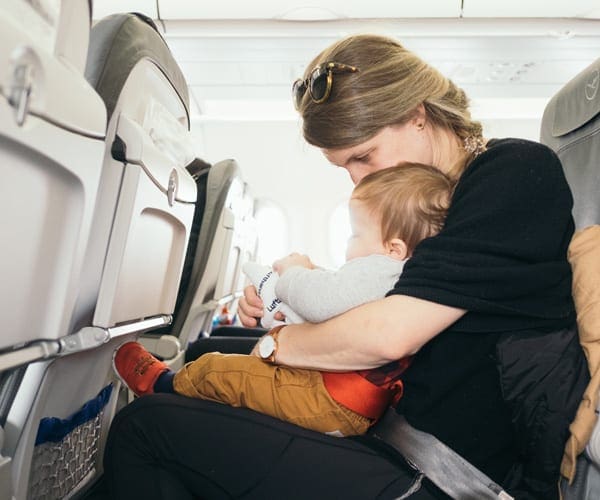 Families Who Love To Travel contributor Meghan Oaks provides her 10 best tips for your...