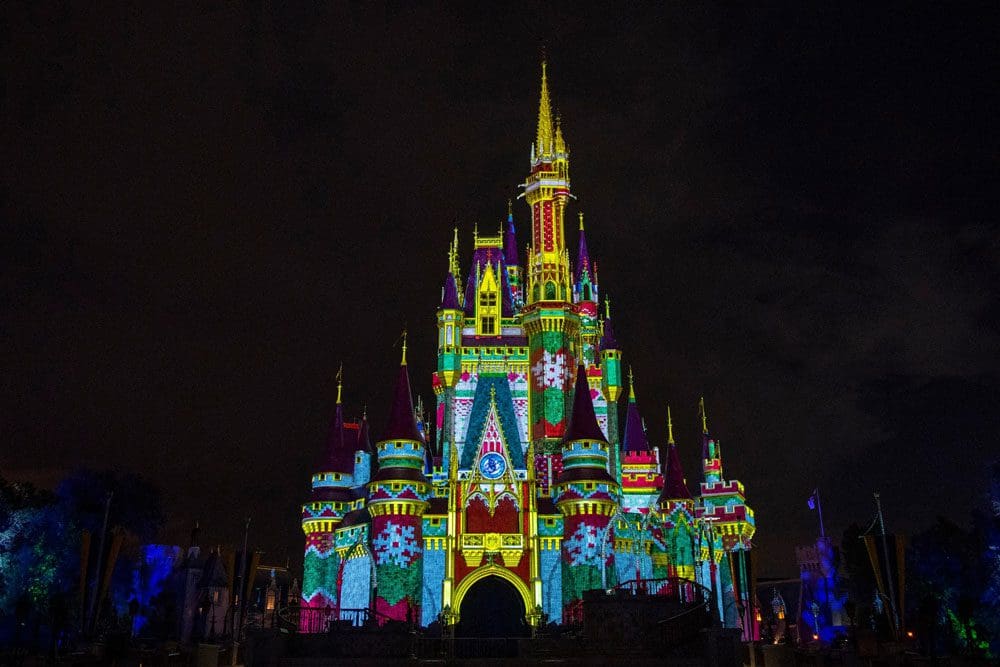 If you're searching for the best places to celebrate the holidays in Disney as a family, you just hit the jackpot! Though there's never a bad time to visit Walt Disney World, the Christmas holidays elevate the magical experience. It'll for sure get anyone in the Christmas spirit and kids will love this surprise early Christmas gift! Disney doesn't hold back when it comes to Christmas time, either. Parks are all decked out in Christmas decor, hotels show off their elaborate decorations and trees, and Christmas-themed food items are sold throughout all locations. If that's not enough, extra evening ticketed events make the experience more magical. Even adults will adore everything there is to see and do! Disney is huge, though, and figuring everything out can take some planning. For advice on the Best Places To Celebrate The Holidays In Disney As A Family, keep reading!
When is the Best Time to Visit Disney during the Holidays?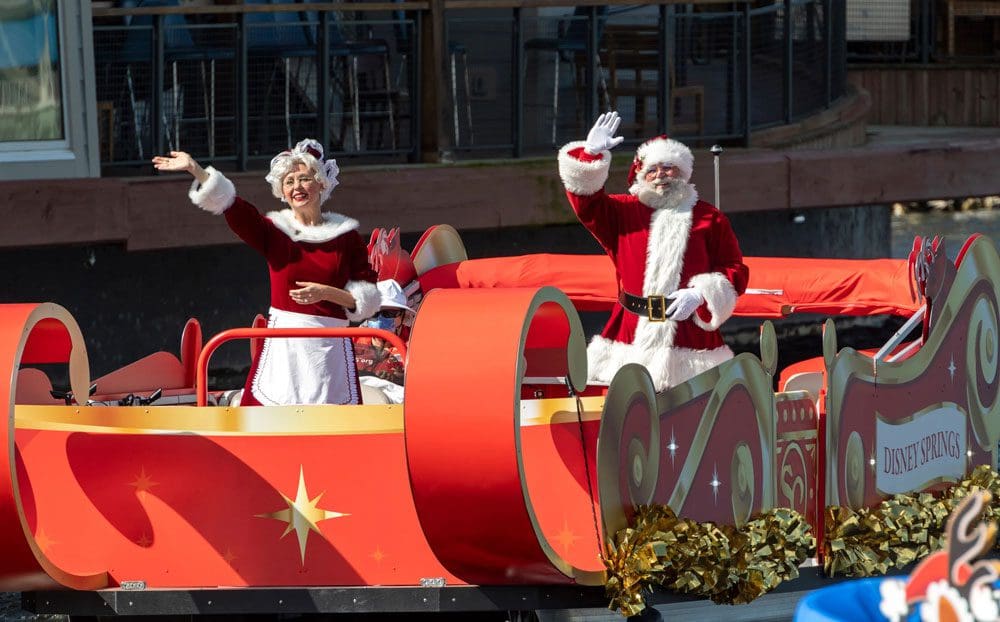 Disney's winter wonderland transformation starts immediately after Halloween ends, typically complete by mid-November. Festivities typically begin early to mid-November and run through the first week of January. Disney even invites Santa to make some guest appearances in the parks. We suggest visiting in December to get the full experience!
RELATED: The Best Time of Year to Visit Disney World with Kids
Best Disney Theme Parks to Visit during the Holidays with Kids
What better way to celebrate the holidays than at a Disney theme park? Experience the charm of Magic Kingdom, EPCOT, and more when you visit during a Disney family vacation! Here are the best Disney theme parks to visit during the holidays with kids!
Magic Kingdom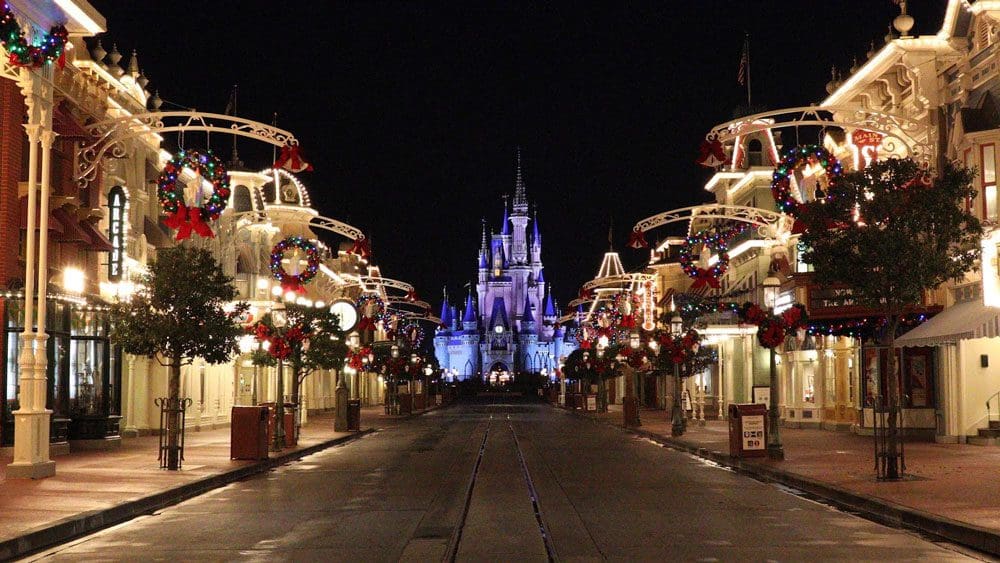 Magic Kingdom outshines the other 3 parks when it comes to holiday decorations and Christmas extras. That's not to say the others don't deck out, but Magic Kingdom adds extra magic! Once families step on Main Street USA, they'll immediately be drawn to the garland strung throughout most buildings, as well as larger-than-life ornate wreaths. Kids will go crazy once they see the massive, fully decorated Christmas tree! Parents and kids alike will marvel at the attention to detail: the oversized toys, wrapped gifts, and nutcrackers. Cinderella's Castle is typically all decked out as well with over 20,000 white shimmering lights, referred to as "Cinderella Castle Dream Lights." 2021 will not have the lights because of the 50th-anniversary party, but it will still be decorated for Christmas.
Best Times to Visit Magic Kingdom During Christmas
Nighttime is the best time to see the decorations. The Castle has light projections like Christmas wrapping and Christmas ornaments that change every 15 minutes. Main Street USA sparkles with Christmas lights on wreaths, garlands, and the big Christmas Tree. Kids will be in Christmas heaven especially when they see the added snow falling down on Magic Kingdom. It is certainly a magical way to celebrate the holidays in Disney as a family!
Throughout the day in Magic Kingdom, families can watch the character Cavalcades, aka mini-parades that go through the parks. There are three cavalcades, Goofy's Scrumptious Cavalcade, Santa's Christmas Cavalcade, and Mickey's Holiday Cavalcade. All feature Disney characters decked out in their Christmas best, along with Christmas-themed floats. Kids will also love the princess cavalcade complete with Disney princess dressed to the nines in their Christmas merriment. Families will love two additional Magic Kingdom Cavalcades, the Holiday Trolley Show as well as the Toy Soldier processional. Whether you are visiting Magic Kingdom during the day or night, you will easily get into the Christmas spirit with all that the park offers!
Epcot
EPCOT'S big Christmas draw is the International Festival of the Holidays at EPCOT's famous World Showcase. Think Christmas market with a focus on food from around the world. Families can take advantage of strolling around the World Showcase while stopping and trying holiday treats typically offered in far-off countries. If that's not enough, kids can also take a sweet journey with the Holiday Cookie Stroll. Grab your kid a cookie passport and follow to guide to discover the five cookie stands throughout the park!
How to Experience Christmas at Epcot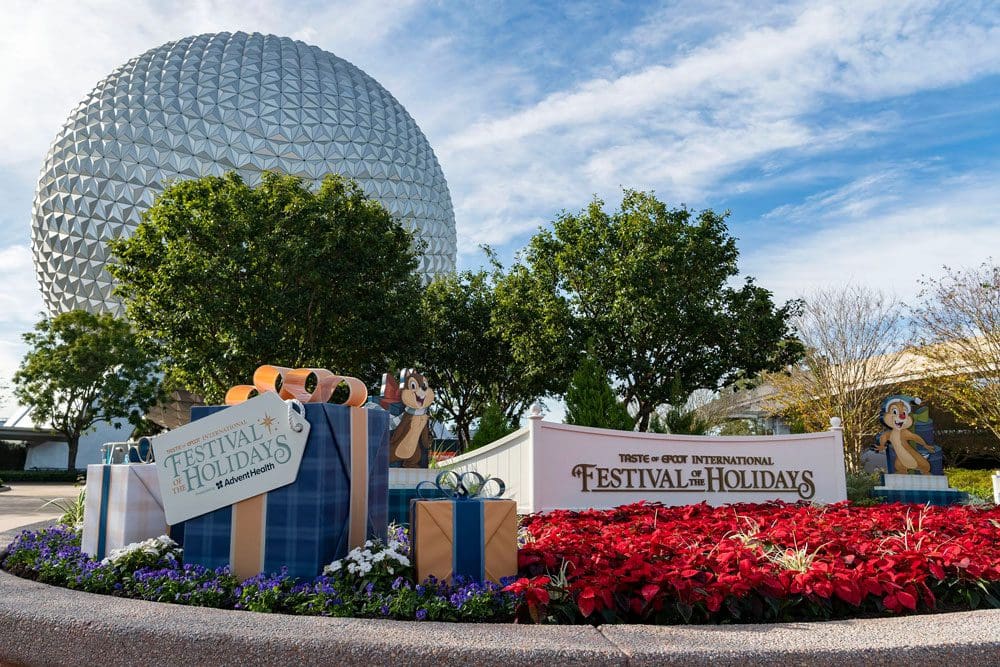 Christmas time in EPCOT isn't all food. There are plenty of other things to do for families. Here are some family favorites!
Character-Themed Events
Christmas-themed Cavalcades will grace the streets of EPCOT with your favorite characters all dolled up in the holiday favorites. Kids can partake in Chip and Dale's Christmas Tree Spree scavenger hunt. They'll love helping Chip and Dale find Christmas ornaments in the World Showcase! It's a perfect way to engage kids while strolling through the International Festival of the Holiday. Characters are not present.
International Christmas Storytellers
International Christmas Storytellers is another great way to learn about Christmas in other countries while visiting EPCOT. Representatives from World Showcase countries dress in holiday-appropriate Christmas/Santa costumes that represent their country and tell stories of how Christmas is celebrated in their home country. Families will as well find storytellers for Kwanzaa and Hanukkah. Keep in mind younger kids may fully engage with the stories.
The EPCOT Candlelight Processional
The EPCOT Candlelight Processional, an extra ticketed event, is an orchestral show complete with singers singing Holiday songs and a celebrity narrator telling the story of Christmas. The Candlelight Processional is an extra ticketed event and is paired with a dinner package. If your family loves Christmas carols, then this is a must during the Holidays. This is a lovely event to celebrate the holidays in Disney as a family!
Hollywood Studios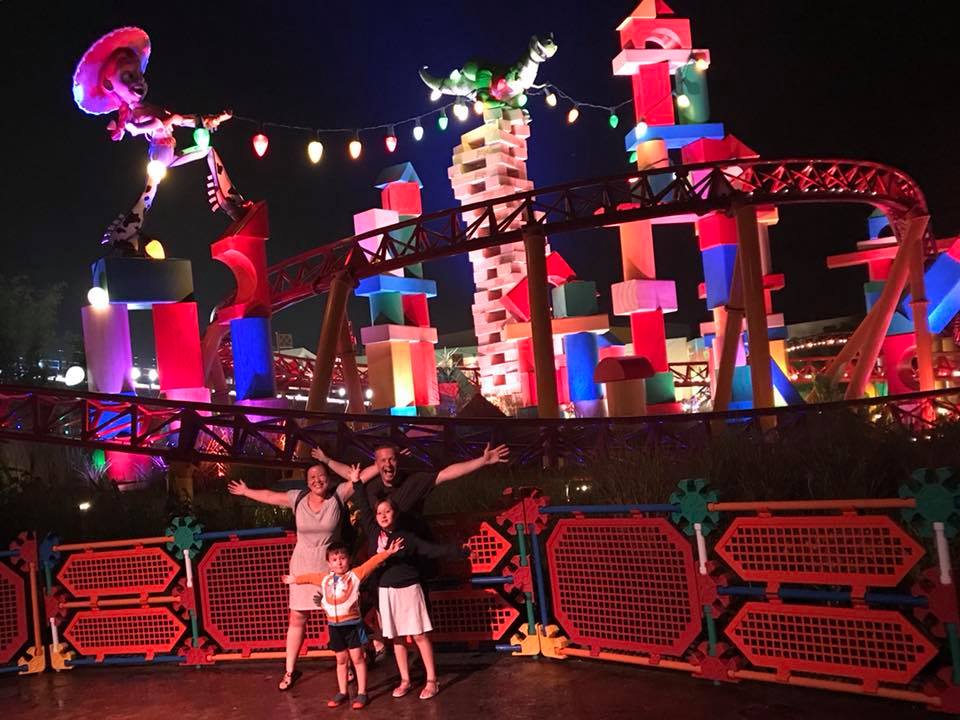 The main attraction at Hollywood Studios during the Christmas season is the Hollywood Holiday Hotel show, also referred to as the Sunset Seasons Greetings. The Tower of Terror transforms with projections, laser shows down Sunset Blvd, and palm trees that light up in sync with the music. Hollywood Studios also decorates with bigger-than-life toys, Christmas tree decorations, and yuletide. It's Christmas times 10 in this park!
Best Holiday Shows in Hollywood Studios for Families
Hollywood Studios offers four shows throughout the evening. They feature Mickey's Christmas Carol, Olaf's Frozen Adventure, Toy Story, and the Muppets. All shows feature music, narrated stories, and fake falling snow from lasers. Jingle Bell, Jingle Bam is another holiday attraction at Hollywood Studios. It's a mixed media show with fireworks located at Grauman's Chinese Theater, the same location as the Mickey and Minnie Runaway Train attraction. A perfect event to end your holiday day at Hollywood Studios.
If you're looking for some character fun and interaction, then you may want to make advanced reservations for Minnie's Holiday Dine at Hollywood and Vine Restaurant. The meal features Holiday fare and a chance to see and take pictures with Minnie and pals dressed in the holiday best.
Animal Kingdom
Animal Kingdom has the least going on for Christmas at Disney World, yet enough to please any holiday spirit-seeking family. It comes to life at night with a lit-up Tree of Life Awakenings show. Projections on the Tree of Life features Disney animal characters all accompanied by holiday and Disney music.
Character flotillas also float down the river during the day. Specially decorated, the characters don their holiday best. Kids will love seeing the flotilla with Santa Claus on it! Some of the decorations throughout the park are handcrafted by the cast member artists that work at Discovery Island in Animal Kingdom. Families will enjoy seeing the handcrafted wire bird lanterns, animal luminaries, and garland to go with all the unique designs.
Best Disney Resorts during the Holidays for Families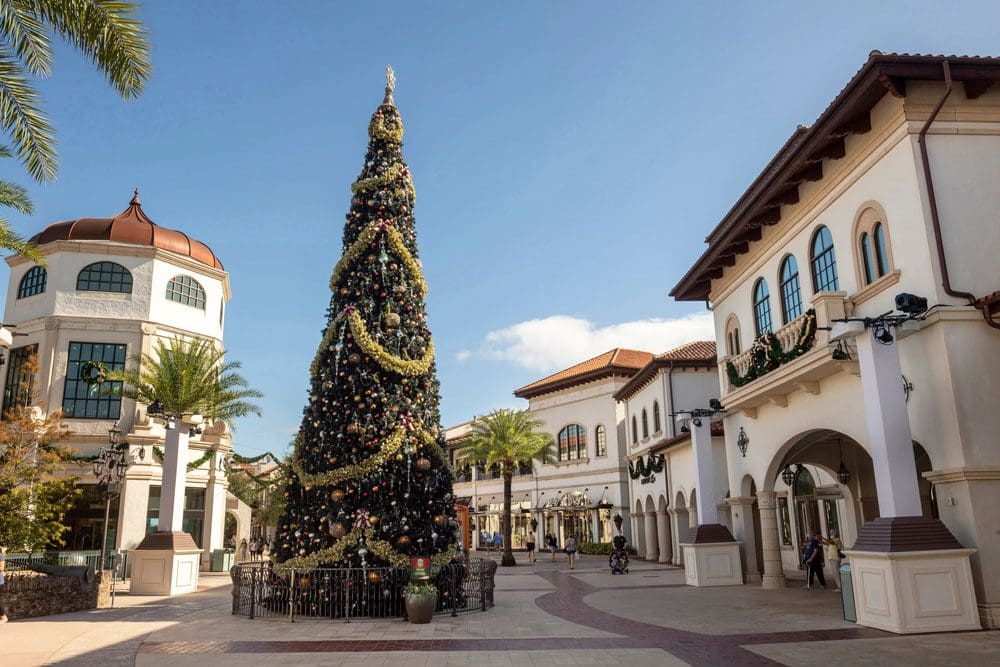 Like the Disney Theme Parks, Disney doesn't hold back when it comes to getting the resorts in the holiday spirit. All Disney resorts are transformed into Disney Christmas bliss with ornately decorated trees, wreaths, garland, miniature train sets, and even life-size, detailed gingerbread houses. Families should not skip visiting the resorts during a Christmas visit to Disney World!
Disney Deluxe Resorts have the most ornate and unique displays, followed by moderate and value resorts also displaying Christmas décor. It's easy to get to most of the Disney Deluxe resorts by utilizing free Disney transportation. Take the monorail to Contemporary, Grand Floridian, and Polynesian. From EPCOT, you can walk to Disney's Beach and Yacht Club, then take the Disney Skyliner to The Riviera Resort. Each resort offers a wonderful place to celebrate the holidays in Disney as a family.
Best Disney Deluxe Resorts to Visit during the Holidays
Families will find that decorations at Disney Deluxe Resorts go way beyond a Christmas tree. Families will find plenty to see and marvel at during a visit to these resorts during the holiday season. For example, Disney's Beach Club features a large edible crafted carousel as the lobby's centerpiece. Meanwhile, Disney's Yacht Club has a winter wonderland village with a train running through it. Not one detail is missed on these displays. Make sure to search for some hidden Mickeys when celebrating the holidays in Disney as a family here!
Best Christmas Displays At Disney Deluxe Resorts
One of the best Disney Christmas displays at a Disney Deluxe Resort is the edible, ornate, life-size, Victorian gingerbread house located in Disney's Grand Floridian Resort. Kids will want to jump the rope and pull the candy right off the house. If that wasn't enough, there is a massive, beautifully decorated Christmas tree in the lobby as well. 
Disney's Wilderness Lodge Christmas decorations stay true to the rustic theme of the resort. Upon entering the lobby, families will be in awe of the large, meticulously decorated Christmas tree. Families will delight in the garlands, wreaths, and rustic smaller trees and animals. If you need to unwind after a day in the parks, then you may want to relax by the roaring fires in the fireplaces while taking in the Christmas displays.
RELATED: The Best Disney Deluxe Resorts For Families
Best Disney Moderate and Value Resorts during the Holidays
Disney's Moderate and Value Resorts do get their fair share of Christmas décor, but not as elaborate as the Disney Deluxe Resorts. If you happen to be near one of the moderate or value resorts, then it's worth a visit to see the Disney Christmas displays. However, after seeing the Deluxe resorts and the Disney parks decorations during Christmas time, it may not be worth the extra trip.
RELATED: The Best Disney Moderate Resorts For Families
Disney Christmas Extra Ticketed Events
Disney also has a lot of extra ticketed events for families to enjoy during the holiday season. Whether Christmas shows or special rides, here are the best places to celebrate the holidays in Disney as a family!
Disney's Very Merriest After Hours Event
On select nights starting in November and ending in December, Magic Kingdom welcomes families for Disney's Very Merriest After Hours Event. Families must buy a separate ticket from their park ticket to attend the event. Starting at 9:00 PM, families can enjoy 4 extra evening hours in the park with fewer crowds, special holiday-themed events, Disney characters in Christmas attire, and Christmas treats. In previous years the event was called Mickey's Very Merry Christmas Party, but due to COVID, Disney scaled back the party and renamed it.
Kids and parents will love seeing specials like Mickey's Once Upon a Time Christmas Parade as well as Minnie's Wonderful Christmas Time Fireworks at Disney's Very Merriest After Hours Event. Included in the event are ice-cream treats, popcorn, as well as select beverages. You'll even experience real snow coming down in the Magic Kingdom!
Frontierland or Tomorrowland
Make sure to bring the kids to Frontierland to hear their favorite Christmas carols sung by the Reindeer Wranglers. If your kids need to get some extra energy out from all the sugar they ate, then head to Tomorrowland for a dance party at Club Tinsel. You may even catch your favorite character getting into the groove!
Best Holiday Rides At Disney For Kids
Two rides receive a special Christmas overlay, the Jungle Cruise and Monsters Inc Laugh Floor. The Jungle Cruise turns into the Jingle Cruise, outfitted with special lights, music, and decorations in the standby lines. Boats are renamed with an appropriate, seasonal, Christmas name, and the skippers narrate with some holiday humor. Have the kids be on the lookout for Christmas surprises at some of the scenes throughout the ride! Monsters Inc Laugh Floor will also make you laugh out loud with their holiday humor during Christmas in Disney. It's not your typical show, but a show designed with Christmas in mind.
Happy Holidays!
We hope you liked this article on the Best Places To Celebrate The Holidays In Disney As A Family by our top contributor Alison Netzer! A visit to Disney World during Christmas time will surely get your family in the holiday spirit. Kids will forever remember seeing Santa as well as making lasting memories during their magical visit. Enjoy Disney World with your kids!
Alison is a Disney lover and a travel planner specializing in Disney. Find more from Alison and her family online Instagram @aliwishesandwizardstravelco.
*Due to the COVID-19 pandemic, some of the attractions, accommodations, or things to do on this list may be closed. Please ensure availability before making your decision.
*This post may contain affiliate links that may earn us a small commission, at no additional cost to you. Affiliate links in no way inform the hotels, sights, products, or other recommendations included in our articles. All opinions and recommendations expressed here are compiled from submissions submitted by the generous members of our Families Who Love To Travel community.
READ NEXT: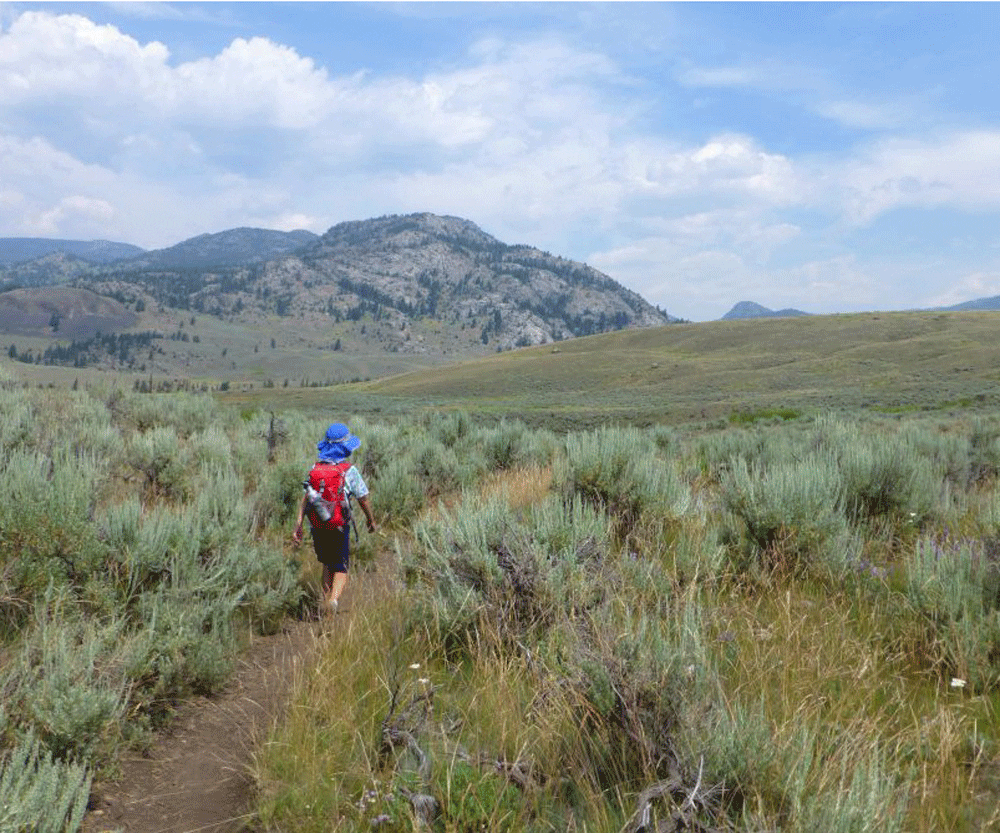 Everyone knows that Yellowstone National Park makes for a classic family vacation. Strolling the boardwalks...
You can do all the research and pack all the right things, but it's hard...