​​Tokyo is a captivating city with endless fun to offer on a 7-day itinerary with kids! From the bright lights of the city's bustling streets to ancient temples surrounded by lush forests, there are endless possibilities for exploring Japan with kids. In fact, the country offers an array of experiences and activities that will keep children entertained while providing parents with plenty of opportunities to explore unique cultures, cuisine, and natural beauty. In addition to sightseeing and learning about Japanese heritage, there are plenty of fun things that kids can enjoy. Our 7-day Tokyo travel itinerary with kids encompasses theme parks, museums, the great outdoors, hot spring visits, and more to ensure your family has the best time. All these activities can be accessed conveniently while staying in central Tokyo. Keep reading to start planning your next trip!
Why Visit Japan With Kids?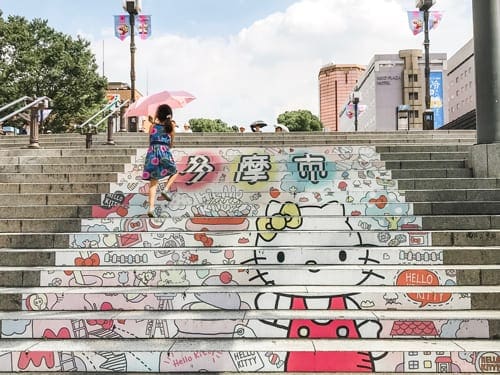 Photo Courtesy: Christine Kim
If you're looking for a fun-filled adventure with your little ones, then look no further than Japan! With its unique mix of tradition and modernity, there's something for everyone in this beautiful country. Before you plan your trip, here are a few reasons why you should visit Japan with your kids.
Japan is a very safe and clean country with convenient transportation and family-friendly attractions, making traveling around with kids easy.
Each area of Japan is kid-friendly in its own unique way. Tokyo, Osaka, and Kyoto are especially popular for traveling around Japan with kids, as they have many amusement parks, interesting cultural landmarks, and unique features. Plan your Japan family's dream trip based on which sights you want to see and transportation.
It's almost always a good time to visit Japan! Apart from the summer, which gets humid and hot, any season is great for traveling to Japan. Enjoy clear blue skies in winter, cherry blossom season in the spring, and bright red and yellow leaves in the autumn.
With excellent fast transportation like bullet trains and safe cities, you can explore Japan easily with your kids. Enjoy the unique culture and natural beauty of Japan while visiting attractions like temples, parks, amusement parks, and more. A family holiday in Japan is sure to be an unforgettable experience!
Some of the top places to visit in Japan are Tokyo Tower, the Imperial Palace, Osaka Castle, snow monkeys, hot springs, a theme park, and the Japanese Alps. With a Japan Rail Pass, you can hop on a bullet train and have the freedom to explore the beautiful country and have an unforgettable Japan vacation.
RELATED: Fun Activities To Keep Kids Entertained While Traveling
A Fun 7-Day Itinerary for Visiting Tokyo with Kids
Exploring Japan with kids will make you appreciate Japanese culture even more. That's why I suggest starting your holiday in Japan's capital and exploring Tokyo! Discover original amusement parks, enjoy the outdoors, and indulge in Japanese specialty foods. The friendly people, convenient transportation infrastructure, and variety of Japanese food will make for a memorable adventure. All the activities suggested in the itinerary can be reached easily from central Tokyo. Consider staying in a hotel, Airbnb, or traditional Japanese-style inn (Ryokan) near Tokyo Station or another central train station running JR trains.
READ NEXT: The Ultimate Adventure Teen Bucket List: 11 Must-Try Extreme Sports and Where to Do Them
Day 1: Tokyo Disneyland & DisneySea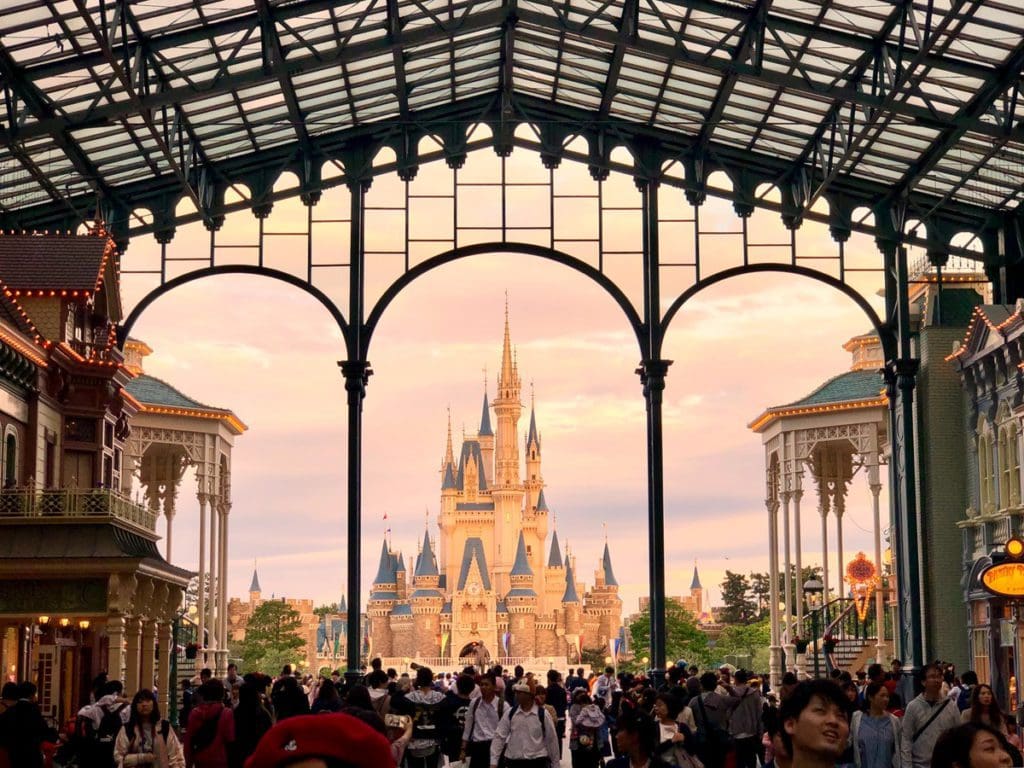 Did you know that Tokyo Disneyland and DisneySea are the cheapest Disney theme parks in the world? Many Disneyland fans claim that Tokyo Disneyland is the best in the world, while Tokyo DisneySea is considered the most beautiful Disney park. Disneyland and DisneySea have so much to offer that it is impossible to visit them both in one day. Younger kids will enjoy seeing all their favorite Disney characters at Disney Land, while older kids may prefer the rides and theme shows at Disney Sea. Plus, they'll love hearing them talk in Japanese! And let's not forget about indulging in local delicacies like Pork-Rice Balls with Fried Eggs inside Adventureland. Tokyo Disneyland and DisneySea are surely must-visits in Japan with kids!
Getting there is as easy as taking the JR Keiyo Line from Tokyo Station – you'll arrive at Maihama Station within just 13 minutes, and then it's only another 5 minutes to Tokyo Disney Resort. Budget family travelers visiting Japan should stay in an Airbnb or hotel in central Tokyo, as it would cost $150-200 extra per night to stay on-site.
Pro Tip: Get the paid Tokyo Disney Premier Access line-skipping pass to avoid crowds and long waiting times.
Day 2: Ghibli Museum
On day 2 of your itinerary in Tokyo with kids, head over to the Ghibli Museum in western Tokyo. Take the train on the JR Chuo Line to Kichijoji station, a direct 40-minute train from Tokyo, and walk 14 minutes to the museum. Whether you're a big Ghibli fan or not, it's worth visiting this whimsical and calming museum based on the highly acclaimed Japanese animation films by Hayao Miyazaki.
Families will enjoy the movie theater, children's play zone, rooftop garden, and special movie-inspired exhibits. Kids will especially enjoy the main exhibition hall with its magical gadgets that bring the animations alive! It takes about 2.5 hours to walk around and soak up all the magical exhibition spaces at this Japanese theme park. There are outdoor and indoor spaces, so you really feel like you can take your time.
Don't forget to try delicious organic food at the Strawhat Cafe inside the museum – how about trying traditional Japanese sweets? Tickets are sold in advance, so there are no queues to worry about. Just be sure to make a reservation!
Reserve this Tokyo: Full-Day Private Tour with Nationally-Licensed Guide here with Getyourguide!
Day 3: Ueno Zoo
Head to the centrally located Ueno Zoo with your kids to see animals, museums, parks, and hidden gems! Accessible via train to Ueno Station or a walk, Ueno Zoo is the oldest in the country and is famous for breeding giant pandas. Your kids will love all the animal pictures and cute merchandise around the Ueno area and station.
At the zoo, one highlight for families is seeing the famous pandas and spotting the Pokémon-themed manhole covers. This is an excellent activity if you're visiting Japan on a budget, as tickets for children under 12 are free while the full adult fare only costs 600 Japanese Yen. Don't forget to try some Panda soft serve ice cream (kawaii and tasty!).
The public park next to the zoo is also a great place to unwind, indulge in Japanese picnic culture, see giant lotuses, and enjoy the street food stalls. You can also take a swan boat ride along the pond with your kids or visit the National Museum of Science and Nature on a rainy day.
Pro Tip: Check out the "Crowdedness Map" on the zoo's official website before you go.
Day 4: TeamLab Planets
Rethink what a traditional art gallery should look like and imagine a completely immersive digital experience in Tokyo's most futuristic area! TeamLab Planets is a must-visit when visiting Japan with kids, as it's suitable for children and adults alike and offers a unique experience you won't find in other countries. It's a 24-minute bus ride from central Tokyo (child discounts are offered on the bus).
Families will feel part of the digital floating artwork as they walk through and interact with the displays. You can cherish a unique immersive art exhibition with all senses – kids will love interacting with digital art in the water! It takes about 2 hours to walk through the whole exhibition. Remember to try the green tea vegan ramen!
And if you're still feeling energetic afterward, take your time to scout out Odaiba's innovative neighborhood, offering a sand beach, themed malls, a monorail, and more. It's a fun place to explore on any itinerary for Tokyo with kids.
Pro Tip: Get your tickets online before you visit Japan.
Day 5: Tokyo Sea Life Park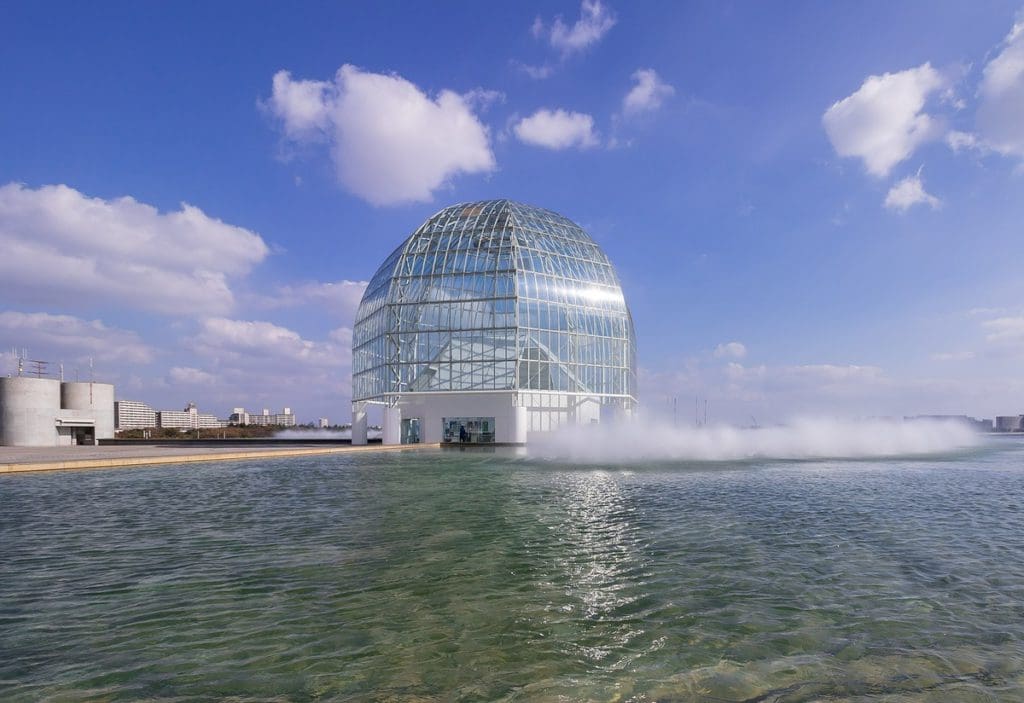 After taking in Tokyo's green spaces and cityscapes, it's time to head over to Kasai Rinkai Park and delve into an underwater world to learn about seascapes. Take the Keiyo Line to Kasai-Rinkai-Koen-Station – it only takes 13 minutes from central Tokyo!
Known for its stunning design, at Tokyo Sea Life Park, you and your family can enter an idyllic marine world. This underwater paradise features 12 areas with sea life from all over the world. And, hundreds of species of sea creatures. Young kids will especially enjoy this aquarium and learning about the rich aquatic life in Tokyo's waters. Plus, they'll have a chance to see marine animals from around the world!
Just like Ueno Zoo, Tokyo Sea Life Park is free of charge for children under 12, and costs adults only 700 Japanese Yen. The aquarium is conveniently located inside an outdoor green space at the edge of Tokyo Bay. Enjoy a bit of downtime after exploring the aquarium with your kids, and take advantage of the easy walking trails, beaches, and lawns at Kasai Rinko Park. Families can also try some Udon noodles with sea lettuce at Restaurant Sea Wind inside the aquarium.
READ NEXT: 18 Exciting Travel Toys For Young Kids That Will Keep Them Entertained The Whole Trip
Day 6: Hakone Open Air Museum
After exploring hot spots in Tokyo on your itinerary with kids, it's time for a family trip to the mountains. Hakone is a serene hot spring town in the mountains west of Tokyo with something to offer everyone. Take the train or a rental car to Hakone and enjoy its Open Air Museum, followed by a hot spring bath in one of Hakone's many famous onsens! As it can take up to 2.5 hours one way to get there on three trains, it's advisable to rent a car for a more flexible and quicker journey.
While there are several museums in Hakone, the Open Air Museum is especially great for young kids, as they can play inside a wooden dome to learn about the effect of color and light on structural art. Plus, there's plenty of space to run around and enjoy jumping inside a unique area that is part of the artwork. Allow a few hours to see all the art at this outdoor museum, then head to the natural hot springs for a relaxing soak. The whole family can even take a foot onsen together while relishing the views of the artwork!
Finish the day with a local dining experience before heading back to Tokyo. (Don't miss Kuro-Tamago – black eggs boiled in hot spring water.) If your family is ready for a change of pace, stay a few nights in Hakone to thoroughly enjoy the hot springs at this spa retreat.
Day 7: Yokohama CosmoWorld, Cup Noodle Museum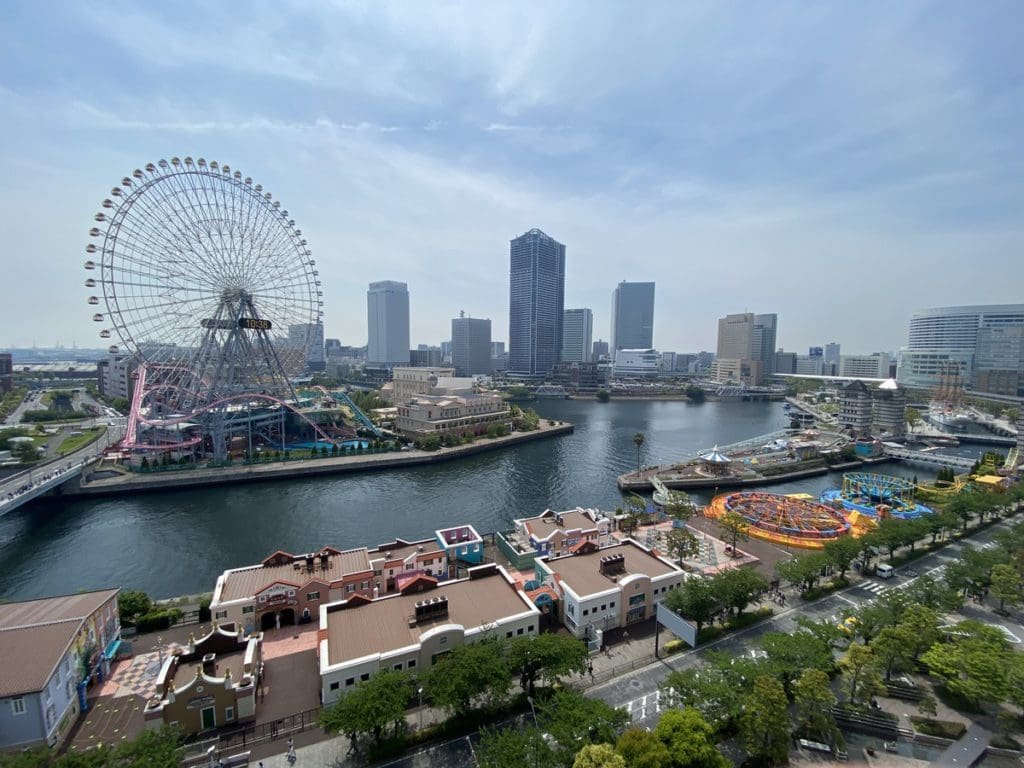 On your last day of this itinerary for Toyko with kids, Yokohama CosmoWorld is ideal for family travel with its thrilling rollercoaster, games, variety of food stalls, and giant Ferris wheel. It takes about an hour from central Tokyo to Sakuragicho Train Station on the JR Keihin-Tohoku Line.
On a clear day, you may even glimpse Mount Fuji from the top of the Ferris wheel! Kids will especially love the underwater rollercoaster ride. After exploring this urban amusement park, head to the Cup Noodle Museum, just a short distance away. Here, you and your children can learn about the history of cup noodles and even create your unique cup.
For dinner and some local eats, head to Chinatown for a unique dining experience of Chinese-Japanese fusion. What a great way to end your Japan family trip!
Pro Tip: For the perfect ending to your trip, end the day at Yokohama Landmark Tower at sunset!
More Additions to an Itinerary for Visiting Japan with Kids
Japan is a vast country with lots to offer. This Japan itinerary covers the highlights of visiting Tokyo with kids, but if you have more time to explore Japan with kids, get a Japan Rail Pass with access to bullet trains and head to Osaka.
Here, kids can see Universal Studios Japan and visit Osaka Castle, both sure to be a hit with all ages. Or, consider coming in winter to experience snow monkeys, ice sculptures, and Japan's famous powder snow. If you're planning a family ski vacation to Japan, also read our article on skiing in Japan with kids!
READ NEXT: Beyond Textbooks: Best International Destinations For Teens Obsessed With History
Happy Travels!
Photo Courtesy: Edith Arteaga-Medina (left), Chou Fleur (center)
We hope you liked this Fun 7-Day Itinerary for Visiting Tokyo with Kids by our contributor Mike Humphrey! From panda-shaped riceballs to cute vending machines, themed restaurants, Hello Kitty merchandise, and more fun, your little ones are sure to love this unique country. Enjoy embarking on this itinerary for Tokyo with your kids!
About the Author: Mike lives in Japan with his wife and three boys. They love traveling, the outdoors, and living in the mountains. In the winter, you will find Mike and his family skiing or snowboarding and hiking the local mountains in the summer. You can read more of Mike's articles on Mykhumphrey.com.
*This post may contain affiliate links that may earn us a small commission, at no additional cost to you. Affiliate links in no way inform the hotels, sights, products, or other recommendations included in our articles. All opinions and recommendations expressed here are compiled from submissions submitted by the generous members of our Families Who Love To Travel community.
READ MORE: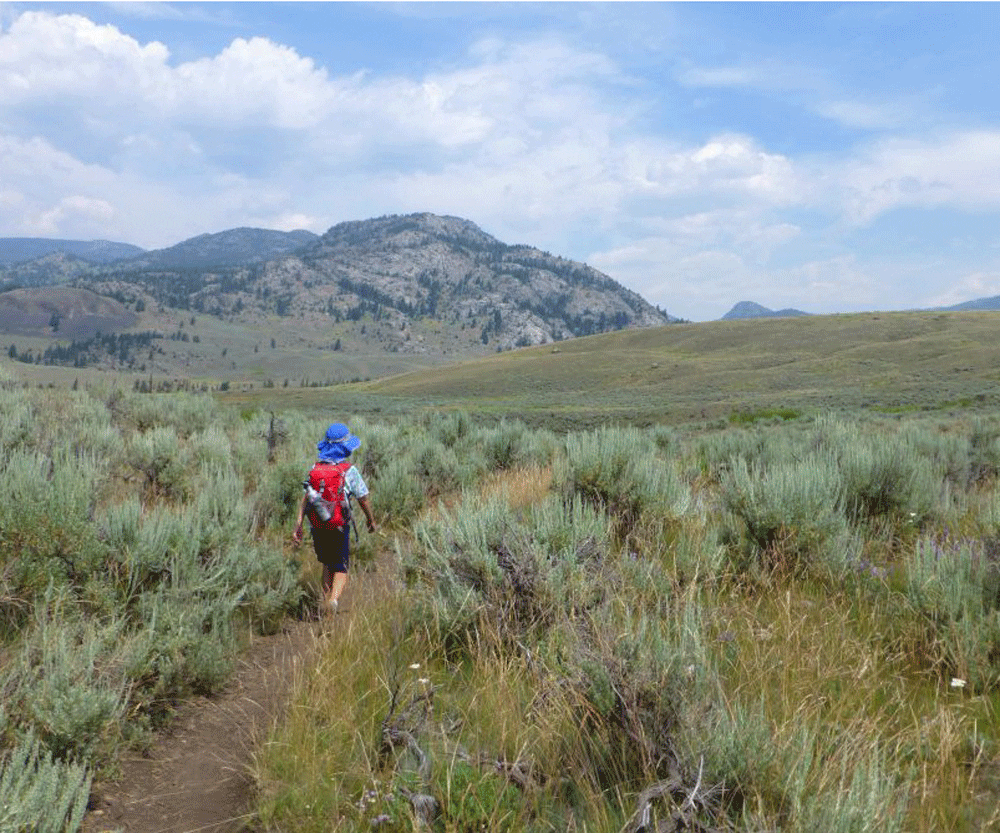 Everyone knows that Yellowstone National Park makes for a classic family vacation. Strolling the boardwalks...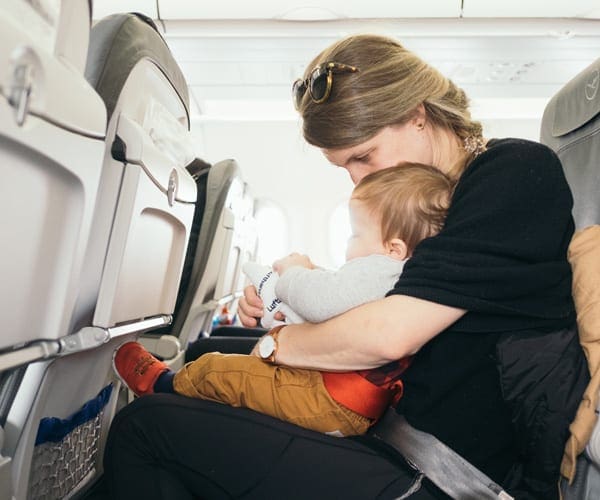 Families Who Love To Travel contributor Meghan Oaks provides her 10 best tips for your...