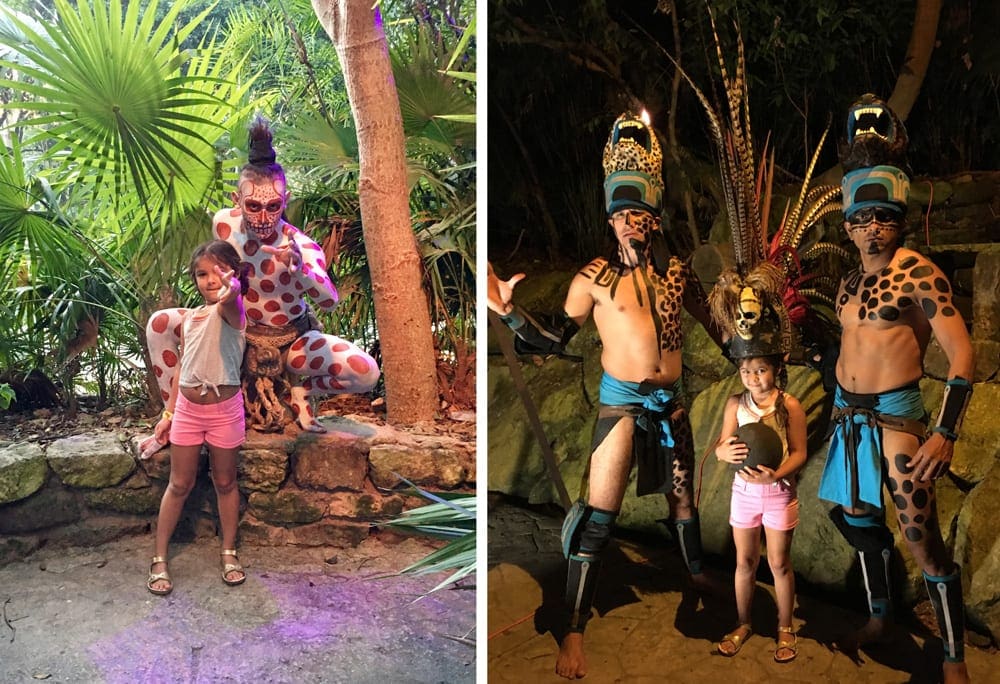 Planning an itinerary of things to do with kids in Playa del Carmen? This list can lend a helping hand! Playa del Carmen is a family-friendly tourist spot located in Mexico's Riviera Maya along the Caribbean Sea. It is famous for its beautiful beaches, boutique shopping, and outdoor adventures. Spend your vacations here lounging lazily by a cenote or descending into an underground cave. Whether you have daredevil children ready to soar over the landscape or animal lovers who'd prefer to watch from a submarine, Playa del Carmen truly has it all. There are so many things to do in Playa del Carmen with kids. To decide which is best for your family, we used suggestions from our Facebook group to compile this list of parent-approved activities. Keep reading for our favorite 6 Things To Do In Playa del Carmen With Kids!
Next, book your stay at one of the 10 Best Family Resorts in Playa del Carmen (Including All-Inclusives!)
Visit Xcaret Eco Park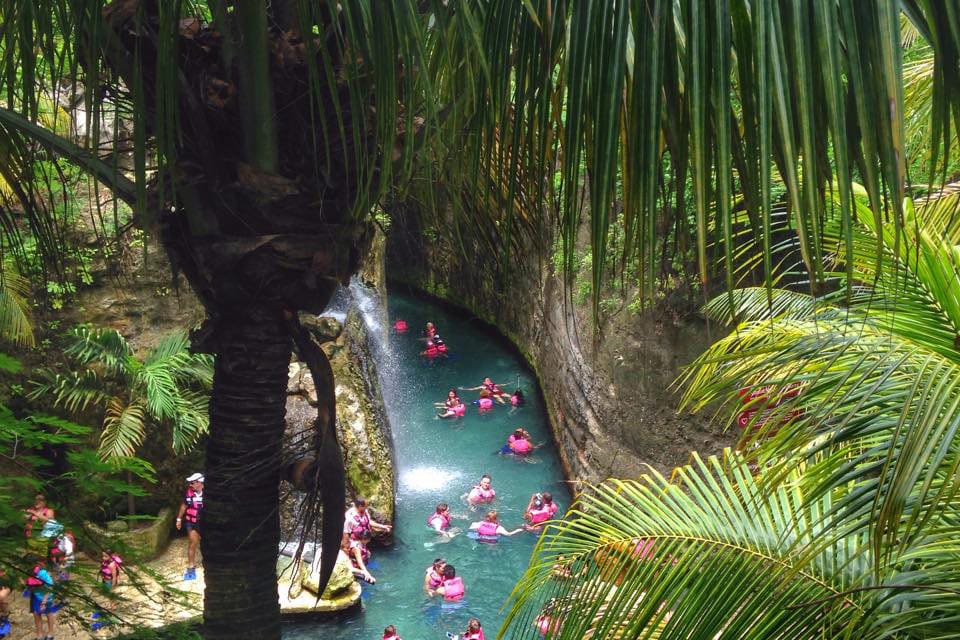 Ready to book your ticket to Xcaret? Book directly here today!
Xcaret Eco Park is a Playa del Carmen attraction perfect for all ages! Aimed at promoting sustainable tourism, the massive complex is filled with eco-friendly excursions to keep adults and children entertained. Start your visit at the Main Plaza entrance with Mexican handicrafts before proceeding to the rest of the fun! Other sights worth exploring here include a 19th-century mansion, an underground river, and a Mayan Village. Not to mention the numerous archaeological sites, all of which can be enjoyed with a general admission ticket. Kids will particularly enjoy the World of Children, a water park where little ones under 12 can slip and slide. Check out the zip lines for older kids or teens, which give a fantastic view of the surrounding Playa area. Stick around until 7 pm for the evening equestrian show and end your day with some authentic Mexican cuisine!
What Our Families Say
"Our family loved the underground rivers at Xcaret Eco Park which were fun to swim through and explore. The highlight for us is the evening show with songs, dances and costumes from Mexico – don't miss it!"

– Rebecca Giguere
Hop Aboard an Atlantis Submarine
Book your tour on the Atlantis Submarine with GetYourGuide.com now!
Learn more about Playa del Carmen's marine life aboard an Atlantis Submarine! Little ones who love animals will surely treasure this special experience during your family vacation. As one of the best family-friendly tours in Playa Del Carmen with kids, families can explore Cozumel's famous reefs with Atlantis Submarine without fear of getting wet. Prepare for a real navy submarine to take you to the depths of the ocean floor! Give kids the chance to see tropical fish, coral reefs, and other sea life up close! A guide will narrate the adventure while you peer through your own peephole. Plus, you'll probably learn a few things too! Keep an eye out for the remains of an old shipwreck that are still visible from the ship. In total, the excursion should take three to four hours. A ticket package includes a round-trip ferry ride to and from Cozumel.
RELATED: 9 Best All-Inclusive Resorts In Playa del Carmen For Families
Explore Xel-Há Park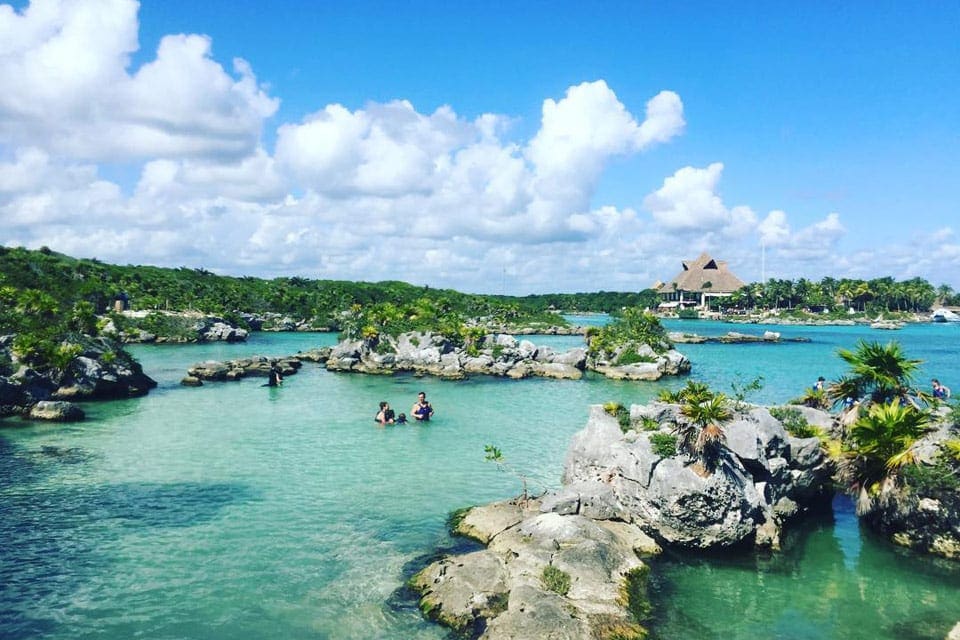 Reserve your admissions tickets to Xel-Há Park directly here today!
Outdoor enthusiasts will love Xel-Há Park! About a thirty-minute drive from Playa del Carmen, this family-friendly aquatic theme park offers a great all-afternoon excursion. Kids can practice snorkeling, swim with dolphins and stingrays, or explore the jungle. Plus, become acquainted with Quintana Roo's wildlife. A standard package includes many of these activities, though swimming with dolphins and other activities are available at an extra cost. Then, take a swim in the turquoise lagoon, El Dorado, and Ixchel Grotto! While children meander down the lazy river or wade in the designated kid's area, adults can relax in hammocks with a few drinks or embrace the quiet ambiance of the Chacah's Botanical Garden. Together, the entire family can explore the picturesque Bay Of Caprices, stroll by the scenic lighthouse, and cross the floating bridge. Simply put, this is one of the best things to do in Playa del Carmen with toddlers!
What Our Families Say
"The park is perfect for all ages, including babies and toddlers. The the activities we enjoyed the most were snorkeling and Rio Xel-há. The Snuba experience is also a must. Even the buffets offered good quality meals with many options, including vegetarian and even vegan, and they practice appropriate safety measures during Covid times. Customer service is excellent."

– Edith Arteaga-Medina
Descend into the Rio Secreto
Gift your family the experience of a lifetime on your trip to Rio Secreto by booking a tour with Tripadvisor or Viator.
Enter a mysterious underground paradise when you visit the Rio Secreto caves! The Rio Secreto is Playa del Carmen's very own underground river! Below you'll find a rare sight for families to explore. A formation of ruins surrounded by crystal blue water. Entry to this limestone cave is available via multiple tour companies in Mexico. We recommend booking directly through the caves. With a ticket, your entire family will be outfitted with wetsuits and water shoes before the excursion, plus a quick safety overview. Be aware that no one will be allowed to bring a camera or other electronics on the trip! Once you've suited up, a guide will talk you through the underground journey, allowing you to climb, and wade around in appropriate areas. Afterward, the entire group is treated to lunch. Definitely don't hesitate to check out this spectacular adventure while you're in Mexico!
What Our Families Say
"We have been to numerous caves worldwide, but these caves were truly exceptional. The caves are so well taken care of and extremely clean, and the tour is environmentally friendly. The whole experience was incredible, and most of all, my kids had the most enjoyable time. It is definitely one of the best kid-friendly activities in Playa del Carmen!"

– Gunjan Prakash
RELATED: Parent Review: Underground Caves and River: Rio Secreto with Kids
Swim in a Cenote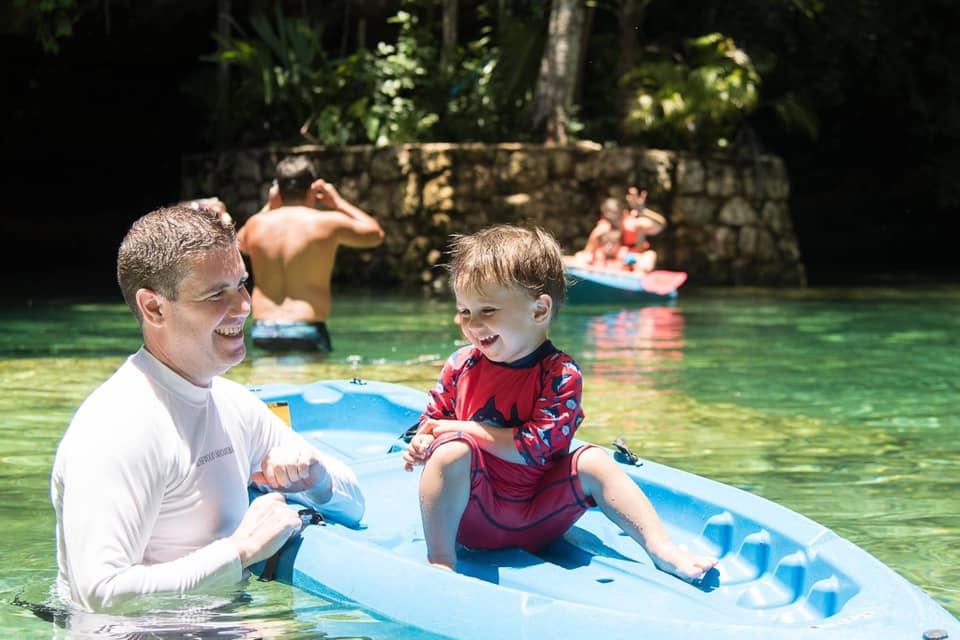 Reserve a private family tour of Kantun Chi with Viator today!
Book a Four-Cenote Adventure tour from GetYourGuide.com now!
What better way to cool off than by taking a dip in a cenote? Otherwise known as a collapsed sinkhole, you'll find these water-filled limestone formations across the Riviera Maya. Luckily for families staying in Playa del Carmen, there are plenty of kid-friendly cenotes nearby! Cenote Azul is located right in town. It is a popular choice with families due to its multiple shallow pockets, where kids can swim carefree. If you don't want to visit just a cenote, you could choose an eco-park like Kantun Chi. This location includes an on-site cenote and activities such as snorkeling. Regardless of which cenote you choose, we recommend proceeding at your own risk regarding your children's ages and swimming capabilities. While most offer lifejackets or equipment, others may have deeper waters. That's why this is one of the best things to do in Playa del Carmen for teens!
What Our Families Say
"We went to Chikin-ha, where there are 3 cenotes. The open air cenote was fun for jumping into and snorkeling. The underground cenote was the best part- fascinating to explore the underwater caves! And the cool water is refreshing on a hot day."

– Rebecca Giguere
RELATED: Exciting Day Trips From Playa Del Carmen And Cancun For Families
Enjoy Xplor Park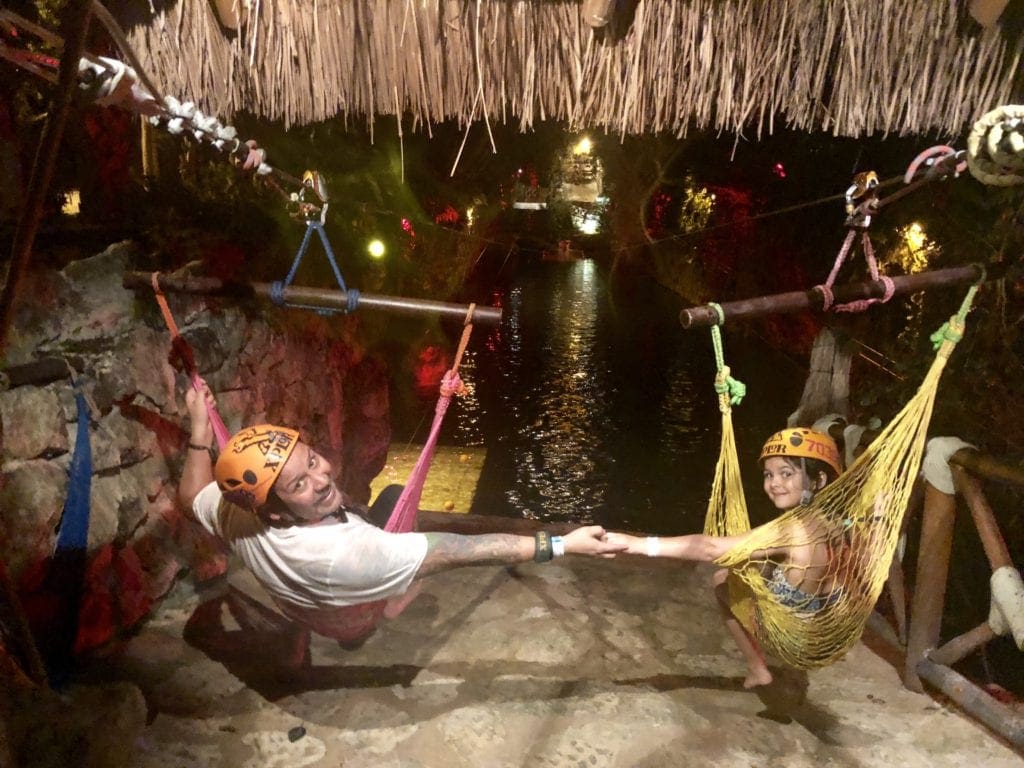 Book your tickets to Xplor Park directly here!
Daredevil children can't get enough of Xplor Park, one of the best adventure parks in Playa del Carmen! This kid-friendly adventure park is one of Mexico's most famous sites near Xcaret and The Rio Secreto. Kids will have a blast exploring underground caves, zip-lining over the horizon, and driving ATVs around the expansive property. In fact, children can even partake in Xplor's very own version of zip-lining featuring a hammock! With all this outdoor fun to choose from, an adventure here can easily last a whole day. Wake up early and allow plenty of time to see everything Xplor Park offers! Start with the river swim, then proceed to kayaking, rafting, and hiking throughout the mysterious terrain. There's also a cafe and restaurant on-site in case you get hungry. Though younger kids can find some activities to do, the experience is recommended for those 8 years and older.
What Our Families Say
"Our daredevil 6 year old said the best day of the trip was at Xplor. We had so much fun with the zip lines, which were exhilarating, and she also loved that she got to ride up front in the ATV ride."

– Rebecca Giguere
Where to Stay in Playa del Carmen with Kids
Book your stay at Grand Velas Riviera Maya with Travelocity now.
Selected a room directly from Hotel Xcaret Mexico for your stay in Playa del Carmen now.
Book your stay at Rosewood Mayakoba with Travelocity now.
Heading to Playa del Carmen with kids? Find the perfect stay for your family. Select from all-inclusive options like Grand Velas Riviera Maya, offering a kids' club and on-site spa. Or Hotel Xcaret Mexico, which includes full access to all Xcaret parks. Are all-inclusive resorts not your style? Consider Rosewood Mayakoba where kids can join the Rosewood Explorers program! Plus, read about the 10 Best Family Resorts In Playa Del Carmen (Including All-Inclusives!), all recommended by real parents in our Facebook community!
Happy Travels!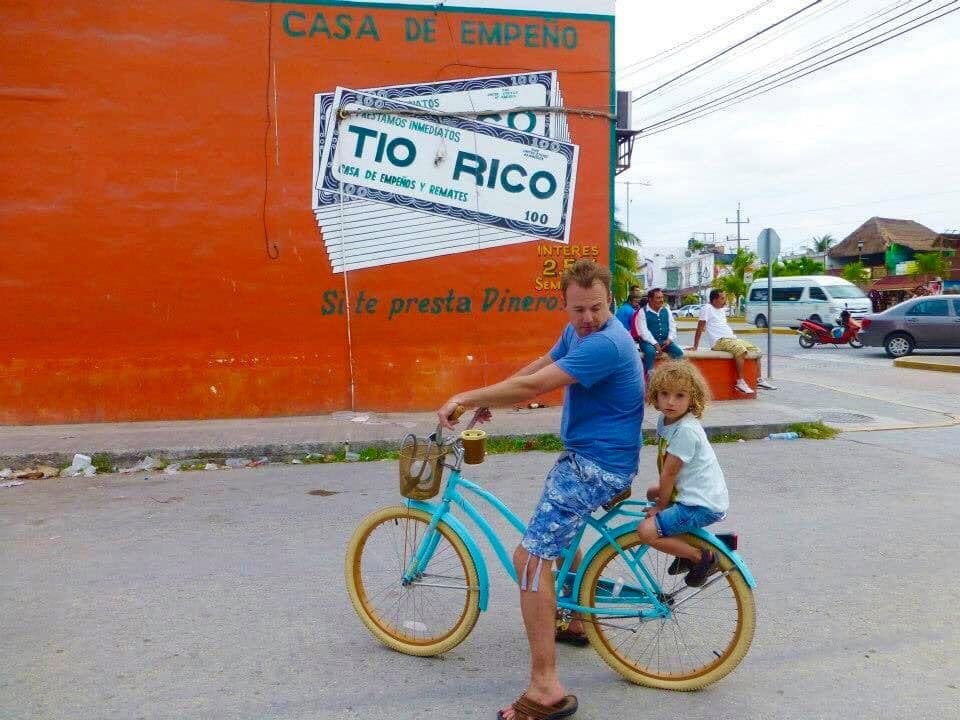 We hope you've enjoyed our list of 6 Things To Do In Playa del Carmen With Kids! From sunbathing on shimmering shores to getting a taste of the local artist community, these are just a few of the best kid-friendly activities in Playa del Carmen. Of course, as parents, we know that traveling with children is about memories more than anything else! Finally, enjoy a fantastic time in Playa del Carmen with your kids. 
All About Playa del Carmen With Kids: Important Information You Need To Know
*Due to COVID-19, some of the summer lake resorts, restaurants, or Northeast attractions for families on this list may also be closed or may be offering reduced services. Please ensure availability before making your decision. 
Book Playa Del Carmen Tours: Free Cancellation: Get a full refund up to 24 hours in advance on most experiences.
•This post may contain affiliate links that may earn us a small commission at no additional cost to you. Affiliate links in no way inform the hotels, sights, products, or other recommendations included in our articles. All opinions and recommendations expressed here are compiled from submissions submitted by the generous members of our Families Who Love To Travel community.
READ NEXT:
Don't forget to join the Families Love Travel Facebook group, follow our Facebook and Instagram page, and subscribe to our newsletter for more family-friendy travel ideas.
When you think of Curaçao, you might picture its stunning beaches and azure waters. But...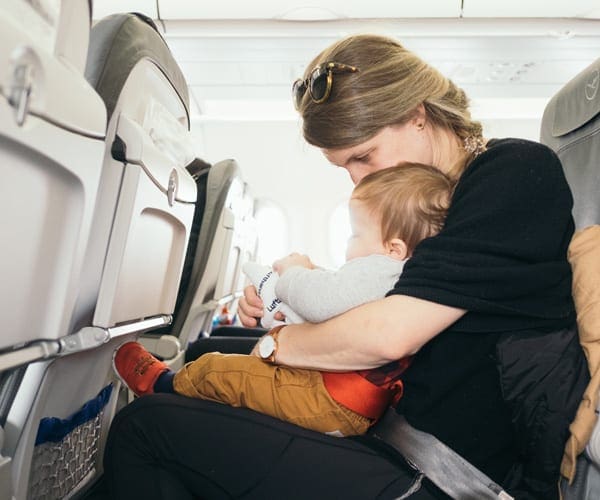 Families Who Love To Travel contributor Meghan Oaks provides her 10 best tips for your...