If you're lucky enough to visit New York City during great weather, we have the perfect list of outdoor activities for you to take advantage of with your kids. From a nostalgic visit to Coney Island to the hub of all tourist activities, Times Square, we covered it all. Walk across the Brooklyn Bridge, see the Statue of Liberty, or say hi to the animals at The Bronx Zoo! Whether you have little kids who want to spend the day planting at the Brooklyn Botanic Garden or teens who'd prefer to visit Governors Island, there's enough variety for everyone in this dynamic city. Plus, there's no better way to take advantage of good weather in the city than just getting out there and being spontaneous! If you're not sure where to start, take a cue from this article on the 15 Best New York City Outdoor Activities For Kids! 
Best Outdoor Activities near Central Park for Kids
Central Park is a classic New York attraction, from its fall foliage to summer family fun. If you're looking for the best outdoor activities near Central Park for kids, here are our suggestions!
RELATED ARTICLE: 11 Best Indoor New York City Activities with Kids
Central Park
Central Park is a great place to visit with young kids. There are lots of things to do here too, like riding the famous Central Park Carousel, located along East 65th Street. You could also enjoy the view from the historic Belvedere Castle near 79th Street. Or, take kids to see the funky equipment at the Ancient Playground near East 86th St and 5th Avenue. Families also love the unique architecture at the Billy Johnson Playground near 67th Street. Or, the Heckscher Playground on 65th St. During the summer, pack a picnic to eat on the grass. Listen to a free summer concert, go boating, biking, and race model sailboats. Fishing is available through the Charles A. Dana Discovery Center. At Wollman Rink, enjoy the annual Victorian Gardens Amusement Park. Or, head to Wollman Rink in the winter to ice skate. Lasker Rink is located further north near 110th Street.
Central Park Zoo
You may not spot many animals out in the wild at Central Park, but you can see them at The Central Park Zoo. Located along East 65th Street and 5th Avenue, it houses grizzly bears, sea lions, and more. Grab a map before your visit, because there's a lot to see! Stroll through immersive exhibits like the Tropic Zone, with lemurs, Victoria-crowned pigeons, and other exotic animals. Also, don't miss other popular exhibits, like the Snow Leopard section or Grizzly Bear Overlook. Kids will love the Polar Circle, featuring penguins, puffins, and harbor seals. Afterward, visit the sea lions in the Central Garden. Remember to stop by the Temperate Habitat to spot rare red pandas and snow monkeys! Families can also enjoy interactive experiences like 4-D Theather showings, or penguin and sea lion feedings. There's also a small petting zoo for children. Buy your tickets beforehand to avoid lines.
Admission to the Central Park Zoo is exclusively included in the New York Sightseeing Pass. Get yours here today!
Best Outdoor Activities in Midtown Manhattan for Kids
From Times Square to the Empire State Building, Midtown Manhattan is home to some of the most famous sights in New York City. If you want to spend the day outside enjoying the New York City weather, here are our favorite outdoor activities for kids!
Times Square
Put Times Square on your family's bucket list! With wandering cartoon characters and flashing bright lights, this popular area on 42nd street will impress any kid. Though it may be a bit corny for older kids, young children can take photographs with Elmo, Pikachu, and other characters around the area. You could even spot the tin man or infamous naked cowboy! Aside from just walking around and taking photos, there's so much to do in Times Square with kids. Visit the Disney Store or take a trip to Midtown Comics. Afterward, once you're ready for some sweets, head to the M&M Store. No matter what you choose to do in Times Square, we're sure it'll be a highlight on your trip. After all, it's one of the best New York City outdoor activities for kids!
RELATED ARTICLE: 11 Unique NYC Restaurants and Dessert Spots to Visit With Kids
Empire State Building
Want a 360-degree view of New York City? Head to the Empire State Building! Of course, no visit to the city would be complete without a stop at this iconic structure on 34th Street and 5th avenue. Plus, it's in a convenient location in Manhattan, making it easy to walk to other nearby sights once you're done. Tickets can be purchased beforehand online or once you actually reach the spot, but we suggest buying online to save time. Families can even book a Premium Historical Tour if they want the real royal treatment. Either way, a standard ticket will take you up to the observation deck, and families can get an amazing aerial view of New York's best attractions. Look out for places like Times Square, Madison Square Park, and the Theather District. This is definitely something you have to do at least once in your life!
Bryant Park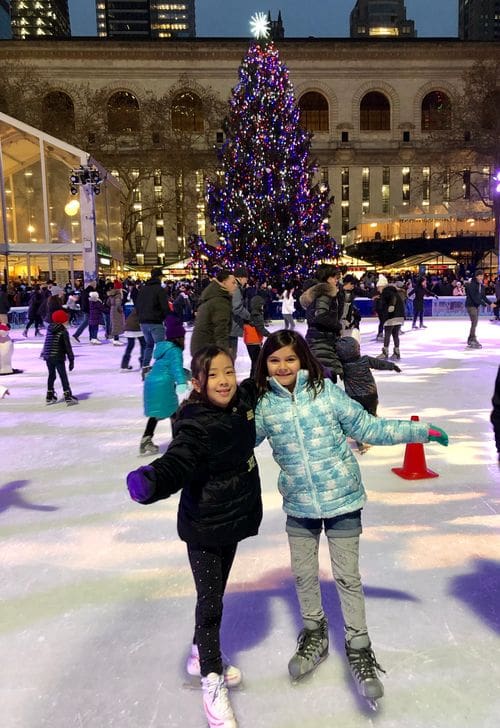 No matter the season, Bryant Park will keep all ages entertained! Located on 42nd Street and 6th Avenue, don't hesitate to add this classic attraction to your itinerary. After all, it's one of the best New York City outdoor activities for kids! In the summer, attend various events like learning Tai Chi, how to juggle, or even sit on the benches and play some chess. In the winter, Bryant Park famously turns into a cold-weather wonderland, complete with a Christmas market reminiscent of those in Europe! It's the perfect place to shop for gifts, sip on some hot chocolate, or even go ice skating. Bryant Park also has activities you can enjoy all year round, weather permitting. Of course, kids can't miss a ride on Le Carrousel. If your little ones love reading, don't miss the Bryant Park Reading Room, which offers complimentary use of books, storytelling events, and more.
Best New York City Christmas Activities With Kids
Hudson Yards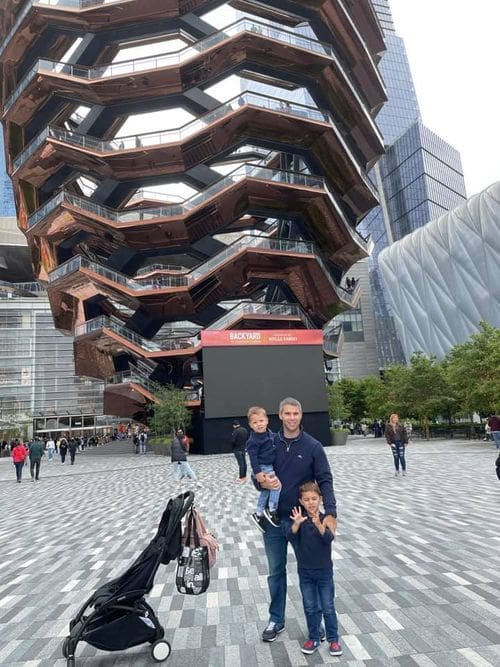 Even if you haven't heard of Hudson Yards, we're sure you've seen pictures of it. Located at the end of The High Line near 10th Avenue and 30th Street, this shopping center is famous for its honey-comb-shaped spiral staircase and also features lots of things to do with kids. While you can't climb the structure anymore, kids will still be amazed by its towering nature, as it has over 2,500 steps. After you're done taking some photos from below, feel free to explore some more. Browse the shops for a little while, then stop at a unique eatery, like Mercado Little Spain!
Make sure to read: Exciting 7-Day NYC Itinerary With Kids of All Ages
Best Outdoor Activities in Lower Manhattan for Kids
Visiting Lower Manhattan with kids? There are lots of outdoor activities to keep you busy here! For our favorite suggestions, keep reading!
The Battery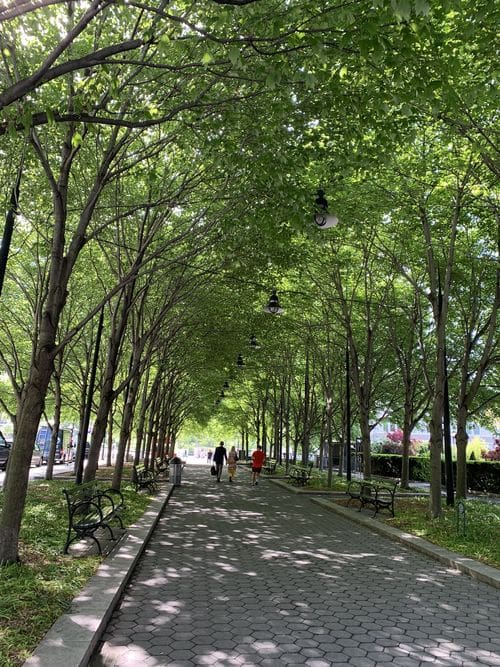 The Battery, formerly known as Battery Park, is a must-stop in New York City. Overlooking the New York Harbor on Manhattan's southernmost tip, this 25-acre public park is open for family fun every day of the year. On a warm day, take a stroll through The Battery Gardens to experience some tranquility in nature. Kids will especially love cooling off in the Bosque Fountain! Or, pack a picnic to eat on The Battery Woodland. To branch out even further, you can also rent a bike to ride along the Battery Bikeway. The Battery is also a point of departure for boats going to The Statue of Liberty, so it's a good place to rest before or after your excursion. Take a look at the Visitor's Guide for more specific information on whatever time you're planning to see The Battery!
Look for things to do and see in New York City through Fever Up here!
The High Line
The High Line combines nature and art in a one-of-a-kind way. Originally built as an elevated freight line, this 1.45-mile public park runs along 10th Avenue from Gansevoort Street to 30th Street on Manhattan's West Side. There are three entrances you can climb to The High Line. Firstly, one on Gansevoort Street near the beginning of the path. Then, one in the middle on 23rd Street. Finally, another toward the end at 30th Street. Depending on where you're headed, you can take it in either direction and use it as a scenic shortcut to your next destination! Along the way, you'll pass lots of green patches, a few benches to sit on, and a few pieces of art. Galleries in nearby Chelsea often use The High Line as a place to showcase rotating sculptures and other experimental works from local artists, so you never know what you may find!
Reserve a guided tour of the New York High Line, Chelsea, and the Meatpacking District with GetYourGuide.com here!
Best Outdoor Activities in Brooklyn for Kids
When you cross the bridge into Brooklyn, you'll be able to access even more outdoor activities for kids! Spend the day at the botanic gardens, visit Brooklyn Bridge Park, or head down to Coney Island. Stay tuned for our tips!
Don't lug the baby gear with you on your next trip to New York! Rent everything you need using BabyQuip.
Brooklyn Bridge
Walking across the Brooklyn Bridge is surely one of the best New York City outdoor activities for kids! Enjoy an amazing view of the city, take a few pictures, and then make your way to your next attraction. Before you set off, you'll have to plan out whether you want to walk to Brooklyn or walk into Manhattan (or both!) If you walk from Manhattan to Brooklyn, you can start the walk by entering the Brooklyn Bridge Pedestrian Walkway at the northeast corner of City Hall Park along Centre Street. It's just over a mile long, so even little kids won't get too tired. Afterward, you take the kids straight to Brooklyn Bridge Park, overlooking Manhattan. With multiple picnic areas and green spaces, this urban oasis is the perfect place to spend the afternoon as a family. Don't miss Slide Mountain or Jane's Carousel while you're there.
Coney Island
Coney Island is known as the birthplace of the amusement park, so no wonder it's one of the best New York City outdoor activities for kids! Located in South Brooklyn, you can get here with the D, N, Q, or F Train. Visit during the summer for a nostalgic day of carnival games and rides to entertain your children! While Coney Island refers to the area as a whole, its amusement park, Luna Park, also has rides for kids of all ages, from thrilling rollercoasters like the Cyclone to kiddie teacups. You can also take a break from the rides to enjoy the beach and the many shops and restaurants in the area. Kids will love the selection of sweets on the boardwalk, between candy apples, cotton candy, and more! Coney Island also hosts fireworks every Friday night in the summer. It's a blast for families!
Brooklyn Botanic Garden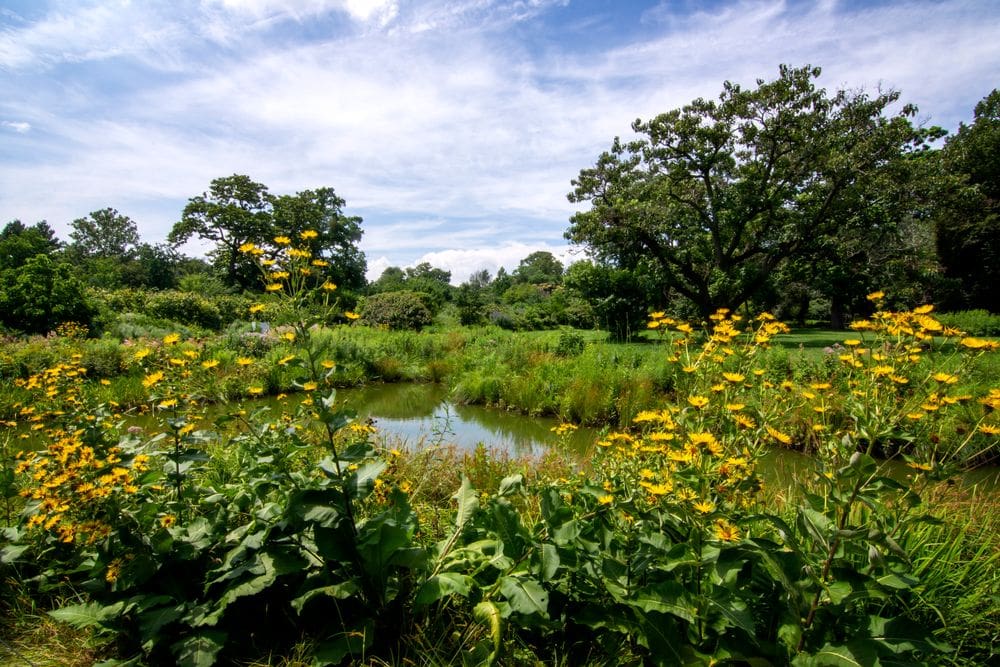 Take in the city's natural beauty at the Brooklyn Botanic Garden. With multiple entrances at the top of Prospect Park, this 52-acre garden holds over 14,000 species of plants. Depending on which time of year you visit, you'll be treated to a vibrant collection of flowers, unique fauna, and other interesting sights. It's ideal for taking a break from all the craziness in Manhattan for a day, especially if you're visiting with young kids who just want to run around for a bit. On Wednesday, Friday, and Saturday mornings, the garden also hosts special Family Discovery Days, featuring lots of fun activities. Kids can water fruits and vegetables, pot plants, and learn more about the environment. Plus, there's also a Children's Garden where little ones can take lessons from professionals. Kids between the ages of two and thirteen will learn to harvest their own crops!
Best Outdoor Activities in the Bronx for Kids
Get a taste of a different part of New York City when you visit The Bronx. Whether you want to see The Bronx Zoo or stroll down Arthur Avenue, kids will love this diverse borough. Here are our favorite things to do in The Bronx with kids!
Don't lug the baby gear with you on your next trip to New York! Rent everything you need using BabyQuip.
Bronx Zoo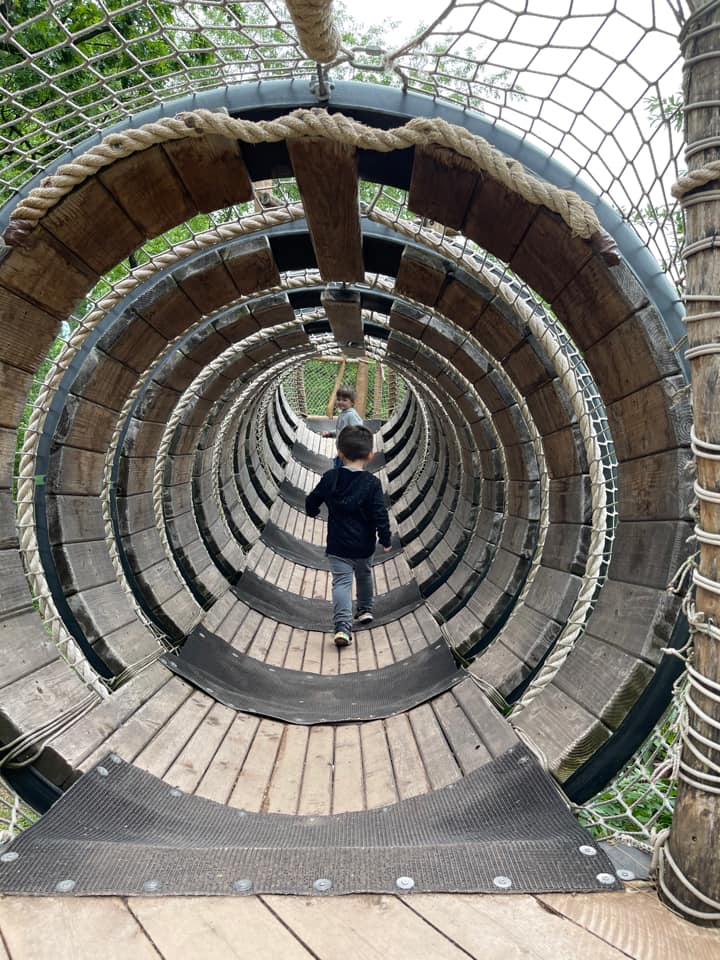 Head to The Bronx Zoo to escape the Manhattan crowds. It's accessible via the Metro-North to Fordham, a short car ride, or by taking the subway uptown. Between penguins, lions, and snakes, the Bronx Zoo has lots of animals kids love. Though it's open all year round, you'll find most of the best animals during the summer. Kids will love various experiences like feeding sea lions or penguins, where they can see the animals in their natural habitat. Of course, don't forget about riding the Bug Carousel. Or taking the Nature Trek to explore the property. Visit during winter and you can see other unique sights, like the holiday light show! If you really want to know more about the animals at the zoo, you can even consider booking a tour, which will make tackling the zoo much easier. Either way, wear comfortable shoes because you'll be walking a lot!
Admission to the Bronx Zoo is exclusively included in the New York Sightseeing Pass. Get yours here today!
Best Outdoor Activities Beyond (but Still Close to) Manhattan with Kids
Some outdoor activities in New York City don't fit neatly into one category (or borough!), which is what makes the destination so unique. If you want to escape Manhattan for a day on a ferry, here's where you can go with the kids!
Statue of Liberty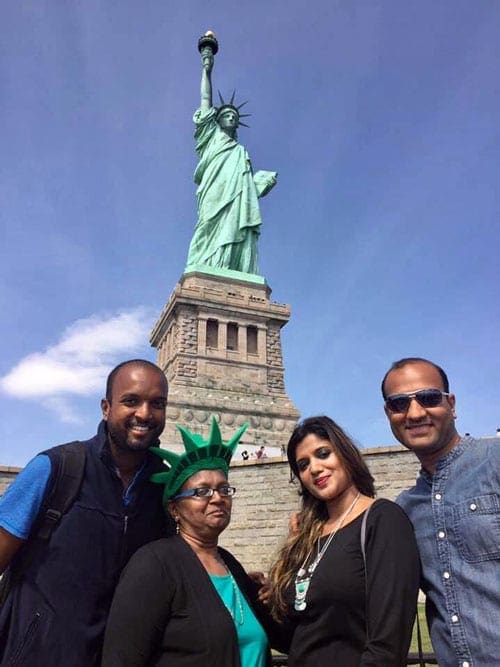 The Statue of Liberty is an iconic New York attraction. Located on Liberty Island, you can reach it by taking a short boat ride with Statue Cruises. Lasting around twenty minutes, this ferry either leaves from a location in New Jersey, or in Battery Park in Lower Manhattan. When visiting the Statue of Liberty, you can choose a Grounds Only, Pedestal, or Crown ticket. Grounds is the most popular one, and a good way to see The Statue from the outside. The pedestal is also great for families because you can climb up the stairs to the observation deck. The Crown ticket may require reservations up to six months in advance, so plan accordingly. An audio tour is included within a standard Grounds Ticket, which can help kids understand the context behind The Statue. For more context, lots of sightseeing tours in visit The Statue of Liberty!
GetYourGuide.com has many options to book a tour of The Statue of Liberty. Reserve now!
Governors Island
Governors Island is perfect for a family day trip. Accessible via ferry, the boat departs every forty minutes or so from the Battery Maritime Building in Battery Park. On the weekends, you'll also find the ferry running from Pier 6 in Brooklyn Bridge Park, or the Atlantic Basin in Red Hook. We recommend visiting on a weekend because even though it might be more crowded, you'll also find more things to do with kids. Enjoy an amazing park with green space (perfect for a picnic!), go zip-lining, or even try rock climbing. Kids will also love playing on the mini-golf course. In the summer, Governors Island also hosts an annual art festival that may be of interest to teens or older kids. Glamping is also a major attraction of the island, perfect for families who want to experience the great outdoors without sacrificing too much comfort!
READ NEXT: 11 Unique NYC Restaurants and Dessert Spots to Visit With Kids
Attend the Water Lantern Festival
Those visiting NYC with kids in September will be delighted to attend one of the fall's best events. The Water Lantern Festival brings people together for a celebration of light and community! Make a wish and send it away on a floating lantern along with thousands of others at the festival. The events will be held in the New York/ New Jersey area in Liberty State Park by the Columbus Monument. The event will take place both on Saturday, September 23rd, and Sunday, September 24th (2023 event dates). Then, you can also enjoy local food trucks, specialty vendors, and live music throughout the night. Tickets start at $26.98. Use coupon code "LANTERNLIGHT" for a discount at checkout!
Find more family-friendly outdoor events in New York City here.
Where to Stay in New York City with Young Kids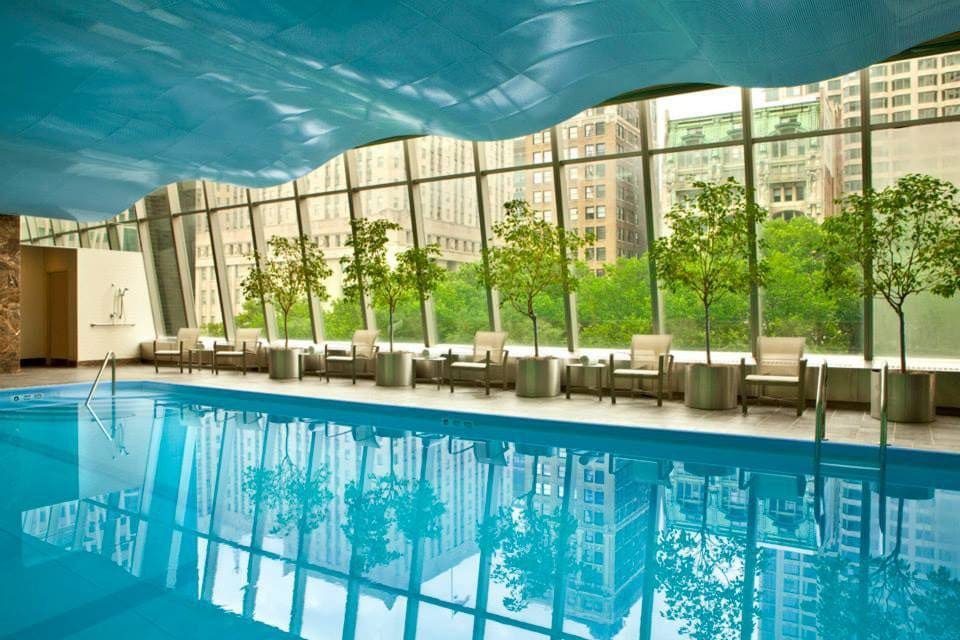 If you're searching for a hotel to accommodate you, you won't have to look far in New York City. Staying in lower Manhattan? You'll love the Millenium Hilton Hotel in the Financial District or the trendy Greenwich Hotel in Tribeca. If you're looking for somewhere to stay in Midtown Manhattan, try the Loews Regency New York. Finally, for a true luxury experience, we also recommend the nearby St. Regis New York.
RELATED: Best Family Hotels In New York City With A Pool (Includes 1- to 3-Bedroom Suites!)
Happy Travels!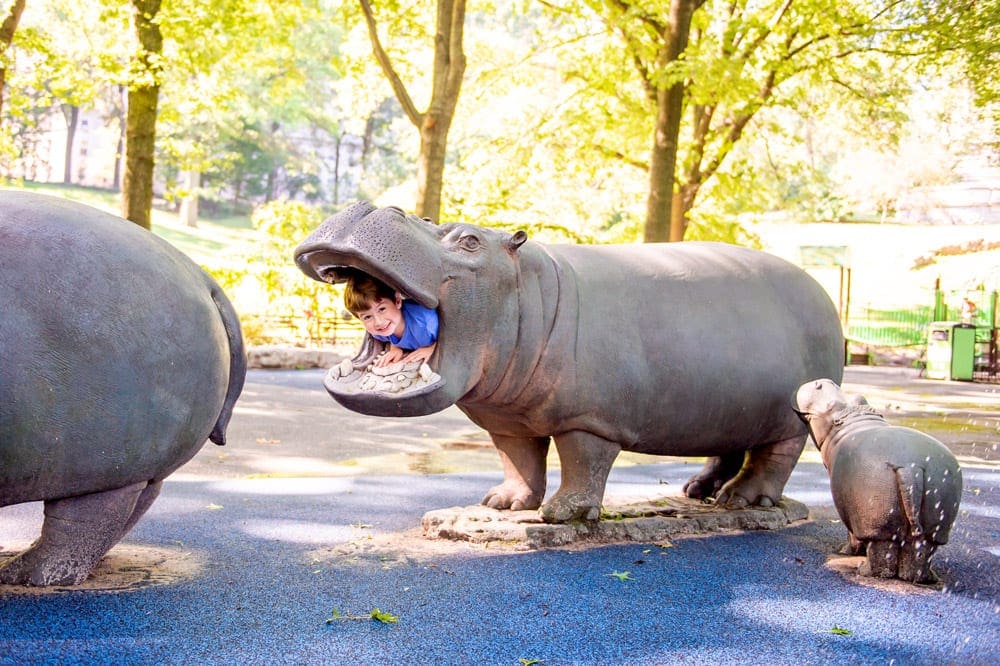 We hope you liked this list of 14 Best New York City Outdoor Activities For Kids! Whether you'll be visiting Brooklyn, Manhattan, or the Bronx, we know you'll love visiting the Big Apple as a family. Enjoy New York City with your kids!
RELATED: Things To Do In New York City With Young Kids!
BOOK TOURS AND ACTIVITIES IN NEW YORK CITY.
*This post may contain affiliate links that may earn us a small commission at no additional cost to you. Affiliate links in no way inform the hotels, sights, products, or other recommendations included in our articles. All opinions and recommendations are compiled from submissions submitted by the generous members of our Families Who Love To Travel community.
READ NEXT:
Join the Families Love Travel Facebook group, follow our Facebook and Instagram pages, and subscribe to our newsletter for more family-friendly travel ideas.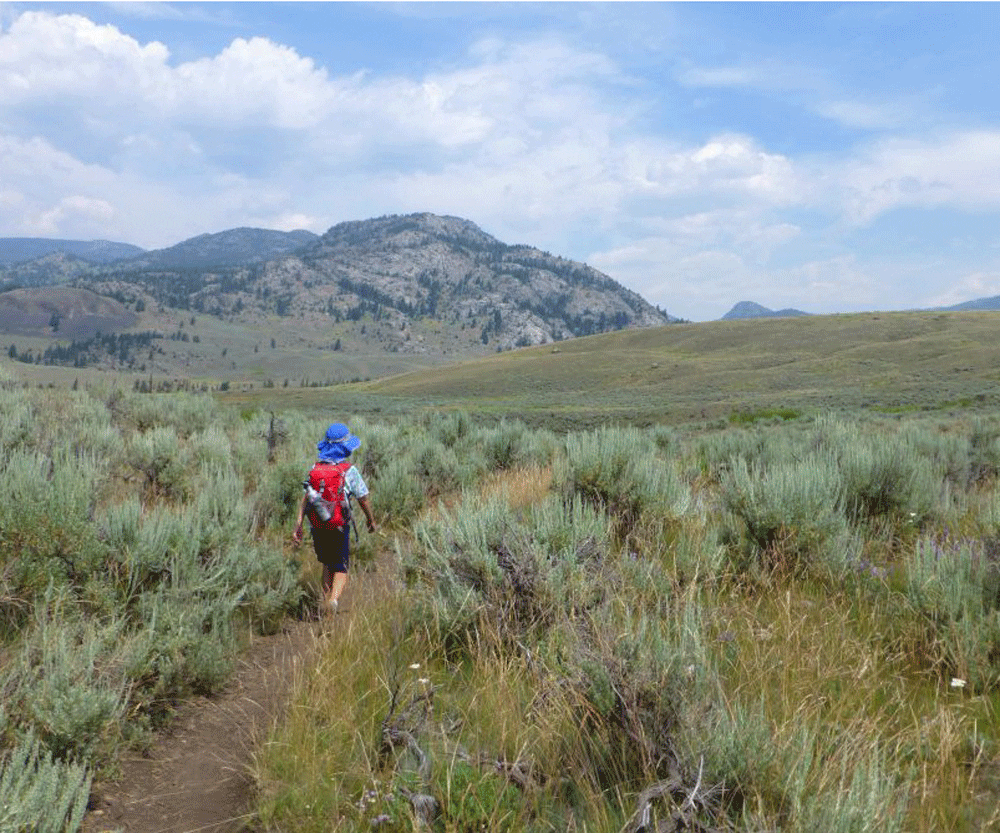 Everyone knows that Yellowstone National Park makes for a classic family vacation. Strolling the boardwalks...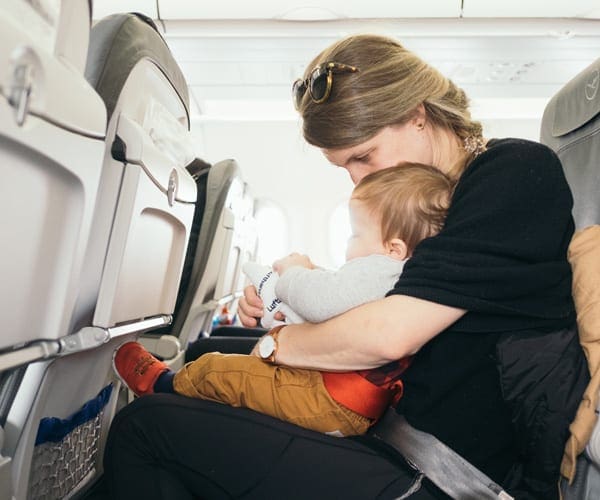 Families Who Love To Travel contributor Meghan Oaks provides her 10 best tips for your...