Are you considering Acadia National Park with kids? You should be! It is one of the best national parks to visit with kids. Located in Maine, near Bar Harbor, Acadia National Park allows families to relax, seek outdoor adventure, and connect as a family. Here, I will share our 6 day itinerary for Acadia National Park with kids.
First, we drove to Acadia National Park from Northern Virginia. It's a long drive – that's all I'll say! But, the LL Bean flagship is a good rest stop. Once we arrived in Maine, we rented a house in Bar Harbor, which was suitable for our family. It was nice to have a full house, instead of having 5 people in one hotel room. I know it's nice not to cook on vacation, but I was happy to do half and half, especially since it meant not having to take my kids to restaurants three times a day.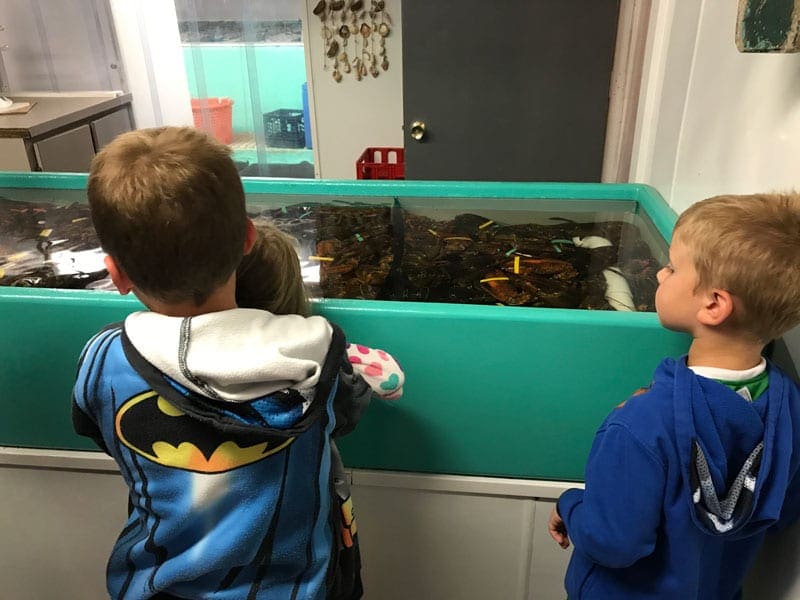 Our house rental was from Saturday to Saturday. We left on a Friday and stayed overnight with friends in Boston. There, we went to a Massachusetts beach with them on Saturday morning. Then we arrived in Bar Harbor pretty late on Saturday night. Finally, we stopped at a lobster pound on the way in and the kids liked seeing the live lobsters and crabs!
Day 1: Sunday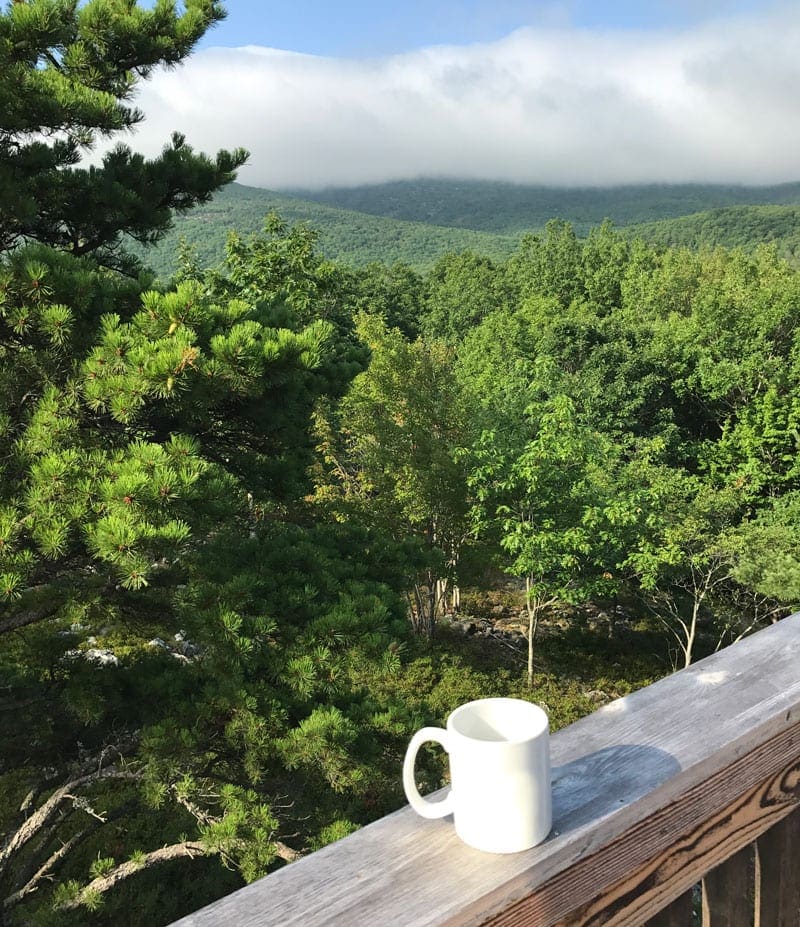 On the first day, we relaxed and settled into the house. This is a great way to get your bearings when starting your adventure in Acadia National Park with kids. We went to the Visitor's Center and got Jr Ranger packets for the kids (I think a lot of people arrive on Saturday. The Visitor Center was swamped. To illustrate – I saw someone in there I hadn't seen since college, having graduated 14 years earlier!) Then we checked out downtown Bar Harbor and went to the waterfront area with the rocky beach a bit. After a rest back at the house, we began our Acadia National Park adventure.
At Acadia National Park, we parked on the road near Sand Beach and walked Ocean Path to Thunderhole. You're supposed to get to Thunderhole two hours before high tide. We got there a little after high tide, but we still thought it was cool. Afterward, we walked back to Sand Beach and hung out there for an hour.
Day 2: Monday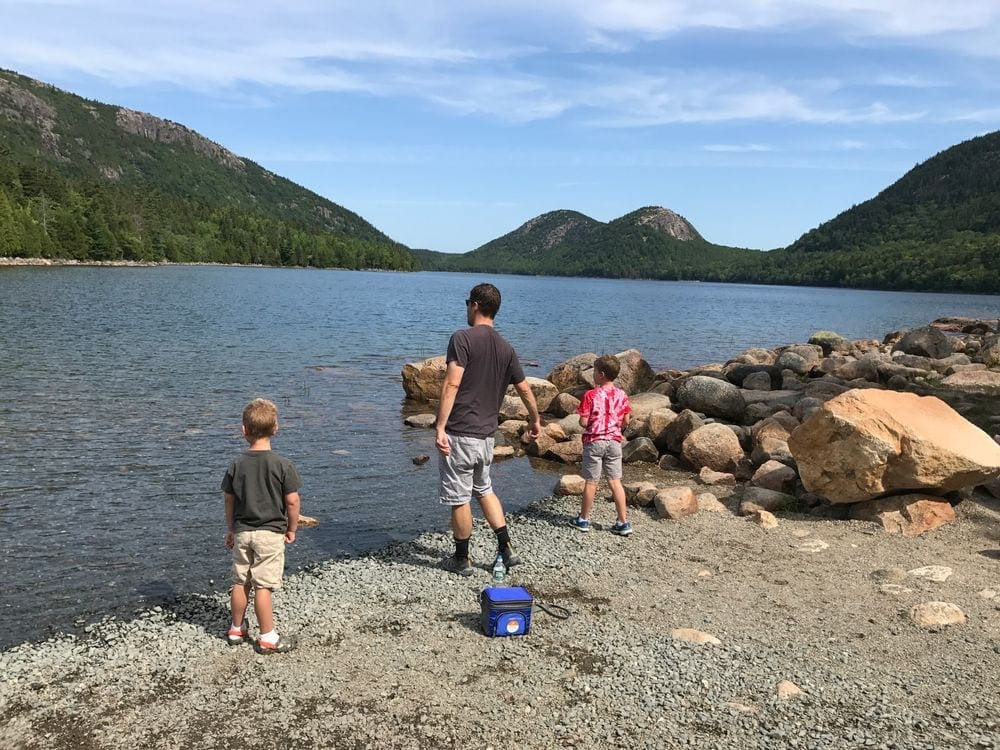 On day 2, we went to Jordan Pond and hiked one mile out and back. We ate at Jordan Pond Restaurant for lunch. I made an advanced reservation for the restaurant, which I was glad I had done. My first popover was awesome. Then, I overdid it by having two. After breakfast, we drove to the top of Cadillac Mountain. After a rest, we ended up doing the Compass Harbor trail. While hiking, we looked for a sandy beach we had heard was around there, but only found a rocky beach. Finally, per kids' request, we went back to Sand Beach for 45 minutes.
Day 3: Tuesday
We did tide-pooling on the way to Bar Island and hiked to the top. You have 1.5 hours before and after low tide to go to and from Bar Island, before the ocean covers the trail. After a quick rest, we did Diver Ed's Dive in Theater, which is great for both parents and kids. Dinner was out in Bar Harbor and included Mount Desert Island Ice Cream. Later in the week, we went back to Mount Desert Island Ice Cream two more times – particularly enjoying the butterbeer ice cream!
Day 4: Wednesday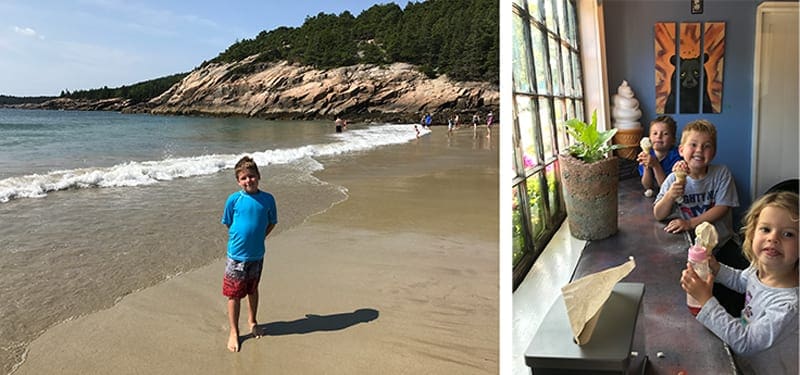 We had breakfast at Jordan Pond House. It was my oldest child's birthday this day, so we let him pick. We spent 4 hours at Sand Beach. That night, my husband took the older two on a three-hour fishing trip, which they all liked. They caught a lot of fish (mostly pollock). This is the only thing that the 2-year-old couldn't do during the week. Side note, we wore her on most hikes, though she did walk some too. At the end of day four, we enjoyed some ice cream. Can you think of a better way to end a day exploring Acadia National Park with kids?
Day 5: Thursday
We enjoyed a one-hour horse-drawn carriage ride on the Carriage Roads. I booked this one week before we left. There was only one slot left for the whole week, which I took! Be advised, booking in advance is ket. Then we went to Echo Lake. After a rest, we did souvenir shopping in downtown Bar Harbor and walked along the Shore Path. That night we did Stars Over Sand Beach and saw the Milky Way! This is a really excellent ranger program – it may be the best I've ever done! I thought the laser the rangers used to point out the stars was really cool. I highly recommend doing this ranger program while in Acadia National Park with kids.
Day 5: Friday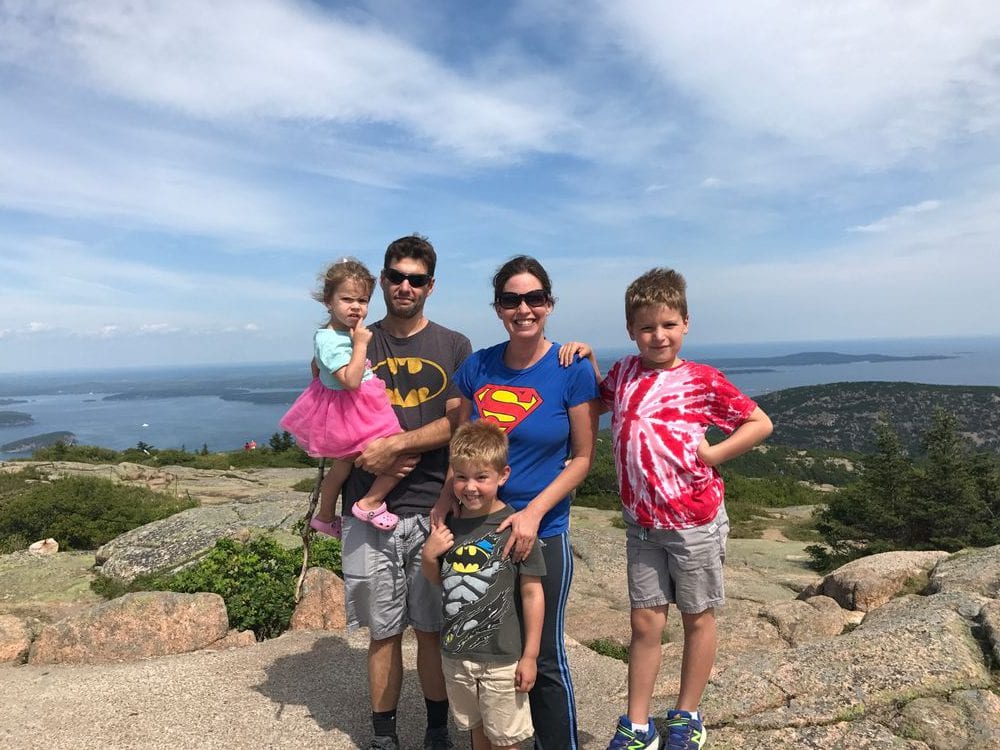 We had breakfast at Two Cats. After breakfast, we went to the Acadia National Park Visitor Center. This is when the older two turned in their packets and become Jr Rangers. We had beautiful weather all week, but this day was rainy. We tried to hike Ship Harbor in the rain, but we only did half of the figure-8 hike with kids who weren't into the rain. Finally, we quickly stopped by the lighthouse and made our last ice cream stop before getting ready to pack up.
We hope this itinerary helps you plan your own amazing family adventure in Acadia National Park with kids!
Have you been to Acadia National Park with kids? What was your favorite thing to do? Share your recommendations for Acadia National Park with kids in the comments!
By Families Love Travel Contributor, Rebecca Rotem. Find more from Rebecca by visiting her contributor bio.
Did you know 4th graders get a free national park pass for them and their families? Read more.
Next, discover our Top 10 National Parks for Familes (U.S.).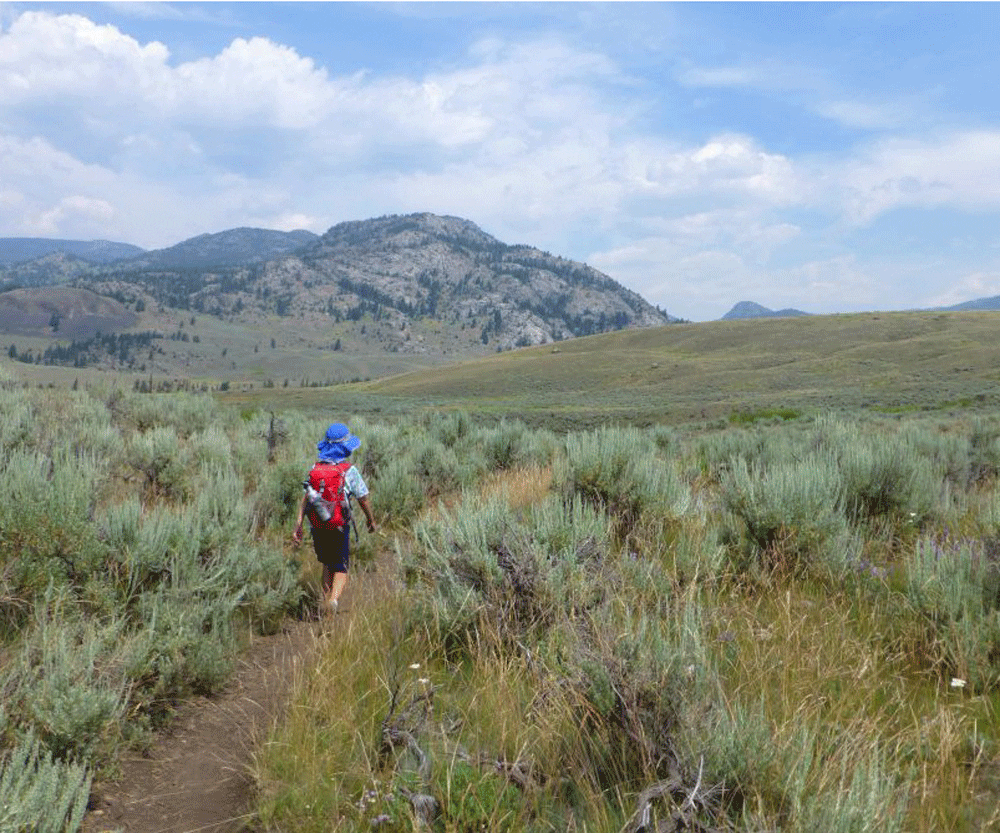 Everyone knows that Yellowstone National Park makes for a classic family vacation. Strolling the boardwalks...
From finding the best flights to booking a hotel, there are tons of decisions you...