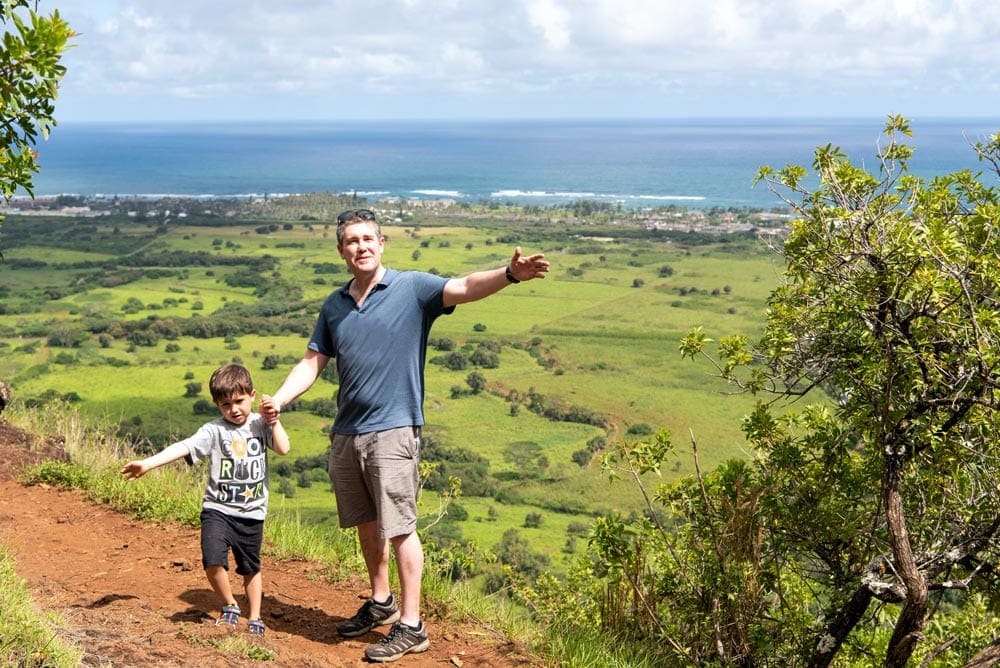 You may be surprised to discover there are a lot of things to do In Kauai with young kids. Between the beach, local wildlife, and other outdoor adventures, families will love this gorgeous Hawaiian island. After booking our Spring Break vacation to Kauai for our family of four (5 and 3-year-old boys), I started to plan our adventures on the island. I was quickly discouraged when I realized some of the exciting activities required children to be a minimum of 5, 6, or 8 years old. So, we had to rule out zip-lining, most kayak and tubing tours, and many boat excursions. In the end, we found a lot of things to do in Kauai with kids. My adventurous boys still had a blast and can't wait to return! If you need help planning a Kauai family vacation itinerary, here are a few recommendations to fill your trip.
Have Fun At The Beach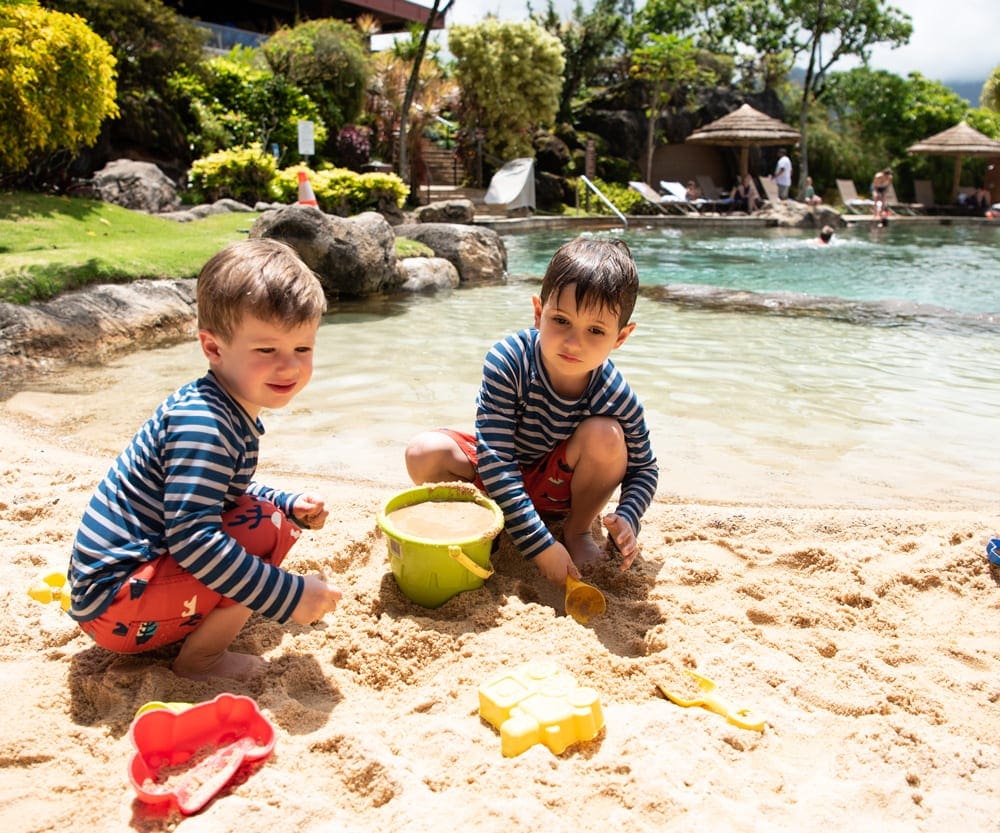 There are countless beaches to visit on a Kauai family vacation, and you can't go wrong with most. On the north shore, Pali Ke Kua Beach, also known as Hideways, is perfect for toddlers since it's quiet with calm waters. Kids can play on the beach swing or snorkel. You might even see turtles! Shipwreck Beach, near the Grand Hyatt Resort on the south shore, has beautiful views. It may get crowded if the hotel is open (it wasn't when we visited), but kids can build sandcastles or play in the waves. You can also take a short hike to the top of the cliffs. Lastly, Po'ipu Beach Park, on the south shore, has a nearby playground. It's a bit more crowded than other beaches, but there's a sandbar and shallow water to protect young children. We saw lots of crabs on the rocks and an endangered monk seal napping!
See the Kilauea Lighthouse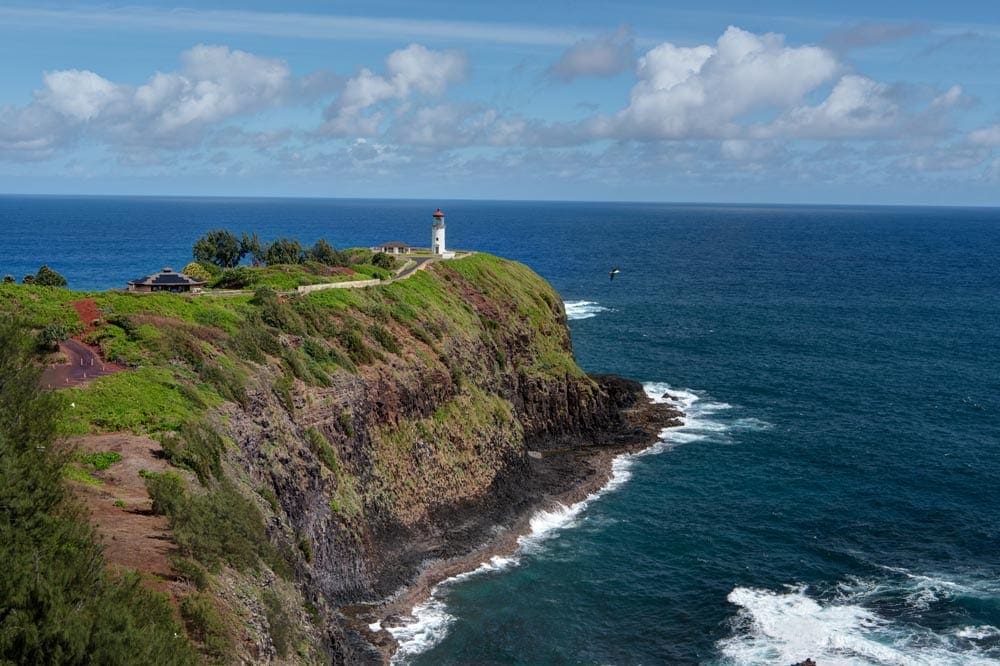 The Kilauea Lighthouse is one of Kauai's most famous sights. Located on Kilauea Point within the Kilauea Point National Wildlife Refuge, this scenic spot won't be too challenging to reach with young kids. Just drive north from Līhu'e on Kūhiō Highway to Kīlauea, turn right on Kolo Road, then left on Kīlauea Road, and drive 2 miles to the refuge entrance. Give yourself at least an hour to see everything during your walk-through, including a chance to appreciate the lighthouse. Keep an eye out for local wildlife sightings too. There's a bird sanctuary to walk through on the path. To learn more about the ecosystem, visit the helpful Visitors' Center. Families can also take a short, 0.2-mile hike to Kilauea Point, overlooking miles of gorgeous mountain ranges and the ocean. Make sure you add this to your list of things to do in Kauai with toddlers!
Note: Timed reservations are currently necessary to visit Kilauea Lighthouse. Kids fifteen and under enter for free.
Visit Spouting Horn Park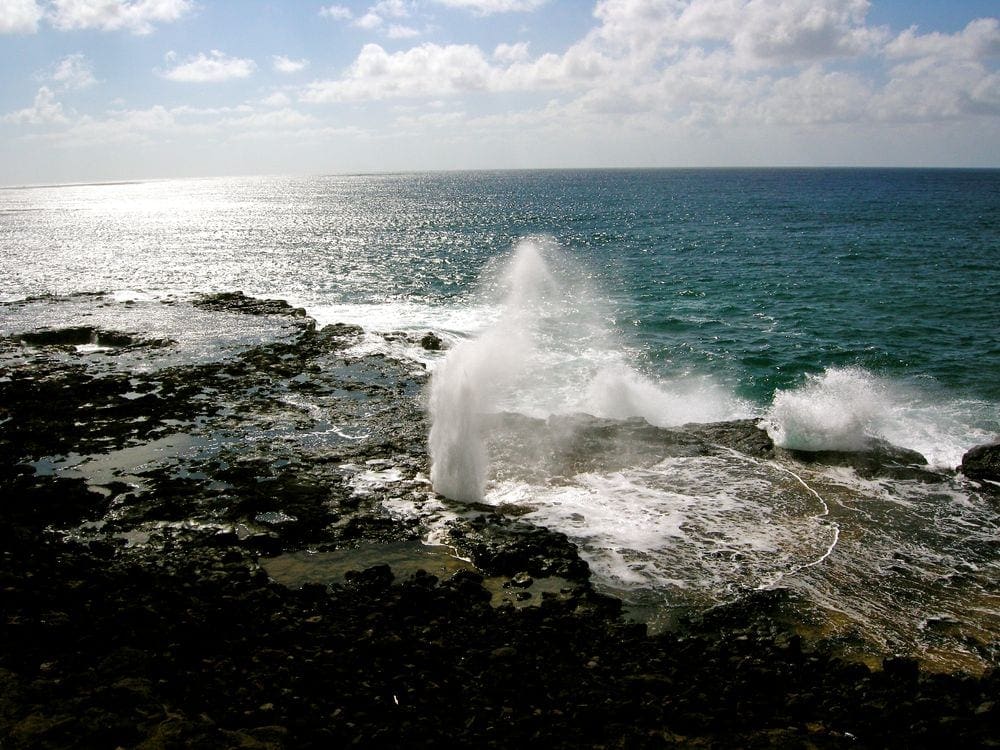 Sprouting Horn Park is truly a sight to behold. Located on Kauai's south shore, this famous viewpoint features the spectacular Sprouting Horn blowhole, one of the most photographed spots on the island. Though this stop will probably take less than thirty minutes altogether, it's still worth it in the end. My boys loved watching the seawater squirt high into the air from the blowholes! You may even hear a hiss or roar, which has become part of the Hawaiian legend about Sprouting Horn Park. Make the experience more enjoyable for your children by telling them about the legend of a giant moo (lizard) called Kaikapu, who is believed to be trapped in the hole. I highly suggest adding Sprouting Horn Park to your itinerary, as this was one of my favorite things to do in Kauai with toddlers.
Take a Hike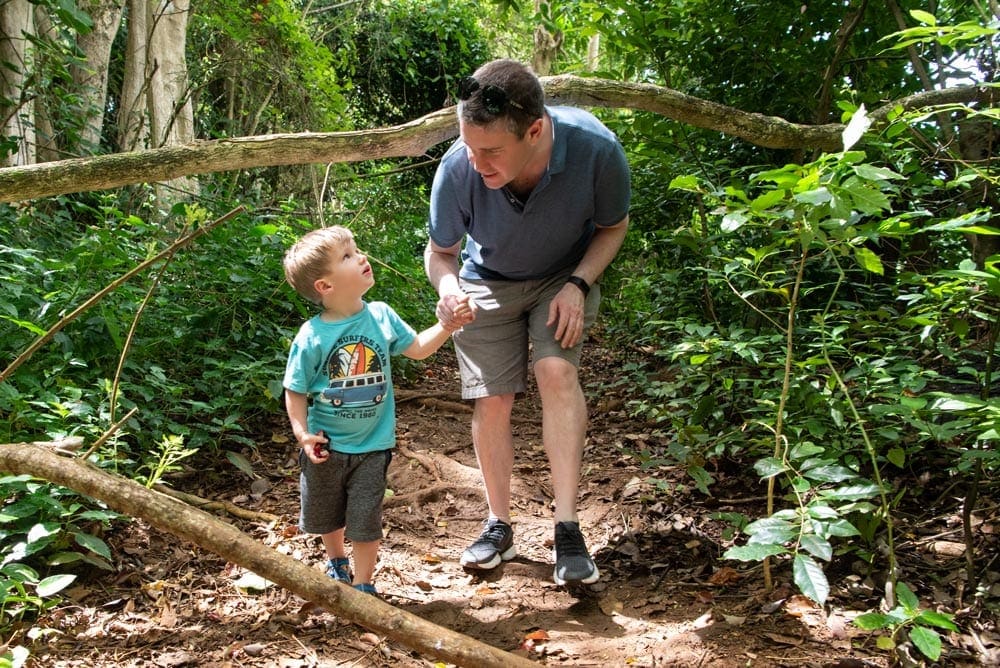 Outdoorsy families will appreciate Kauai's hiking opportunities. In fact, it's one of the best things to do in Kauai with kids! There are plenty of kid-friendly trails throughout the island, perfect for spending a day with little kids. Located near Kapa'a, the one-mile Ho'opi Falls Hike is great for toddlers. My 3-year-old walked the entire trail, and we even saw some goats and waterfalls. It's mostly flat terrain until you reach the small hill down to the fall's viewpoint. Remember to wear hiking shoes as they can get muddy. Though it's a bit longer, the Nounou Mountain Sleeping Giant Trail has amazing views once you make it to the top. My boys were especially fascinated by the legend of the sleeping giant as we walked through the mountain rainforest. We did about 4 miles with our three-year-old in the Ergobaby on my back. It's a very steep hike, but dry.
Run Across the Hanapepe Swinging Bridge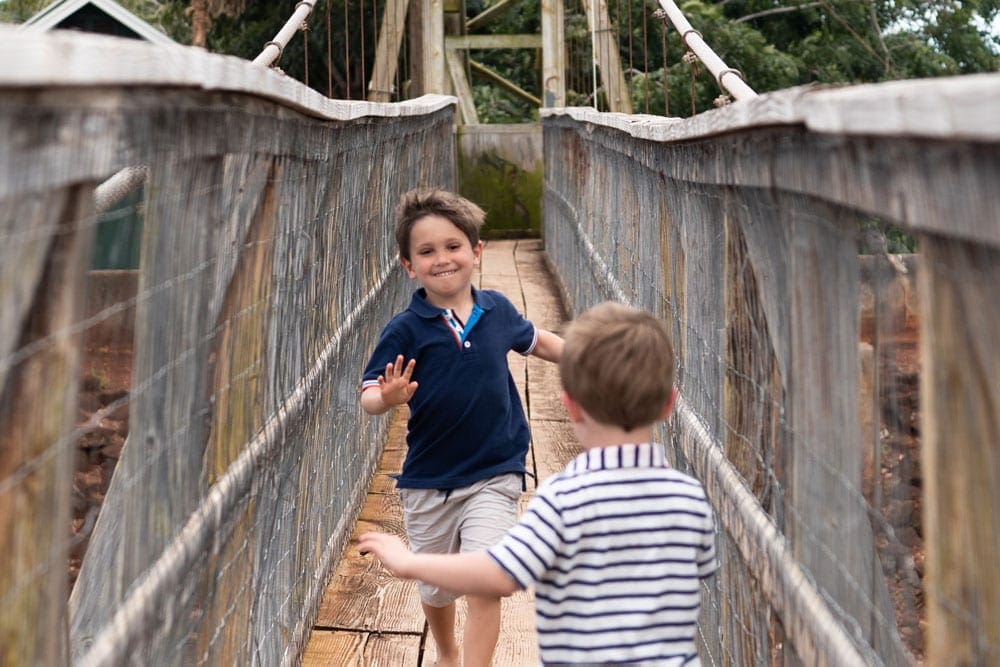 A visit to The Hanapepe Swinging Bridge is a must on your Kauai family vacation! Originally built in the 1900s as a way for residents to cross the river, it's one of Hanapepe's most popular attractions today. Children will love running across this swinging suspension bridge, getting a thrill from how it rocks and rattles. It definitely trumps any bridge you'll find on a playground back home! Once you reach the other side of the bridge, it's recommended you return back to Hanapepe as a sign of respect toward the residents. While you're there, feel free to explore Hanapepe Town, which has unique shops, galleries, and more. On select Friday evenings, the area even hosts an art walk. This was a quick and fun stop for us on the way back from Waimea Canyon, another one of the best things to do in Kauai with kids.
Treat Yourself to Shaved Ice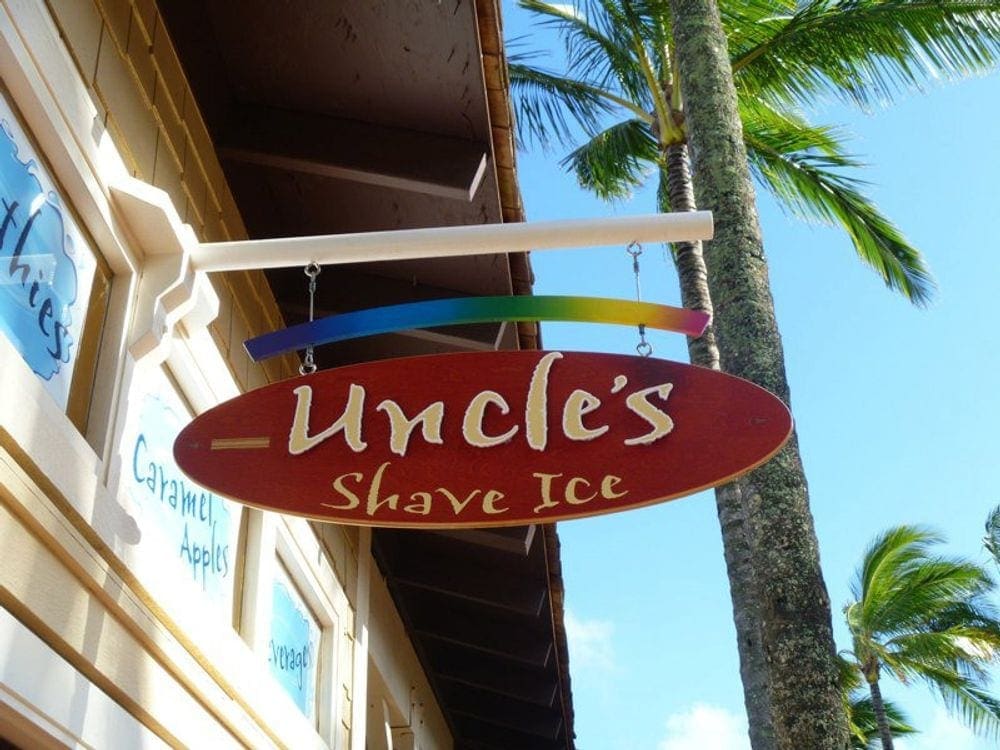 Shaved ice is a quintessential sweet Hawaiian treat. Not to mention a must in Kauai for kids! There are multiple vendors spread throughout the island offering this special dessert, so I'm sure you'll be able to find something to keep your kids happy no matter where you are. Plus, shaved ice is a much better way to cool off on a hot day than a plain scoop of vanilla ice cream! Some popular spots in Kauai include Jojo's Shaved Ice, Wailua Shave Ice, and Unce's Shaved Ice and Smoothies. If you'd prefer gelato or frozen yogurt, you can also visit Papalani Gelato, located within Poipu Shopping Village. Regardless of which spot you choose, this is one of the best things to do in Kauai with young kids!
Take a Snorkeling or Sailing Excursion on the Na Pali Coast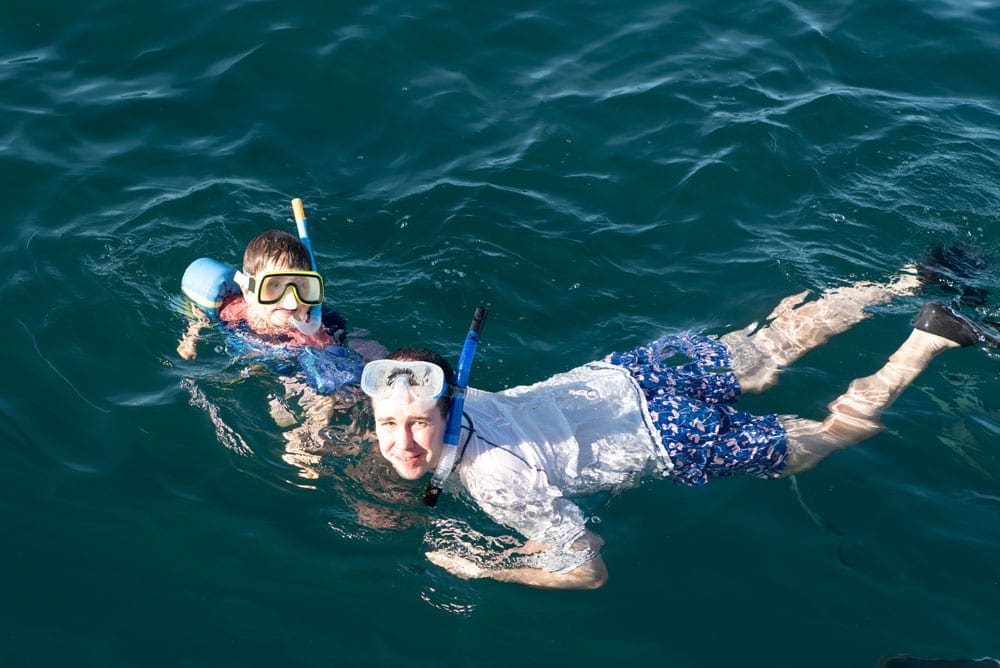 One of the only ways to view the beautiful cliffs along the Na Pali Coast is by boat. My family found two sailing companies that allow 3-year-olds to five-year-olds: Captain Andy's Sailing Adventures and Blue Dolphin Charters. Since Captain Andy's was closed due to COVID-19, we booked a tour with Blue Dolphin Charters. However, we quickly understood why the boat excursion isn't recommended for small children, since the waters are very rough and bumpy. Even some adults in our group didn't feel their best. It was definitely worth a bit of sea-sickness in the end, though! My five-year-old loved the slide into the sea to go snorkeling, where there were many large fish and sea turtles. We also had two humpback whale sightings, saw hundreds of dolphins, and awed over the beauty of the Na Pali Coast. The Pineapple Orange Guava mimosas were delicious on the smoother ride back too!
Explore Waimea Canyon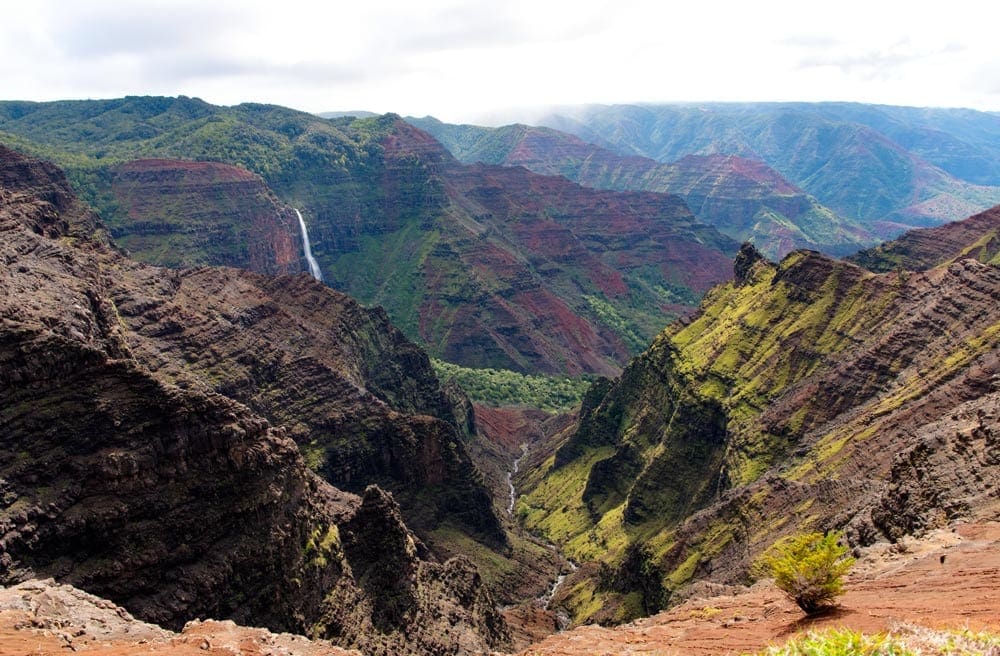 Another must-see sight on a Kauai family vacation is the breathtaking Waimea Canyon, also known as the "Grand Canyon of the Pacific". Located within Waimea Canyon State Park, this spectacular sight can also be viewed by a helicopter ride, but we chose to drive and hike it. Come with water and snacks, though – the round trip drive is around 46 miles! I'd also bring sweatshirts or rain jackets (it gets cooler here due to the altitude), water hiking shoes, and a camera. There are two entrances into the Waimea Canyon: Waimea Canyon Drive and Koko'e Road. Take Waimea Canyon Drive, as it's much more scenic. Plus, you don't want to miss the Red Dirt Waterfall at the side of the road near the first lookout point. We arrived around 8:30 am and were lucky to view the canyon just after sunrise with only a few clouds in the sky.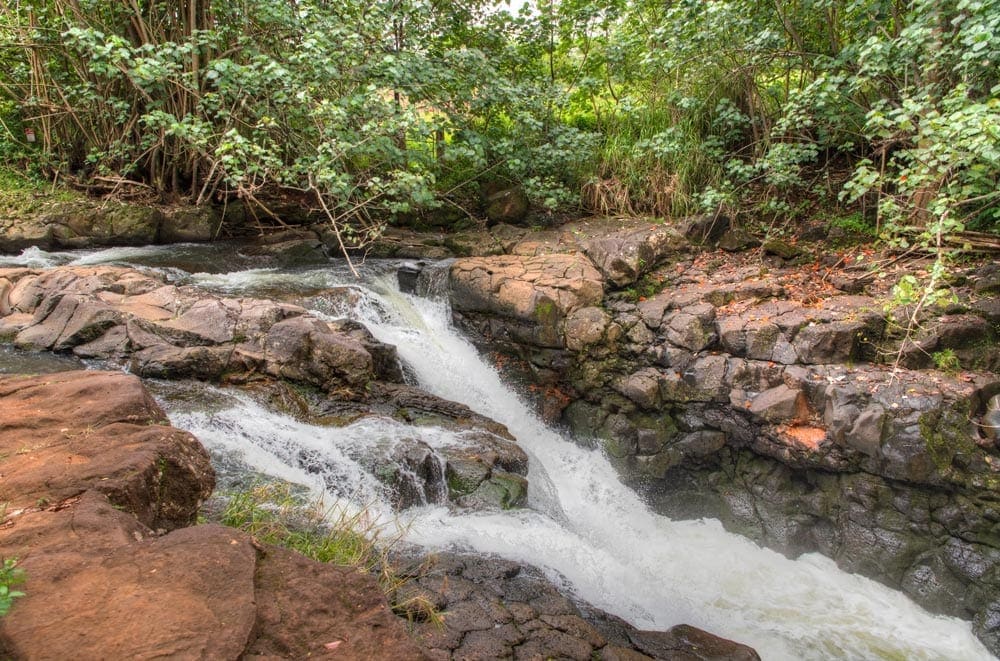 But Use Caution
It was raining by the time we reached the last lookout point and very foggy, so we couldn't see much. We hiked the full four-mile Canyon Trail starting at Pu'u Hinahina Lookout. Unless you're an experienced hiker, I wouldn't recommend the full trail with very small children. There were many very steep and slippery areas, streams to cross, and branches to go over. I was on all fours with a 3-year old on my back for some of the hike. The two-mile Pihea Trail from the Pu'u O Kila Lookout is also supposed to be great for small children, but it was pouring rain and total fog cover by the time we arrived. If you do choose to hike with small children, I suggest The Cliff Trail or The Canyon Trail (access from Hale Manu Valley Road between Miles 14 & 15 for a shorter and easier hike.)
Other Waimea Canyon lookouts include the Red Dirt Waterfall (Mile 4.5), Waimea Canyon Lookout (Mile 10), Pu'u Ka Pele Lookout (Mile 13 with an amazing view of the Waipo'o Falls), Pu'u Ka Hinahina Lookout (Mile 13.5), and Pu'u O Kila Lookout (Mile 23). All lookouts are easily accessible with small children and most of them have restroom facilities. While these hikes can be tricky depending on the conditions, we still recommend them on your list of things to do in Kauai with kids!
Where to Stay in Kauai with Kids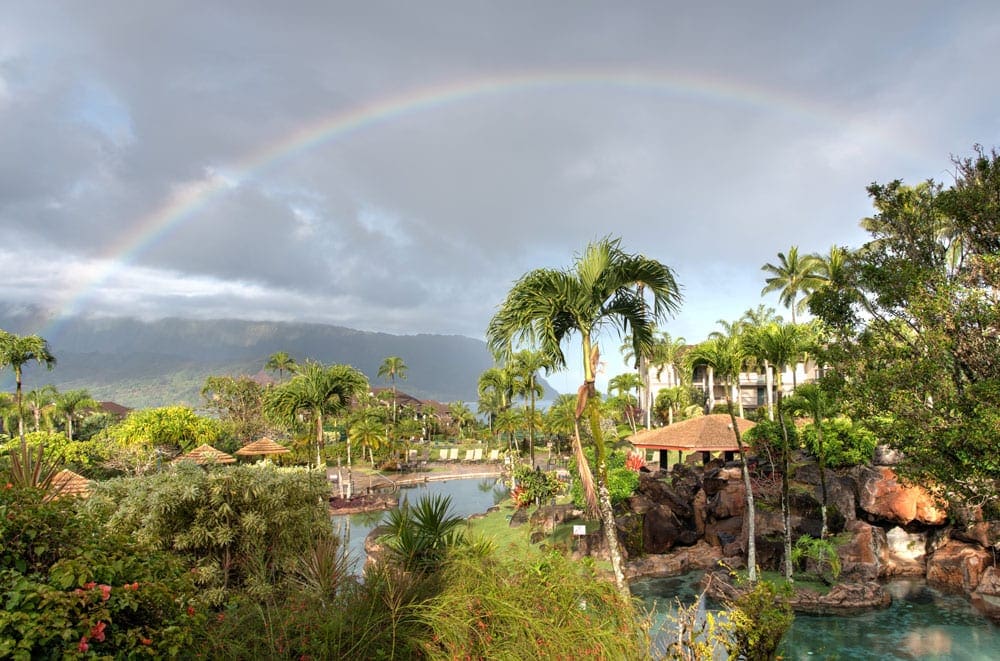 An important feature of any warm-weather vacation for my boys is the 'awesomeness' of the resort pool. Due to Kauai's COVID-19 travel restrictions, we experienced two sides of the island. First, we stayed on the North Shore at the Hanalei Bay Resort, and the pool did not disappoint! There was a sandy beach with a shallow walk-in pool for my youngest, caves and waterfalls for my older son, and a swim-up bar. However, the water temperature could have been warmer. HBR also offered some fun activities for children, like lei-making and hula lessons.
Then, we stayed at the Koloa Landing Resort, which we also chose for its pools. With much warmer water, my boys loved the lagoons, water slides, and waterfall grotto. I would highly recommend Koloa Landing Resort with small children. The spacious rooms include a kitchenette and washer/dryer. Plus, the service was excellent, making our Kauai family vacation a breeze!
Top 50 Kauai oceanfront vacation rentals | Vrbo.com
Happy Travels!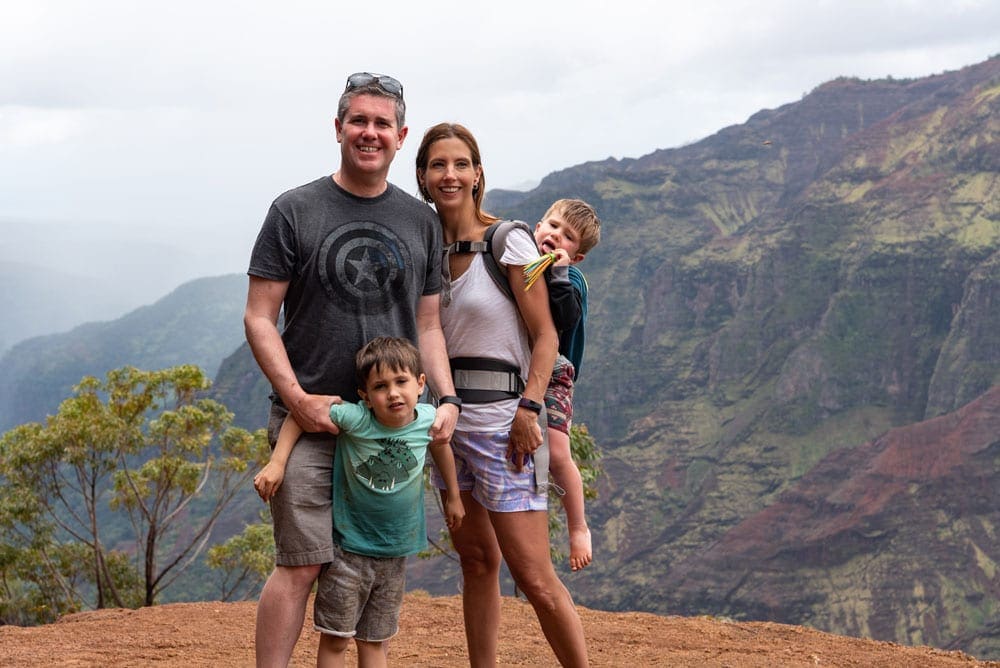 We hope you liked this article on the Fantastic Things to Do in Kauai with Young Kids written by FLT Contributor Kelli Wein! There are so many wonderful things to do in Kauai with families, and it's definitely a Hawaiian island worth visiting with young children. Have fun in Kauai with kids!
Unless otherwise noted, all images used in this article are courtesy of Kelli Wein.
*Due to COVID-19, some of the things to do on this list may also be closed or may be offering reduced services. Please ensure availability before making your decision.
This post may contain affiliate links that may earn us a small commission, at no additional cost to you. Affiliate links in no way inform the hotels, sights, products, or other recommendations included in our articles. All opinions and recommendations expressed here are compiled from submissions submitted by the generous members of our Families Who Love To Travel community.
Families Love Travel is not liable for any injuries and/or damages to persons or property occurring as a result of your vacations influenced by the suggestions on this website. We are not responsible for any information given on this website, such as recommendations for babysitting services, car rentals, or accommodations. All content provided is for informational and review purposes only. The information we provide is meant to make it easier for families to travel together and nothing more. Try the suggestions at your own risk.
READ NEXT:
15 Best Family Adventures on Maui, Hawaii
Best Family Hotels in Maui for an Enchanting Vacation
Road to Hana, Maui with Kids – Half-Day Itinerary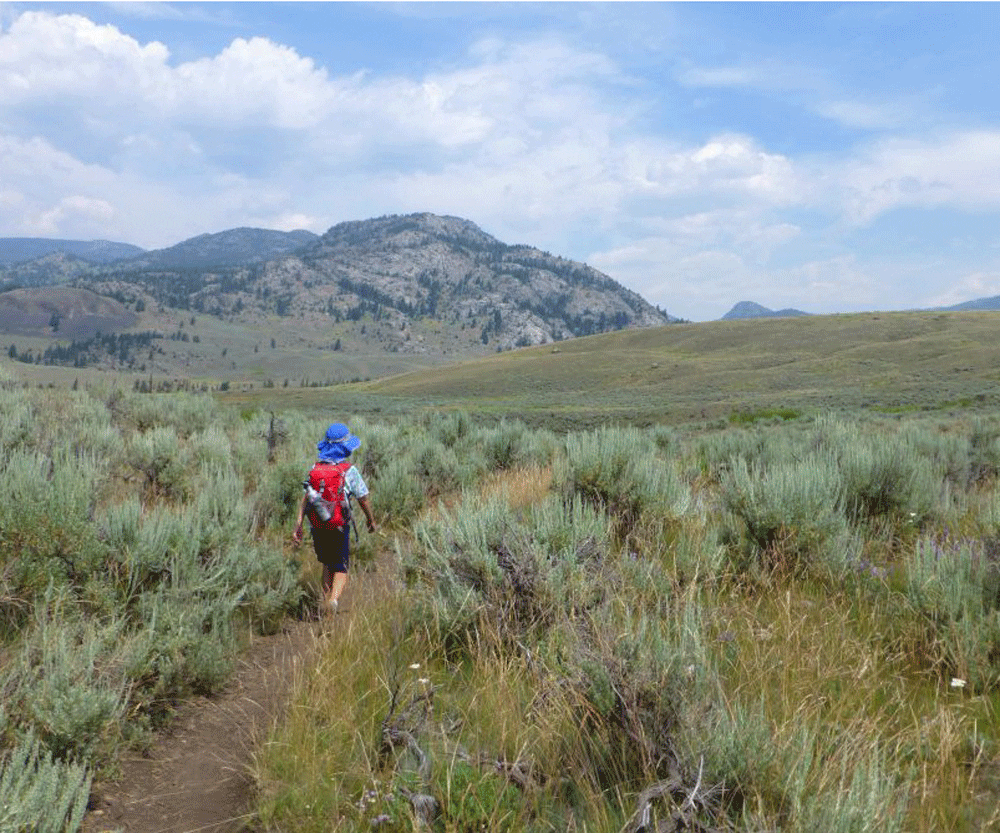 Everyone knows that Yellowstone National Park makes for a classic family vacation. Strolling the boardwalks...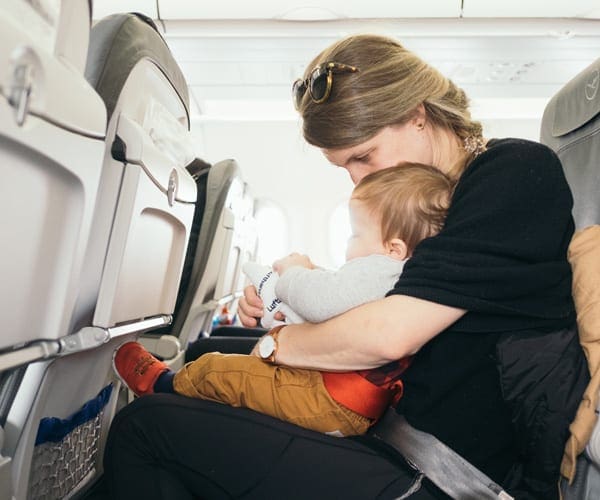 Families Who Love To Travel contributor Meghan Oaks provides her 10 best tips for your...