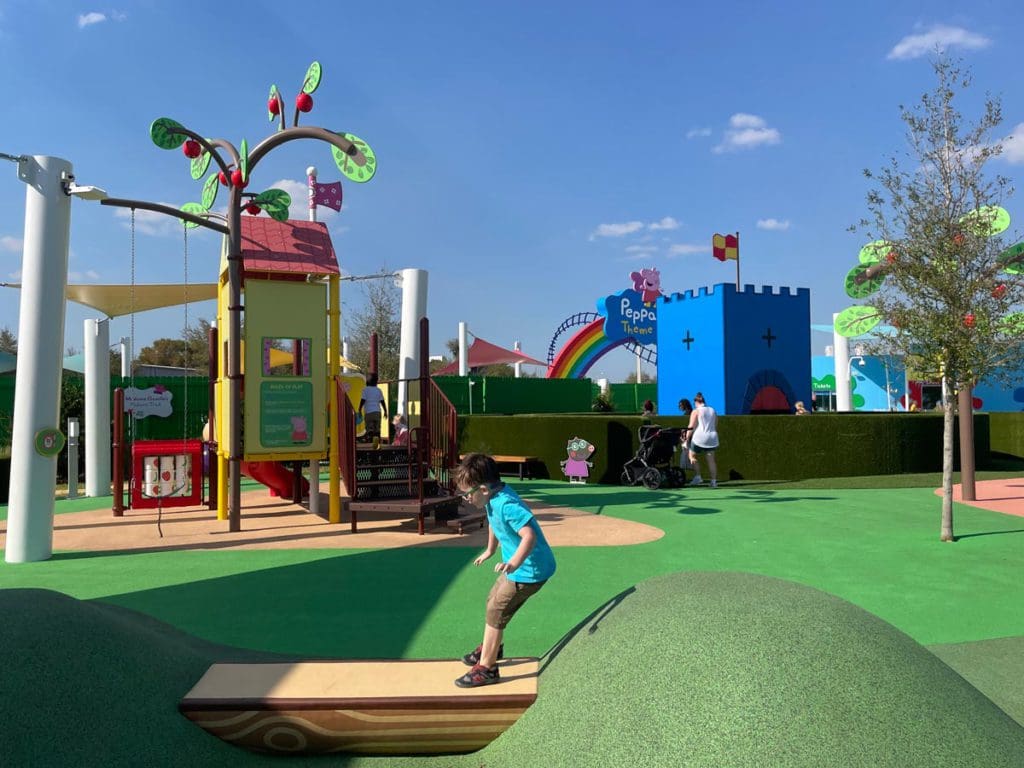 Your next oinktastic vacation awaits thanks to our ultimate guide to Peppa Pig Theme Park for families! Peppa Pig Theme Park opened in 2022 in central Florida, about an hour and ten minutes from both Orlando and Tampa's international airports. The theme park, next to Legoland® Florida, provides a one-stop-shop for all things Peppa Pig and friends.
Little ones will delight as they visit Peppa's house, take a spin on a coaster with Daddy Pig, play carnival games, splash in "muddy" puddles, and build sandcastles. The options are seemingly endless! Of course, when planning a vacation here, there are a few things you should know first. On this list, we cover the best rides for kids at Peppa Pig Theme Park, extra perks for families, and even where to stay nearby. Read on for our Ultimate Guide To Peppa Pig Theme Park For Families!
Best Rides at Peppa Pig Theme Park for Kids
First up in our ultimate guide to Peppa Pig Theme Park for families, are the exciting rides! Kids will love the variety of rides at Peppa Pig Theme Park. When you enter the park, one of the first things you'll see is Peppa Pig's bright yellow house and Daddy Pig's roller coaster. The house is a waiting area for the roller coaster, that puts you in Peppa's living room and kitchen before zooming around the roller coaster track! Families will go back to prehistoric times with Grampy Rabbit's Dinosaur Adventure, another popular ride.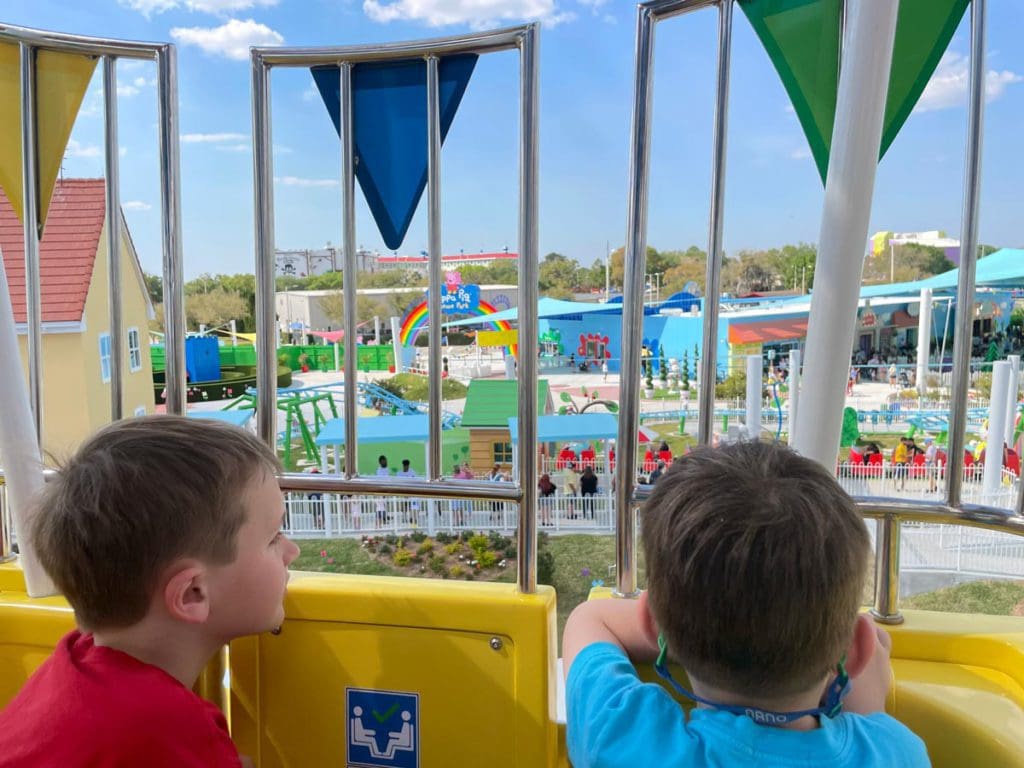 The Fun Fair area has two rides that give you a nice vantage point over the park – Peppa's Balloon Ride and Mr. Bull's High Striker. And don't forget about the high seas! Grandad Dog's Pirate Boat Ride has families sailing in search of treasure. The rides are accessible to most kids. Some rides have a minimum height of 34 inches, while others require a responsible rider aged 14 or over if less than 43 and 51 inches tall. The play spaces do not have height restrictions.
Play Areas at Peppa Pig Theme Park for Kids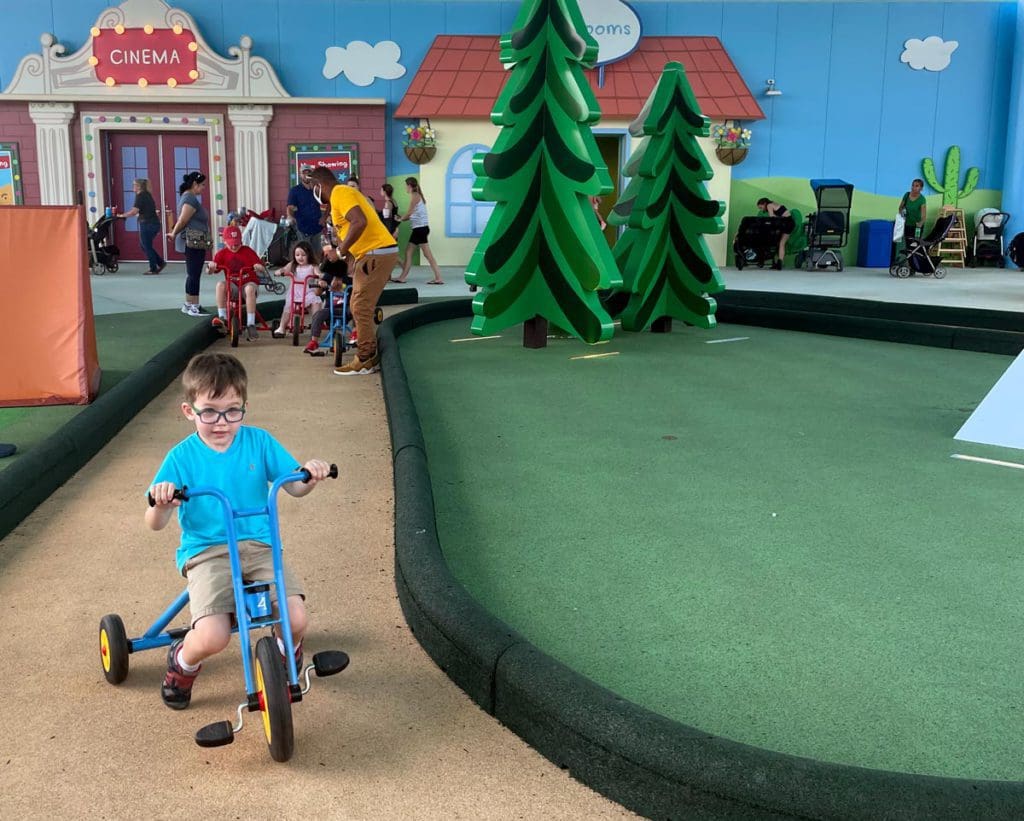 There are many ways to play as a family during a fantastic day at Peppa Pig Theme Park! Several play spaces stretch across the park, including Granny Pig's Garden, which houses a grassy maze to George's fort, Peppa Pig's treehouse, Grandpa Pig's greenhouse, and obstacles in Rebecca Rabbit's playground.
Or, pretend you're at the beach with Pirate Island Sand Play, complete with buckets and shovels to dig for buried treasure. For even more thematic exploration, there's a Fun Fair with Suzy Sheep's funhouse and carnival games. Peppa's Pedal Bike Tour/George's Tricycle Trail take little ones on a cycling adventure through a campsite in the woods up into the mountains. And when you need to take a break from all the action, the indoor cinema has everyone's favorite episodes of Peppa Pig on loop!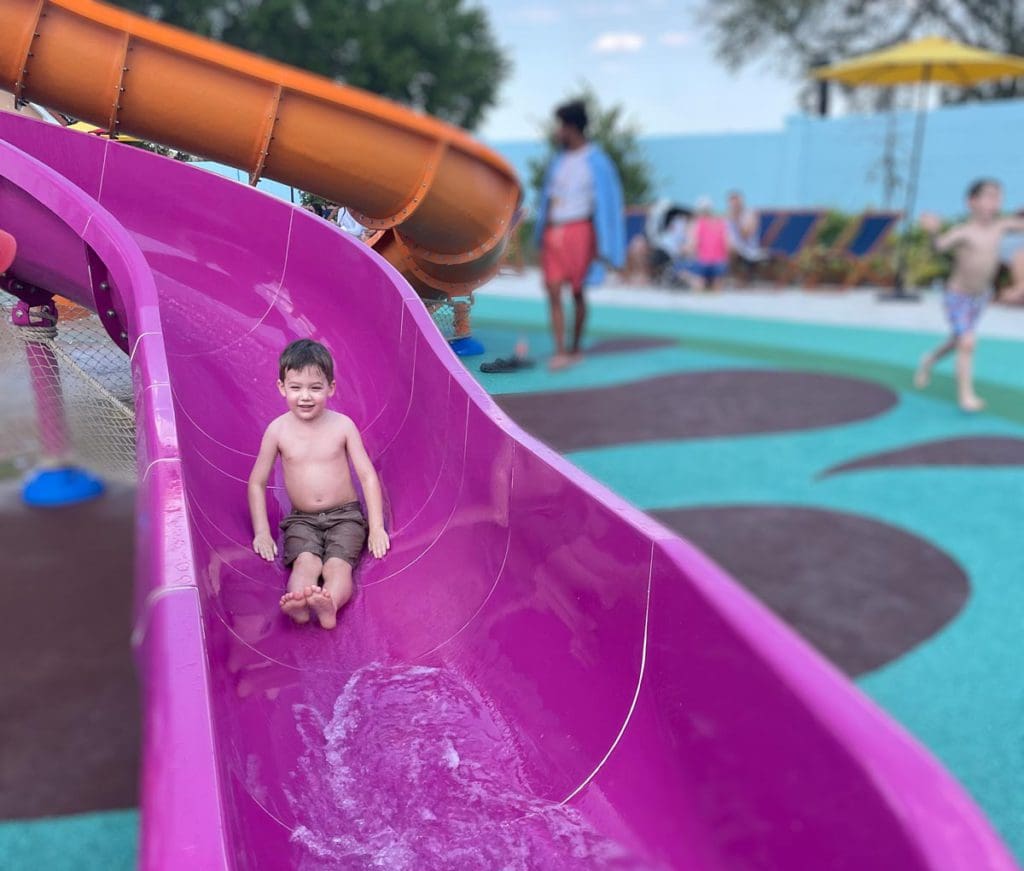 And a true highlight on any warm day is the Muddy Puddles Splash Pad. Be sure to pack your bathing suit and a towel, as this play space for kids is wet and wild! Parents will appreciate the shaded beach chairs along the perimeter, as well as a few changing rooms. The playgrounds and splash pads are sure to be a huge hit at the Peppa Pig Theme Park for families!
Look for homes near Legoland Florida and Peppa Pig Theme Park through Vrbo here!
More Fun for Families at Peppa Pig Theme Park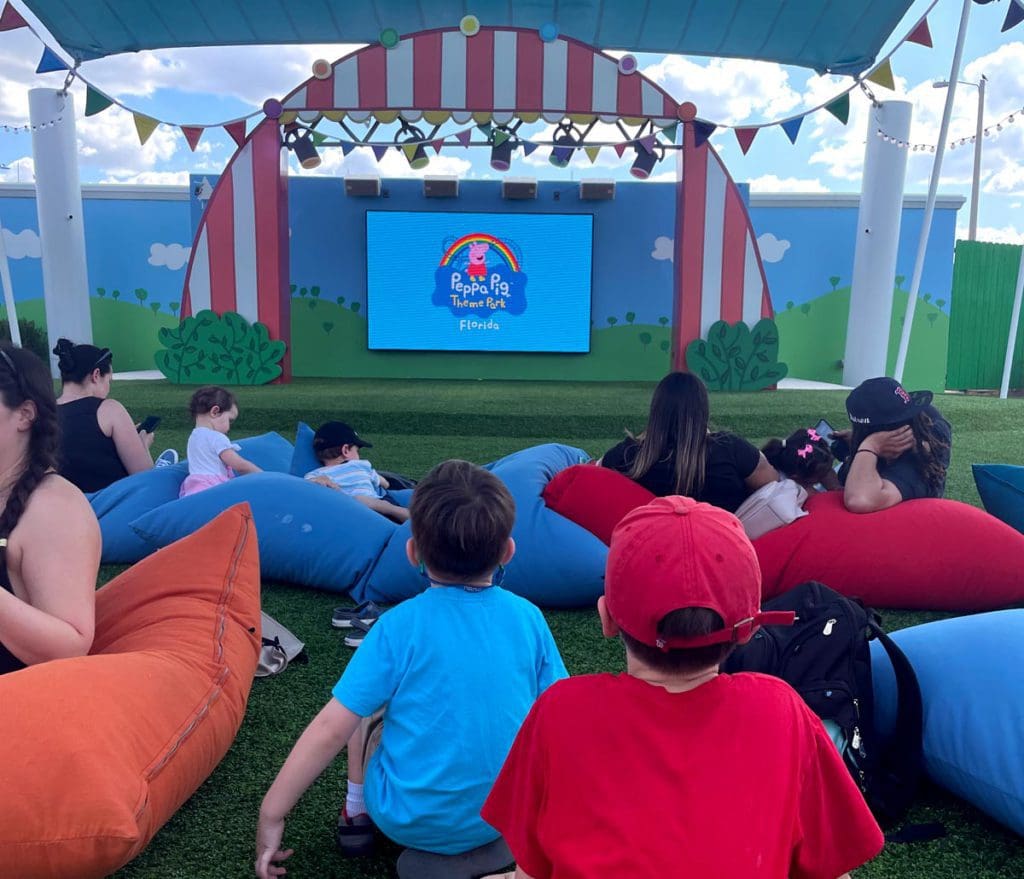 Looking for more fun at Peppa Pig Theme Park for families? Mr. Potato's Showtime Arena offers a comfortable, shady spot to meet Peppa Pig and friends. (Or to just rest in between places to play). The 15-minute show featuring Peppa and George happens throughout the day, with a photo opportunity following the entertainment. Other surprise guests may show up for photo opportunities as well. For example, Mummy Pig popped on the stage in between the two-afternoon showtimes.
For more fun adventures in Florida, check out our Best Guide To Universal Orlando Hotels For Families!
Oinktastic Extras for Families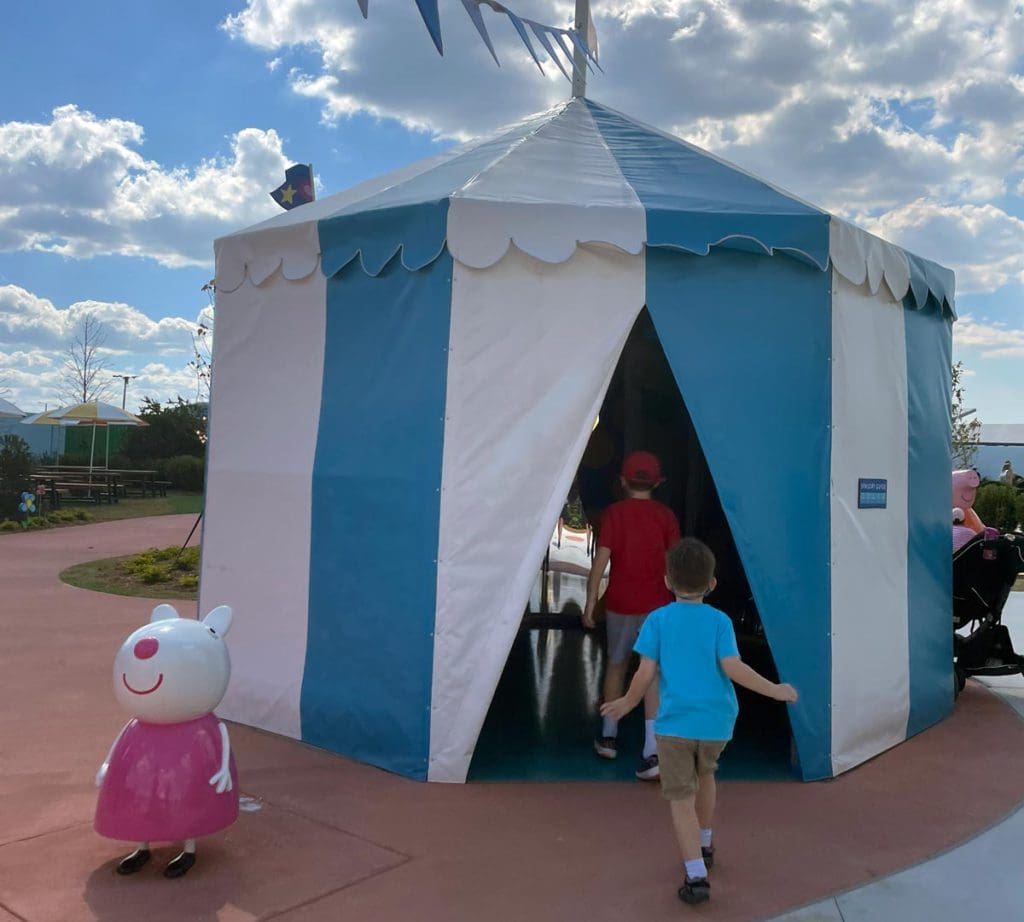 Up next on our ultimate guide to Peppa Pig Theme Park for families is the oinktastic extras! Be sure to visit Guest Services for your "first visit" button, a map, and stickers. There's also a gift shop with snacks and toys, as well as Miss Rabbit's Diner serving meals like pizza, grilled cheese, and mac and cheese for kids, and gourmet sandwiches, flatbreads, and healthy grain-based bowls for adults. And don't forget the sweet treats like milkshakes and a Marshmallow "Mud" Cup!
However, it might make sense to pack at least some food as the restaurant line was quite long without a fully packed theme park. If you're planning to take home the park photographers' photos with characters or from your ride on Daddy Pig's roller coaster, consider a one-day photo pass for digital copies of your big day out with Peppa (which can also include photos taken at Legoland).
To see everything in the park, it takes about a half-day to get through, assuming a few lines for the rides. If you're in the area for more than a day, consider a ticket that also includes Legoland Florida and the Legoland Water Park entry to make the most of your family visit.
Visiting Disney with little ones? Read our Best Tips for Visiting Disney World with Young Kids!
Where to Stay near Peppa Pig Theme Park with Kids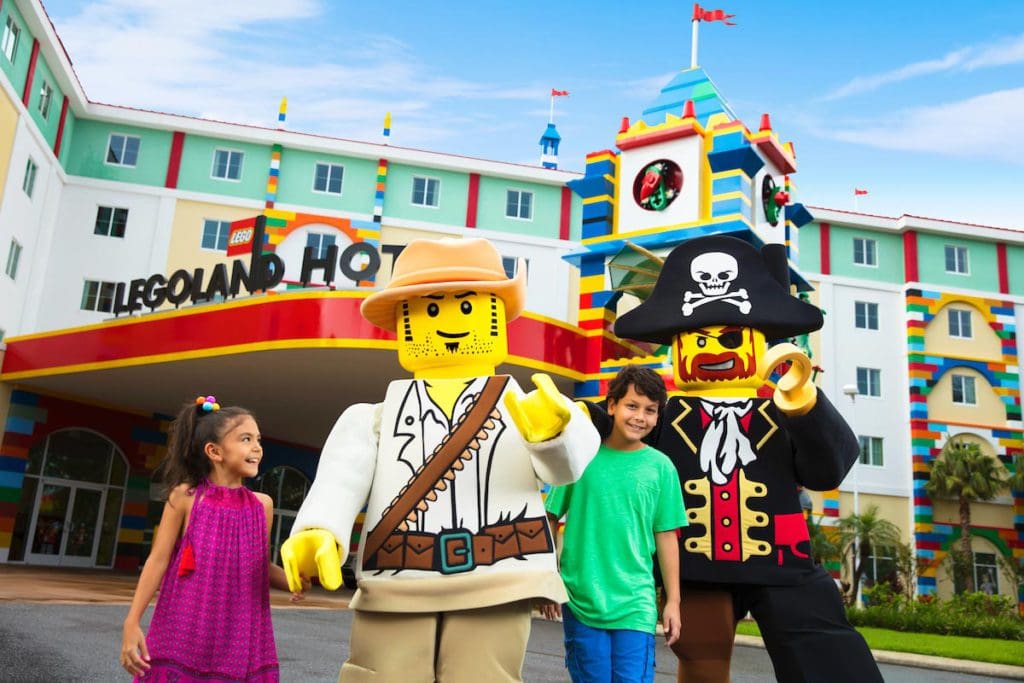 Want to be steps from the action? Here's where to stay near Peppa Pig Theme Park for families. Book a stay at one of the three Legoland properties, each with its own personality. The Legoland Hotel and Pirate Island Hotel share a lobby, but each has its own theming, restaurants, and pools just steps from the entrance of Legoland and Peppa Pig Theme Park. The Legoland Beach Retreat is a short shuttle ride away from where families stay in themed bungalows! Looking for other options? Courtyard by Marriott Winter Haven, Holiday Inn Winter Haven, Holiday Inn Express Lake Wales, and Hampton Inn & Suites Lake Wales all put you within 15 minutes or less of Peppa Pig Theme Park.
A unique stay awaits your family at one of these Best Themed Hotels In The United States For Families!
Enjoy the Wonderful World of Peppa Pig!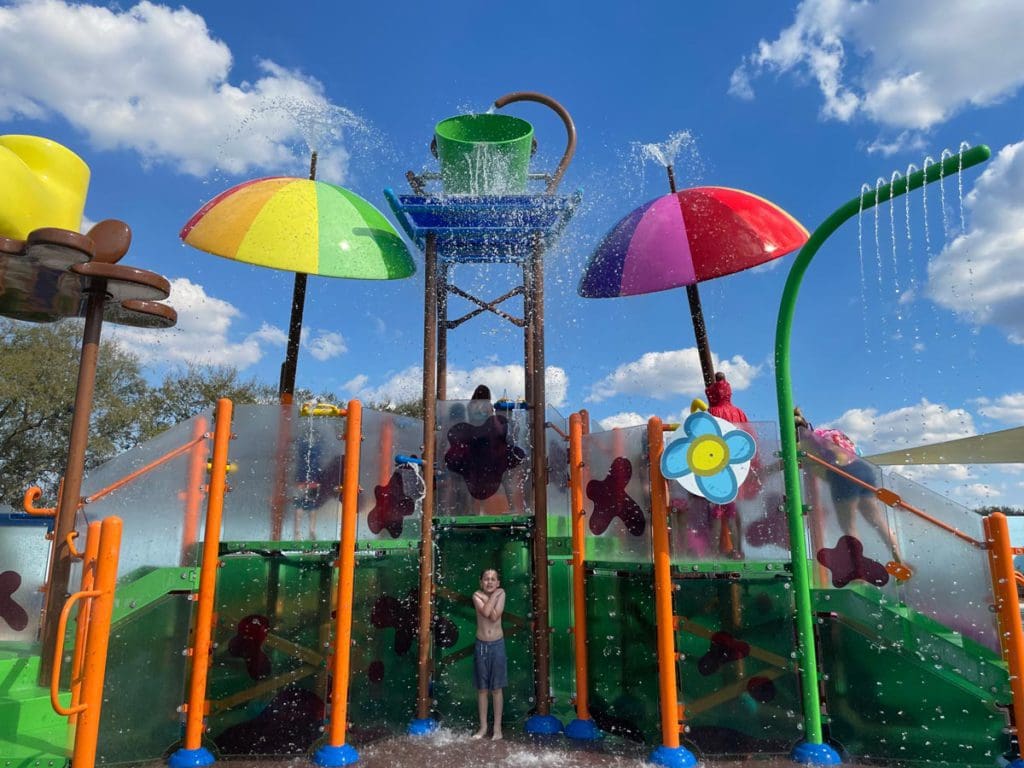 We hope this Ultimate Guide To Peppa Pig Theme Park For Families helps you plan a wonderful vacation in Florida! Whether you're planning a weekend getaway or an extended trip, we're sure you'll love this theme park. Have an oinktastic time immersing yourself in Peppa's world!
*Unless otherwise noted, all images within this article belong to and are courtesy of Megan Tucker.
*Due to the COVID-19 pandemic, some of the attractions, accommodations, or things to do on this list may be closed. Please ensure availability before making your decision.
*This post may contain affiliate links that may earn us a small commission, at no additional cost to you. Affiliate links in no way inform the hotels, sights, products, or other recommendations included in our articles. All opinions and recommendations expressed here are compiled from submissions submitted by the generous members of our Families Who Love To Travel community.
READ NEXT: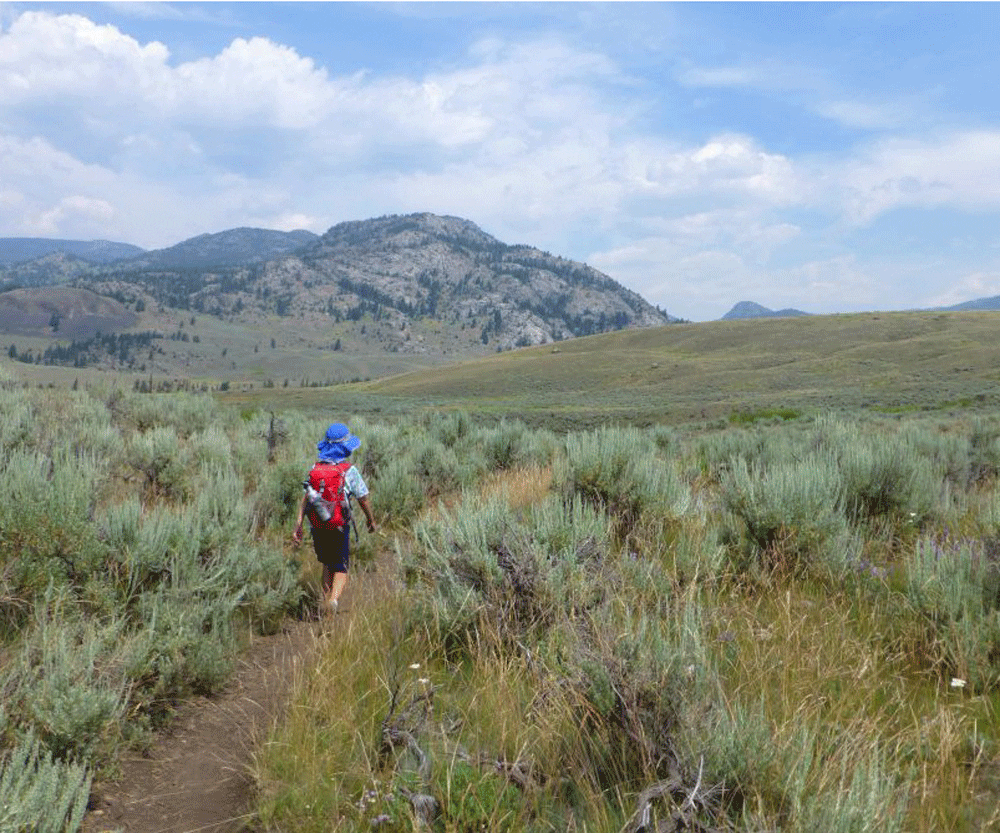 Everyone knows that Yellowstone National Park makes for a classic family vacation. Strolling the boardwalks...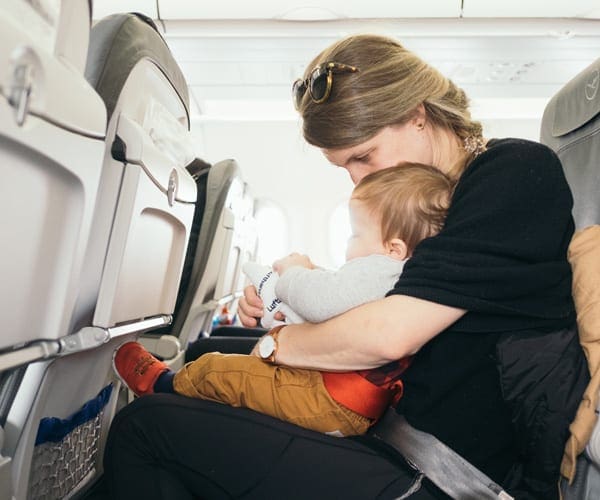 Families Who Love To Travel contributor Meghan Oaks provides her 10 best tips for your...