Ready to plan your next exciting escape to the Ritz-Carlton, Grand Cayman for families? Surrounded by soft white sand and a clear blue ocean reminiscent of a postcard, it's truly a breathtakingly gorgeous sight in the Caribbean. Luckily, The Ritz- Carlton Grand Cayman appeals to guests of all ages, with a variety of amenities, great service, and tasty food. We've been escaping the northeast winter to this fantastic resort for years, beginning when my now 7-year-old was only 2. Suffice to say, my family loves the Ritz-Carlton, Grand Cayman! To make it easier for you, we've highlighted how to plan an exciting escape to The Ritz-Carlton, Grand Cayman for families. Keep reading for our complete Ritz-Carlton, Grand Cayman review!
Accommodations for Families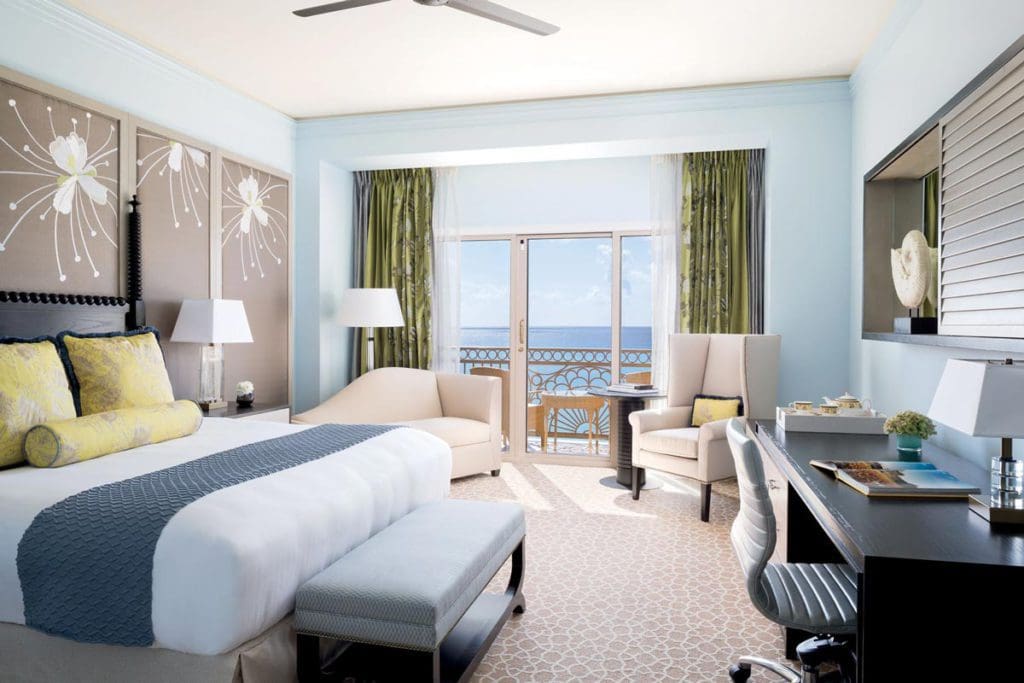 The Ritz-Carlton, Grand Cayman features a variety of accommodations for families to choose from. First, there are standard guest rooms with one or two king beds, some of which have ocean or garden views. Then, there are larger suites for families as well, some of which have a terrace, separate living area, and dining room. If you want to experience a taste of luxury, you can also stay at Seven South, which houses the Penthouse Suite and another two-bedroom suite. These are known as some of the biggest rooms in the Caribbean for a reason — there's plenty of space for the entire family!
RELATED ARTICLE: 6 Best Family Resorts In Grand Cayman (All Parent-Recommended)!
The Ritz-Carlton, Grand Cayman Property & Beachfront
The wonder of Seven Mile Beach is just outside your hotel room when you stay at the Ritz Carlton Grand Cayman. This proximity allows guests to easily bounce between the beach and the resort's beachfront pool. Food and drink service and beach toys are all available on the white sand of Seven Mile. Water sports, including kayaks, standing paddle-boards, water tricycles, floating rafts, paddle boats, and water hammocks, are also there to entertain guests in the calm blue ocean. On our last visit, my husband and older daughter had a blast taking a glass-bottom boat out on the water!
Other Resort Activities for Kids of All Ages
While there are many upscale beach resorts in the Caribbean, we keep coming back to the Ritz-Carlton, Grand Cayman because the resort offers children's activities that are just as impressive as their luxury offerings. Consider Starfish Cay, a large water playground with waterslides, water sprayers, and a zero-entry splash pad for the smallest guests. It's my girls' absolute favorite hotel amenity! Another cherished amenity is their kid-friendly complimentary pool snacks — from popsicles to cotton candy; it is a blast anticipating what will be served that day by the pool! Parents with infants will love how the resort's two pools each have a wide rim of shallow water surrounding them. Babies can splash around while the parents relax!
Older kids will love the resort's basketball and tennis courts, the WAVE Gave Room, movie nights, and more. The Ritz Carlton Grand Cayman also offers The Ritz Kids Program is also open to children from 4-12 years old. Kids can also join another club called the Ambassadors of the Environment in partnership with Jean-Michel Cousteau in a charming island cottage called Heritage House. Even if your child is too young for the drop-off kids club, the Heritage House is still worth a visit, including its adorable baby splash pool out front.
Looking for more ways to explore Grand Cayman with kids? Check out our list of The Best Things To Do In Grand Cayman With Kids!
On-Site Dining for Families
Delicious on-site dining is another perk of staying at The Ritz-Carlton, Grand Cayman as a family. Enjoy fresh seafood at Seven if your kids aren't picky eaters. Or, even eat sushi at Taikun, featuring a variety of unique rolls. Of course, all kids love Italian, so you'll probably be spending a lot of time at the resort's Italian restaurant, Andiamo. If tasty pizza and pasta aren't enough, each night just outside the restaurant, there are interactive fish feedings! Be sure to also hit the gelato counter before bed, since there are a ton of homemade flavors to choose from!
Amenities for Adults
As adults, we love the resort's aesthetic beauty, its incredibly friendly hands-on service, and its delicious dining options. (Don't skip the fish sandwich or piña colada at the beachside Bar Jack!) Parents can also relax at La Prairie Spa or work out at the fitness center. Be sure to grab a table at Silver Palm, an elegant lounge that offers island-inspired cocktails, a selection of Caribbean cigars, and live entertainment on weekends. To really treat yourself, book a table at famed NYC Chef Eric Ripert's Blue. It's the Caribbean's only AAA Five Diamond restaurant! Want to extend your alone time? Babysitting is available too, with an option for lounger hours. Adults can even rent a car to explore Grand Cayman!
So, Would I Recommend The Ritz-Carlton, Grand Cayman For Families?
Reserve a room at The Ritz-Carlton, Grand Cayman using Hotels.com and Priceline today!
Book directly with Marriott.com here to accumulate points or program credits!
Of course! Grand Cayman is a gorgeous Caribbean island destination and the Ritz-Carlton makes for a perfect family vacation. In fact, The Ritz-Carlton, Grand Cayman perfectly encapsulates what a "beach resort" should be. Though it's a large property, it also offers the kind of personal service you would expect at a smaller boutique hotel. We will forever cherish the memories we make on our visit. We hope this Ritz Carlton Grand Cayman review was helpful for your family!
Want more family-friendly travel ideas in your inbox? Click here to subscribe to our newsletter!
Happy Travels!
We hope you liked this list of Review Of The Ritz-Carlton, Grand Cayman For Families! From the beautiful beachfront property to kid-friendly activities, delicious food, and more fun, this Caribbean resort has something for all ages. Enjoy Grand Cayman with your kids!
All About the Cayman Islands With Kids: Important Information You Need to Know
*Due to the COVID-19 pandemic, some of the attractions, accommodations, or things to do on this list may be closed. Please ensure availability before making your decision.
*This post may contain affiliate links that may earn us a small commission, at no additional cost to you. Affiliate links in no way inform the hotels, sights, products, or other recommendations included in our articles. All opinions and recommendations expressed here are compiled from submissions submitted by the generous members of our Families Who Love To Travel community.
READ NEXT: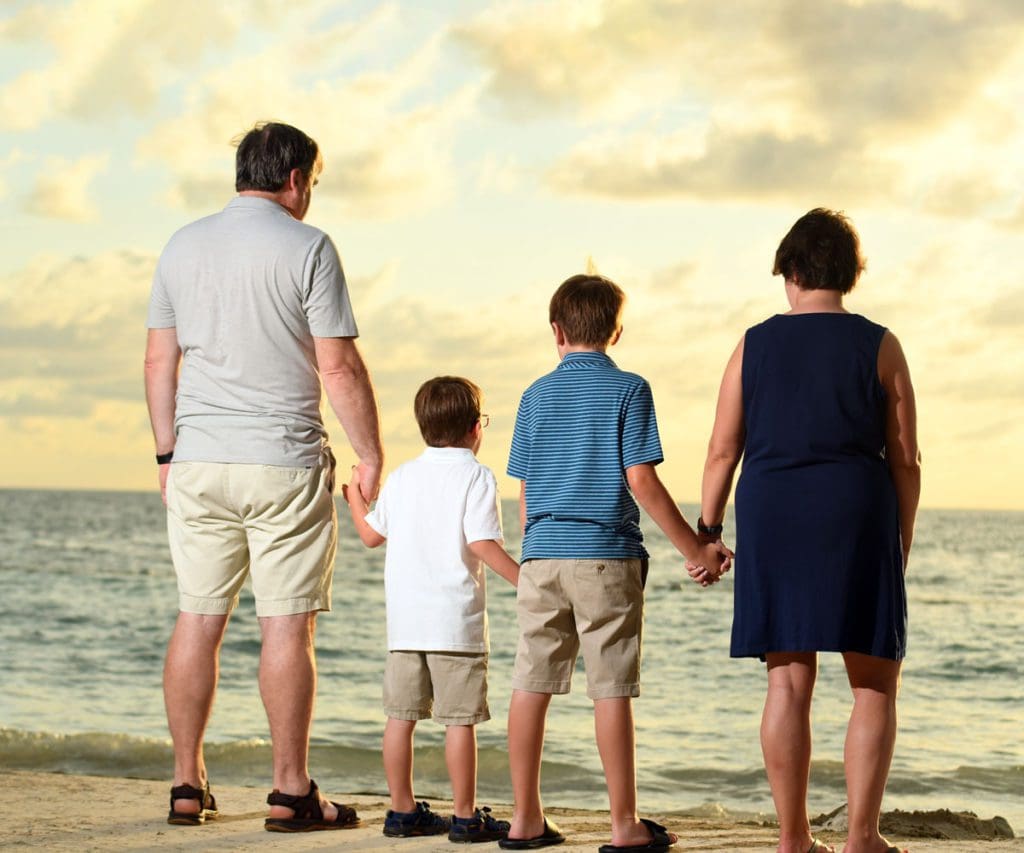 If you're looking for fun in the sun and so much more, plan your next...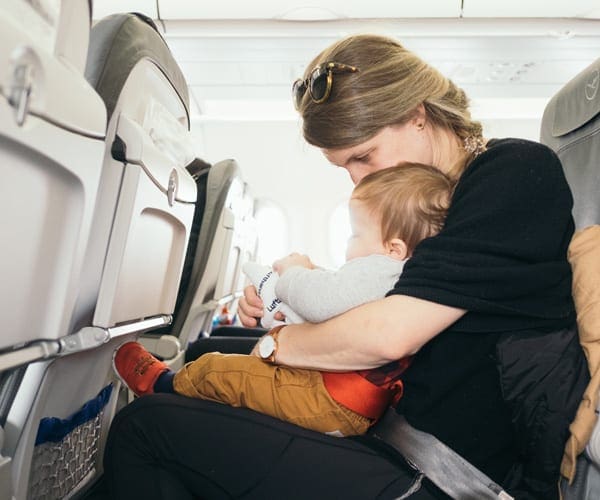 Families Who Love To Travel contributor Meghan Oaks provides her 10 best tips for your...