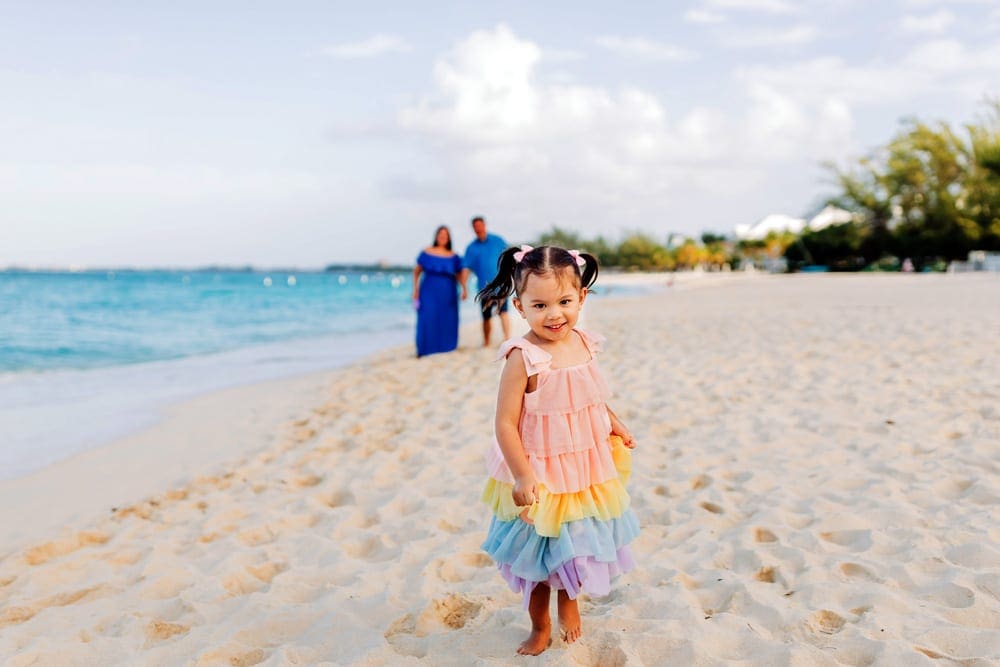 Are you searching for things to do in Grand Cayman with kids? Luckily, this family-friendly Caribbean destination is known for its pristine local beaches, endless blue skies, and modern, island infrastructure. That means you'll discover a ton of ways to enjoy your family vacation here! Learn more about Grand Cayman's exotic wildlife on tours throughout the island, whether to Bioluminescent Bay, The Cayman Crystal Caves, or Stingray City. If you'd rather just relax beachside while little ones play, there are plenty of spots to do that too. In fact, The Cayman Islands have so many things to do with kids, you may be wondering where to start. So, we've compiled this parent-approved list of the Best Things To Do In Grand Cayman With Kids to provide a jumping-off point. Keep reading to learn more about where families from our Facebook group choose to spend their vacations!
Visit Stingray City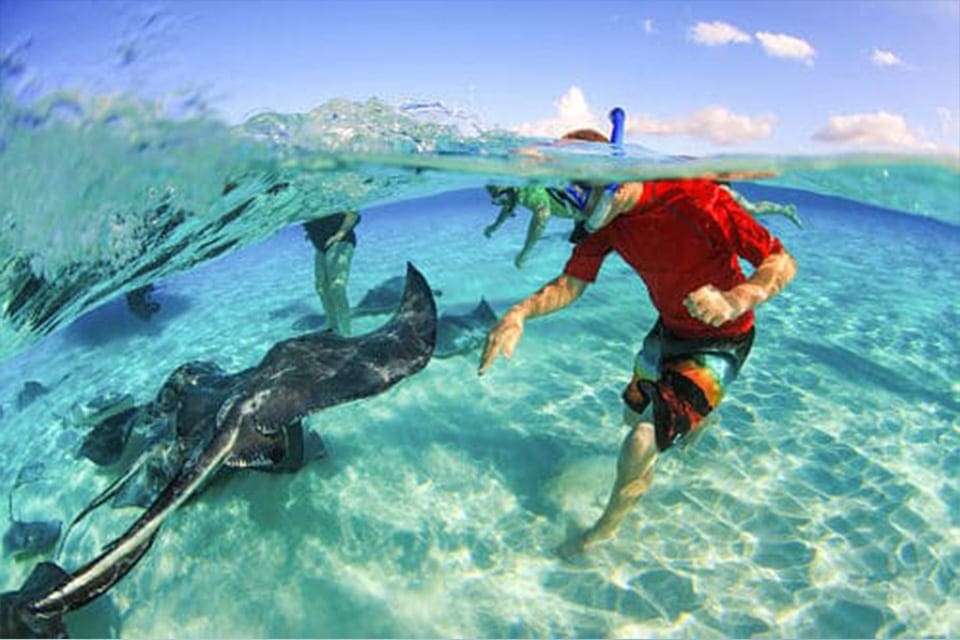 Stingray City is a Grand Cayman animal adventure you shouldn't miss! Located on the island's North Sound, this series of shallow sandbars are filled with a diverse array of marine life. Explore with the help of experienced tour companies like Kids Sea Camp or Moby Dick Tours, which both offer diverse ways to tackle the reef and its related wildlife. Kids will love taking pictures with the stingrays, which they can do from a safe distance on a boat tour. Or, get up close and pet them! You can even snorkel beside stingrays. Parents will appreciate how the whole family will be learning a lot, too. Plus, some tours even offer going beyond Stingray City, toward the nearby turtle lagoon. At the turtle lagoon, your family can witness hundreds of breeding turtles making their way from the shores. No matter what tour you choose, it'll definitely be an unforgettable experience!
What Our Families Say
"You can pet, feed, and even kiss the stingrays! 100% recommend!"

– Jen Grzenia
Wondering how Grand Cayman's Stingray City is handling COVID-19? Learn more here.
Explore The Cayman Turtle Center (Turtle Farm)
The Cayman Turtle Center is a great place to bring kids while on vacation! As the island's largest land-based attraction, this animal farm hosts thousands of excited families each year. Taking a tour here is a nice way to spend the afternoon with little ones, even if you don't know much about turtles. Good news: it also has kid-friendly educational, cultural, and entertainment programs! The Cayman Turtle Center is especially great if you're interested in learning about multiple animal habitats. Explore a butterfly garden, a saltwater lagoon, and an in-house aquarium! Of course, the turtles are the main attraction. Choose between a standard Turtle Safari Package to have access to the grounds or a Turtle Adventure Package, where you can swim alongside them in the lagoon! Keep an eye out for exotic parrots and other wildlife, too. It's definitely a perfect place to learn more about wildlife in Grand Cayman!
What Our Families Say
"They had small baby pools so little ones can get up close to the turtles. This was definitely my daughter's happy place!"

– Jen Grzenia
Pro Tip: Do your research before you visit The Cayman Turtle Center! Though it can be one of the best family-friendly activities in Grand Cayman, there has been some recent controversy regarding the island's treatment of turtles.
Learn how The Cayman Turtle Center is handling COVID-19 here.
Book a Native Way Watersports Excursion
Native Way covers all the bases when it comes to the best things to do in Grand Cayman with teens! From up-close encounters with sea life via snorkeling to private charter cruises, there are many options to choose from at this family-run establishment. Families have complete independence when picking their next adventure! Take kids on an excursion to Stingray City, where they can come up close to a variety of ocean life. Or, choose to snorkel and charter a fishing boat to put yourself even deeper into the action at Rum Point. Grand Cayman is one of the few places to see so many amazing animals at once. Native Way Watersports guarantees a personalized experience and an authentic, intimate excursion. Even better — each tour is led by a lively Grand Cayman local! Learn about the island's culture directly from the source while you soar past it's most scenic sights.
Soak Up the Sun on Seven Mile Beach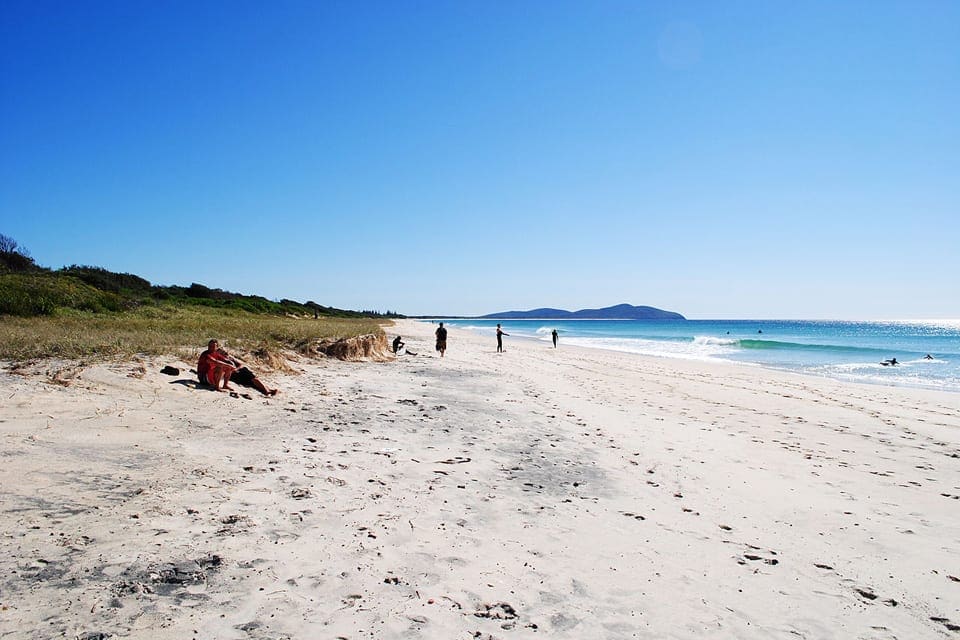 Seven Mile Beach is the reason Grand Cayman is considered the ultimate destination for families! Situated on the western side along the island's main tourist strip, it attracts travelers from all over the world with its turquoise waters, teeming with marine life. Plus, as the best beach in Grand Cayman to visit with kids, there are tons of options for dining! The expansive waterfront here is also open to the public; it's possible to walk the full length of the shore regardless of where you're staying. It also provides convenient access to the nearby Seven Mile Shops, where you can do some shopping. Additionally, it's near the historic capital of George Town, which includes a variety of museums and cultural excursions! Whether you want to work on your tan, lay low with the kids, or partake in some parasailing, Seven Mile Beach gives you every chance to do so!
What Our Families Say
"Seven Mile Beach was a real treat, with beautiful blue waters and powdery sand. The waves were great for kids of all ages. We enjoyed staying in a condo complex on the beach as it was less crowded than the resort area next door. There is also plenty of space to walk up and down the length of the beach if you so choose – we never made it too far from home, but it's an option!"

– Megan Tucker
Venture to Cemetery Beach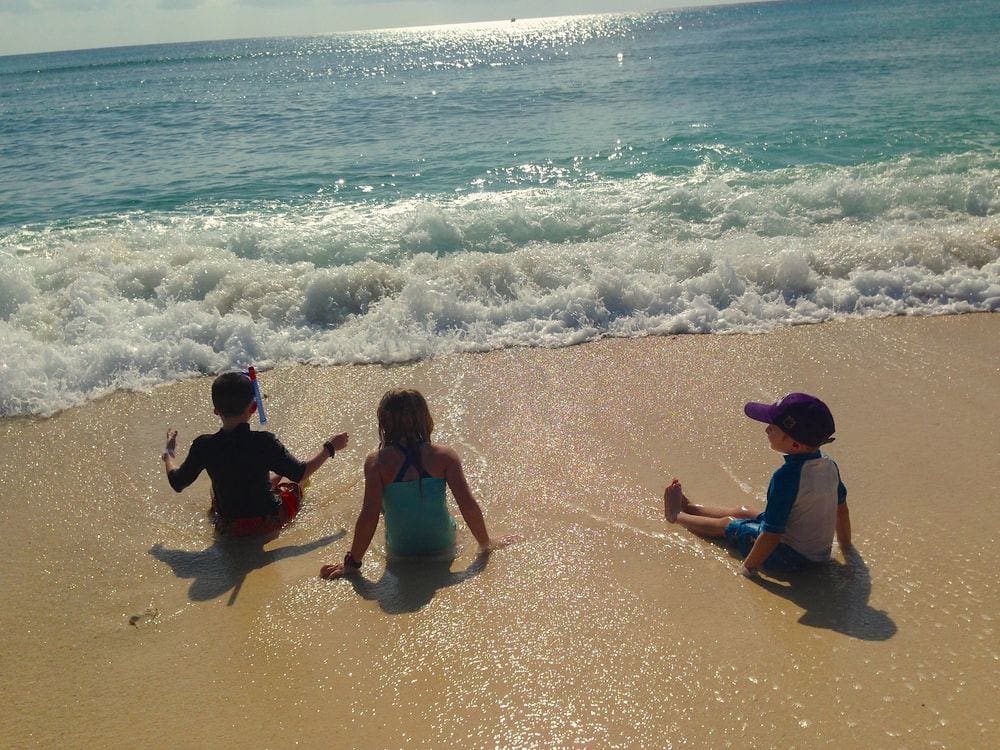 Cemetery Beach is a secluded stretch of shoreline located at the tail-end of Seven Mile Beach. (You literally walk down a path past a small cemetery to reach it.) What you'll discover is a quiet white-sand area outlined with mangrove and coconut trees. Families who prefer a more private experience will love the tranquility here, with the only caveat being there's no bathrooms or restaurants. It's still a great place to get away for the day, however, and there's also a reef about 100 yards out perfect for snorkeling. Adventurous kids will have a great time in the water! But because there's not much else besides a beautiful beach, remember to bring it all: water, food, beach towels, gear, etc. Any taxi will know the destination and there's also a public bus stop across the street. Cemetery Beach is an amazing adventure for families vacationing in Grand Cayman!
What Our Families Say
"Because there is nothing there but a beautiful beach, you will have to bring it all. You will need to bring, water, food, beach towels, snorkeling gear, and any other beach gear you may need. There is a public bus stop across the street from the beach and most buses will stop and take you to wherever you need to go for a small fee. Cemetery beach is a perfect off the beaten track getaway on the Grand Cayman Island."

– Alison Netzer
Navigate the Underground Cayman Crystal Caves
Wondering what to do in Grand Cayman with kids? Visit the Cayman Crystal Caves! Situated in Old Man Bay, this tourist attraction is one of the island's most magnificent natural wonders. Be sure to take a tour of this lush rainforest area to fully immerse your family! Here, knowledgeable tour guides lead you through three labyrinth caves to reveal crystal structures and otherworldly formations created by single drops of water through time. The walking tour also takes you throughout the surrounding forest area. Kids can spot local birds, iguanas, and also learn more about Grand Cayman history! Lasting an hour and a half, a Cayman Crystal Caves tour concludes with a walk through the caves, where the entire family will be astounded by the natural works of art. Afterward, you'll have fifteen minutes of free time to explore an elevated viewing deck, grab a snack, or visit the souvenir shop.
Stroll through Queen Elizabeth Royal Botanic Park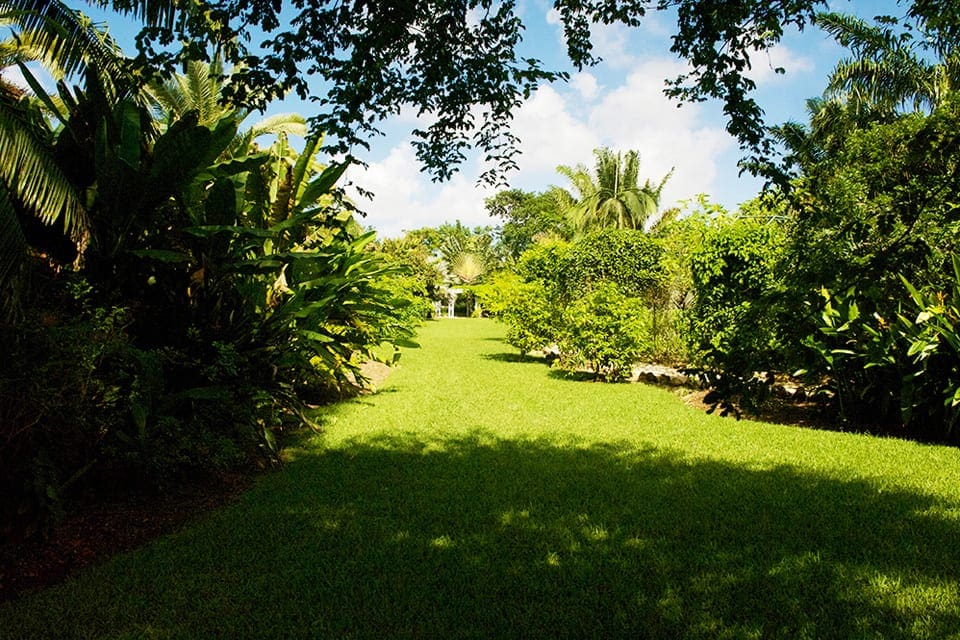 Take a peaceful stroll through Queen Elizabeth Royal Botanic Park! Located on Grand Cayman's eastern end, the park is dedicated to preserving its historic significance. So you'll also learn a lot about the Cayman Islands during your exploration of the property. Plus, it'll provide children with a relaxing place to spend the afternoon in the process! Visit when the spring flowers are in bloom, and you'll be in for a real picturesque treat. (Especially if you can catch the orchids!) If not, Queen Elizabeth Royal Botanic Park is still a great place to spend some time away from Grand Cayman's everyday life. Sit back, relax, and watch as kids roam free throughout the lush greenery. Take a tour of the area, though, and you can even visit a gated Blue Iguana refuge! This is surely one of the best things to do in the Cayman Islands with kids.
What Our Families Say
"The botanical gardens were such a lush environment – lots of green to juxtapose the blues of the sky and sea throughout most of our trip. There was plenty of space to roam, and it was very stroller friendly, making it a nice way to spend time in nature."

– Megan Tucker
Enjoy Governor Beach
Governor Beach is another fantastic option on our list of things to do in Grand Cayman with kids! Located along Grand Cayman's Seven Mile Beach stretch, this low-key spot is ideal for families looking for a quiet escape. You could easily spend a whole day sunbathing, building sandcastles, or swimming in shallow water. If you have adventurous little ones, though, you'll find plenty of action too. Governor Beach also offers some of the best snorkeling in the Caribbean! Here, the waters are teeming with bright schools of fish. Swim out at least 100 yards with an experienced guide, where you'll also witness the gorgeous coral reefs you've ever seen. Governor Beach is also pretty family-friendly beyond snorkeling or sunbathing. Bring a picnic at sunset, sit back, and relax in the tranquil surroundings. No wonder Governor Beach is one of the best-hidden gems in Grand Cayman!
Snorkel at Starfish Point
Spot scenic sea life with your family at Starfish Point! Nestled on Water Cay Road, this secluded beach is a serene escape from the tourist centers of Grand Cayman. It's also an ideal place for families to convene during sunny weather! Come here in pursuit of a quiet afternoon, and you definitely won't be disappointed. With shallow, crystal-clear water, kids will love wading around in search of critters. And the area itself isn't that wide-reaching, which makes it even more ideal for adults who don't want to spend the entire day chasing their kids. As the name suggests, Starfish Point is brimming with marine life: check out the vibrant starfish, most of which congregate so close together you can hold them in your hands! Since it's a bit of a hike from the rest of Grand Cayman, though, it's likely you'll have to drive or take a ferry. 
What Our Families Say
"While we were there, the crew caught a starfish and brought it right to my daughter. She was so happy! She asked to take one home."

– Jen Grzenia
Take a Tour of Bioluminescent Bay
Bioluminescent Bay fills with tourists every new moon. It's no surprise, however, since this family-friendly excursion is one of the best things to do in Grand Cayman with kids! Located near Seven Mile Beach, this nighttime tourist attraction provides a glimpse at tiny plankton, coming to life before your eyes. Luckily, to access this exclusive area, companies like Crystal Charters and George's Watersports offer private family boat tours! Take a short trip from your meeting point out to the bay, where you'll learn more about the environment during your journey. Of course, the highlight will be the Bioluminescent Bay marine life you'll soon encounter! Once the boat arrives, families can jump right in to experience the beauty of the glittering bioluminescence. Though it's not particularly great for pictures, Bioluminescent Bay is still a must-see. Children and adults alike will be mesmerized as the water lights up all around them!
Embark on a Blue Iguana Safari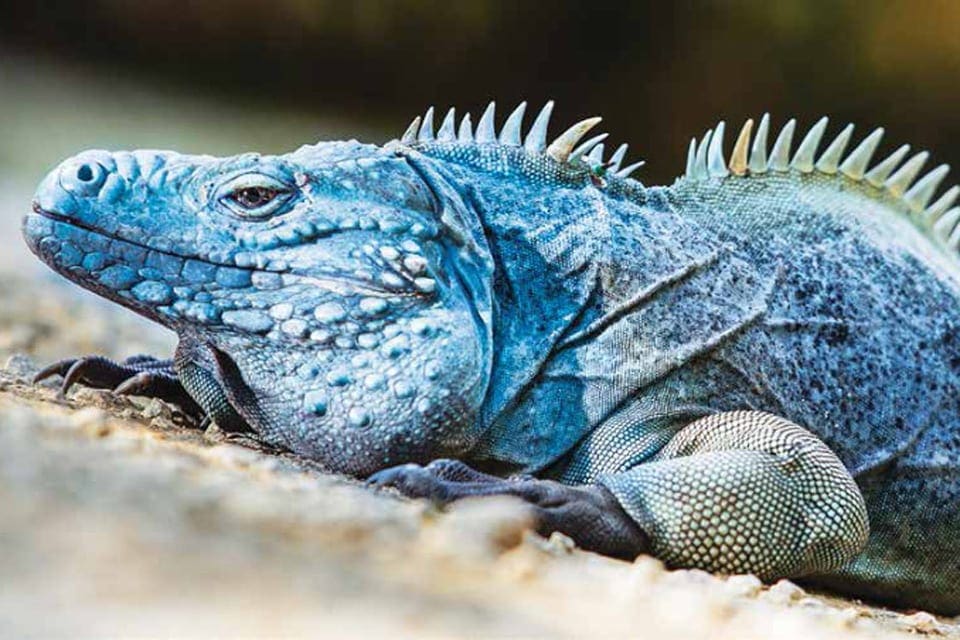 Embark on an adrenaline-pumping adventure at the Blue Iguana Safari! Located in the Blue Iguana Recovery Program's woodland trails, this family-friendly excursion is perfect for animal lovers of all ages. Luckily, experts with extensive knowledge about the iguanas also lead tours. Perfect for younger children, an outing lasts two hours and only involves gentle walking. Kids will especially love spotting creatures living in this protected area! Along the way, you'll learn the fascinating story about how the iguanas were brought back from the brink of extinction. Afterward, you can also feel free to explore nearby Queen Elizabeth Royal Botanic Park. Plus, it'll be hard to miss a tour, even if you have a busy vacation schedule. It's offered Monday through Saturday at 10:30 AM and 11:30 AM. Just remember to dress lightly, wear sunscreen, and carry water. Iguanas only show themselves when the sun is at its strongest!
Swim with Sea Creatures at Dolphin Discovery
Have the experience of a lifetime swimming with dolphins at Dolphin Discovery! Located in Grand Cayman's West Bay, this kid-friendly attraction is a favorite for families on vacation. Here, prepare for the marine mammals to give you adorable kisses, unbelievable hugs, fast belly rides, and the coolest foot push ever! Total activities depend on the program you choose, but this excursion is surely a treat for families vacationing in Grand Cayman. For example, the Dolphin Royal Swim Memories package includes a photo so you can cherish the memory forever. Want to see more sea creatures while you're on-site? The Dolphin Swim Adventure also includes access to turtles! Either way, you'll earn tons of interesting facts about marine life during your time here. And what's better than an amazing memory of swimming with dolphins? No wonder this is one of the best things to do in Grand Cayman with kids!
Dolphin Discovery is taking steps to ensure the safety of its guests during COVID-19. Learn more here.
Ride an Atlantis Submarine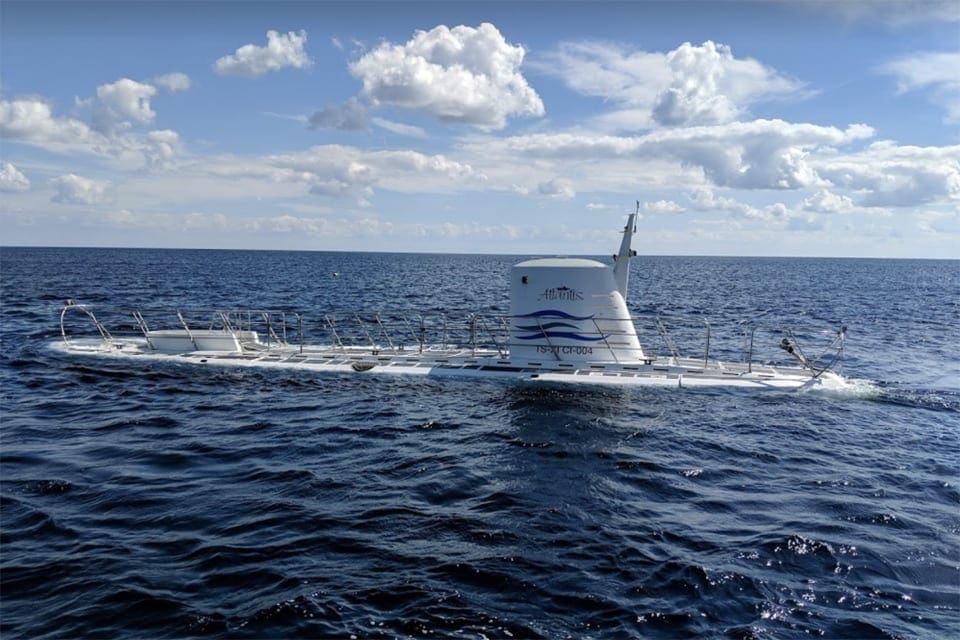 Prepare for an amazing ocean adventure with your family aboard an Atlantis Submarine! Thanks to this George Town excursion, you don't have to be a certified diver to experience Grand Cayman's incredible marine life. Now, families can plunge to the depths of the seafloor from the safety of a special submarine! Certified Atlantis Submarine tours give kids the chance to experience all of the wonders of the deep ocean. (And parents can stay worry-free without the risks and hassle of scuba-diving.) Choose a Submarine Day Tour directly from Seven Mile Beach and you'll experience Grand Cayman's marine vistas in incredible technicolor. Or, opt for an Atlantis Submarines night tour, offering a different look at the kaleidoscopic ocean world alive in the evening. Families can also consider eating an earlier dinner to take the Submarine Night Dive Tour for some of the best evening entertainment imaginable!
Learn how Atlantis Submarines are handling COVID-19 here.
Dig for Treasure on the Kittiwake Shipwreck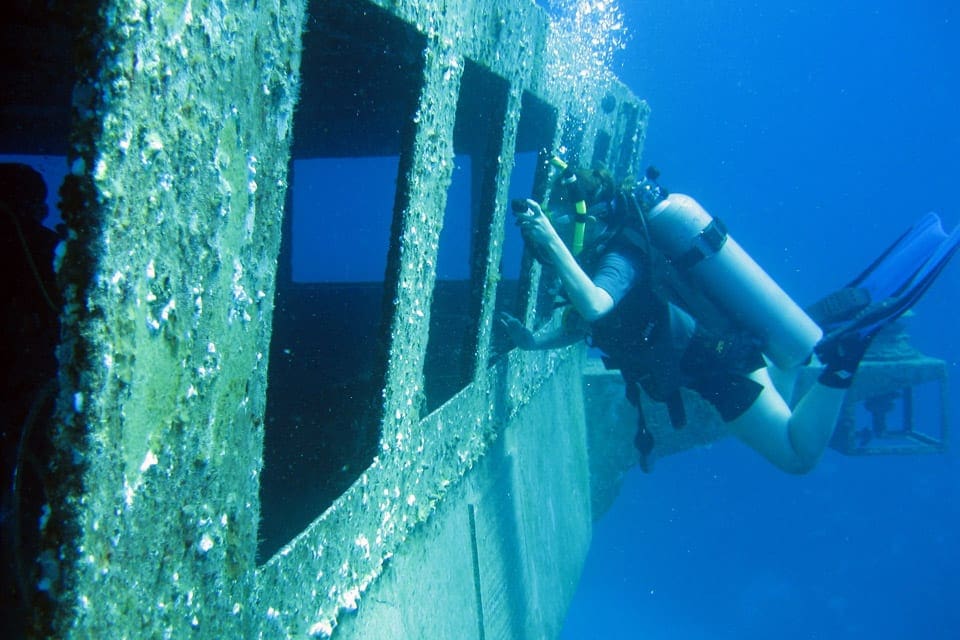 The Kittiwake Shipwreck is a fascinating excursion for adults and kids alike! Families can explore all of its nooks and crannies with companies such as Sunset Divers or Kids Sea Camp, which provides programming specifically for children. This excursion is recommended for kids ages five and up. A certified guide will ensure they're comfortable every step of the way. With all decks accessible during your dive, your family can gear up to explore treasures from the most popular shipwreck in the Caribbean. Discover beautiful marine life, vintage artifacts, and also make the process more fun by telling kids it's like a scavenger hunt. See how much random treasure you can find together! Shallow enough for a 60-minute dive, it's ideal for children because it also offers a great beginner experience. Be prepared to spend a few hours at The Kittiwake Shipwreck though; the sunken ship is nearly 251 feet long!
Happy Travels!
We hope you've enjoyed our list of the Best Things To Do In Grand Cayman With Kids! From sunbathing on shimmering shores to exploring underground caves, submarines, or snorkeling, there's surely something for everyone in The Cayman Islands. Of course, as parents, we know that traveling with children is about memories more than anything else! Enjoy a fantastic time in the Cayman Islands with your kids.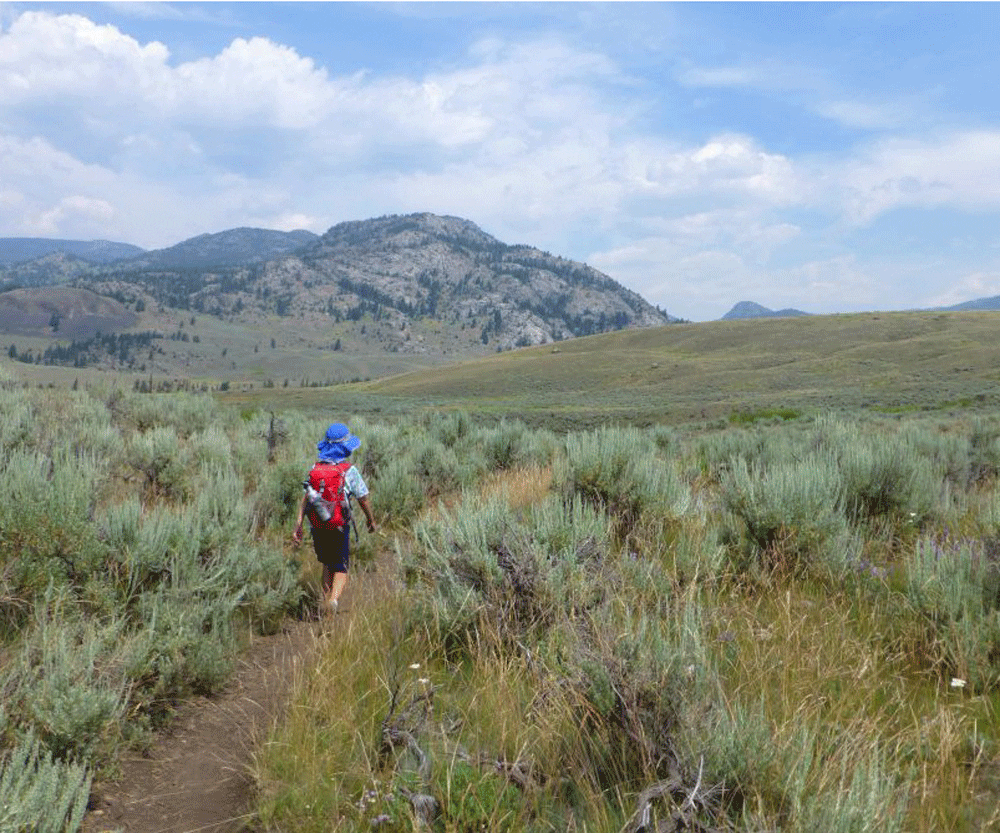 Everyone knows that Yellowstone National Park makes for a classic family vacation. Strolling the boardwalks...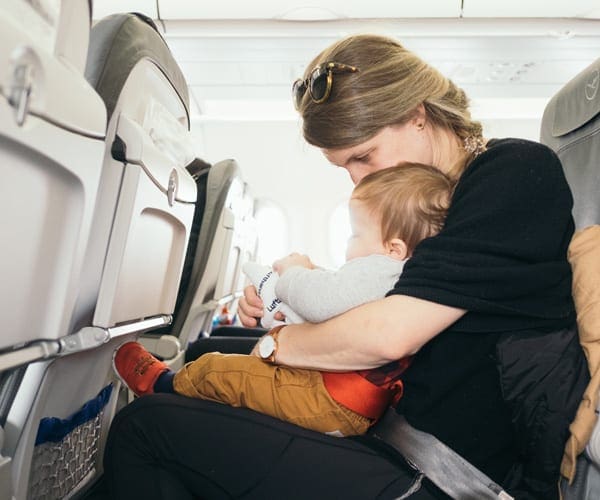 Families Who Love To Travel contributor Meghan Oaks provides her 10 best tips for your...