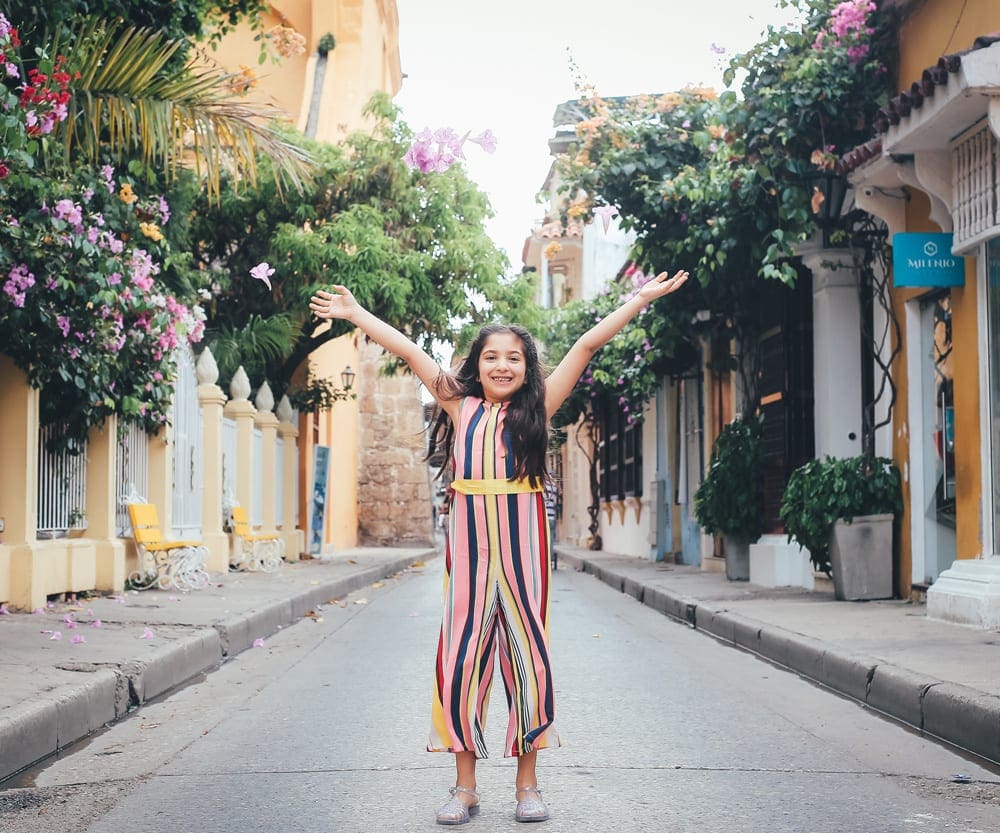 This multi-day Cartagena itinerary is perfect for families who want to experience the very best that this Colombian city has to offer. From the Old City's cobblestone streets to the beaches on surrounding islands, there's a little bit of everything in this diverse destination for everyone. Whether you want to spend the day relaxing by the pool, sightseeing around the city, or taking in some history and culture, Cartagena gives families the freedom to explore at their own pace. In this itinerary, you can customize and mix and match whatever activities interest you. So, if you're looking for a guide on how to visit Cartagena with kids, keep reading! Here's our Multi-Day Cartagena Itinerary For Families!
Day 1: Check-In & Walk Around the Old City
You'll likely spend the first day of your Cartagena itinerary for families getting settled into your hotel. If you need somewhere to stay in Cartagena with kids, we suggest the Old City (it's the tourist and commercial center of Cartagena). One great option is the Hotel Charleston, Santa Teresa, an opulent retreat overlooking the Caribbean Sea. Here, you can spend your afternoon having lunch at its famous on-site restaurant owned by a world-renowned chef, Harry Sasson.
Then, head to the pool for a bit of relaxation before you explore. Any hotel in the Old City will make it easy to explore its cobblestone streets, from the famous clock tower to fantastic water views. Make a reservation ahead of time to enjoy some drinks and an incredible sunset at Café del Mar, then visit Candé for dinner. Kids will love the colorful dancers dressed in traditional Colombian costumes! We can't think of a better way to start your Cartagena itinerary for families!
Cartagena, COL Vacation Rentals: house rentals & more | Vrbo
Day 2: Photo Shoot, Seaside Fun, & Sweet Treats
Since it's hot in Cartagena during the afternoon, you should plan some early morning activities. Book a family photoshoot with companies such as Memories, Local Lens, or Viator and an experienced photographer will capture the most iconic backdrops in the city. To cool down, families can also visit the beach, from Boca Grande or El Laguito directly in the city to Playa de la Boquilla up north.
Once kids have worked up an appetite, enjoy a nice lunch at La Vitrola. Since afternoon is often very hot, it's a good time to book an indoor activity, like a chocolate-making class. The Choco Museo offers one for families, including some swag bags to take home with you! After, you can head back to the hotel to rest and decide on dinner. If you can grab a babysitter and a reservation for a date night, Mistura serves incredible Asian Fusion.
RELATED: 11 Hot Places to Visit in December that Families Will Love
Day 3: The Aviary, Baru, & A Carriage Ride Around The City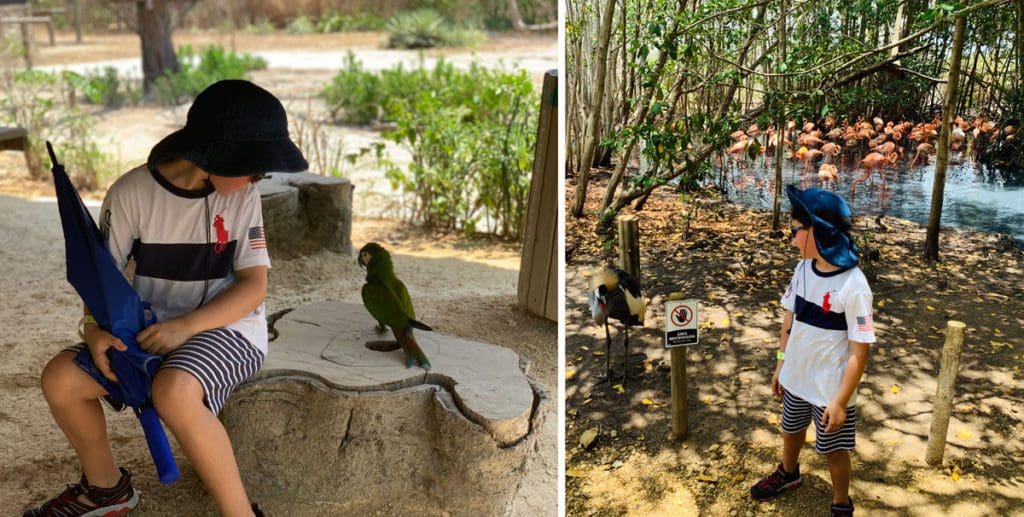 Get an early start on the third day of your family's Cartagena itinerary. We suggest visiting The Cartagena Aviary just a little outside the city. Kids will love seeing all the colorful native birds, plus there's a special live show. Then, take a boat tour to Isla Baru, a beachy oasis just 45 minutes away from Cartagena. This is a great place to cool off for the afternoon, or to grab lunch at a local seafood spot.
When you return to Cartagena, explore the Old City again. Visit Convento de la Popa for fantastic views over Cartagena or let kids climb in a model submarine at the Naval Museum of the Caribbean. There are many fantastic places to get dinner in the Old City, like the Plaza Santa Teresa Restaurant and Bar for casual food. Afterward, end your day with a horse carriage ride!
Day 4: Great Food & Getsemani
One day of your multi-day Cartagena itinerary for families should be about food. While in Cartagena, taking a cooking class is a fantastic (and delicious!) family bonding activity. Many hotels offer this experience, but if yours doesn't, you can book a class through SkyKitchen Cartagena, The Lunatico Cooking Studio Cartagena, or EME Kitchen. Learn to make Colombian dishes such as ceviche or local fish and then eat everything you prepared!
Afterward, rest for a little at the pool or in your hotel room to recharge for the evening. Once you're refueled, visit Getsemani, an up-and-coming, trendy neighborhood with lots of street art, cafes, and local culture. Explore the colorful streets, then stop at Cafe Stepping Stone for a snack. Parents can hire a babysitter at night and enjoy another date night at Restaurant 1621. Then, take a romantic horse and carriage ride to make it even more special!
RELATED: Best Spring Break Destinations Around the World that Families Will Love
Day 5: La Cevicheria, Castillo San Felipe Fortress, & Sunset Views
Once you're ready to return to the hustle and bustle of Cartagena, you can take a boat back to the city center. Depending on where you're staying, take a little time to settle into your hotel before heading out again. We suggest grabbing lunch at La Cevicheria for unique ceviche. Sometimes, there may be a wait, but it's nothing that compares to the evening wait time! While you wait, parents can even grab a drink at the nearby Sofitel Legend Santa Clara Hotel.
Afterward, head back to the hotel to relax in the pool or take a nap before the evening. Once it's almost sunset, we recommend visiting Castillo San Felipe Fortress. Perched above the city, this Colonial-era castle provides picturesque panoramas of Cartagena. Kids will also love all the unique replica cannons! Certainly, Castillo San Felipe Fortress must appear on any Cartagena itinerary for families. Finally, head to Restaurant Club de Pesca for an even more amazing view over the harbor.
Day 6: Sightseeing Boat Tour around Cartagena
A boat is a fantastic way to see local highlights by water during your Cartagena itinerary for families. Plus, with local vendors throughout the city, it's easy to embark on a fun, family-friendly boat tour! Where your tour takes you ultimately depends on which company you choose. Viator offers a variety of options to fit your time constraints and budget.
Families can take a shorter Sunset Cruise that circles Cartagena's bay a few times for the most breathtaking view. Other companies in Cartagena that offer boat tours include Sibarita Del Mar, which gives families the option to enjoy a delicious dinner with a fantastic view. Hi Cartagena also offers a variety of boat tours, whether a sunset cruise or sightseeing adventure. For a really special experience, you can even join a local captain on a swashbuckling adventure aboard a replica pirate ship!
Day 7: Shopping, Pool, & Other Miscellaneous Fun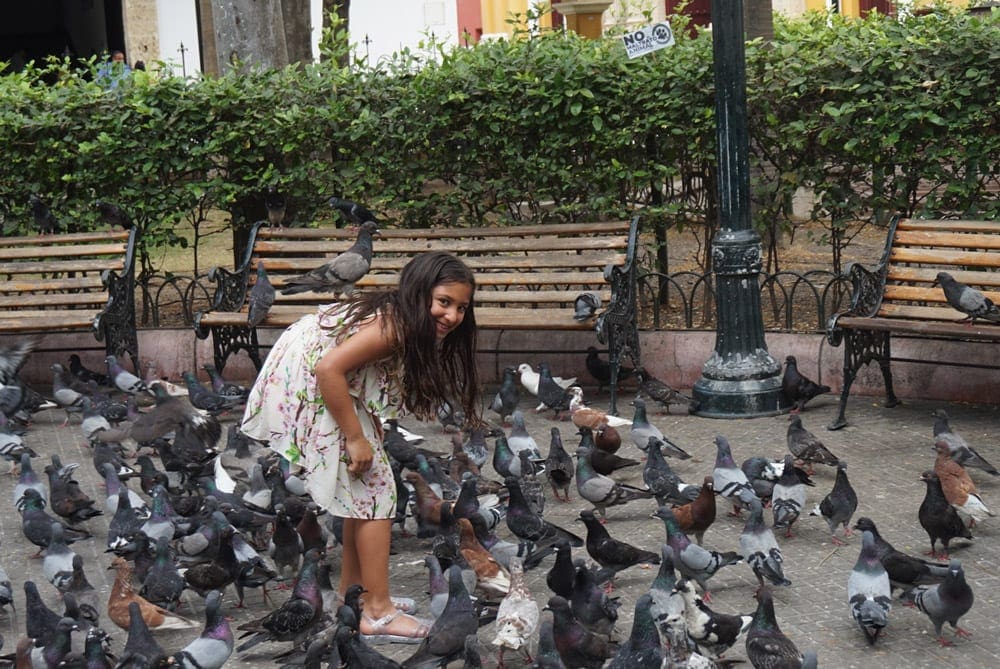 What you choose to do during the final days of your multi-day Cartagena itinerary for families is totally up to you. A lot of families prefer to relax at their hotels and simply spend the day by the pool. However, this is also a great opportunity to see the Old City one last time, and maybe even shop for some last-minute souvenirs.
Or, use it as a chance to do some activities you couldn't fit in during your vacation. Children will love feeding the pigeons outside of San Pedro Claver Church, which sits next to a bustling city square. A little bit outside of the Old City, you can also head to Parque del Centenario. This unassuming city park is home to urban animals such as monkeys, iguanas, and even sloths! If you can get a reservation, eat at Carmen for dinner.
Optional Trips Outside of Cartagena for Families
Families who want to experience Colombia outside of Cartagena should consider taking an optional day or weekend trip outside of the city on their Cartagena itinerary for families. Whether to a nearby island or historic town, there's just so much to see and do around the city, so we suggest you take advantage of it! Here are our three favorite options for families who want to travel outside of Cartagena.
Want local tips and personalized advice for your trip to Colombia or your own Cartagena itinerary for families? Connect with Laura from Go Ask A Local! She's a Bogotá-based travel agent and local guide who plans adventures all over Colombia and also offers trip planning consultations on Zoom.
Option 1: A Day Trip to the Rosario Islands
Take a family day trip to The Rosario Islands! Showcasing over 30 small islands, this beautiful archipelago is worth a stop on your itinerary. Plan at least a day to see everything though, and be sure to leave in early in the morning! Ferries depart from Old City Port, but some tours also arrange transportation for guests. Little kids will love swimming at Playa Blanca on Isla Baru, with shallow, calm waters perfect for snorkeling and swimming.
Isla Grande is the biggest and most popular island, featuring a bioluminescent lagoon to explore. Adults can book a romantic mangrove tour and little ones will love Pirate's Island. It's littered with "buried treasure" from local tours! After your scavenger hunt, eat dinner at a local seafood restaurant. Remember to check the weather beforehand since the Rosario Islands' water can get choppy depending on the season and the winds.
Purchase travel insurance with a Travel Guard plan today!
Option 2: A Weekend in Historic Santa Marta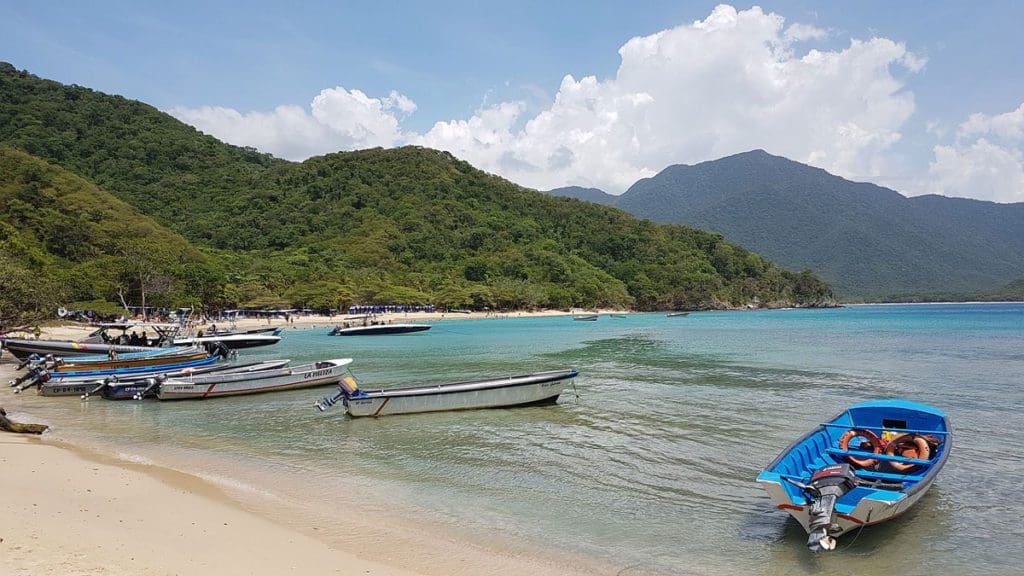 Save some time to see historic Santa Marta on your family vacation. Located north of Cartagena, this incredible city is four hours away. Families can reach it by car or bus through the Cartagena bus station. Though it may not be plausible on a short vacation, it's doable for a long weekend! Santa Marta is known for its busy port, and it was also the first Spanish settlement in Colombia.
Learn more about revolutionary Simon Bolivar at the Quinta De San Pedro Alejandrino, the 17th-century hacienda where he died. Showcasing exhibits with cool artifacts such as swords, military costumes, and more, it's located in Santa Marta's tourist district. Kids may also like to visit Santa Marta's Gold Museum (Museo del Oro Tairona), where you can see ancient Colombian jewelry. Want to skip the historical sights and spend time in the sun? Head to Tayrona National Park or Playa Cristal!
Option 3: A 3-Day Island Getaway to Hotel Punta Faro
Cartagena is a diverse city with lots of things to do. However, if you want to escape for a little and enjoy a full beach vacation, visit Hotel Punta Faro. Located on Múcura Island, this all-inclusive boutique resort in Colombia is only accessible by boat. Whether you want to spend your full Cartagena stay here or just a few nights, you'll find plenty to do as a family. Enjoy a private beachfront for kids to splash and build sandcastles while you lounge. There are also plenty of water sports such as kayaking, scuba diving, snorkeling, canoeing, and more. Kids will love the daily activities and even the conservation program that lets them release baby turtles back into the ocean.
Meanwhile, parents can book a treatment at the Spa Maria Mulata. Meals are included in your stay, so take advantage of seafood and other delicacies served buffet-style every day! Taking this side trip is sure to prove to be one of the best parts of your Cartagena itinerary for families.
Hotels and Resorts, not your scene? Rent a beautiful vacation rental using VBRO in Los Cabos. See Cabos home rental listing here.
Beach, Biking, & A Bioluminescent Boat Tour
Get an early start to make the most of a full day at Hotel Punta Faro. Charge up with a breakfast at the hotel, since there's lots of exploring to do! First, we suggest booking a panoramic boat tour through the hotel. Lasting around one hour, this scenic tour will take you around Tintipan Island and Santa Cruz del Islote, through beautiful mangrove lagoons and small fishing villages. Make your reservations in advance, since only one tour departs daily and spots fill up.
Once you're done, feel free to head to the beach for some relaxation. Or, explore the hotel with a bike! If you book a session, you can get a one-hour tour around the property with a guide, a perfect sightseeing adventure for active kids. Once night falls, take a Bioluminescent Phytoplankton Boat Tour. Kids will love seeing the water light up and swimming alongside bioluminescent marine life!
Getyourguide.com has many Cartagena Boat Tour options! Book your tour today!
Snorkeling Tour
You're probably a bit tired from all the action on your multi-day Cartagena itinerary for families. You can keep it simple with breakfast at the hotel on your seventh day. Then, depart for a snorkeling tour, which you can book through the hotel ahead of time. All boats depart from the dock next to the hotel's private beach, and the tour lasts around an hour. Tours also include basic gear and everything else you need for a day of snorkeling, which makes them great for beginners.
Catamaran sailing tours are also available if you want to see the scenery. Aside from snorkeling or visiting the beach, there are lots of other things you can do during your stay too. Revisit the spa, go biking, or play a friendly game of tennis. Don't forget about grabbing some delicious dinner from the buffet! Certainly, snorkeling is a must during your Cartagena itinerary for families.
Here are some snorkel tour options from Getyourguide.com!
Where to Stay in Cartagena with Kids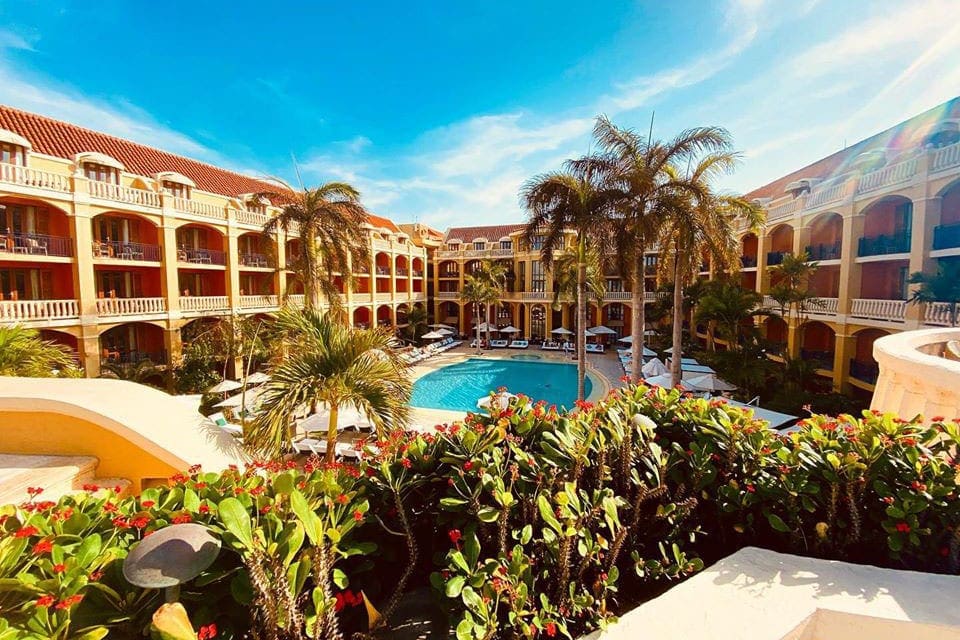 We have some suggestions if you need somewhere to stay in Cartagena with kids. As mentioned, many families like staying at Hotel Charleston Saint Teresa, a historic hotel with amazing service, a convenient location in the city center, and even a rooftop pool for kids to splash in. Another great hotel for families is the Sofitel Legend Santa Clara Cartagena, located in a converted 17th-century convent overlooking the Caribbean Sea. It's near the Castillo San Felipe Fortress and has a pool too.
Casa San Augustin and the Casa Claver Boutique Hotel are two other options. For a different kind of Cartagena experience, families can also book a stay at Hotel Punta Faro outside of the city. Wherever you make your home base, you're sure to have a great time in Cartagena using this itinerary for families.
RELATED: Where To Stay In Cartagena That Kids Will Love
Interactive Map of Cartagena
You can search and find accommodations that meet your needs in Cartagena by using this interactive map. Our location-based interactive map will help families find the ideal accommodation for their stay, regardless of their budget. Find things to do, airports, and local activities, and book restaurant reservations directly on the map using Open Table.
Happy Travels!
We hope you liked this Multi-Day Cartagena Itinerary For Families! Whether you're visiting for a short time or taking an extended vacation, we know you'll love visiting this famous Colombian destination. So enjoy Cartagena with your kids!
RELATED: Cartagena With Kids – 20 Amazing Things To Do
BOOK TOURS AND ACTIVITIES IN CARTAGENA:
*This post may contain affiliate links that may earn us a small commission, at no additional cost to you. Affiliate links in no way inform the hotels, sights, products, or other recommendations included in our articles. All opinions and recommendations expressed here are compiled from submissions submitted by the generous members of our Families Who Love To Travel community.
READ MORE:
Don't forget to join the Families Love Travel Facebook group, follow our Facebook and Instagram pages, and subscribe to our newsletter for more family-friendly travel ideas.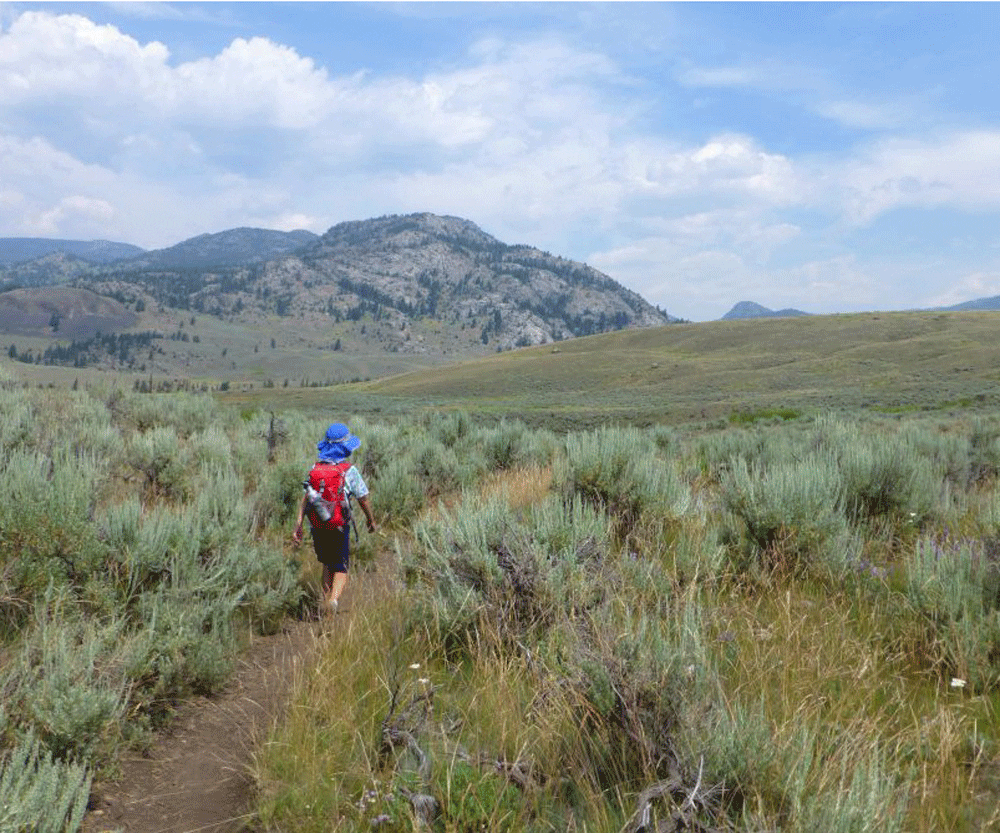 Everyone knows that Yellowstone National Park makes for a classic family vacation. Strolling the boardwalks...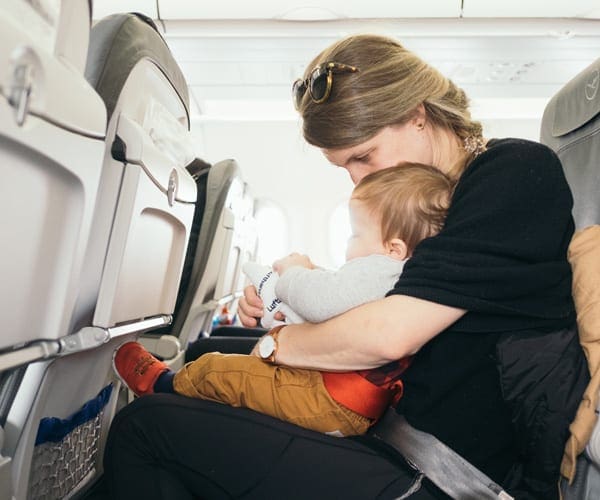 Families Who Love To Travel contributor Meghan Oaks provides her 10 best tips for your...