Along the northeast corridor, families can explore several magical Christmas towns with kids! Families will find festive holiday family getaways from New Hampshire to Massachusetts. Parents are always looking to share magical places and experiences with their kids. This is especially true during the holidays! If you're looking to embark on a Hallmark holiday, look no further than these Magical Christmas Towns In The Northeast To Visit With Kids! Whether you want a quick day trip or a weekend getaway, you'll find a lot to love about these cities. Each is chock-full of holiday spirit and festive traditions. In Lake Placid, take a lighted Holiday Village Stroll. Then, in Mystic, Connecticut watch Santa arrive by tugboat! This magical list was compiled by polling members in our Facebook community. No matter which destination you choose, enjoy the most wonderful time of the year by making memories together!
Best Christmas Towns in New York for Families
If you're hoping to celebrate Christmas in New York with kids, you won't be disappointed! From meeting Santa to ice skating, these cities are filled with holiday magic. Here are our top picks for the best places to visit during Christmas in New York for families.
RELATED: Magical Christmas Towns in the U.S. for Families
Lake Placid, NY
Take the Holiday Village Stroll in Lake Placid! This time-honored tradition is perfect for families visiting during the holidays. In December, Lake Placid turns into a postcard-perfect winter wonderland. Snow-covered mountains and ice-covered lakes await your family, promising to make all your holiday dreams come true. Kids will love getting a chance to wave at Santa! Families can even embark on a guided downhill run at Whiteface Mountain. Or, choose from cross-country skiing, sledding, snowshoeing, and more. Kids can even ice skate or dog sled across the frozen Mirror Lake! As an Olympic village, families can also explore Lake Placid's more extreme winter sports. Check out ski jumping at the Ski Jumping Complex or bobsled around a legit Olympic track! On Christmas, you'll find numerous great restaurants open, as well as the slopes. Grab your hot cocoa mug and head to one of the best Christmas towns near NYC!
Lake Placid cabin rentals – Vrbo
What Our Families Say
"My family and I love Lake Placid in the winter as it has beautiful striking scenery and a cute village with great restaurants and shops. The Olympic attractions are fun to visit and of course, Whiteface Mountain if you enjoy skiing."

– Zoe Raynes
Skaneateles, NY
If you're looking for a perfect Christmas town, treat everyone to a trip to Skaneateles. Nestled in the Finger Lakes of New York, Skaneateles is a lovely holiday getaway for families! Each year, the town hosts a special Dickens Christmas. During this holiday event, your family will meet beloved Dickens characters, like Ebenezer Scrooge. Additionally, Queen Victoria and Dickens himself grace this jubilant event! Families will delight in joyous Christmas carols while making a lifetime of memories. Afterward, stroll through the charming lit-up downtown area. Here, you'll find cozy shops offering holiday gifts for everyone on your list. Then, grab a bite to eat from one of the many fabulous restaurants. Even the pickiest eaters will find something they enjoy! Offering outdoor activities like cross-country skiing, snowshoeing, winter hiking, and ice fishing, this Christmas town in the Northeast will also keep everyone in your family busy and smiling!
What Our Families Say
"Skaneateles is a quaint town on a lake that is magical at any time of year. During the holiday season, it comes alive with the sounds, smells, and sights of Christmases past. Live carolers stroll the streets, while the storefronts sparkle with Christmas magic. It's truly like being transported back in time."

– Katie Fritzen Rienzo
New York City, NY
Christmas in the Big Apple is nothing short of spectacular! For families who want to spend their holidays in a fast-paced ambiance, New York City is perfect. Train lovers can't miss the New York Botanical Gardens for the Holiday Train Show, from the end of November through January. Gaze in awe at decorated model trains zipping through reconstructions of New York's most famous landmarks! Of course, your vacation would be incomplete without a glimpse at the Rockefeller Christmas Tree, lit from the first weekend in December. Afterward, pass the nearby shops on 5th Avenue to see the holiday displays in full swing at Macy's, Saks, etc. Bryant Park is another must during Christmas time, from its holiday shops to the ice skating rink! When you need to do some extra last-minute Christmas shopping, the Columbus Circle Holiday Market has you covered. Save time to watch the Radio City Rockettes!
RELATED: Best Family Hotels In New York City With A Pool (Includes 1- to 3-Bedroom Suites!)
Best Christmas Towns in Vermont for Families
Christmas in Vermont is sure to please everyone in your family. Enjoy a mug of hot cocoa while you snuggle up for a classic holiday special, as snow gently falls outside the window. Vermont is a picture-perfect place to celebrate the magic of Christmas together. Here are our favorite Vermont holiday getaways with kids!
Woodstock, VT
If you're looking for a charming holiday getaway with kids, Woodstock, Vermont has everything on your wish list. Woodstock's most iconic holiday tradition is Christmas at the Billings Farm. Here, your family can enjoy the classic holiday traditions of a 19th-century Vermont Christmas! The farmhouse and dairy farm are decked with historically accurate decorations, offering families the perfect opportunity to take their holiday pictures. Kids will love making traditional holiday ornaments for grandma. Then, experience other interactive programs and daily farm life operations. After visiting the Billings Farm, families can hit the trails or the slopes. Woodstock offers everything from Nordic skiing to snowmobiling to downhill skiing. No matter what your winter sport is, you'll find it here! Families out in the snow all day will also love coming back to a warm fire and hot cocoa. Here, the real Christmas magic happens – making cherished family memories!
Top 50 Woodstock Vacation Rentals | Vrbo.com
Best Christmas Towns in Pennsylvannia for Families
Pennsylvania offers some of the best places to visit during Christmas in the Northeast with kids! Whether you are looking for a city holiday or a charming Christmas town, we've identified two great cities for your holiday getaway with kids in Pennsylvania.
Bethlehem, PA
Families near Philadelphia will love embarking on a holiday getaway with kids to Bethlehem, Pennsylvania. Firstly, the Live Advent Calendar is the only one of its kind in the country! This jubilant show is a magical occasion for families. Additionally, visit the German-style Christmas huts along Main Street. Find festive gifts and stocking stuffers for everyone on your list! Then, kids can munch on holiday-inspired cookies, while you browse the market stalls. Finally, if you're looking for a unique holiday experience, embark on one of the local Christmas tours offered by the museums and historic sites in town. You can even take a Christmas stroll with a certified guide outfitted in a 1700s-era Moravian dress. Afterward, rest your feet while you explore the city by horse-drawn carriage. Finally, don't miss the city's iconic Christmas on the plaza.
If you're visiting on a Saturday, don't miss Santa's Haus! Here, kids can tell Santa what they want for Christmas, while parents can bring their own devices to take pictures of their children with Santa for free. If you want to see Santa in action, head to Bethlehem on December 5, when the Downtown Bethlehem Association and Historic Bethlehem Museums & Sites host "Storytime with Santa". Kids can listen to stories read by Santa, have holiday snacks, and create crafts with Santa's elves! With so much to offer, Bethlehem is certainly one of the best Christmas towns in the Northeast!
What Our Families Say
"Growing up near Bethlehem PA meant annual trips in December to enjoy our own Christmas City. The historic Bethlehem was settled by the Moravians and still gets a lot of its culture from this biblical religious group. There is so much to do! We have enjoyed the tree lighting ceremony, the multiple Christmas markets, the live music in the streets and trumpeters from the bell house roof, the crèche (a nativity scene hand made to welcome the Baby) in the Moravian buildings, the millions of lights, and the Moravian bookshop (the oldest bookshop in America). We have our own Moravian glass star for the top of our Christmas tree (available at the bookshop) and are excited about the expansion the City of Bethlehem is planning for this year's festivities!"

– Meg Bull
Philadelphia, PA
One of the best Christmas towns in Pennsylvania is Philadelphia! Families will love gliding around the rink at Rothman Orthopaedics Ice Rink. Whether you have new or experienced skaters, you are sure to make fun family memories while taking spins and spills around the ice. Afterward, see the luminous Christmas tree, also located at City Hall. Marvel at its brightly lit boughs while sipping on hot cocoa. If you're looking to treat everyone on your nice list, be sure to hit up the Made in Philadelphia Holiday Market. Here, you'll find seasonal gifts, crafts, and festive foods. Next, families will adore the Holiday Light Show at Shady Brook Farm. Families can drive or take a wagon ride while marveling at over 3 million lights. Local families can even purchase their Christmas tree after viewing the displays. Finally, those with tiny travelers shouldn't miss A Very Furry Christmas at Sesame Place!
RELATED: 14 Things To Do In Philadelphia With Kids During Winter
What Our Families Say
"Spending a day in Philadelphia during the Christmas season is a special tradition that has spanned generations. Families especially love to visit Macy's. The animated window displays will delight you. If you go inside you can visit a Dickens Christmas Village and see the iconic Wanamaker Organ that dates back to the 1800s. Behind the organ's grand pipes, the infamous Macy's Christmas Light show is displayed. This has been entertaining families for decades. Not to be missed is the Christmas tree at City Hall and the ice rink at Dilworth plaza. The architecture of City Hall is sure to impress (look up, you don't want to miss the gargoyles) and the garden at Dilworth Plaza is the perfect spot for photos. Franklin Square has an outdoor light show that young children will enjoy."

– Catherine Murphy
Best Christmas Towns in Massachusetts for Families
Are you looking for a holiday getaway with kids in Massachusetts? Boston is one of the best Christmas towns in the Northeast with kids.
Boston, MA
For a truly magical holiday, head to Boston, Massachusetts. Here, families will find a stunning array of Christmas joy. Firstly, you can immerse yourself in a winter wonderland of lights and decorations. Across the greater Boston area, you'll also find several restaurants and shows spreading holiday cheer to locals and visitors alike. Families looking for a show should consider the Holiday Pops concert at Symphony Hall. Young globetrotters will love ice-skating in Boston Common. Afterward, check out the free light and music show, BLINK! at Faneuil Hall Marketplace. Your kid's faces will light up with sheer merriment, matching that of the show! Additionally, you will find the city's largest Christmas trees in Boston Common and Faneuil Hall Marketplace, illustrating its champion status as the best Christmas town in Massachusetts!
RELATED: Best Hotels in Boston for Families
What Our Families Say
"The history and magic of Boston really comes alive during the Holidays. There are so many family-friendly spots to explore! Open-air markets, outdoor art displays, ice skating, and endless hidden gems throughout the city."

– Jamie Ramsdill
Best Christmas Towns in New Hampshire for Families
New Hampshire boasts two of the best Christmas towns in the Northeast with kids! Ice skating, shopping, and Christmas magic abound when you spend your holiday getaway with kids in New Hampshire!
RELATED: Best Places To Celebrate The Magic Of The Holiday Season In Disney As A Family
Portsmouth, NH
Next on our list of the best Christmas towns in the Northeast is Portsmouth, New Hampshire. Families looking to get jolly will love visiting one of the world's Christmas capitals! Load the kids in the car, turn on some holiday tunes, and take a tour of the festive lights illuminating the whole city. Celebrate Christmas all month long through Vintage Christmas in Portsmouth. Get festive with a plethora of events, including seasonal shows, winter walks, and holiday shopping! Kids will adore the outdoor-only Candlelight Stroll Under the Stars. This self-guided tour at Strawberry Banke Museum includes costumed actors and caroling, as well as other seasonal delights.
Families visiting the first weekend in December will be rewarded with the annual tree lighting and parade (held on December 4 this year)! Then, no matter when you visit for the holidays, discover Portsmouth's quaint shops to find the perfect stocking stuffers and gifts. Afterward, get cozy by the fireplace with a cup of hot chocolate as snow falls around you. Finally, find ice-skating, sledding, and cross-country skiing, among other outdoor winter activities in Portsmouth. Certainly, your family will adore this perfect Christmas town in New Hampshire!
*Please note, the Candlelight Stroll Under the Stars at Strawbery Banke Museum is sold out for the 2021 season.
North Conway, NH
North Conway is one of the best magical Christmas towns in the Northeast to visit with kids! Part of New Hampshire's scenic Mount Washington Valley, it promises holiday cheer and family fun. On the first weekend in December, attend the North Conway Holiday Festival and Tree Lighting. Enjoy a day of holiday shopping followed by a gorgeous tree lighting – and plenty of hot chocolate! Though unconfirmed for this year, North Conway also hosts other holiday fairs, like the Stocking Stuffer Craft Fair. Kids will especially enjoy hopping aboard the Conway Scenic Railroad for a special ride with Santa! Not only will you get an amazing view of the mountain, but you'll do it alongside Mr. and Mrs. Claus! Since North Conway provides a gateway to Mount Washington, it's also a popular destination for winter sports. Enjoy skiing, snowboarding, tubing, snowmobiling, and more at the Bretton Woods Nordic Center!
Best Christmas Towns in Maine for Families
Maine is a wonderful place to spend Christmas break with kids. Grab a mug of hot chocolate and cozy up together in one of the best Christmas towns in the Northeast!
Kennebunkport, ME
The charming town of Kennebunkport, Maine offers a truly magical holiday getaway with kids! Kennebunkport will celebrate its 40th Annual Christmas Prelude this year! This year you can also find one of Kennebunkport's time-honored traditions virtually – the Annual Hat Parade. During this event, you can show off your self-designed and created holiday headwear. Kids will love getting creative for this festive event! In town, you'll also find seasonal craft fairs and holiday shopping, including an outdoor market! After stocking up for everyone on your shopping list, treat kids to a trolley ride. Onboard, you can enjoy lovely views of a wooded winter wonderland. Then, don't miss snapping socially distanced photos of your kids with Santa on the "Golden Chariot" trolley. Kennebunkport also offers numerous outdoor activities, including horse-drawn carriage rides, ice-skating, winter beach walks, and festive accommodations, like the Kennebunkport Inn.
RELATED: Discover the 8 Best Maine Hotels For Families
Best Christmas Towns in Connecticut for Families
Connecticut offers one of the best Christmas towns in the Northeast with kids. Sing Christmas carols, munch on holiday favorites, and make long-lasting memories when you spend Christmas in Mystic.
Mystic, CT
Take a holiday family vacation to Mystic, Connecticut. Mystic offers seasonal favorites like photos with Santa, holiday markets, and caroling. See Santa arrive by a tugboat and then meet him at Mystic River Park. Afterward, stay for the traditional tree-lighting. If you plan your visit right, you'll be able to spectate at one of the season's best events, a Lighted Boat Parade! Watch decorated boats cruise through the harbor spreading Christmas cheer. Then, meander the paths of Olde Mistick Village. Lit by thousands of luminaries, this path also offers live entertainment and holiday munchies. Musical families won't want to miss the Community Carol Sing. This time-honored tradition is celebrated by locals and visitors each year. In fact, it has been spreading Christmas joy for over 70 years! Finally, families can also spend time hiking or downhill skiing while in town.
Happy Magical Travels!
We are sure you found a perfect holiday getaway with kids within the Magical Christmas Towns In The Northeast To Visit With Kids! From Lake Placid to Philadelphia, families will love treating their kids to a holiday family vacation. There is no better gift than time with your family – especially when exploring the world! Create new holiday traditions by the northeast this holiday season. Whether you are looking for a quick day-trip near NYC or a festive weekend getaway as a family, we know you'll focus on the most important part – creating life-long memories together!
RELATED: 11 Hot Places to Visit in December that Families Will Love
Thank You to Our Community!
A special thank you to our family travel community for helping compile this list of the Magical Christmas Towns In The Northeast With Kids! As always, this article would not have been as magical or as insightful without their collective travel wisdom. They are a group of amazing families who love adventure and exploring through travel. Are you hoping to take a holiday getaway with your kids? Join the Facebook community and the Instagram community (@families.love.travel) to get inspiration, ask questions, and connect with other families who love to travel.
*Due to the COVID-19 pandemic, some of the attractions, accommodations, or things to do on this list may be closed. Please ensure availability before making your decision.
*This post may contain affiliate links that may earn us a small commission, at no additional cost to you. Affiliate links in no way inform the hotels, sights, products, or other recommendations included in our articles. All opinions and recommendations expressed here are compiled from submissions submitted by the generous members of our Families Who Love To Travel community.
READ NEXT:
If you're looking for a fun and relaxing vacation with your family, then you should...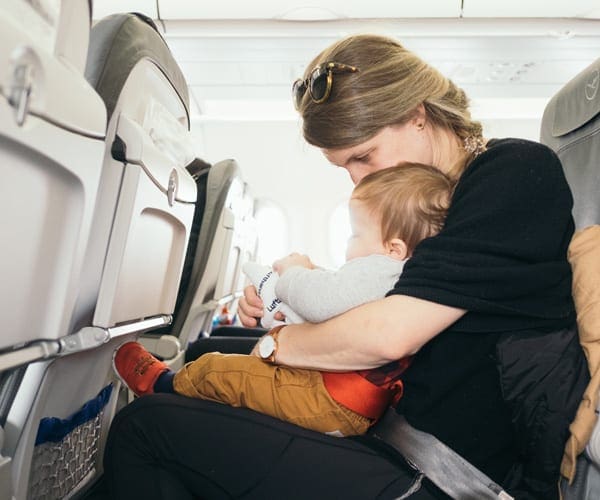 Families Who Love To Travel contributor Meghan Oaks provides her 10 best tips for your...