​​From the sun-kissed beaches of Crete to the rugged terrain of Rhodes, these all-inclusive hotels in Greece offer unique experiences tailored for families with kids of all ages! You can relax completely with amenities, including swimming pools, spas, water parks, and more – all while experiencing authentic Greek culture firsthand. Get lost in stunning landscapes woven throughout each hotel's surroundings, or fill your days with activities designed especially for little ones. Then, indulge in delicious meals without worrying about additional costs, since everything is included! In case you're not sure which part of Greece you want to visit, we've divided this list by region and included a bit of information on each place, plus where to stay with your kids. Keep reading to plan your unforgettable Mediterranean adventure!
Why Plan an All-Inclusive Family Vacation to Greece?
Wondering why you should plan an all-inclusive family vacation to Greece? From rolling hills and beautiful beaches to ancient ruins and charming seaside villages, this laidback country is sure to inspire awe in your entire family. Plus, the Greeks are renowned for their hospitality, so families will be greeted with warm smiles. Whether you want to take in the history and culture of Crete, visit the beaches of Halkidiki, or head to a low-key island like Kos, each place boasts its own charm. Greece is also home to some of the best seafood in the world, and you'll be able to enjoy it to your heart's content on an all-inclusive vacation. And, with an all-inclusive vacation package, you can rest assured that all of your activities and excursions are taken care of before you even step foot on Greek soil!
Greece is a popular destination for families, especially in the summer months. Keep in mind that all-inclusive resorts in Greece can be quite crowded during peak season, so if you're looking for a more relaxed vacation, consider traveling during the shoulder or off-season.
Click here to read A Guide To The Best All-Inclusive Family Resorts In Europe For An Unforgettable Vacation!
Best Regions in Northern Greece for an All-Inclusive Family Vacation
Families searching for the ultimate vacation that combines relaxation and adventure will love northern Greece! Home to some of the best all-inclusive resorts in Greece for families, the stunning region offers an array of breathtaking landscapes alongside a rich cultural heritage, making it a remarkable place to visit as a family. Let's start planning your unforgettable adventure to Greece!
Halkidiki
Families looking for the ultimate vacation experience in Greece need to visit Halkidiki, where the best all-inclusive hotels await! This region boasts a stunning coastline stretching across three peninsulas, perfect for soaking up some sun and enjoying a refreshing swim with your little ones. Each leg has its own distinct flavor, but they all share that famous Greek hospitality that will make your family feel right at home during your all-inclusive vacation to Halkidiki!
For example, Kassandra offers vibrant nightlife and bustling beach scenes, perfect for families who want to mix relaxation with entertainment. Sithonia combines serene landscapes with stretches of golden sand beaches, ideal for a quiet escape away from crowds. Meanwhile, Mount Athos, which you can only reach by ferry, offers religious tours and picturesque views.
When it comes time to unwind after an action-packed day, there are few better ways than at one of the top-notch all-inclusive resorts dotted throughout this amazing area. From luxurious spas to fabulous dining options every night of your stay, Halkidiki promises unforgettable memories, picture-perfect scenery, delicious cuisine, and fun-filled days that will have you coming back year after year!
Best All-Inclusive Hotels in Halkidiki for Families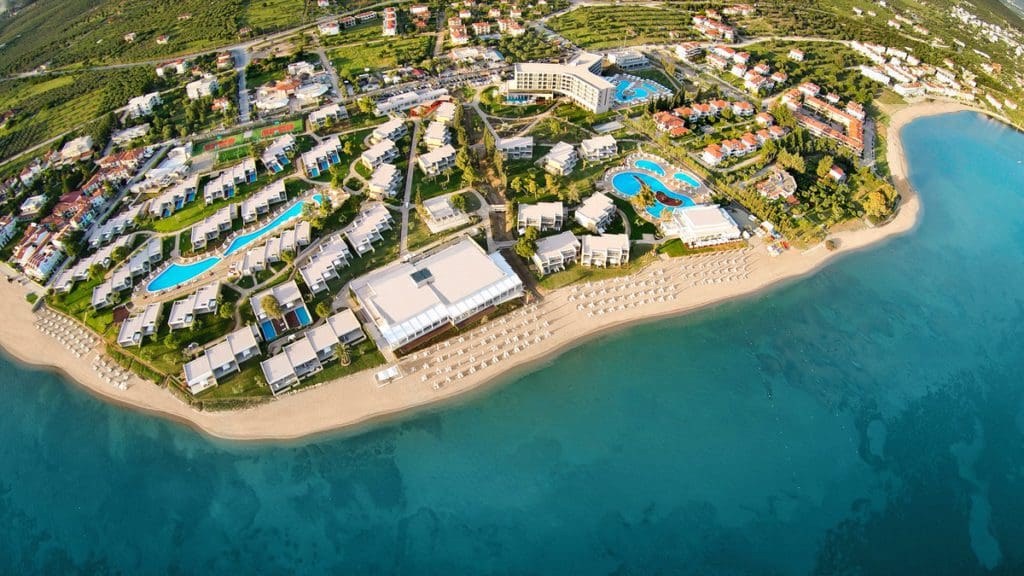 If you want the ultimate all-inclusive experience for your Greece family vacation, look no further than Halkidiki. Whether it's lounging by the pool or participating in adventurous water sports, there's never a dull moment at these all-inclusive hotels in Greece for families. Keep reading to learn more!
Best Greek Islands for an All-Inclusive Family Vacation
Planning a family vacation in Greece? Finding the best all-inclusive hotels for families is essential. Luckily, there are plenty of incredible options to choose from on some of the best Greek islands! From Corfu to Crete, Kos to Rhodes, each island has a range of hotels and resorts that offer endless entertainment options for kids and adults alike. Keep reading to book your perfect family vacation in Greece today at one of its most kid-friendly destinations!
READ NEXT: 8 Stunning Greek Islands For Families To Visit On Vacation
Rhodes
Rhodes, known as the Island of Knights, presents an array of luxurious and accommodating options that cater specifically to families! Located off the southern coast of Turkey, it boasts an interesting Medieval history, dating back to its occupation during the Crusades. Since this is one of the farthest islands from mainland Greece, however, many families opt to take a two-hour flight from Athens to Rhodes. Though there are ferries, we don't recommend this option for traveling with kids, since the trip can be more than 15 hours.
Though it's much smaller and more low-key than Crete, there are plenty of things to do in Rhodes with kids. In The Old Town, little ones can wander around the Knights' Quarter. Don't miss the ​​Palace of the Grand Master of the Knights of Rhodes, the Archaeological Museum of Rhodes, and a chance to explore the Aquarium of Rhodes. Take a boat trip to Lindos to discover the Ancient Acropolis of Lindos. Or, see thousands of fluttering butterflies at Butterflies Valley!
And when it comes to accommodations, Rhodes has some of the best all-inclusive hotels in Greece that are perfect for families. Picture yourself lounging poolside while your kids are entertained at the hotel's kid's club. Or, enjoy delicious meals included in your stay without ever having to leave the resort!
Best All-Inclusive Hotels in Rhodes for Families
Whether you're looking for a laid-back holiday or an action-packed adventure on your Greece family vacation, there's something for everyone in Rhodes. Keep reading to find out the best all-inclusive hotels in Greece for families!
Crete
Crete is one of the largest and most popular Greek islands – and for good reason! From stunning beaches to historical landmarks such as the Palace of Knossos, delicious local cuisine, and authentic Greek culture, this bustling destination south of Athens has something for everyone in your family. It's also convenient to reach since there are three different airports and six ports. Most families take a ferry from Piraeus, the main port of Athens, to Chania or Heraklion. You can use an inter-island ferry if you're interested in visiting Crete after another island.
Chania and Heraklion are the ideal towns to make your home base, featuring tons of restaurants and attractions within walking distance. However, a car is essential if you want to explore Crete outside of these major cities.
Of course, there's also lots to do on Crete with kids, from the Venetian Port and Chrissi Akiti Beach to Balos Beach or the CretAquarium. Kids interested in history can even visit the Rocca a Mare Fortress and Museum! The island also boasts many luxurious resorts offering unparalleled amenities such as kids' clubs, water parks, and various dining options. Parents can grab some much-needed relaxation time while their children are entertained with daily activities and games.
Best All-Inclusive Hotels in Crete for Families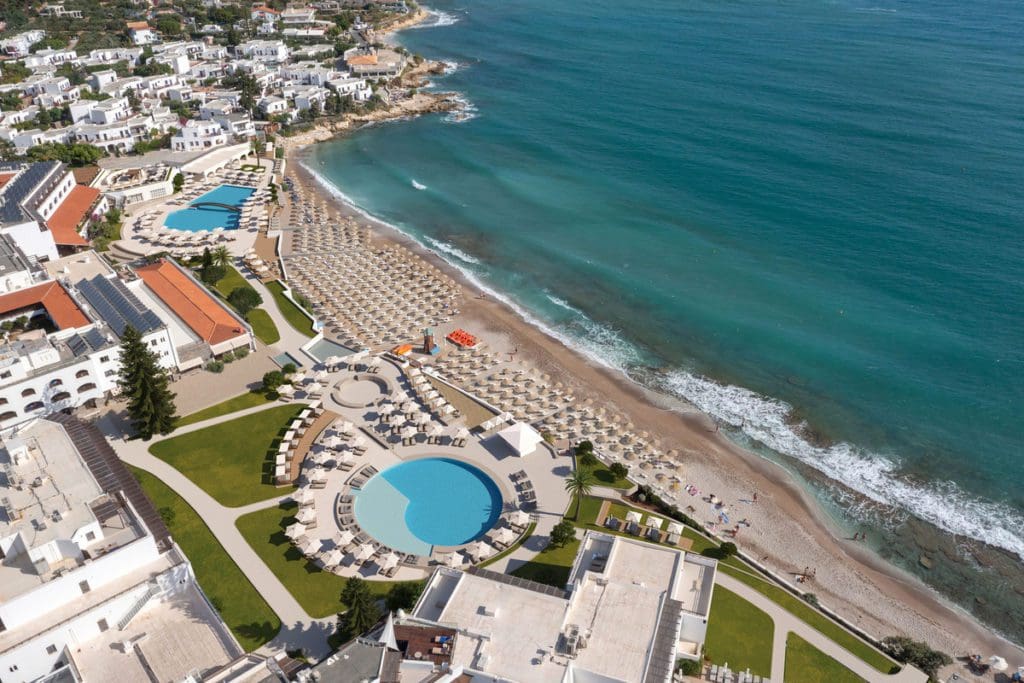 What makes Crete stand out from other Greek destinations is its wide range of all-inclusive hotels geared toward families. You'll have access to everything you need right on-site. Keep reading for our favorite options!
READ NEXT: 16 Exciting European Beach Destinations For Families
Other All-Inclusive Hotels in Crete for Families
Looking for more all-inclusive hotels in Greece for families? Here are some more options!
Corfu
Corfu is an absolutely magical island located just off the northwest coast of mainland Greece! Thanks to its unique terrain, which covers lush greenery and sandy shorelines, it's a popular place for outdoor activities, including biking, hiking, swimming, and snorkeling. One of the quickest ways to get from Athens or other parts of mainland Greece to Corfu is by flight. There are no ferries between Athens and Corfu. However, there is a ferry between Corfu and Igoumenitsa, another port city on mainland Greece. During peak season in the summer, there are around 30 ferry crossings a day from the northern pier, located near the city center.
Families can explore the famous Old Town of Corfu and stroll its narrow cobblestone streets. Or, head to northwestern Corfu to visit the picturesque seaside village Palaiokastritsa. There are lots of different caves for adventurous kids to discover, plus Aqualand.
But what truly sets this island apart are the family-friendly accommodations with top-notch amenities! Whether you want resorts with their own waterparks or those located right on the beachfront with stunning views, Corfu gives you access to some of the most amazing options available in Greece's best all-inclusive hotels for families.
Best All-Inclusive Hotels in Corfu for Families
Families who want a laidback all-inclusive vacation will love Corfu, which combines the size of Crete with the low-key, family-friendly vibes of Rhodes to provide the best of both worlds. Here are some of our favorite accommodations on the island!
Also Read: 14 All-Inclusive Resorts In Italy For Fun and Easy Family Vacations
Kos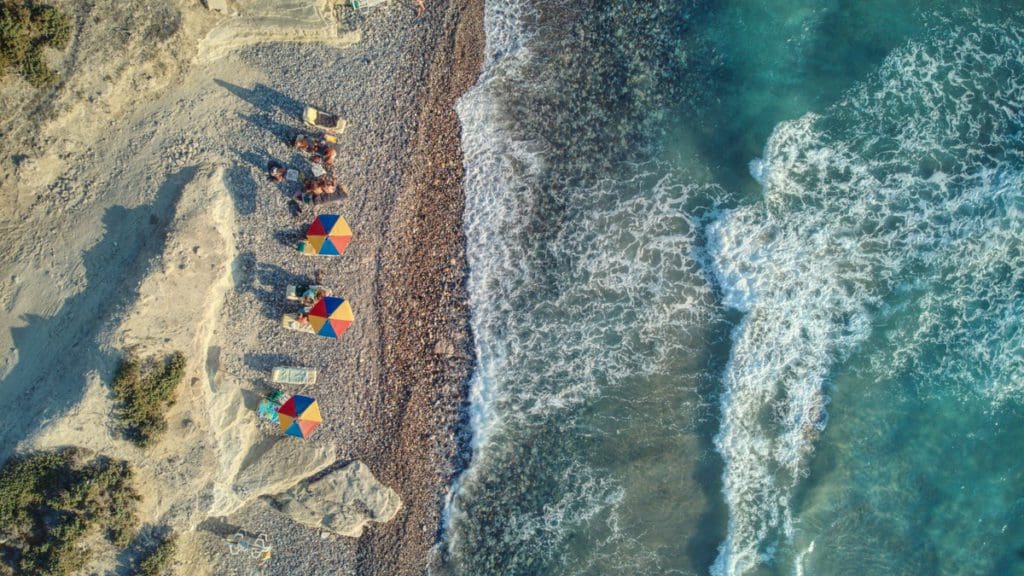 Families on the lookout for a low-key Greek island that offers both kid-friendly activities and all-inclusive relaxation: Kos is the place for you! This incredible island boasts endless options to entertain your family, from soaking up the sun on its golden beaches to exploring historical sites. Plus, it's easy to reach! Families can fly into Athens and then take a connecting flight or ferry to Kos, or you can even drive straight from Athens to Piraeus Port and catch a ferry directly to the island. Its geography also allows families easy access to many other enchanting islands nearby, such as Kalymnos, Nissyros, and Pserimos, by taking short ferry rides.
Your whole family will stare in amazement at the Byzantine and medieval-style buildings in Old Town Kos. The history of ​​Neratzia Castle, a fortress with great views over the harbor, may also fascinate kids. The town of Kefalos is also a popular spot for young families with children, as it features a family-friendly beach and calm waters. For older kids and teens looking to learn more about Greek culture, visit Asklepieion, one of Kos's famous landmarks known as Hippocrates' temple. Kids will also love a trip to Lido Water Park, which features a wave pool, multiple waterslides, a lazy river, and more.
And when it comes to finding the best all-inclusive hotels in Greece for families, Kos has plenty of options to choose from, with amenities such as pools, kids' clubs, and more.
Best All-Inclusive Hotels in Kos for Families
When it comes to finding the best all-inclusive hotels in Greece for families, Kos is surely the cream of the crop. This beautiful island is home to some truly incredible family-friendly resorts that offer everything from luxurious spas and pools to unbeatable beaches and activities for kids of all ages. Here are some suggestions!
RELATED: 10 Best Places to Travel with Kids in Europe
Happy Travels!
We hope you liked this list of the Best All-Inclusive Hotels In Greece For Families (Divided By Region)! Whether you're seeking fun-filled days packed with activities or relaxing moments by the beach, there's something here for everyone. Enjoy your all-inclusive vacation to Greece!
*This post may contain affiliate links that may earn us a small commission, at no additional cost to you. Affiliate links in no way inform the hotels, sights, products, or other recommendations included in our articles. All opinions and recommendations expressed here are compiled from submissions submitted by the generous members of our Families Who Love To Travel community.
READ MORE: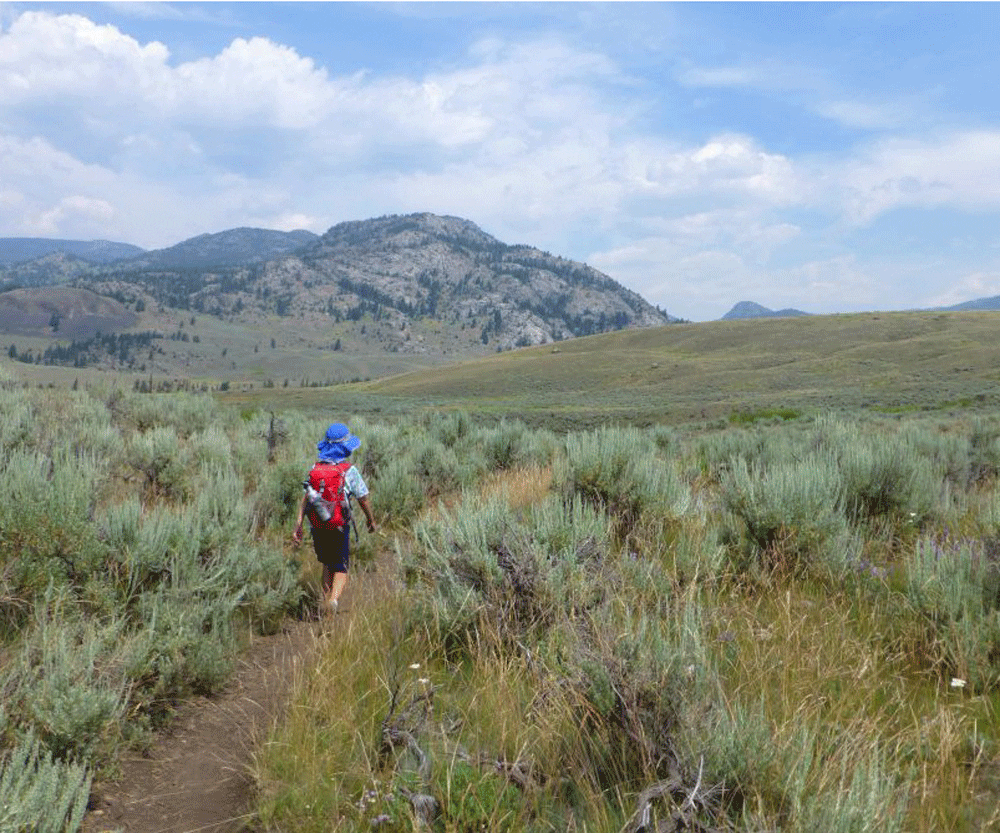 Everyone knows that Yellowstone National Park makes for a classic family vacation. Strolling the boardwalks...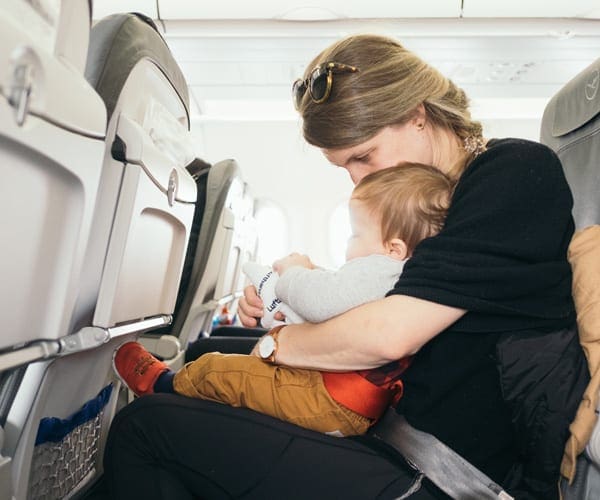 Families Who Love To Travel contributor Meghan Oaks provides her 10 best tips for your...