When searching for the best places to visit in Italy with kids, you'll never be short on options! From the Colosseum in Rome to Florence's Duomo, gondola rides in Venice, Sicilian beaches, and the ancient ruins of Pompeii, kid-friendly attractions are abundant throughout the country. Whether you want to learn more about historical monuments, eat your way through major cities, or take in the gorgeous scenery, it's a great choice for a family vacation. There are also many kid-friendly activities, such as cooking classes, wine tastings, and bike tours. Plus, Italy is a very safe country and the locals love kids! So, next time you want to explore all that this beautiful country has to offer, we've compiled a list of the Best Places To Visit In Italy With Kids. Stay tuned to plan your next adventure!
Best Places to Visit in Italy with Kids for History and Culture
Families who love history, art, and culture can't go wrong with visiting these Italian destinations! From Florence – also known as the "cradle of the Renaissance" – to the streets of Rome's historic city center, there are so many fun ways to explore a new place and learn something in the process too. Here are our favorite historical places to visit in Italy with kids!
Italy is 1 of the 10 Best Places to Travel with Kids in Europe, find out who else made the list!
Rome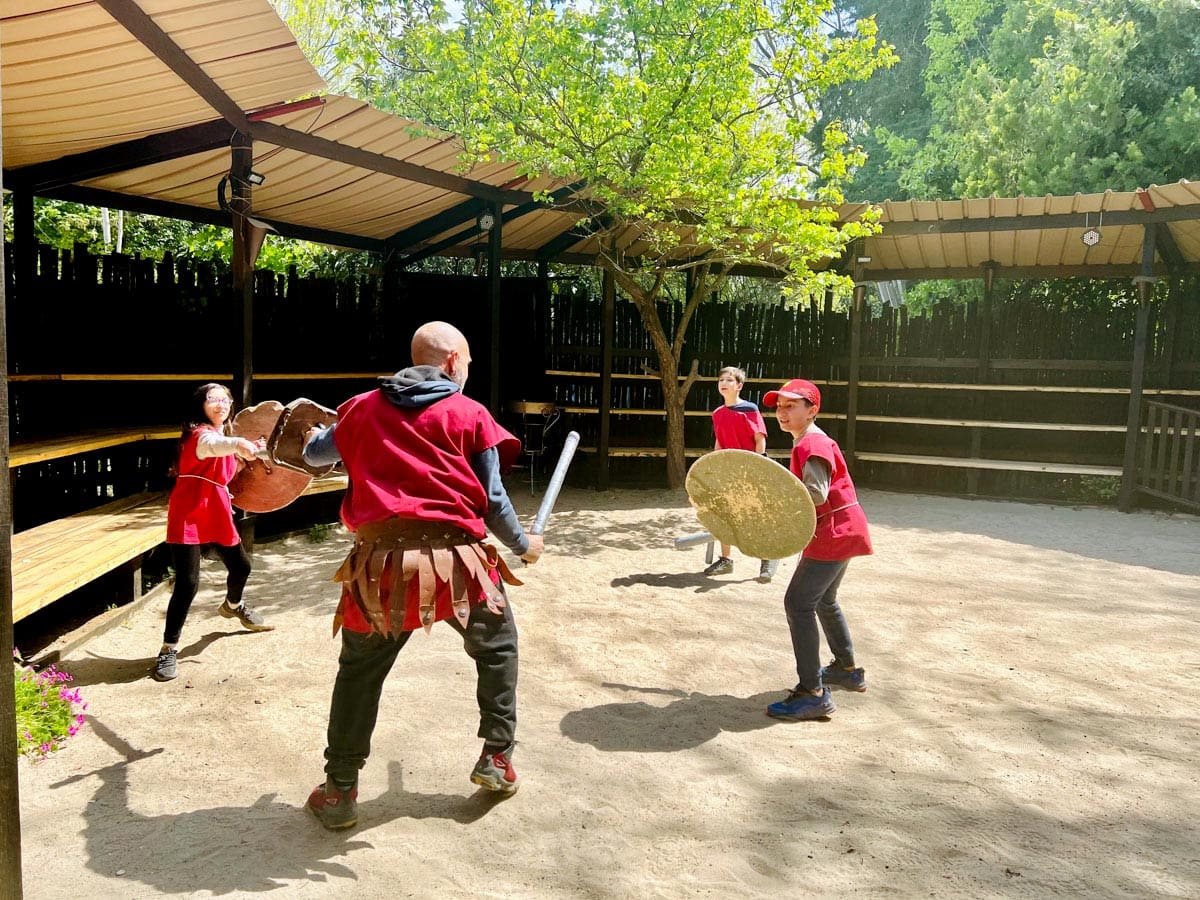 Travel back in time when you visit Rome as a family! From the Colosseum and the Vatican to ancient ruins, bustling town squares, and delicious food and dessert, this Italian city has something for everyone. Start your exploration in the historic city center to see landmarks like the Pantheon or Piazza Navona. Adventurous teens will love taking a tour of the spooky Catacombs of St. Callixtus while little kids can make a wish in the Trevi Fountain!
Families can also enjoy the great outdoors at Villa Borghese. For a fun indoor activity in Rome, young kids can challenge their imagination with hands-on exhibits at the Explora Children's Museum. Meanwhile, older children who love art can visit the Galleria Borghese or Villa Doria Pamphili. Rome is also located near many theme parks kids will love, including Roma World, Cinecittà World, and Rainbow Magicland!
Families can also take various tours and classes in Rome, from cooking to bike tours or even gelato tasting. Either way, after a long day of exploring Rome, treat kids to gelato from Cremeria Monteforte, Pico Gelato, or Gelateria La Romana!
Looking for a walking tour in Rome? Viator offers a Skip The Line Tour of the Colosseum, Roman Forum, and Palatine Hill!
Families visiting Rome should check out these 35 Fun & Educational Things To Do In Rome that Kids Will Love!
Venice
From the famous Grand Canal to the charming Piazza San Marco, Venice is an iconic destination for families! This car-free and extremely walkable city in northern Italy usually ranks at the top of many kid-friendly bucket lists, and it's not hard to see why. There's so much art, history, and culture to take in, alongside stunning views. Explore by taking a fun gondola ride along the canals or circle Venice on a Vaporetto, which will be an experience within itself. Kids will also love wandering the secret passageways of The Doge's Palace or enjoying a birds-eye view from St. Mark's Campanile, aka the Bell Tower. For an educational excursion, take a kid-friendly tour or enroll kids in a class, like cooking or mask-making. Don't forget about crossing the Rialto Bridge, the oldest in the city!
Of course, families can also escape Venice for the day and explore nearby islands. Learn about glassmaking on Murano, see the colorful houses of Burano, or enjoy the pristine shorelines of Lido!
For a flexible cancellation policy, Viator offers a Skip-the-Line Doge's Palace and St Mark's Basilica Tours plus Venice Walking Tour. Viator also offers a fantastic Venice Carnival Mask-Making Class for kids. GetYourGuide also offers a Create Your Own Carnival Mask Workshop.
Start planning your Venice itinerary today thanks to our list of 1​​6+ Best Sights and Activities in Venice For Kids (And Parents Too)!
Florence
Experience centuries of history, culture, and art when you visit Florence! As the capital of Italy's Tuscany region, this family-friendly destination is a must when planning your itinerary. Stroll around the city center, stop for a break in Piazza della Repubblica, or cross the Ponte Vecchio and browse its various market stalls. San Lorenzo Market is wonderful too. For good luck, kids will also love rubbing the nose of Fontana Del Porcellino.
Of course, a trip to Florence would be incomplete without seeing the iconic Duomo and climbing the tower! Florence is also home to countless kid-friendly museums, from the Leonardo Da Vinci Museum to the Galileo Museum. Art lovers can't miss the famous Uffizi Gallery and seeing Michelangelo's David at the Accademia Gallery! After, enjoy a nice leisurely stroll or picnic at the Boboli Gardens.
Families can also take a boat cruise, enroll in a cooking class, or take a walking tour to get acquainted with the city. Viator also offers a Florence City Hop-on Hop-off Tour, which lets families get scenic views of the city while visiting venues such as the Duomo, Palazzo Pitti, etc. With so much to do and see, this is undoubtedly one of the best places in Italy to visit with kids!
Don't forget to consider these 20+ Things You Cannot Miss When Visiting Florence With Kids!
Pompeii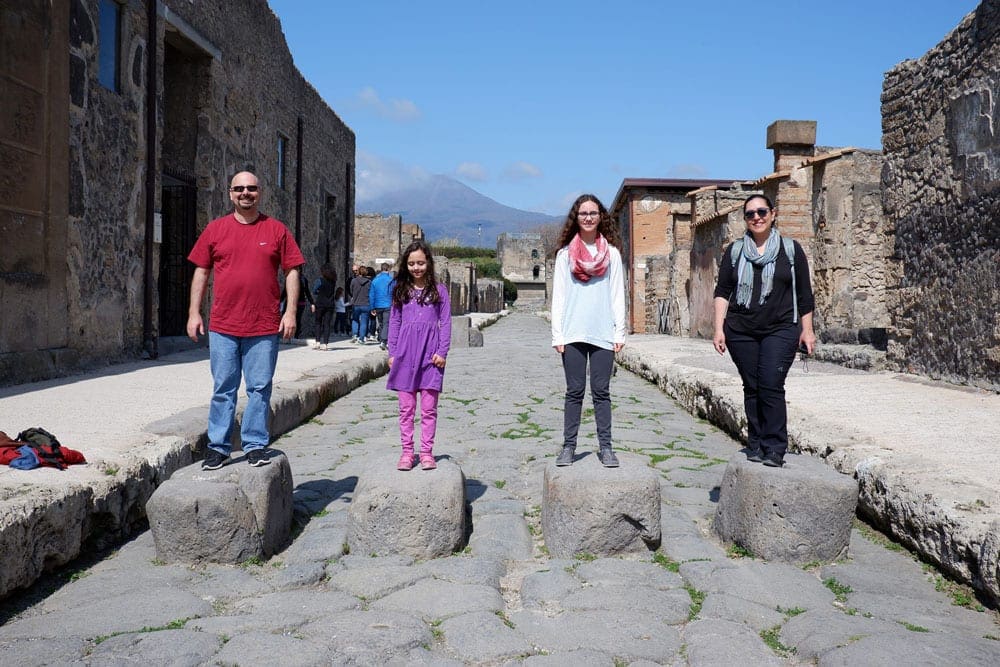 When most people think of Pompeii, they think of the disaster that occurred there. However, this extensive archaeological site in southern Italy's Campania region is also a fantastic place to learn about history, architecture, and culture!
Firstly, start by exploring the ruins of the ancient city in Pompeii Archaeological Park and telling kids how it was destroyed by the eruption of Mount Vesuvius. Many guides can show you around and explain the history in more detail. Then, head to the Pompeii Amphitheatre. Children will love imagining gladiators fighting and animals roaming around! Families can also visit the Pompeii Archaeological Museum, which has an extensive collection of artifacts. Art lovers may prefer seeing the glittering frescoes and mosaics of Villa dei Misteri or House of the Faun. Don't forget to stop by the Pompeii Forum to learn even more about this ancient city!
If you're looking for something more active, there are several hiking trails in the area. Families can also see Vesuvius National Park, where they can learn about the volcano that destroyed Pompeii. Finally, take a boat ride around the Bay of Naples. Kids can see Pompeii from the water and get a different perspective of the city. Of course, no visit to Pompeii is complete without trying some of the local food!
Check Out Virtual Vacation to Naples and Pompeii to learn more!
Best Lakes and Mountain Destination in Italy to Visit with Kids
Looking to beat the heat in Italy? While the country can be quite hot in the summer, there are lots of mild weather destinations your family will love. Keep reading for the best places to visit in Italy with kids for milder weather!
Plan your next Italian getaway with our Exciting 5 to 10-Day Rome Itinerary With Kids: What To Do And Where To Go!
Lake Como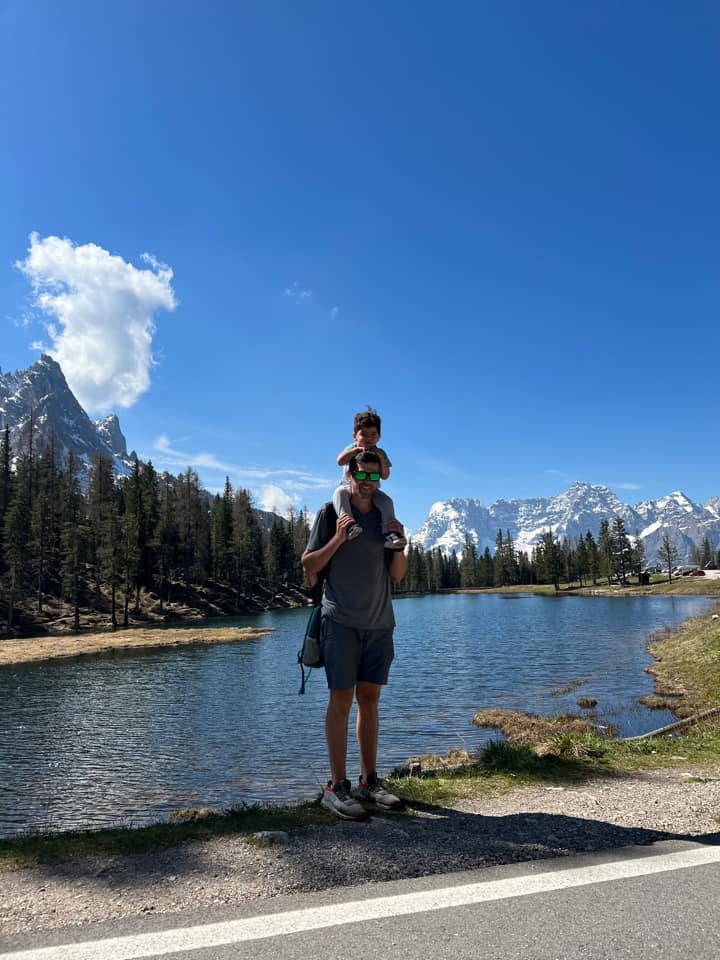 A summer vacation to Lake Como is sure to be memorable! Located at the foothills of the Alps in Italy's Lombardy region, temperatures reach around 70-80 degrees in this upscale resort area. That means it's perfect for families who want to escape the heat and enjoy a mild-weather adventure, from scenic boat rides to exploring medieval castles and ruins.
Families who want to experience a taste of Italian culture can also visit one of the many villages along the lake, from Bellagio to Varenna, Menaggio, and Lenno. Kids will especially love swimming in the crystal-clear waters of Lake Como or renting a paddleboat to explore on their own. There are also several beaches along the lake where kids can swim and play, including Colonno Beach, Lido di Lenno, and Lido di Argegno.
Want to see more of Lake Como? Hike the Wayfarer's Path, beginning in the town of Varenna and traveling through woody hills. Another fantastic way to admire Lake Como is by seeing Brunate, a small village located on top of the mountains. Take the funicular for a great view! Of course, when you're ready for a break, there are plenty of ice cream shops and cafes to keep kids happy.
Traveling from Milan to Lake Como? Viator offers a Lake Como and Bellagio Day Trip from Milan!
Look here for a vacation home rental in Lake Como through Plum Guide!
The Dolomite Mountains
Whether you're vacationing in the summer or the winter, the Dolomite Mountains are definitely one of the best places to visit in Italy with kids! Located in northeastern Italy, this famous, family-friendly destination boasts everything from winter skiing to summer hiking. So, no matter when you visit, there are plenty of chances to explore its gorgeous valleys, serene lakes, scenic hikes, and so much more.
See Lake Garda, one of the biggest in Italy, to enjoy beautiful views over the mountains. Kids can swim, take a boat ride, or windsurf in the summer! Other lakes in this region include Lago di Braies, Lago di Sorapis, and Lago di Carezza. Hiking is also a must, and some beautiful spots include the Alpe Di Siusi Valley, Puez-Geisler National Park, and Cortina d'Ampezzo, where kids can learn more about the town's Olympic legacy.
Of course, no trip to the Dolomites would be complete without tasting the local cuisine. Stop at Rifugio delle Odle for a delicious dinner and amazing views over the mountain!
Avoid the summer heat in these 17 Best Mild Weather European Destinations For A Family Summer Vacation!
Best Beach Destinations to Visit in Italy with Kids
Enjoy fun in the sun, beautiful views, and more scenic excursions at these incredible beach destinations in Italy! It's no secret the country has some stunning shorelines, and a lot of them are kid-friendly too. Stay tuned to learn more about our favorites!
Sardinia
Families who want a scenic beach destination in Italy will love Sardinia! As one of the best places in Europe for families to vacation in the summer, this island off the coast of Italy boasts stunning shorelines, delicious restaurants, and historical wonders.
Firstly, visit the quaint, coastal town of Cala Gonone. Here, families can soak up the sun at Spiaggia Centrale, showcasing pristine white sand and calm waters to splash. Kids will love a trip to the Cala Gonone Aquarium! Or, head to San Teodoro, a popular resort town home to La Cinta Beach. It features white pebbles and vivid turquoise water for swimming, paddling, and kite surfing. In the evening, families can visit local outdoor markets to browse handmade pottery, rare cheese, or locally grown fruit juice.
Sardinia is certainly one of the best places to visit in Italy with kids, which means there's so much to do with kids! Families can also take a ferry to the Maddalena Islands, only twenty minutes away from the port town of Palau. Kids won't be able to get enough of the vibrant sand at Pink Beach in Budelli, showcasing a stunning shoreline straight from a postcard!
Sun, soft sand, and calm waters await your family in these 16 Exciting European Beach Destinations For Families!
Puglia
For families visiting Italy in the summer, there's no better destination than Puglia. Located in southern Italy, this gorgeous region is famous for its cozy beaches tucked into coves on the Adriatic Sea, historic architecture, and top-notch food. The best part is you are unlikely to encounter jellyfish here (unlike the beaches on the Mediterranean side of Italy)!
Firstly, families can visit the capital, Bari, to wander around the old town, enjoy seaside fun, and eat delicious seafood (don't miss Strada delle Orecchiette, where kids will marvel at the women quickly making pasta outside their homes). Or, head to the nearby coastal town of Polignano a Mare to visit some of the best beaches in the region. Further down the coast, Monopoli is one of the best cities in Puglia for families seeking time on the beach. Here, visit free beaches like Spiaggia Cala Porta Vecchia (lifeguard on duty), Porto Rosso, Cala Susca, or Cala Monaci (lifeguard on duty). If you're seeking a lido (or beach club), where you can rent beach loungers and umbrellas, head to Porto Nero for older kids and teens, Cala Paradiso for kids of all ages, and Lido Santo Stefano for cool castle views.
Then, Lama Monachile is surrounded by clear waters, rugged cliffs, and a Roman bridge. Overlooking ancient city walls, the charming town of Gallipoli features an iconic lighthouse, golden sand, and calm waves at the Beach of Purity. After a day in the sun, explore the Old Town, featuring cobblestone streets, lively ambiance, and gelato shops! When you're ready to head inland, be sure to check out Alberobello, Ostuni, and Lecce to visit churches, dine on scrumptious traditional foods, meander charming city streets, and more!
Look for exceptional homestays with Plum Guide in Puglia here!
Forte dei Marmi
If you're searching for a perfect beach location in northern Italy, look no further than Forte dei Marmi. Located in Tuscany, it showcases a tranquil ambiance, pristine beaches, and gorgeous scenery. Plus, it's often less crowded than other touristy destinations nearby, like Cinque Terre. This makes it perfect for a vacation with kids!
Enjoy over seven miles of coastline and find a spot to spend the day swimming or building sand castles. (Keep in mind you'll have to rent a cabana at most sections of the private beach.) Kids will love exploring the town via bike, visiting the Wednesday morning farmer's market, or learning about history at Forte Lorenese. There's also a small amusement park, gelato shops, boutiques, and Michelin-star restaurants.
Book your vacation rental in Forte dei Marmi here with Vrbo!
Sicily
Spend your family vacation in Italy exploring Sicily, the biggest island in the Mediterranean Sea! With picturesque scenery, a distinct culture, and tasty food, it continues to distinguish itself from the mainland in many ways. From beautiful beaches to temples, archeological sites, and mosaics, there's simply so much to see and do with kids.
Children will love the old-world charm of Palermo, featuring a breathtaking beach, fascinating ancient ruins, and sprawling botanical gardens. Just fifteen minutes from the city center, you'll also find the coastal community of Mondello. Enjoy a namesake beach with soft, fine sand, shallow water, and abundant sea life for snorkeling. There's also an old fishing village next door. Kids can watch the boats go by and sample the yummy catch of the day!
San Vito Lo Capo is another beautiful location in Sicily for families to visit during the summer. It showcases clear, blue-green water, white sand, and the Zingaro Nature Reserve. Families can enjoy the sunshine and then explore the trails next door at the nature center for an amazing view! Cefalù, a coastal city in northern Sicily, houses priceless archeological wonders like the Norman Cathedral inside its Old Town, alongside a long sandy beach. Lampedusa, accessible via ferry, is a small island with one of Italy's most pristine beaches, Spiaggia Dei Conigli. This is one of the rare places in Europe where loggerhead turtles hatch their eggs, so it's certainly worth a visit!
Reserve your dream vacation rental home in Sicily through Plum Guide here!
Click here to learn more about Italy and more of the 10 Best Places to Travel with Kids in Europe!
Happy Travels!
We hope you liked this list of the 10 Best Places To Visit In Italy With Kids! From historical ruins to hiking, biking, and visiting the beach, Italy is certainly a unique place for your next European escape. Enjoy Italy with your kids! 
All About Italy With Kids: Important Information To Know
*Due to the COVID-19 pandemic, some of the attractions, accommodations, or things to do on this list may be closed. Please ensure availability before making your decision.
*This post may contain affiliate links that may earn us a small commission, at no additional cost to you. Affiliate links in no way inform the hotels, sights, products, or other recommendations included in our articles. All opinions and recommendations expressed here are compiled from submissions submitted by the generous members of our Families Who Love To Travel community.
READ MORE: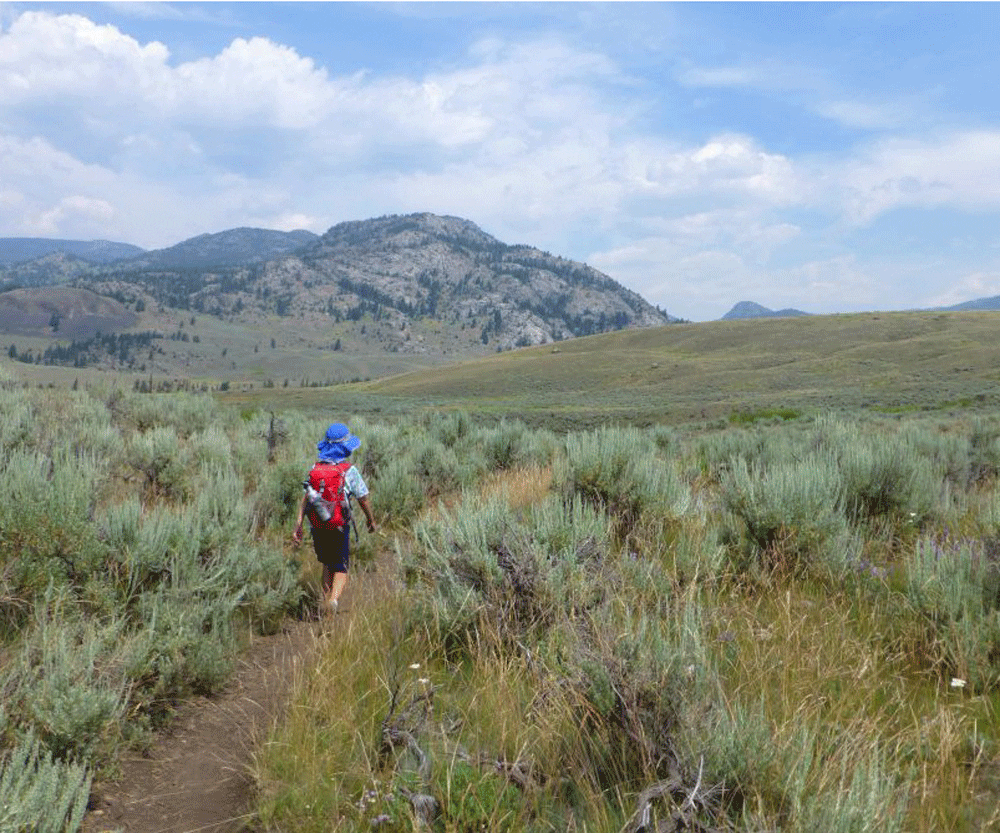 Everyone knows that Yellowstone National Park makes for a classic family vacation. Strolling the boardwalks...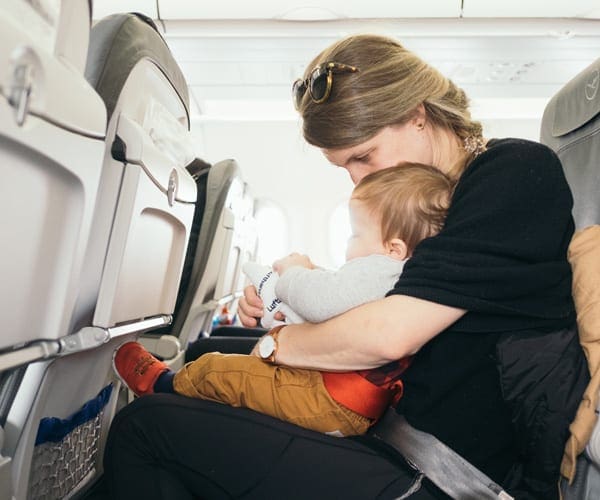 Families Who Love To Travel contributor Meghan Oaks provides her 10 best tips for your...