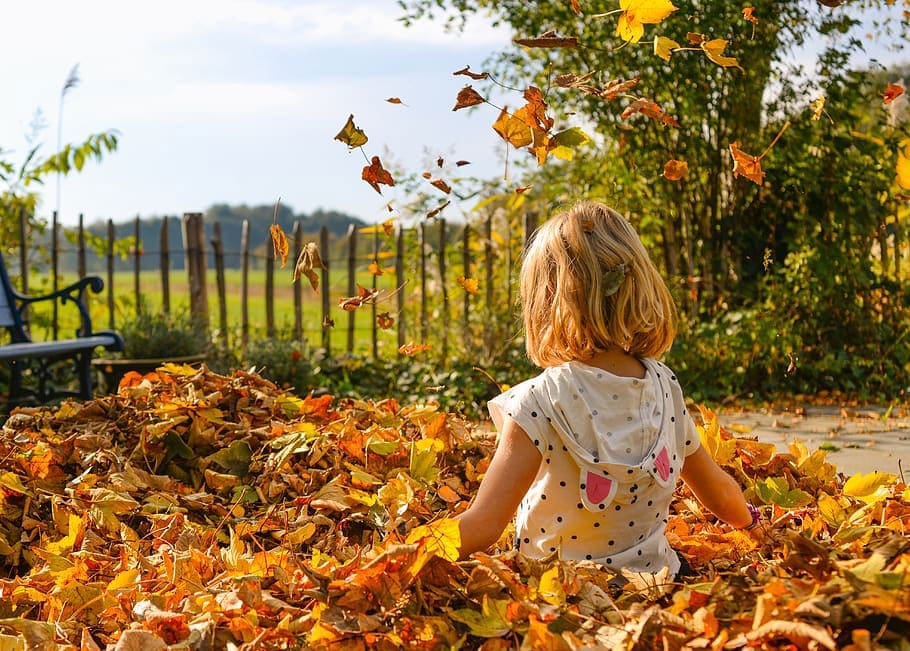 Fall is fast approaching, which means it's time to see the fall colors in Colorado with kids! As summer winds down and we make our plans for back to school, this is a perfect time to consider a fall trek to one of the best places to visit in Colorado in fall with kids. Though the Western U.S. tends to be less known for its autumn foliage than the Midwest or East Coast, Colorado has many beautiful areas for families to enjoy the fall foliage. In fact, there's no better place to start than these 10 Beautiful Drives for Fall Colors in Colorado with Kids! Driving to see the leaves change color is great for adults looking for a relaxing day trip, but often kids get excluded from the fun. As such, this list includes features to maximize the experience for everyone in the family!
The Best Time For Fall Colors in Colorado With Kids
Fall in Colorado is a beautiful time of year, which draws many people to the mountains. There are only a few, precious weeks where the vibrant colors of the golden aspen contrast the bright blue of the Colorado skies. Generally, mid-September to mid-October are the peak times, but this varies by location and year. Colorado is also known for its beautiful aspen trees, whose shade protects wildflowers, wildlife, and many hikers in the summer. But did you know that Colorado also celebrates the cherished weeks of fall when aspen trees turn the mountains golden? You may be wondering where the best locations to experience fall colors in Colorado with kids. Luckily, we have compiled a list of the ten best scenic drives for fall colors in Colorado with kids. Plus, we've included kid-friendly stops along the way to enrich your breathtaking fall family road trip!
Peak to Peak Highway & Trail Ridge Road
A well-known route among locals, Peak to Peak Highway is a picturesque drive through haunted ghost towns (with some rich gold mining history) and stunning mountain scenery. Popular because of its close proximity to the Front Range, many people frequent this beautiful highway looking for golden leaves and an autumn breeze. As you head north from Black Hawk to Estes Park, Hwy 72 will bring you past Nederland. Stop here for a magical ride on the Carousel of Happiness! It's a must when taking a road trip to enjoy the fall colors in Colorado with kids.
Once you reach Estes Park, walk the beautiful creekside trail through town. Meander through the quaint shops and tasty restaurants. There are even a few musical features for the kids to explore! Visit Estes Park Visitor Center for the scavenger hunt to find all the Pikas in the Park. Finally, book a night at the Stanley Hotel for an extra thrill. A trip to Estes Park isn't complete without driving through Rocky Mountain National Park and of course, the famous Trail Ridge Road. Certainly, Estes Park is one of the best places to visit in Colorado in fall with kids!
Estes Park, CO Vacation Rentals: cabin rentals & more | Vrbo
Rabbit Ears Pass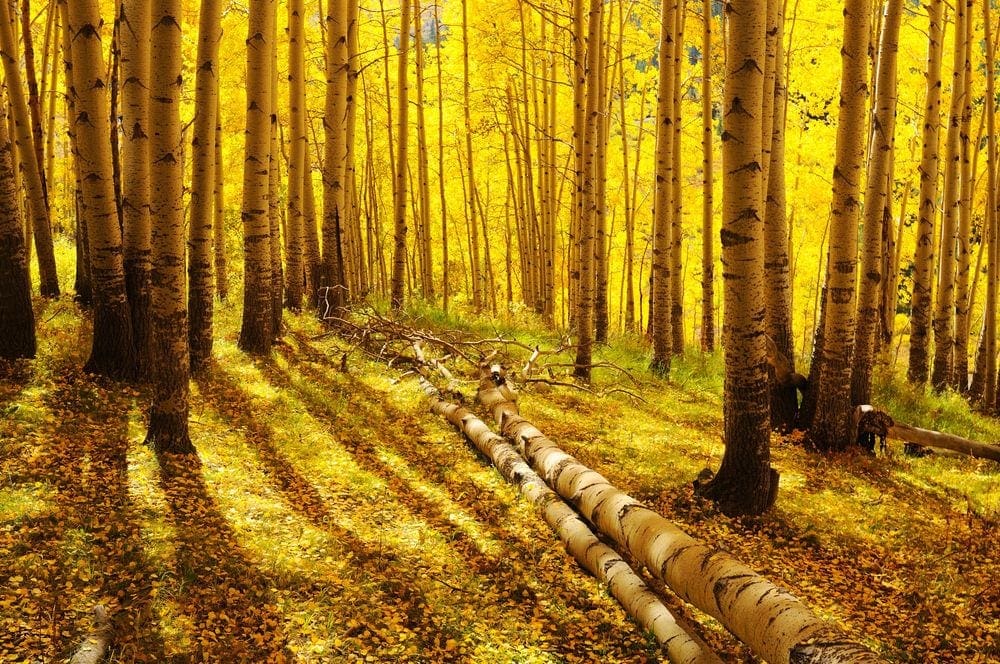 Next, choose to journey toward Steamboat Springs and travel through Rabbit Ears Pass, along Hwy 40. Here, your family will marvel at stunning Colorado fall colors along your trek! After arriving in Steamboat Springs, consider embarking on these other 3 fall color drives. Your stay in Steamboat won't disappoint! Explore a free walking tour offered by Tread of Pioneers Museum, showcasing Steamboat's Olympic, natural, and Western history. Plus, enjoy the Yampa River Botanic Park, which features 50 different gardens! Then, bring the kids to Burgess Creek Beach and let them splash in the water. Finally, have children choose from the hot springs or the alpine slide as you plan your itinerary! Families can also fill their itinerary with these top family activities in Steamboat Springs.
Guanella Pass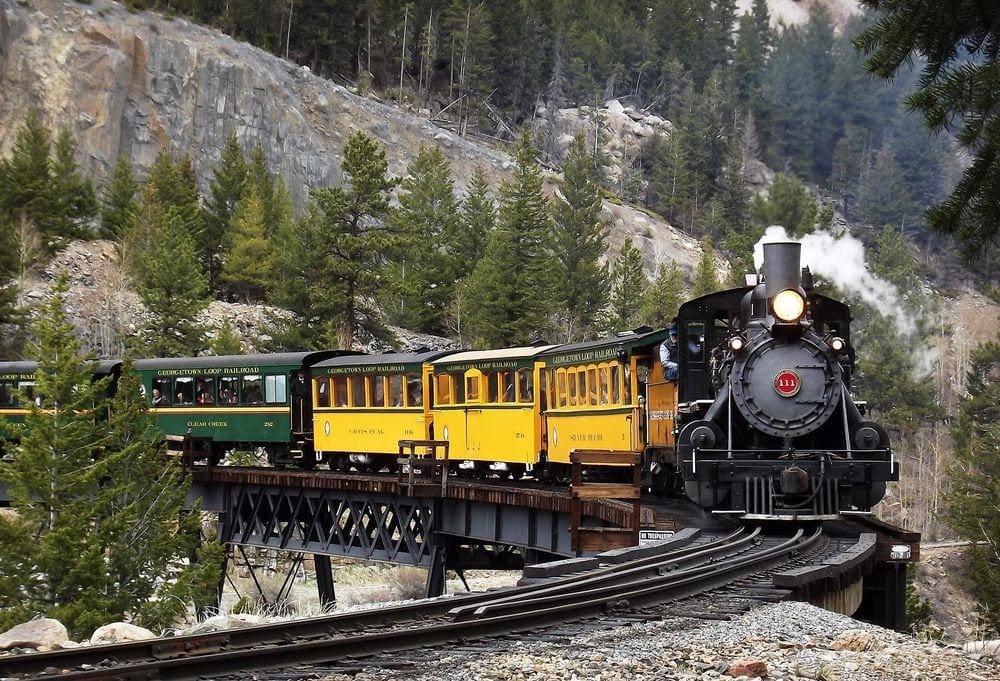 Guanella Pass is a very popular drive to experience fall colors in Colorado with kids. Due to its proximity to Denver (within an hour), many motorists also make Guanella Pass part of their family road trip in Colorado, no matter the season! Nearby Georgetown is a beautiful Victorian town with many museums for budding historians to venture through. As you travel the pass, though, look for fall colors and Mt. Bierstadt, one of Colorado's many fourteeners. Be sure to stop at Georgetown Wildlife Watching Area for a glimpse of the bighorn sheep roaming the mountainside too! Families can even enjoy a brilliantly colored train ride on the Georgetown Loop Railroad. Kids are sure to feel like they are on a grand adventure as they view dazzling fall colors along the route. Don't forget to check their website for special train events!
RELATED: The Best Fall Foliage Tours by Train, Boat, or Car in the Northeast for Families
Kenosha Pass
Kenosha Pass is another Colorado destination to see its spectacular fall foliage. About an hour outside of Denver, you'll find this notable pass connecting nearby Conifer to Fairplay. This beautiful location truly shouldn't be missed! Vibrant reds, oranges, and yellows will splash in front of your eyes as you pass the wide-open expanses of this high altitude pass. Take a few moments to take everything in — and then snap lots of pictures! Once you reach Fairplay, be sure to visit the kid-friendly South Park City Museum. Don't miss the printable coupon for a discounted entry. This lovely center brings various parts of Colorado history to life for kids to explore in a tangible way. Then, expand your adventure in this area by adding Boreas Pass to your itinerary, our next stop on this list of fall colors in Colorado with kids!
Boreas Pass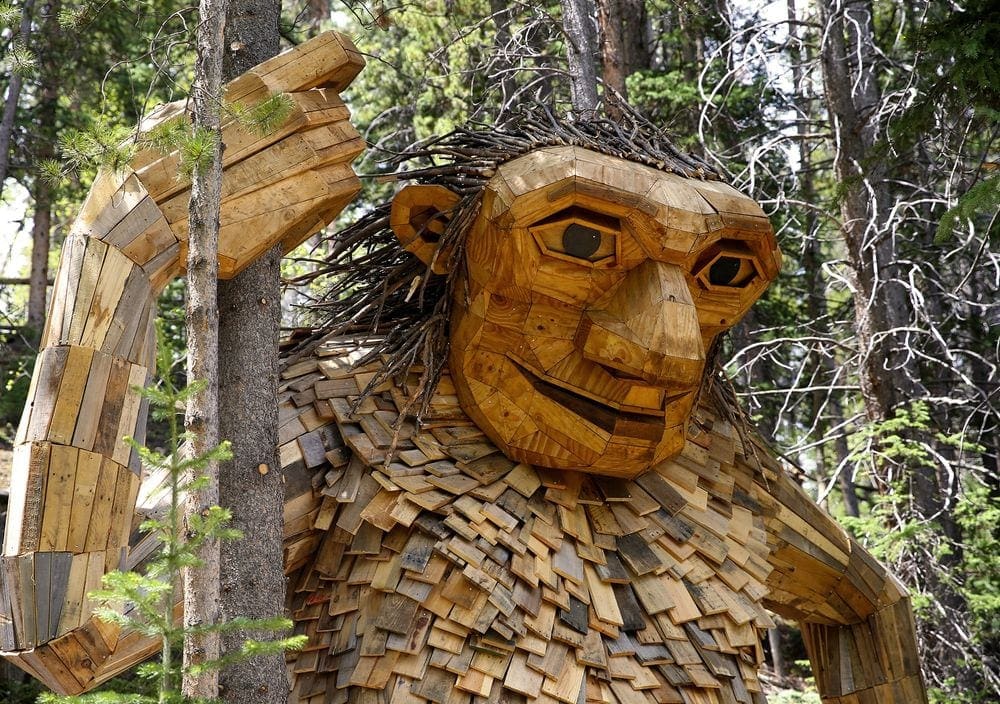 Boreas Pass stretches 20 gorgeous miles between Como and Breckenridge. This enchanting pass offers a chance to see golden and auburn hues ablaze, with the added benefit of smaller crowds. Relics from the past, such as an old water tank, train cars, and old historic buildings can be seen from the road. Use these objects as a scavenger hunt for kids along the way! Start in Como, with a stop in town, to help connect the historical sites you see as you drive through the Boreas Pass. What makes this pass truly magnificent is the way the aspen trees make a golden tunnel through winding sections of the road. Open the window to breathe in crisp fall air as you weave through these gilded tunnels.
Then, spend the day in Breckenridge. Here, experience one of the best places to visit in Colorado in fall with kids as you walk the main street to shop and eat. Stunning ski hills serve as the backdrop for this perfect afternoon. Additionally, Breckenridge has some wonderful playgrounds to let your kids stretch their legs. The High Line Railroad playground is the perfect stop for your kids to enjoy a snack after a short hike, for example. Looking for a great local hike? Try visiting Isak Heartstone, the Breckenridge 15-foot wooden troll. We can't think of a better way to enjoy fall colors in Colorado with kids than by seeking our tricky troll friend!
Top 20 Breckenridge, CO cabin rentals | Vrbo
Independence Pass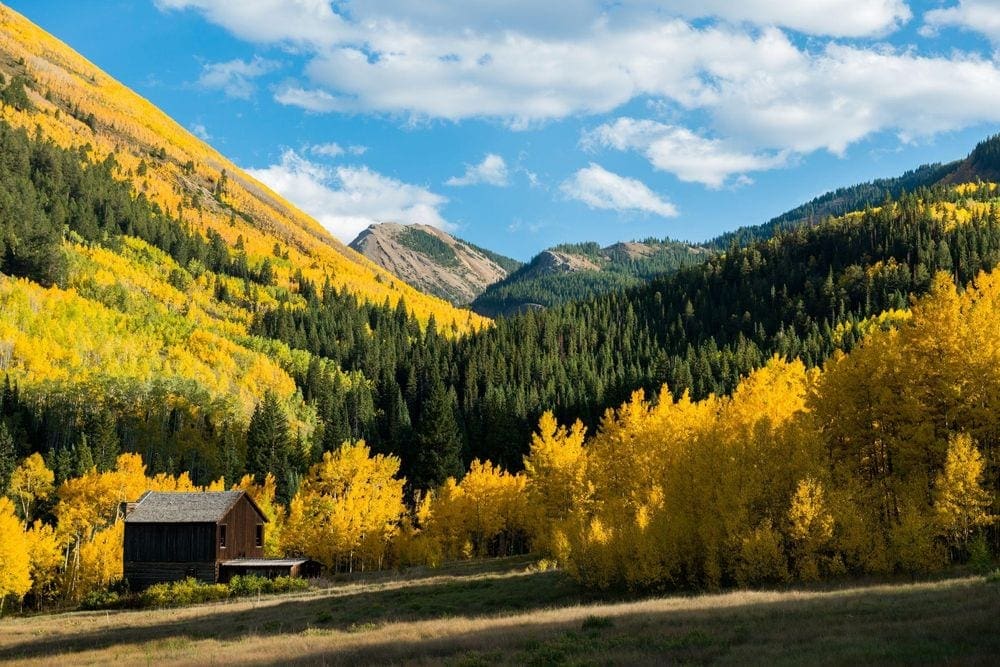 Of course, Aspen always comes to mind when looking for the best fall colors in Colorado with kids. Add Vail and Sylvan Lake to this bucket list, and you've hit the Colorado trifecta! Here, you'll find a beautiful mountain loop, creating countless picture-perfect moments to capture on camera. Independence Pass, east of Aspen, is also a scenic byway where the sheer beauty of fall colors abound. For the best Aspen fall colors with kids, view the iconic Maroon Bells by hiking the easy 1.5-mile Maroon Bells Scenic Trail. Here, you will also find fantastic leaf viewing. More experienced hikers can consider the 3.8-mile moderate hike to Crater Lake. Finally, make fall count by experiencing this family-friendly Aspen day trip itinerary! Or, take the Silver Queen Gondola up to the Aspen summit to enjoy a meal, access miles of trails, and a round or two of disc golf.
Top 20 Aspen, CO family-friendly vacation rentals | Vrbo
Silver Thread Scenic Byway and Marshall Pass
Silver Thread Scenic Byway is the next stop on our fall itinerary in Colorado! Along Hwy 149, the road winds through beautiful terrain in South Fork, Creede, and Lake City. Parents can also make visiting here educational since the drive has historical roots in Colorado's mining days, as well as the trails of the Ute Indians. Animal-loving kids can spot wildlife, such as elk, deer, moose, or bighorn sheep among the vivid fall colors too! If you begin this route in South Fork, you can also drive all the way to Gunnison and on to Kebler Pass (our next stop!). As you head east out of Gunnison, you may also choose to drive over Marshall Pass, if you have a suitable vehicle. This offers amazing views of the Sangre de Cristo Mountain Range. Adventurous families will delight in this stunning opportunity to see radiant fall colors in Colorado with kids!
Kebler Pass
Kebler Pass is a photographer's dream! A gravel road near Crested Butte, this sequence of travel offers the most spectacular views of fall colors in Colorado for families. Start in Gunnison first and take Hwy 135 toward Crested Butte. Then, travel Kebler Pass via Ohio Creek Road to find ranch buildings in abandoned Castleton. This route will also take you past abandoned buildings and sheds in Baldwin, which was one of the largest coal mines in the region. Here, encourage kids to find the erosion remnants of volcanic debris as they wander about and stretch their little legs. Then, look for the Anthracite Range, a gently curving mountain to inspire everyone in your family with its giant beauty. Before you head to Crested Butte, though, stop by Lake Irwin for a quick picnic. Finally, head back toward Gunnison using one of the various scenic routes via Almont!
Million Dollar Highway & San Juan Skyway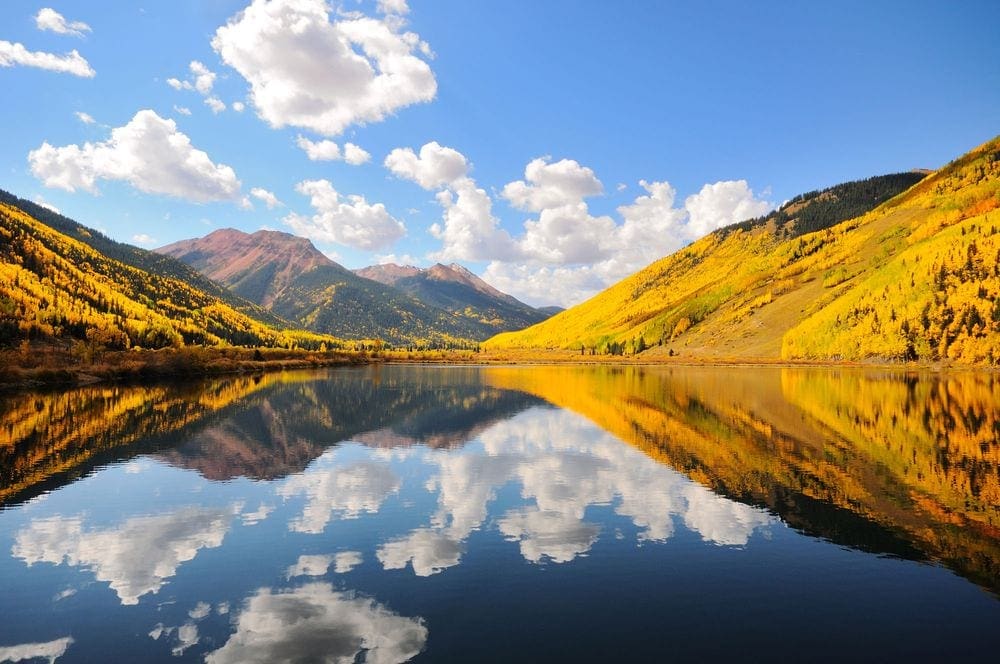 US Hwy 550 is part of the San Juan Skyway, also known as the Million Dollar Highway. It's a section of highway between Ouray and Silverton providing spectacular views of the San Juan Mountains. When visiting here in the fall, the mesmerizing panoramas simply cannot be beaten. Start in Durango and then head toward the quaint town of Silverton. In this area, the Narrow Gauge Railroad is a popular activity for families, as well as the free, kid-friendly Railroad Museum in Durango (what little one doesn't love exploring actual replica trains?). From Silverton, there are many off-roading trails to adventure through too. Want to see for yourself? Bring your own 4X4, or rent one while you are there, for the most memorable way to view fall colors in Colorado with kids!
As you head from Silverton to Ouray, you will also travel over Red Mountain Pass. These gorgeous red mountainsides, speckled with old mining ruins, and golden aspen will surely excite your kids! Stop in Ouray for a picturesque family photo in front of the mountains, as you enjoy a soak in the Natural Hot Springs. There are also many other things to do in Ouray, lovingly known as "the Switzerland of America". Between Ridgway and Telluride, for example, you'll find the 8,983-foot Dallas Divide mountain pass, which is simply a spectacular sight to behold. Once in Telluride, ride the free gondola where you can explore some trails, or eat at Allred's Restaurant. Finish out your loop on the San Juan Skyway as you head back to Durango over Lizard Pass and through Cortez. This is truly one of the best ways to see fall colors in Colorado with kids!
Ouray, CO Vacation Rentals: cabin rentals & more | Vrbo
Highway of the Legends Byway
For a scenic drive in Colorado with kids, take the Highway Of The Legends. Also known as State Highway 12, it travels through Southern Colorado and provides panoramic views of brilliant fall colors! Start in Walsenburg and head west on 160, passing Lathrop State Park. Then, veer south toward La Veta and eventually to Trinidad. You'll pass through small towns, including Cuchara, Monument Park, and Stonewall as you head south. Cuchara, a mountain town surrounded by the San Isabel National Forest, is a great place to stop for coffee as you continue. There are plenty of campgrounds en route to make this a weekend adventure. Stay at Bear Lake, Blue Lake, or even at Monument Lake Resort. From there, you can enjoy the Sangre de Cristos Mountains in the area. Coincide your drive with sunrise or sunset and you may get to experience why they're called "Blood of Christ."
A Few Helpful Tips for Enjoying Fall Colors in Colorado with Kids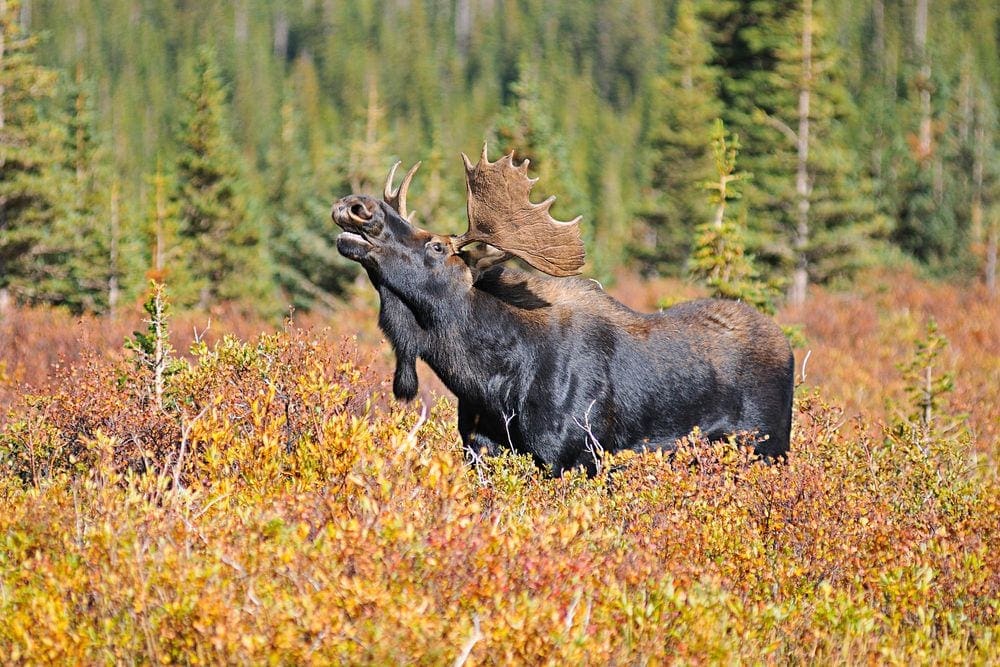 The month of September, and possibly into early October, is the best time to experience fall colors in Colorado with kids. But, it can be tricky to time it perfectly (just like catching cherry blossoms in Washington DC!). Colors usually only last about one week in any given location. Plan your visit for September to maximize your chances. When in Colorado, however, try to do the scenic drives on a Tuesday or Wednesday, when fewer people are out with similar ideas. This way, you can enjoy vivid colors without the line of other cars. Additionally, be prepared to stop or slow frequently, as people are driving slower than usual around this time. Early morning drives have fewer people on the road. Use these road-tripping apps to guide your planning to maximize time and autumn magic!
RELATED: Best Fall Activities in Colorado with Kids
Happy Travels!
We hope you've enjoyed our list of 10 Beautiful Drives for Fall Colors in Colorado with Kids! No matter where you visit, though, you'll definitely remember this vacation for years to come. Fall in Colorado for families offers a chance to gain knowledge of history, visit charming ghost towns, and see dazzling autumn scenery! Photographers will also love the colors of the aspen trees and the unique historical treasures along the way. You may even find a great spot for a family picture, so bring your tripod! Each family member will find something to love on one of these scenic drives for fall colors in Colorado for families. Happy trails as you embark on your own family adventure through the Colorado byways and passes to experience fall in Colorado with kids!
RELATED: 16 Best Places to See Fall Colors in the US for Families
Thank You to Our Community!
As always, this article of 9 Breathtaking Drives for Brilliant Fall Colors in Colorado with Kids would not have been as helpful, informed, or family-friendly without the contributions and input from the amazing members of our Facebook group, Families Who Love To Travel! For more travel recommendations on the best places to visit in Colorado in fall with kids or other family-friendly vacation ideas, join us on Facebook at Families Who Love To Travel. It's a community of dynamic families who love to adventure and explore through travel. Plus, follow us on Instagram (@families.love.travel) to connect with other families who love the unique experiences travel has to offer – and to get sneak peeks of upcoming articles!
RELATED: The Best Colorado Snow Tubing and Sledding Spots for Families
*Due to the COVID-19 pandemic, some of the attractions, accommodations, or things to do on this list may be closed. Please ensure availability before making your decision.
*This post may contain affiliate links that may earn us a small commission, at no additional cost to you. Affiliate links in no way inform the hotels, sights, products, or other recommendations included in our articles. All opinions and recommendations expressed here are compiled from submissions submitted by the generous members of our Families Who Love To Travel community.
READ NEXT: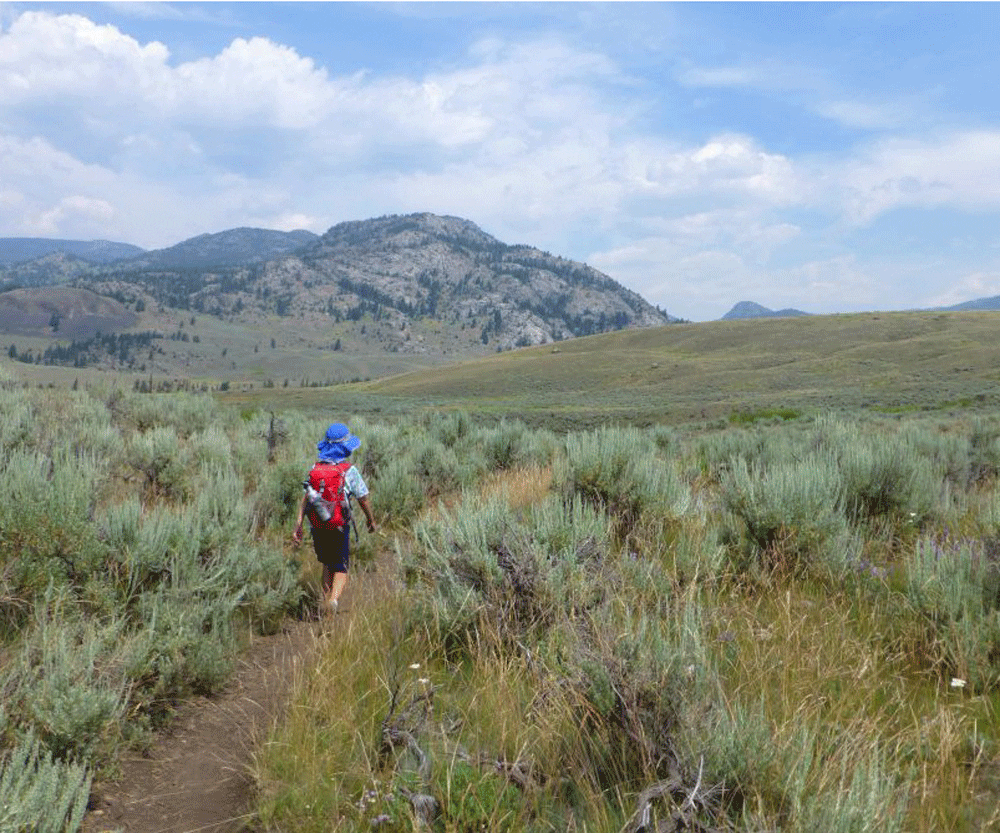 Everyone knows that Yellowstone National Park makes for a classic family vacation. Strolling the boardwalks...
You can do all the research and pack all the right things, but it's hard...