A family vacation to Istanbul offers something for all ages! From ancient mosques and palaces to delicious food and bustling markets, there's no shortage of things to see and do in this Turkish city. In fact, Istanbul is a melting pot of fascinating culture, history, and local traditions. Visit underground cisterns, explore the Grand Bazaar, play with fun lanterns at Taksim Square, and enjoy delicious Turkish ice cream. There's truly something for everyone here, and if you're traveling with kids, they'll love every minute they spend in this bustling city. In case you need help planning your family vacation to Istanbul, this article has some wonderful suggestions on how to make the most of it with your kids. From things to do to family-friendly tours, day trips from Istanbul, and more, keep reading to plan your next adventure!
Wondering how to reach your hotel from the airport during a family vacation to Istanbul? Use Viator to book an İstanbul Private Airport Transfer or book your transfer from the airport through another provider!
Explore History and Architecture in Istanbul's Old Town
Istanbul is a bustling city with plenty to see and do. However, on a family vacation to Istanbul, be sure to check out the city's old town. From the stunning architecture of the Blue Mosque to the Topkapi Palace or Hagia Sophia, some of the city's most famous attractions reside in this area. One great way to explore is by foot.
If you're staying downtown with your kids, you can explore by yourself. But we highly recommend getting a tour guide. They can explain the history, culture, and architecture of various significant attractions in Turkey to your family. We highly recommend Viator's Best of Istanbul: 1, 2, or 3-Day Private Guided Istanbul Tour.
Hagia Sophia
Hagia Sophia is without a doubt one of the world's greatest architectural marvels! Formally a 6th-century Christian church, this opulent mosque is widely regarded as the '8th Wonder Of The World,' giving visitors a chance to experience the history of the Roman, Byzantine, and Ottoman Empires. It's certainly a must on any Istanbul itinerary with children! While the exterior of the church may not be too exciting for kids, the inside is filled with many interesting features. For example, the main dome is covered with more than 2,000 gold and silver mosaic tiles. Another popular spot for kids is going down into the crypt and marveling at the intricate carvings on the vaulted ceiling. If you have tweens or teens, try climbing up onto the roof and taking in a 360-degree view of Istanbul!
To avoid crowds, try visiting Hagia Sophia during off-peak times or on a weekday. Though the site was previously closed on Mondays, it's now open 7 days a week. Foreign children under twelve can enter for free. Buy your tickets in advance, especially on weekends and peak holiday times to avoid long queues (or see this Museum Pass). GetYourGuide also offers a Hagia Sophia: Entry with Guided Tour.
Blue Mosque
The Blue Mosque is one of the most iconic landmarks in Istanbul and is a must-visit for families with kids! Located in Sultanahmet, a popular tourist district, the mosque was built in the early 1600s and is still an active place of worship today. This 16th-century masterpiece features intricate tilework, ornate capitals, and breathtakingly beautiful vaulted ceilings.
Families can explore the impressive interior of the mosque and learn about its history and significance. In fact, the inside is decorated with intricate tiles and blue walls, which are sure to fascinate kids of all ages! Plus, the grounds are large enough that you can explore on your own or take a guided tour. The Blue Mosque is also a great place to teach kids about Islamic culture and architecture and is sure to be a highlight of your trip to Istanbul!
Topkapi Palace
If you're looking to spend a day experiencing some of the most impressive architecture and history in Istanbul, be sure to add Topkapi Palace to your list. Built by Bayezid II between 1475-1486, today it houses one of the world's most colossal collections of art through a complex of museums and historical sites. With rooms that span nearly 600 meters, this UNESCO World Heritage site is filled with wonders for kids and adults alike. This includes a spectacular Imperial Treasury, with elaborately carved furniture and priceless paintings. There's also the Privy Chamber, where sultans held court; the Harem, where the Sultan's wives lived; and the Baths of Theodora, complete with marble columns and a plunge pool made of emerald-green jade.
The palace can be visited as part of a half-day tour with the Topkapi Palace Museum. This includes a visit to the Harem, the Bazaar, and the Gate of Felicity. Your guide will take you through rooms full of intricate mosaics and paintings while sharing stories about these magnificent artifacts. Or, you can book a full-day tour. It includes entrance into the Harem, ceremonies room, treasury, pavilion gallery, kitchens garden, harem chambers, etc. There are also plenty of photo ops throughout the palace, so be sure to bring your camera!
Use GetYourGuide to book a Topkapi Palace Fast Track Entry with Guide!
Shop at the Grand Bazaar and the Spice Market
During your family vacation, shopping in Istanbul is a must. There's no better place to do it than The Grand Bazaar or The Spice Market! Keep reading to find out how to plan a fun-filled family vacation in Istanbul!
Grand Bazaar
Istanbul's Grand Bazaar is one of the most popular tourist attractions in the city, and for a good reason! As one of the oldest and biggest markets in the world, this massive covered market is full of over 3,000 stalls, selling everything from Turkish carpets to spices to souvenirs. It's a particularly great place to pick up gifts for friends and family back home. And it's also a wonderful place to take the kids! Children will surely be entranced by the vibrant atmosphere and endless shopping options! Plus, not only will your kids be entertained by all the sights and smells, but they'll also learn about the history and culture of this amazing city. Haggling is expected, so be sure to bargain with the shopkeepers!
Spice Bazaar
When it comes to family-friendly activities, the Spice Bazaar is a must-see in Istanbul. Located in the Eminönü district, this bustling market is full of sights, sounds, and smells that will tantalize your senses! From exotic, aromatic spices to fresh fruits and vegetables, there's something for everyone here. It's a great way for kids to learn about the history of Turkish food and culture, as well as taste some of the country's favorite dishes. Enjoy spices, herbs, Turkish delight, and other traditional Turkish foods. And best of all, it's a fantastic place to bargain for souvenirs to bring to family and friends back home! Kids will surely love exploring this market and trying new things.
See the Light Show at Basilica Cistern
Families looking for a truly unique activity in Istanbul can't miss the light show at the Basilica Cistern! Also known as the Cistern of Theodosius, it's the largest of several hundred ancient cisterns beneath Istanbul. Located ​​near Sultanahmet, the cistern, once used to store water for the city, is now illuminated with colorful lights and lasers, creating a mesmerizing effect. Not only is the light show beautiful to watch, but it's also educational. Kids can learn about Islamic history while seeing dazzling displays of light bounce off the ancient columns, synchronized to fun music! Depending on the time of year, you might also see lights spelling out words or messages. Keep in mind it's not stroller-friendly. The cistern is open from 9 AM to 7 PM, but the first and last light shows are at 10 AM and 6 PM.
GetYourGuide offers an Istanbul: Basilica Cistern Tour and Skip The Line with Guide.
Indulge in Some Turkish Ice Cream
Looking for a delicious and refreshing treat while in Istanbul with kids? Be sure to try some Turkish ice cream! A trip to any foreign country would be incomplete without trying some local sweets. Luckily, Istanbul has some delicious ice cream. It tastes the same as regular ice cream, but the texture is a bit gummy and very unique. Kids are sure to love the flavors and watching the vendors do tricks with the ice cream! Though there are many wonderful spots to grab ice cream in Istanbul, some family favorites are Mini Dondurma, Dondurmacı Yaşar Usta, which has numerous locations, and Meşhur Dondurmacı Ali Usta on the Asian side.
Watch a Mevlevi Sema Ceremony
It's hard to miss the brightly colored tents that line the streets of Istanbul's Beyoglu district. But this colorful array of tents is a place where mysticism meets modernity. The district is home to one of Istanbul's most well-known tourist attractions – the HodjaPasha Cultural Center! The center offers a variety of cultural events, including traditional dances and ceremonies such as the Sema ceremony. This sacred event features music, dance, and poetry by renowned members of the Mevlevi sect of Sufism. During this special event, participants dress in ornate costumes and perform dances to summon the blessings of the Mevlevi Saint Dervish Mehmed Aga. You don't even have to be religious to enjoy this event; just take it all in and appreciate the beautiful spectacle!
Kids will especially love it because there is always something happening onstage (e.g., the dervishes spinning around or Bekir dancing on top of a lion). You can also take a look at the hall where the ceremonies are held. Or, purchase some of the traditional clothing worn by Mevlevi dervishes. Plus, there are free drinks for parents!
Book a ticket through GetYourGuide to Watch a stunning Mevlevi Sema ceremony in Istanbul. GetYourGuide also offers an Istanbul: Turkish Dance Show at Hodjapasha Cultural Center.
Get Up Close and Personal with Animals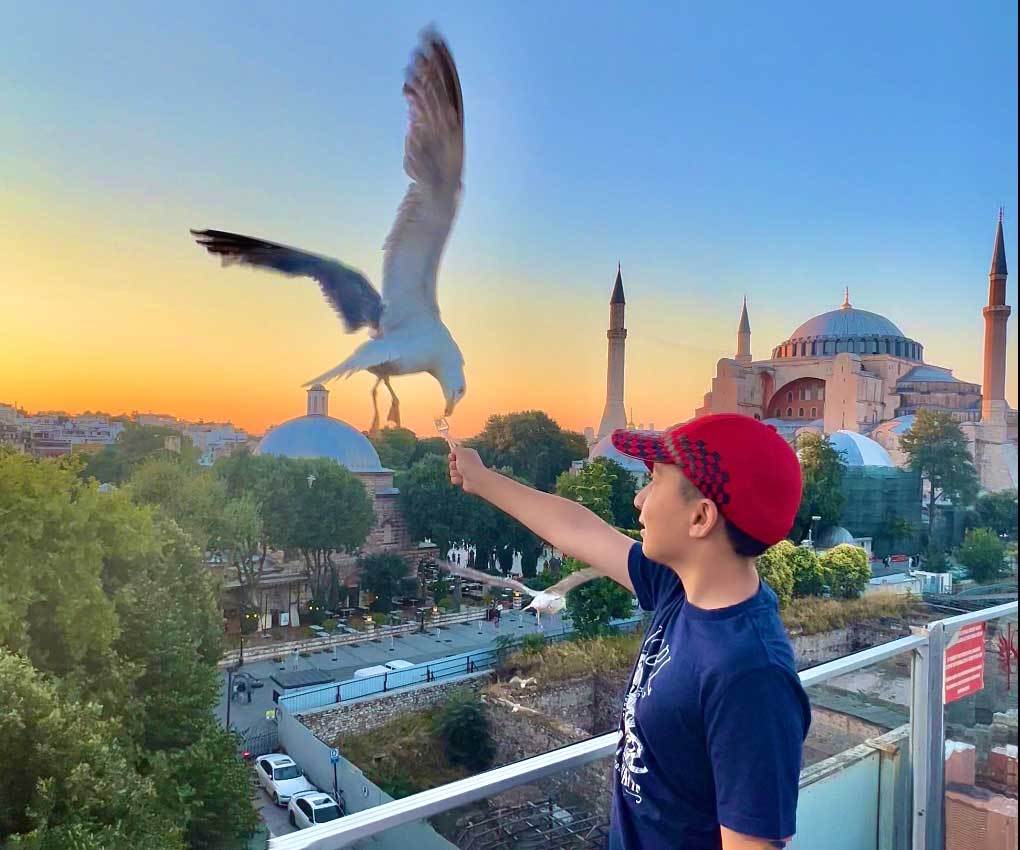 Istanbul may not seem like an ideal place to see animals, but you'll be surprised at the city-dwelling creatures who call this destination home! Kids who love animals can't miss a chance to feed the seagulls in Istanbul, for example. Seven Hills Restaurant is a wonderful place to have dinner or grab a snack. Though the food is hit or miss, it provides great views of Istanbul, especially if you visit during sunset. Best of all, the restaurant provides food (such as fish) for customers to feed the seagulls. Kids can't get enough of this simple yet entertaining experience!
Feeding stray cats and dogs in the Old Town is another fun activity to do with animal-loving kids. As you explore Istanbul's Old Town, you'll notice many adorable cats and dogs on the streets. These animals are well fed and residents often take care of them. (Turkish people are extremely kind and animal-loving people.) However, your kids will still enjoy taking some leftover meat and feeding these animals. You can find dry cat food outside shops and restaurants as well. The animals are extremely friendly if you give them a chance to sniff you!
Book your tours in Istanbul here with Viator!
Bring a Picnic to One of the City's Many Parks
If you are looking for a great place to have a picnic with your kids in Istanbul, look no further than the city's many parks. Escape the crowds of the historic city center at Gülhane Park, conveniently located adjacent to the Topkapi Palace. Or, visit Maçka Park, which also has playgrounds and plenty of green space for kids to lounge.
Sultanahmet Park also lies on the shores of the Bosphorus and has plenty of space for a family picnic. There are lots of different areas to choose from, including a beach area, a pond, and extensive gardens. Though it's a bit out of the way, Emirgan Park is another great location for family fun. You'll find plenty of space to play, plus a playground, a pond, and several gardens ideal for picnics. Plus there's also a cafe and an ice cream shop on-site.
Head to a Local Theme Park
Kids who would rather visit a theme park or a water park will love the options around Istanbul. They're perfect for taking a break from sightseeing, cooling off on a hot day, and simply seeing a different side of the city. Here are our favorite places to spend a family vacation in Istanbul!
LEGOLAND Discovery Centre Istanbul
If you're looking for a fun day out with the kids, check out LEGOLAND Discovery Centre Istanbul! With over 50 rides and attractions, there are plenty of things to do at this park. Each activity is perfect for different age groups too. From amusement rides to mini-golf, there's something for everyone. And if you're feeling more adventurous, you can try climbing the huge Lego sculpture or racing a 4WD LEGO car through the obstacle course. Plus, there's a water park on-site too, so you can cool off in between rides.
Reserve your tours in Istanbul here with GetYourGuide!
Miniaturk
For a unique experience, check out Miniatürk – the world's largest open-air miniatures park on the banks of the Golden Horn. With over 100 scale models, a playground, a life-sized chessboard, and a labyrinth, this will definitely be at the top of any kids' wishlist! There are plenty of things to do with little ones, ranging from mini golf to flying kites in windy conditions. In addition to these activities, there are also exhibits that highlight the history of miniature villages. If you're looking for something more action-packed, try the laser tag arena or the amusement park!
Vialand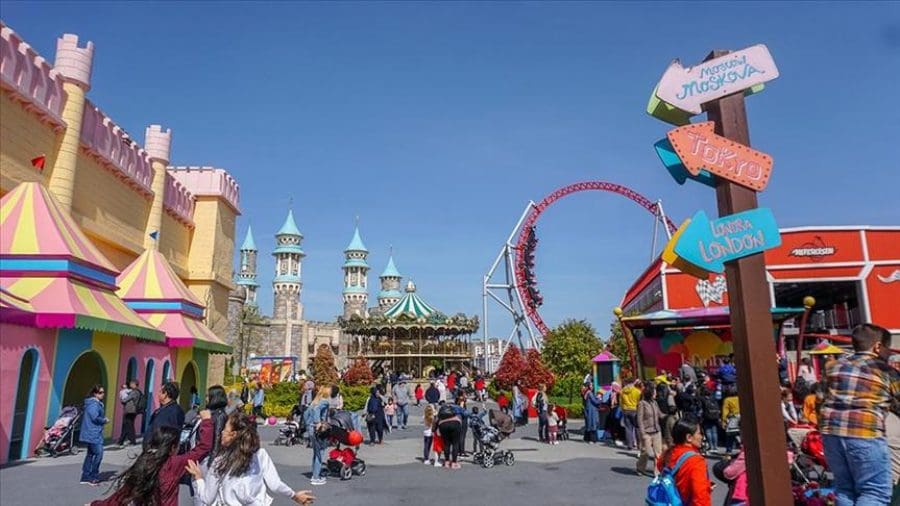 Vialand offers families an exciting theme park experience in Istanbul! With more than 30 rides and attractions, this massive park is spread out over several different themed areas, each with its unique rides and attractions. Whether you want to take a ride on the Ferris wheel or explore the many games and exhibits, Vialand has something for your kids! One of the biggest highlights here is the Aquapark, which features several water slides and pools for visitors to enjoy. The park also has a shopping district and a variety of restaurants. You could easily spend an entire day at Vialand and still not see everything!
Explore the Bosphorus by Boat
Istanbul is a city rich in culture and history, making it the perfect destination for a family vacation. One of the best ways to explore all the enriching attractions that Istanbul offers is to take a Bosphorus Cruise! By booking a boat cruise, families can travel down the Bosphorus Strait, which separates Europe and Asia. This fun ride will allow you and your family to see some of Istanbul's most iconic landmarks, including the Blue Mosque, Hagia Sophia, and the Dolmabahce Palace. Not only will you get to see some of the city's most amazing sights, but you'll also learn a lot about its history and culture. No wonder this is one of the best family-friendly activities in Istanbul! From private cruises to group cruises, there are plenty of options. Some even include dinner and dancing etc.
Viator offers a Bosphorus Sunset Cruise on Luxury Yacht, Istanbul Sunset Cruise – Luxurious Yacht Cruise with Live Guide on the Bosporus, and Bosphorus Yacht Cruise with Stopover on the Asian Side – (Morning or Afternoon). There's also a wonderful Sunset Cruise on Luxury Yacht Istanbul Bosphorus (with a Live Guide).
Get a Great View from the Galata Tower
Experience the beauty of Istanbul in a unique way at the Galata Tower! Soaring above the Beyoğlu district of the city, it's around 60 meters high and offers incredible views of the Istanbul skyline. It's definitely one of the highlights of any trip to Istanbul! This impressive structure is also built on top of a 12th-century Byzantine fortress.
You can climb to the top for amazing views of the city and ​​Bosporus Strait or take the elevator to the lower deck for a more kid-friendly experience. Take some photos while enjoying the story of the legendary 17th-century Ottoman aviator Hezarfen Ahmed Celebi. He flew from the top of the Galata Tower and landed on Uskudar on the Asian side of Istanbul. Lines can be really long here since it's a popular tourist spot, so plan accordingly.
Ride the Nostalgic Red Tram or Istanbul Cable Car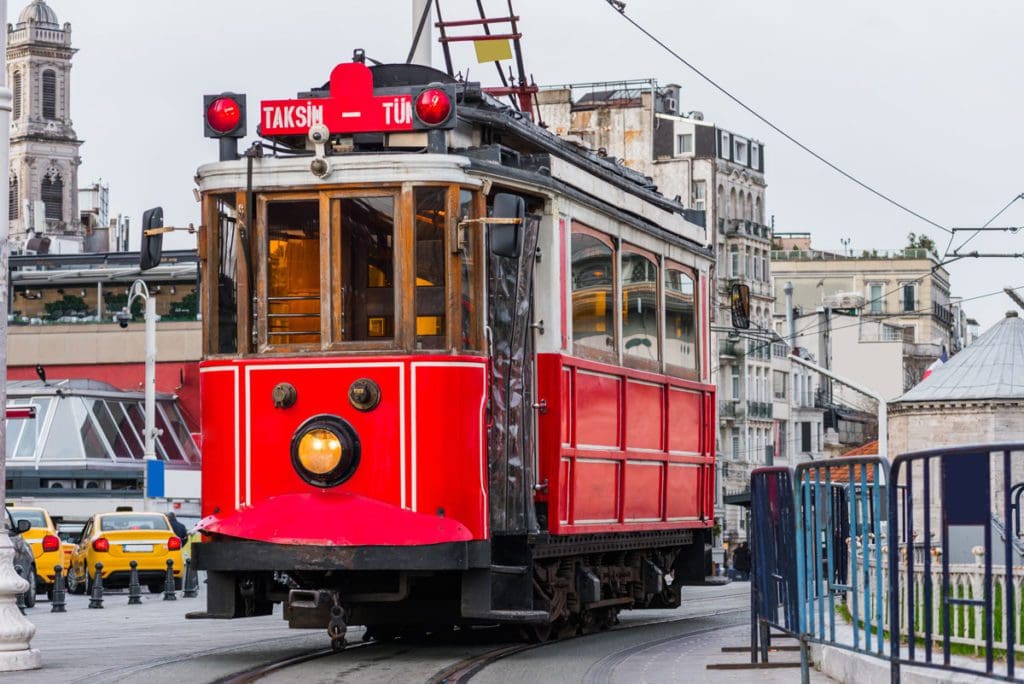 When kids want to take a break from walking and rest their tired little feet, Istanbul's nostalgic red tram is a lifesaver! Complete with conductors dressed up in costume, these heritage trams date back to the 19th century, though they were recently restored for touristic purposes in 1990. There's one track, T2, on the European side and a slightly longer track, T3, on the Asian side. The T2 line runs from Taksim Square to Tünel on the İstiklal Caddesi, aka Istanbul's biggest pedestrian street. Though it runs very slow and is often crowded, it's a unique way to see the city's Grand Avenue. Take the tram in one direction, then walk back along the avenue to stop at boutiques, restaurants, bars, or cafes. On the Asian side, the T3 route is less popular and travels clockwise from Kadıköy Square along a bus lane, Bahariye Street, and Moda Street.
For a different view of the city, families can also ride the Istanbul Cable Car (Teleferick). What an ideal way to entertain kids while getting the best panoramic views of the city! This cable car runs across the valley behind Dolmabahçe Palace, from the Istanbul Hilton to the Hilton ParkSA Istanbul. Families staying in the Maçka or Teşvikiye districts can go across the valley to Taksim Square and Beyoğlu while avoiding all the steep hills. It's a short trip, but worth it!
Visit the Dolmabahçe Palace
A family vacation to Istanbul should include a visit to The Dolmabahçe Palace! Located on the European side of the city, the palace was built in the 19th century and served as the primary residence of the Ottoman sultans. Today, it's one of the most popular tourist destinations in Turkey due to its grandeur and historical significance. When visiting with children, you first should head over to the lavish Ceremonial Hall, filled with artifacts like old weapons. After you've seen that, check out the Harem or the stunning crystal staircase and chandeliers. The palace also has an impressive collection of art, from paintings by Rembrandt and Velázquez to sculptures by Antonio Canova and Jean-Antoine Houdon.
One of the best ways to explore Dolmabahçe Palace is by taking a guided tour. That way, you can learn all about the palace's history and see its many beautiful features up close. If you're traveling with kids, they'll enjoy seeing all the different rooms and chambers in the palace. After your tour, be sure to explore the grounds surrounding the palace. Kids will love wandering around the outdoor gardens and taking pictures with the lovely flowers. Photos aren't directly allowed inside, but you can take some outside!
Purchase your entry tickets to The Dolmabahçe Palace here with Tiqets.com!
Enjoy the Views from Pierre Loti Hill
Get away from the hustle and bustle of Istanbul at Pierre Loti Hill. Located in the Eyüp district on the European bank of the Golden Horn, this picturesque spot offers stunning views of the city. It's also a great place to relax with your family and take a break, whether with a picnic or a snack. Kids can participate in the Turkish art of keyif, or happy idleness, as they sit back and appreciate the atmosphere. There are also a few restaurants and cafes at the top of the hill, so you can grab a bite to eat while enjoying the view. Pierre Loti Hill is accessible via bus or ferry from Eminönü to Eyüp. Then, take the cable car near Eyüp port to the top.
Check out Istanbul's hidden gems and lesser-known neighborhoods on Viator's tour of Circle Istanbul (Extraordinary Istanbul)!
Learn Something New at a Kid-Friendly Museum
Since it can be hot during summer, it's always a good idea to schedule some indoor kid-friendly activities. Luckily, Istanbul has its fair share of kid-friendly museums, whether your little ones are interested in history, art, or animals. Here are some of the kid-friendly museums you can visit in Istanbul!
Rahmi M Koç Museum
Rahmi M. Koç Museum is no boring old museum. This converted, 19th-century factory is all about the history of transport in Turkey! A must-see for families visiting Istanbul, it also features various interactive exhibits for kids to enjoy. In fact, children can't get enough of the huge variety of hands-on activities here, from seeing a steamboat to sitting in a plane's cockpit, riding on a train, and exploring a submarine! They'll love exploring the different vehicles on display, and learning about how they work too. The museum also has a cafe and a shop, making it the perfect place to spend a few hours with the family.
Istanbul Toy Museum
The Istanbul Toy Museum is sure to impress any kid! Located in the Kadikoy district, this hidden gem is full of fascinating Turkish toys and dolls. There are multiple floors to explore throughout an old building, giving the museum a whimsical feel. Here, you'll find over 5,000 toys on display, ranging from traditional Turkish dolls to modern action figures. Your kids will be amazed by the intricate designs and vibrant colors of the displayed toys. Not to mention, they'll have a blast playing with the toys in the interactive play area! This is certainly one of the best things to do on a family vacation in Istanbul with kids.
Choose Istanbul Tourist Pass®️ for entry into the Istanbul Toy Museum!
Istanbul Naval Museum
Looking for a fun and educational activity with your kids in Istanbul? Then head over to the Istanbul Naval Museum! Located inside Dolmabahçe Palace, this museum is dedicated to the preservation of the history of the Turkish Navy. It's also filled with tons of artifacts, interactive displays, and hands-on exhibits to keep little ones entertained! Children will love seeing the centuries-old rowboats, ornate lion statues, and various weapons as you make your way around the museum. Plus, the museum also offers guided tours in English, so you can learn about this city's fascinating maritime history.
Istanbul Aquarium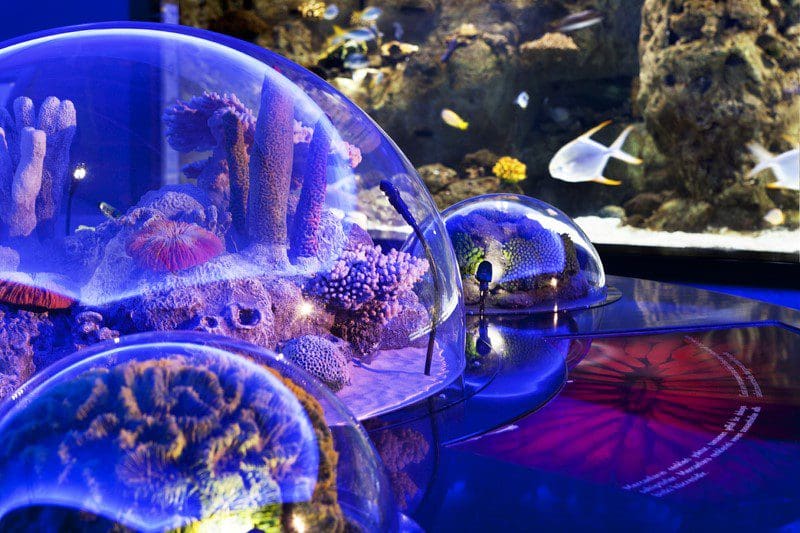 The Istanbul Aquarium is a great option if you're searching for indoor things to do with kids in Istanbul. Showcasing more than 1,500 sea and land creatures, it's one of the largest and most popular aquariums in the world and it has a lot of fun activities for children to enjoy. Kids can watch animals from all over the world live in their natural habitats, with tanks full of tropical fish, sharks, and turtles. There's also an underwater exhibition with coral reefs and an enormous shark tank where kids can see feedings. The museum also has a zoo filled with land animals like a capybara. Plus, educational programs are also available for children to learn about marine life, conservation issues, and more.
Entry to the Istanbul Aquarium is included in Istanbul Tourist Pass®️
Try a Traditional Turkish Hammam

What better way to relax and rejuvenate after a long day of sightseeing than at a traditional Turkish hammam? While some have kids' hours, this is a perfect way for parents to get a break from the little ones and enjoy a quintessential Turkish pastime. This activity dates back to Roman times, though it was popularized during the Ottoman Empire as a communal activity. Enjoy the steam, heat, and water while getting a relaxing massage, and you'll feel completely ready to tackle the rest of your family vacation in Istanbul! If you're looking for some top-rated hammams around Istanbul, we recommend Kılıc Ali Pasa Hamam or Hurrem Sultan Hamam.
Eat Delicious Turkish Food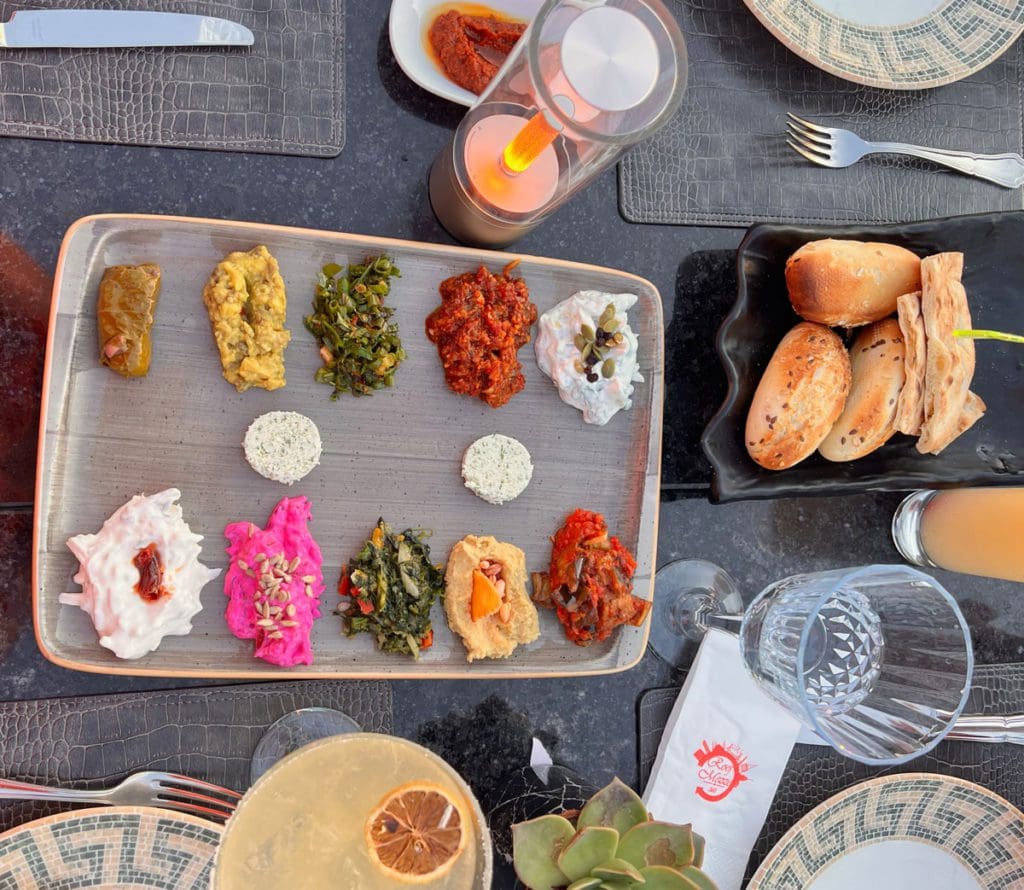 A family vacation to Istanbul should include an exploration of the city's amazing food scene! From street food to gourmet restaurants, there's something for everyone to enjoy. And what better way to experience the city than to sample some of its delicious Turkish cuisines? Head to Istiklal Street for some of the town's best kebabs, lahmacun (Turkish pizza), and kofte (meatballs). Or, if you're looking for something sweet, try some of the city's famous Turkish delights or baklava.
Istanbul is home to some of the best Turkish restaurants in the world, and there are several with a rooftop view, like 360 Istanbul, GRACE Rooftop Restaurant, and Ararat Terrace Restaurant & Rooftop. No matter your taste, you're sure to find something to enjoy in Istanbul's food scene. So bring your appetite and get ready to eat your way through this amazing city!
Take a Day or Weekend Trip
Istanbul is a fantastic home base for families who want to take a day trip to other parts of Turkey. So, if you're planning a fun-filled family vacation to Istanbul, check out these day trip suggestions!
Princes' Islands
When visiting Istanbul with kids, a boat trip to Princes' Islands should definitely be on your itinerary! Made up of nine islands, four of which are inhabited, they're accessible from Besiktas or Eminönü by sea bus (a faster option) or regular ferry. Since no motorized vehicles are allowed, families can get around these idyllic islands by bike, horse, or simply walking and enjoying the views.
Most day-trippers visit the largest island, Büyükada, and spend the day exploring, from its port with historical buildings to endless ice cream shops. There are plenty of beaches to relax on, and you can also visit some of the island's historic sites like the Hagia Yorgi Church or the Ottoman-era summer palaces. Other islands to visit include Burgazada, Heybeliada, and Kınalıada.
Ephesus
Keep kids entertained and learning on a weekend trip to Ephesus! Once an important destination during Roman times, this ancient city is located in Turkey's Central Aegean region, near modern-day Selçuk. Though families could drive from Istanbul to Ephesus for around 5 hours, the quickest option is to fly to Izmir and drive an hour to Ephesus. (There are also cheap buses from Istanbul to Selçuk, but they take around 9 hours.)
Once you arrive, start off at the Temple of Artemis, a towering monument decorated with beautiful sculptures and mosaics depicting hunting scenes, dancing girls, and more. Next, check out the Emperor Hadrian's Library, aka the Library of Celsus, a vast complex built in 133 AD to house hundreds of scrolls. Don't forget about the Hippodrome, where kids can imagine the once exciting horse racing action!
Families can also take a stroll through the Ancient Streets of nearby Selçuk. This is an ideal destination for parents who want their kids to learn about history while having a lot of fun!
Choose a tour in Ephesus with GetYourGuide now!
Pamukkale
Famous for its mineral-rich waters and location adjacent to Hierapolis, an ancient Roman spa city, Pamukkale is one of the best places to take a weekend trip from Istanbul. Located in western Turkey, it's accessible via a quick flight from Istanbul or a scenic train ride. Though it's not a direct route, high-speed travel travels from Istanbul to Eskişehir for three hours. Stay overnight, and the next morning, take the picturesque Pamukkale Express train through the Anatolian countryside.
In Pamukkale, ​a thick layer of pink and white sedimentary rock covers limestone cliffs, exposed by the warm waters of the springs flowing down from the mountains. One of the most important things to see here is the Hierapolis, the capital of the province of Caria in ancient times. Besides colorful pools and tunnels filled with natural gas and water, there are also ruins, including an ancient theatre, baths, and workshops. Kids can take a dip in the Antique Pool, aka Cleopatra's pool! For something a little tamer, take kids to the Pamukkale Thermal Baths, a great place to relax after a busy day.
Plan your next summer vacation to one of these 16 Exciting European Beach Destinations For Families!
Interactive Map of Istanbul
Discover the best places to stay, restaurants, and local attractions in Istanbul with our interactive map. You can filter by what you're looking for, so it's quick and easy to select which area you want to explore.
Happy Travels!
We hope you liked this article on How To Have A Fun-Filled Family Vacation In Istanbul! From delicious Turkish food to Byzantine history, European and Asian culture, and so much more, Istanbul is surely a unique place to take a family vacation. Enjoy Istanbul with your kids!
*Due to the COVID-19 pandemic, some of the attractions, accommodations, or things to do on this list may be closed. Please ensure availability before making your decision.
Tours and Tickets in Istanbul: Get a full refund up to 24 hours in advance on most experiences
*This post may contain affiliate links that may earn us a small commission, at no additional cost to you. Affiliate links in no way inform the hotels, sights, products, or other recommendations included in our articles. All opinions and recommendations are from submissions by the generous members of our Families Who Love To Travel community.
READ MORE: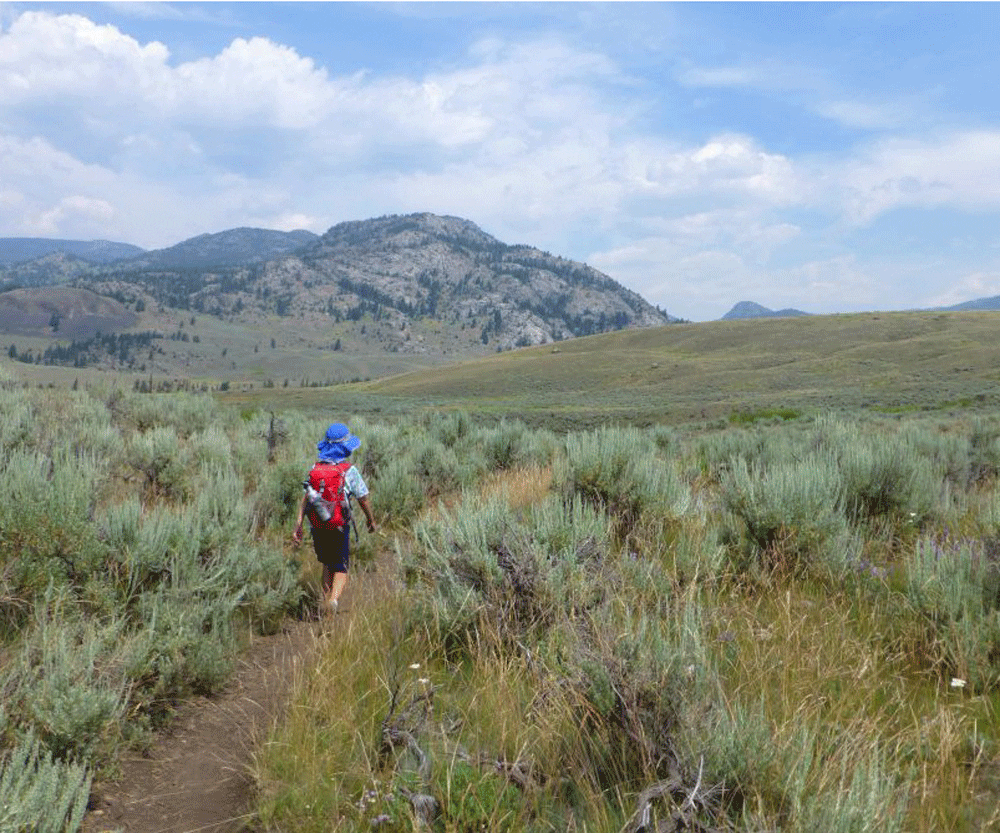 Everyone knows that Yellowstone National Park makes for a classic family vacation. Strolling the boardwalks...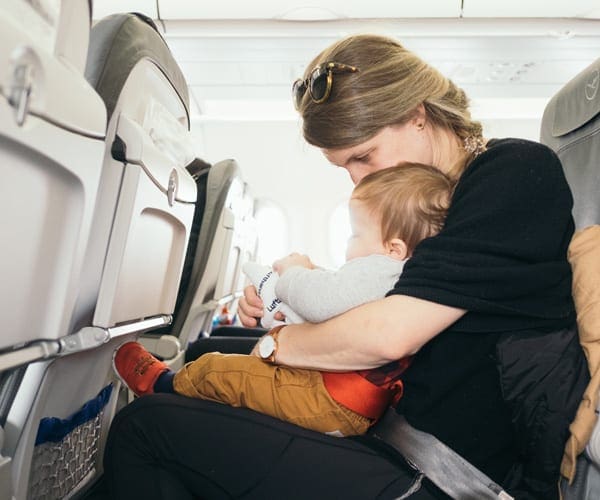 Families Who Love To Travel contributor Meghan Oaks provides her 10 best tips for your...