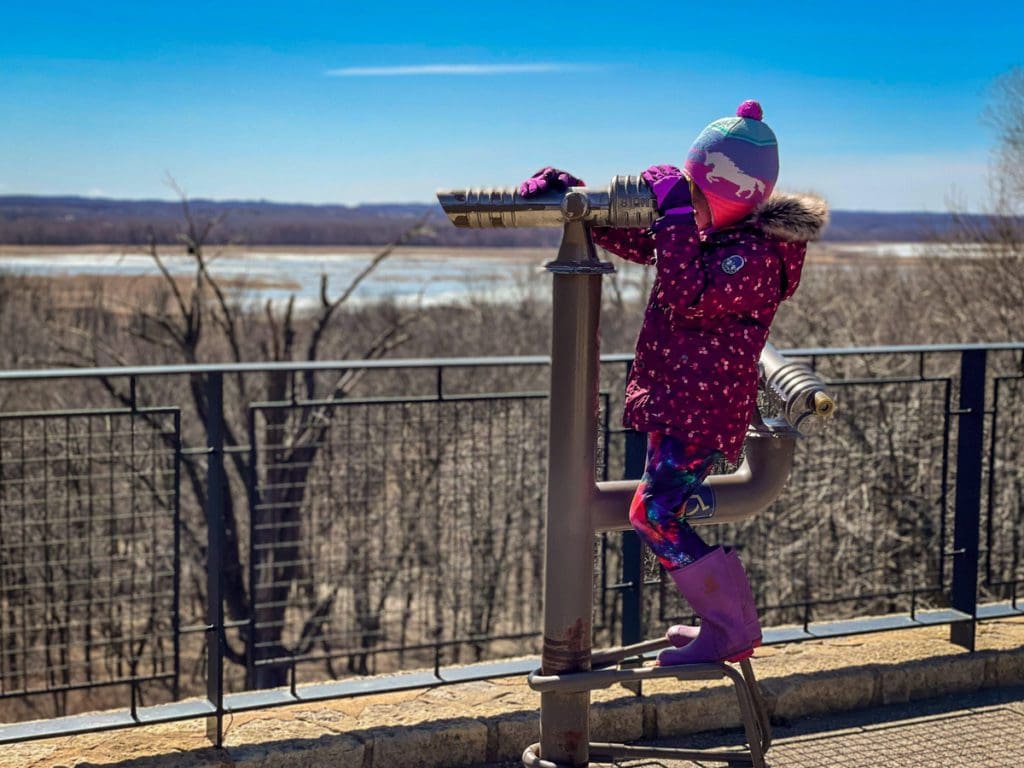 As a mom, there are few things more rewarding than creating unforgettable memories with your young daughter, especially when it comes to exploring the best places to visit in America. From the bustling cities of New York and Chicago to the stunning natural wonders of Gatlinburg, there are countless options for an unforgettable trip. These destinations will not only create lasting memories but also provide an opportunity for your daughter to learn and grow as she discovers new experiences around every corner. Not to mention, plenty of opportunities to bond with your little one trying all her favorite activities! If you're looking for inspiration for your next mother-daughter adventure, we've rounded up some of the best places to visit with your young daughter in America. Keep reading to get ready for an adventure like no other!
Best Locations for a Mother/Daughter Trip on the East Coast and the Southeast
Are you looking to take your young daughter on a mommy-and-me trip to the East Coast or the Southeast? We've selected the top destinations to travel with your young daughter from New York City to Atlanta. Keep reading to see our top picks on the East Coast and the Southeast.
RELATED: 20 Best Destinations In The United States To Visit With Young Kids
New York, NY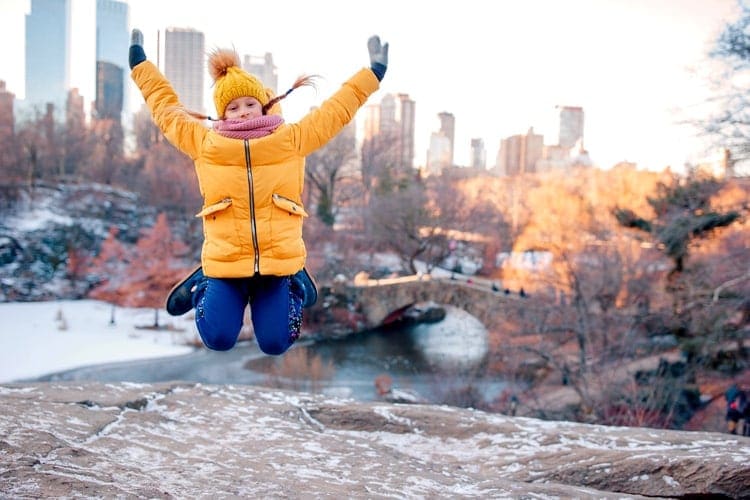 Photo Courtesy: Emma Kendall (Center Image Only)
There's no question that New York City tops our list of the best places to visit with your young daughter in America! From soaring skyscrapers to world-class museums, the Big Apple is sure to dazzle your little ones and capture their imagination. The bustling streets, iconic landmarks, and endless entertainment options create an exciting and dynamic environment that can be enjoyed by the whole family!
READ MORE: Best Things To Do In New York City With Young Kids
Why Your Daughter Will Thank You
The American Girl Place in New York City is a must-visit for young girls and doll enthusiasts. It features an extensive selection of American Girl dolls, accessories, and a doll salon where girls can have their dolls styled. The store also offers a cafe for dining with your doll and various events and activities. Then, Broadway is also renowned for its spectacular musicals and theatrical performances. Watching a family-friendly Broadway show such as Wicked, Harry Potter, Aladdin, or Frozen can be a magical experience for young girls. It's a great way to expose them to the world of theater and storytelling.
In Central Park, young girls can enjoy boat rides on the lake or visit the Central Park Zoo. Not to mention, it's a great spot for picnics, riding a carousel, or simply playing in one of the park's many playgrounds. NYC is also home to several children's museums. The Children's Museum of Manhattan, the Brooklyn Children's Museum, and the New York Hall of Science are popular choices for hands-on learning and play. Plus, the Intrepid Sea, Air, & Space Museum provides an exciting learning experience for young girls. Especially if they are interested in aviation, space exploration, and military history. And, dinosaur lovers can learn more about prehistoric animals at the American Museum of Natural History.
READ NEXT: Best Museums In NYC By Age For Families
Why Moms Love It
NYC is a melting pot of cultures, offering a rich tapestry of food, art, and traditions. Moms and daughters can explore different neighborhoods, try various cuisines, and attend cultural events, fostering an appreciation for diversity and global awareness. Moms who love art will also appreciate the city's many museums, such as the Metropolitan Museum of Art or the Museum of Modern Art.
Then, for moms who love shopping, NYC is also a shopper's paradise, from flagship stores along 5th Avenue to chic boutiques in Soho. New York City also boasts a diverse culinary scene, ranging from street food vendors to Michelin-starred restaurants.
RELATED: 11 Best Cute Towns To Visit Near NYC With Kids
Where to Stay in New York City with Kids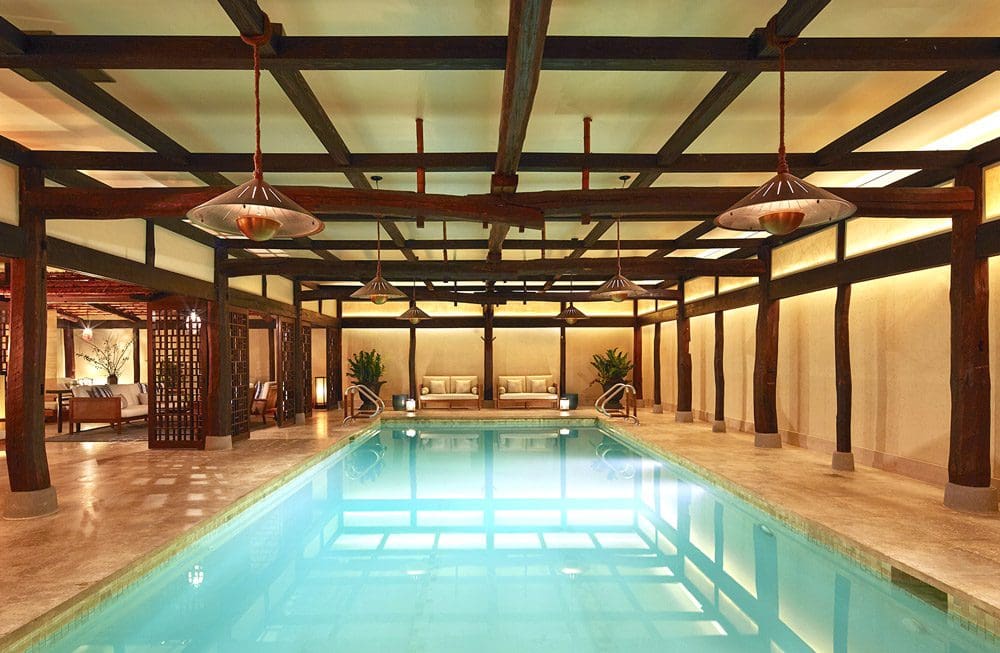 Need somewhere to stay in New York City with kids? In Lower Manhattan, we recommend the Millennium Downtown New York Hotel in the Financial District or the trendy Greenwich Hotel in Tribeca. In Midtown Manhattan, try the Loews Regency New York or Omni Berkshire Place, which also has a Kids' Club. Or, for a true luxury experience, visit the nearby St. Regis New York. Remember to check out other NYC hotels with pools and spacious suites.
Hershey, PA
Chocolate lovers unite in Hershey, Pennsylvania! Known as the "Sweetest Place on Earth," this charming town offers endless activities that will make both kids and moms giddy with excitement. Overall, it's an ideal destination for creating special memories with a young daughter and ensuring that moms can also enjoy a fun and engaging vacation!
Why Your Daughter Will Thank You
The sweet smell of chocolate fills the air as soon as you step foot in Hershey's Chocolate World, where you can take a behind-the-scenes tour of how chocolate is made or create your own candy bar. And what little girl doesn't love princesses? At Hersheypark, girls can meet all their favorite characters, like Cinderella and Elsa. Plus, the park's themed areas, such as The Boardwalk and Founder's Way, provide age-appropriate rides and attractions that young girls can enjoy. But it's not just about sweets and fairytales – there are also beautiful botanical gardens at Hershey Gardens where families can explore nature together.
While not located in Hershey itself, Sesame Place is within a reasonable driving distance in Langhorne, Pennsylvania. This theme park is entirely based on the beloved Sesame Street characters and offers a variety of rides, shows, parades, and interactive experiences. Meeting characters like Elmo, Cookie Monster, and Abby Cadabby is a highlight for young fans.
Alternatively, located in nearby Lancaster, Pennsylvania, Dutch Wonderland is a family-friendly amusement park perfect for young children. It features over 35 rides, attractions, and shows that young girls will love. Regardless of what you decide to do, this area is certainly one of the best places to visit with your young daughter in America.
Why Moms Love It
Hershey is known for its family-friendly atmosphere, which moms always appreciate. It also offers educational experiences alongside fun-filled attractions, making your visit more enriching. Plus, Hershey's central location in Pennsylvania allows for easy access to other attractions in the area. Families can explore additional destinations, such as Lancaster's Amish Country, which offers a unique cultural experience, or visit other theme parks and museums in the region. This provides a chance to diversify the trip and explore different facets of Pennsylvania.
Where to Stay in Hershey with Kids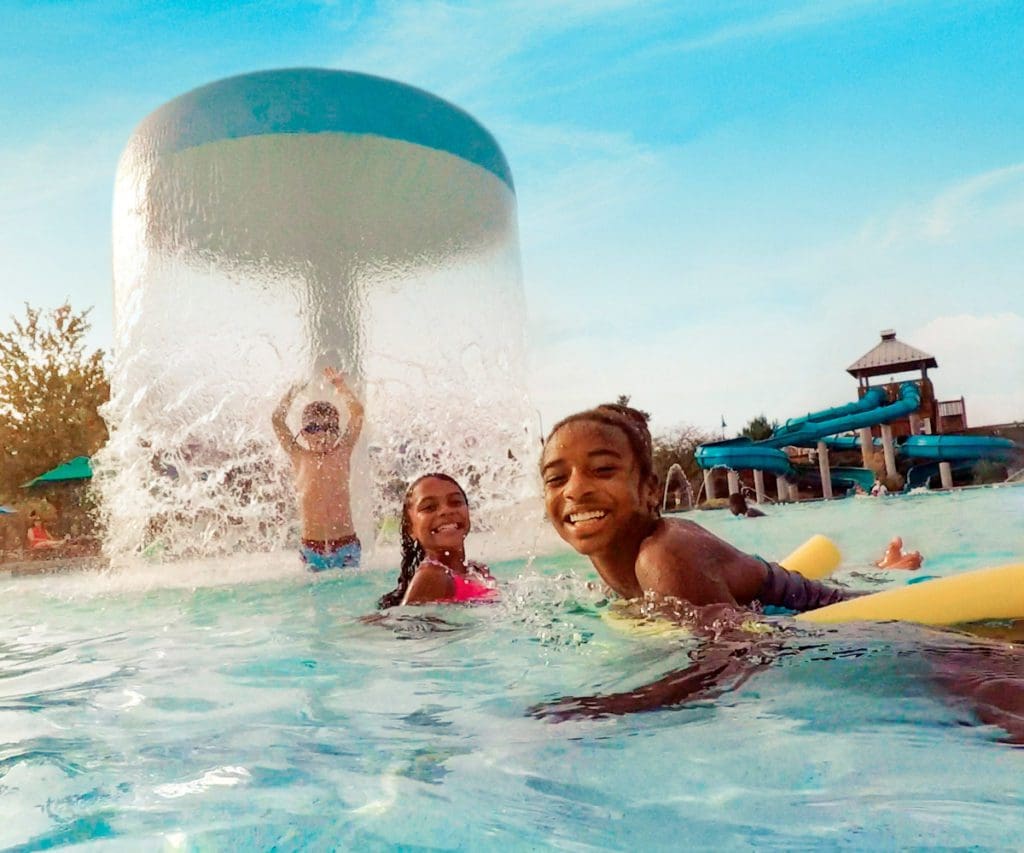 If you're looking for accommodations for families during your Labor Day Weekend getaway near DC, you'll have plenty of choices in Hershey. There are three official Hersheypark resorts – The Hotel Hershey, Hershey Lodge, and Hersheypark Camping Resort. Each offers benefits, such as reduced-price tickets, free parking, and extended hours.
However, there is no shortage of family-friendly hotels in the Hershey-Harrisburg area. For example, Homewood Suites by Hilton Harrisburg East-Hershey Area and Residence Inn by Marriott Harrisburg Hershey. Both have suites to spread out and kitchen amenities. Finally, Country Inn & Suites by Radisson, Harrisburg Northeast, and Hilton Garden Inn Hershey both have indoor pools, ideal for a family-friendly weekend away near DC!
READ NEXT: 13 Best Resorts In Pennsylvania For Families
Atlanta, GA
Photo Courtesy (L-R): Zoo Atlanta, Rebecca Czerw, Rebecca Czerw
When it comes to planning the best vacations for kids under 10, parents often struggle to find places that will entertain both them and their young daughters. But fear not because Atlanta is the perfect destination for a fun-filled adventure! Most people think of Atlanta as a bustling city with vibrant nightlife, but it also boasts world-class museums, outdoor adventures, and much more!
Why Your Daughter Will Thank You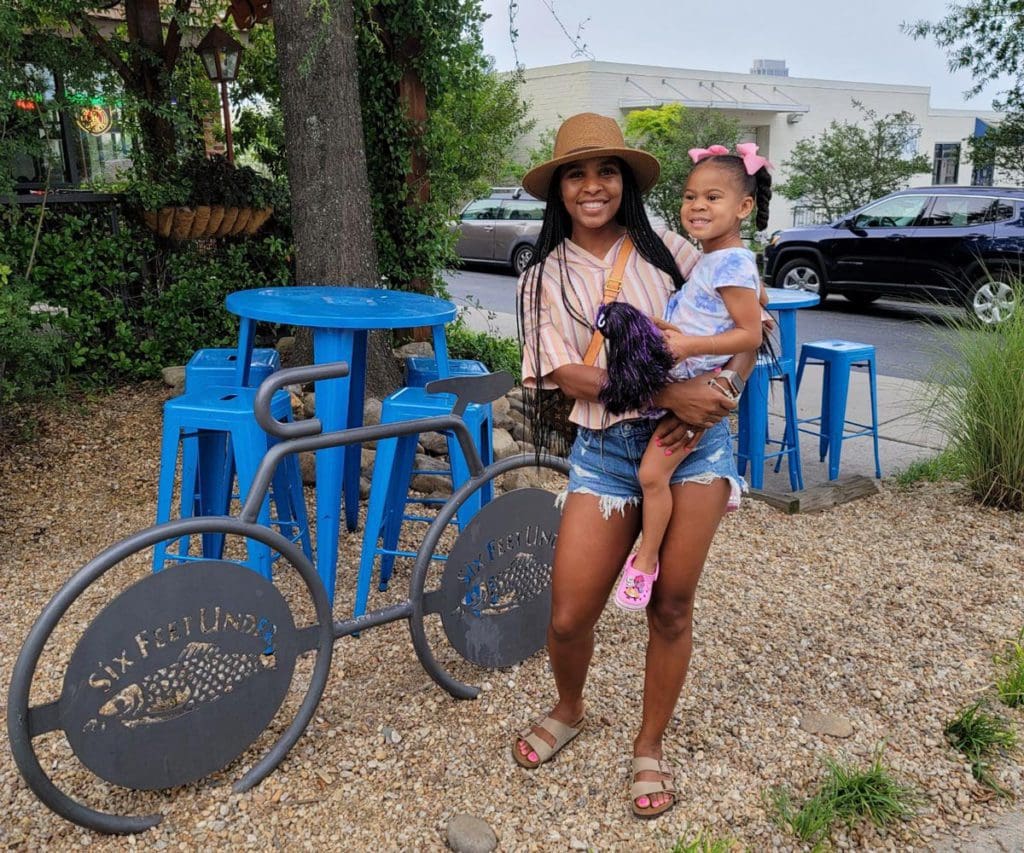 Searching for the best mother-daughter vacations in 2023? Your daughter will love visiting the Georgia Aquarium, which boasts over 120,000 animals worldwide. The World of Coca-Cola is also a must-see with its interactive exhibits and an endless supply of fizzy drinks she can sample. The Children's Museum of Atlanta features areas dedicated to imaginative play, science, art, and culture, providing young girls with an engaging and educational experience. Then, little ladies can also pay homage to a classic Southern tradition at Mary Mac's Tea Room and enjoy tea parties fit for royals (moms will love this, too!).
For outdoor excitement, visit Zoo Atlanta and see adorable pandas up close or listen to a keeper talk. Or, take a stroll through Centennial Olympic Park while enjoying live music. Alternatively, bond with your daughters with a trip to Six Flags Over Georgia, which features thrilling rides and calmer options for young daughters. ​​Finally, when evening falls on your exciting day in Atlanta, cuddle up with your daughter while catching a show at The Fox Theatre or the Center for Puppetry Arts.
READ NEXT: Best Things To Do In Atlanta With Kids
Why Moms Love It
Foodie moms also have their choice of delicious southern cuisine. Take a culinary tour of Atlanta's famous restaurants or indulge in some sweet tea together while people-watching on one of the city's bustling streets! No wonder this is one of the best places to visit with your young daughter in America.
Where to Stay in Atlanta with Kids
Looking for the best hotels in Atlanta for families? Once you've explored the best things to do in Atlanta with kids, you'll need somewhere to return to. A lot of parents like to book a room downtown for the most convenient stay. Check out The Ritz-Carlton, Atlanta, the W Atlanta, or the Four Seasons Hotel Atlanta. Alternatively, Westin Buckhead Atlanta is a good choice outside the main city center.
Reserve a stay in Atlanta through Vrbo here!
Orlando, FL
Photo Courtesy (L-R): Antonia Grant, Tracey Considine Gambardella, Melissa Roman
If you're looking for one of the best places to take your young daughter in America, look no further than Orlando! As one of the best mother-daughter vacations in Florida, this city is known as the "theme park capital of the world," offering a plethora of attractions for kids of all ages. In fact, the city's world-class theme parks, character interactions, and interactive experiences ensure that young girls will be immersed in a fantasy world that brings their favorite stories and characters to life.
READ NEXT: Best Hotels In Orlando With A Waterpark or Lazy River For Families
Why Your Daughter Will Thank You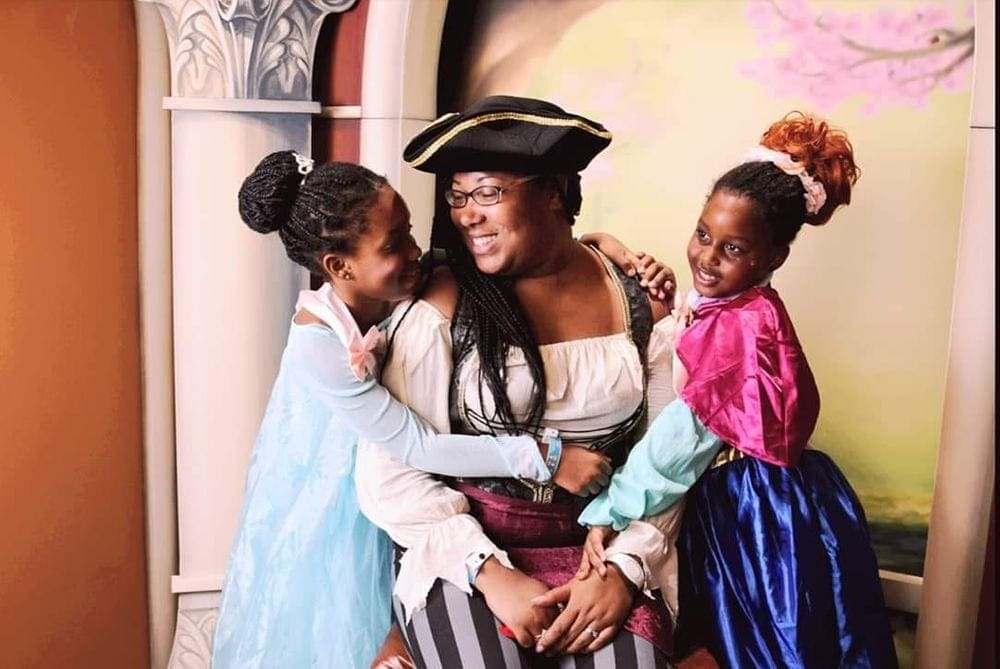 Orlando is home to some of the most popular theme parks in the world, including Walt Disney World, Universal Studios Orlando, and SeaWorld Orlando. If your daughter prefers a classic Orlando experience, check out Walt Disney World with its various parks: Magic Kingdom, Epcot, Hollywood Studios, and Animal Kingdom. These parks offer various attractions and rides for kids of all ages, including character dining experiences, where young girls can have meals with their favorite Disney or other character friends. The princess-themed experiences in Magic Kingdom, including meeting princesses at Princess Fairytale Hall and dining at Cinderella's Royal Table, are particularly popular.
Universal Orlando Resort is another major destination that young girls will love. Its Islands of Adventure feature attractions from popular movies like Harry Potter and Despicable Me. Young girls can explore Hogwarts Castle, visit Diagon Alley, or enjoy interactive experiences like Ollivander's Wand Shop.
Plus, just outside of Orlando in Winter Haven, there's Legoland Florida Resort, a theme park designed for children. Young girls can build their own LEGO creations, go on gentle rides, and enjoy attractions such as Heartlake City, inspired by the LEGO Friends line. Girls who are animal lovers will also enjoy a visit to the SEA LIFE Orlando Aquarium.
Why Moms Love It
As one of the best places to visit with your young daughter in America, there is plenty for Moms to love here too. Orlando, Florida, is a fantastic destination for young girls and offers plenty of enjoyable experiences for moms. Whether it's reliving childhood memories, exploring the intricately themed lands, or going on thrilling rides, moms can immerse themselves in the magical atmosphere and create unforgettable family moments at Orlando's theme parks.
Orlando also offers an array of shopping and dining experiences, from upscale malls to outlet centers and a wide-ranging culinary scene. Plus, many resorts and hotels in the area feature luxurious spas where moms can unwind with rejuvenating treatments and massages. The city also has numerous art galleries, theaters, and performance venues showcasing a variety of shows, musicals, and exhibitions. Lastly, it's surrounded by natural beauty and outdoor recreational opportunities, from picturesque lakes to nature reserves and parks. Hike, pack a picnic, or enjoy quality time with your daughter!
RELATED: Florida Beaches For Families: A Guide To The Sunshine State's Best Coastal Spots By Region
Where to Stay in Orlando with Kids
Need somewhere to stay in Orlando with the kids? Families can choose from Disney Deluxe Resorts for families like Disney's Animal Kingdom Lodge or Disney's Beach Club Resort. There are also more moderate options, like Disney's Coronado Springs Resort. If you're looking for Disney value resorts, consider staying at Disney's Art of Animation Resort or Disney's Pop Century Resort.
If you don't want to stay on a Disney property, you still have plenty of options, including JW Marriott Orlando Grande Lakes, Gaylord Palms Resort Orlando, Four Seasons Orlando, and Waldorf Astoria Orlando.
Gatlinburg, TN
If you're looking for the perfect destination to take your young daughter on a memorable vacation, then Gatlinburg should be at the top of your list! This charming and enchanting town nestled amidst the picturesque Great Smoky Mountains is one of the best places to visit with your young daughter in America. While Gatlinburg may not have theme parks specifically geared toward young girls like Hershey, Pennsylvania, it still offers several attractions that can make for a memorable family vacation.
READ NEXT: Exciting Family Itinerary For Gatlinburg & Pigeon Forge
Why Your Daughter Will Thank You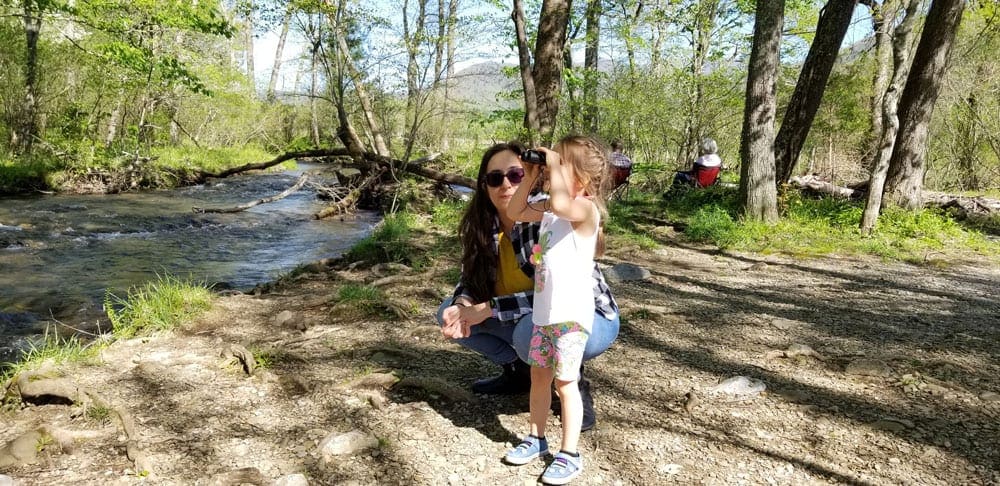 Gatlinburg serves as the gateway to Great Smoky Mountains National Park, one of the most visited national parks in the United States. The park provides a breathtaking natural backdrop for outdoor activities such as hiking, picnicking, wildlife spotting, and scenic drives.
Then, check out Ripley's Aquarium of the Smokies, an aquarium featuring interactive exhibits, touch tanks, and a variety of marine life, including penguins, sharks, and colorful fish. Young girls can marvel at the diverse aquatic world and participate in educational programs and shows. Don't forget about the Gatlinburg Space Needle, an iconic observation tower that provides stunning panoramic views.
Or, take daredevils to Ober Gatlinburg, a mountain-top amusement park and ski area with year-round entertainment. Girls can enjoy a scenic chairlift ride, wildlife encounters, and more. Anakeesta, another adventure park in Gatlinburg, also showcases ziplining, tree canopy walks, a mountain coaster, and beautiful gardens.
Why Moms Love It
Moms can find many reasons to love Gatlinburg, Tennessee as well! Firstly, they'll appreciate the serene atmosphere and enjoy the chance to relax amidst peaceful mountain vistas, fresh air, and scenic trails. Gatlinburg also offers a variety of quaint shops and boutiques where moms can indulge in some retail therapy. The downtown area is home to unique craft shops, art galleries, and specialty stores, offering various shopping options. Moms can also enjoy the diverse dining scene in Gatlinburg, with various restaurants serving Southern cuisine, barbecue, and local delicacies.
There are also several spas and wellness centers that offer relaxation and pampering experiences, like The Spa at Oak Haven Resort. Plus, the town has a vibrant arts and culture scene, including numerous galleries and art studios. Whether it's hiking in the Great Smoky Mountains, exploring scenic trails, or having a picnic in a beautiful park, mothers and daughters who love the outdoors will be in paradise too.
Where to Stay Near Gatlinburg with Kids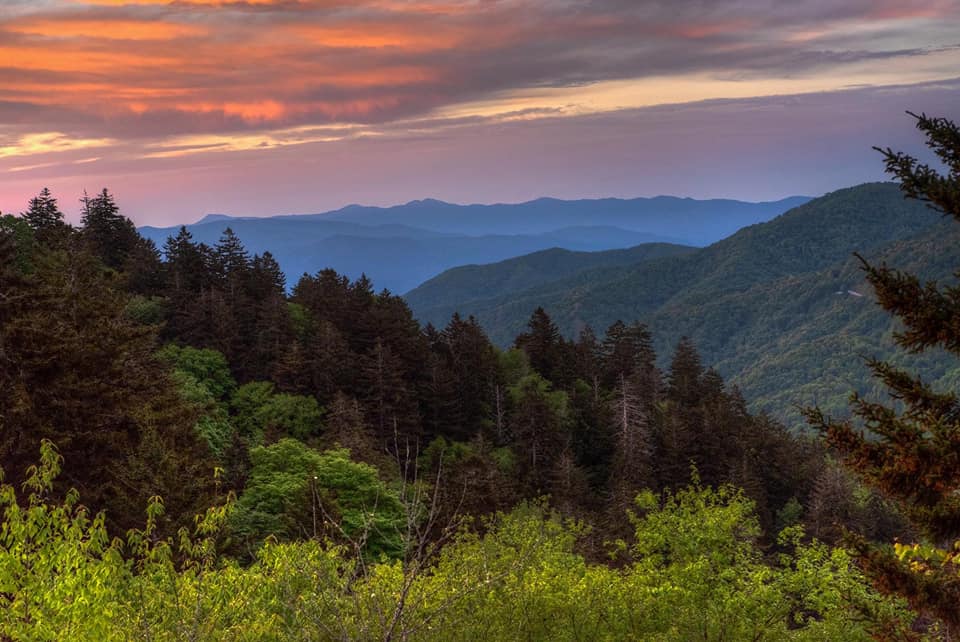 Renting a cabin from Vrbo is a popular choice since some have outdoor pools, hot tubs, and more family-friendly amenities. Families who want a more affordable option can also consider camping. For the comforts of a hotel stay, choose the Country Cascades or Westgate Smoky Mountain Resort, which both offer water parks to enjoy after a day of exploring the area. 
Best Locations for a Mother/Daughter Trip in the Midwest
From coast to coast, there are numerous places for fantastic mommy-and-me trips with your daughter – including the Midwest! Those seeking a mother/daughter trip in the Midwest will love these destinations filled with museums, outdoor adventures, and more. Keep reading to discover the best mother/daughter trips in the Midwest.
READ NEXT: Explore The United States On A Budget: 21 Affordable Summer Vacation Destinations With Kids
Chicago, IL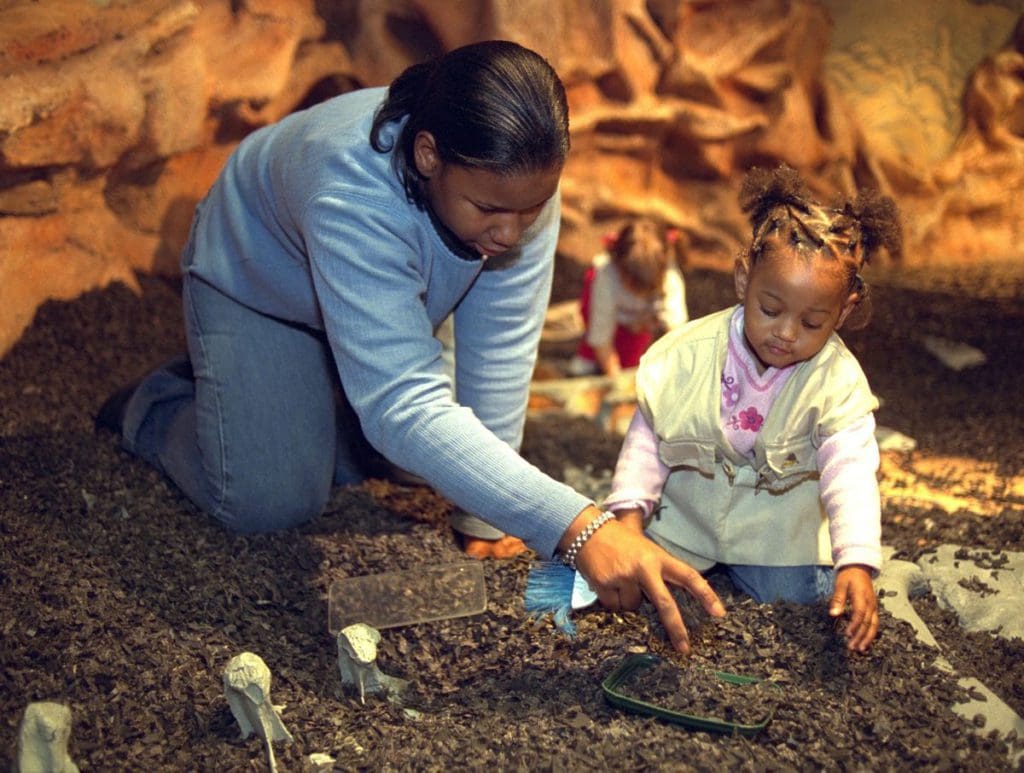 Photo Courtesy (L-R): Chicago Children's Museum, Antonia Grant, Antonia Grant
Parents on the hunt for some of the best places to visit with their young daughter in America will love Chicago! This bustling midwestern city is packed full of fun and exciting activities that both kids and moms are guaranteed to love, from world-class museums to delicious deep-dish pizza!
Why Your Daughter Will Thank You
Your young daughter will love exploring the city's Navy Pier attractions, including a Ferris wheel and stunning views of Lake Michigan. You can also take her on a boat tour of downtown Chicago, where she'll marvel at architectural wonders like the Wrigley Building and Marina City. For even more adventure, head to Millennium Park, where your little one can splash around in Crown Fountain or watch their reflection dance across Cloud Gate (better known as "The Bean"). Then, you can also take them to burn some energy at Maggie Daley Park!
Then, The Field Museum boasts some kid-favorite exhibits such as Sue – the world's largest dinosaur fossil. Young girls may also enjoy the Museum of Science and Industry, Chicago Children's Museum, or The Shedd Aquarium, with its impressive aquatic collection!
Of course, girls who love dolls can't miss the American Girl Place in Chicago, where they can shop for a new doll or buy outfits for one they already have. There's also a hair salon and an iconic American Girl Café.
Why Moms Love It
The city's diverse offerings, combined with its lively atmosphere and family-friendly environment, make it one of the best places for a memorable trip with a young daughter in America. Moms can also appreciate the city's cultural richness, shopping options, and dining scene. Chicago is known for its chic art scene, including the Art Institute of Chicago, which moms can visit solo or with their little ones. It's also renowned for its theater district, offering a wide range of Broadway shows and musicals. Not to mention, there are excellent shopping and dining experiences across the city! Stroll down the Magnificent Mile for some retail therapy.
Where to Stay in Chicago with Kids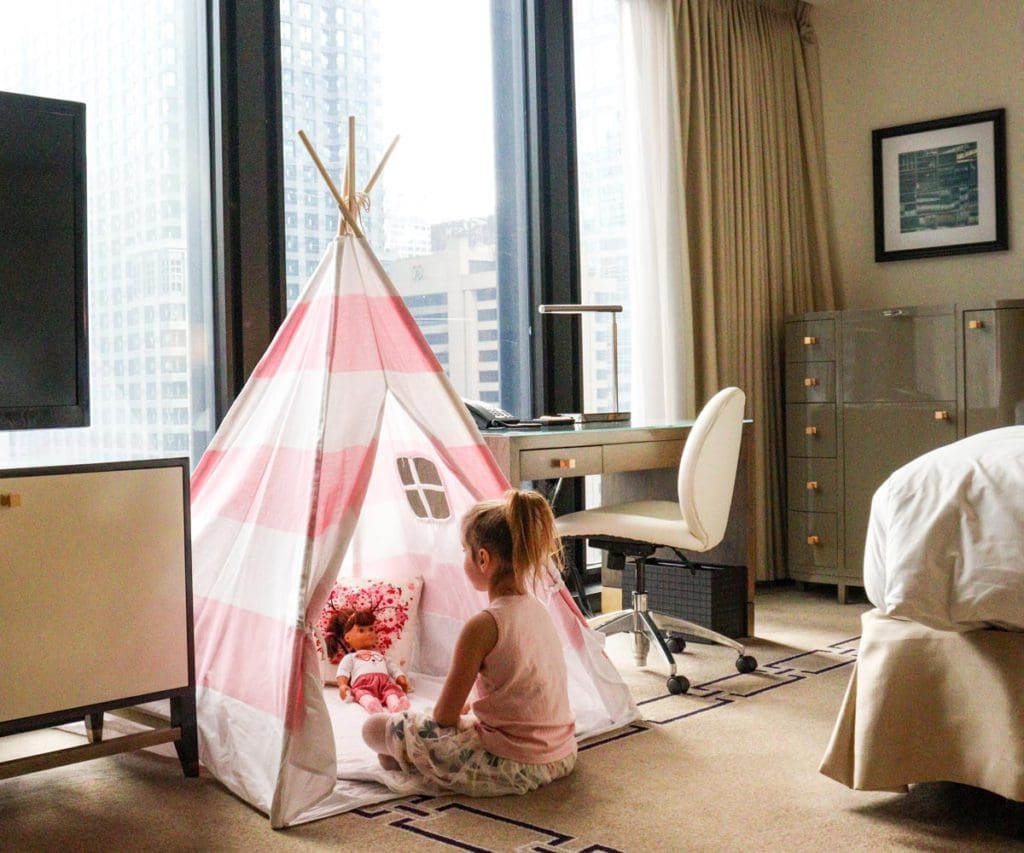 Families can stay in the heart of downtown Chicago at the Palmer House, A Hilton Hotel, The Ritz-Carlton, Chicago, and the Park Hyatt Chicago. Each has unique accommodations and extra perks for families, like a pool, spacious rooms, or rooms with kitchenettes. If you want to stay by the Navy Pier, check out The Residence Inn by Marriott Chicago Downtown / River North or Loews Chicago Hotel.
Families also love The Langham, Chicago. Here's why we think you should Stay at The Langham, Chicago, for an Exciting Chicago Vacation with Kids! Or book an Airbnb or Vrbo! Check out our list of family hotels in Chicago if you want more options.
Bloomington, MN
Photo Courtesy (L-R): Antonia Grant, Nicole Ross Pierce, Antonia Grant
When it comes to finding the best places to visit with your young daughter in America, Bloomington is a clear standout! Located just a few miles south of downtown Minneapolis, this Midwestern gem is home to world-famous attractions that are sure to be a hit with your little ones. Plus. families staying in Bloomington can book a stay at Great Wolf Lodge Water Park | Minnesota to have an indoor water park to return to!
RELATED: 18 Amazing Things to Do in Minneapolis Families Will Love
Why Your Daughter Will Thank You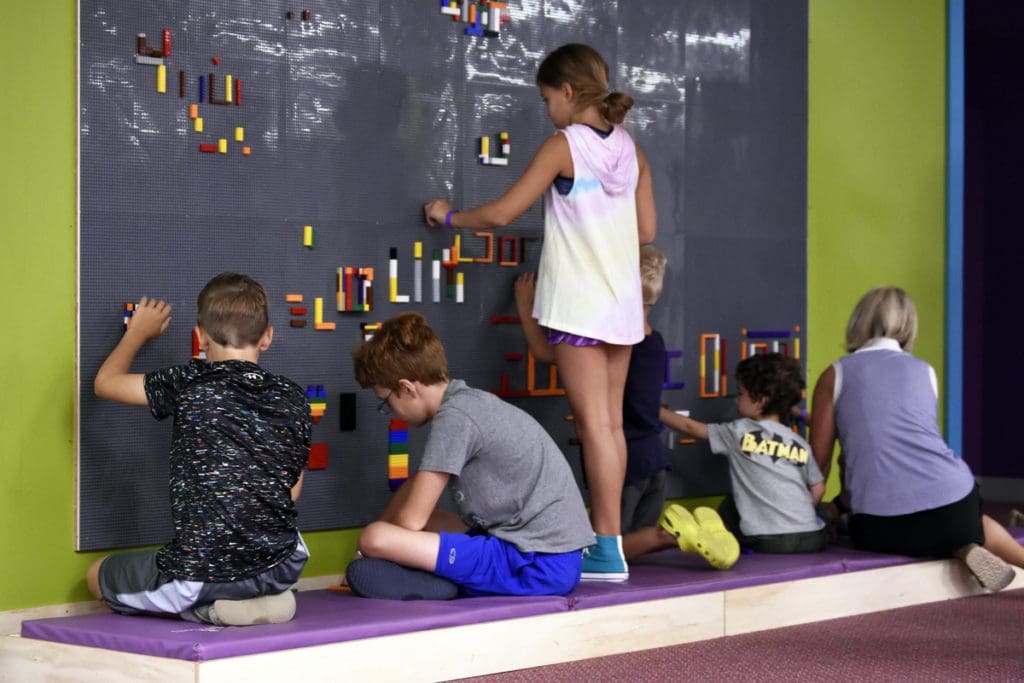 Bloomington is known for housing the Mall of America, a huge indoor mall that has a ton of kid-friendly stores and attractions. Nickelodeon Universe, the largest indoor theme park in the United States, is one such attraction. It features numerous rides and attractions based on popular Nickelodeon characters like SpongeBob SquarePants, Dora the Explorer, and PAW Patrol. Your daughter can enjoy thrilling rides and meet her favorite characters! Families can also go shopping. Or, visit SEA LIFE Minnesota Aquarium to marvel at a variety of marine creatures, including sharks, sea turtles, seahorses, and colorful tropical fish! The Crayola Experience, also located inside the mall, is perfect for young girls who love art and creativity. 
Beyond the big-name sights, Bloomington is also a great place to enjoy the outdoors, with plenty of green space to explore and go hiking. Visit places like the Hyland Lake Park Reserve and the Minnesota Valley National Wildlife Refuge. Then, mommy-and-me travelers can also check out Bloomington's The Works Museum, or Minnesota Children's Museum in nearby St. Paul. Finally, Bloomington has a great selection of parks and playgrounds for families, including the Hyland Play Area.
Why Moms Love It
Moms can enjoy seeing their daughters' faces light up with joy as they experience Bloomington's fun and memorable activities. It provides a safe and welcoming environment to enjoy quality time without worry. Plus, with the Mall of America as the town's main attraction, moms can enjoy shopping, dining, and entertainment all in one place while keeping their daughters entertained. Bloomington's location in the Minneapolis-St. Paul's metropolitan area also allows for easy access to additional regional attractions.
RELATED: Exciting Midwest Hotels With Indoor Water Parks For Families (By State)
Where to Stay in Bloomington with Kids
Bloomington is super kid-friendly and has lots of places to stay! For indoor fun at a water park, we suggest the Great Wolf Lodge Water Park | Minnesota. Families who want to stay near one of Bloomington's biggest attractions, the Mall of America, can also book a stay at Radisson Blu Mall of America.
Looking to add a few more stops to your Minnesota itinerary? Here are 45+ Exciting Places To Visit Within 3 Hours Of The Twin Cities With Kids.
Best Locations for a Mother/Daughter Trip on the West Coast
The West Coast boasts some of the best mommy-and-me destinations in the US! Whether you want beach days or theme parks to fill your days, here are our favorite West Coast destinations for a mother/daughter trip in the United States.
Anaheim, CA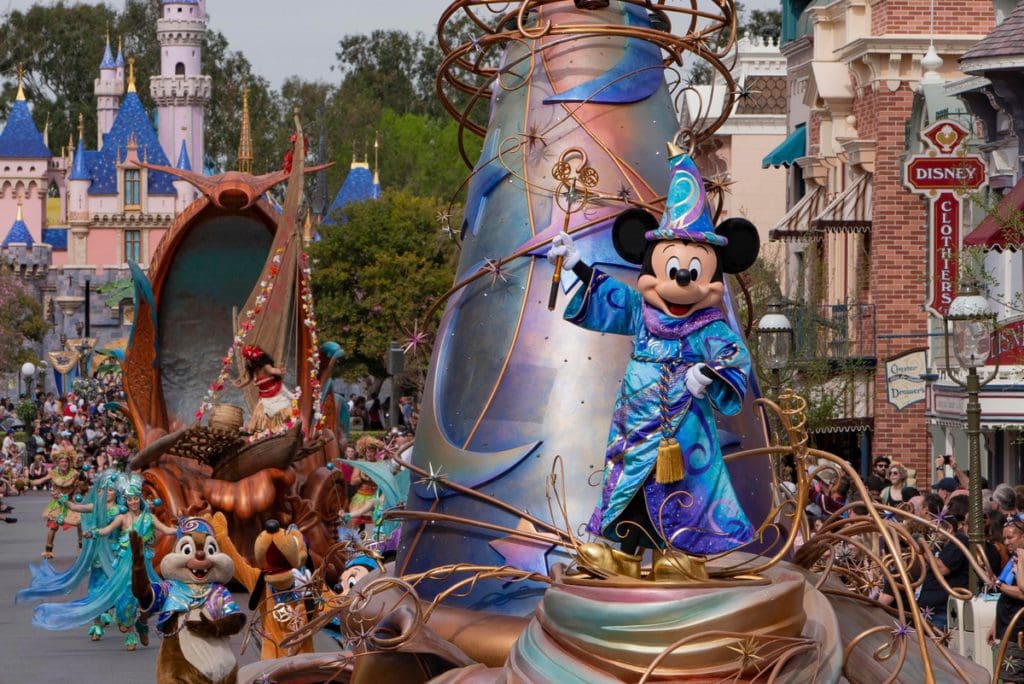 If you're looking for the perfect mother-daughter bonding experience, then look no further than Anaheim, California – one of the best places to visit with your young daughter in America! There's just something magical about this vibrant city that captures the hearts of both kids and moms alike. Moreover, Anaheim's proximity to other Southern California attractions like beaches, Hollywood, and cultural landmarks allows for a well-rounded vacation experience that can be tailored to the interests of both young girls and their families.
Why Your Daughter Will Thank You
You can start off by visiting Disneyland – a world-renowned theme park that is brimming with princesses, fairy tales, and all sorts of fun rides that are sure to put a smile on your little girl's face. If you want to take it up a notch, head over to Disney California Adventure Park, where you'll find more thrilling attractions like roller coasters and water rides. Adjacent to the Disneyland Resort, the Downtown Disney District offers a lively atmosphere with shops, restaurants, and entertainment options. Other amazing spots include The Anaheim Packing District, which showcases artisanal foods from around the globe. Or, catch an exciting game at Angel Stadium while snacking on classic ballpark food.
Then, Adventure City is a smaller, family-friendly amusement park offering rides and attractions suitable for younger children, including a carousel, a roller coaster, and interactive play areas. Young girls can also explore various exhibits on science, technology, engineering, and math at The Discovery Cube Orange County, a hands-on science center. Or, enjoy a feast while watching knights joust at Medieval Times Dinner and Tournament in Buena Park!
Why Moms Love It
Moms will find plenty to enjoy in Anaheim, California, as it offers a range of attractions and experiences beyond the excitement of the theme parks. (Of course, the nostalgia of Disney characters, iconic attractions, and immersive lands can transport moms back to their childhoods!) Anaheim also boasts various shopping and dining options, including in the Downtown Disney District and the surrounding areas. Plus, the city is also within driving distance of several southern California beaches for moms to take a break, including Huntington Beach, Newport Beach, or Laguna Beach. Or, take a day trip to Los Angeles!
From art galleries and museums to theater performances and concerts, there are plenty of opportunities to appreciate art, music, and live entertainment in Anaheim. After a day of adventures, moms can also enjoy massages, facials, and other rejuvenating treatments at numerous spas and wellness centers in the area, including the spa at the JW Marriott, Anaheim Resort! 
Click here to read a Review: Why The Howard Johnson Anaheim Might Be The Happiest Hotel On Earth For Families!
San Diego, CA
Photo Courtesy: Emily Kapic (Center Image), Lisa McGuigan (Right Image)
San Diego is the perfect destination for moms and daughters alike, from its sunny beaches and delicious food scene to its wide array of family-friendly attractions. This vibrant city boasts endless possibilities for fun and adventure, whether you want to visit the zoo or build sandcastles and splash around in the waves.
RELATED: The Best 7-Day San Diego Itinerary with Kids
Why Your Daughter Will Thank You
The San Diego Zoo is a world-renowned attraction and a perfect destination for young girls who love animals. They can see various species, including giraffes, elephants, pandas, and more. The zoo also offers special interactive experiences and educational shows. Families also can enjoy spending time at Mission Beach or Pacific Beach, showcasing swimming, surfing, boogie boarding, building sand castles, and more. Belmont Park, located in Mission Beach, offers a classic seaside amusement park experience. It features rides, arcade games, and attractions suitable for all ages. Then, kids will also love getting up close and personal with the sea lions at La Jolla Cove or visiting SeaWorld San Diego! Don't forget about Balboa Park and visiting the Maritime Museum of San Diego.
In nearby Carlsbad, Legoland California Resort is a theme park specifically designed for children, including young girls. The park features LEGO-themed rides, interactive play areas, shows, and attractions like LEGO Friends Heartlake City.
Why Moms Love It
Moms love San Diego for its welcoming and family-friendly environment. It's generally very clean, safe, and easy to navigate. It also boasts beautiful beaches and a mild climate, making it perfect for enjoying quality time with your daughter no matter the season. Plus, San Diego has a vibrant arts and culture scene. Be sure to visit the San Diego Old Town or check out Chicano Park to learn more about the immigrants who shaped the city. Moms and daughters can also explore shopping districts, including the historic Gaslamp Quarter and Fashion Valley Mall. With so much to offer, this is undoubtedly one of the best places to visit with your young daughter in America!
RELATED: 6 Amazing Weekend Getaways Near San Diego For Families
Where to Stay in San Diego with Kids
San Diego has so many family-friendly hotels! Situated on 400 sprawling acres, we recommend the Fairmont Grand Del Mar. It's centrally located, kid-friendly, and even has four pools. Families who want to stay directly on the beach will love Hotel Del Coronado, Curio Collection By Hilton. It's housed on a Victorian property and is only five miles from downtown San Diego. Read our list of the best beachfront hotels in San Diego to learn more!
Happy Travels!
We hope you liked this list of the Best Places to Visit with Your Young Daughter in America! From coast to coast, this country boasts an array of captivating destinations that offer endless opportunities for bonding and creating memories with your little one. Enjoy your next mother-daughter trip!
*This post may contain affiliate links that may earn us a small commission at no additional cost to you. Affiliate links in no way inform the hotels, sights, products, or other recommendations included in our articles. All opinions and recommendations expressed here are compiled from submissions submitted by the generous members of our Families Who Love To Travel community.
READ MORE: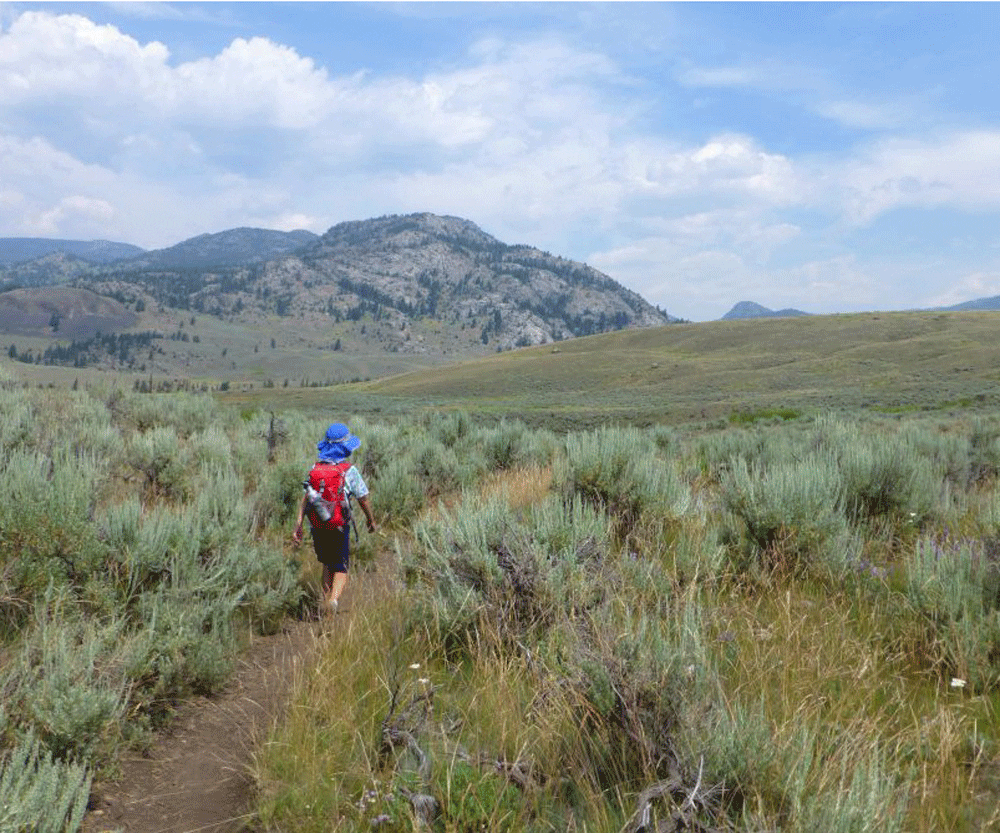 Everyone knows that Yellowstone National Park makes for a classic family vacation. Strolling the boardwalks...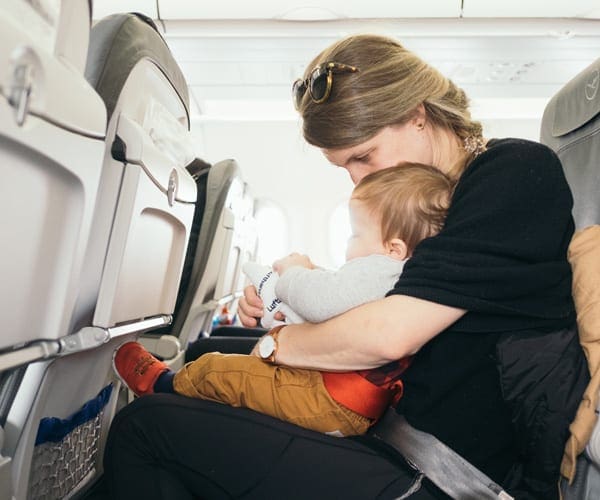 Families Who Love To Travel contributor Meghan Oaks provides her 10 best tips for your...