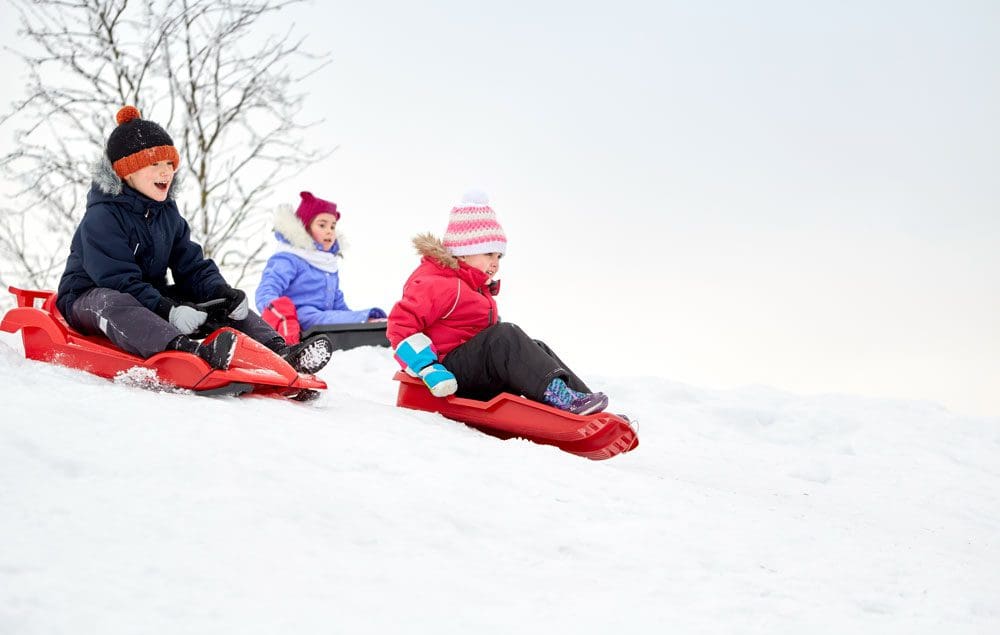 Kids and adults alike will have so much fun soaring down these sledding hills in DC for families! Winter is a great season for families to visit Washington, DC, between holiday festivals, Christmas cheer, and tons of fun winter activities! Of course, once snow covers the ground, there are some fantastic sledding hills to enjoy throughout the area as well. Located throughout the city and beyond, they're scattered among popular locations in DC, so there's no excuse not to visit one! Here, we break down the best DC-area sledding hills for families in town and thrilling experiences at nearby ski resorts. We also have you covered with places to warm up with a bite to eat or a hot chocolate nearby. Grab your sled (or buy one at the nearest CVS, Target, or Walmart – spread throughout the area) and read on for ideas on where to go!
RELATED ARTICLE: Where To Ski Near DC With Kids
Best Sledding Hills in and around Washington DC for Families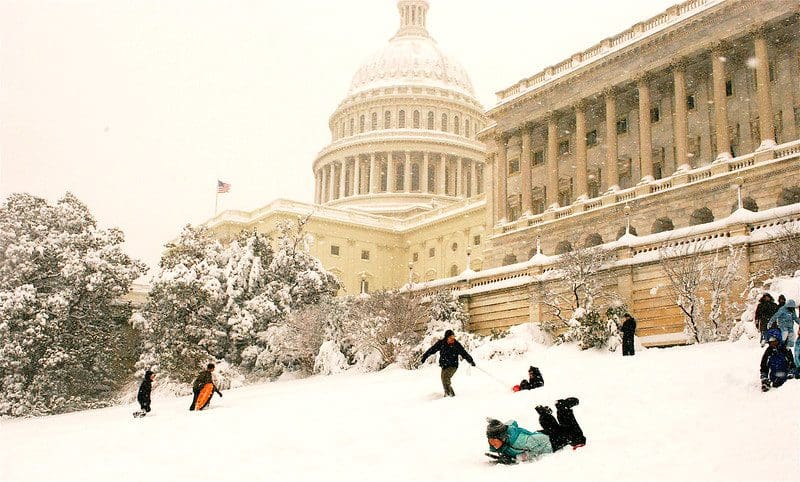 Families looking for a local sledding hill in Washington DC will have plenty of options to choose from! Keep reading to learn the best picks!
Battery Kemble Park, DC
Battery Kemble Park should be on families' list for a top sledding hill in Washington DC. Tucked into the Palisades neighborhood, this hill offers a great spot to sled, roll, and run around in the snow. If you're looking for some history with your snow-filled fun, the park has remnants of a Civil War battery.
Regardless of which direction you're headed next, you'll discover many options to grab food and drink. In the Palisades, Black Coffee lets you dine in or order drinks, breakfast, lunch, or brunch. Lupo Verde Osteria Palisades is a spot rustic Italian fare that offers main and deli-style menus. If you're headed toward Cathedral Heights, a neighborhood near the National Cathedral, you'll find several Starbucks in the area. Families can also enjoy a meal from Chef Geoff's for American, Shemali's for Middle Eastern, and Al Dente for Italian.
Book Hill Park, DC
Georgetown is often referred to as the Hilltop in Washington, DC, thus making it a prime destination for winter sledding. Families should head to Book Hill Park to get their fix – kids will love it here! It's nestled in the northern section of the neighborhood among shops and restaurants. Plus, there's a local library if you're interested in some storytime with your outdoor play.
After your sledding adventure, warm up with some pho at Pho Asian Bistro; transport yourself to France and Italy with a visit to Patisserie Poupon and Officina, respectively. Or, enjoy a nice meal (and a glass of wine for the adults) at Bistro Lepic.
Capitol Grounds, DC
Families looking for a more iconic background for their DC sledding experience should head to the Capitol Grounds (near First Street, NE) for sledding. While it isn't the steepest slope around, it does make for an unforgettable trip out and about. Cruise down the hill in style surrounded by the Capitol Building, Supreme Court, and Library of Congress!
Nearby, Ebenezer's Coffeehouse offers plenty of warm beverages – the proceeds of which support community outreach projects. Or for families in search of varying tastes, head to Union Station for dozens of shops and a food court. We're partial to Blue Bottle Coffee, Einstein Brothers Bagels, and Shake Shack.
Fort DuPont Park, DC
Fort DuPont Park is a year-round destination. But once the snow falls, it's an area favorite for sledding! It's also a Civil War site – with its historic roots on display – and offers miles of hiking. As a bonus, the northeast corner of the park is home to Fort Dupont Ice Arena, which offers public skating sessions primarily on the weekends.
One of the tastiest developments right across the river is The Roost. This Metro-accessible food hall and gathering spot is sure to provide a great pit stop after sledding! From tacos to pizza to sushi and ice cream, there's something for everyone in the family.
Fort Reno Park, DC
Fort Reno Park sits atop the highest point in Washington, DC, so you have a great vantage point before zooming down that sledding hill. Not surprisingly, its position lent itself to a useful site for combatting enemies and spotting their advances during the mid-1800s. Today, winter thrill-seekers enjoy the land for a much more playful purpose.
In the Tenleytown neighborhood, there's something for everyone in the family, including kid-friendly spots like the Bullfrog Bagels food truck for breakfast, Guapo's or District Taco for Mexican, and Confetti Cafe for café fare.
G.W. Masonic National Memorial, VA
Old Town Alexandria can make a wonderful home base or neighborhood to explore while in the DC area with kids. And during winter, you can find a perfect sledding spot at the nearby George Washington Masonic National Memorial. Inside, there's a memorial and museum, active temple, performing arts venue, and more. But to outdoor enthusiasts during the winter, the grounds provide a great sledding hill!
Families can warm up at nearby For Five Coffee Roasters or Uptowner Cafe. Or, hit one of the many restaurants in the area, including local Mediterranean chain The Perfect Pita, cozy pizza spot Lena's, and the homey diner Table Talk.
Shepherd Park, DC
In NW DC, eager sledders can enjoy a visit to Shepherd Park! With a playground and community center onsite, it's a family-friendly place to visit year-round. But once the snow falls, it offers a great place to sled in Washington DC with the whole family!
After your family sledding adventure, visit Tomoka Coffee House for warm beverages and breakfast sandwiches. Or for more substantial fare, Moh Moh Licious offers cuisine from across Asia.
Takoma Park, MD
The hill behind Takoma Park Middle School, adjacent Takoma-Piney Branch Park, attracts many families on snow days! Climb the steps and get zooming at this hill, close to the Takoma Metro Station and the Takoma Park neighborhood of DC, which some have coined the "Berkley of the East."
Parents will appreciate Lost Sock Roasters, which serves excellent coffee, hot chocolate, empanadas, sandwiches, and salads. Or if you have a sweet tooth, head to Donut Run. Seafood lovers flock to Horace and Dickies, while local chain Busboys and Poets Takoma offers a wide variety of quality fare for any diet.
Best Sledding Hills near Washington DC for Families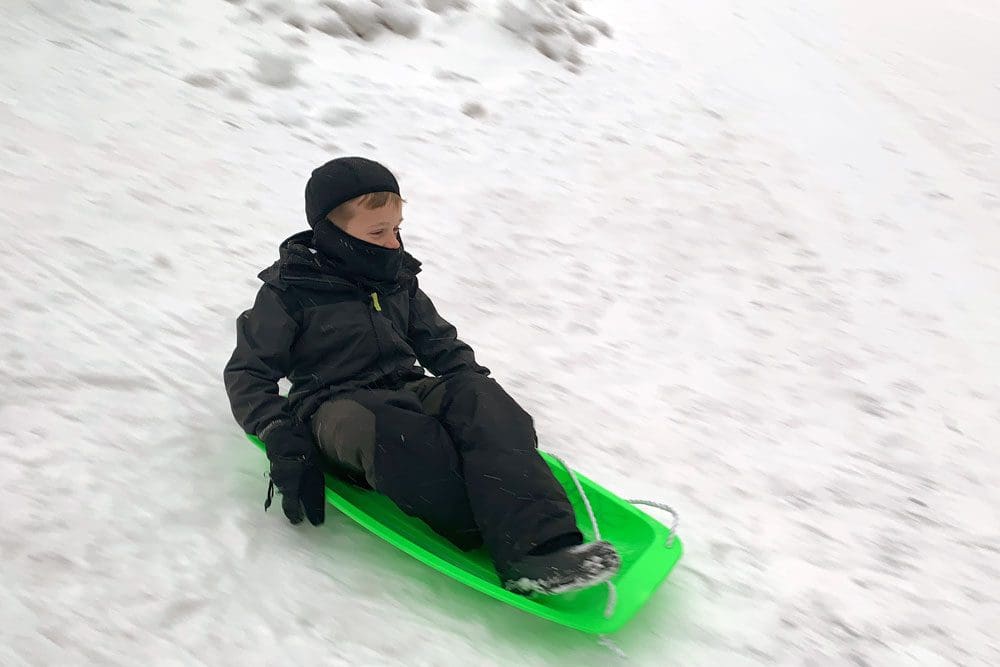 If you want to make your sledding adventure into a whole trip, there are plenty of worthwhile destinations outside of the immediate DC or Maryland area. Keep reading to learn about the best sledding hills for families in Pennsylvania and Virginia!
RELATED ARTICLE: Best DC Museums For Kids By Age
Liberty Mountain, PA
If you're up for a 90-minute drive, Liberty Mountain has more to offer than just skiing. Snow tubing at Boulder Ridge offers fun for all ages. Families can sled down the main hill by purchasing a two-hour ticket that grants access to the lift and a snow tube for anyone ages five and up. For those traveling with younger sledders, the kiddie tubing hill offers appropriate fun for children ages two to four.
No worries if you forget to pack supplies on your trek out to Liberty Mountain. While at the resort, Eagle & The Owl, McKee's Tavern, and Alpine Market offer sit-down or grab-and-go options to fuel up on-site.
Massanutten Resort, VA
Families venturing southwest of DC in search of snow tubing can find it at the Massanutten Resort. Here, the tubing hill features up to 16 lanes that are 900 feet in length and offer a drop of 120 vertical feet for both day and night "Northern Light" sessions. Open from mid-December to mid-March, you can visit the snow conditions page at the resort to know if the hill is primed for some serious sledding. You can also purchase tickets ten days in advance for the general public. Sooner if you're an owner or guest staying on property – and they often sell out!
There is plenty of variety to keep hunger at bay or warm up after a trip down the tubing hill. Virginia BBQ & Pizza Company, Base Camp, and Campfire Grill are dining options during the winter months. Got a hankering for a trip to the indoor water park while on-site? The Snack Shack has you covered there. 
READ NOW: Best Places To Celebrate The Holidays In DC With Kids!
Whitetail Resort, PA
Another hill under two hours from DC is at Whitetail Resort, otherwise known as one of the best ski resorts near DC. In terms of tubing and sledding, it offers the Magic Carpet experience that transports tubers to the summit of the 837-foot slope. Tubing is usually available in two-hour sessions on a first-come, first-served basis for ages "2 to 92″. Sledders will also love the snow experience at this ski resort. There's a tubing-specific lodge and parking lot to easily access the fun and refreshments! Plus, there's a fireplace to warm up after your trip down the hill.  
Happy Sledding!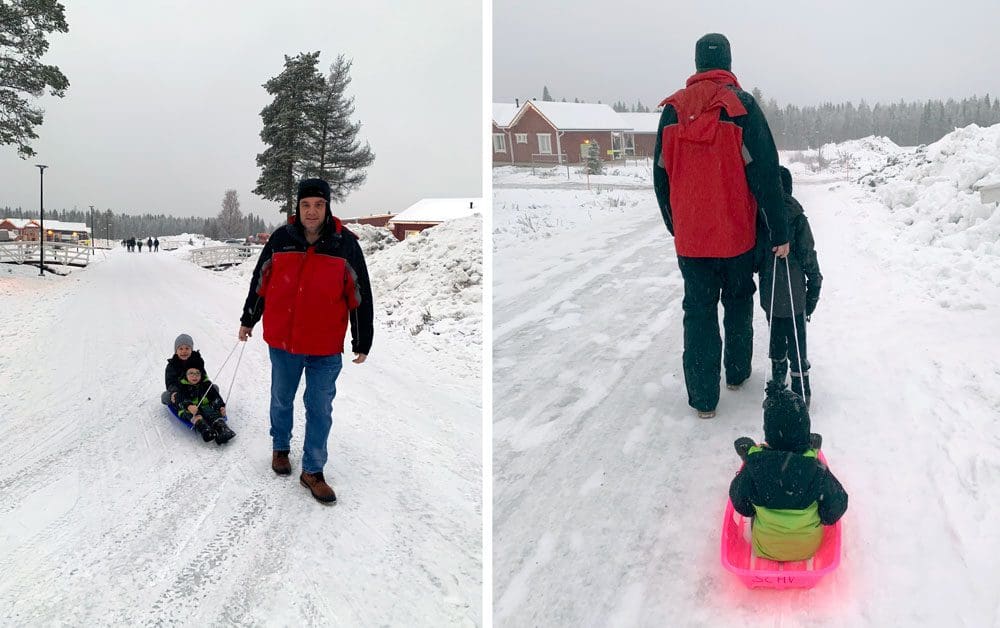 We hope you liked this list of the Best Sledding Hills In Washington DC For Families by our contributor Megan Tucker! Whether in Washington DC or beyond, it'll keep your family prepped and ready for winter sledding fun. Enjoy the ride down the best sledding hills for families in and around our nation's capital!
*Due to the COVID-19 pandemic, some of the attractions, accommodations, or things to do on this list may be closed. Please ensure availability before making your decision.
*This post may contain affiliate links that may earn us a small commission, at no additional cost to you. Affiliate links in no way inform the hotels, sights, products, or other recommendations included in our articles. All opinions and recommendations expressed here are that of the author and/or are compiled from submissions submitted by the generous members of our Families Who Love To Travel community.
READ MORE: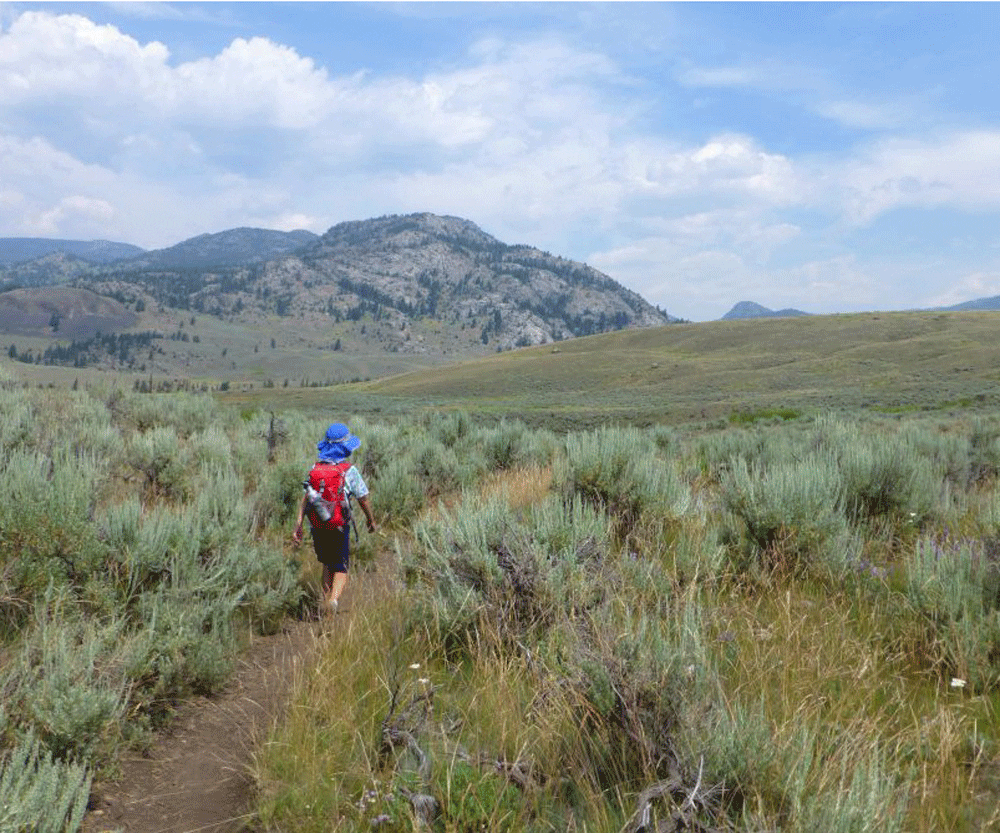 Everyone knows that Yellowstone National Park makes for a classic family vacation. Strolling the boardwalks...
You can do all the research and pack all the right things, but it's hard...