When traveling with kids, parents are always looking to explore the most magical places in the world! This is especially true during the holidays. Parents will adore watching tiny faces light up while meandering light festivals, meeting Santa, or riding a one-horse open sleigh. In New York City, enjoy iconic Christmas traditions like ice skating in Central Park. Or, head to Breckenridge, Colorado to hit the slopes. Looking for a little heat in your Christmas? Choose Taos, New Mexico for a unique twist on the holiday season! Families can spend the 12 days of Christmas in one of the most magical Christmas towns in the United States using this list compiled from our Facebook group, Families Who Love to Travel. No matter which destination you choose, enjoy the most wonderful time of the year by making memories in these Magical Christmas Towns in the U.S. for Families.
Best Places to Celebrate Christmas in the Northeast
If you're looking for the best Christmas vacations in the US, we have several great recommendations on the East Coast for families! Enjoy an exciting holiday getaway with kids to New York City, or head to Bethlehem, Pennsylvania for a cozier experience. Keep reading to learn the best Christmas towns on the East Coast for families.
RELATED: Magical Christmas Towns In The Northeast To Visit With Kids!
Freeport, ME
Freeport, Maine is next on our list of magical Christmas towns for families! Freeport hosts the Sparkle Celebration each year. Here, enjoy the Parade of Lights, a decorating contest, and more family-friendly events. Plus, be on the lookout for the Stealth Elf, who surprises jolly shoppers with gift cards to local businesses. This New England city is the home of L.L. Bean, which offers its annual Northern Lights Celebration. Kids will adore visiting Santa's reindeer. Not to mention, you can lace up your skates and enjoy the beautiful new Ice Skating Rink. Afterward, head to the "Holidays Around the World" Interactive Walk and enjoy many more family-friendly holiday events. The Freeport Market offers a variety of specialty gifts and wares for holiday shoppers by local artists. Finally, Freeport also offers a variety of other shops to complete your holiday gift-giving list.
Freeport, ME Vacation Rentals: house rentals & more | Vrbo
What Our Families Say
"Freeport provides such a magical Christmas experience to share with your kids, it brings you back to exactly how you may have pictured the North Pole to look like during your own childhood! Walking on the brick sidewalks through the downtown Christmas lights, or through the tall pines wrapped in lights at L. L. Bean and stopping in the warming huts really make you feel you are visiting a winter wonderland!"

– Stephanie Joyce
New York City, NY
If you've ever watched a Hallmark movie, you know how magical Christmas in New York City can be. And trust us, it's worth the hype! NYC offers iconic Christmas traditions like ice skating in Bryant Park and taking family pictures in front of the Rockefeller Center Christmas Tree. Or, you can check out the Rockettes at the Christmas Spectacular at Radio City Musical Hall. Explore one of the most magical Christmas towns for families by visiting Santa at Macy's Santaland. Afterward, meander 5th Avenue along Macy's to enjoy their special holiday window displays. If you're traveling with littles, be sure to check out the Holiday Train Show at the New York Botanical Garden. Then, check out a Broadway show like Elf, the musical. If you're looking for a seasonal church service while in NYC, check out St. Patrick's Cathedral. Finally, families can also find traditional Christmas markets throughout the city!
RELATED: Best Family Hotels In New York City With A Pool (Includes 1- to 3-Bedroom Suites!)
What Our Families Say
"NYC!! The vibe is like nothing I've seen. The bell ringers all dress up, sing, and dance. The scenes in the windows are a work of art. The lights on the buildings that flash to the tune of Christmas music. There are tons and tons of people, but they are all pleasant. Rockefeller Center, of course, is amazing. I could go on and on. This was by far my favorite vacation."

– Angela
Bethlehem, PA
Families will love taking a holiday getaway with kids to Bethlehem, Pennsylvania. Start your adventure at the Live Advent Calendar, the only one of its kind in the country. This special show is sure to be a magical occasion for families! Then, visit the Christmas huts at the Christmas City Village. Here, you'll find unique gifts and stocking stuffers for everyone on your list! Plus, kids can snack on holiday-inspired treats, while you shop. Afterward, complete any remaining shopping at the local Christkindlmarkt. If you're looking for a unique holiday experience, embark on one of the local Christmas tours offered by the museums and historic sites in town. You can even take a Christmas stroll with a certified guide outfitted in a 1700s-era Moravian dress! Afterward, rest your feet while you explore the city by horse-drawn carriage. Finally, don't miss the city's iconic Christmas on the plaza.
Best Places to Celebrate Christmas in the Southeast
You'll find some of the best places to visit during Christmas in the Southeast! In fact, North Carolina, Georgia, and Tennesse all boast amazing options. Keep reading to find out why you should take a Southeastern holiday getaway with kids.
McAdenville, NC
What better place for a holiday family vacation than Christmas Town USA! Entering its 66th year, McAdenville, North Carolina, has been celebrating Christmas in style for generations. Spread cheer while enjoying the Christmas tree lighting ceremony or the yule log ceremony. Afterward, take a scenic drive around town, enjoying neighborhoods lit with gleaming lights and holiday spirit. Christmas Town Lake is a must with tiny travelers! Seeing twinkling lights sparkling on the lake is truly mesmerizing. Then, complete your shopping list at local shops like Thomas Kinkade Studios. Once you've finished shopping, stop at Floyd and Blackies Bakery for some treats! Finally, nearby Asheville also hosts several festive events, including Christmas at the Biltmore Estate.
Gatlinburg, TN
If you're looking for a holiday getaway with kids in the mountains, Gatlinburg, Tennessee, is a great option! Nestled in the Smoky Mountains, Gatlinburg offers the perfect backdrop for a cozy Christmas vacation. You'll find seasonal events from Thanksgiving to the New Year, including the Great Smoky Thanksgiving Arts & Crafts Show, Festival of Trees, and the New Year's Eve Ball Drop and Fireworks show – to name a few! Kids will love seeing the festive floats during the Fantasy of Lights Christmas Parade. During the parade, families will also enjoy dancers, marching bands, and jolly characters in costume. Keep your eyes peeled for Mr. and Mrs. Clause! Then, cap off the holiday season with fireworks at the New Year's Eve Ball Drop and Fireworks show. This stunning display of colors is choreographed to special music. Kids will look on with awe as the night sky becomes its festival of lights!
What Our Families Say
"It's hard to explain why I love Gatlinburg at Christmas. Or is it at Christmas that I love at Gatlinburg? Funny, because out of all of the holidays we celebrate, Christmas has always been my least favorite …. Until one year I decided not to stress the cooking and cleaning and presents. Instead, I decided to pack up the family and rent a cabin and celebrate with PRESENCE. Driving into Gatlinburg that Christmas Eve, I finally FELT Christmas. Restoring my spirit and filling my heart with reminders of what really matters during this season, is why I find it so magical there."

– Tonya Bobanya
Dahlonega, GA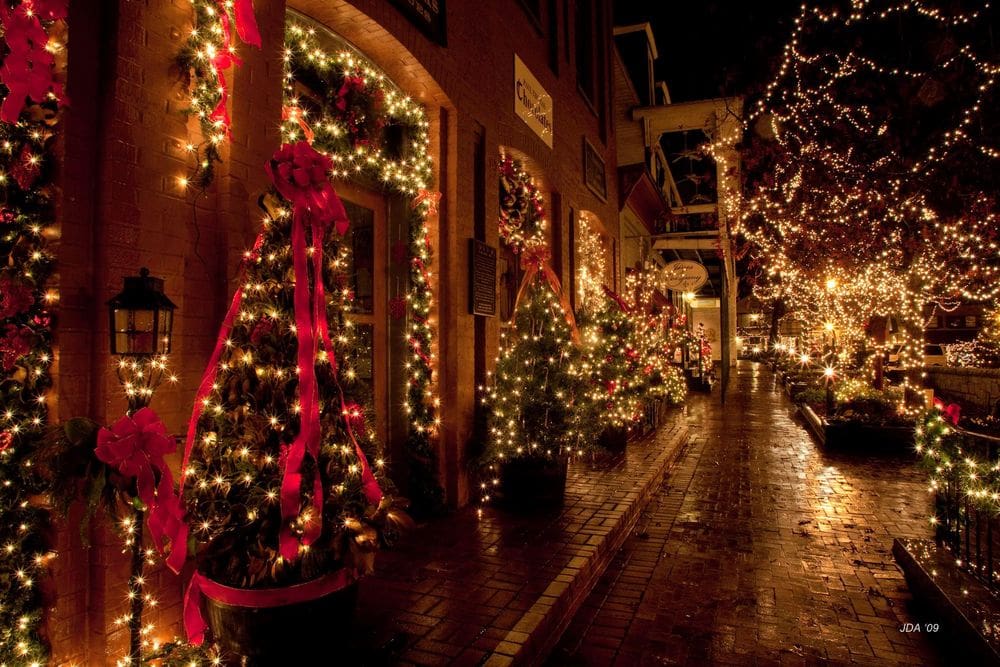 Experience Christmas in the North Georgia Mountains when you visit Dahlonega. Located around an hour north of Atlanta, this small city boasts lots of holiday fun. Start your celebration with the Lighting The Square on November 26th to watch the town illuminate with glittering decor. Then, on the first and second weekend in December, visit the Christmas Market on Candy Cane Lane. Remember to say hi ​​to Mr. and Mrs. Claus as they walk around Dahlonega's Town Square! Throughout December, various events such as Santa meet-and-greets, carriage rides, and Christmas caroling are also available. Kids and adults alike will adore the floats, costumes, and other decorations at the annual Christmas Parade on December 11th. Plus, there's the Holiday Inn Musical at Holly Theater the weekend before Christmas, rated G for all ages. To see more of Dahlonega, visit a classic attraction like the Dahlonega Gold Museum.
Best Places to Celebrate Christmas in the Midwest
There is certainly Christmas magic in the Midwest! Families will love getting cozy in front of a fire with hot cocoa in hand while enjoying one of the best Christmas towns for families in the Midwest. Whether you are looking for a big city or a charming town, we've got you covered with some of the best Christmas vacations in the US!
Frankenmuth, MI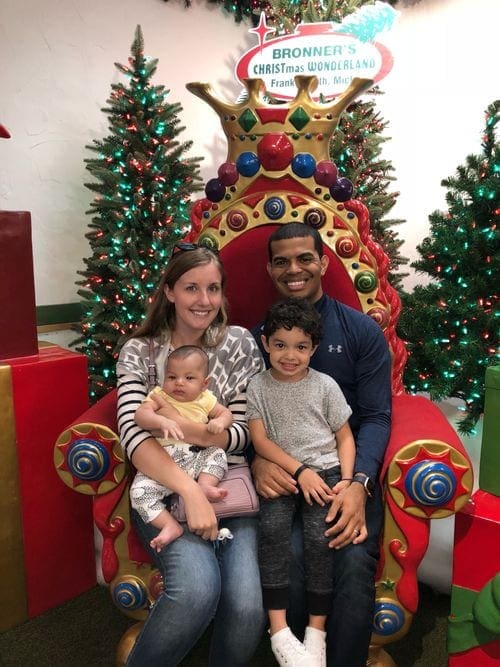 Designed as a replica of a German village, Frankenmuth, Michigan offers the "World's Largest Christmas Store", Bronner's CHRISTmas Wonderland. Bronner's has been "making spirits bright" since 1945. Here, families will find a stunning array of Christmas decorations like ornaments, trees, and lights. In fact, Bronners offers more than 6,000 ornaments! Certainly, you'll find a special one to commemorate your visit to one of the most magical Christmas towns for families in the United States. Afterward, take a horse-drawn carriage ride around town. Then, head to Crossroads Village, where kids will love riding the decorated train! Next, wander the Christkindlmarkt for traditional holiday treasures and gifts. Within the cozy, heated tents, snack on baked goods, or sip hot chocolate. Grab your ice skates too, because the new ice rink downtown is sure to offer an afternoon of family fun! Finally, enjoy a European-inspired family meal at The Station 100!
Pro Tip: Frankenmuth celebrates Christmas all year round – which means you can visit this Christmas town in Michigan and celebrate Christmas in July here!
Chicago, IL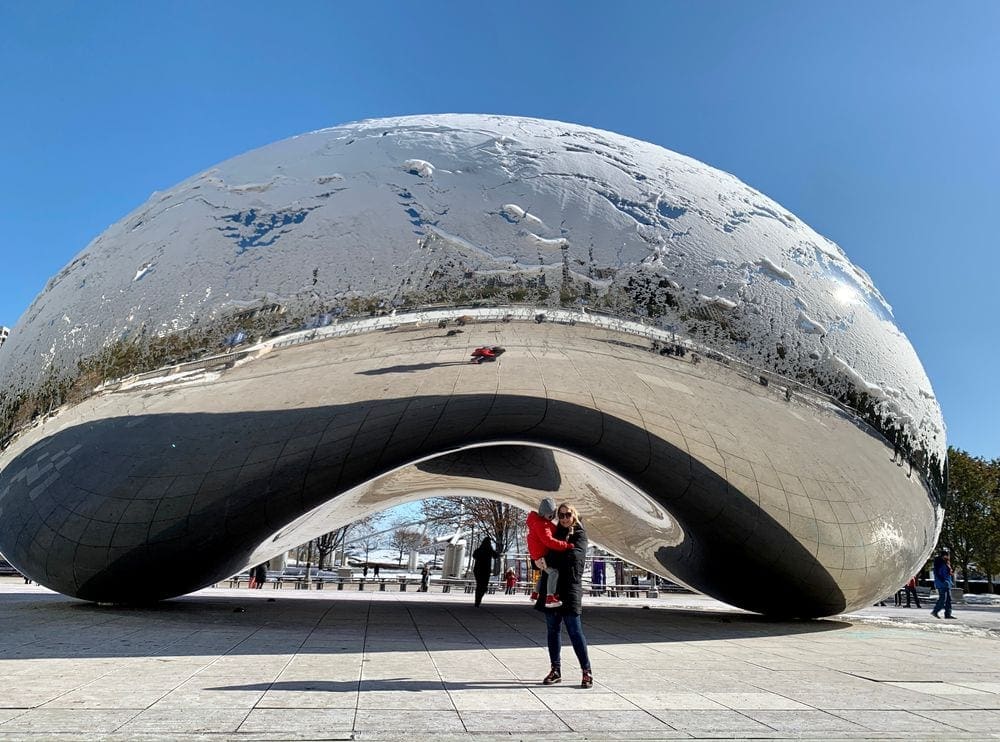 Next on our list of magical Christmas towns for families is Midwest favorite, Chicago, Illinois. Families will littles can enjoy dazzling holiday lights, while meeting the animals at the Lincoln Park Zoo. Then, get into the holiday spirit at the Magnificent Mile Lights Festival. Every year, this family-friendly festival delights Christmas lovers of all ages with colorful light displays and performances by kid-favorites, like Mickey and Minnie Mouse. If you're looking for outdoor ice-skating, Millennium Park even offers a chance to skate near The Bean! If you time it right, you can also hear Caroling at the Cloud Gate while in the area. Plus, don't miss the Christkindlmarket held every season in Daley Plaza. Here, you can eat, drink, and be merry, while exploring one of the largest Christmas markets in the United States. Kids will love the Christmas Around the World exhibit at the Museum of Science and Industry!
RELATED: The 10 Best Family Hotels in Chicago
What Our Families Say
"The lights festival and parade along the Magnificent Mile, street musicians playing Christmas songs, the holiday displays in the Macy's windows on State Street…The Christkindlmarket, set up in Daley Plaza, is a wonderland of lights and tastes and smells. The giant Christmas tree is a beautiful backdrop, and the air almost tastes like hot mulled wine and spiced nuts...The Museum of Science and Industry has an incredible display of Christmas trees from around the world. For some reason, there is something extra gratifying about bustling through the busy, chilly downtown streets and stepping into a deliciously warm shop or restaurant during a Chicago winter, and driving along Lakeshore Drive, Lake Michigan is beautifully cold and icy, while the city's skyline is dressed up with red and green lit skyscrapers."

– Erica Hayen
Branson, MO
Are you looking for a magical Christmas town where the whole city participates in decorating? Then, Branson, Missouri is a must for your next holiday family vacation! Find live shows, shopping, dazzling light displays, and more in this Midwest city. Nearby, Silver Dollar City, an amusement park, offers 1,000 decorated Christmas trees, live holiday shows, and a holiday parade that is sure to put everyone in a festive mood. From Branson, take in the snow-capped Ozark Mountains aboard the Polar Express. Enjoy a visit from Santa, as well as other live reenactments, while taking this scenic ride. Branson also offers self-driving Christmas light tours, like the Let There Be Lights drive, which are ideal for families concerned about COVID-19. Then, take a 3-hour drive to enjoy another holiday favorite, St. Charles, Missouri. Here, you'll find magical parades filled with music, lights, and actors in Yuletide garb.
What Our Families Say
"The lights display at Silver Dollar City outdoes Disney!!! Lots of other drive-thru light displays, a holiday parade, and a large tree, and a nice water show on the landing. The Santa breakfast on the Branson Belle is also lots of fun for kids."

– Jacie Steinkamp Tubbs
Best Places to Celebrate Christmas West of the Rocky Mountains
Plus, don't miss the chance to celebrate the holidays in one of these western states. Whether you are looking for a quaint German-inspired town, Christmas in the mountains, or warmer weather, these are some of the best Christmas towns for families west of the Rocky Mountains!
RELATED: Discover Our Community-Recommended Ski Resorts in Colorado with Kids!
Vail, CO
Spend your family's holidays in Vail, a quaint Colorado town at the base of Vail Mountain. This cold-weather wonderland comes alive during the Christmas season, starting with the Kris Kringle Market on the second weekend in December. On the same weekend, families can also enjoy holiday music, amazing ice sculptures, and more at the Tree Lighting in Vail Square. Afterward, little ones can participate in a Lantern Walk led by Santa! Or, enjoy complimentary cookies during a meet-and-greet with the Grinch at WhoVail, hosted by the Four Seasons. On the weekend before Christmas, watch outdoor movies in ice chairs at the Winterfest Ice Theater at the Gore Creek Promenade. Plus, there's so much more to do in Vail during the winter. Head to Vail Mountain for lessons at the Vail Ski and Snowboard School. Go ice skating, take a snowmobile tour, or try snowshoeing. Don't forget a scenic gondola ride!
RELATED: Walking in a Winter Wonderland: 5 Kid-Friendly Activities in Vail
Breckenridge, CO
True holiday magic will be found in Breckenridge, Colorado, next on our list of magical Christmas towns for families! Tucked into the Rocky Mountains, families will find snow-capped mountains and trees, in addition to festive sights and sounds. Breckenridge hosts a series of yuletide events all season long. Kids will be captivated by the hundreds of Santas racing down Main Street during the Race of the Santas. Afterward, find some milk and cookies to enjoy during the official tree lighting ceremony! Or, try Ullr Fest. This Nordic-inspired event is perfect for little Vikings and features an enormous bonfire. Get outdoors and enjoy nordic skiing, dog sledding, and horse-drawn sleigh rides. Finally, families can find seasonal church services, theater and musical productions, and other family-friendly events that will fill you with cheer. No matter what fills your holiday itinerary in Breckenridge, you're sure to find time to unwind and connect!
RELATED: A Guide To Breckenridge In The Winter With Kids
Park City, UT
Park City is surely one of the most magical Christmas towns in the US! Enjoy the Wasatch Range as your backdrop when you stay in this western Utah destination. Kick-off the holiday season with the annual Electric Parade the Saturday after Thanksgiving. Kids will love seeing lit-up trolley cars cruising through the streets! Then, stroll down Main Street, lined with twinkling lights, historic buildings, and more. Mid-December also brings lots of holiday fun, from the Park Silly Holiday Bazaar to a meet-and-greet with Santa in Town Lift Plaza. On December 30th, Park City also hosts its annual Torchlight Parade. Of course, there's also a New Year's Eve celebration, complete with fireworks! Aside from holiday fun, families can also enjoy winter sports. Head to nearby Park City Mountain Resort or Deer Valley Resort for skiing, snowboarding, tubing, dog sledding, ice skating and, more.
Also, read: Plan An Exciting Visit To Park City / Deer Valley This Winter With Kids
Solvang, CA
Head to Solvang to enjoy a month-long Christmas celebration, Danish-style! Located in southern California's Santa Ynez Valley, this scenic town starts its festivities, known as Julefest, in November. First, families can attend the SYV Holiday Market on November 20th. Starting November 27th every Saturday until Christmas, kids can also visit Santa's Village to meet and take a photo with Mr. & Mrs. Claus. December 3rd is the annual Tree Lighting Ceremony, followed by a Julefest Parade on December 4th. From December 19th to December 21st, there's the Solvang Christmas Market and Light Show. Of course, sample some Danish holiday sweets at Olsen's Danish Village Bakery! Kids will also have a blast during Nisse Adventure, a month-long gnome scavenger hunt throughout the town. To see more of Solvang, take a walk through Hans Christian Andersen Park, go shopping at an antique store, or visit one of the many museums!
Leavenworth, WA
Each winter, this Bavarian-style city in Washington becomes the "Village of Lights". Kids will be amazed by the sparkling Christmas lights around every corner of Leavenworth. In fact, there are over 50,000 lights used in the city's magical display! Wander charming streets while marveling at old-world charm and classic German timber accents throughout this magical Christmas town for families. Then, enjoy the snow by exploring the nearby mountains and trails, where you can go downhill and Nordic skiing. Or, treat the kids to the unique experience of dog sledding! Bundle up and feel the cool air on your face as you race behind sled dogs down a wintery path. Afterward, enjoy a mug of hot cocoa while on a horse-drawn sleigh. Families can also go snow tubing, ice skating, and snowshoeing while visiting with their kids. No matter what winter activities you're looking for, you'll find them in Leavenworth!
RELATED: Visit These 16 Charming American Towns With Kids
What Our Families Say
"Leavenworth is a quintessential Christmas town in every way. Authentic Bavarian Christmas village and downtown, the mountains and mountain pass roads are something out of Whoville, dog sledding, snowmobiling, and Christmas lights for days!"

– Angela Scolaro
Best Places to Celebrate Christmas in the Southwest
Finally, celebrating Christmas in the Southwest with kids is sure to be a magical experience! Whether you are looking for traditional holiday activities or want to embrace some new favorites, the Southwest has the holiday flare you are looking for this year. Certainly, you'll discover some of the best places to visit during Christmas in the Southwest.
Grapevine, TX
Families looking for a Texas holiday getaway with kids will love Grapevine, Texas! The Christmas Capital of Texas® offers several holiday favorites for families with 40 days of more than 1,400 events and activities. In Grapevine, you'll find dazzling Christmas light displays, huge decorations, and much more. Visit the Gaylord Texan Resort and experience their new adventure, Mission: Save Christmas, featuring Buddy the Elf, and their Merry and Light outdoor light display.
Then, head to the Grapevine Christmas Village to enjoy daily snow showers and purchase a Grapevine Christmas Passport – Elf Adventure. This passport invites you to capture the magic of Christmas as you learn heritage crafts like making a brass gift tag, tree tinsel, or decorating a wooden train ornament. Then, get your seasonal jammies ready and journey with Mrs. Claus on the North Pole Express as she brings Santa to the Christmas Capital of Texas, presented by the local Great Wolf Lodge and Trinity Metro TEXRail. Afterward, shop along the historic Main Street for unique gifts and stocking stuffers. Finally, don't miss a show at the Historic Palace Theater. Enjoy holiday concerts and iconic Christmas films such as "It's a Wonderful Life" on the big screen.
RELATED: Fun Things To Do In Dallas That Kids Will Love
What Our Families Say
"Grapevine is the Christmas Capitol of Texas – and for good reason. The perfect evening can be spent walking through their charming and historic downtown, admiring the fantastic light displays, catching a classic Christmas movie at the Historic Palace Theater, or taking a holiday train ride. Grapevine truly offers something for everyone from the kids to the grandchildren and anyone in between."

– Stephanie Joyce
Taos, NM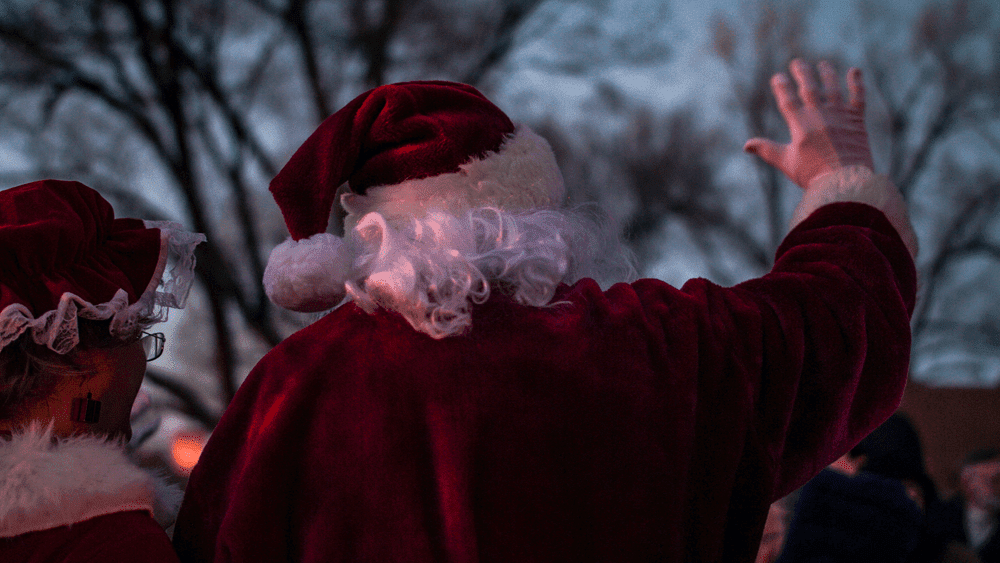 In New Mexico, you'll find a yuletide treasure in Taos! Spend the most magical time of the year celebrating in a truly unique way. Here, families will be enchanted by Yuletide in Taos. Kids will be mesmerized by gently falling snow on the iconic candle-lit farolitos that line streets in front of historic adobe shops and residences. Check the calendar before you book your vacation, as there are several festive events to choose from. The CAV Taos Holiday Market Arts and Crafts Fair features local artists selling their pottery, jewelry, food, and more. Or, check out the Twirl Aglow Party, where kids can share their Christmas wishes with Santa while making holiday crafts in a truly magical setting. Then, the Annual Yuletide Caroling and Tree Lighting are not to be missed! This event officially kicks off the Christmas season in Taos and is sure to impress your family.
Top 20 Taos, NM family-friendly vacation rentals | Vrbo
What Our Families Say
"Taos, NM hands down. The oldest Indian Pueblo in the country hosts a massive Christmas gathering which is unlike any other you might see in the big city. You can hit the slopes beforehand and the day after – and the Bavarian restaurant on the mountain is wonderful and has a fantastic Christmas meal. Highly recommended for anyone who loves to ski!"

– Michelle Kelner
Happy Magical Travels!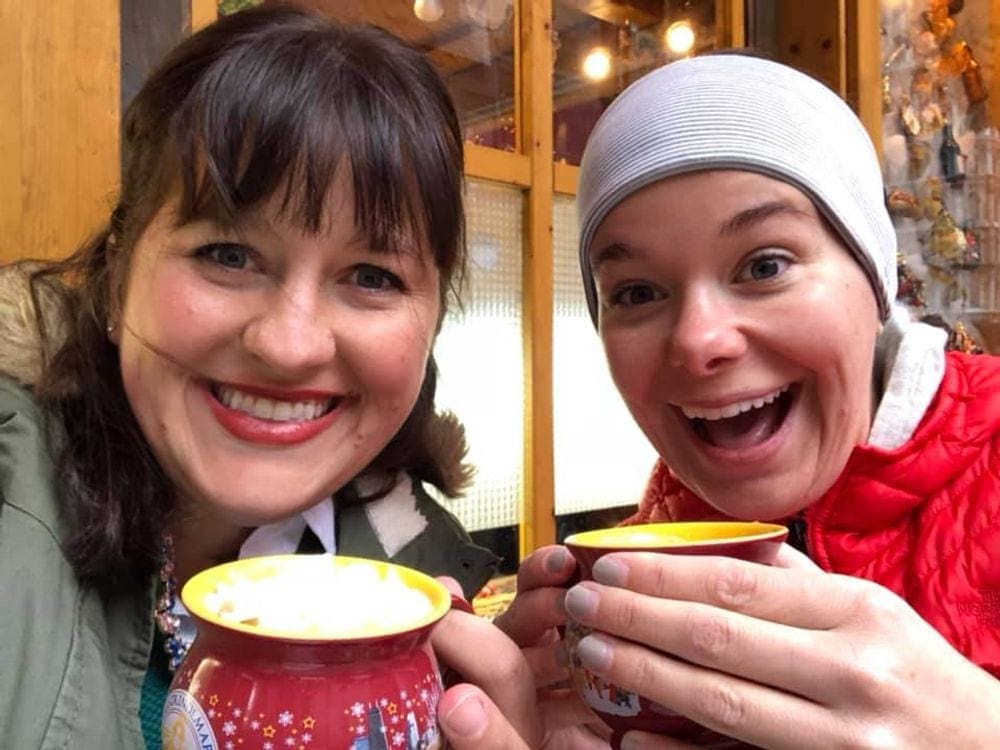 We are sure you found a perfect holiday getaway with kids within this list, featuring the top 16 Magical Christmas Towns in the U.S. for Families! From Maine to New Mexico, families will love treating their kids to one of the best Christmas vacations in the US. There is no better gift than time together! Create new holiday traditions by exploring snow or sun this Christmas. Whether you are looking for a quick road trip or a cross-country adventure, we know you'll focus on the most important part – creating life-long family memories together!
RELATED: Gift Your Family One of Our Travel Accessories Families Can't Live Without!
Thank You to Our Community!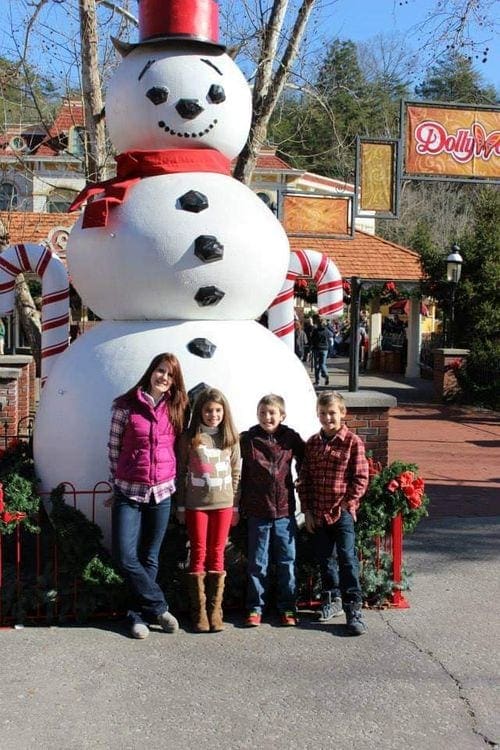 A special thank you to our family travel community for helping compile this list of Magical Christmas Towns in the U.S. for Families! As always, this article would not have been as magical or as insightful without their collective travel wisdom. They are a group of amazing families who love adventure and exploring through travel. Are you looking to take a holiday getaway with kids? Join our Facebook community and our Instagram community (@families.love.travel) to ask questions, get inspiration, and connect with other families who love to travel.
*Due to the COVID-19 pandemic, some of the attractions, accommodations, or things to do on this list may be closed. Please ensure availability before making your decision.
READ NEXT: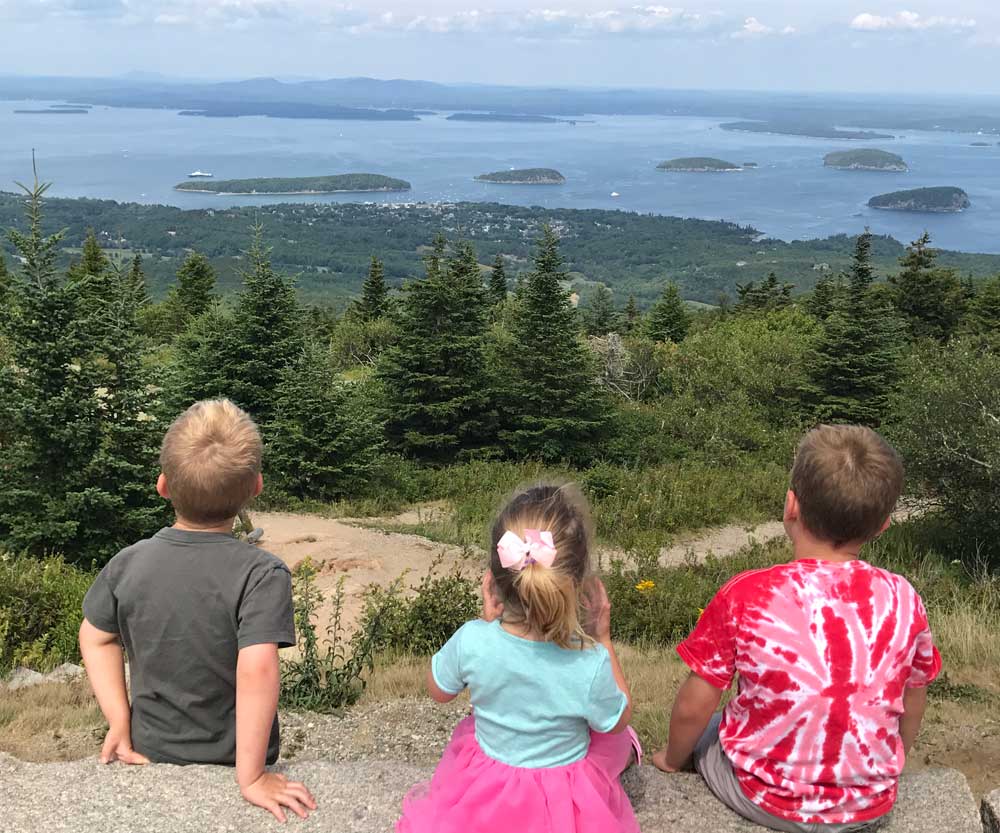 We drove to Acadia National Park in Maine from Northern Virginia. It's a long drive...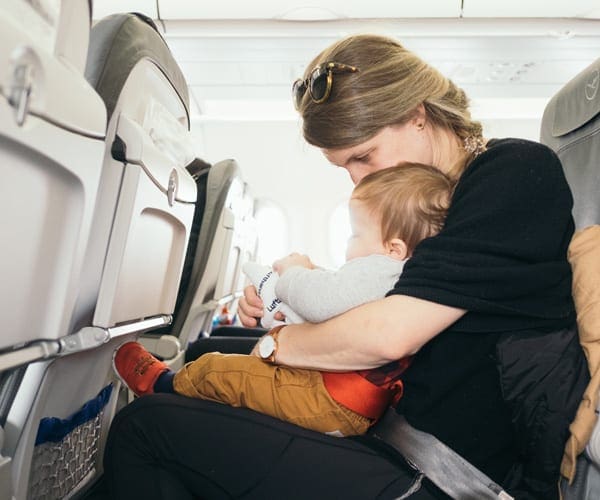 Families Who Love To Travel contributor Meghan Oaks provides her 10 best tips for your...