Travelers looking for the ultimate beach packing list for families of all ages are in luck! After a long winter, everyone is excited to start planning for their beach vacations. As we leave behind sweater weather and plan for time in the sun, it is nice to have a list of the essentials of what to bring. The best way to make the most of your days on the beach is to prepare ahead of time and have all that you need. Forgetting your sunscreen or water bottle on a blistering day on the beach can ruin a trip, so we want to ensure you have all you need for your best beach vacation yet! On this list, we have everything needed on a packing list for a beach vacation. Use our comprehensive beach vacation packing checklist to be sure you have all you need for your family beach vacation!
Clothing to Pack and Wear on a Beach Vacation with Kids
There's nothing quite like a family beach vacation! The warm sun, the sound of waves crashing against the shore, and the smell of salty ocean air all create an unforgettable experience. But if you're planning a beach vacation with kids, there are a few extra things you'll need to pack and keep in mind, especially regarding clothing. Here are some suggestions for your beach packing list for families!
Traveling to Europe this summer? Check out these 16 Exciting European Beach Destinations For Families.
Swimsuits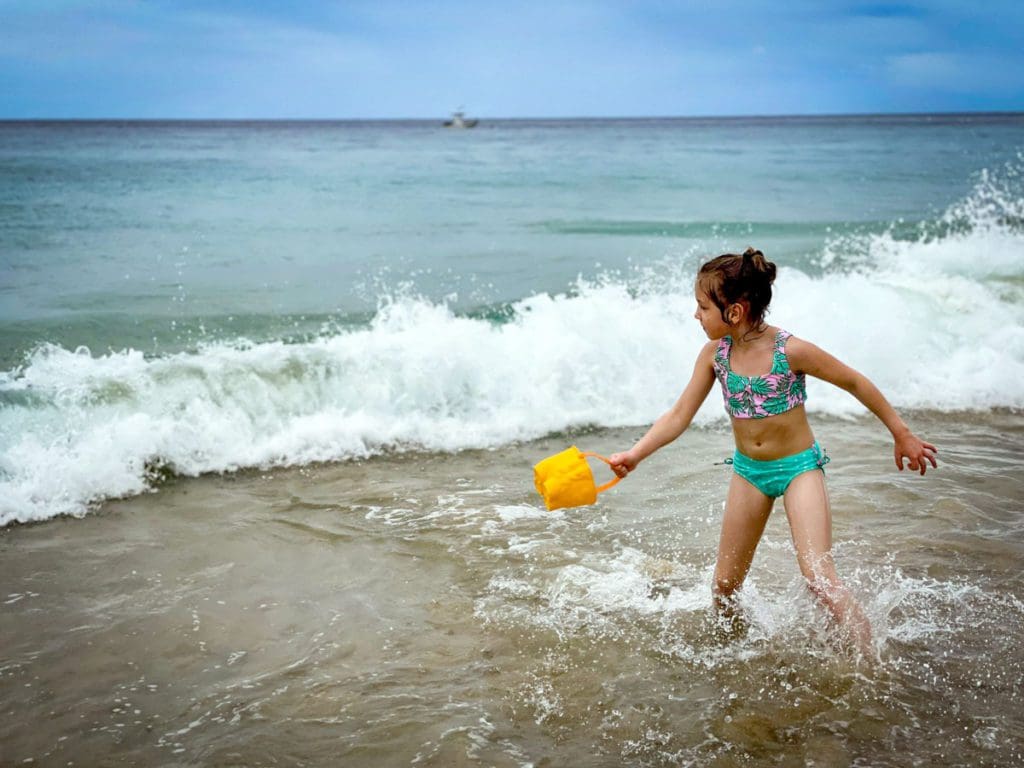 Number one on your beach packing list has to be your swimsuit! Without this critical item, how can you enjoy the water and sun during your family beach vacation? Be sure you and your family members find one you feel confident and comfortable in. Depending on the length of your beach vacation, you may choose to bring 2 or more bathing suits to allow enough to have a dry one each day or to change suits for each day of your family beach vacation for any family photo ops.
When packing beach essentials for kids, be sure to:
Click here to find out the Best Travel Luggage, Carry-Ons, and Backpacks for Kids and Families!
Hats and Rash Guards
Another great way to protect your skin from the sun's harmful rays is to pack a wide-brim hat for each family member. For kids, find a wide-brim hat with a chin strap to stay secure during sand and water play. Finding a washable one is key as well. We love these hats for kids for their nice adjustability.
Rash guards offer extra protection when spending the whole day in the sun. With the sun's magnifying effects near water, it is essential to cover up to avoid sunburn. Long sleeve rash guards can be helpful, especially for kids who love building sandcastles. That and the wide-brim hat should cover most of the tender areas that can burn, like your back, neck, ears, and nose. We also suggest bringing multiple rash guards to the beach at a time. It's super helpful to have a dry one to change into after a dip in the water to keep nice and warm.
amzn_assoc_placement = "adunit0"; amzn_assoc_search_bar = "true"; amzn_assoc_tracking_id = "flt058-20"; amzn_assoc_ad_mode = "manual"; amzn_assoc_ad_type = "smart"; amzn_assoc_marketplace = "amazon"; amzn_assoc_region = "US"; amzn_assoc_title = "Beach hates"; amzn_assoc_linkid = "831888b6b39f4bfe688b206ebc7684b8"; amzn_assoc_asins = "B079YRQ3LG,B07F71M898,B01641DMK8,B07S5ZP7C4,B08YR1Z6F1,B09QGNN6C1,B09378G8D4";
Shopping List
Other Protective Clothing
Other essentials on a beach vacation packing checklist for families include protective clothing of all kinds. Here are some more suggestions for what to pack for a family beach vacation!
Best Beach Essentials for a Family Beach Vacation
Sure, protective clothing is necessary, but you can't forget about other beach essentials for your trip! Between sunscreen, umbrellas, chairs, and more gear, there are lots of other items you can bring along to make your vacation go smoother. Keep reading to find out our vacation packing checklist!
Visiting Europe with your kids? Here's What To Pack For A European Vacation With Toddlers!
Beach Bag
Your beach bag may be among the top 5 beach essentials for family vacations. Without the right bag, carrying all the items on your packing list for your beach vacation may be impossible. You want to find one that is waterproof or dries quickly, packs easily, has mesh to allow the sand to flow out, and has many pockets or compartments for all essentials. You also want to be sure it is machine washable!
This mesh beach bag fits all the criteria and is budget-friendly. So does this neoprene beach bag. And this stylish amazon favorite can carry all your beach essentials. Or, ask a friend if you can borrow one of their favorite bags if you can't decide.
Keep things sorted within your beach bag by using packing cubes. This is a great way to keep things separated for each family member and keep them organized so things can stay dry and orderly. We also suggest a small first aid kit with extra bandaids for those incidentals that inevitably happen.
Shopping List
Sunscreen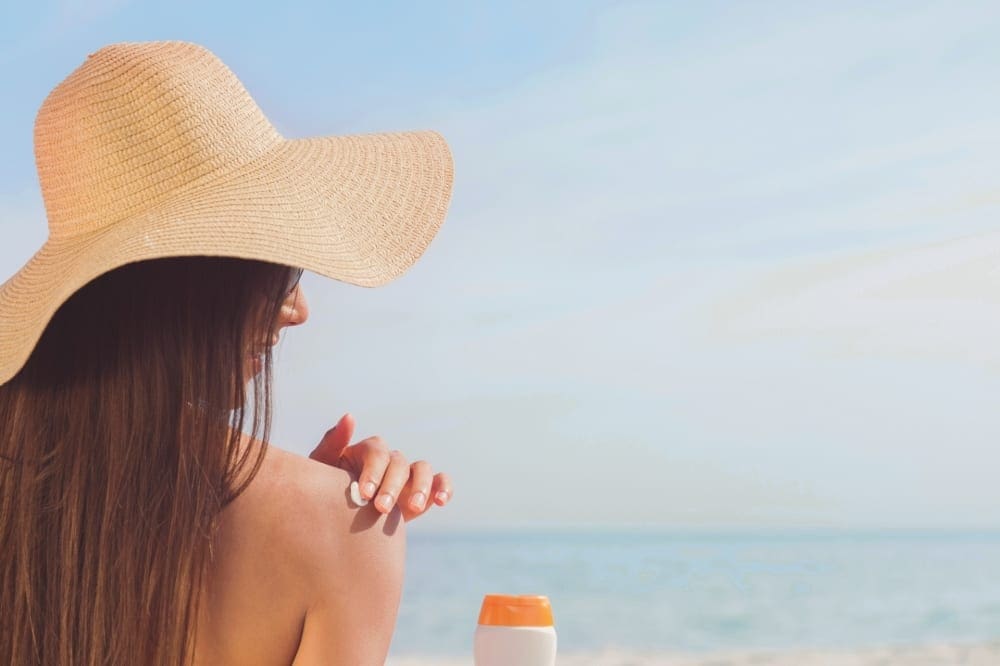 The second most important on your list of beach essentials is sunscreen. Sunburns can easily ruin a family beach vacation. Avoid this by protecting your skin from harmful UV rays by using a reef-safe sunscreen with a minimum SPF of 30-50 is recommended. Why a reef-safe option? Reef-safe sunscreen is safe for the ocean and coral life, so be sure to spend the extra time to find one that is safe for your beach vacation and time in the ocean.
Supergoop! Sunscreen has become a favorite among the Family Loves Travel community, along with Sun Bum, if you are looking for some great recommendations. For babies and toddlers, make sure you have SPF 50 minimum, Baby Bum SPF 50 Sunscreen Lotion is a great option. Then, if you hate applying sunscreen, consider a Refillable Roll On Sunscreen Suncream Applicator. Don't forget to reapply sunscreen every few hours, especially if you are in and out of the water or sweating from time in the sand. And don't forget to protect the delicate skin on your lips with an SPF lip balm.
If you burn, be sure to have some after-sun lotion on hand. Aloe vera works great, as does the natural remedy of apple cider vinegar. Or just buy your favorite after-sun body butter to bring along. Just don't get stuck without some relief during your family holiday. It's essential for our vacation packing checklist!
Shopping List
Packable Towels
You'll need a quality towel to dry off or sit in the sand after a swim. A towel that dries quickly and doesn't hold sand is a beach essential. Choose a lightweight, quick-drying towel to make it easier to pack and carry. A lightweight towel will take up less space in your bag. Alternatively, Onda towels are extremely easy to pack, anti-microbial, and quick drying. Plus, they fold up incredibly tightly, making them super easy to pack and carry. Also, consider bringing a towel clip to keep your towel from blowing away on a windy day.
One Family Loves Travel community member loves these cooling towels to chill and place on the back of the neck or forehead when the summer beach heat gets to be too much. What a great idea!
Shopping List
Blankets or Chairs to Sit On
As for blankets, you'll want to choose one that is lightweight and easy to fold and carry. Bring one large blanket, like this one, to accommodate your whole family. Or, bring individual blankets for extra towels for kids to have their own space to sit in the sand. Don't forget to pack a few extra wet bags to keep your wet or sandy towels and blankets separate from your other beach essentials.
Then, comfortable beach chairs can make or break your family beach vacation. Nothing is worse than a chair that breaks halfway through your holiday or sits so far in the sand that you have trouble getting up to head to the ocean water. A beach chair with a built-in shade offers an excellent alternative to a beach umbrella as well. Be sure to grab a chair with backpack straps to free up your hands to carry all the other family beach essentials needed to make it to your sandy spot. Keeping your hands free to hold on to a wandering toddler or pulling a wagon full of beach essentials can make all the difference as you head down toward the water. These Tommy Bahama beach chairs are a Family Loves Travel community favorite!
Shopping List
Beach Umbrella or Sunshade
Considering the size of your family on your beach vacation, you may enjoy using a beach umbrella, beach chairs with a sunshade, or a beach tent canopy. Choose a beach umbrella that clamps directly onto your beach chair or a standard umbrella that you can anchor into the sand. This canopy or the Shibumi Shade may be the perfect fit to fit your larger family group.
A beach tent is also a nice alternative to a large canopy that can protect your crew from the sun. Shade can be invaluable in the summer sun on your beach vacation. These sunshades are definitely beach essentials on your packing list for your beach vacation.
Shopping List
Water Sports and Pool Activities to Pack for a Family Beach Vacation
A family beach vacation is perfect for getting active and enjoying the water. But what should you pack to ensure everyone in the family has a great time? Here is the ultimate beach packing list, with everything you need for a fun-filled trip!
RELATED: Beautiful Beaches in the U.S. for a Family Vacation
Boogie Boards
A boogie board is a must for those who love the adrenaline rush of riding the waves! These small surfboards are easy to carry and provide endless hours of fun. Whether catching some waves or just chilling on the shore, a boogie board is a great way to enjoy the water.
Snorkel and Fins
And for those who want to have some relaxing time in the ocean waves, a snorkel set can let you keep your breath as you observe the sea below. Be sure to buy the kids' size snorkel set for your smaller family members so they can also enjoy the view. Fins can be really useful to propel you in the water. These fins are adjustable and the perfect travel flippers for the whole family to share on your family beach vacation.
Shopping List
Goggles and Sunglasses
With salt water and sand, eye protection is a must both in and out of the water. That's why it's an essential item on our beach packing list for families! Goggles can be hard to find a proper fit, so once you do, be sure a wave doesn't wash away your favorite pair. Polarized sunglasses can make reading your favorite book bearable in the bright sun. Be sure to take care of your eyes while on your family beach vacation.
Wondering What to Pack in Your Family's Travel First Aid Kit? Click here!
Water Inflatables
Lounge in the water and float on the waves in your water hammock. Just imagine how relaxing this will be on your beach vacation. Kids will love these colorful floatie rings for a day of fun in the sun. Alternatively, floaties in fun shapes like flamingos and unicorns are particularly trendy amongst teens! You can always pack simple pool noodles from the dollar store for your kids and enjoy the hammock for the adults. What a way to live the salt life!
Shopping List
Sand Toys
From simple sand toys like buckets and shovels to more elaborate beach playsets, there's something for every child (and adult!) when it comes to playing in the sand. Here are some of our favorites to put on your beach packing list for families!
Buckets and Shovels are a classic for a reason. These basic sand toys are beach essentials when planning for fun. Fill your bucket with sand to build an elaborate sand castle, and use your shovel to dig the moat. Don't build your castle too close to the waves, though! Then, with molds, you can add decoration to your sand creations. Kids can be creative in their sand designs and wow you with their designs.
If you are headed to the beach to hunt for shells or shark teeth, you do not want to forget your sieve or shark tooth sifter. These tools allow you to dig in areas and sift through the sand and stones to find treasures. Your kids can find hours of entertainment with this simple activity and find many memories to bring home!
Shopping List
Beach Entertainment
Ask your family how they want to enjoy time on the beach. Some may want to sit and soak up the sun and the lines of a good book. Others may enjoy playing some games on the beach while running through the water.
Here are some beach entertainment options to consider packing:
Snacks & Beverages to Bring to the Beach
Snacks and beverages are beach essentials on a beach packing list for families! Pack your cooler full of your favorites. Of course, water is essential to stay hydrated when spending your day in the sun. Bring plenty of water for everyone in your group!
Here are some snack favorites for the beach:
READ NEXT: Best Beaches In Aruba For Families
Happy Travels!
We hope you liked this Ultimate Beach Packing List: Essentials For Families Of All Ages! Have fun packing for your family beach vacation. Print off our free printable beach packing list for families on your beach vacation to make it easy. Checking off each item from your beach packing list for families as you move through the list will help ensure that you have all of the essentials for your trip. And if you forgot something, there is hopefully a store nearby! Most importantly, enjoy your family beach vacation!
*Due to the COVID-19 pandemic, some of the attractions, accommodations, or things to do on this list may be closed. Please ensure availability before making your decision.
*This post may contain affiliate links that may earn us a small commission, at no additional cost to you. Affiliate links in no way inform the hotels, sights, products, or other recommendations included in our articles. All opinions and recommendations expressed here are compiled from submissions submitted by the generous members of our Families Who Love To Travel community.
READ MORE: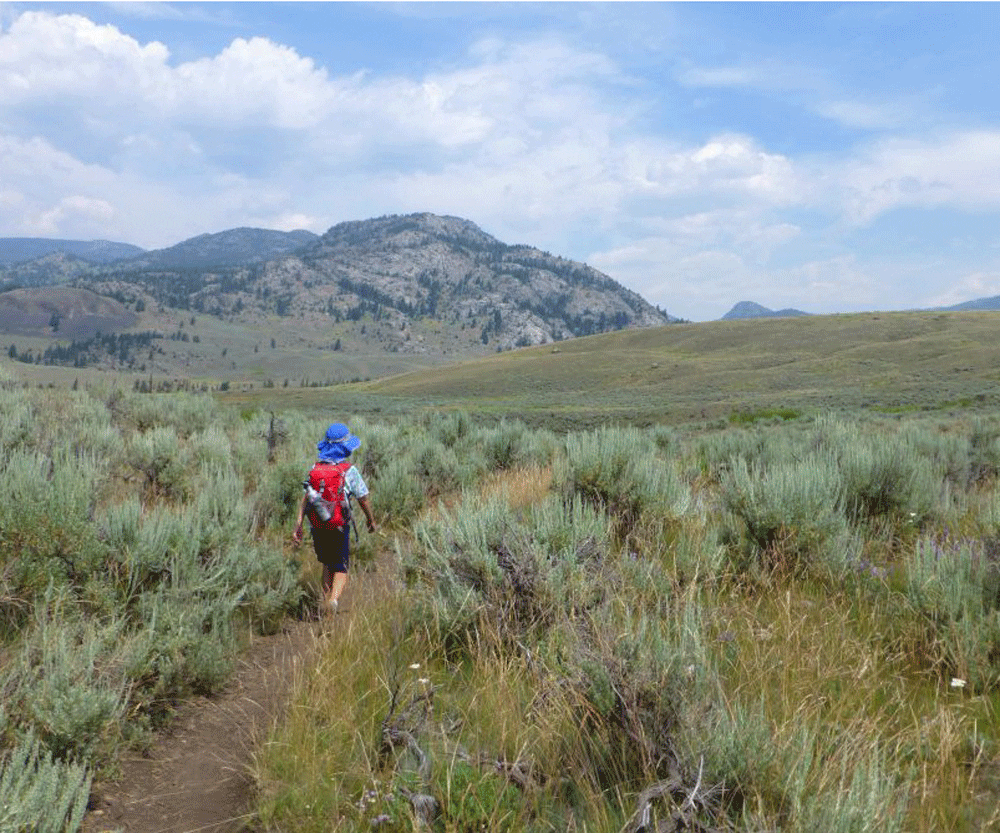 Everyone knows that Yellowstone National Park makes for a classic family vacation. Strolling the boardwalks...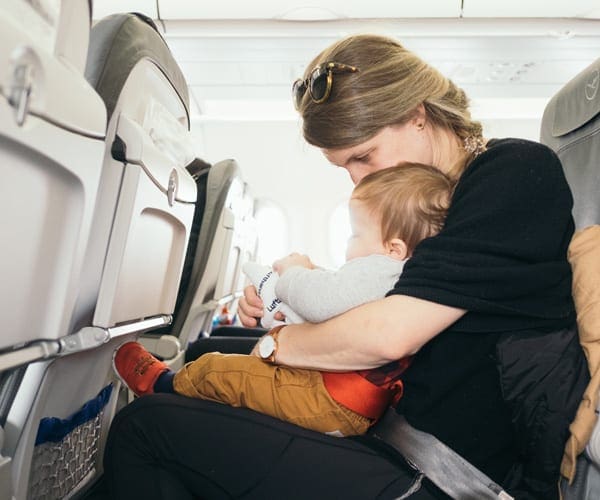 Families Who Love To Travel contributor Meghan Oaks provides her 10 best tips for your...